Top buns need not be purely for a casual and relaxed hair style, and Styles Weekly hope they've proved with this gorgeous collection of up dos that a top bun can be perfect for your formal event too! Which look is your favourite? We love to hear from you.
Slicked Back Blonde Twisted High Bun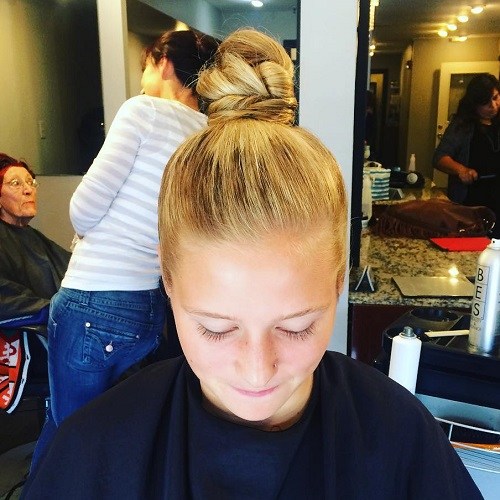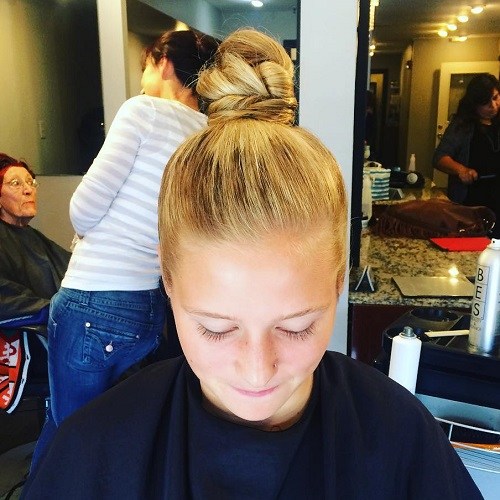 This utterly gorgeous girl has equally wonderful hair, which is the most striking shade of golden blonde that we ever did see! She's slicked it back to create a sleek look from the front of the head, and created a stunning knotted blonde bun look which sits on top of her head. The finished look is similar to that of a ballerina, and we can't get enough of it!
Chunky Blue Top Bun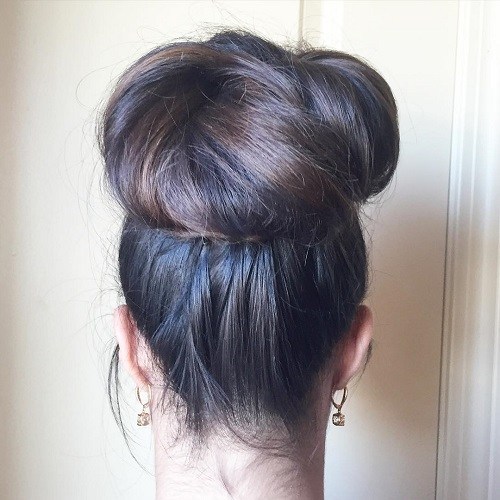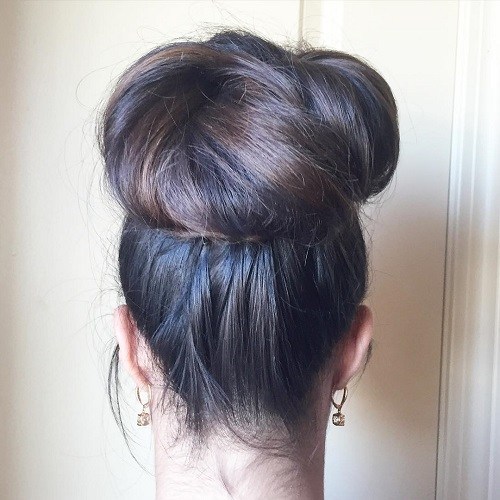 This gorgeous lady has the most striking porcelain skin tone, which she's accentuated with a beautiful denim style to her hair. Blending a stunning selection of blue shades together, this stylish lady has showed her wonderful and trendy hair off by creating a huge and voluminous top bun on top of the head that is guaranteed to attract attention for all the right reasons!
Pastel Rainbow Braided Top Bun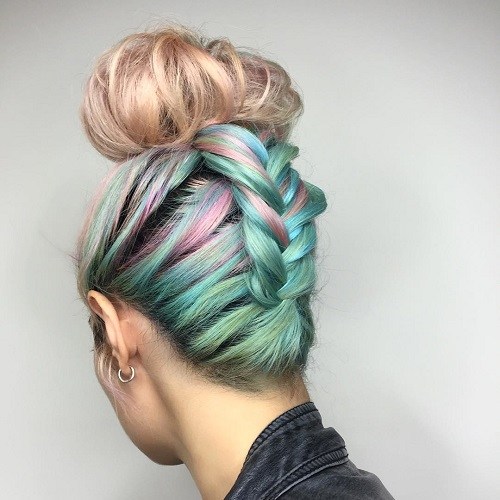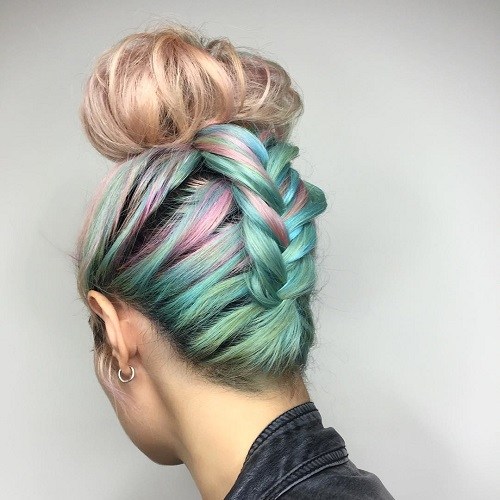 Pastel hair is a huge trend lately, so why not take this lady's picture as inspiration and work a pastel rainbow through  your locks? Green, blue, pink and purple pastel shades blend together to create a stunning finish, and this lady has showcased the colour selection by working a braid from the bottom up at the back of the head, and looping the ends into a top bun for the ultimate finish.
Red Top Bun with Shaved Underneath Layer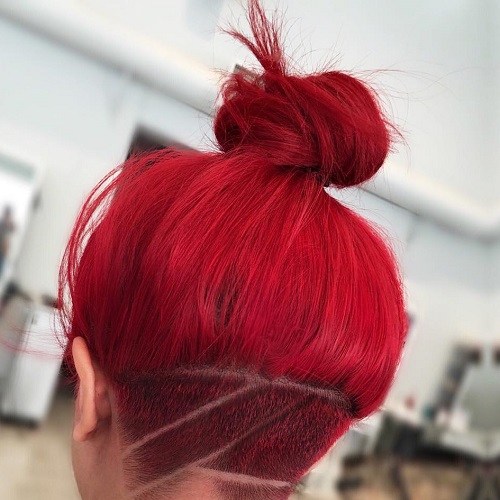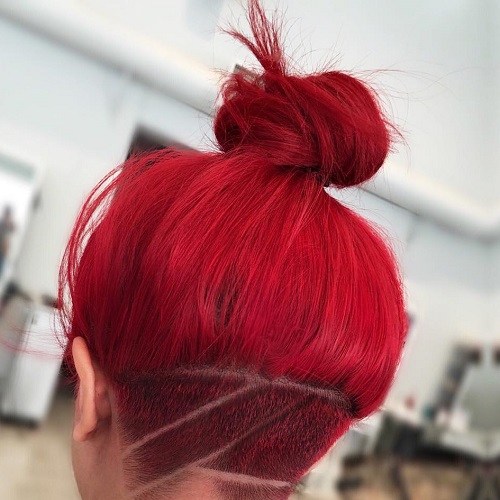 This incredibly trendy hairstyle has stolen our hearts at the Styles Weekly office – we think the finished result is truly something special. The underneath layer of her hair has been cropped close to the head and shaved with cool diagonal lines. The rest of her vibrant red locks have been swept up into a knotted top bun style to showcase the incredible design on the lower layer!
Electric Blue Braided Bun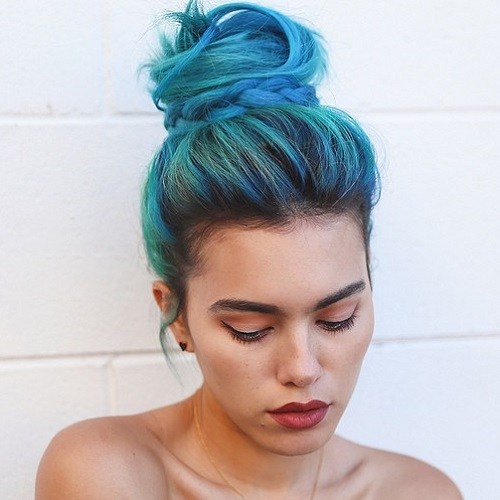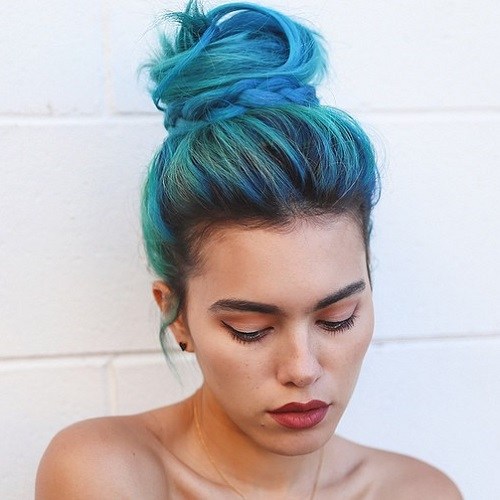 This lady's utterly gorgeous electric blue hair has been worked into the most stunning up do that is perfect for a formal event or special occasion where the aim of the game is to impress at every twist and turn. She's worked her hair into a high ponytail and created a gorgeous bun, but she's left a chunk of hair out to create a braid to wrap around the bun for the most gorgeous finish.
Curly Brown Bun with Loose Ringlets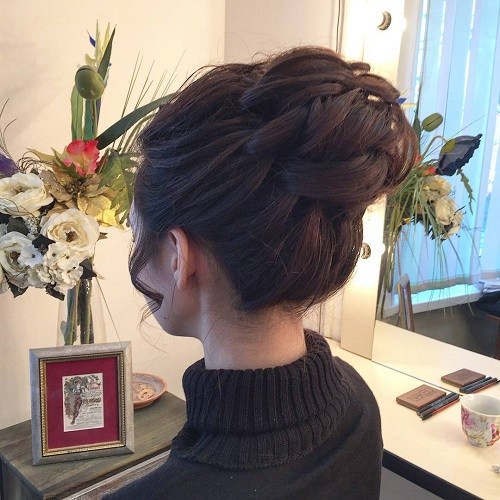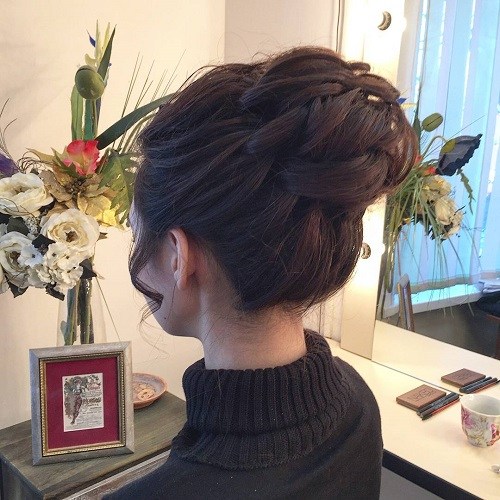 This lady has the most gorgeous and classy dark brown hair which has a striking, shiny and glossy finish that we cannot get enough of. Her hair falls in gorgeous ringlets, which you can see from this wonderful and voluminous top bun. She's folded the ponytail section into a glorious knotted bun that we can't get enough of, and she's let loose ringlets fall around the sides of her head for a classy finish that we adore.
Glossy Top Bun with Waved Fringe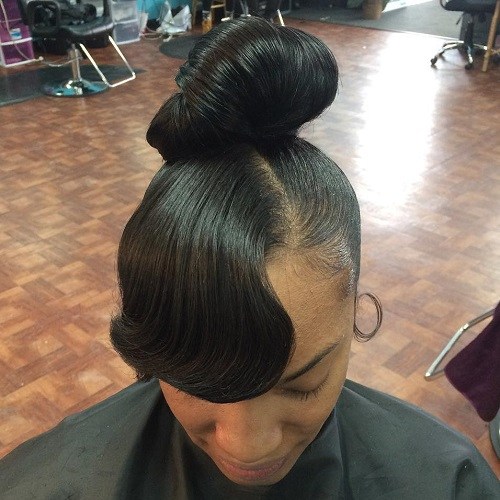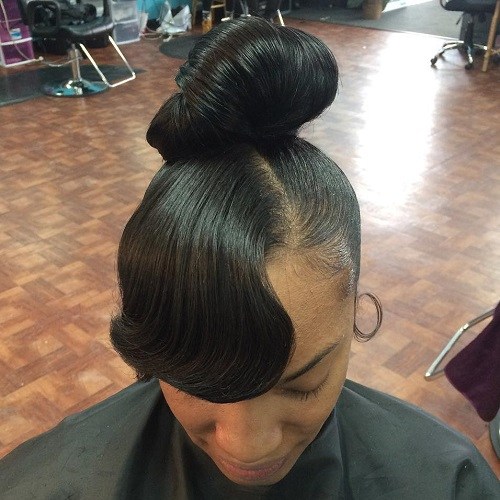 This lady's gorgeous and glossy brown hair has created the most striking and stunning bob look that is guaranteed to attract a lot of attention – in the best way. She's worked most of her hair into a striking top bun with a sleek and smooth effect, and she's left the front section loose to create a wonderful curved fringe effect. We love this look!