Winter is the time for change in fashion. We wrap up warm and work layers into our wardrobes, keeping comfortable for the colder climate and looking fashionable at the very same time. With the change in the season, there's also the perfect opportunity to change your look by opting for a new colour with your hair. Here we've gathered some of our favourite hair colours to create a gorgeous change in style for you this winter.
Hollywood Bob with Orange Shades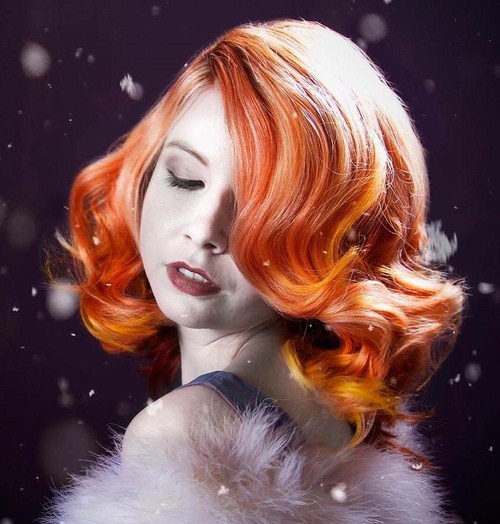 This stunning long bob is finished with a healthy dose of Hollywood glamour – worked with enormous barrel curls from the top to the bottom for an utterly beautiful and bouncy finish. The bulk of the colour is a deep, tangerine orange shade which is glossy and gorgeous, and she's worked a lighter shade of orange throughout the ends to add light to the cut.
Silver Blonde Graduated Bob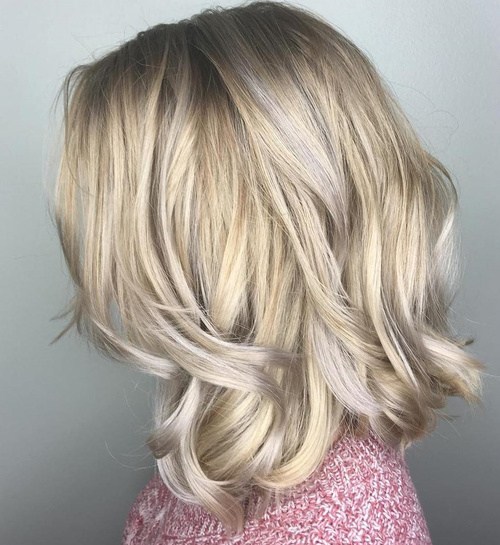 This glorious graduated bob has a longer section towards the front of the head, with the ends cut in a gradient to create a shorter level at the back. Her hair has been loosely curled throughout to create a beautiful and bouncy finish, and she's opted for a stunning silver blonde shade all over which is metallic, shiny and oh so on trend, don't you think?
Brown and Red Balayage Curls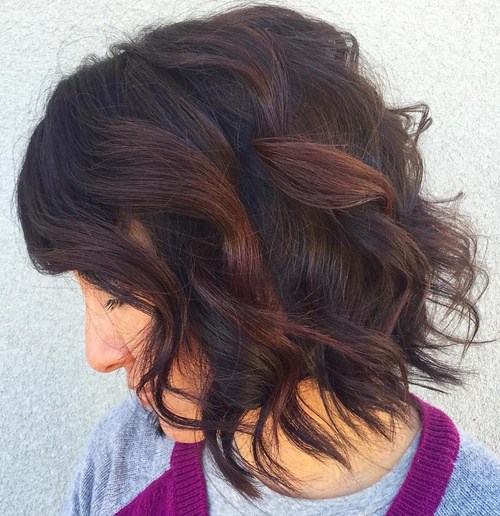 This utterly stunning long bob falls below the jaw line in a beautiful and tousled finish that we simply can't get enough of. This beautiful brown hair blends into a gorgeous red shade through a stunning balayage transition, which this fashionable lady has highlighted by including some stunning ringlets throughout the cut to show off those wonderful colours.
Dark to Light Blue Balayage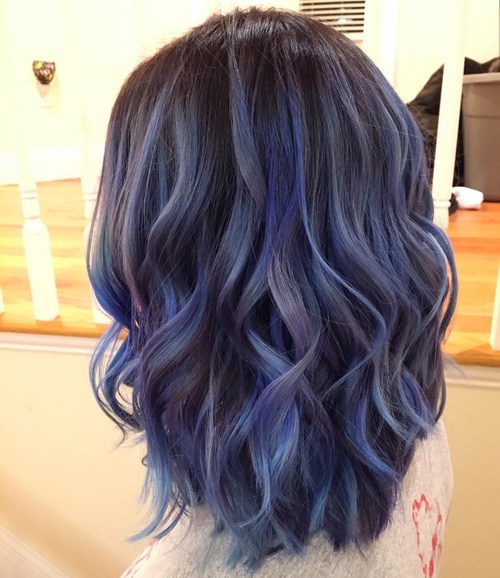 We think that this hair is absolutely beautiful – from the length to the style and the beautiful curly finish that is oh so stunning, we absolutely can't get enough of this incredible denim style colour blend. Working a dark and light shade of blue together in a stunning balayage transition creates the most wonderful and unique look which is perfect for winter.
Strawberry Blonde Loose Curls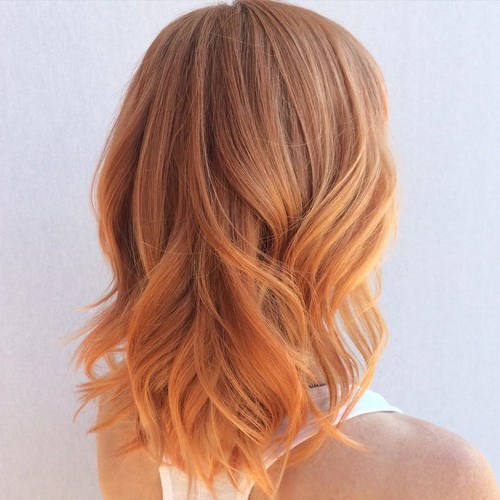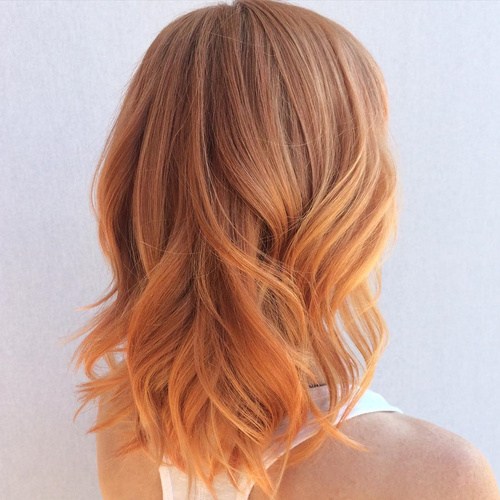 We think that this vibrant strawberry blonde shade is utterly perfect for a winter style shake up! It's a gorgeous peachy shade which is light, bright and lovely – finished with a stunning shine. Her hair is shoulder length and full of loose curls from around the ear length downwards, falling in a lovely loose waves and creating a gorgeous bounce.
Baby Pink Ringlets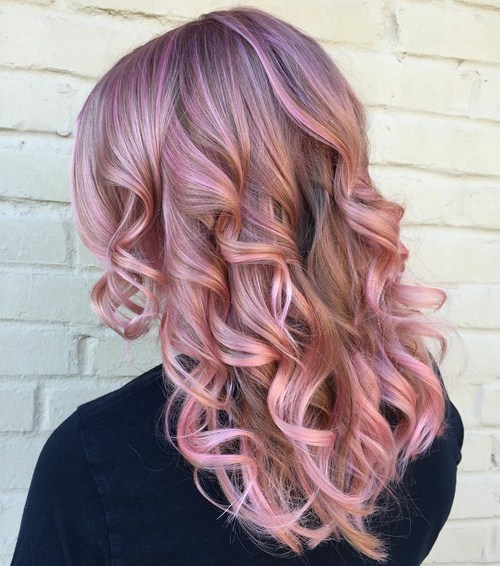 Pastel hair colours are taking the fashion scene by storm, and one look at this beautiful baby pink style will make you understand why! This breathtaking powder pink shade is oh so gorgeous – especially with the tight and romantic ringlets which fall throughout the style, which finishes loosely down this lady's back. This look is perfect for special occasions or events!
Brown Locks with Copper Tints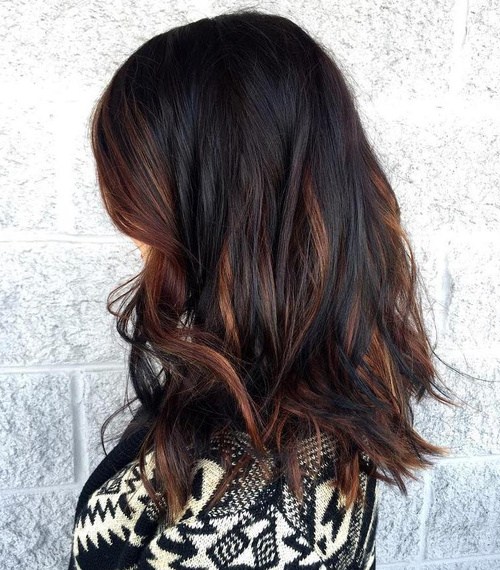 This gorgeous long hair is the most striking dark brown colour which is glossy and deep, creating a stunning warming effect that is oh so perfect for winter. This lady has added light to her look by implementing subtle copper tints throughout the front of the hair and the underneath layers, and loosely curling the look to show off these gorgeous colour tones.
Auburn to Caramel Ombre Blend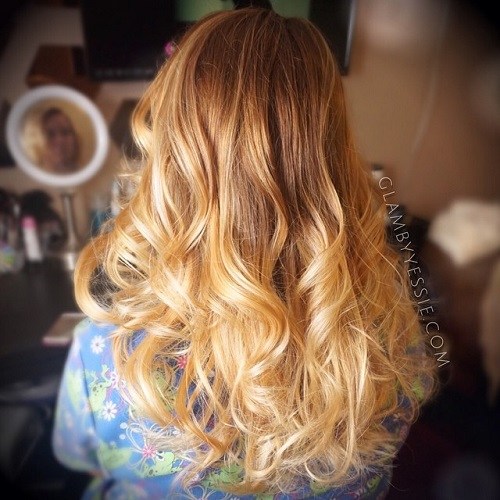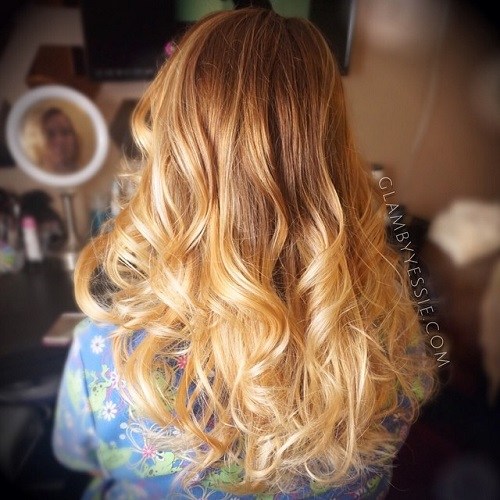 This incredible hairstyle is oh so striking, and just perfect for your new look this winter. The roots and top of the hair are a stunning and warming ombre shade, which melts into a stunning caramel blonde at the tip. This long hair has been finished with big and bold ringlets throughout the ends to add life and lift to the colour transition with bags of style too.
Blue, Purple and Blonde Long Hair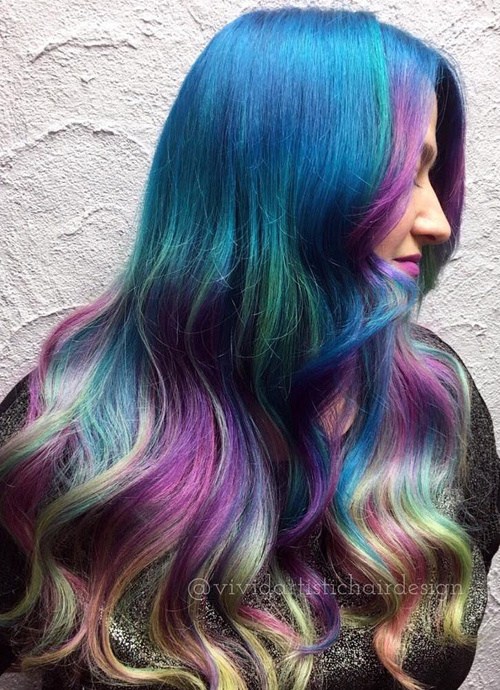 This utterly gorgeous colour work has created the most striking rainbow effect throughout this fashionable lady's beautiful and long hair; which reminds us of a mermaid – and we think that's absolutely fantastic! Starting with a bright blue and blending into purple and blonde streaks that grace the bottom of the hair. The loose curls perfectly accentuate this colour combination.
Plum Barrel Curls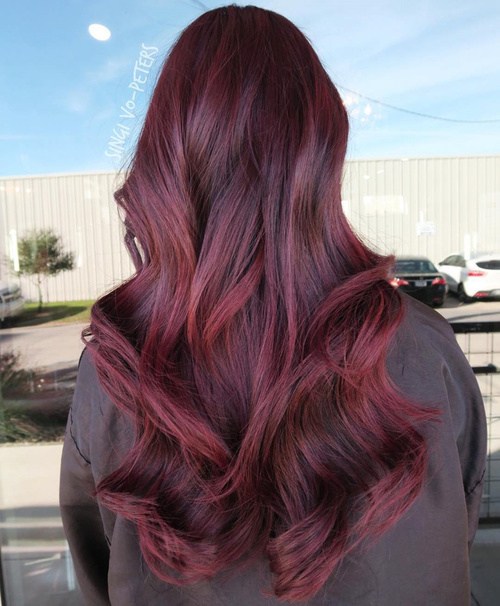 This lady's hair is absolute perfection; strong, long, thick and glossy – creating a stunning, versatile body of hair to do whatever you want with! As well as having incredible natural hair, this lady has opted for the most gorgeous plum shade all over which is incredibly shiny. She's worked thick and loose barrel curls into the style to finish the look off to perfection.
Striking Silver Ringlets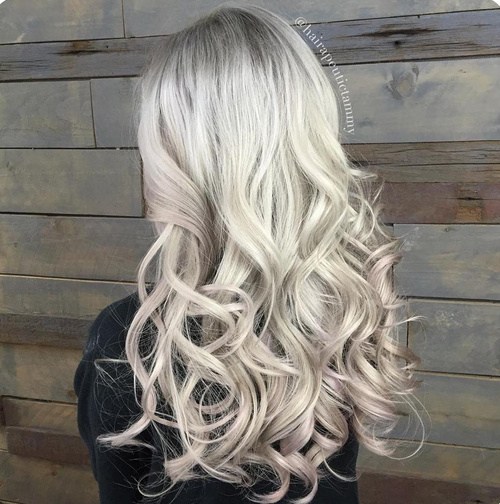 Silver hair is a huge trend this season – so why not embrace the silver look for the season like this gorgeous lady has done? Her wonderful long hair has been coloured with this gorgeous light silver shade, and falls in striking and romantic ringlets down her back from around the ear section down. This hair would be equally impressive when straight too!
Black to Dark Red Balayage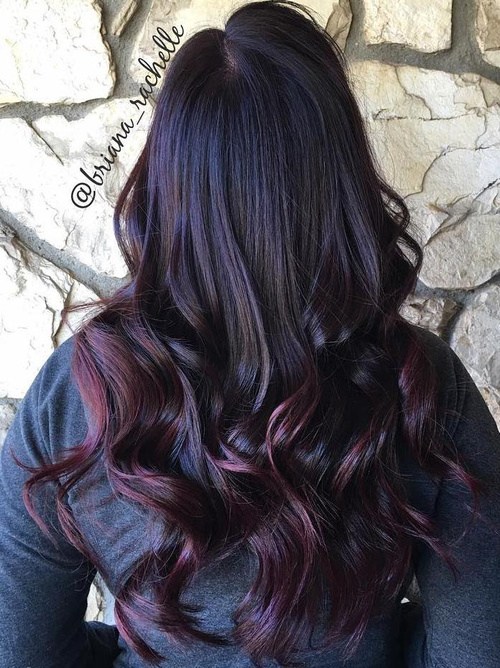 Winter is typically the season for darker shades and tones, which is why the Styles Weekly team adore this gorgeous look so much. This luscious long hair falls down her back in glossy waves, and works from a deep and shiny black to a beautiful dark red through a balayage transition at the ends. She's added curls to the ends of the hair for a wonderful end style.
Brown to Copper Colour Melt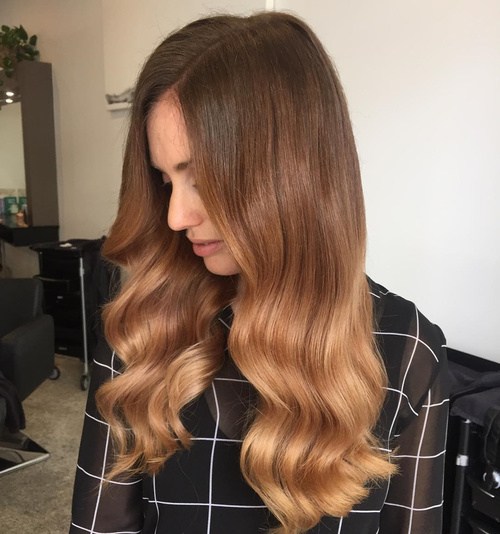 Another style full of gorgeous colours; this wonderful lady has worked a light brown through to a copper shade and blended the two together, melting the colours seamlessly. Both copper and brown and lovely and warm, creating the most striking finished look; particularly when combined with luscious loose curls throughout the ends like this fashionable lady has done.
Long Brown Hair with Caramel Highlights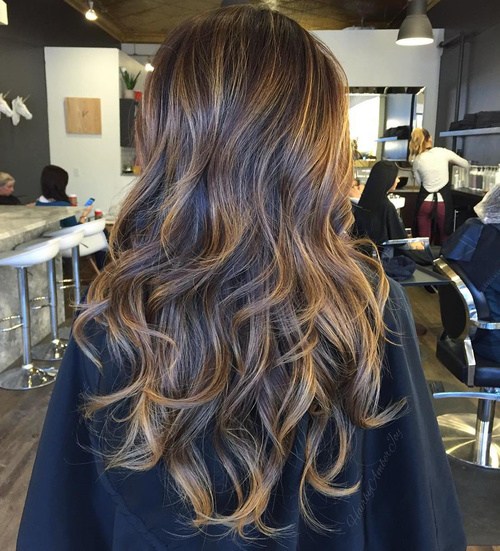 Highlights are the easiest way to add a natural light and lift to a hairstyle, offering the most perfect sun-kissed look to the ends of this lady's hair. It's lovely, log and thick, cascading down her back in beautiful curls and showing off the stunning layers cut throughout. Her hair is a gorgeous dark brown with caramel highlights littered throughout.
Dark to Light Blonde Romantic Ringlets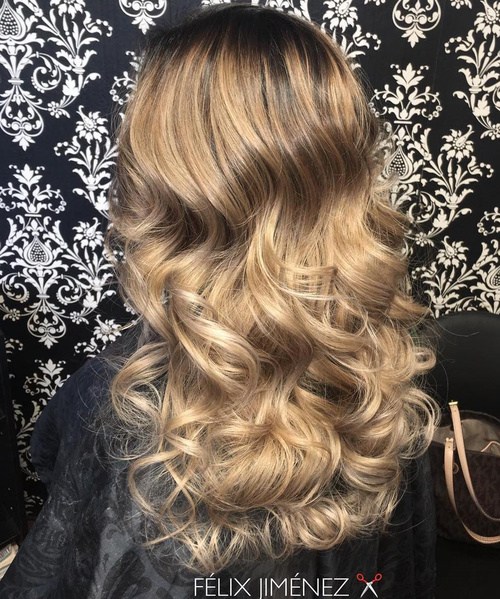 If your hair is as wonderful, thick and glossy as this lucky lady's, then why not opt for a beautiful balayage blend of blonde shades like this striking lady has done? Melting her hair from a dark blonde to a lovely white blonde at the tips, this lady has created a look that radiates sunshine – an ideal contrast for winter. She's included gorgeous ringlets throughout the look for the perfect, romantic finish.
Dark Brown Locks with Light Brown Highlights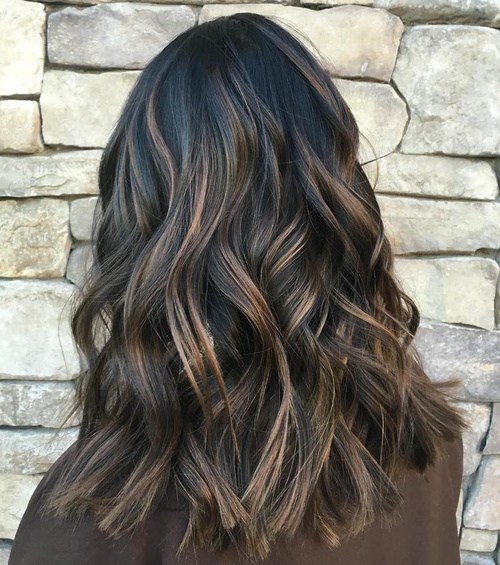 This utterly gorgeous thick hair is the perfect style for winter, as we're sure you'll agree. This incredible dark hair falls loosely around the shoulders, and has been highlighted with lighter brown sections to provide stunning light and shade for the style. Thick and tight curls fall from root to tip, blending the darker and lighter sections of hair together to show off the striking colour combination.
Dark to Light Blonde Beach Waves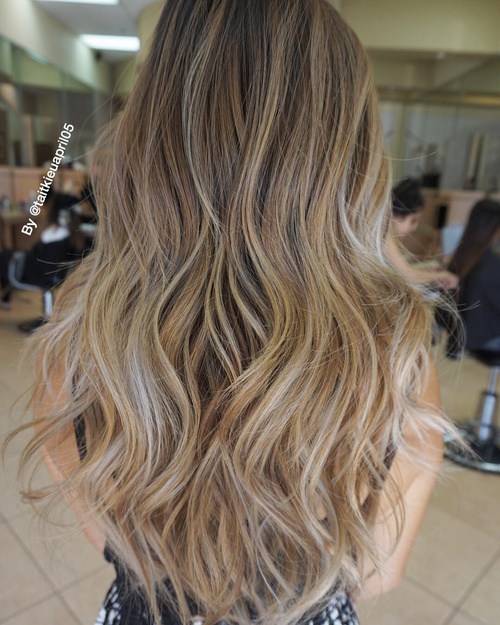 Beach waves are incredibly popular; offering a loosely tousled style that is cool, casual and oh so stylish. One look at this gorgeous hair style proves why beach waves are such a sought after style; especially when you have stunning blonde balayage hair like this lady. From a dark to light blonde, the colours melt together and offer the most stunning finish.
Glossy Black to Toffee Ringlets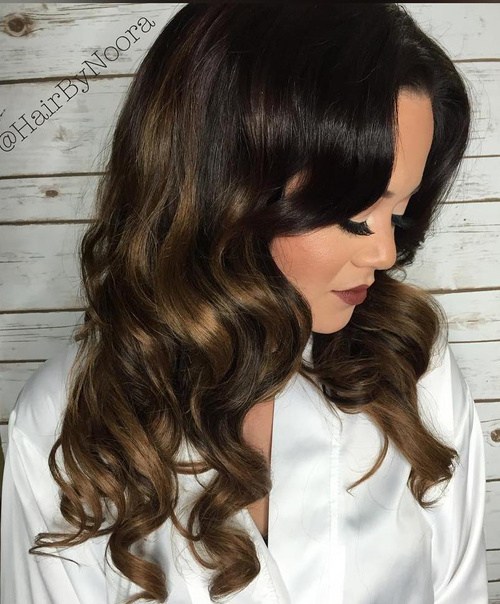 This might just be one of our favourite hairstyles of the bunch! These luscious long locks have one long layer, and the top sections are finished with shorter layers throughout to create a gorgeous silhouette – especially with the sweeping fringe sections on either side of her forehead! The colour works from a deep, dark brown to a toffee shade on the bottom with a finished style that we can't get enough of.
Gorgeous Grey Curls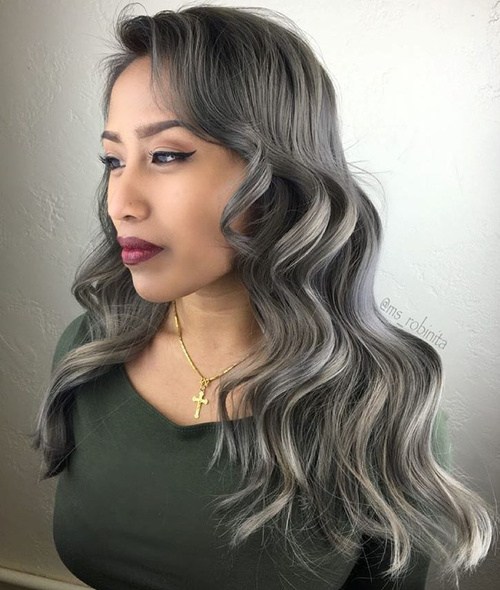 This incredibly stylish hair is the most beautiful shade of grey; which is so incredibly on trend lately, and we think it looks utterly gorgeous on this stunning lady. Her hair is long and thick, with shorter sections around the face creating a beautiful silhouette. She's added big barrel curls from around the ear length down, falling in waves around her shoulders.
Blonde to White Ringlets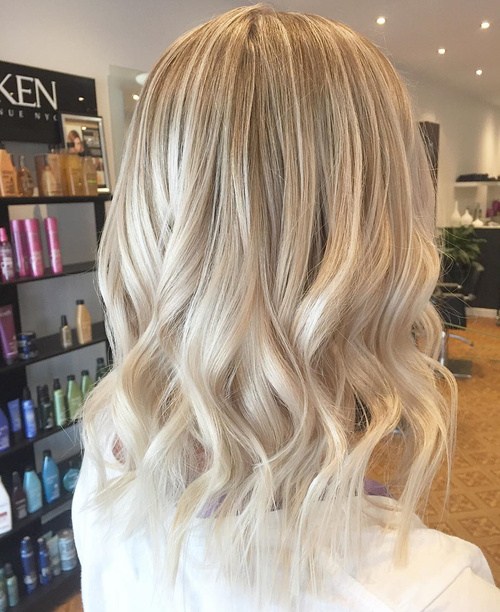 Brighten up your winter with a gorgeous light blonde balayage blend like this fashionable female has done – and doesn't it look gorgeous? Her striking hair blends from a beautiful ash blond to a white blonde at the tips, and she's curled the ends in tight ringlets which fall around her shoulders. This look would be equally striking when straight too!
If you fancy a new look this winter, then Styles Weekly hope that this gorgeous gallery full of stunning hair colours has inspired you to go for a change. Whether that's bold and bright or dark and daring; let us know which one you choose!