The long maxi skirts are fashionable to wear in summer and they can also prevent you from the harmful sun rays. Whenever you wear your maxi skirts or dresses, you will become more feminine. In today's post, we would like to show you some best summer outfits with the maxi skirts and dresses. Check out this chic ideas and get yourself inspired.
Printed Maxi Dress for Summer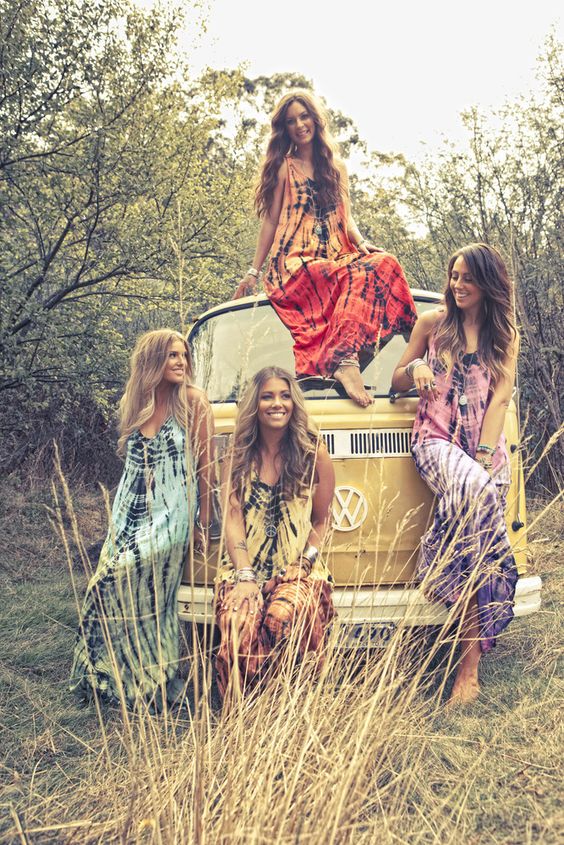 Hang out with your best friends and wear the maxi dresses together. You will attract all the attention wherever you go.
Beautiful White Long Dress Outfit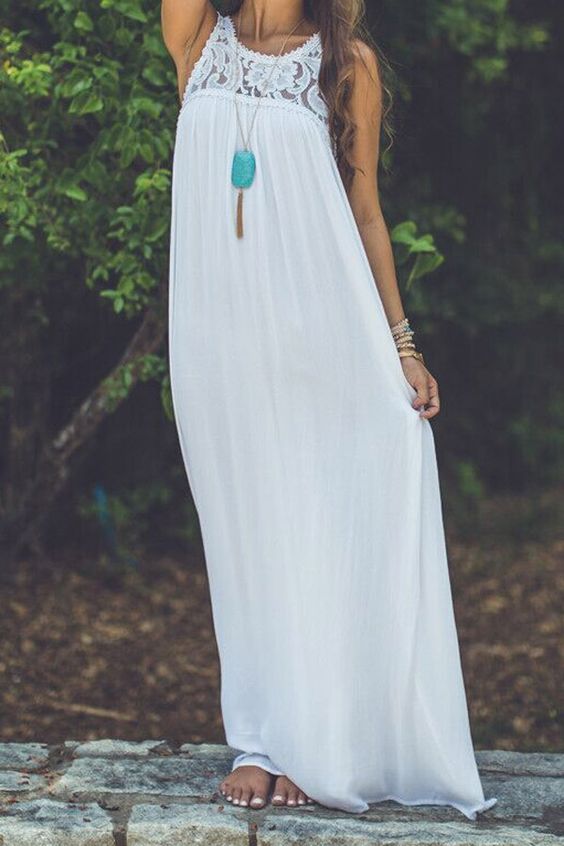 There is nothing more beautiful than a white long dress. Such a nice dress will make women as pretty and pure as an angel.
Floral Printed Maxi Dress Outfit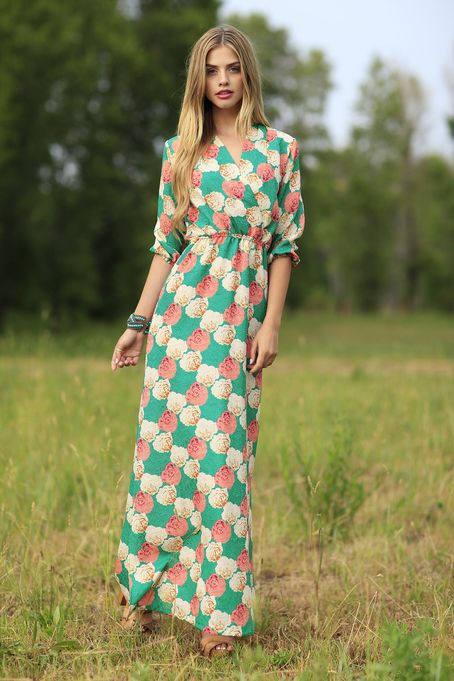 If you don't know how to make a fabulous outfit combination, then you just need to buy a stylish dress. The floral maxi dress is quite gorgeous and you can wear it in all important situations.
Stylish Floral Maxi Skirt Outfit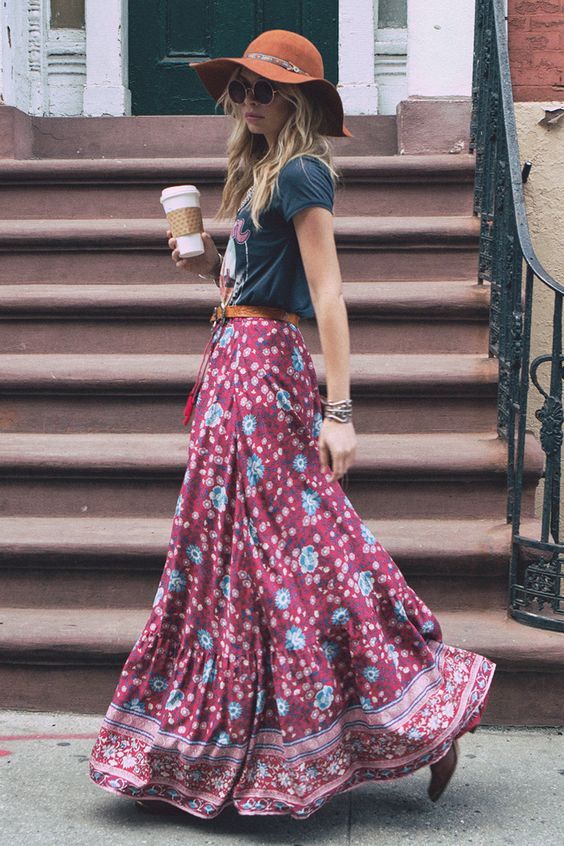 This plum floral printed maxi skirt is stylish by itself. You just need to pair it with a basic black tee in order to get a more fashionable outfit look.
Floral Maxi Skirt with Black Crop Top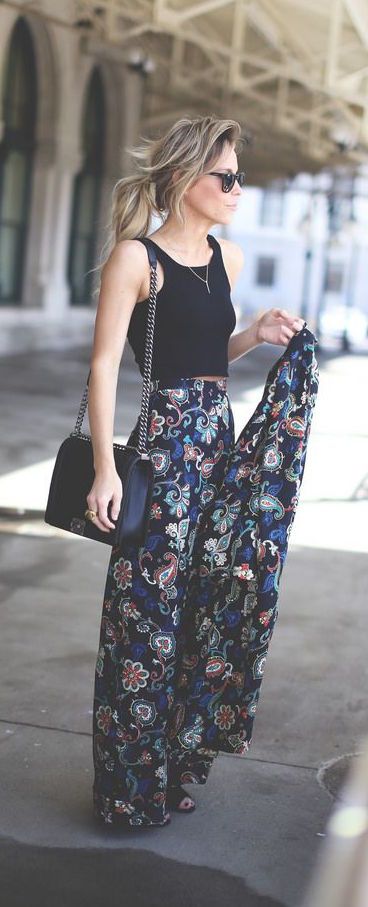 It seems that crop top looks best with the maxi skirt. This is a great idea for all women to copy.
Fashionable Red Maxi Dress for Summer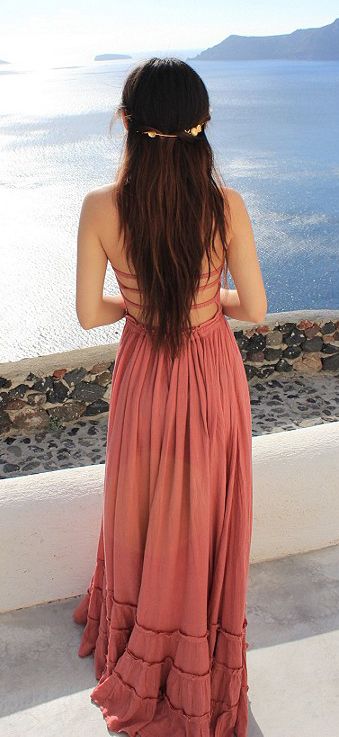 If you are going to have a romantic trip, just take a maxi dress like this. THe long dress brings more femininity to your look and the backless design make this outfit even sexier.
Maxi Tulle Skirt Outfit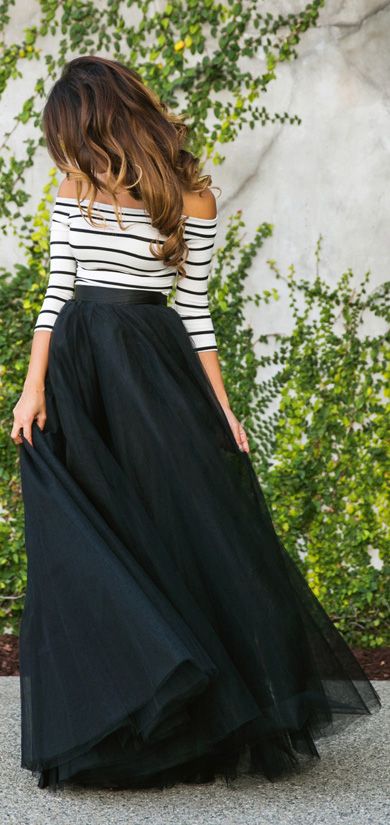 The black tulle skirt looks so stylish with an off-the-shoulder top. Such a simple yet stylish outfit is suitable for women at any age.
Chic Maxi Skirt with Sun-Top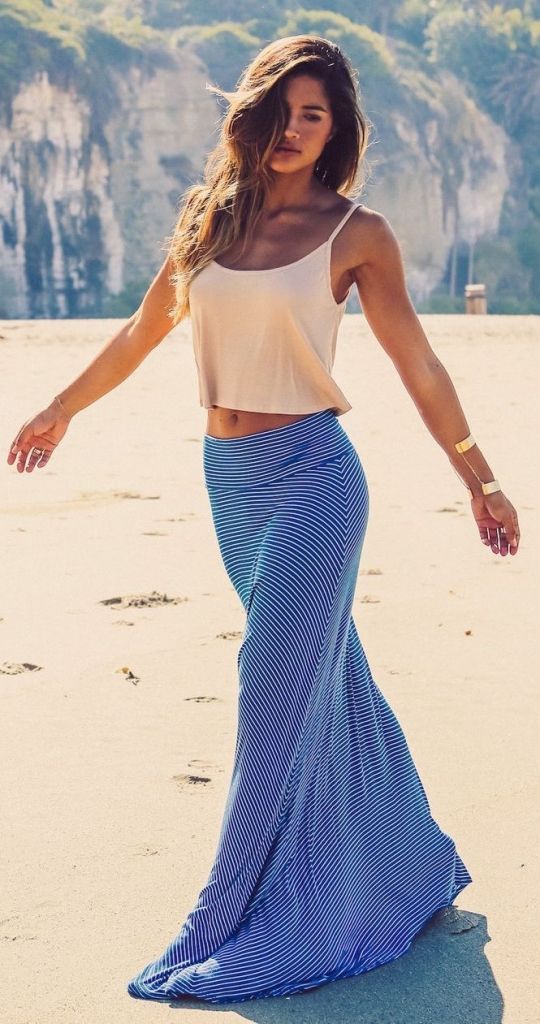 This is an ideal outfit for holidays, especially for the beach holidays. The soft and long skirt is comfortable to wear and it can make your casual look much more fashionable at the same time.
Classy Black Maxi Skirt with White Tee

If you are required to wear black and white outfit, don't be upset. That outfit can be trendy as well. For example, you can choose a maxi black skirt and then pair it with a simple white tee. In this way, you can get an effortless faddish yet formal outfit.
Amazing White Outfit with Maxi Skirt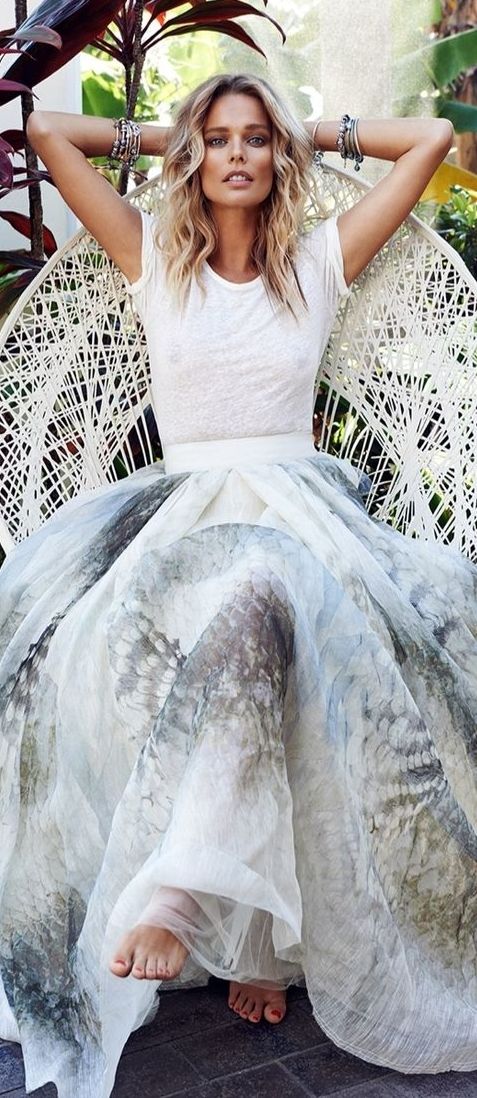 Match your maxi skirt with a top in the simlilar color, thus you'll make a fantastic combination.
White Split Skirt with Red Crop Top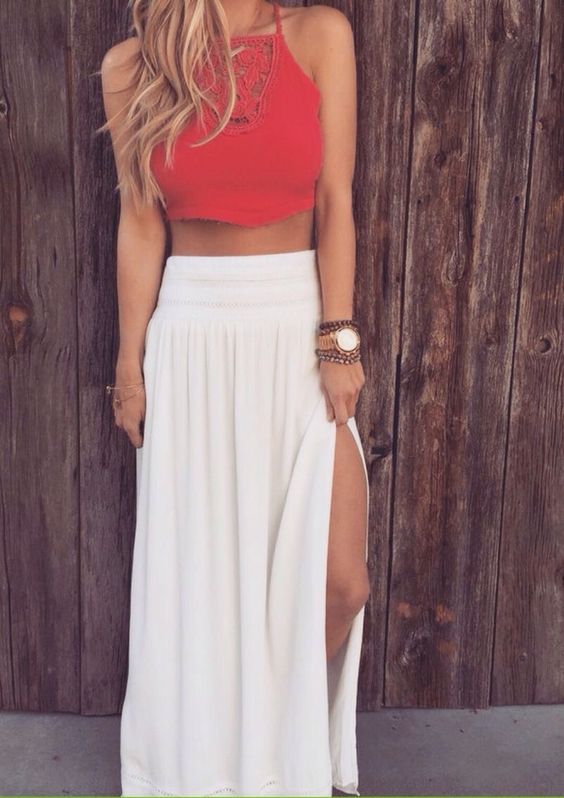 If you'd like to be edgy chic, you can buy yourself a split skirt. This white split skirt can go with any bright top. In this picture, the red crop really works amazingly to complete this chic outfit.
Fashionable Maxi Skirt Outfit Idea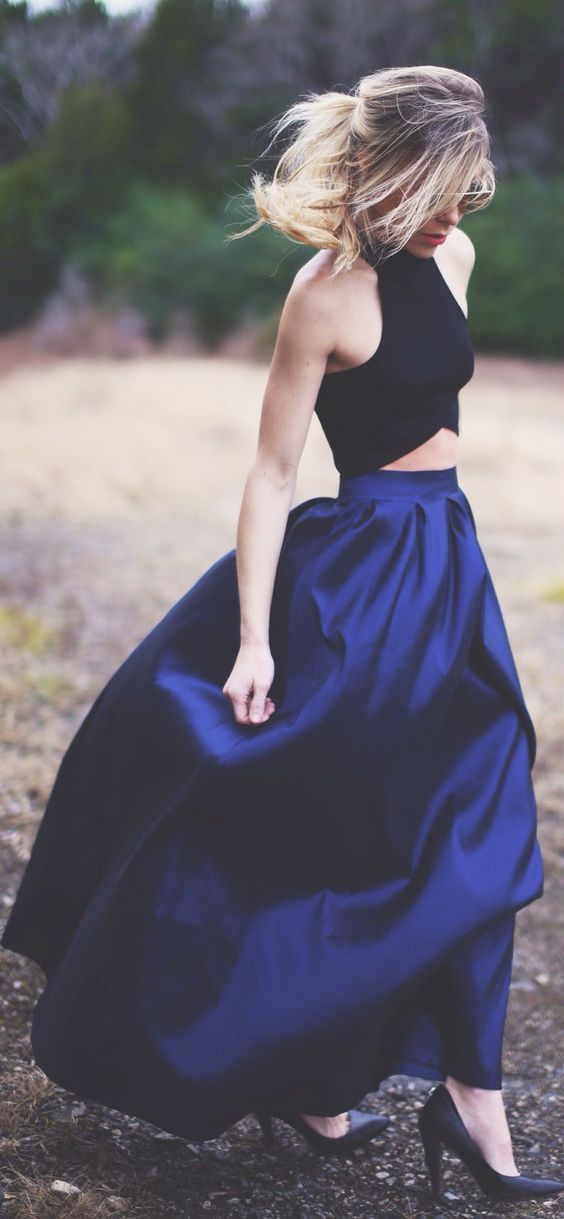 The figure-flattering black crop top makes the formal blue maxi skirt appear much sexier. If you wear this outfit for a date, you will be extremely charming.
Pleated Maxi Skirt Outfit Idea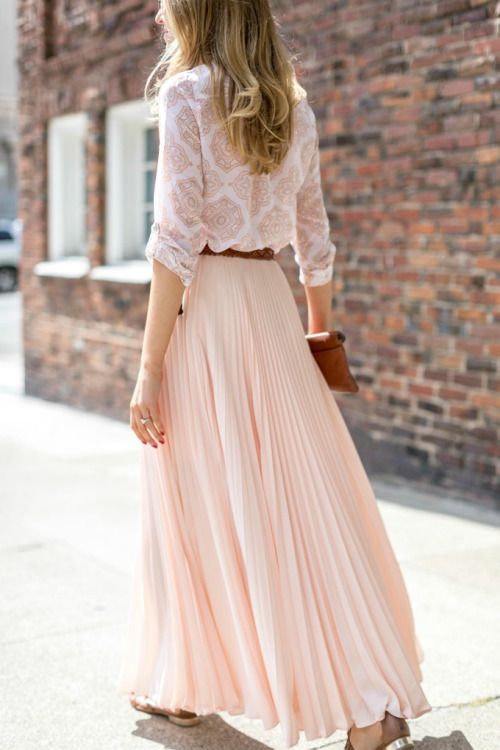 A pink maxi skirt can be matched with a printed chiffon blouse. The soft texture of this outfit are ideal for the sweet and mild women.
Maxi Skirt Outfit for Holiday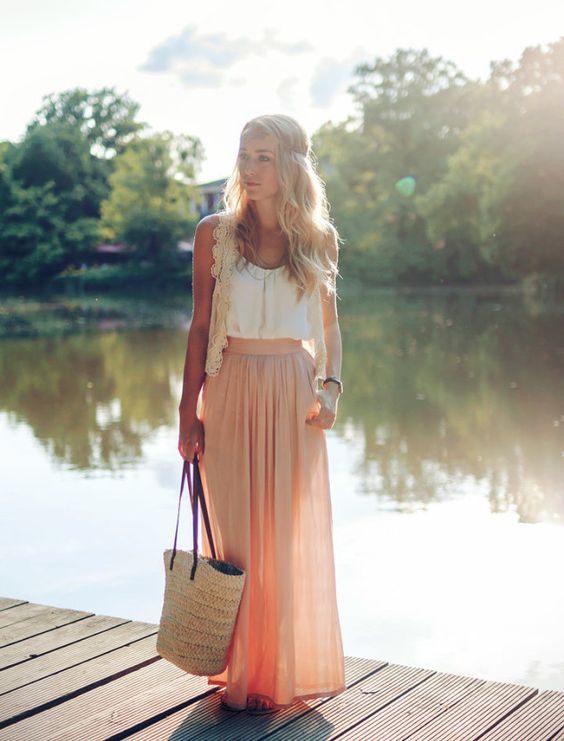 When you are going on a holiday, a maxi skirt will do all work for you. You don't need to worry about what to wear, as the maxi skirt will go well with any kinds of tops.
Sexy Maxi Skirt Outfit Idea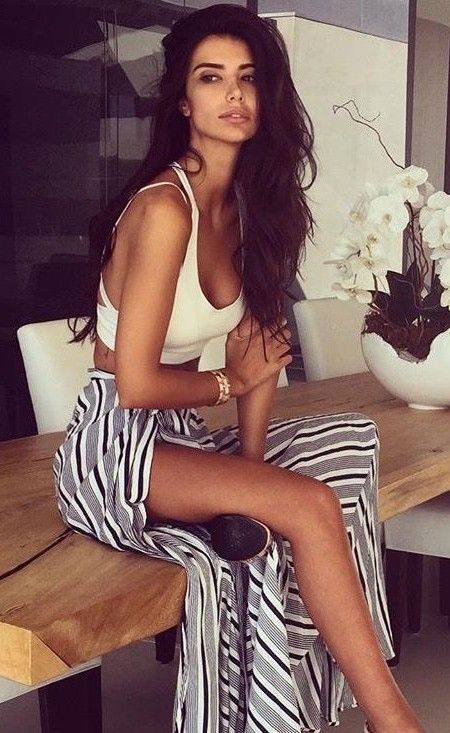 Have you ever tried the thigh-split maxi dress? If you want to try the sexy yet faddish style, don't miss this outfit idea!
Stylish Floral Maxi Skirt Outfit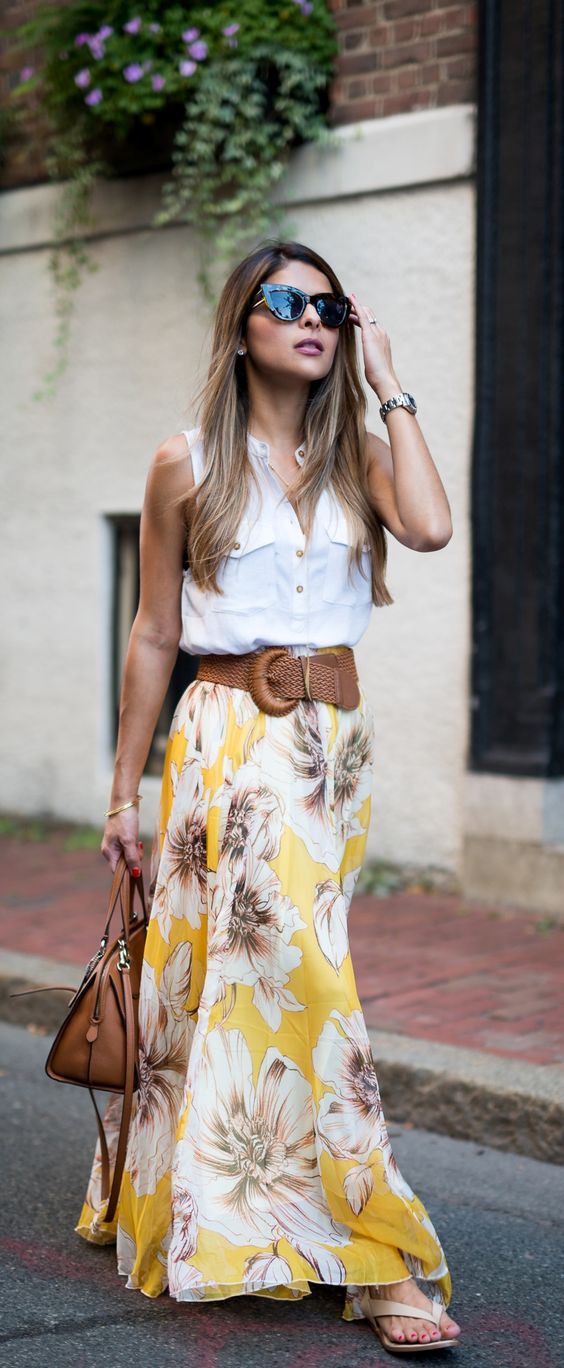 The floral maxi skirt is quite fascinating to wear in summer. The chiffon skirt is so flowing and soft that no one will say no to such a comfy and chic design.