1. Bella Thorne Long Hairstyles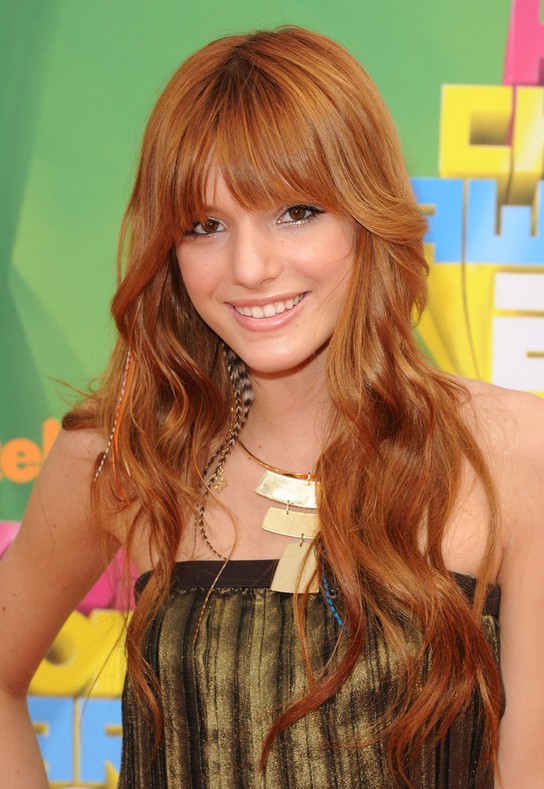 This is a fantastic colour; Bella Thorne's stunning auburn hair is the perfect shade for her pale complexion and it is made even more beautiful by the fantastic condition it is in. Styled simply in soft loose waves, the parting is in the centre of the head for long, even lengths. The deep fringe is the perfect length for a long face, making this a very flattering style for those with larger foreheads. For a touch of boho style, Bella has added a few fine feathered threads throughout the hair, tying her hairstyle to her outfit perfectly.
2. Bella Thorne Hairstyle: Low Ponytail Hairstyles with Braid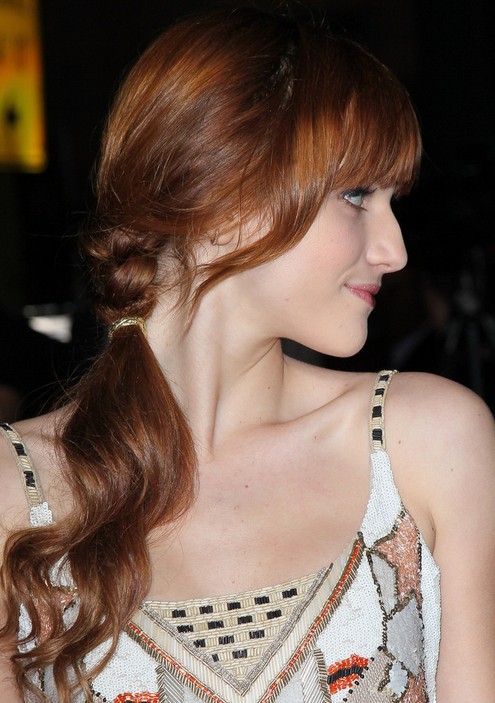 Bella Thorne Hairstyle
With soft shiny hair and her beautifully warm, coppery red tones, Bella Thorne 's hair really does provide a real taking point. The rich colour is fantastic against her palest of pale skin tone and her face is really flattered by the long fringe which rounds out a longer oval face and draws attention to the eyes. Her hair is swept back and styled in a short braid, with the lengths allowed to hang freely in soft loose waves. This is a casual but very feminine style.
3. Bella Thorne Hair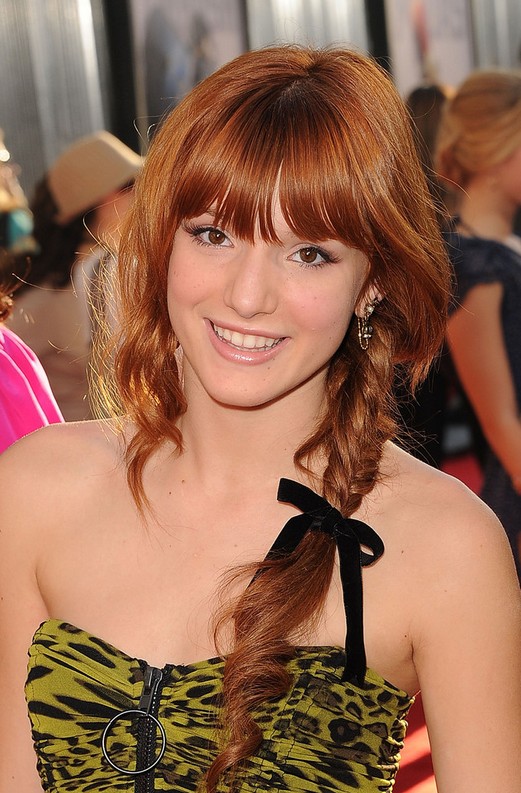 Bella Thorne's stunning auburn hair always creates a big impact, and this style is no exception – this is a fun, flirty style that really shows off her youthful beauty and big personality. Her pale skin and understated makeup allow her hair to steal all the attention. The style is loose and wavy with a beautiful side braid which ends halfway along the length of the hair and is secured with a sweet black velvet ribbon. Even in the rain, this style is just so sweet.
4. Bella Thorne Hair Knot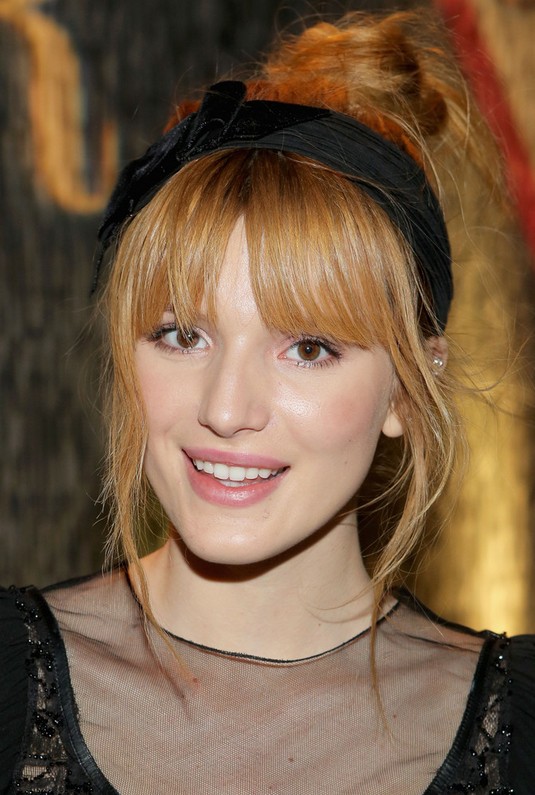 Bella Thorne is great at beautiful messy-chic hairstyles that are fun, flirty and fabulous. Her tousled styles allow her natural beauty to shine through. This style is a messy hair knot, high on the head, with a black hairband wrapping around her signature long fringe and loose wavy side strands. Bella takes the casual trend for hairbands and bows and gives it a glamorous twist by wearing this informal style with a dressier outfit. Taking casual everyday hairstyle onto the red carpet creates an edgy, contemporary look.
5. Bella Thorne Fishtail: Cute Braided Hairstyles for Girls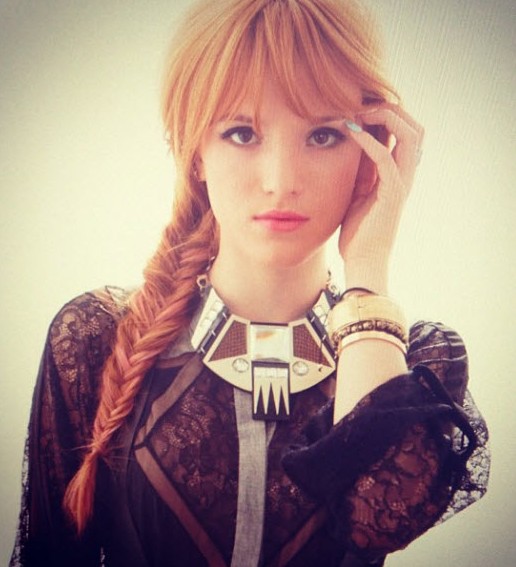 Want to see the perfect fishtail braid? Look no further! Here, Bella Thorne's gorgeous copper hair is styled in the ultimate fishtail braid – it is long, gently tapered and it has been braided perfectly for maximum on-trend style. The long fringe and the way the hair has been drawn loosely into the braid so that there is plenty of volume and softness on top of the head, really adds to this classic look. The finishing detail has to be the way the end of the braid has had a fine strand of hair wrapped around it to disguise the band.
6. Bella Thorne Braided Updo: Holiday Hairstyles for Updos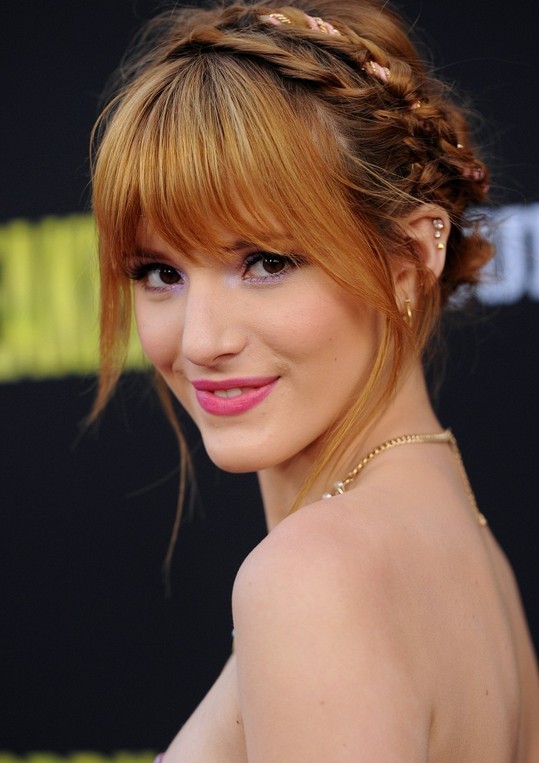 The deep fringe and beautifully shaped side strands of Bella Thorne's elegant updo frame her face perfectly. A pair of braids forms a pretty halo around her head, and the detail in one of the braids which has a pale pink ribbon interwoven into the strands of hair adds a lovely feminine detail which brings a touch of fun to the style. The colour is rich and multi-tonal, and the whole look is fun and flirty.
7. Bella Thorne Braided Hairstyle: Loose Side Braid Hair Style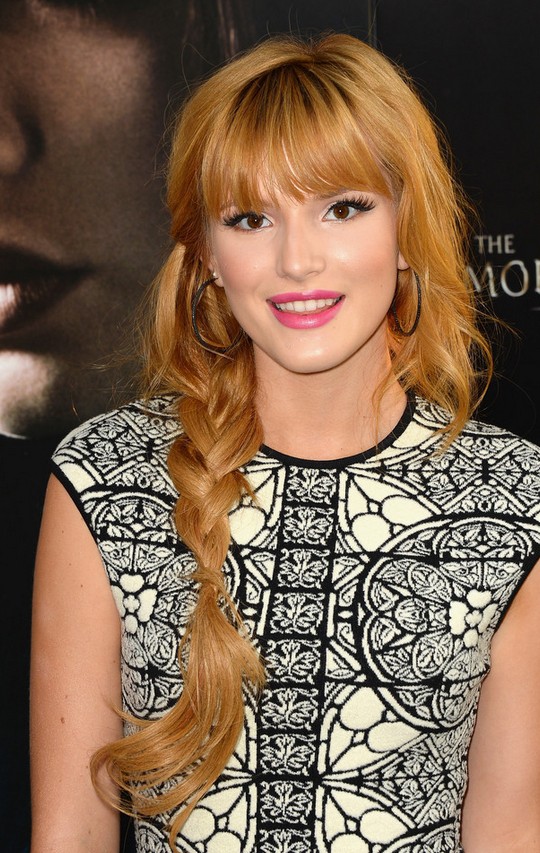 When it comes to the trend for side braids, Bella Thorne goes big and beautiful with a huge chunky braid and loose wavy strands which add a messy, modern edge to the style. The fringe which Bella wears over her forehead really flatters her face, rounding out a longer oval shape and drawing the attention to the eyes (and those huge eyelashes!). The style is designed to create big impact and it certainly succeeds in that respect.
8. Bella Thorne Braid: Cute Easy Side Braided Hairstyles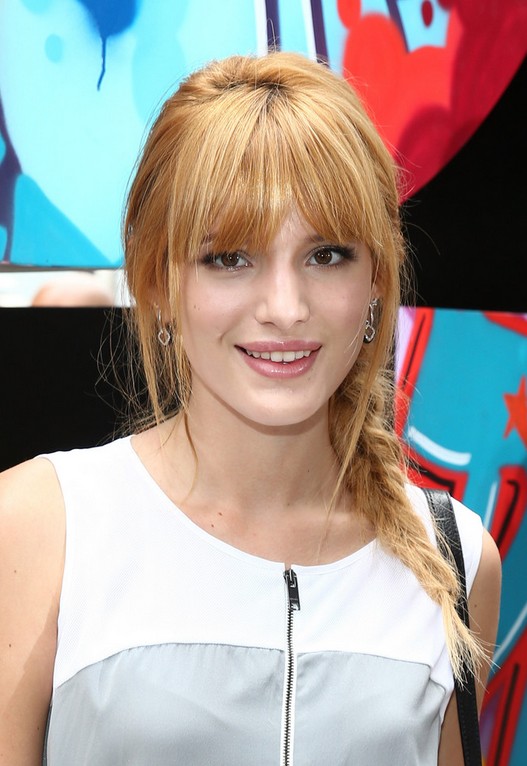 This is a sweet style for Bella Thorne as she gets her messy side braid just right. Her long fringe just skims her eyes and longer side strands are kept loose to add to the messy look. The colour she chooses here is a warm but light coppery tone with touches of a perfectly corresponding blonde tone throughout. The shade really suits Bella's pale skin tone and dark eyes, and it makes a big style statement.