Milkmaid hairstyles are incredibly fashionable, and have been growing in trend season upon season. They sweep your hair off your face offering you the perfect solution for warmer weather, but they can create a truly gorgeous finish for your style too.
Here are our top picks of truly elegant ways to have milkmaid hairstyles and transform your look.
Chunky Brown Milkmaid Crown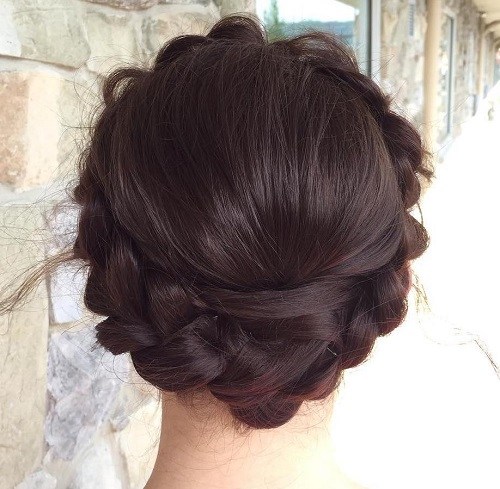 This utterly beautiful, glossy brown hair has a slight red tint which creates the most beautiful and warming finish. This lady's shiny hair has been worked into a low ponytail with added volume, and the ends have been styled into a chunky braid, which she's wrapped right around the head to create an impeccably chunky milkmaid crown.
Tousled Brown Milkmaid Braids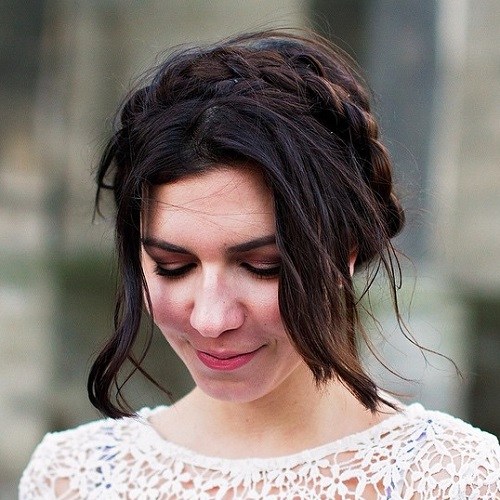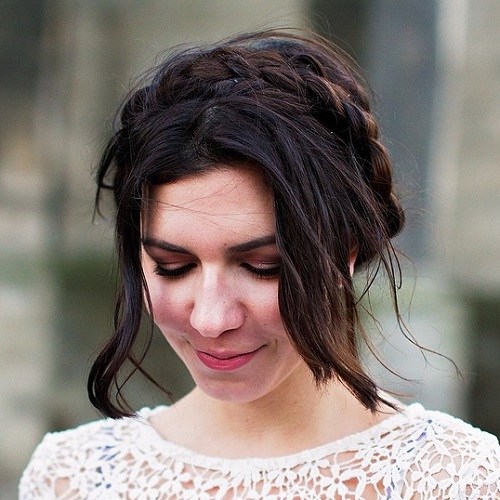 This girl's amazing hair is a deep and dark brown at the root which blends via ombre transition into a lighter blonde at the tips. This stunning lady has worked a rough tousle through the hair for body and texture, and then swept the back of it up into a braid, wrapping it around the top of the head and pinning it for this flawless milkmaid style.
Clean, Copper Milkmaid Braid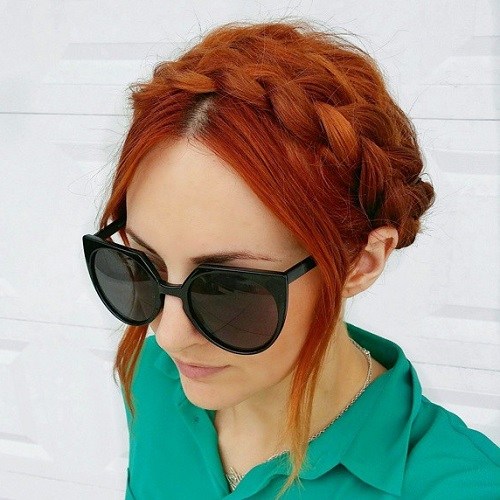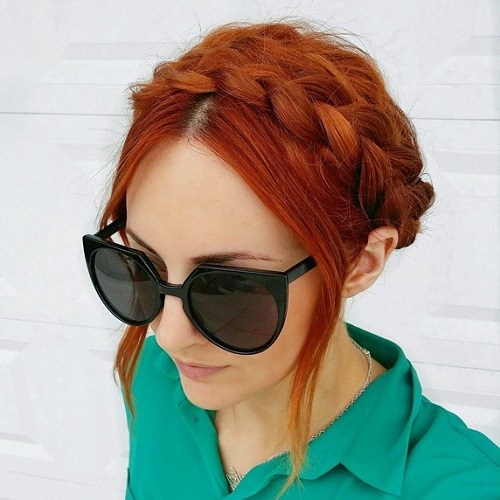 This stunning copper hair is oh so striking – fiery and fabulous, that's what we love about redheads! She's created a clean and classic milkmaid braid look with her long locks, working them into a chunky braid which she's wrapped from one side of the head to the other in classic milkmaid style. She's left two chunky strands of hair to fall on either side of the face for the perfect finished look.
Golden Brown Fishtail Milkmaid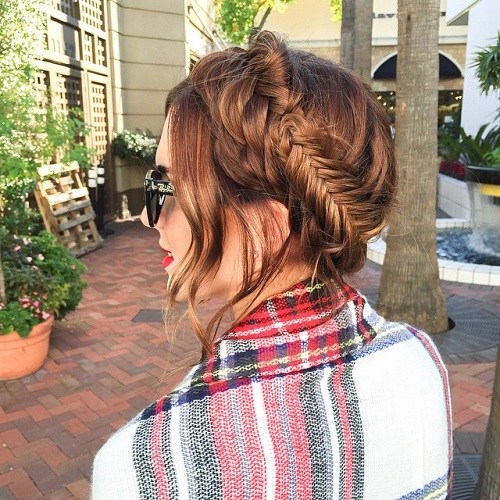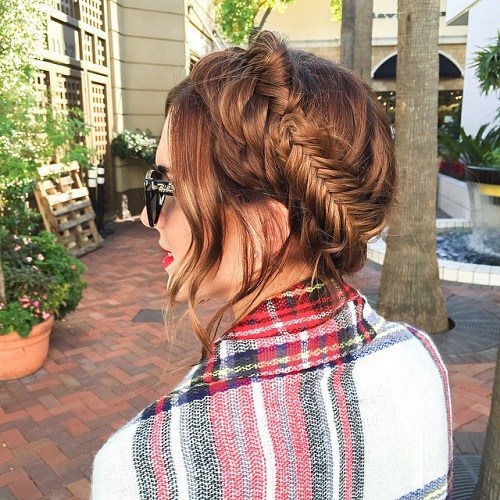 This fabulous fashionable lady has created a truly unique milkmaid style for her luscious locks, working her hair into a trendy fishtail braid before securing it on top of the head for the typical milkmaid look. She's left lots of loose strands fall around the face and curled them loosely for the most gorgeous finished style we ever did see.
Chestnut Brown Milkmaid Braid with bangs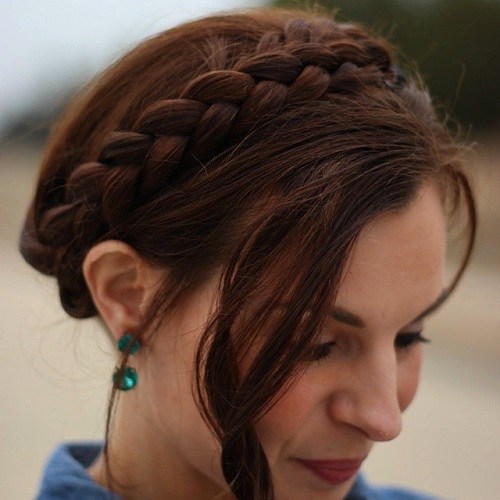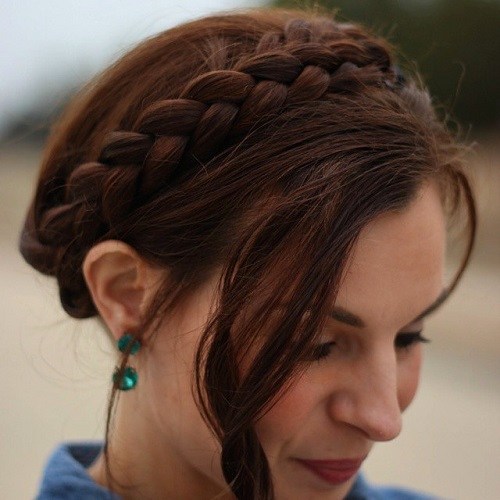 This lady has beautiful hair that is a striking shade of brown we simply adore! This gorgeous chestnut colour has a slight red tint which makes it warming and gorgeous – the perfect colour for a milkmaid braid finish! She's plaited the hair to create the braid and then secured it on top of the head for the milkmaid style, leaving the fringe section loose to frame the face.
Pastel Ombre Milkmaid Style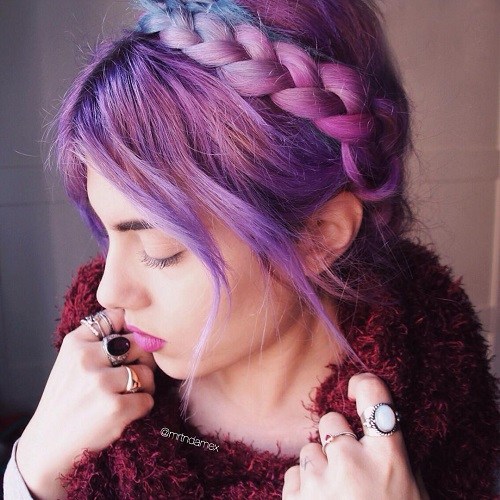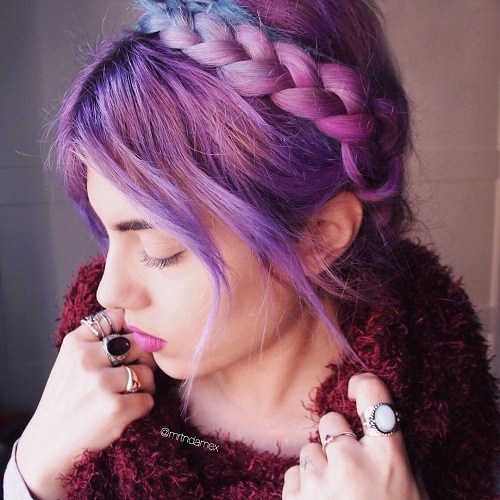 This absolutely stunning hair is pastel perfection, blending a range of beautiful pale shades into one stunning milkmaid look. Purple, pink and blue pastel shades blend together, and to show off this gorgeous rainbow the stylish lady has swept her hair into a braid and secured it round the top of the head for the ultimate milkmaid braid style.
Caramel Milkmaid Braid Crown for Black Women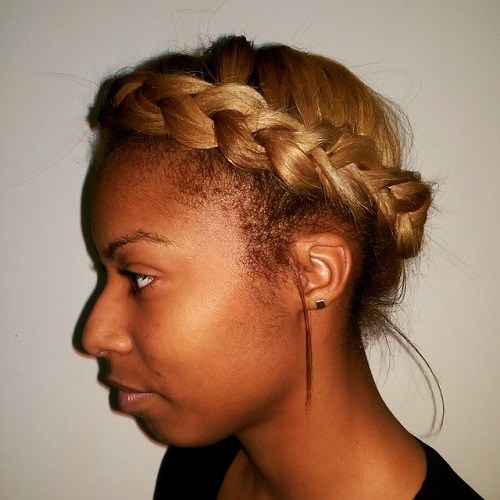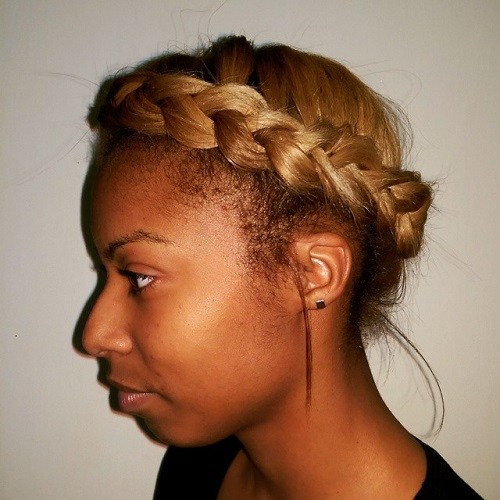 This stunning woman has opted for the most beautiful shade of caramel blonde to dye her hair with – this colour looks utterly sublime against her gorgeous and glowing complexion. She's worked the ends of the hair into a chunky braid which sits around the head, forming a gorgeous milkmaid crown which might be one of our favourite milkmaid looks of all.
Dual Red Milkmaid Braids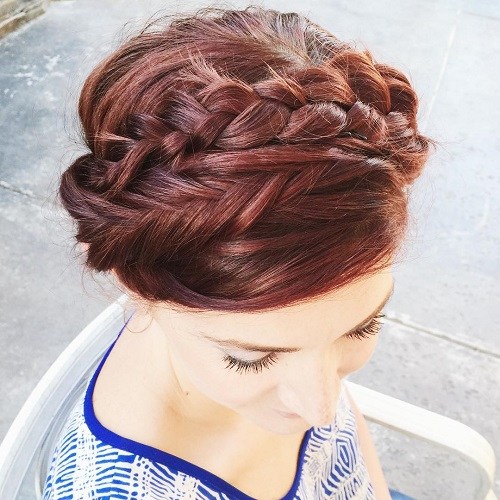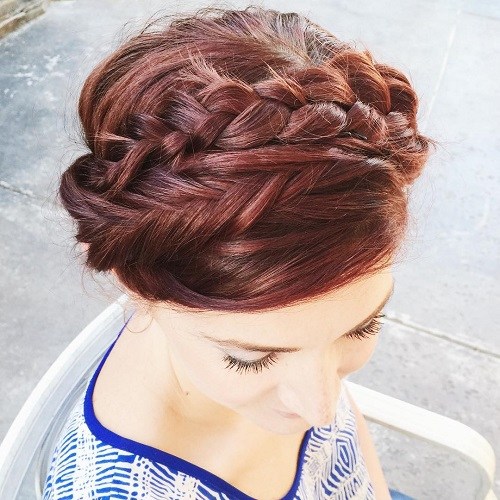 If you can't decide whether to work a traditional plait or a fishtail plait into your gorgeous milkmaid braid – then why not do what this beautiful lady has done and choose both styles at once? She has the most beautiful shade of a deep burgundy throughout her hair, and it's showed off perfectly with the dual milkmaid braid style which is perfect for a special occasion.
Red Tousled Milkmaid Braid Half Up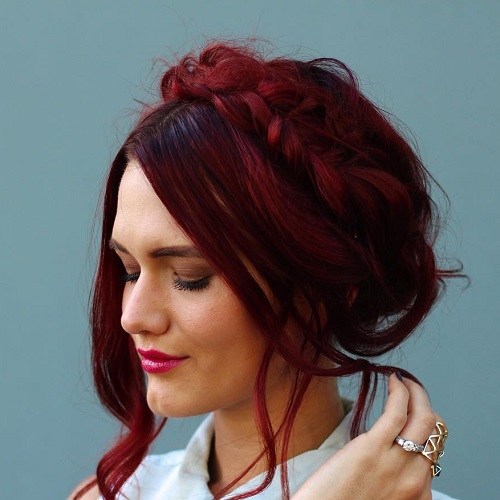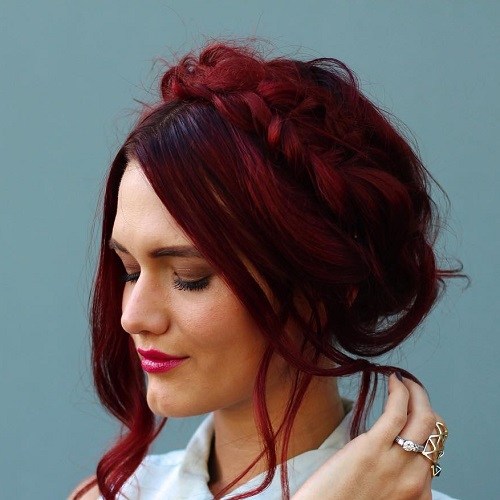 As opposed to a smooth and sleek milkmaid braid style, this incredibly fashionable lady has worked her fiery red locks into a cool and relaxed, tousled style milkmaid braid and we think the finished result is simply incredible! The braid works across the top of the head, and large sections of the hair are left to fall around the face in loose waves.
Copper Double Milkmaid Braid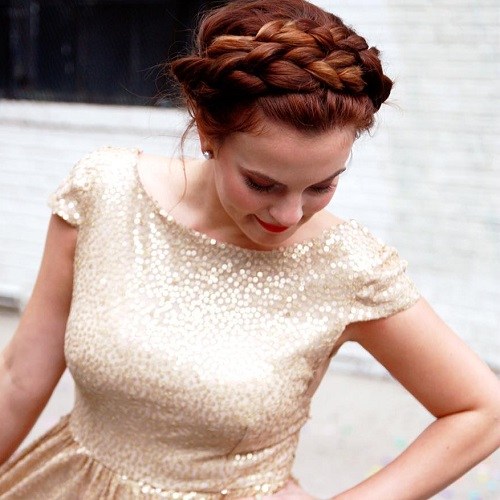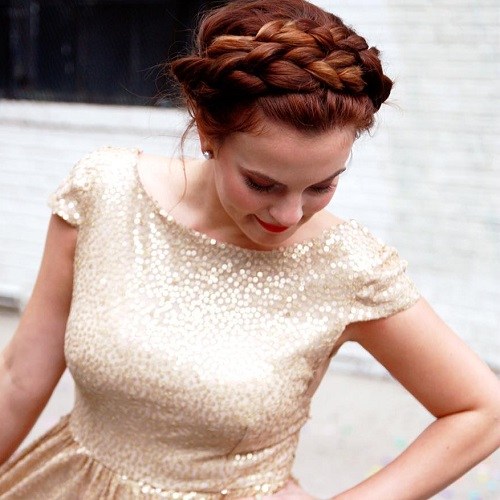 This lady is blessed with gorgeous copper auburn hair which is glossy, strong and long – perfect for creating a range of versatile hairstyles. She's worked her hair into two thick braids, sweeping all of the front and back sections into the plaits. Finishing them across the head for a unique double mermaid style, this look is smart and sophisticated!
Copper Milkmaid Braids with Loose Curls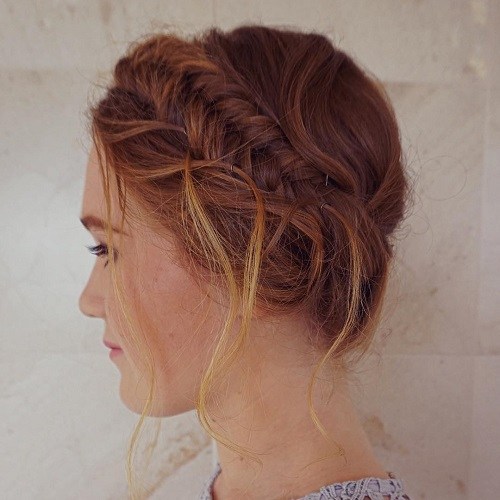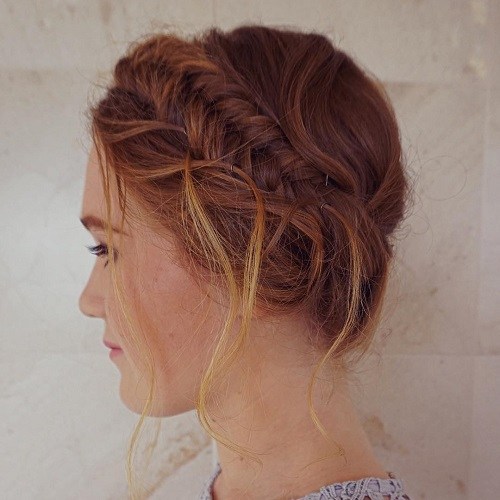 Milkmaid french braid – This beautiful lady has an utterly stunning hair shade; a deep and fiery copper which is finished with gorgeous light blonde strands that fall around the face. The show this style off, she's worked her hair into a chunky braid and wrapped it around the top of the head for the traditional milkmaid style, securing the rest of the hair up and letting wispy strands fall around the face for the finished look.
Tousled Double Milkmaid Braids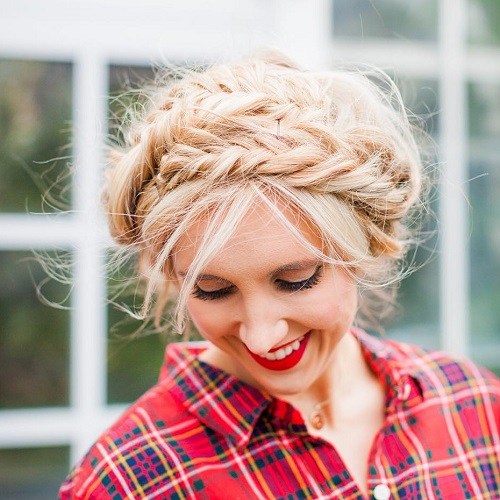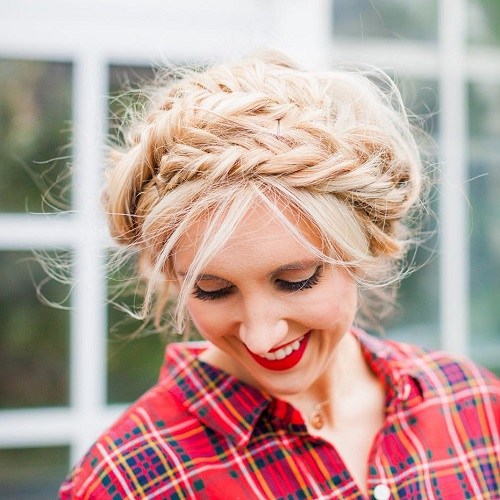 It's no surprise this stunning lady has a smile on her face – look at her gorgeous hair! Her locks are a stunning shade of bright blonde which is very striking indeed, and she's separated her hair into two sections, creating a chunky braid on either side and wrapping them on top of the head, fastening them in the gorgeous milkmaid style. The look is ever so tousled for a casual edge that we adore.
Brown and Copper Ombre Milkmaid Braid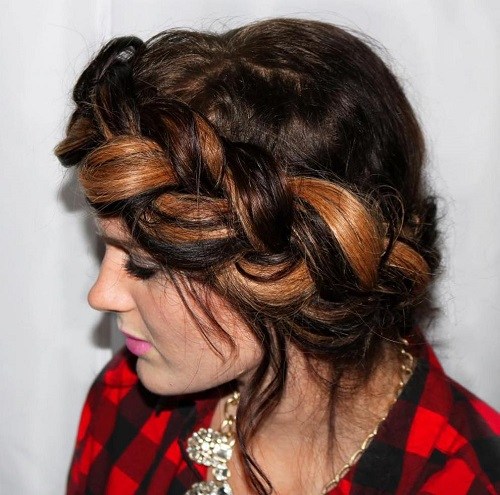 This is a milkmaid style with a difference, and it most certainly attracts attention – for all the right reasons! This lady's beautiful and rich brown hair blends into a copper tone on the ends through a wonderful ombre transition. She's worked her thick hair into a wonderful and chunky braid that wraps around the front of the head for an incredible finished look.
Grey Ombre Milkmaid with Loose Curls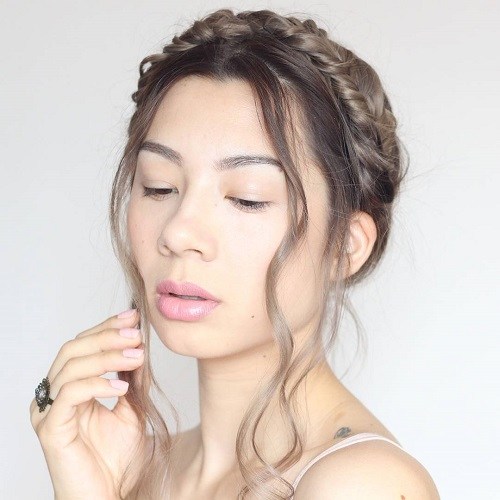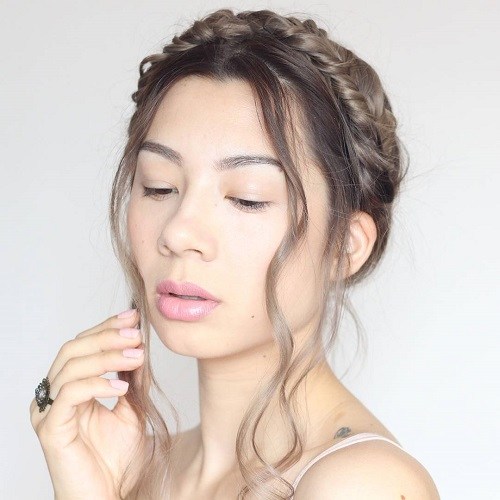 Blending two shades of grey together in the most gorgeous balayage blend that we ever did see, this stunning girl has given the Styles Weekly office serious hair envy! She's worked her amazing grey hair into a super tight braid and swept it across the top of the head for the milkmaid style, leaving loose strands in ringlets to frame the face perfectly.
Brown Ombre Double Milkmaid Braid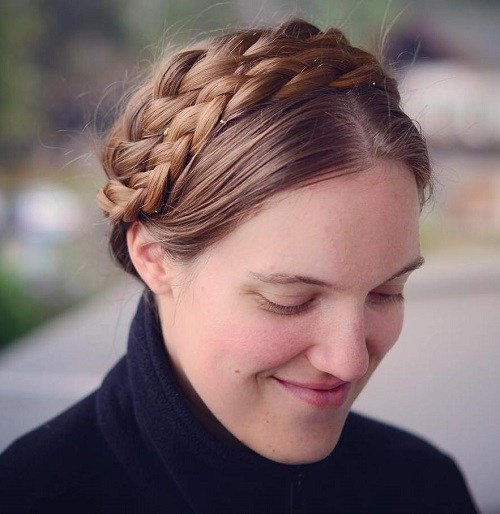 This lady is working arguably one of the most traditional milkmaid braid looks of the bunch, but still one of the most beautiful! Her hair is a gorgeous ombre blend of dark to light brown from top to bottom, showed off to perfection by the double braided milkmaid style she's worked into her locks and secured at either side of the head for this glorious finish. Also you can try this milkmaid braid on short hair.
Auburn Milkmaid Braid with Scarf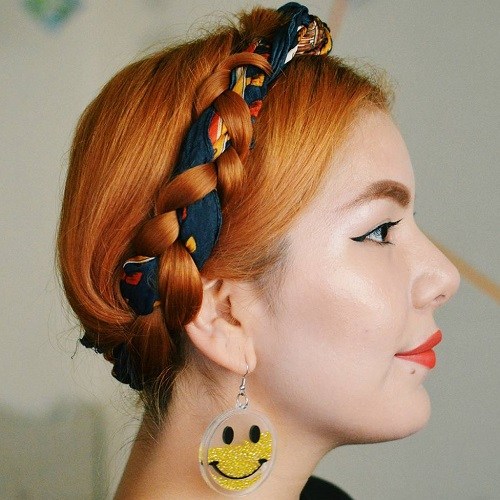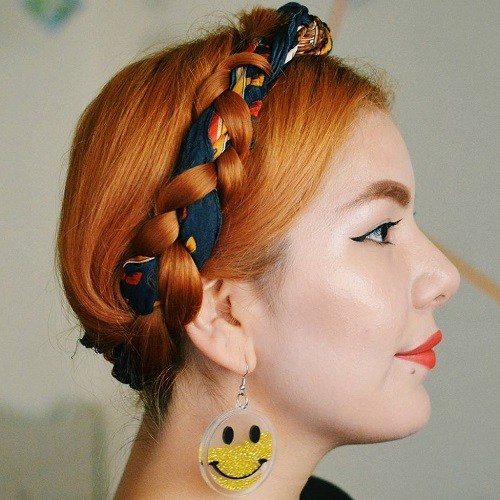 This lady is oh so stylish and on trend – resembling a catwalk model with her super cool hairstyle! She has a gorgeous auburn shade of hair which is eye-catching and glossy, and she's worked it into a milkmaid braid which sits across the head, sweeping the hair off the face. She's implemented a super cool scarf into the braid for a fantastic and unique finish.
Glossy Black Milkmaid Halo Braid for Black Hair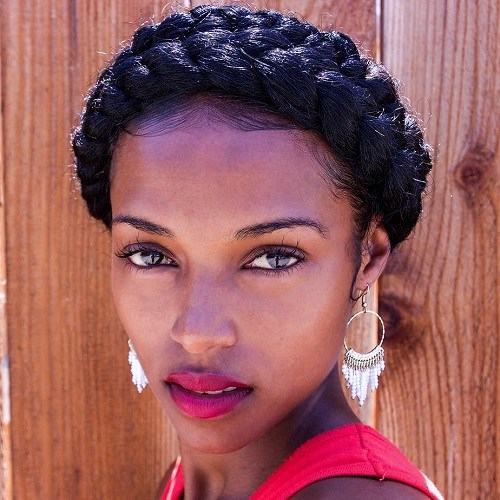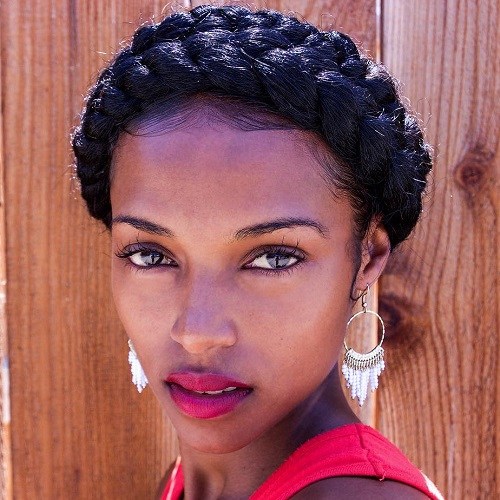 This lady is blessed with utterly beautiful facial features, which she's chosen to show off in style by styling her luscious and glossy black locks into a cool and contemporary milkmaid braid. She's swept her thick black hair into a big braid, working it across the top of the head to create an adorable halo effect which is simply stunning, don't you think?
Brown Ombre French Braided Milkmaid Crown for Girls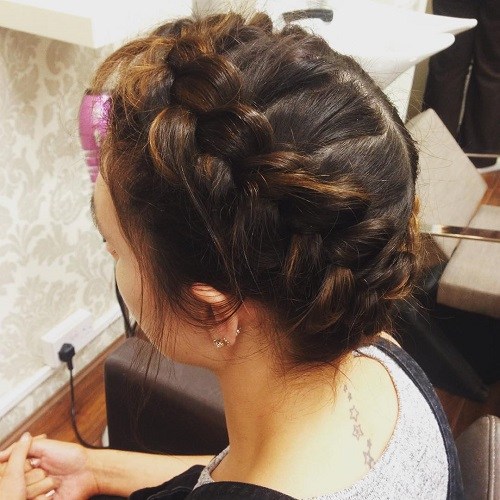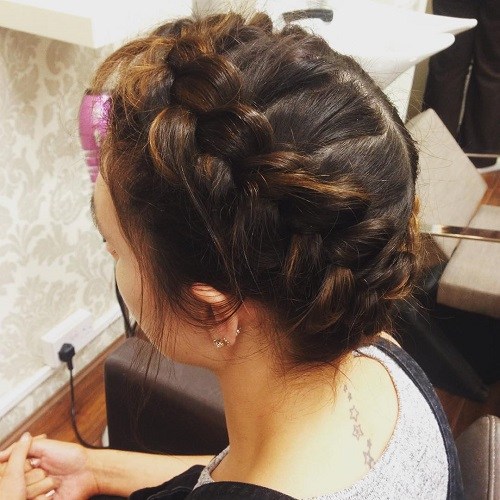 This lady has a stunning ombre style to her hair, melting a dark brown into a light brown through a beautifully smooth transition. To show off the two colours working together, she's separated the hair into two sections and worked a french braid from the bottom upwards, gathering and pinning the two plaits in the middle at the top to form a milkmaid style.
Ginger Milkmaid Style with Middle Parting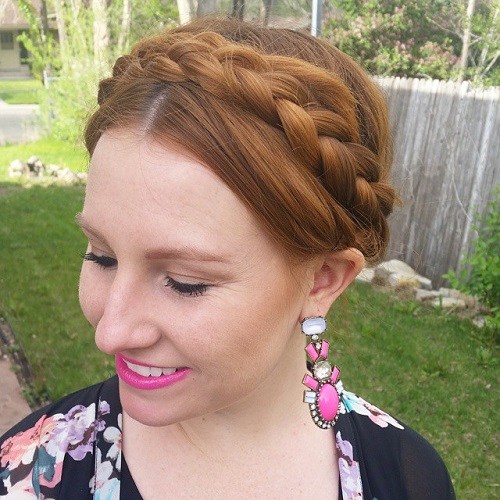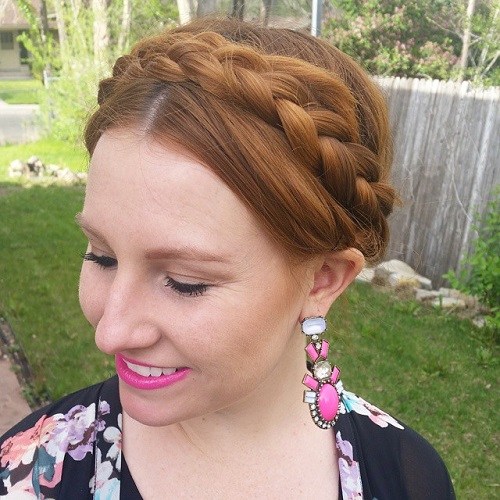 In a style which is oh so simple but oh so effective – this gorgeous lady has created a milkmaid braid style which is so simple to copy! Her beautiful ginger hair has been worked into a centre parting, and the ends of the hair have been pulled into braids. Both braids have then been gathered at the top of the head to create a striking milkmaid style which is easy to achieve.
Brown Milkmaid Braids with Fringe (bangs)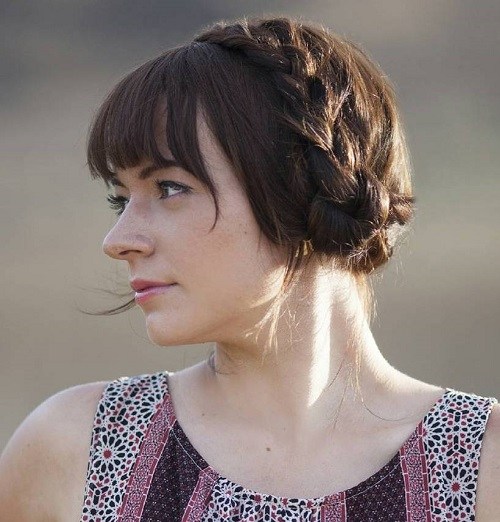 This stunning woman has equally stunning hair; it's brown, glossy and long, finished with a beautiful straight fringe across the forehead which frames her face and brings out her features. She's worked two plaits into the hair on either side and swept them up to the top of the head, pinning them in the middle to create a gorgeous, traditional milkmaid style.
Milkmaid braids are the perfect combination of practical and cute, creating an incredibly pretty finish that not only keeps your hair off your face but looks elegant and feminine at the very same time. Which of the Styles Weekly milkmaid gallery is your favourite?
PS: milkmaid braid tutorial – How To: MilkMaid Braid Up-do