When summer is here, the weather gets a little warmer, people get a little happier and it gives us a chance to really experiment with our fashion choices. From dresses and skirts to strapless tops and the cutest slogan tees, all teamed with a pair of sunglasses of course, summer fashion is without a doubt our favorite. The best part about summer is that we like our hair up and off our faces to keep us cool, which encourages us to work some truly wonderful up dos into our day to day looks. Styles Weekly has gathered some of our favorite up dos in one handy blog post for you to browse!
Link Braid to Side Bun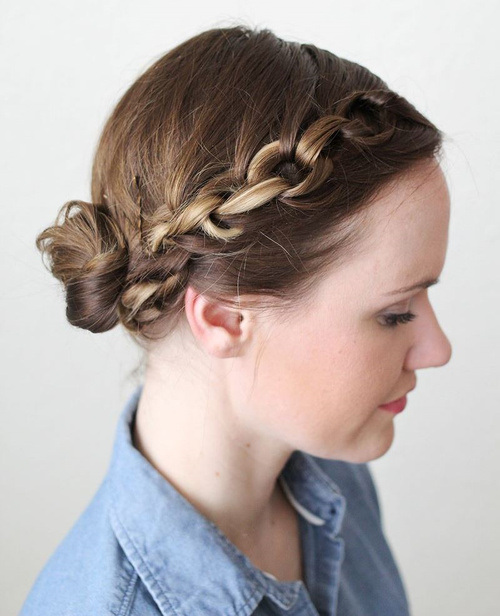 This absolutely beautiful up do is truly wonderful, with so many unique styling elements working together for this fabulous finished style. This gorgeous girl has created a unique link chain style braid across the side of her head, tying her hair in beautifully. The braid is twisted and creates this wonderful low bun at the back of the head to finish off this up do.
Braided Low Ponytail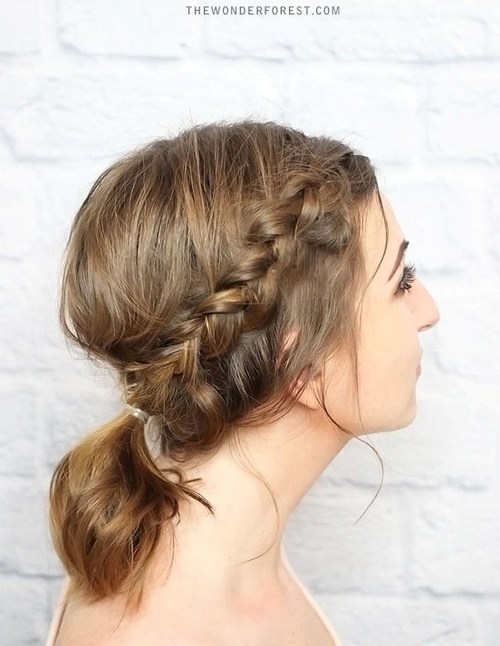 A low ponytail is a classic and low maintenance hairstyle for your medium length hair, but this incredibly fashionable lady has teamed a low ponytail with a wonderful braid to create a look which is truly unique. Her hair is a gorgeous and glossy light brown, and she's worked two braids on either side of the head, gathering them back into a low ponytail to finish the look off perfectly.
Graduated French Braid on Grey and Brown Hair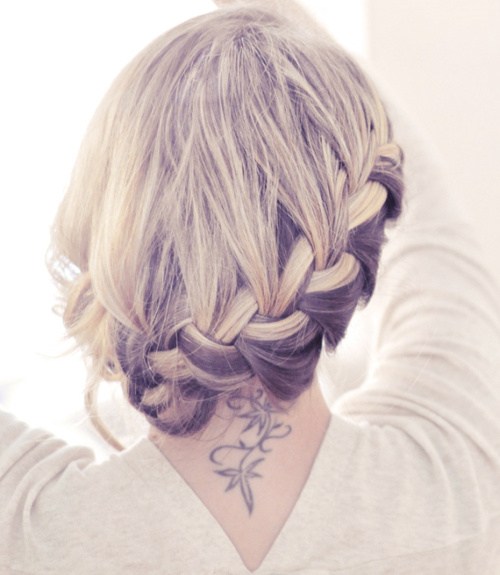 A french braid is a classic up do hairstyle, whether you've got medium length or longer length hair, but we've never seen such a unique twist on it, like this absolutely stunning graduated french braid style. This lovely lady's locks are a blend of grey and dark brown, and she's worked a french braid throughout the ends in a graduated style, pinning the ends under for this glamorous style.
Twisted Bun Effect on Copper Hair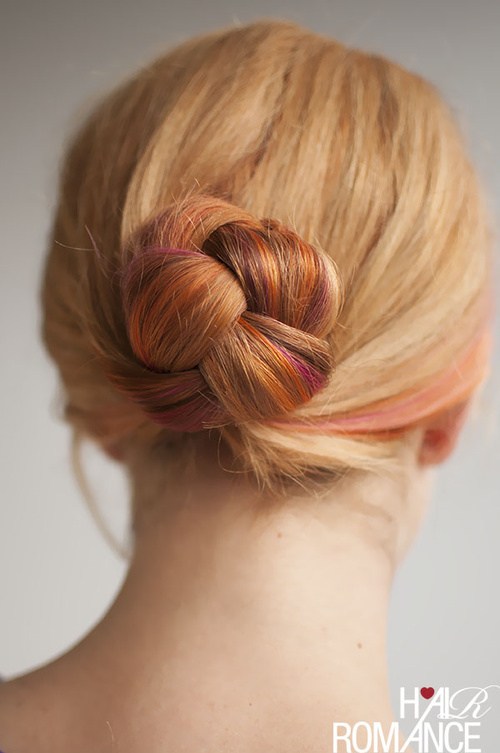 This lady has the most gorgeous hair we ever did see, in a stunning natural shade of copper. She's worked bright orange and hot pink highlights throughout, and has decided to show off the beautiful collection of colours at work by creating this incredible knotted bun effect. She's twisted and gathered the sections of hair together for this wonderful look.
Black and Red Backcombed Up Do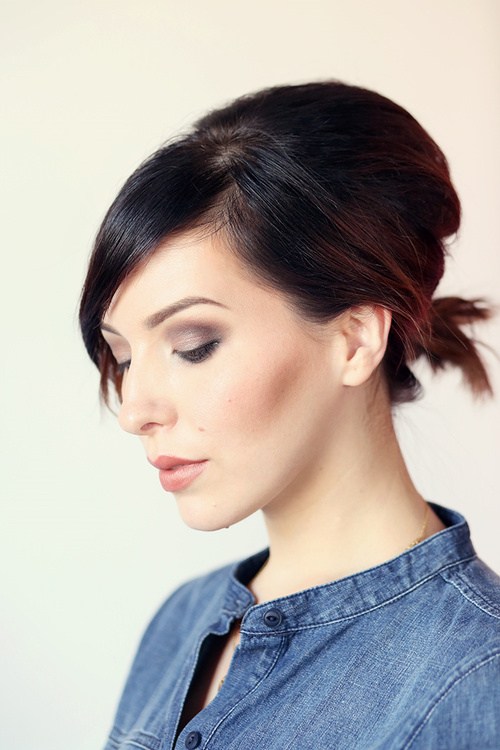 This absolutely gorgeous hairstyle is classy, stylish and fabulous; the perfect way to show off a unique colour combination in your hair! This lady's wonderful hair blends from a glossy and dark black to a beautiful and vibrant red, and she's swept it up into a ponytail, backcombing the top of the hair to create this fantastic voluminous look.
Twisted Blonde Bun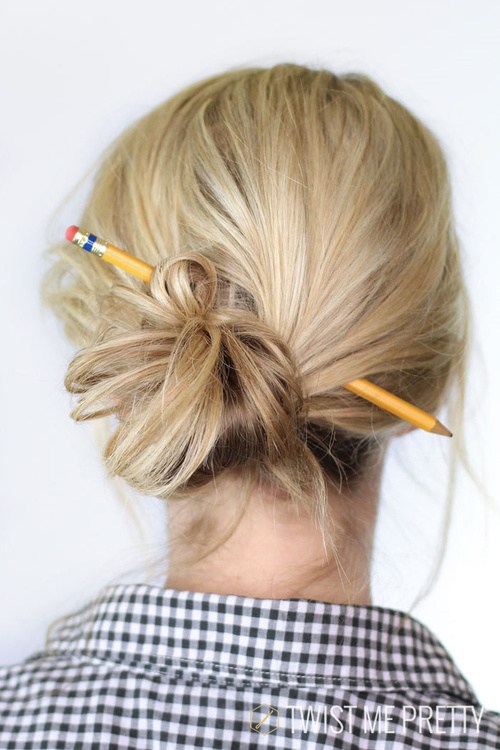 This absolutely gorgeous and simple up do is perfect for medium length hair, and is the ideal hairstyle for a day to day look which is casual yet still fashionable. Finished with a wonderful and warm blonde colour with light blonde highlights, this lady has twisted the ponytail section and fashioned it into a bun in a cute and twisted style.
Wrapped and Tucked Under Blonde Bun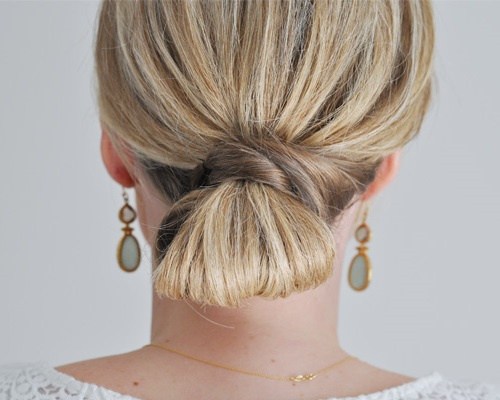 This incredible fashionable hairstyle comprises of a gorgeous collection of different blonde tones through highlights. From a darker caramel blonde to a lighter bleached blonde, this fashionable female has created a low bun which she's tucked under, and finished the look with a section of hair which she's wrapped around it to create this lovely look.
Blonde Braided Ponytail with Side Fringe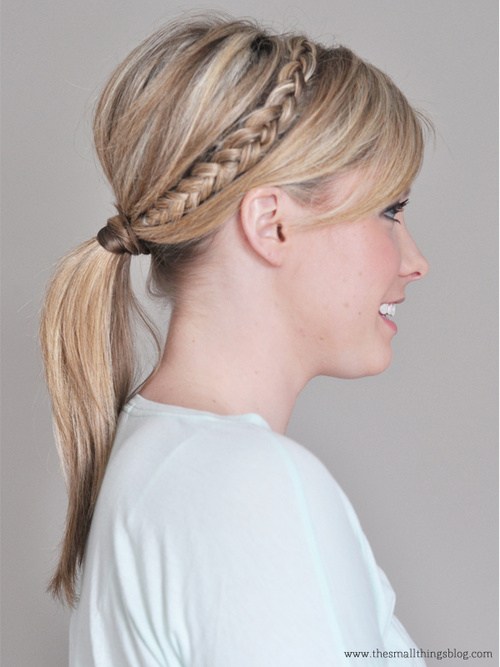 Another simply stunning blonde medium length hairstyle which makes us want to pop our hair up immediately! This beautiful blonde lady has a gorgeous collection of highlights, and she's decided to show them off by creating an incredible braid effect on either side, gathering them into a low ponytail with a fabulous wrapped effect finish. We love this lady's stunning side fringe!
Unique Twisted Sleek Bun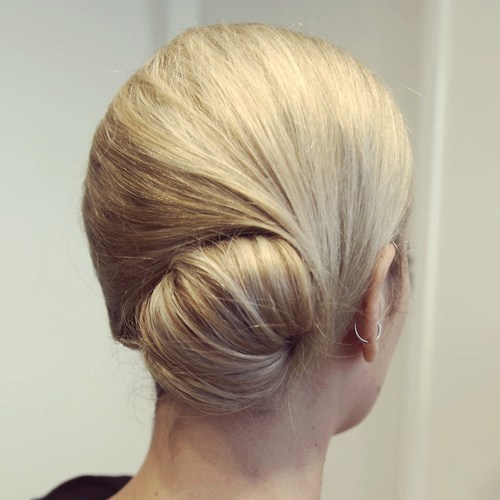 This lovely lady has the most beautiful bleached blonde locks we ever did see, in a striking and glossy shade. She's swept the hair to one side of the head in a smooth and sleek look, and has twisted the hair and crated the most unique and beautiful twisted side bun we ever did see. We think this look is just perfect for a wedding or a formal event!
Brown to Blonde Ombre Ponytail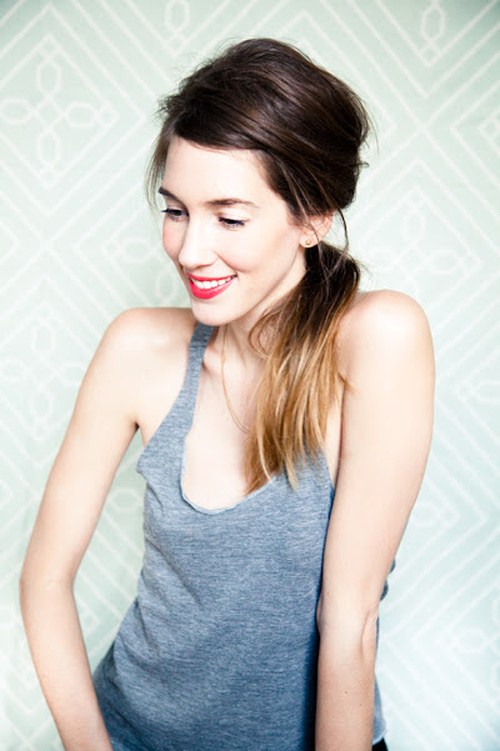 This lovely lady has an absolutely gorgeous smile on her face, and taking one look at her hair it's not difficult to see why! Her hair is an incredibly fashionable ombre blend of dark brown to blonde. She's worked the hair into a voluminous side ponytail, which hangs low, with a fabulous curved backcombed section at the top. We love this incredible look.
Twisted Side Bun with Falling Curls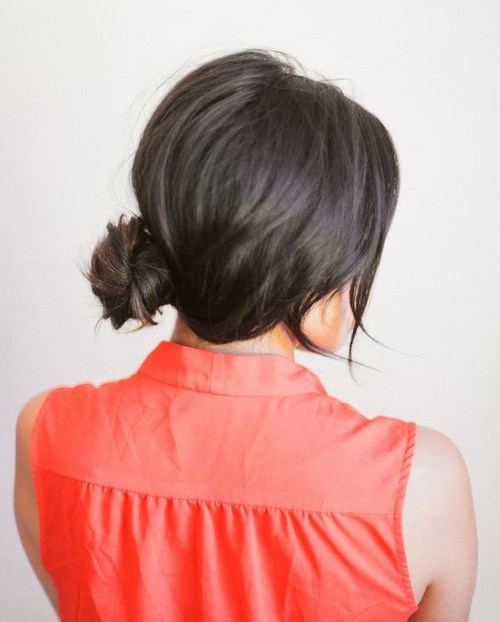 This absolutely stunning head of dark chocolate hair is so glossy and gorgeous, especially when worked into this incredible loose bob style at the back of the head! She's left strands of her dark hair fall in loose curls around the face, and has swept the rest of the hair up into a gorgeous twisted bun which sits low at the back of the head for this classy look.
Brown and Caramel Braided Up Do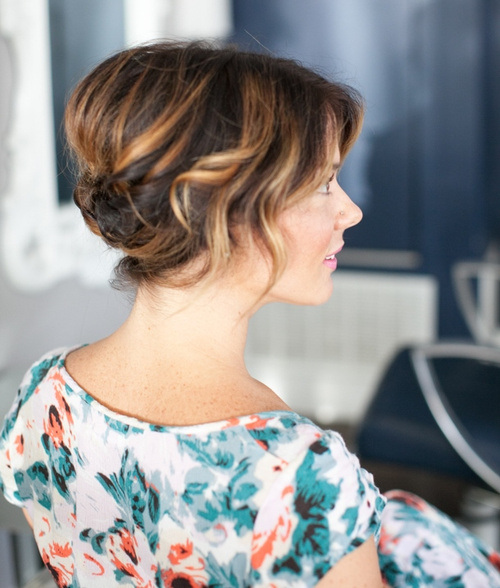 This utterly beautiful hairstyle is classy, feminine and elegant; absolutely perfect. The hair is a wonderful dark brown which has been highlighted with a stunning shade of caramel throughout. She's curled the hair from root to tip, and has created a gorgeous plaited section, pinning it up for this lovely and stylish up do, with a few loose strands left for effect.
Loosely Braided Twisted Bun Up Do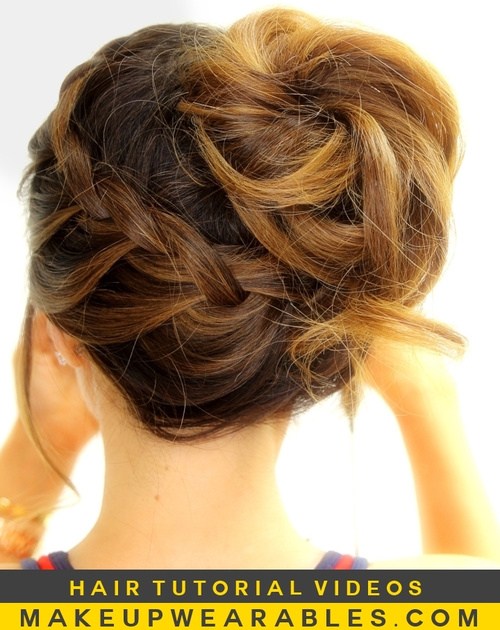 A stunning balayage blend of chocolate brown to a gorgeous and vibrant caramel is at work in this lady's beautiful hairstyle. From one side of the head, she's created a unique braid which works from the front to the back of the head, sweeping in to an incredible side bun on the other side of the head. This up do shows off the amazing colours blending together!
Pin-Curled Brown Up Do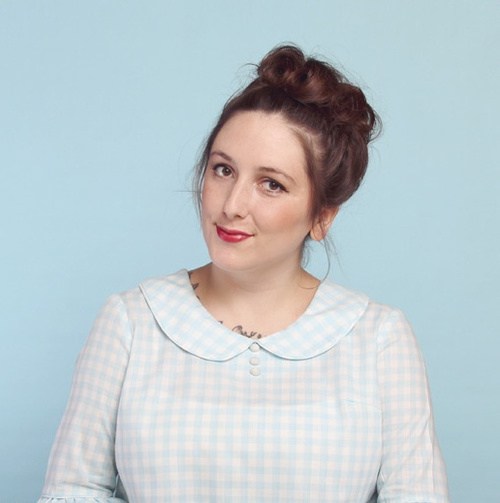 We adore this super stylish up do, which has worked these amazing medium length locks into an incredibly classy finish that we can't get enough of. A rich chestnut brown, her hair has been swept into a high ponytail. With the ends of the hair she's created these amazing pin curled sections for this wonderful end result that we can't get enough of.
Low Balayage Bun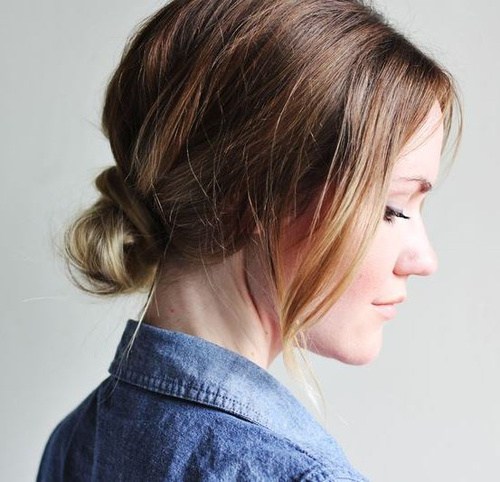 Balayage is an incredibly popular hair technique as of late, and one look at this amazing bun up do proves exactly why! This lady's hair blends from a brown to a blonde in one fell swoop, and has been swept up and twisted into this adorable low bun. We love the loose sections of hair which fall and frame her face, finishing the look off wonderfully!
Twisted Brown Cornrows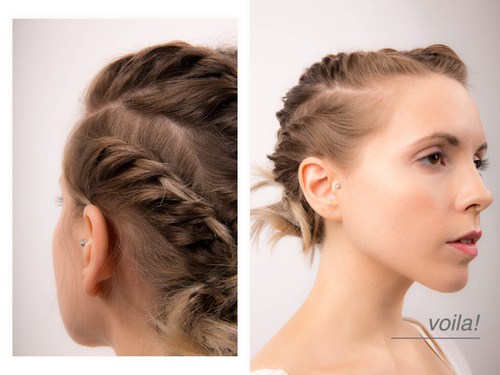 This incredible and edgy style is a practical and fashionable way to work that hair off your face in style. She's separated the hair into sections, and created this unique braided cornrows from the front to the back of the head. She's gathered the ends of each braid into a twisted low bun style which we can't stop admiring!
Swept Back Bun with Blonde Ends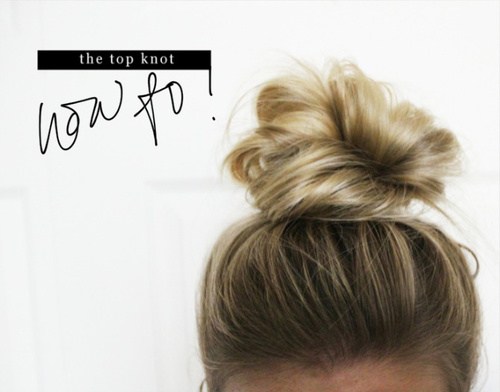 This amazing top knot style is so simple to achieve but so effective in finished look. A wonderful balayage blend from dark blonde to a gorgeous light blonde, means this swept back style shows off the colours at work more than ever. She's finished the style with this amazing loose and twisted top knot which looks simply fantastic.
Double French Braid with Bun Finish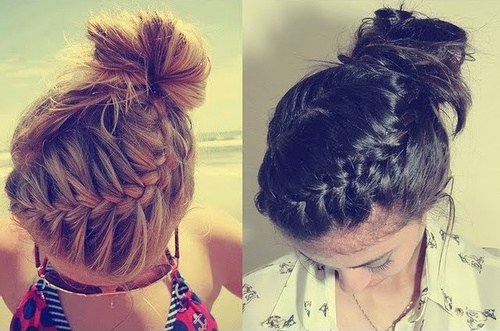 A french braid typically works from the front of the head right down to the back in the centre in a unique french braided look, but this style works a french braid instead from one side of the head to the other and we absolutely adore that unique take on it! There's also another french braid at work to the back of the head, and these come together for this wonderful bun effect we see on the top of the head.
Loosely Twisted and Pinned Style
This absolutely stunning twisted up do has stolen the hearts of the Styles Weekly office, and we'll all be copying this look for our next formal event! This lady's gorgeous blonde hair has been twisted loosely back from the face on either side of the head, working together to create this glorious twisted and pinned up do which sweeps all the hair back in style.
Braided and Tucked Under Style with Hairband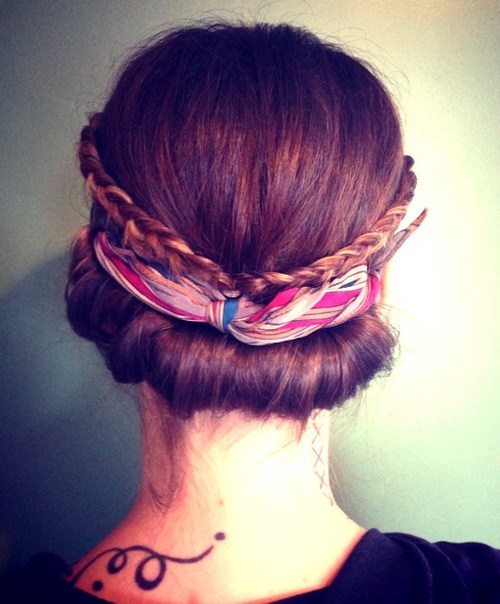 This utterly stunning style is cute, unique and fashionable too. Her hair is a gorgeous and rich red brown shade, which has been back combed into this smooth and sleek look. She's added subtle braids on either side of the head and tucked under the loose ends for this curved effect. Finished with an amazing patterned headband, this look is to die for.
So there you have it! A collection of incredible hairstyles that will work your medium length locks into a range of up dos that will take you from the office to the dance floor and everything in between. Let us know which one is your favourite.