90 Latest Most Popualr Short Haircuts 2021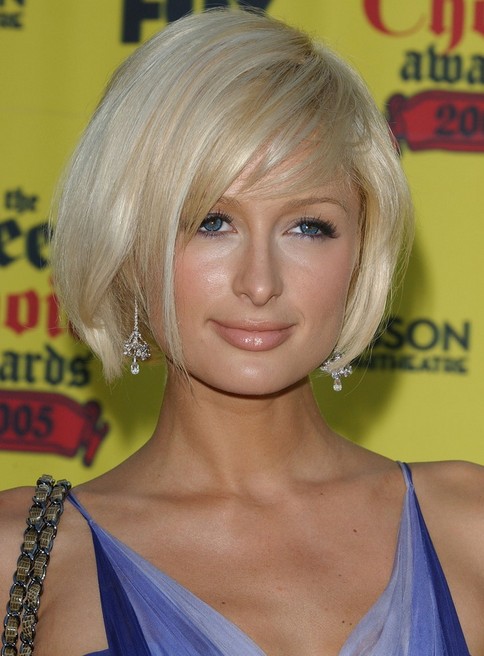 Paris wears her blonde locks in a chin length bob for the Teen Choice Awards, a perfect back to school hair style for short hair!
Rihanna Short Hairstyles – Vibrant red blunt-cut bob & full fringe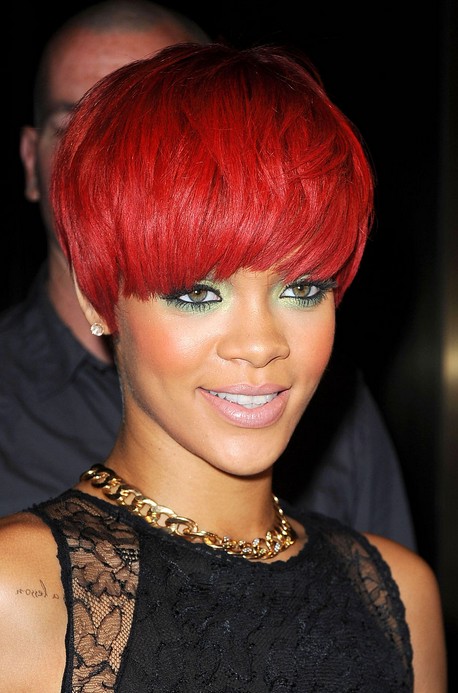 Cool stylish layered short red cut for women! Always a hair-fashion leader, Rihanna's blunt-cut bob with a deep fringe combed forward is a fabulous short hairstyle lots of us are going to be wearing in 2018! The straight-across fringe just touching the eyelashes is also the perfect way to accentuate your eyes.
Hayden Panettière Short Hairstyles – Wet-look tipped for the top in 2018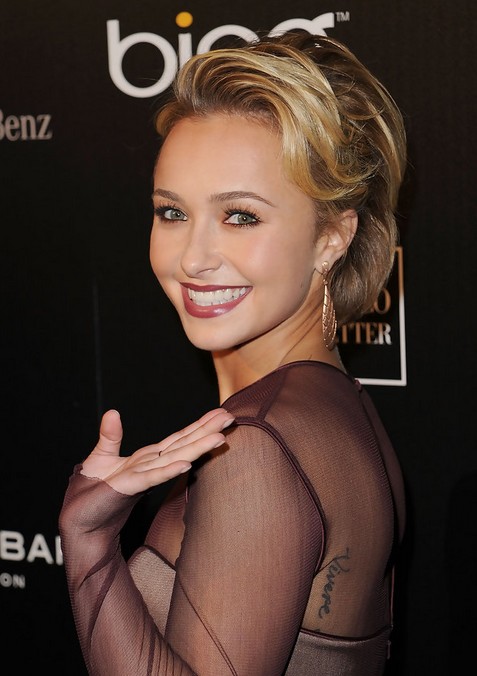 Elegant formal hairstyle for short hair. Hayden Panettière has the perfect complexion for this futuristic wet-look short hairstyle. Wet-look hairstyles are going to be a big part of the spring-summer 2018 hair-designs, and can be varied to create a fresh and natural look or a wild and wanton sexiness!
Emma Watson Short Hairstyles – Cute short pixie with soft, wispy fringe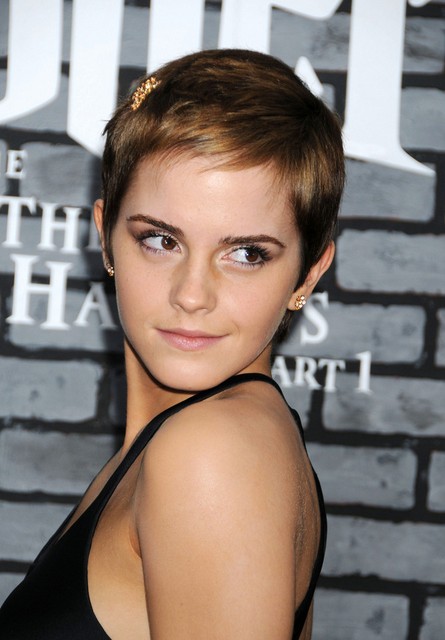 Emma Watson's adorable pixie short hairstyle looks great with a formal gown and flatters her face perfectly! This is a fabulous style for fine or medium textured hair types and creates a pretty, feminine short hairstyle that suits oval, square and heart-shaped faces.
Keira Knightley Short Hairstyles – Long shag-cut pixie with sexy tousled fringe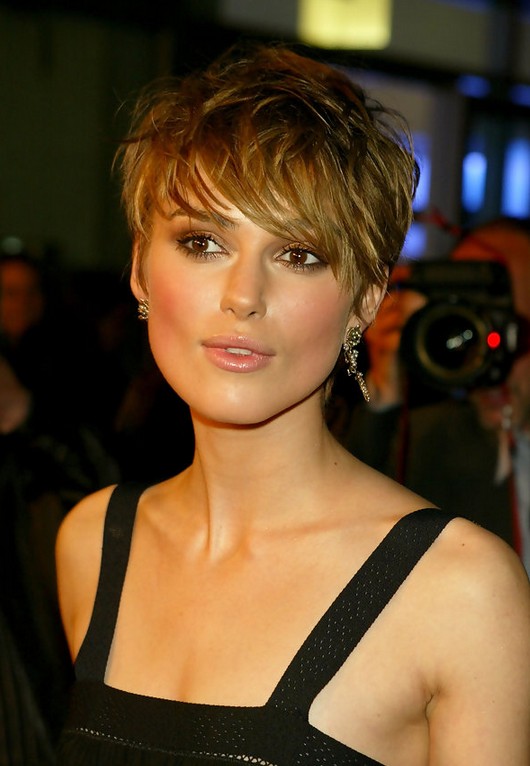 Latest popular short straight cut with bangs for women – the layered longer pixie cut.
Keira Knightley is elegant, but casual in a longer pixie hairstyle with a lightly windswept finish. This sexy short hairstyle features a long fringe lightly brushed to one side, bringing lots of attention to her lovely brown eyes. This is a confident look that shows off the face and allows you to wear eye-catching dangly earrings!
Rachel McAdams Short Hairstyles – Cute waved blonde-pink bob cut with bangs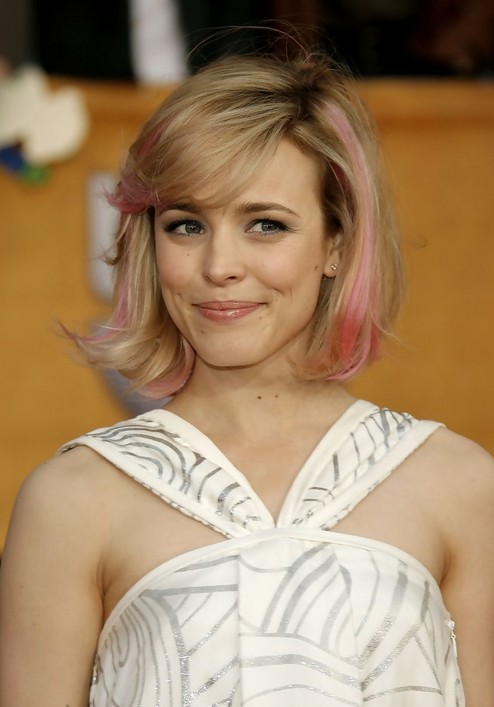 Rachel McAdams shows off a fabulously face-flattering wavy bob, enhanced by the long casual wispy fringe. This attractive short hairstyle also demonstrates how to wear blonde – pink hair with a subtle dual highlighting technique that looks natural and contemporary – instead of opting for high-maintenance blonde.
This lovely short hairstyle is especially good to balance out a long face!
Katie Holmes Short Hairstyles – Long pixie cut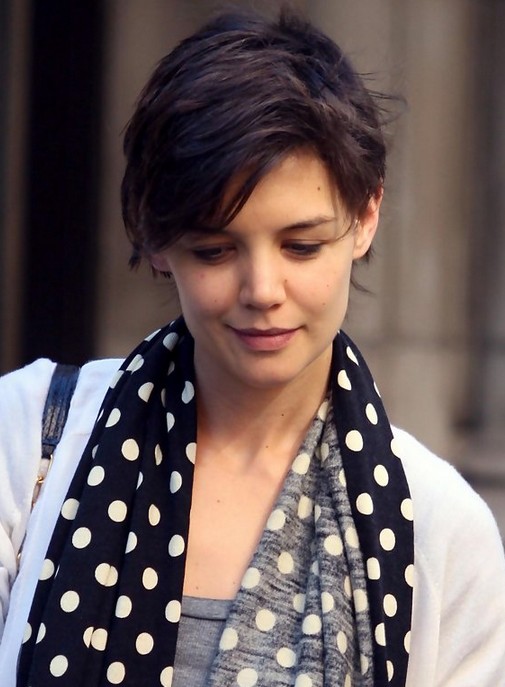 Katie Holmes may be wearing her hair longer right now, but this medium-short hairstyle definitely creates a younger look! The most popular short hairstyles right now have a short back and sides, leaving length on top to add textured or waved sections you can wear in various styles.
Angelina Jolie Short Hairstyles – Edgy bob with off-centre parting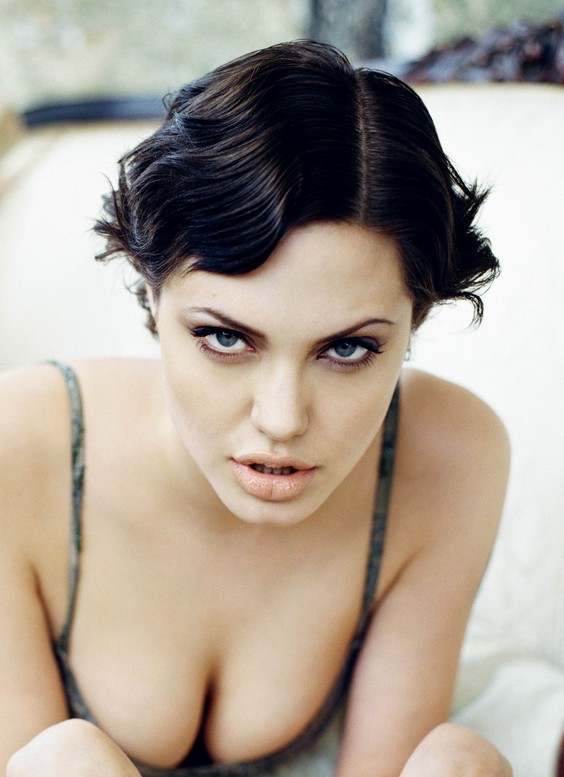 Angelina Jolie's edgy short hairstyle is totally 'on-trend' for 2018, with a flat head-wave and a parting that's off-centre. The sleek styling is contrasted by the tousled straight tips and this is a good choice for medium – thick hair with a little natural movement, which can be adjusted to flatter any face shape.
Natalie Portman Short Hairstyles – Pretty no-fringe short pixie cut for women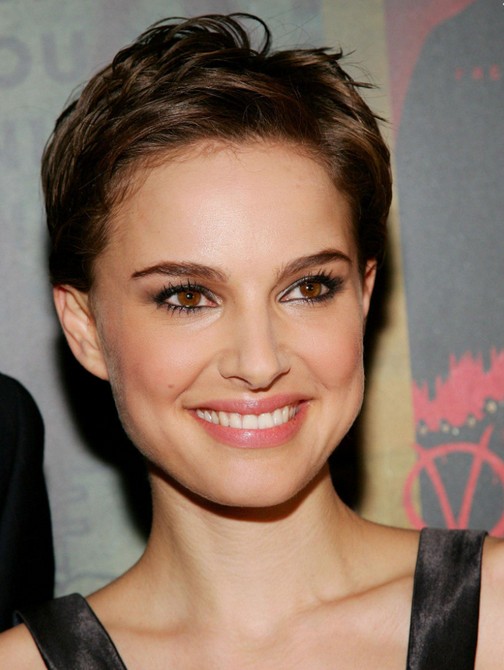 Natalie Portman looks very appealing with this natural, super-short pixie showing off a well-shaped forehead and adding a touch of volume on top. It's a great choice for a youthful, low maintenance short hairstyle!
Rihanna Short Hairstyles – Edgy shattered layers short bob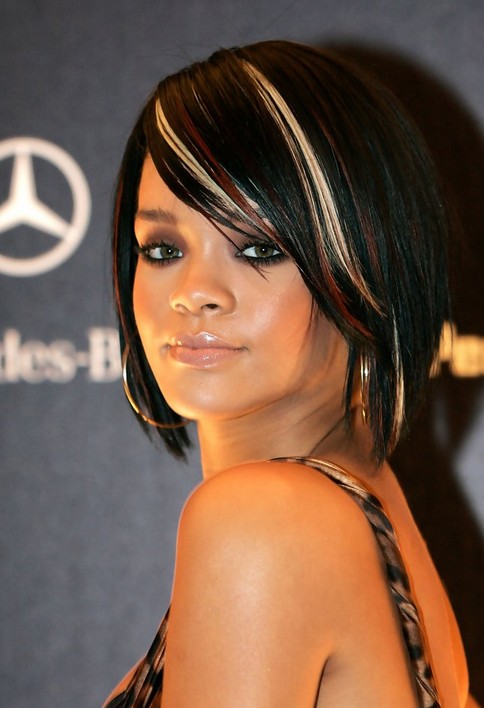 This look is very chic and contemporary and Rihanna shows off the expertly graduated and tapered tips beautifully! This is a great style for fine, straight hair – it's hip, easy-style and ultra-modern!
Jessie J Short Buzz Cut for Women:close-shave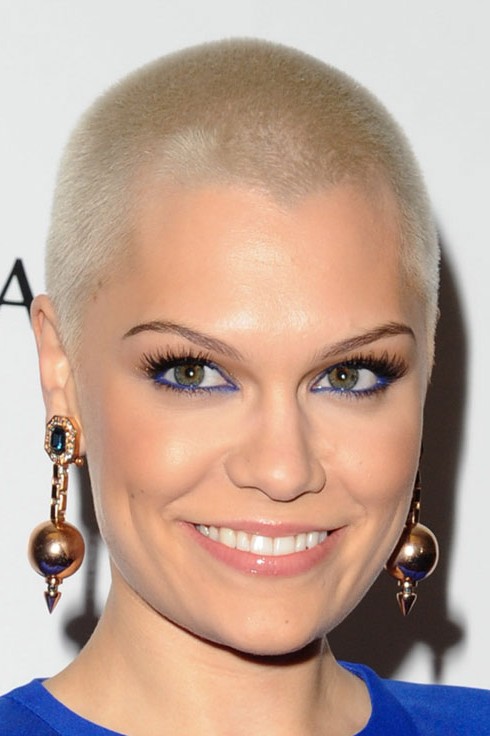 Very short haircut for women – the blonde buzz cut from Jessie! As she let her shaved hair grow back, Jessie J showcased some fabulous new style. Think it's just a one-off? No, several singers have this ultra-short style – including beautiful Amber Rose.
And it was also a popular short hairstyle amongst 'Mod' girls in the '60's, who called it the 'Hedgehog Cut', so it's ripe for a revival as a vintage look in 2018!
Shakira Short Hairstyles – Choppy bob with side swept fringe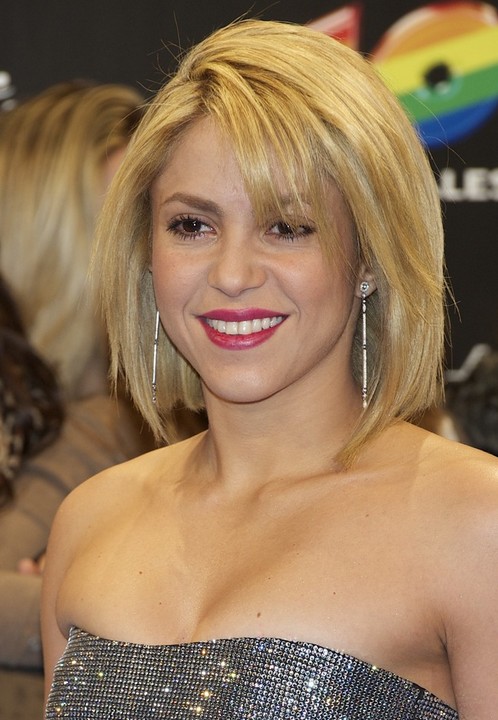 Shakira hasn't always worn a long, blonde mane of hair, as this hot choppy bob demonstrates! With its uneven lines and choppy layers, this is a super-hot look for 2018 that's easy-care and suits lots of different face shapes!
Kirsten Dunst Short Hairstyles – Classy smooth blonde bob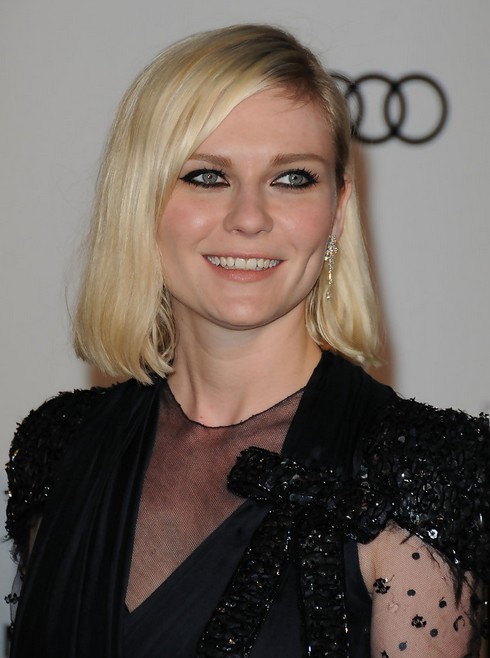 It's a classic cut that's never out of fashion, because it always looks modern and chic! Full marks to Kirsten Dunst's stylist who has used the deep side-parting and strong asymmetrical line of the fringe to make Kirsten's round face look longer and slimmer!
Rihanna Short Hairstyles – Deep fringe short cut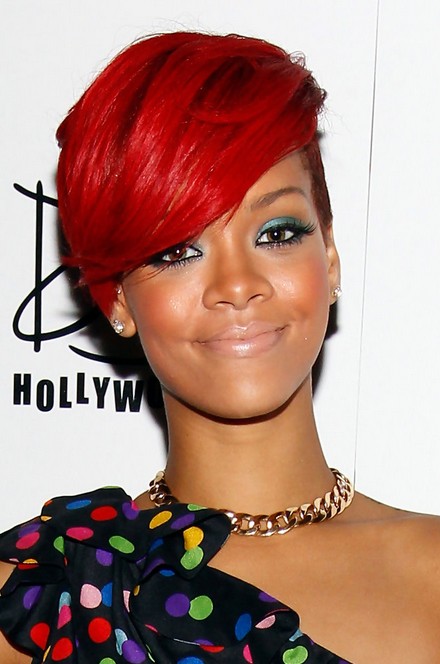 Cool stylish layered short red cut with side swept bangs for women. This vibrant orange-red shade is intended to keep the wearer centre-stage and unforgettable. It's a colour that needs a simple short haircut to balance the look and this deep, asymmetrical fringe cut combines a short back with a dramatic sweep of hair at the front!
Hayden Panettiere Short Straight Cut – chic haircut for women with short hair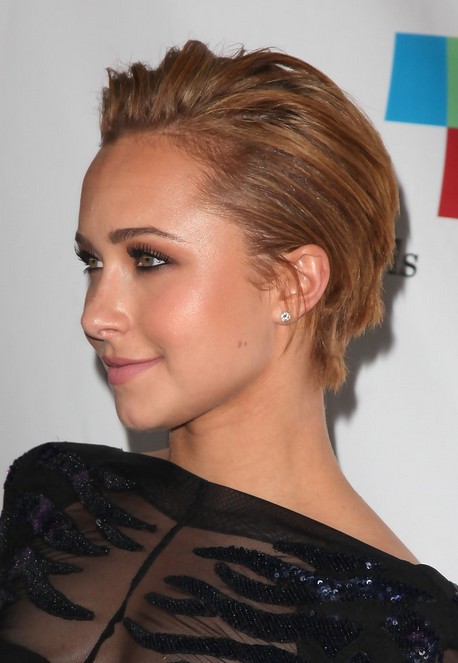 Hayden showed off her new super short cut with a sleek pushed back hairstyle.
Bonnie Wright Short Hairstyles – Chic same-length short bob hairstyle for thick hair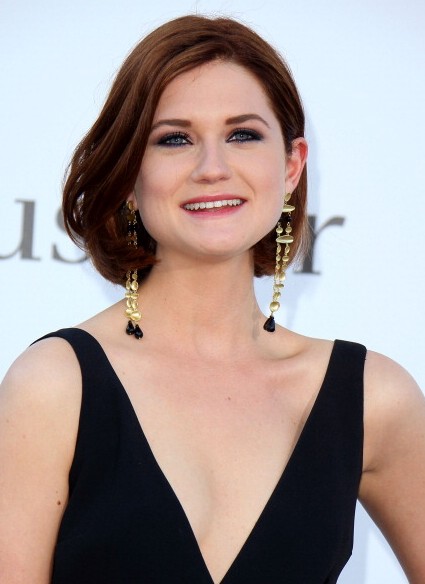 Here's a grown-up Bonnie Wright who appeared with blazing ginger hair in the Harry Potter films. This classic short bob has blunt-cut ends and would look great on thick – medium hair and most face shapes.
Ashlee Simpson Short Hairstyles – short side parting straight haircut for women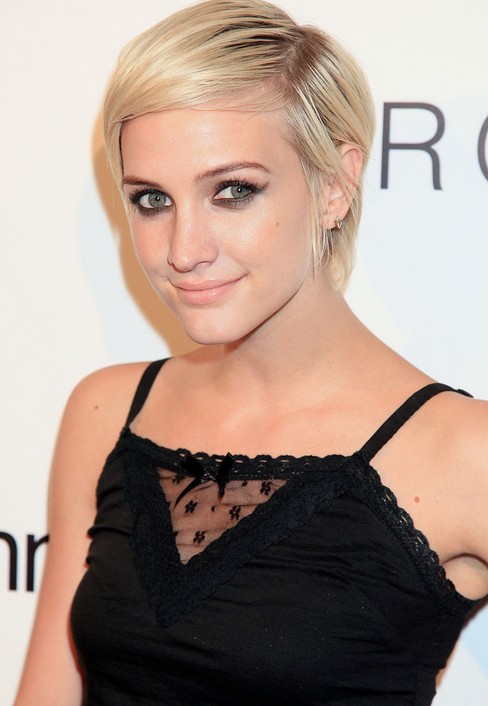 Simple easy daily hairstyle for women with short fine hair. Here's another celebrity who has 'grown up' in the spotlight and loves to change her hairstyles to stay ahead of the crowd. This cute blonde straight cut frames her face well and the side-swept fringe softens her features for a casually contemporary look that's very easy to style!
Rihanna Short Hairstyles – Magnificent pompadour-mohawk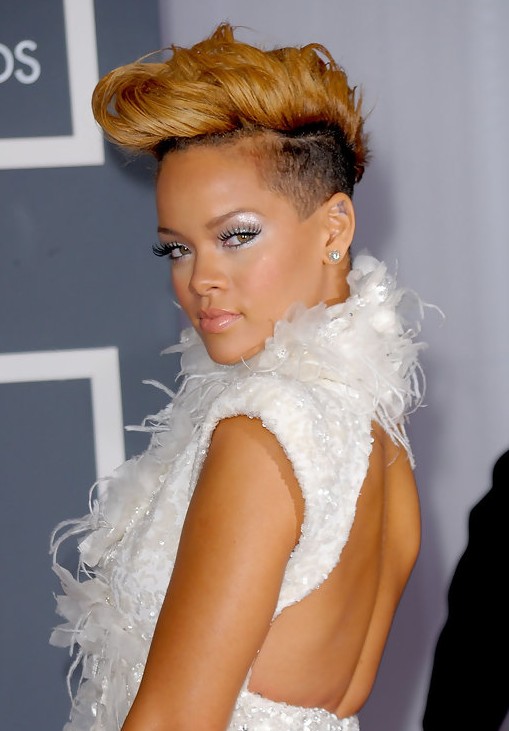 This is both a vintage pompadour and an ultra-modern mohawk, depending on your viewpoint! It's a dramatic evening look on the short-back-and-sides short hairstyle with a longer top that's very flattering to anyone with a low forehead or a round face, or a beautifully oval face like Rihanna's, of course!
Pink's Short Hairstyles – Gravity-defying platinum blonde fauxhawk for women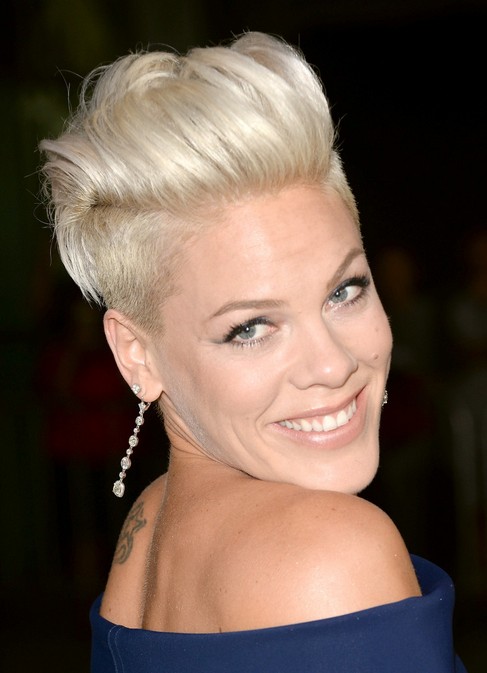 Pink's fabulous, gravity-defying fauxhawk is bold and edgy, paying homage to its punk-rock origins. Platinum-blonde is set to be super-fashionable next year and for sheer high-fashion sass, this eye-catching short hairstyle is definitely one of the top 90 Short Hairstyles !
Kelly Osbourne Short Hairstyles – Face-slimming chin length bob haircut with bangs for women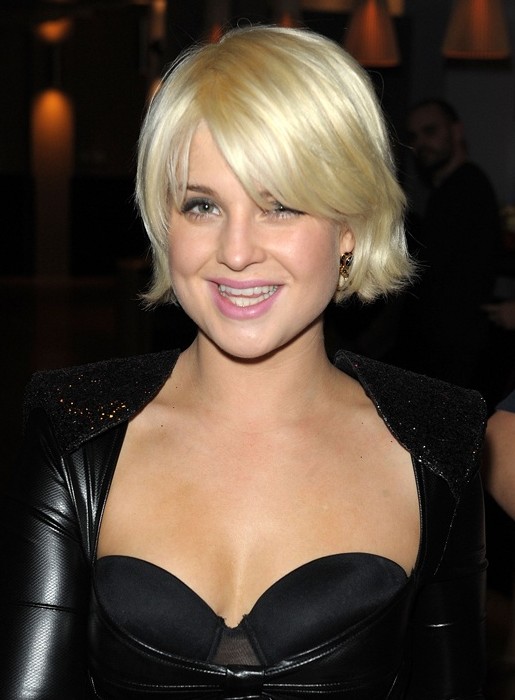 There are few looks more glamorous than healthy, glossy platinum-blonde hairstyles! And in this short hairstyle, Kelly has chosen a highly flattering chin-length bob which balances out the width in her face.
For round or pear-shaped faces, like Kelly's, this bright and smoothly styled short bob is perfect for creating a more balanced oval face-shape!