During the summer season, it's always fun (and also pretty sexy) to show off a little skin; especially in the shoulder region. But if you're the kind of gal who only has a couple of off-the-shoulder dresses hanging in your closet, there's no time like the present to go out and get a few more!
In fact, if you check out a lot of fashion magazines, you'll realize that the off-the-shoulder look is one of the biggest trends right now. That's why we've provided a list of 25 different ways to wear this feminine, beautiful and "chilled out" look.
1. Ruffle dress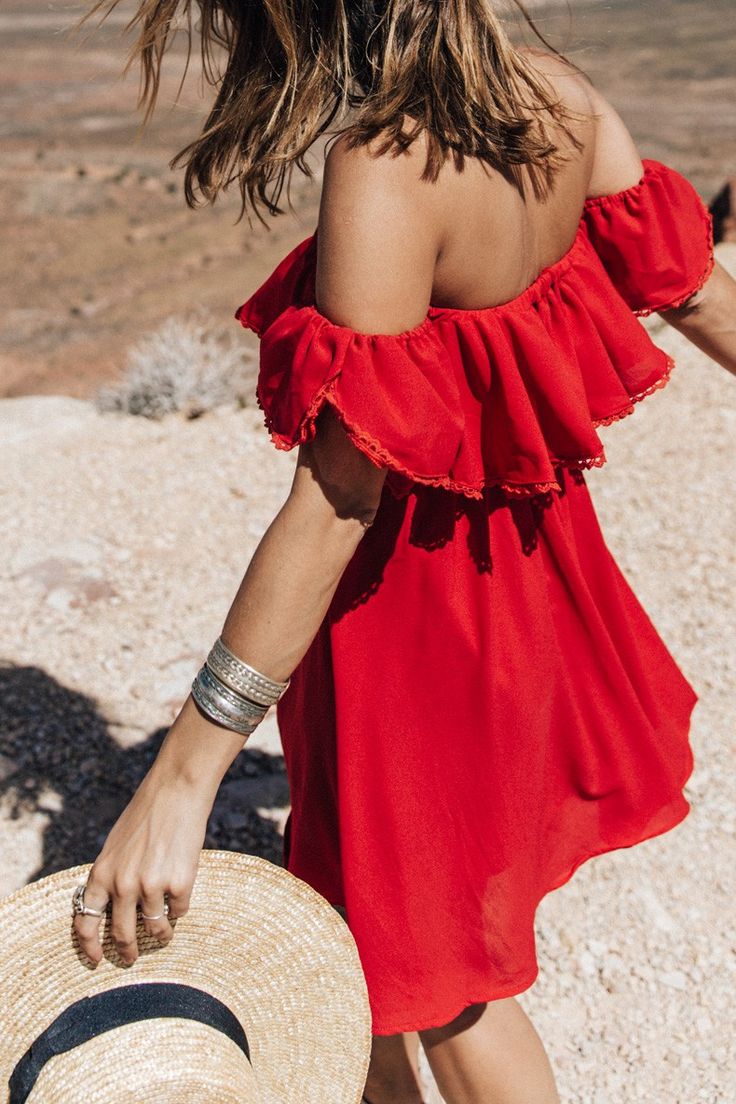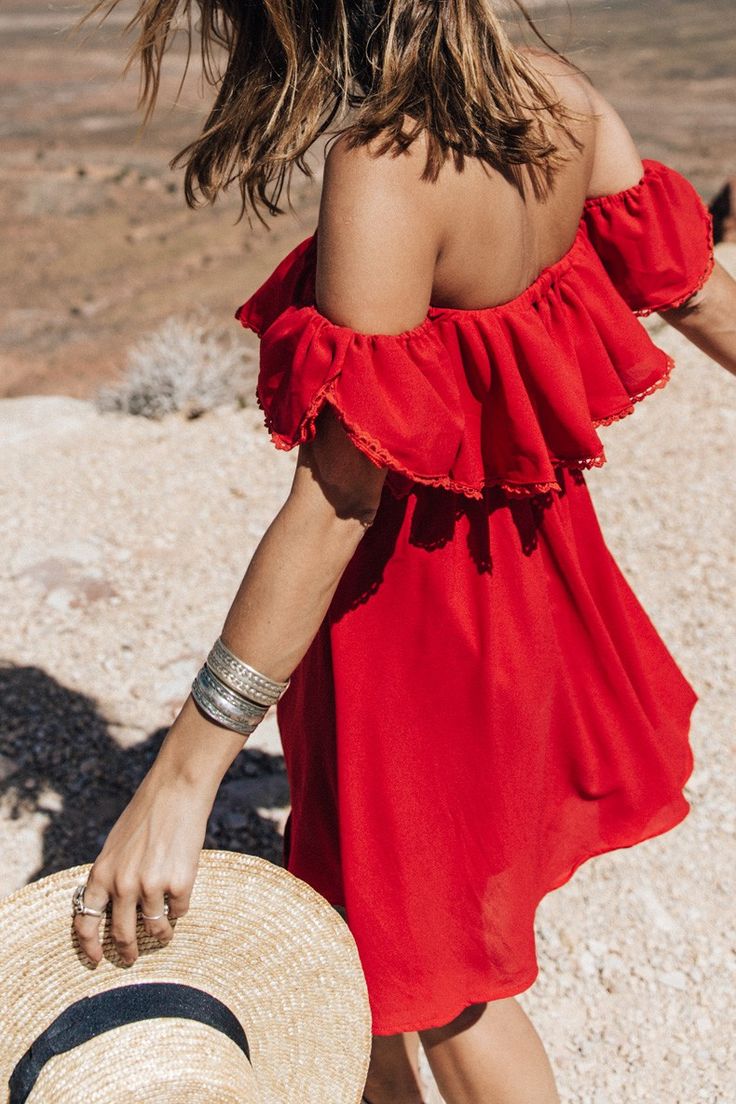 Ruffle dresses are the kind of dresses that look adorable on little girls and really great on grown women too. You can never go wrong with having one of 'em.
2. Little black dress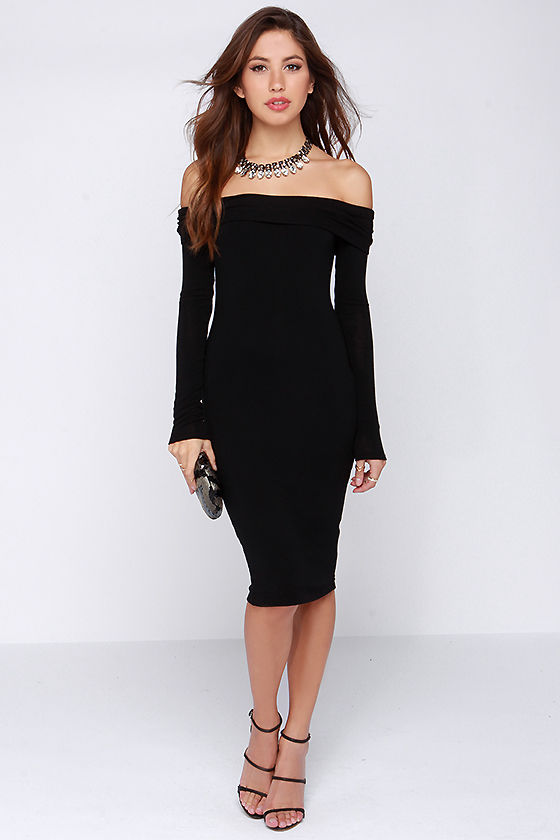 Every woman needs a little back dress, right? So why not look for one that is off-the-shoulder?
3. Figure fitting dress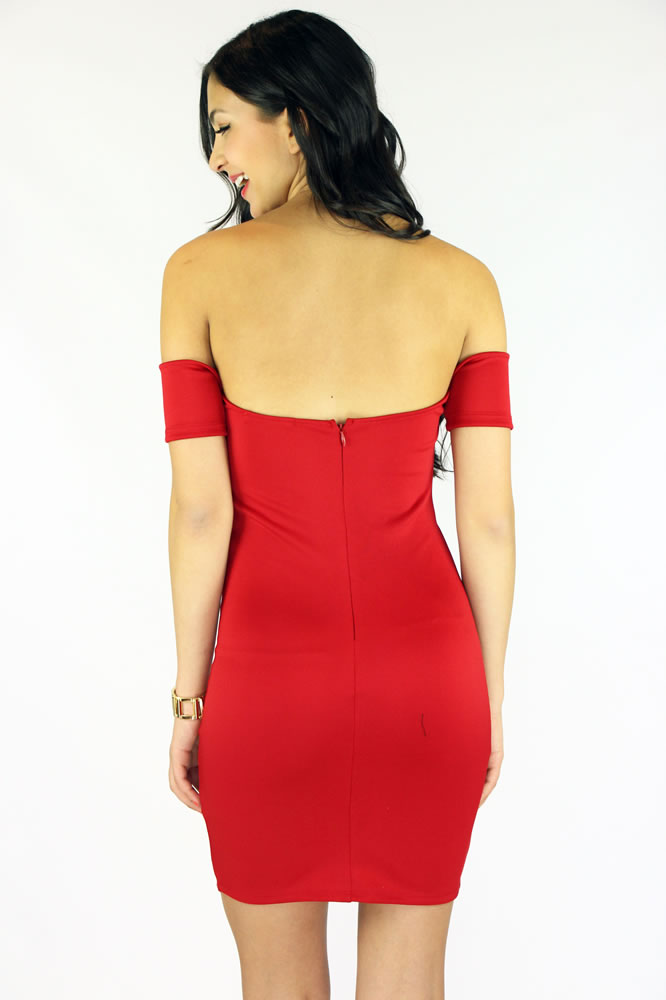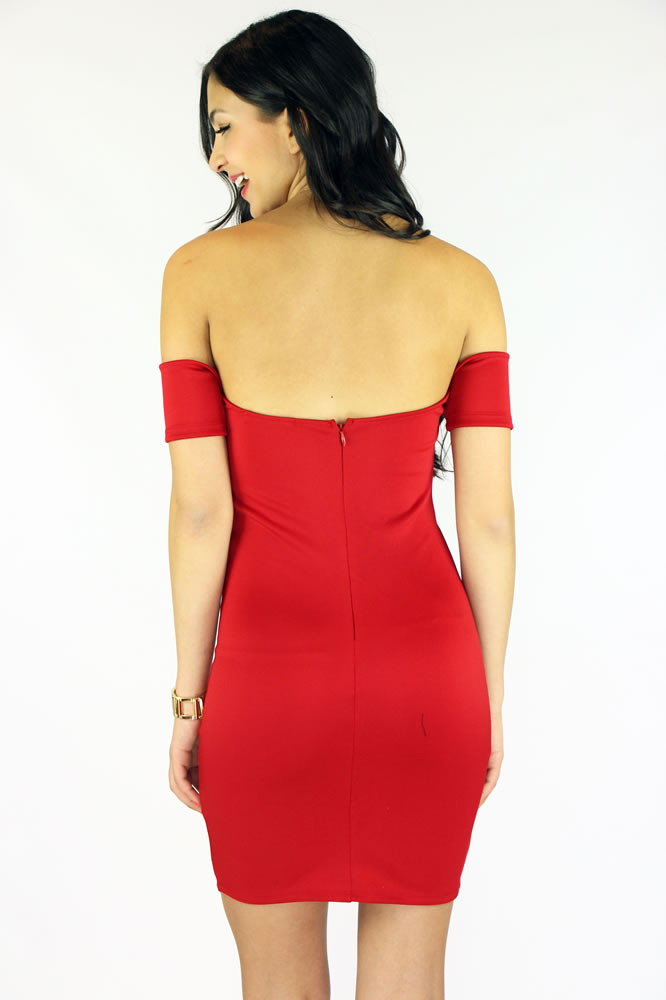 If you've lost a few pounds and you want to show your new figure off, look for an off shoulder dress that's figure fitting. (Hint: Bandage-style dresses are pretty big right now.)
4. Two-piece dress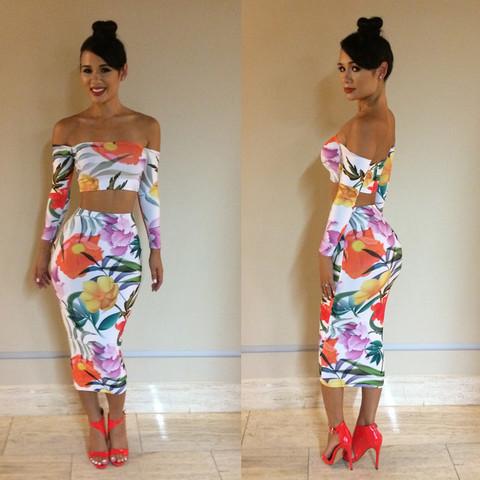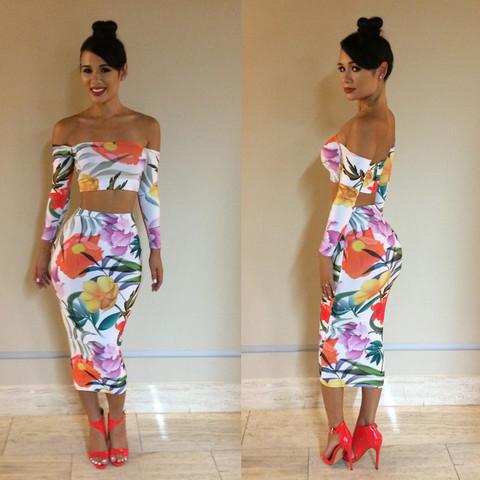 If you have a small waistline or you want to wow your date, you're going to look unforgettable in a two-piece off-the-shoulder dress like this one.
5. Aztec print dress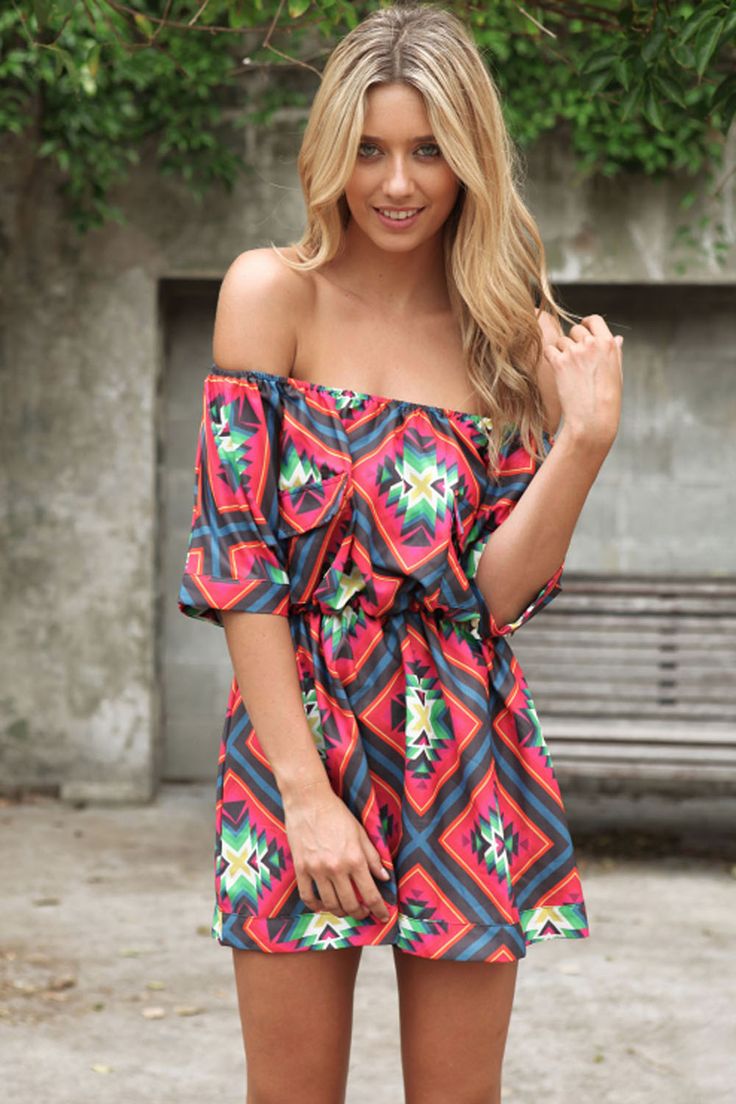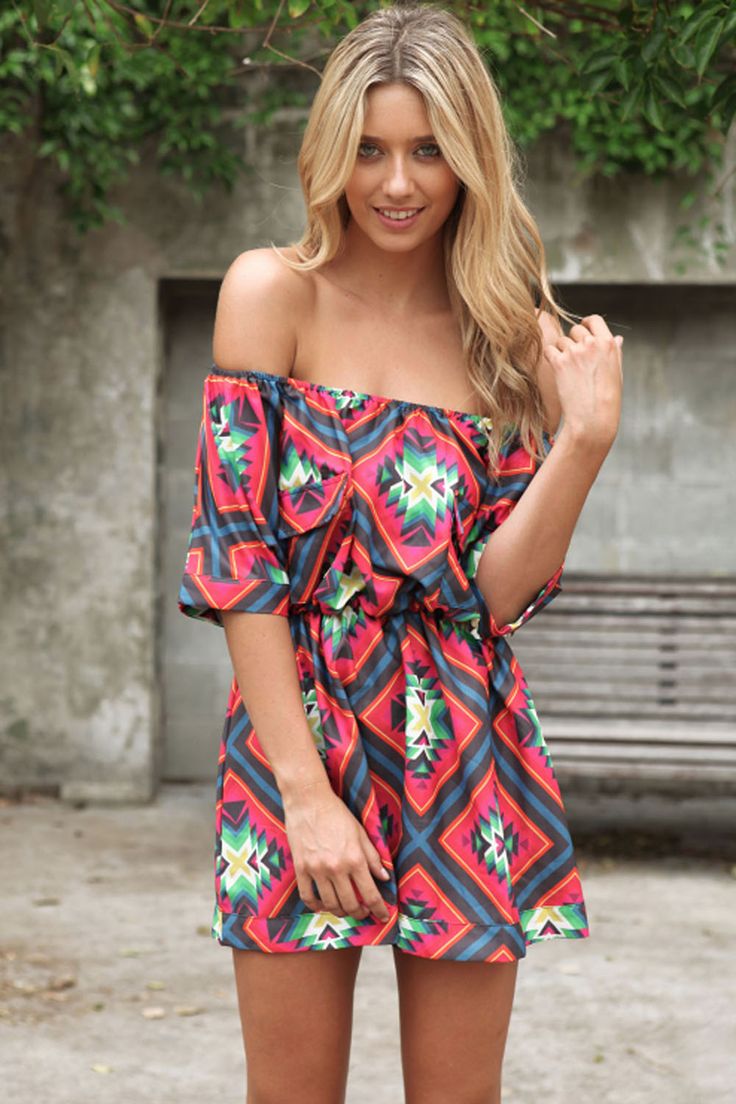 Aztec print is pretty popular right now. What we really like about this particular one is it looks like it could be a mini-dress or a romper. Pretty cool. Literally.
6. Bright-colored maxi dress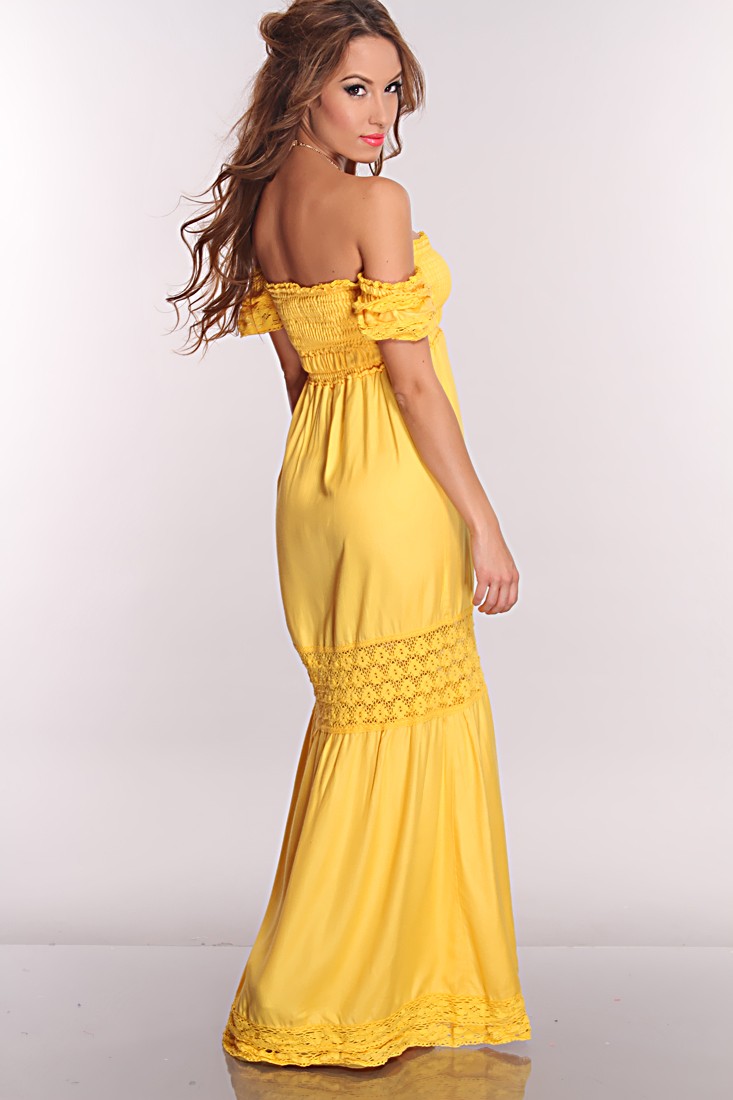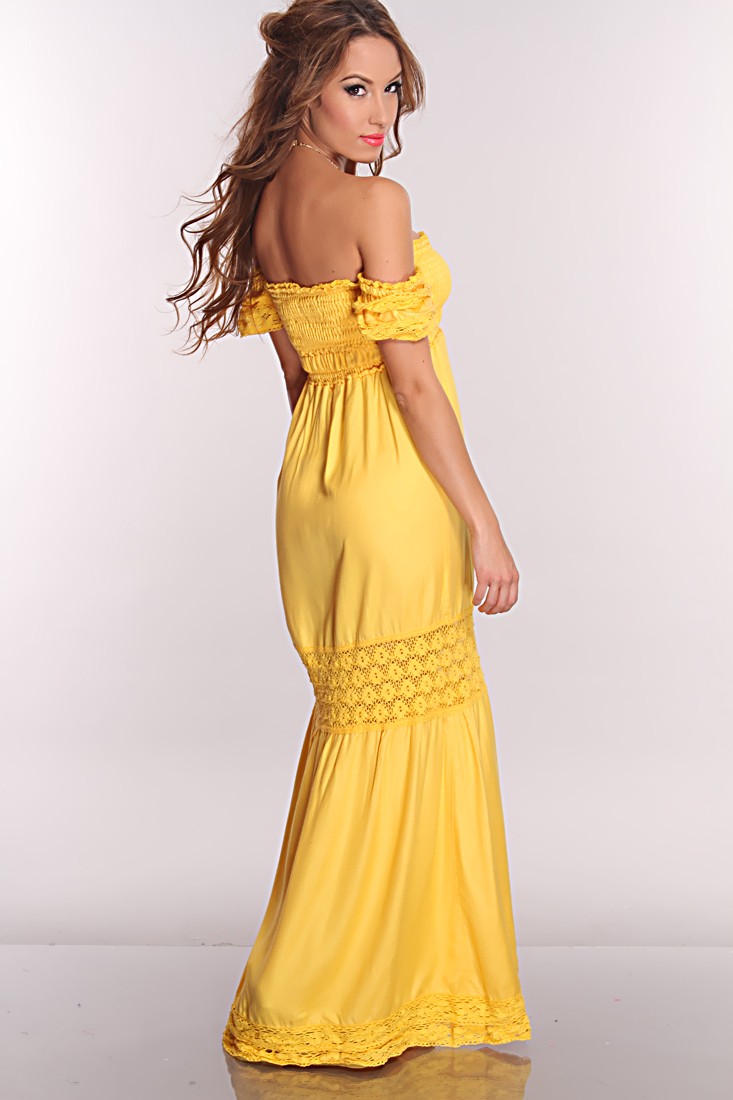 You're going to look so romantic and sweet in an off-shoulder maxi dress. Just make sure that it's a bright-colored one. It will help to accentuate your tan.
7. Grey dress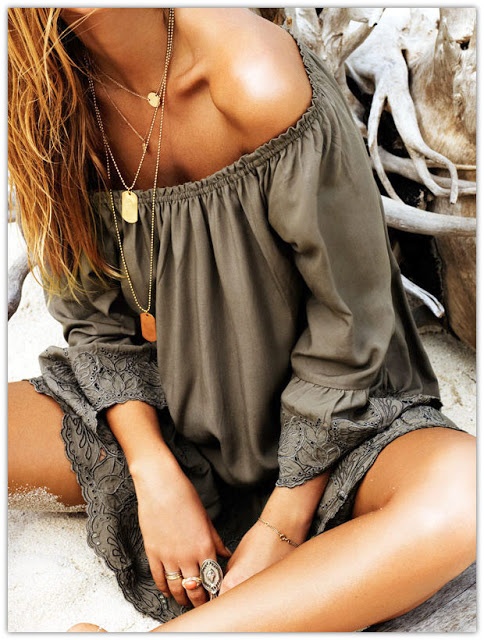 Grey is a popular color this year. And no matter what your skin tone may be, it will suit you fine in an off shoulder dress like this.
8. Chiffon dress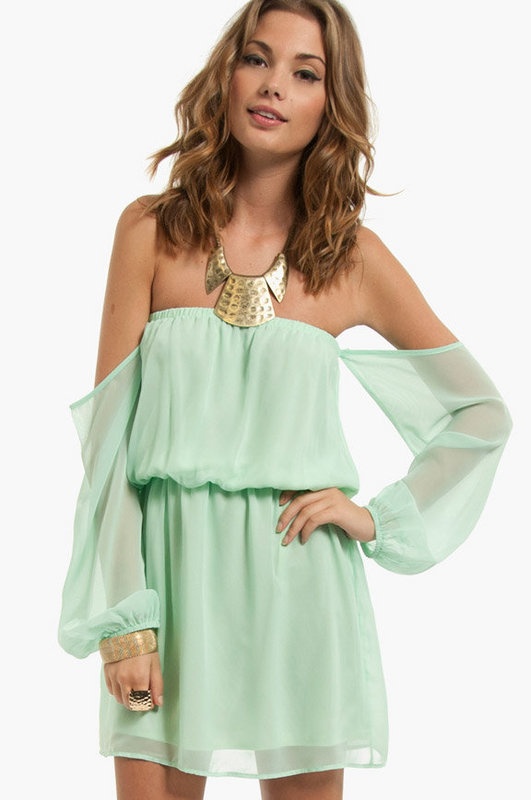 Got a beach vacation coming up? Imagine how amazing you'll look in a dress that's made out of chiffon? The fabric will blow in the breeze in a way that will cause you to take onlooker's breath away.
9. Cut-out dress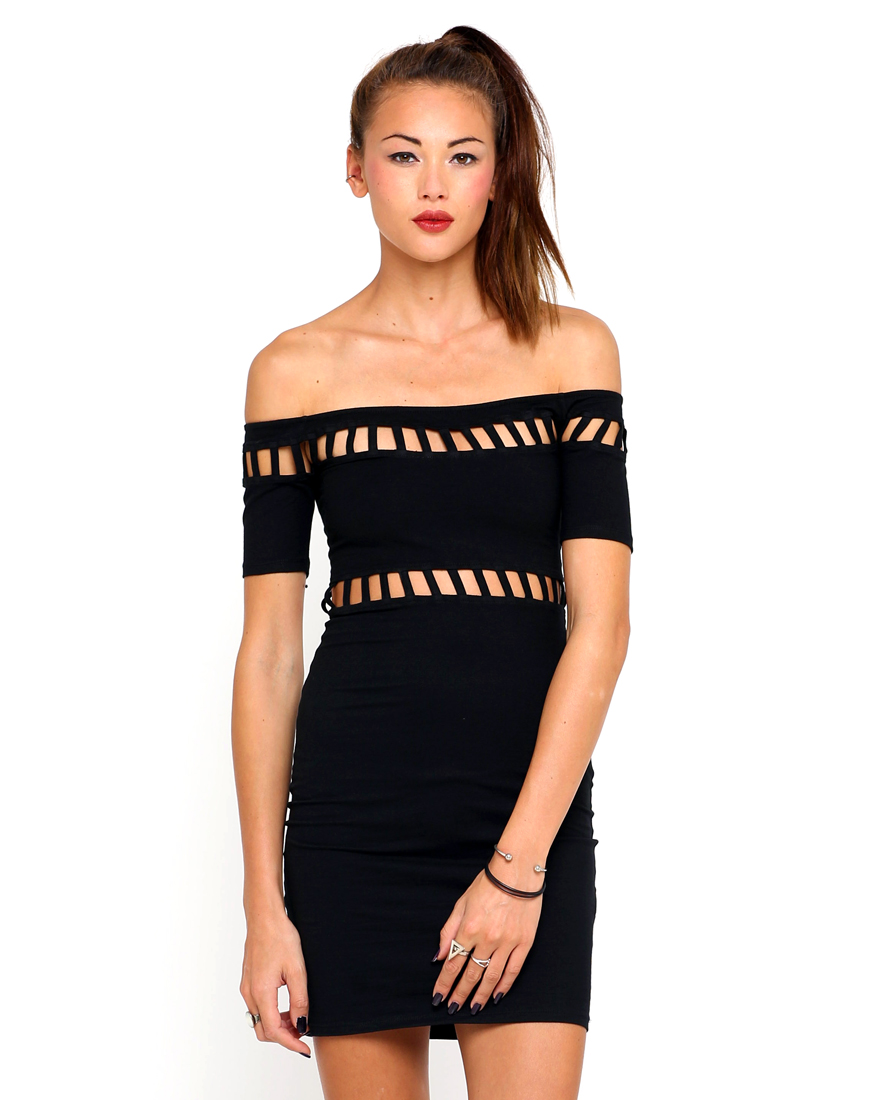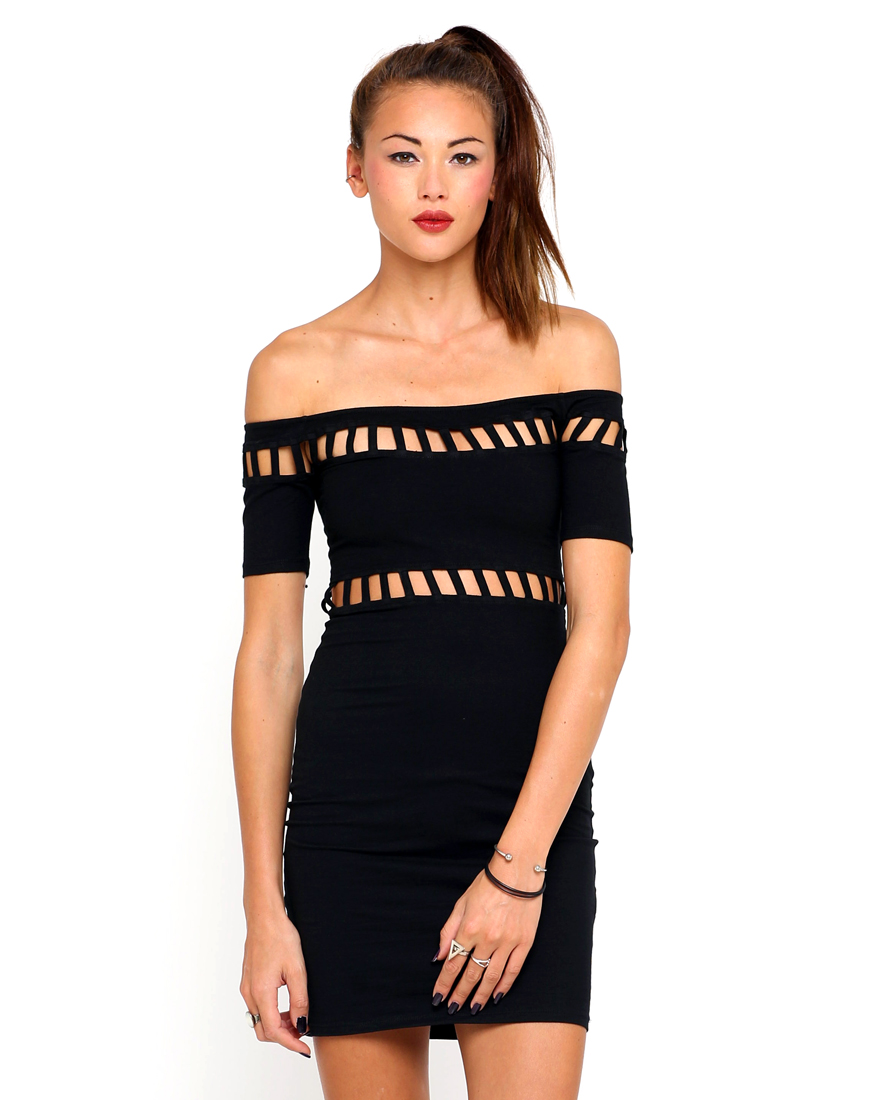 Cut-out dresses are also on trend. This one has "a night of dancing" written all over it.
10. Two-pattern dress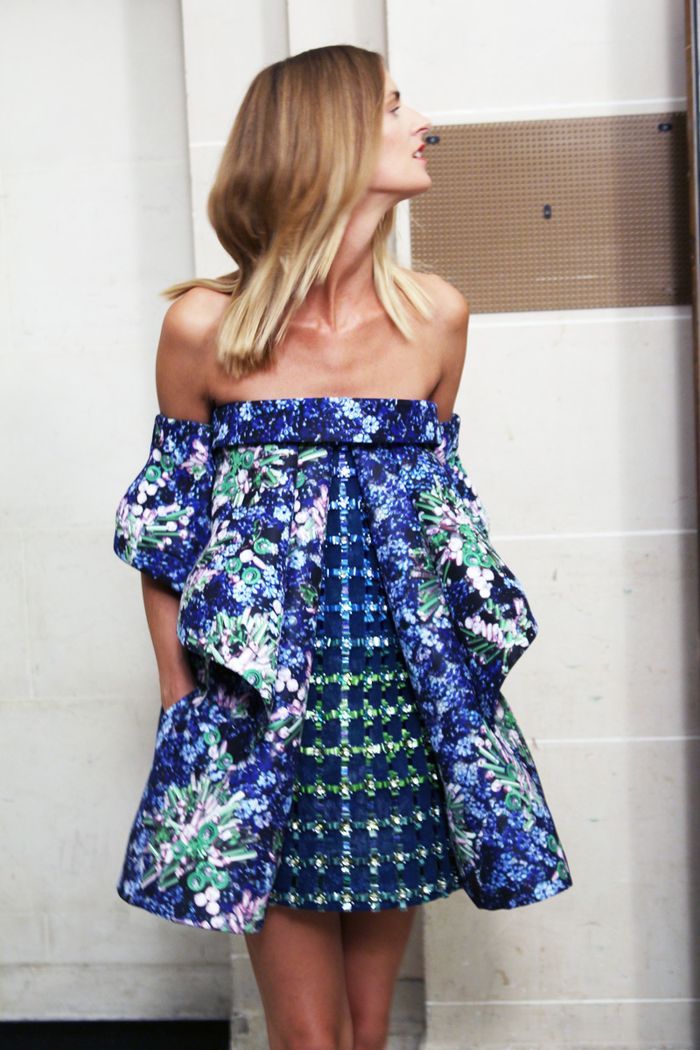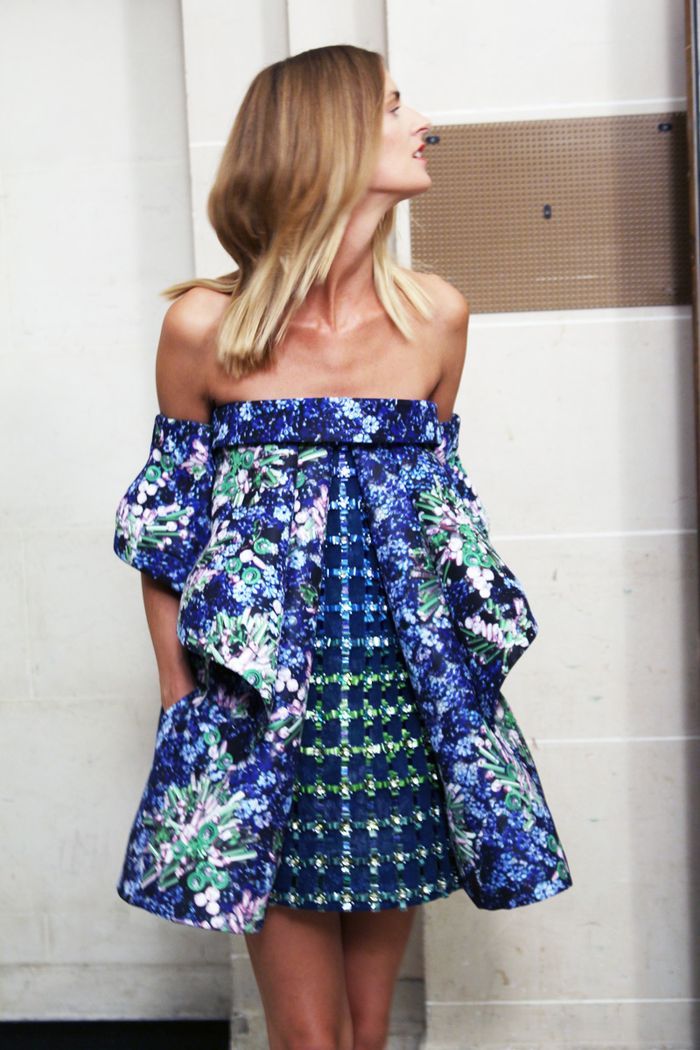 This dress is super unique. But that's what we like about it. The cut is so distinctive and the fact that it's two different patterns blending together makes it pretty special too.
11. Striped shirt dress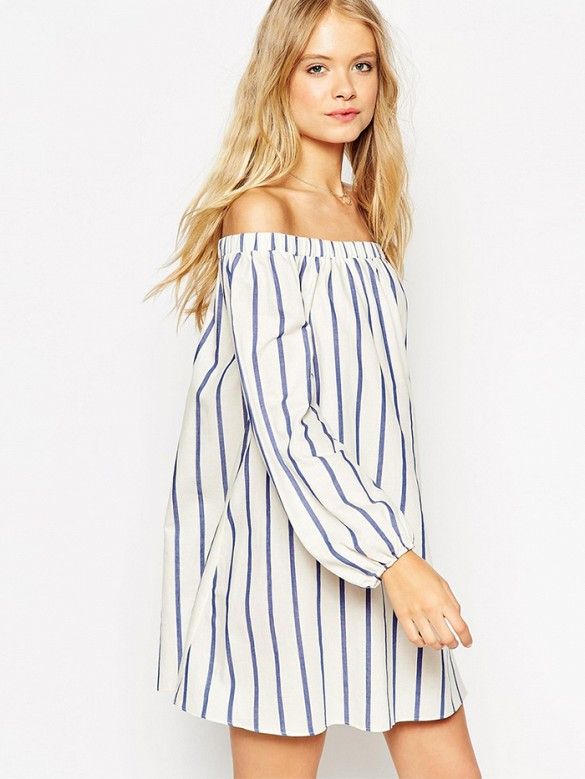 Every girl on the planet should have a shirt dress. This off-shoulder one is just one variation. If you'd prefer to wear some shorts or leggings underneath, make sure to put on a belt to add some definition.
12. Spaghetti strap and off shoulder combo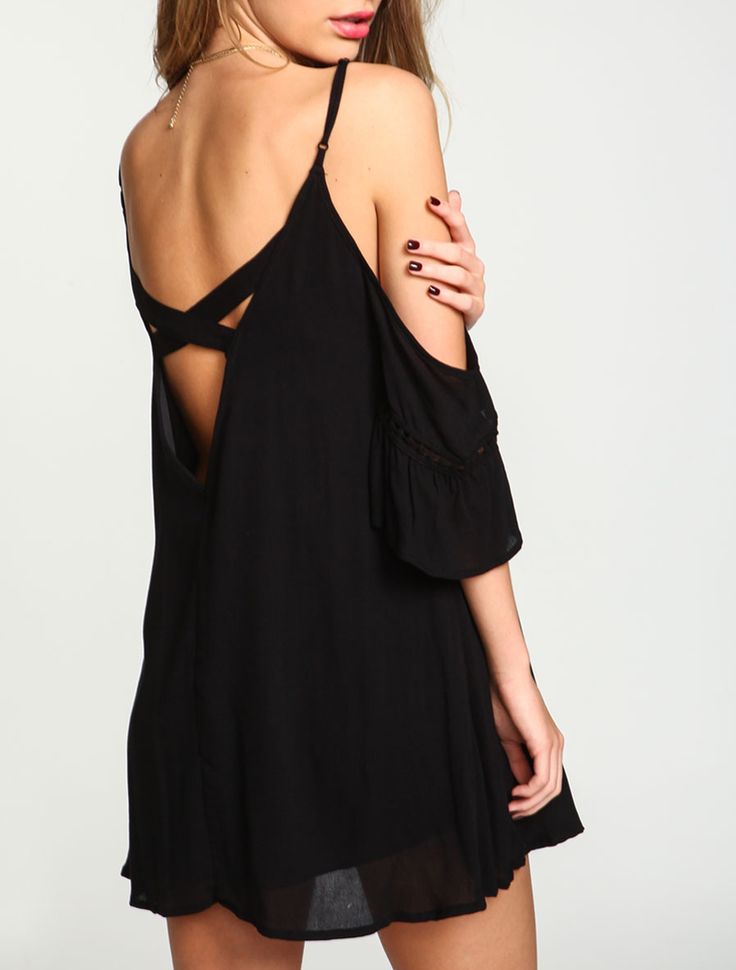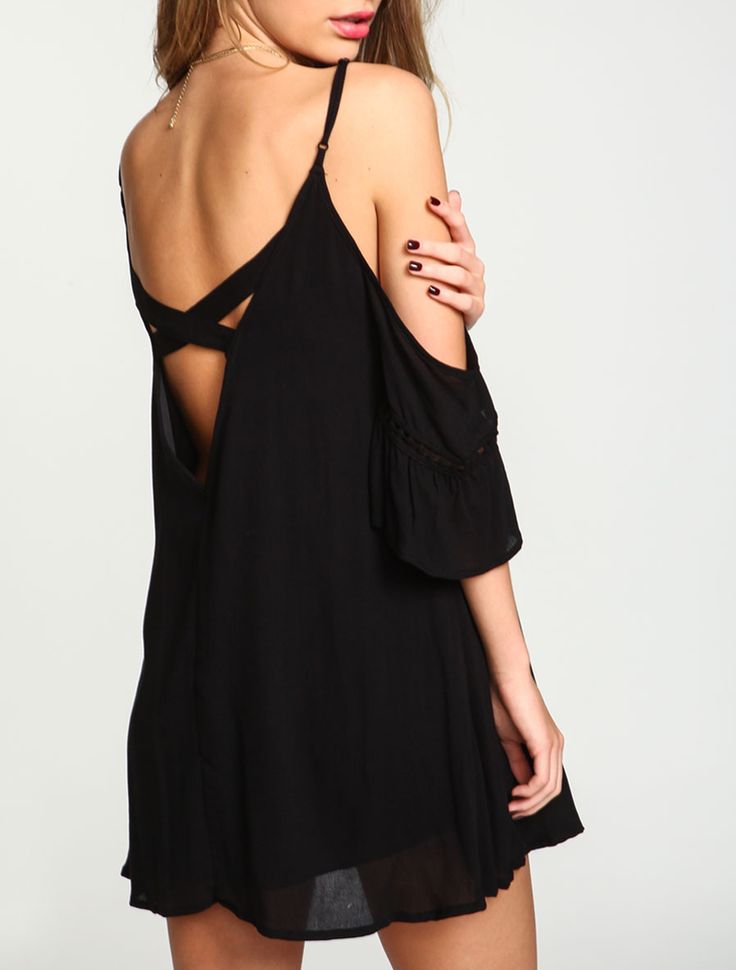 Here's another way to wear an off-shoulder look. It's actually one of our favorite ways because it adds some subtle detailing to the dress.
13. Embroidered dress
This is a really sweet look. And the fact that it's embroidered helps to make it pretty Boho chic.
14. Long sleeve dress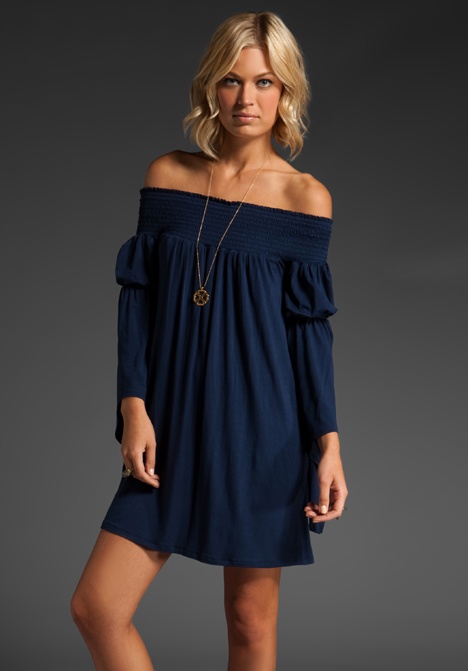 If you happen to live in a climate where the weather gets a bit cooler in the evenings, you can still make an off shoulder dress happen. Just look for the kind that has long sleeves to it.
15. Sleeveless and off shoulder combo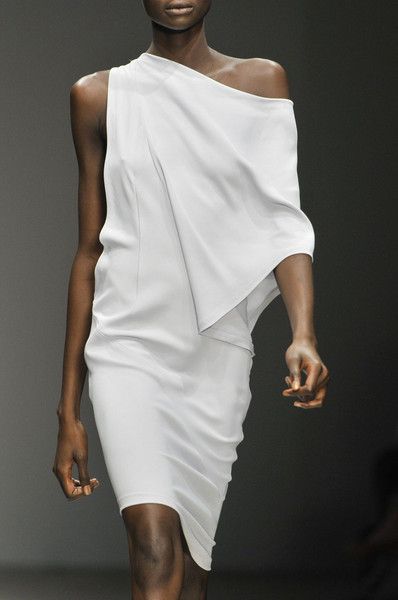 A lot of times, when people think of the word "asymmetrical", it's hairstyles that come to mind. But as you can see with this particular combo, it can apply to dresses too. (Quite well, we might add.)
16. Tropical print dress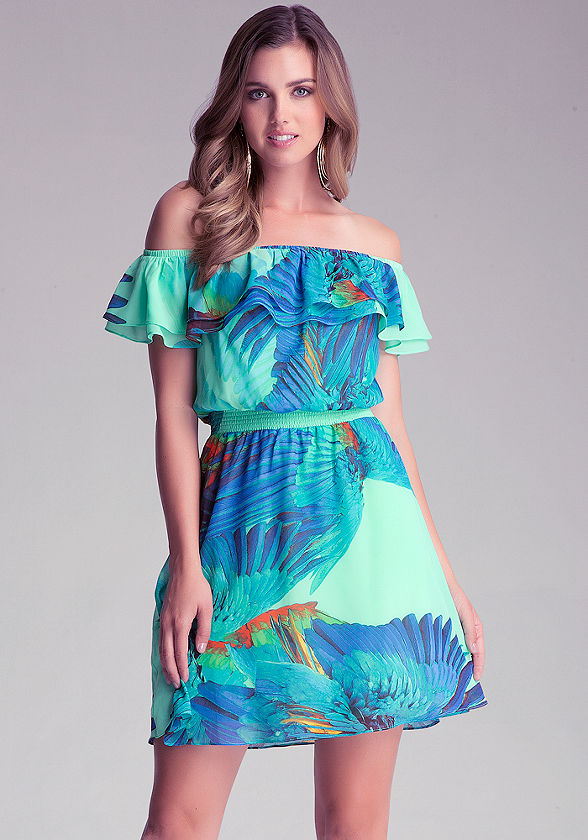 Nothing welcomes in the summer season quite like tropical print. And whether you can make it to the beach or not, at least with this style dress, you can look oceanfront ready.
17. Cuff sleeve dress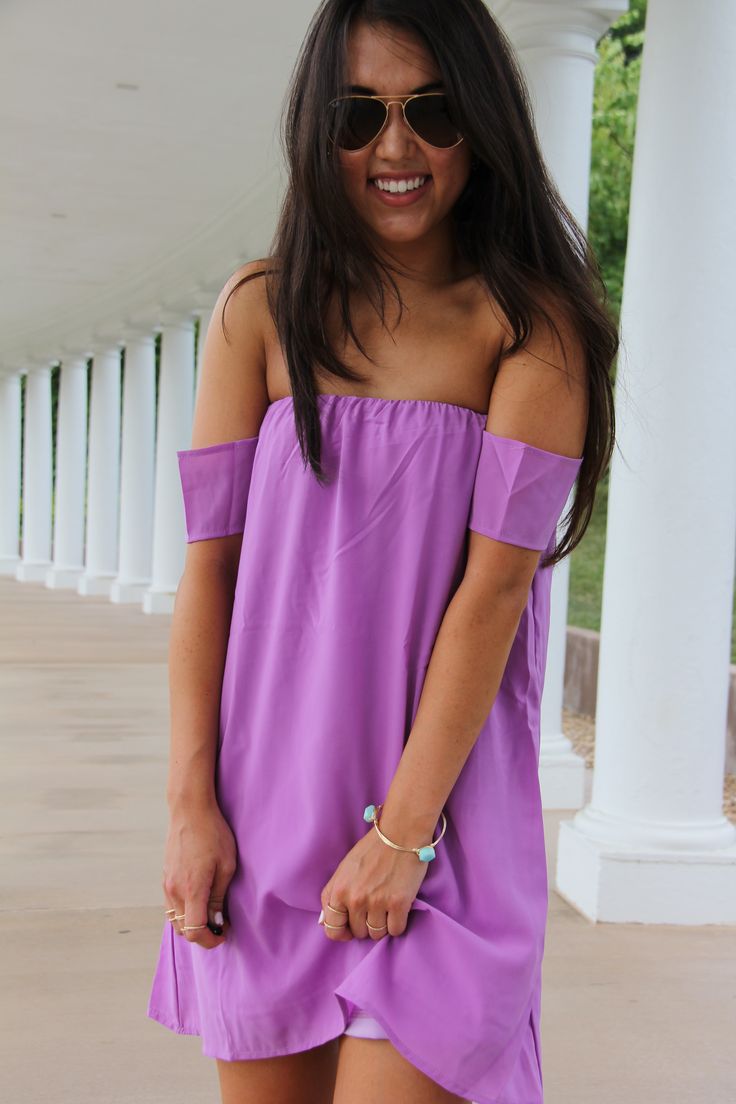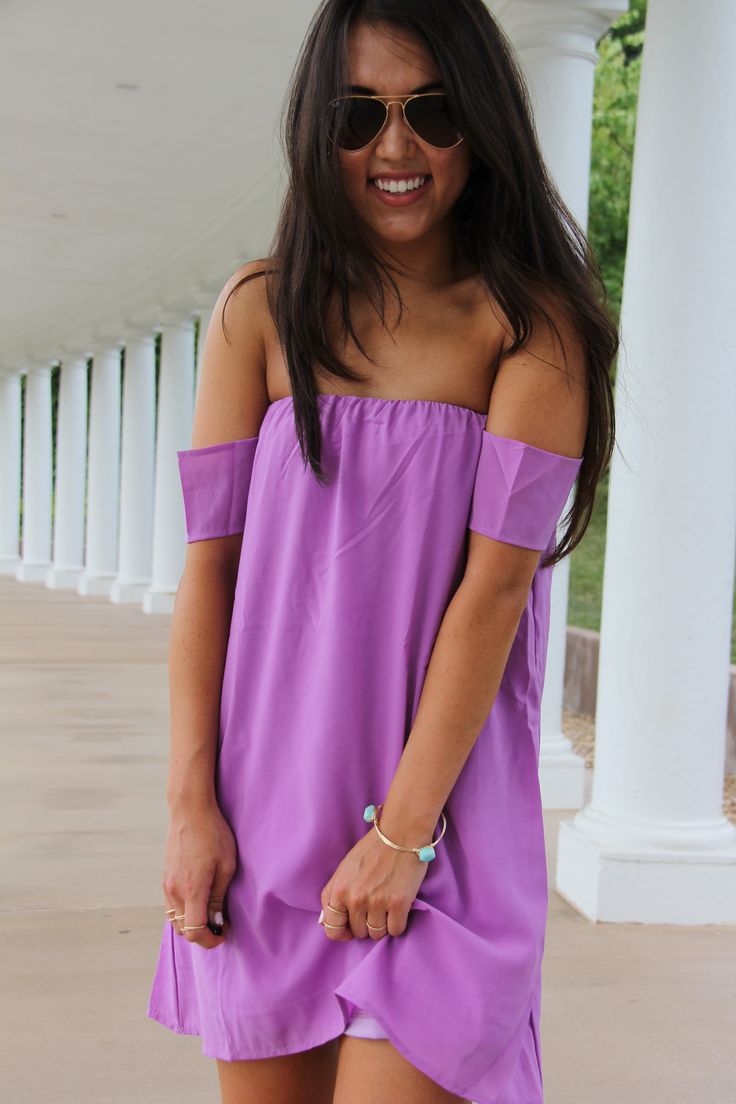 This is too cute. From the cuff sleeves to the color, every woman should get this kind of off-the-shoulder dress, wouldn't you say?
18. Lace trimmed dress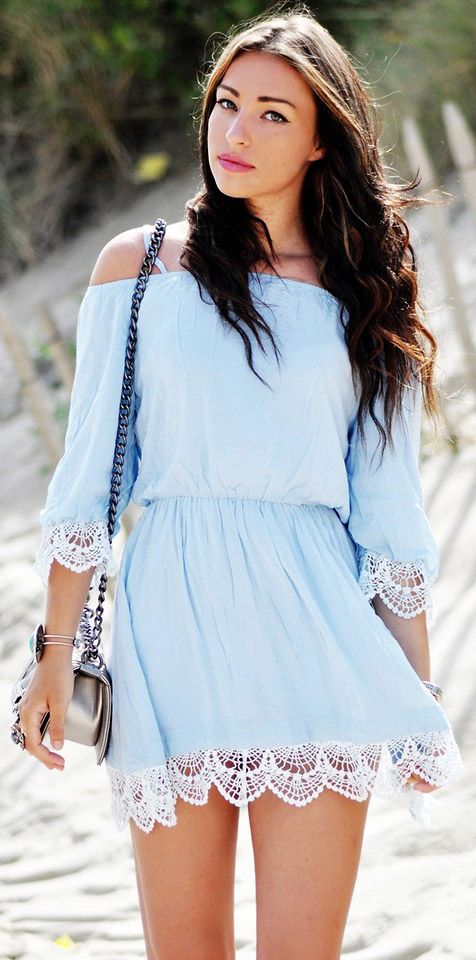 This is also in the "Boho chic" family. A big part of it is due to the lace trim on the sleeves and at the bottom of this mini dress.
19. Asymmetrical maxi dress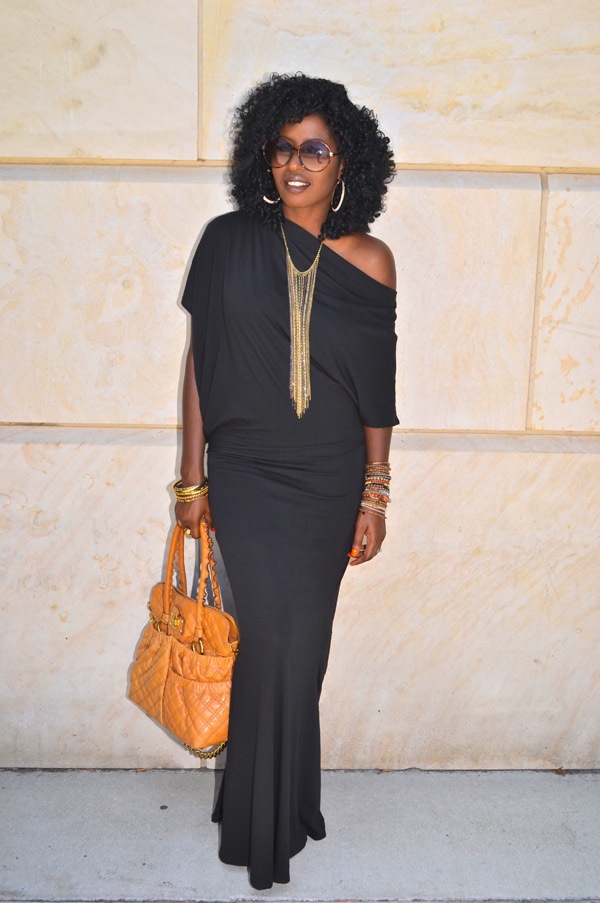 Here's another asymmetrical look. All you have to do is find a maxi dress with a long neckline and then pull it to one side in order to reveal one of your shoulders.
20. Striped jersey dress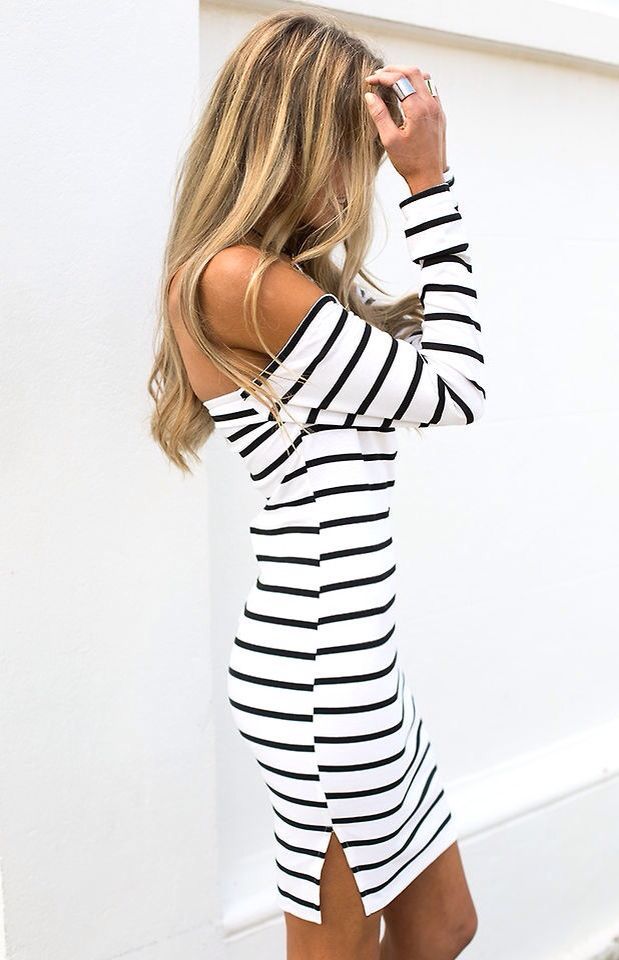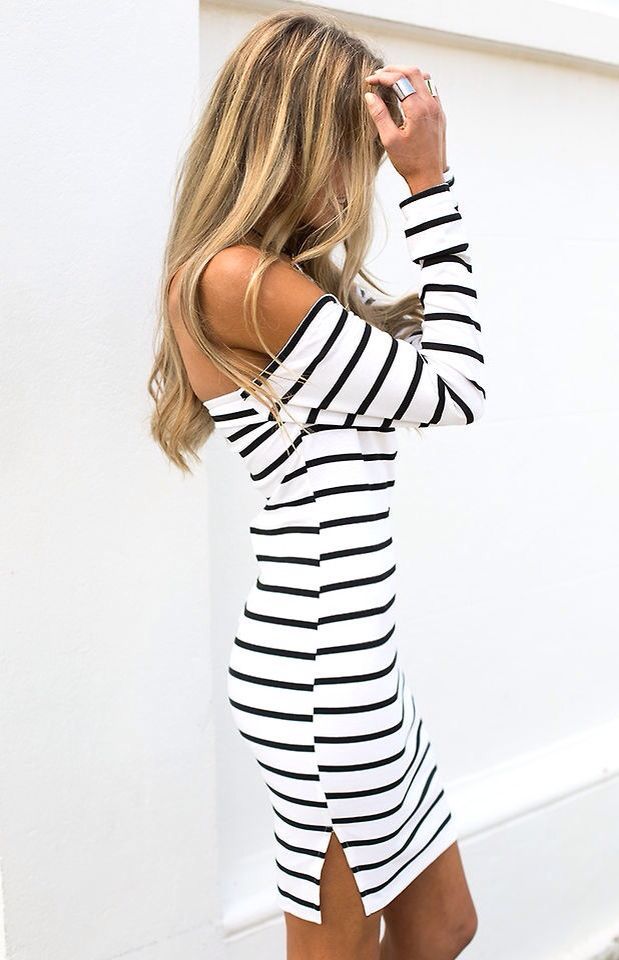 Jersey material tends to make things look more casual. That is unless it's a striped, form-fitting and off-the-shoulder dress like this one. Then the fabric gets turned up a notch. (And so do you in it!)
21. Boho chic dress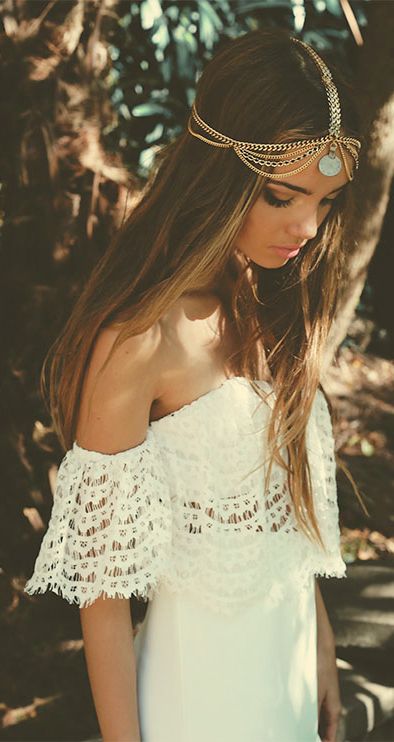 We're already referenced some off-the-shoulder dresses that could be classified as Boho chic. But if there was one that truly said Bohemian, gypsy or 70s style, it would have to be one like this. From the lace up top to the style of the sleeves, it's definitely all Boho. (Don't forget the chain headband in order to complete the look!)
22. Elastic waist mini dress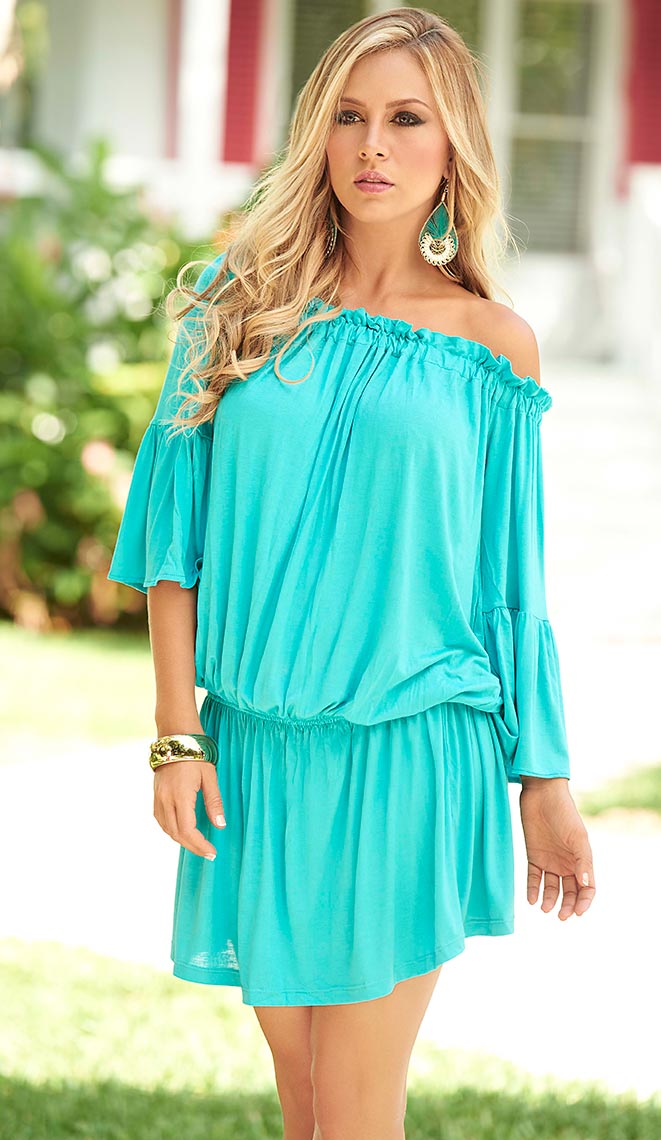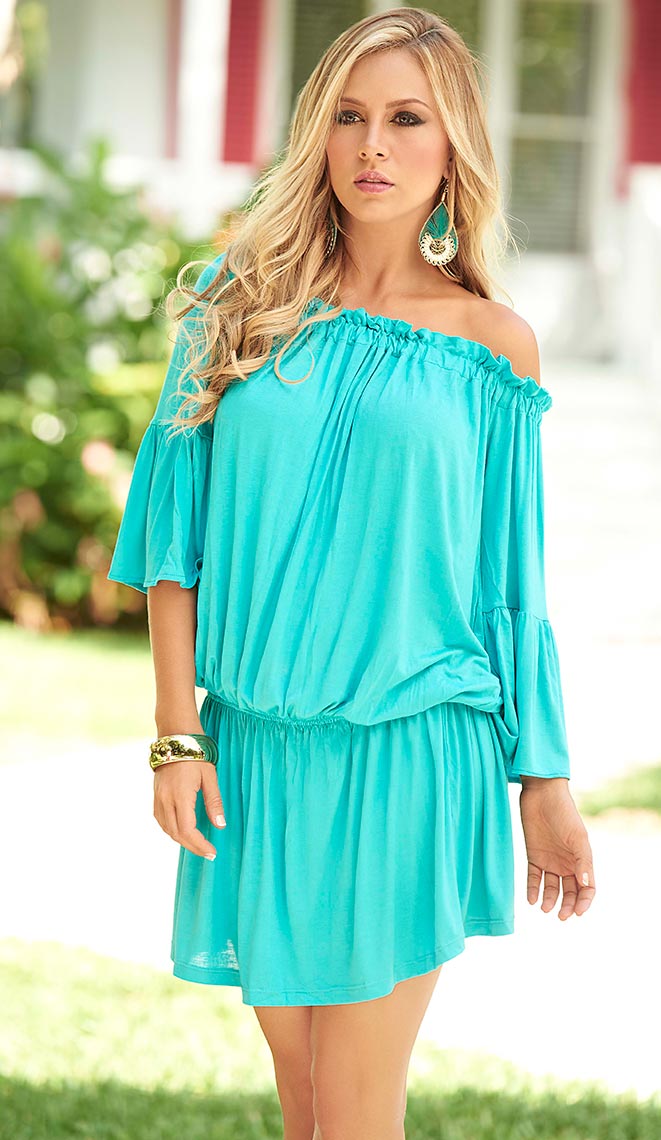 If you'd like a dress that has a bit of definition but you'd prefer not to wear a belt, you can always get one that has an elastic waistband.
22. 'Shoulder drop' dress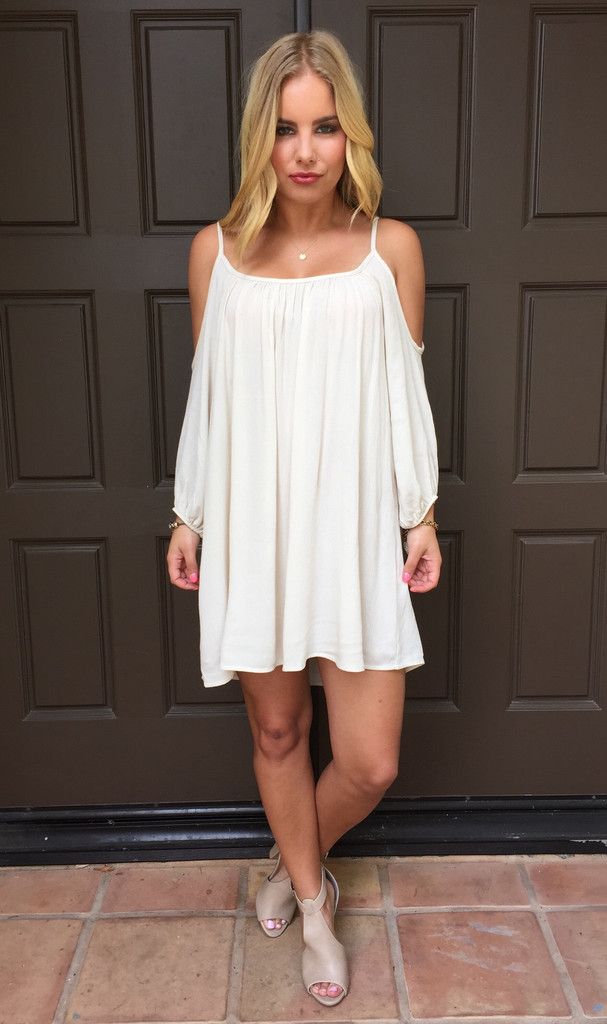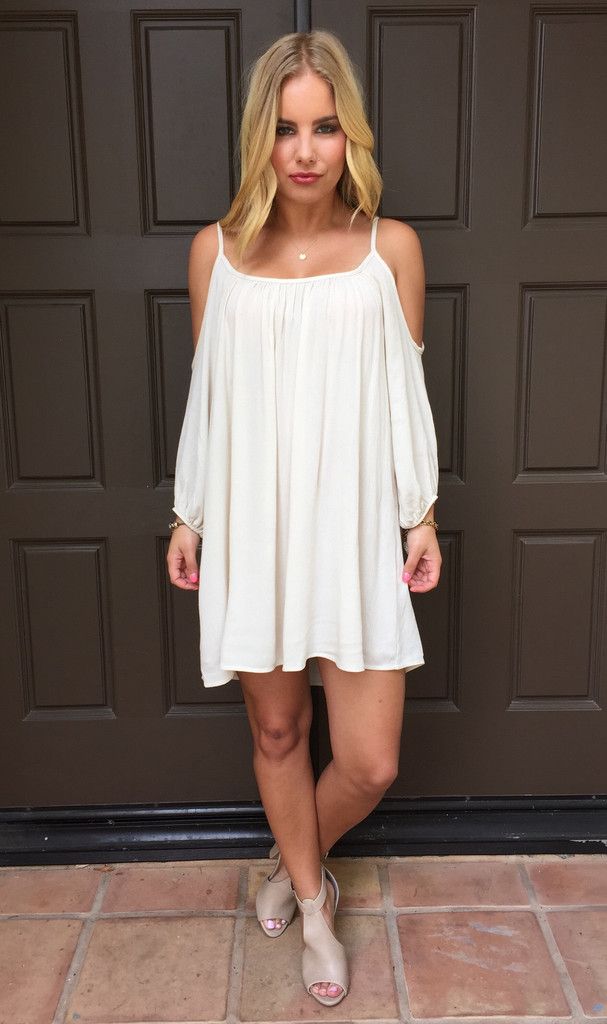 We call this a "shoulder drop" because of the way the sleeves on the dress are made. They literally look like they are dropping down from her shoulders. Beautifully so.
23. Bell sleeve dress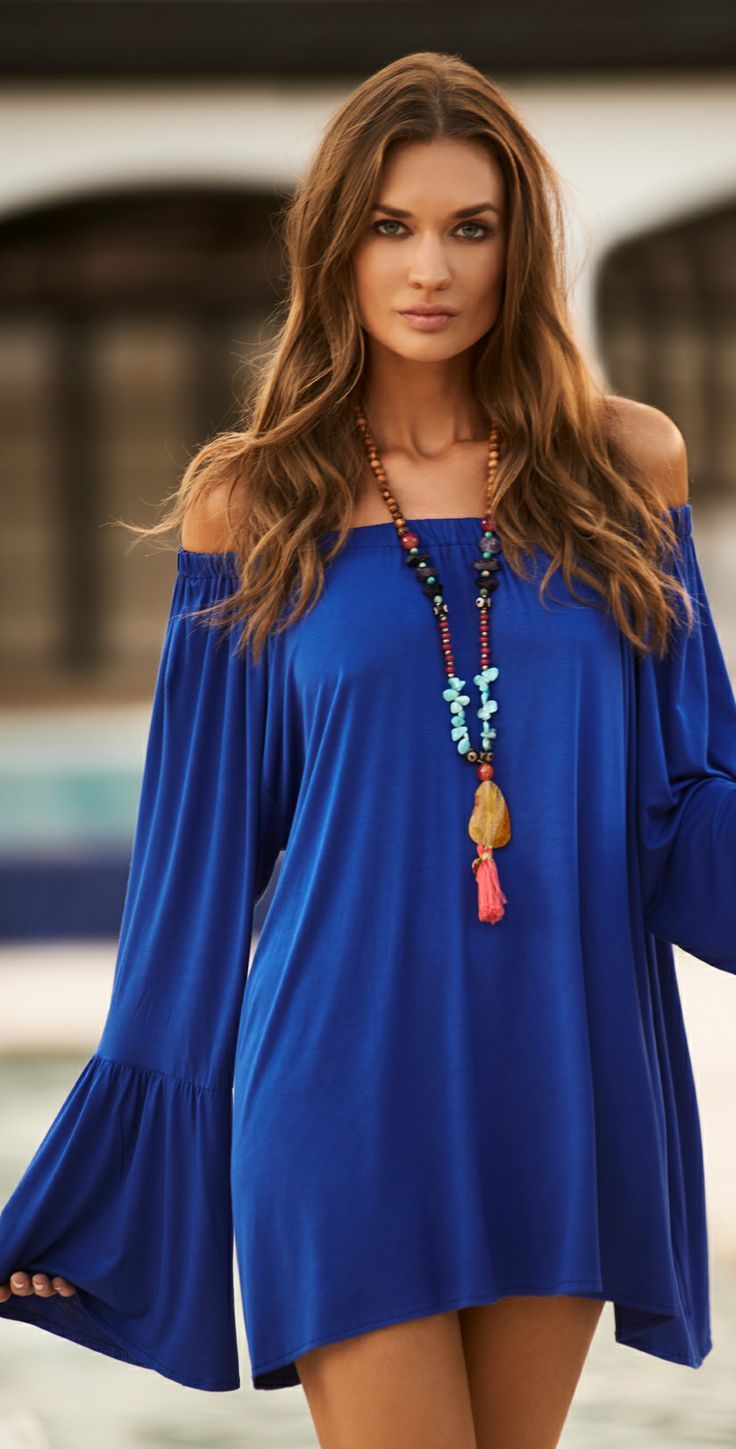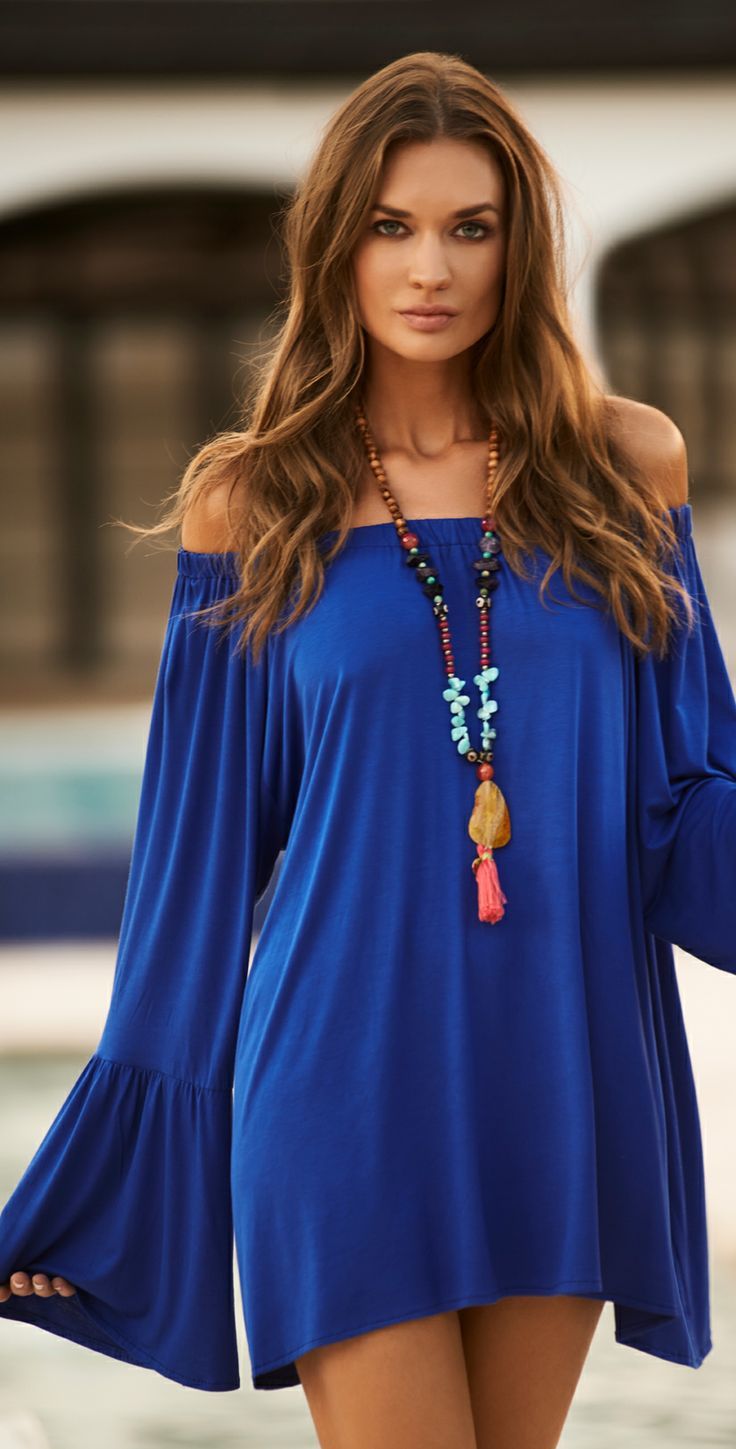 This is another way to wear a long sleeve off-shoulder dress. Bell sleeves are another throwback-from-the-70s look (which actually makes you pretty fashion-forward if you decide to wear it).
24. Floral maxi dress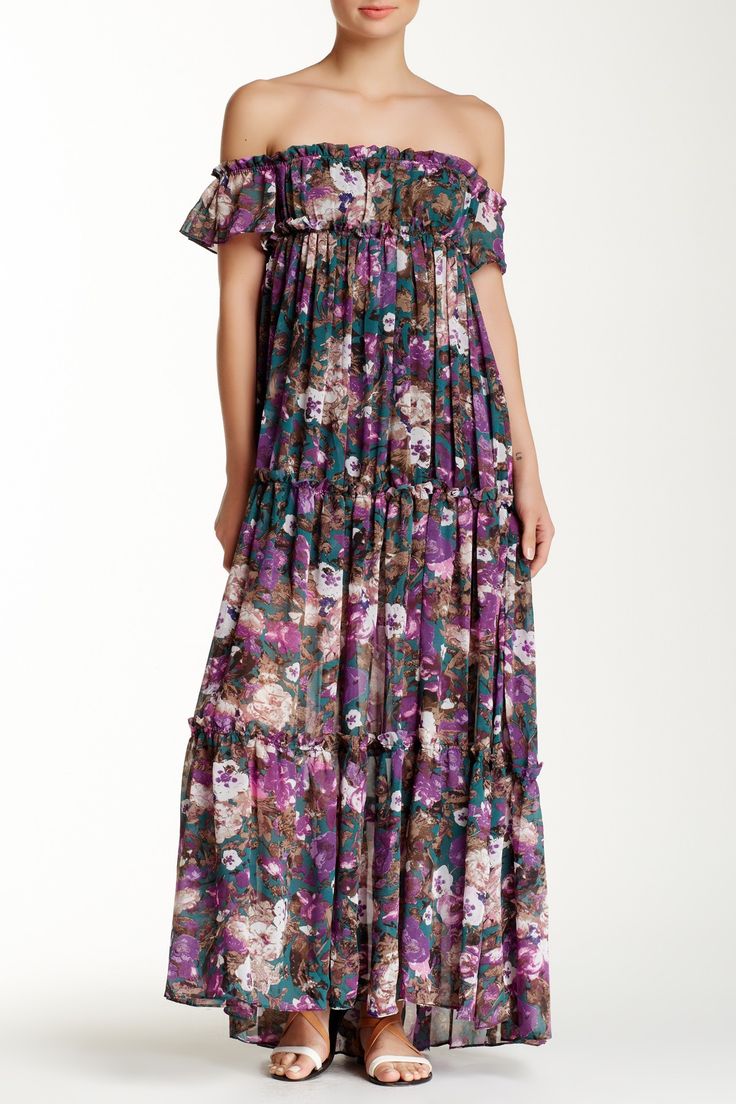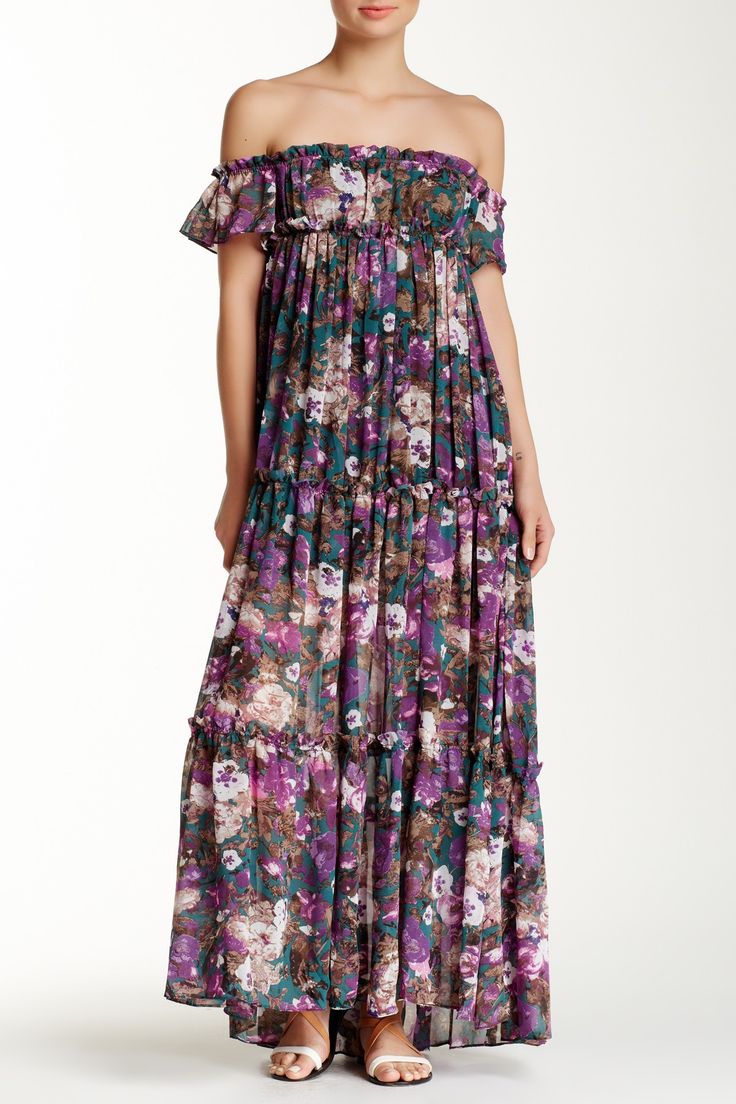 Look how precious she looks in her floral print maxi. No think about how even more endearing you will appear in one that's similar to it.
25. Cocktail dress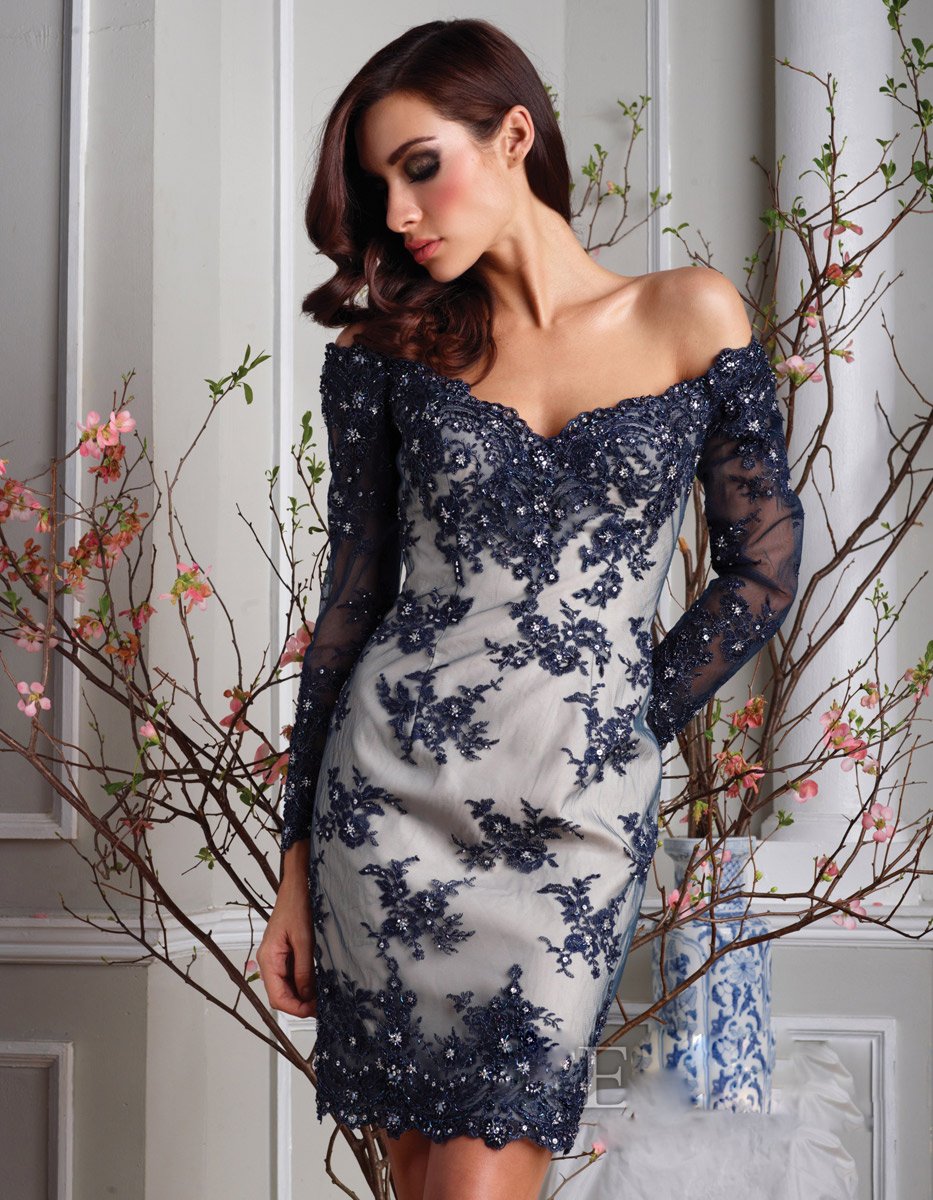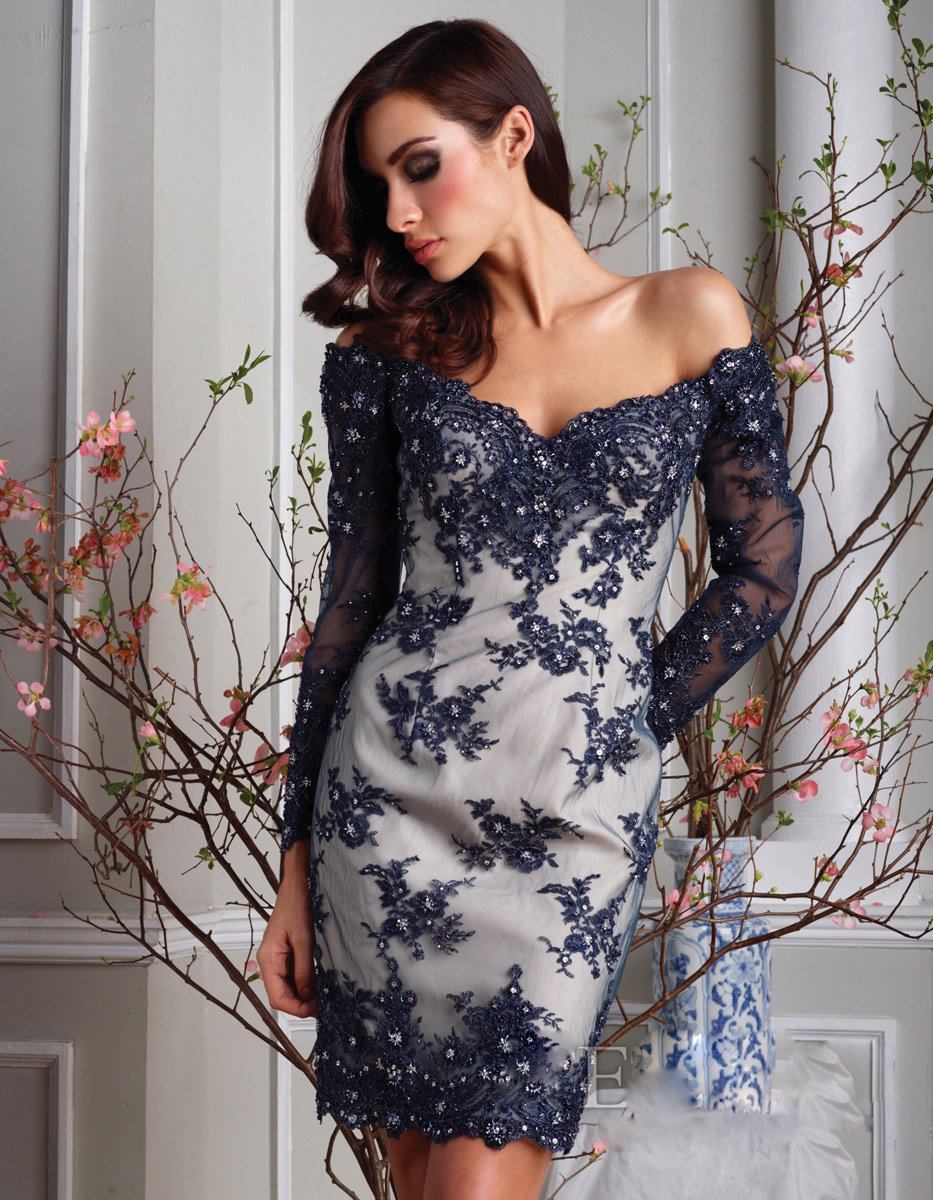 If there's a wedding or semi-formal event in your (near) future, you'll look "magnificently appropriate" in an off-the-shoulder cocktail dress. Not just in the summer but all year long.