C'mon. Who doesn't own at least three pair of jeans, right? But if you're someone who prides herself on being up on all of the latest trends, then if you don't have a pair of ripped jeans (also known as distressed jeans) in your closet, something must be done about that!
Right now, those are the style of jeans that are an absolute must have. You can either purchase them at a local mall or department store, find a pair at a thrift store or you can even make your own (YouTube has lots of DIY videos).
Once you have them in tow, you can literally wear them all year 'round.
Here are just some of the ways you can do that:
1. Ripped jeans and animal print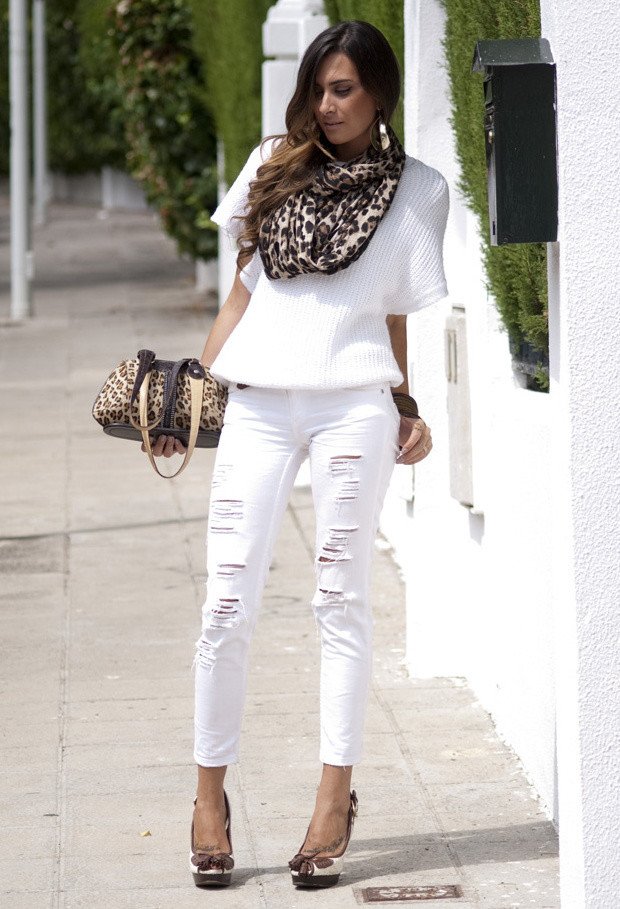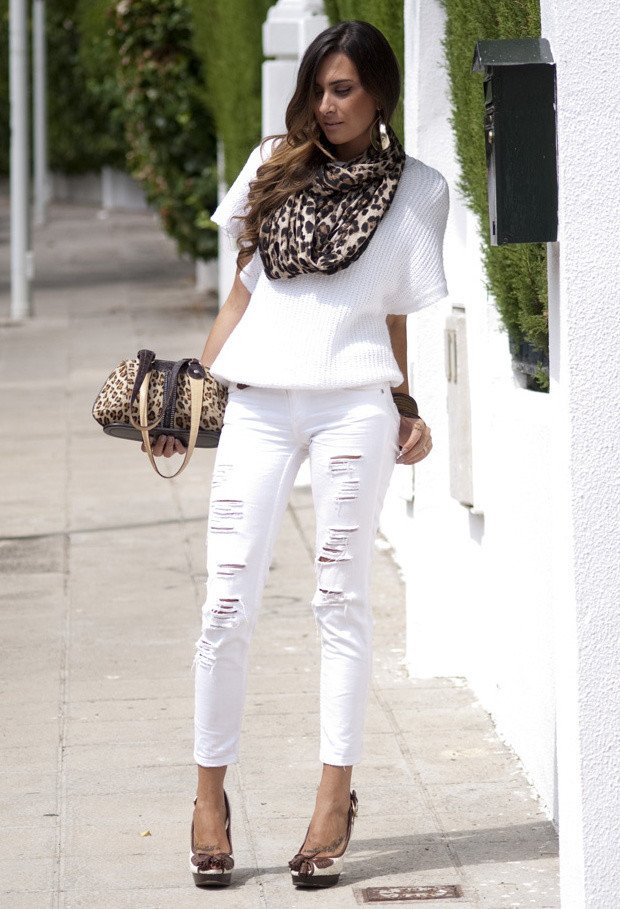 A pair of blue denim ripped jeans are the first pair that you should get. But following that, look for some white ones too. If you pair them up with some animal print accessories, it will create such a killer look.
2. Ripped jeans and sweater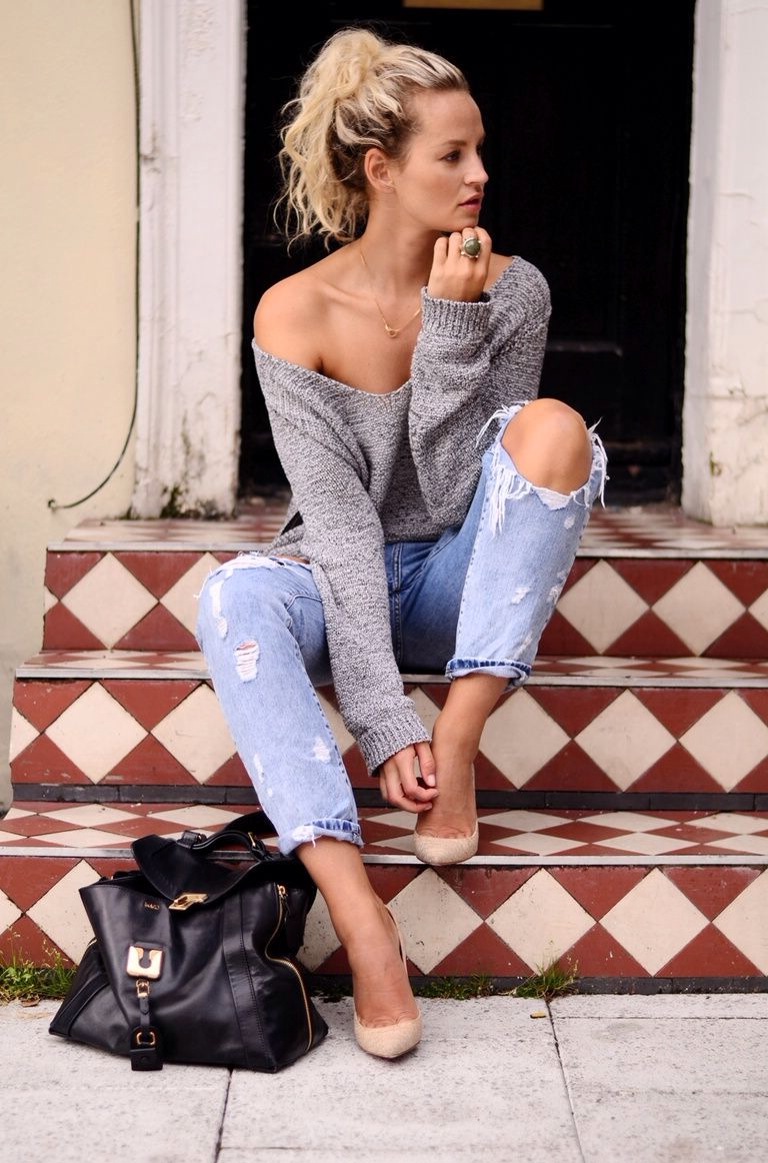 On those cool autumn days when you'd like nothing more than to put on your ripped jeans, all you need to do is throw on a sweater (and if it's really chilly, swap out the flats for a pair of ankle boots).
3. Ripped jeans and sequin top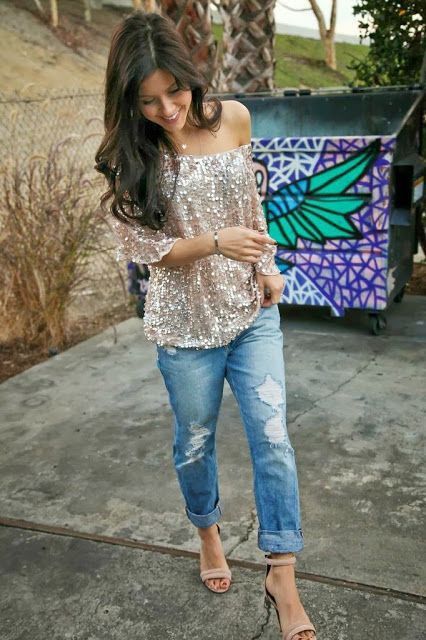 If you have a date coming up where you'd prefer to wear a pair of ripped jeans but you don't want to look too casual, how about a sequin top and some high heels?
4. Ripped jeans and sneakers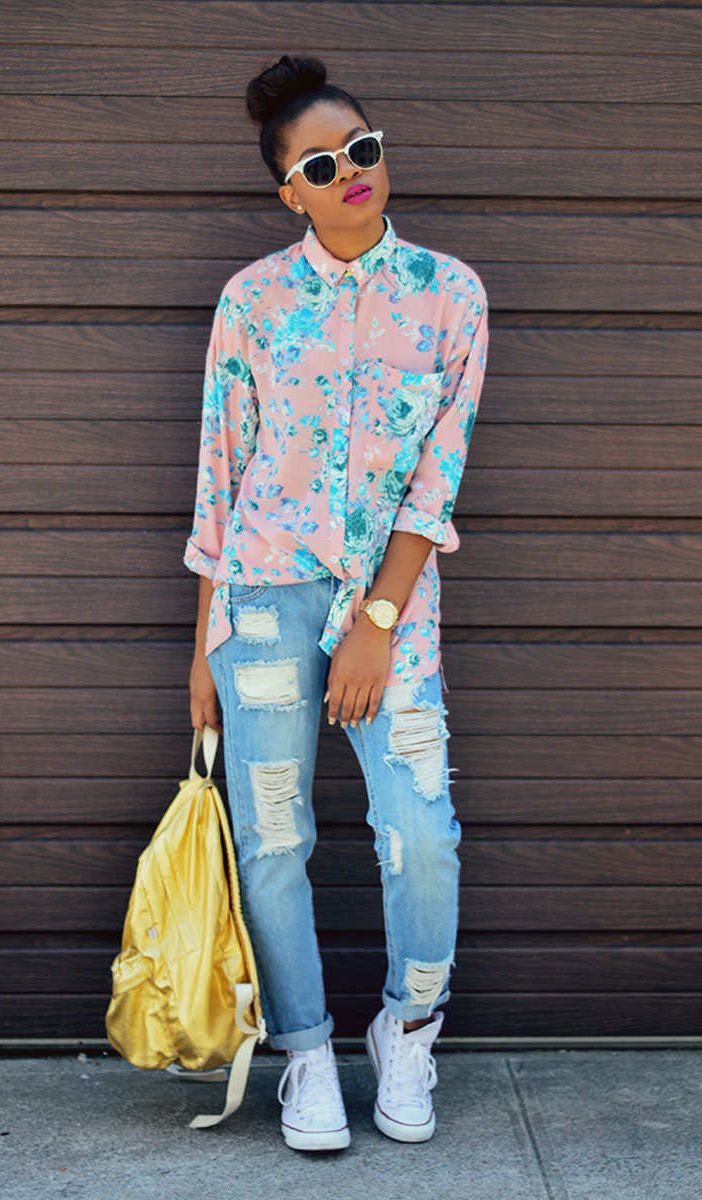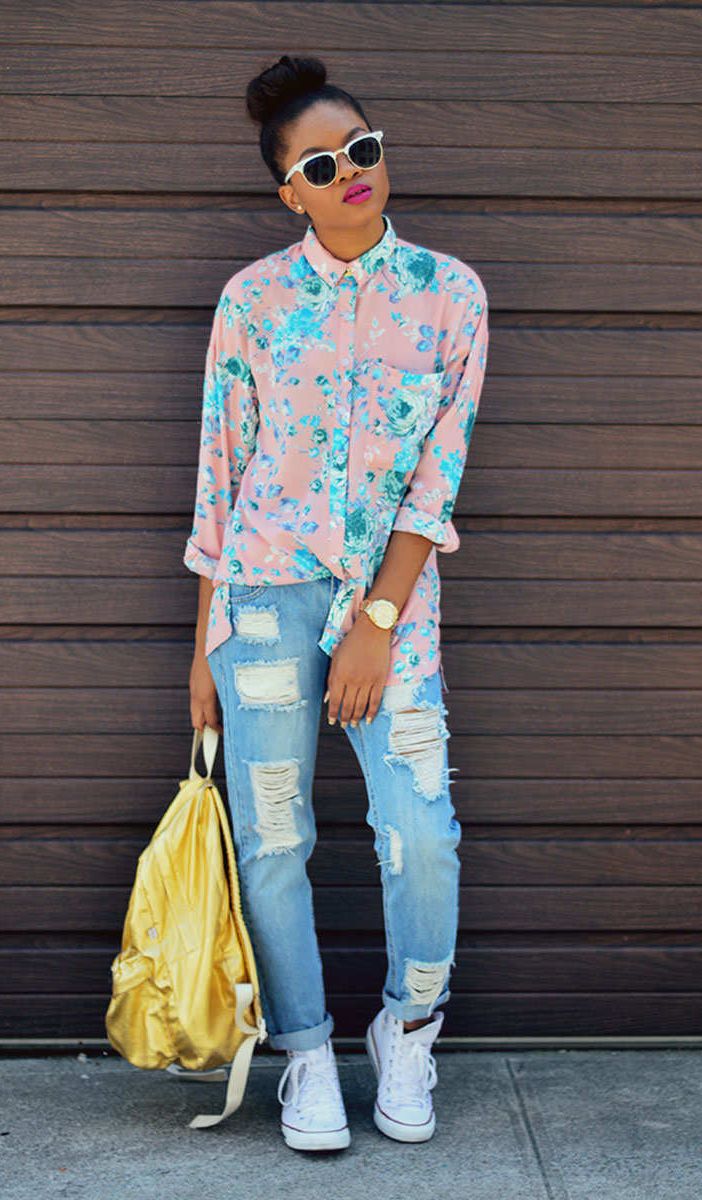 This is a cute 80s way to wear your ripped jeans. From the kicks (sneakers) to the backpack (which is in season right now) and shades, she looks straight out of a throwback movie, doesn't she?
5. Ripped jeans and graphic short sleeve tee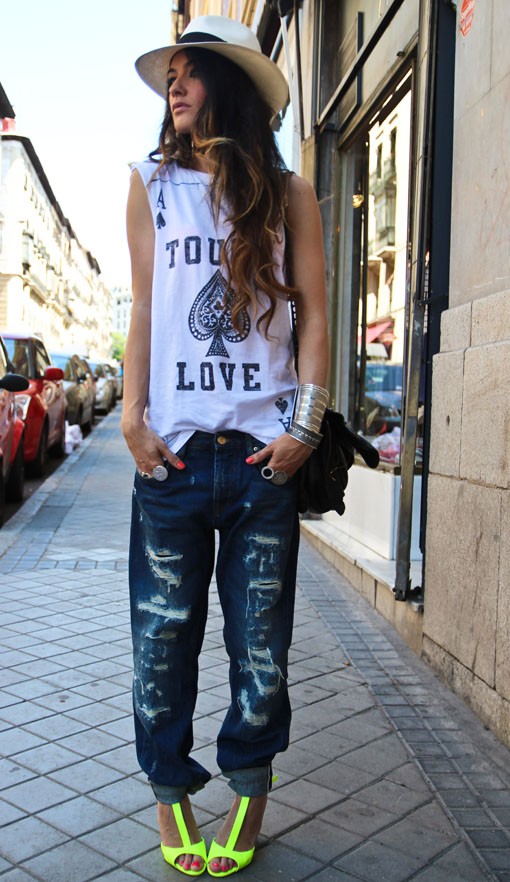 When it's hot outside but you'd prefer to not wear shorts, your ripped jeans will do. Just make sure to put on a short sleeve tee and fedora to help to keep you cool.
6. Ripped jeans and cardigan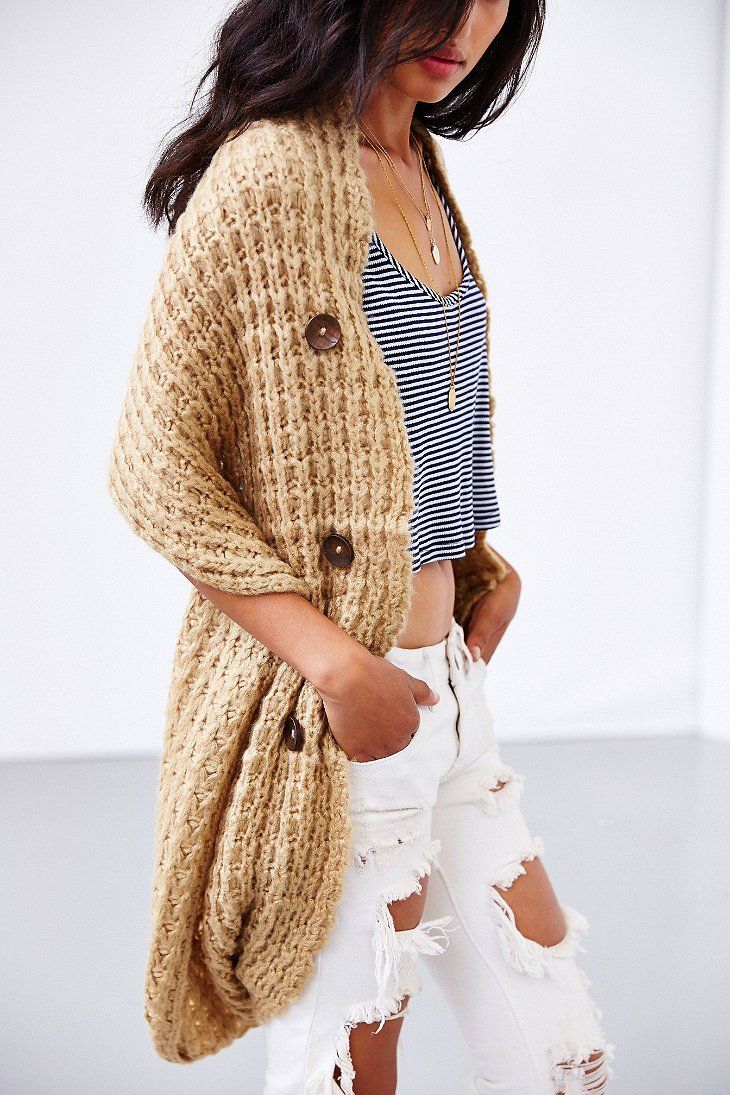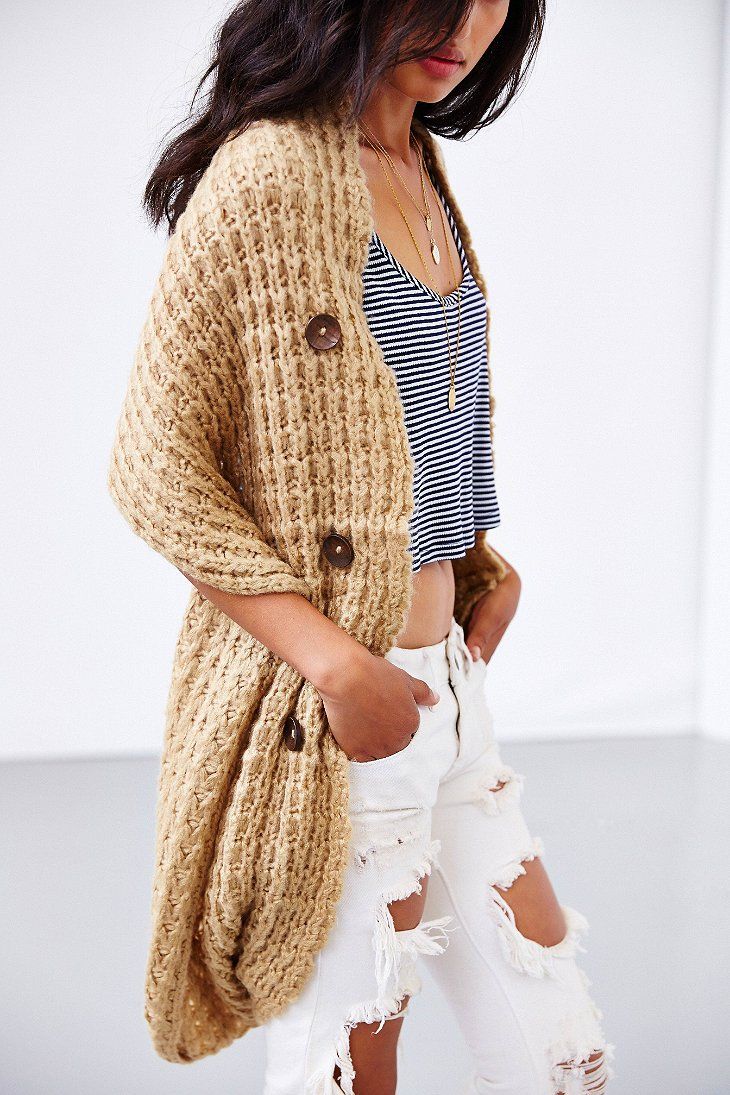 This is a great look simply because it's a reminder of what layering can do. If you're headed to the movies with friends, throw on a cardigan for the chilliness of the theater. Then take it off once you walk out. You'll look cute either way.
7. Ripped jeans and fur vest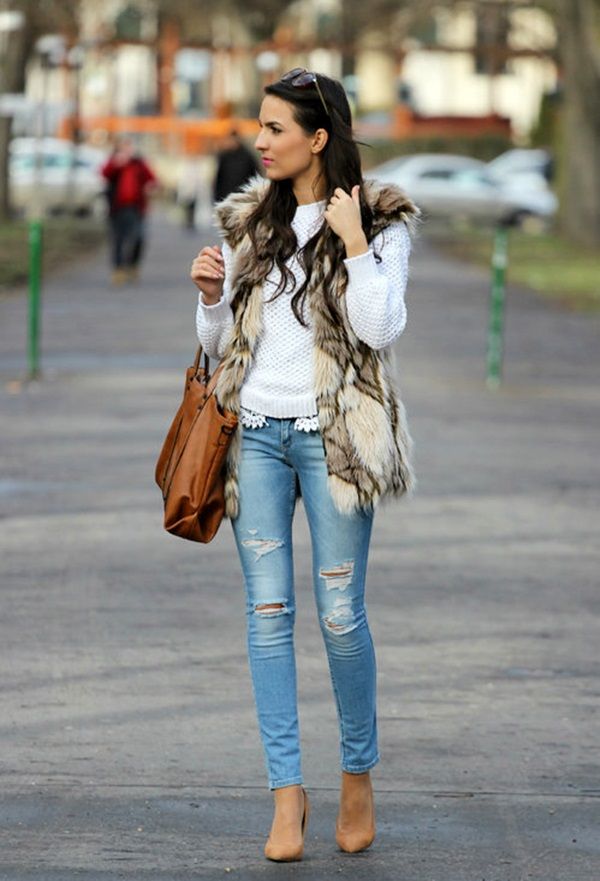 Fur vests (real and faux) are all the rage this fall. Why not get one of your own to go with your ripped jeans?
8. Ripped jeans and leather jacket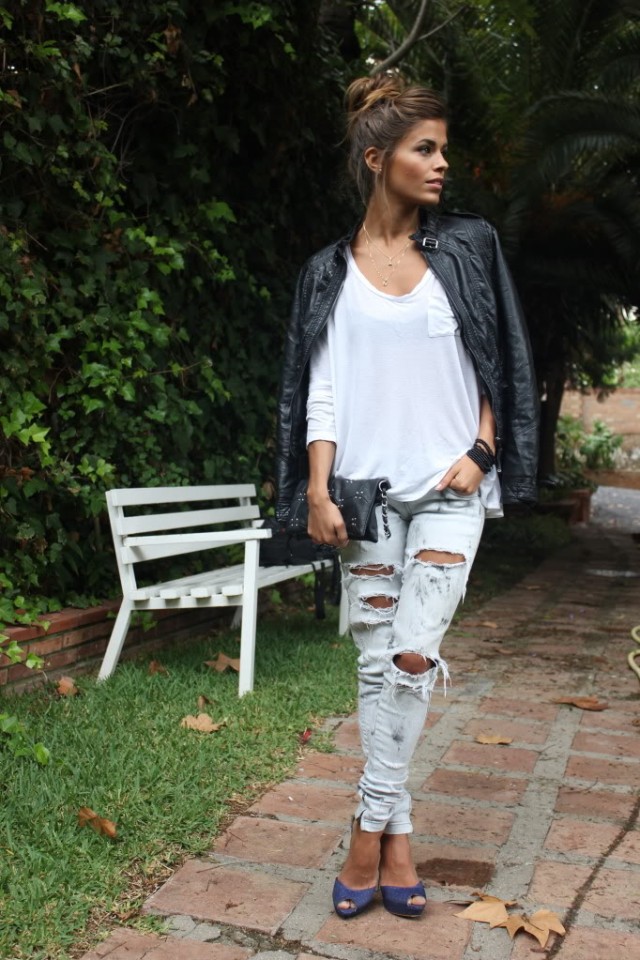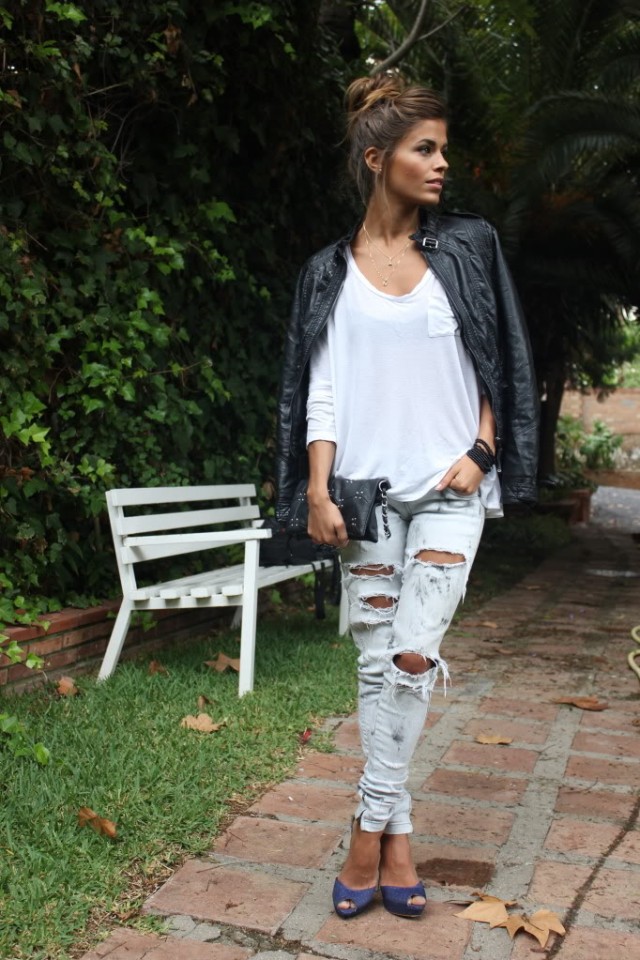 Or you can go with a leather jacket instead. This is a classic yet effortless kind of look.
9. Ripped jeans and tights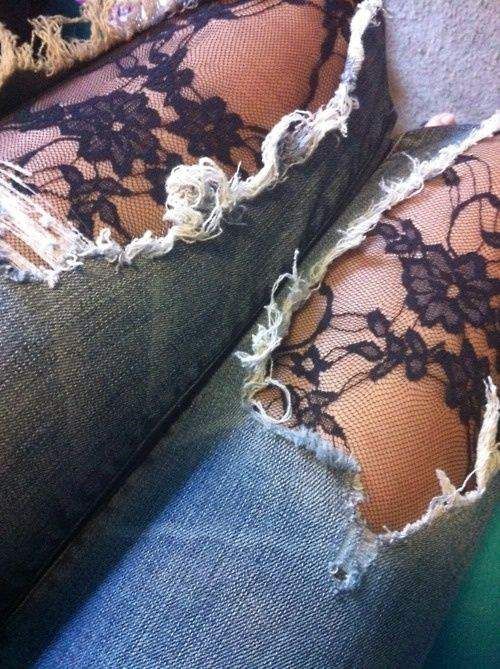 One of the fun things about ripped jeans is there are all kinds of creative ways to style them. For instance, if you would prefer not to show your bare legs or it's the fall or winter season, put some of your favorite tights first. They will help to keep you warm while also adding some personal style to your jeans and outfit overall.
10. Ripped jeans and boyfriend shirt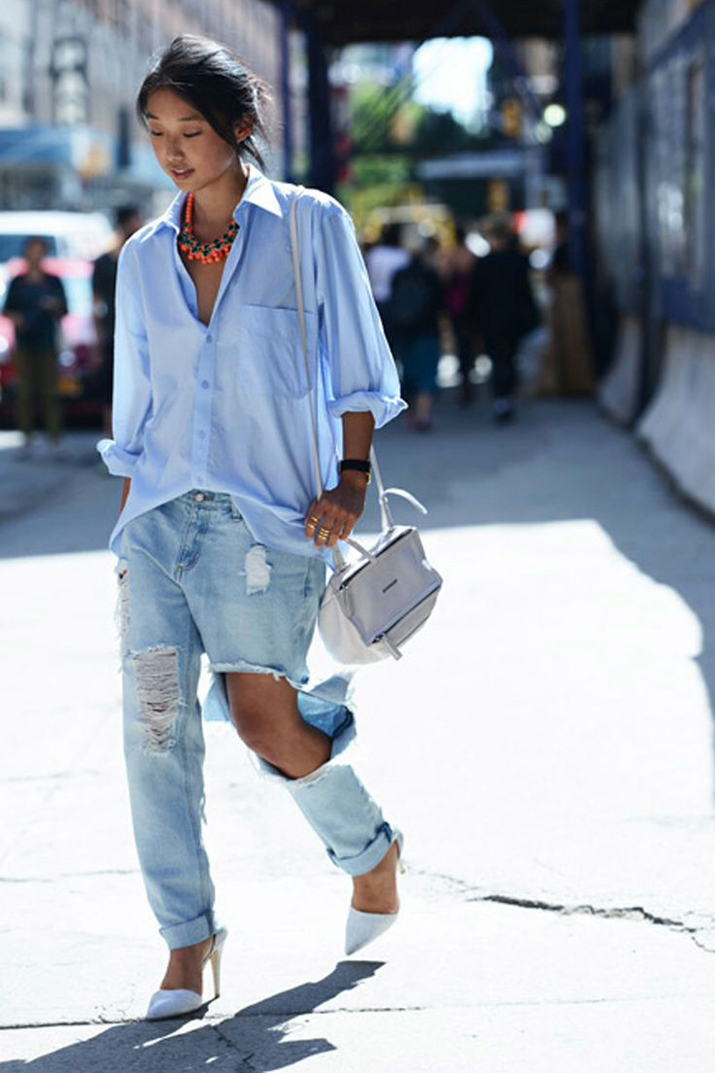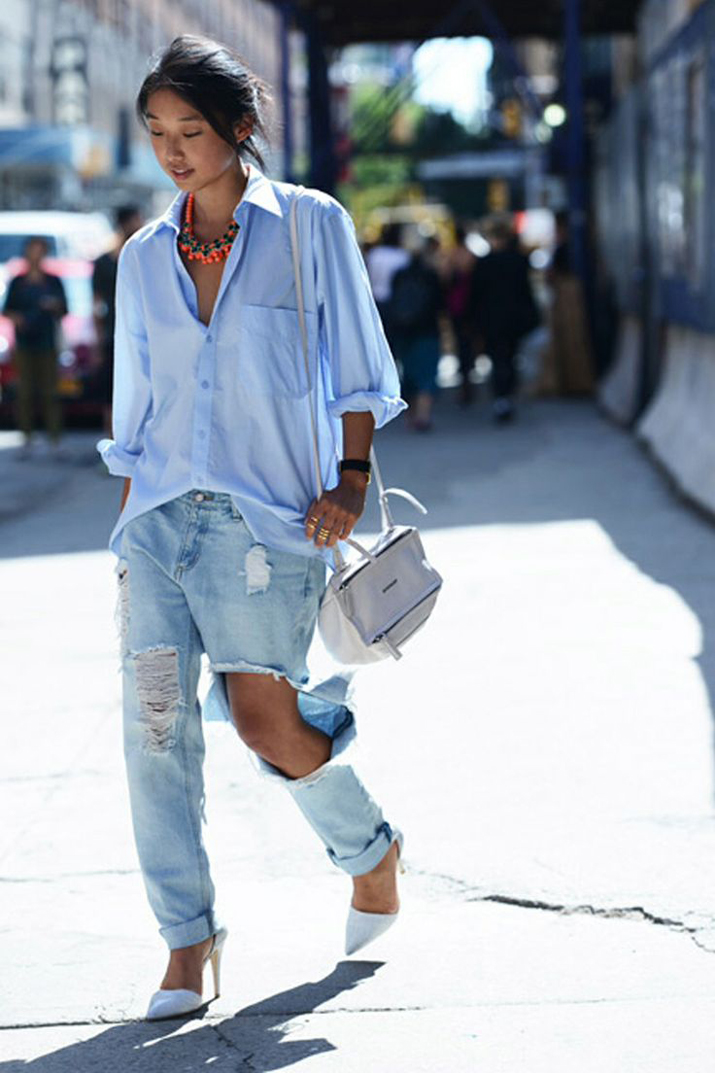 Do you have one of your boyfriend's shirts at your house? It will go amazingly well with a pair of your ripped jeans.
11. Ripped jeans and blazer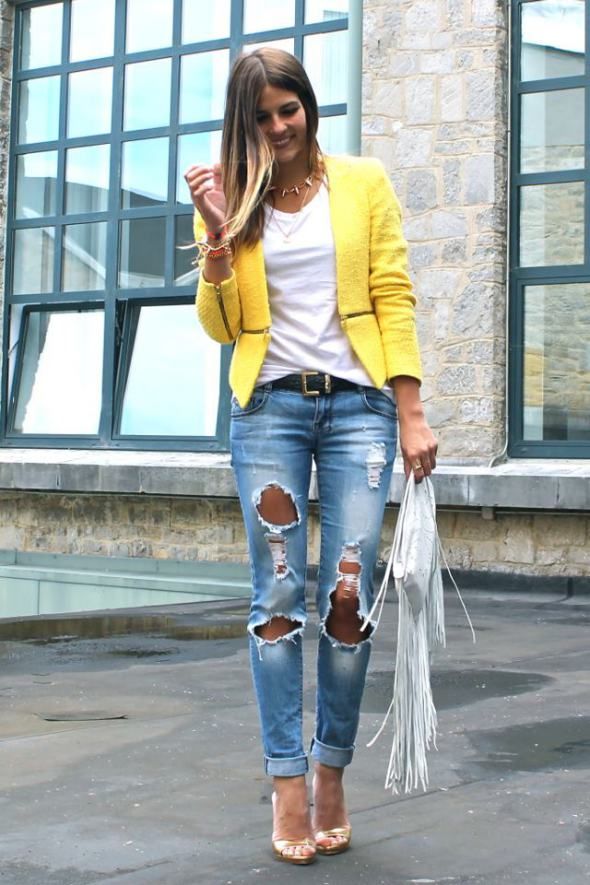 Here's a way to "dress up" your ripped jeans if you happen to be someone who has a conservative side to your style. Just make sure that whatever you do, you don't forget the heels. (Must have the heels on to complete this particular look!)
12. Ripped jeans and platform boots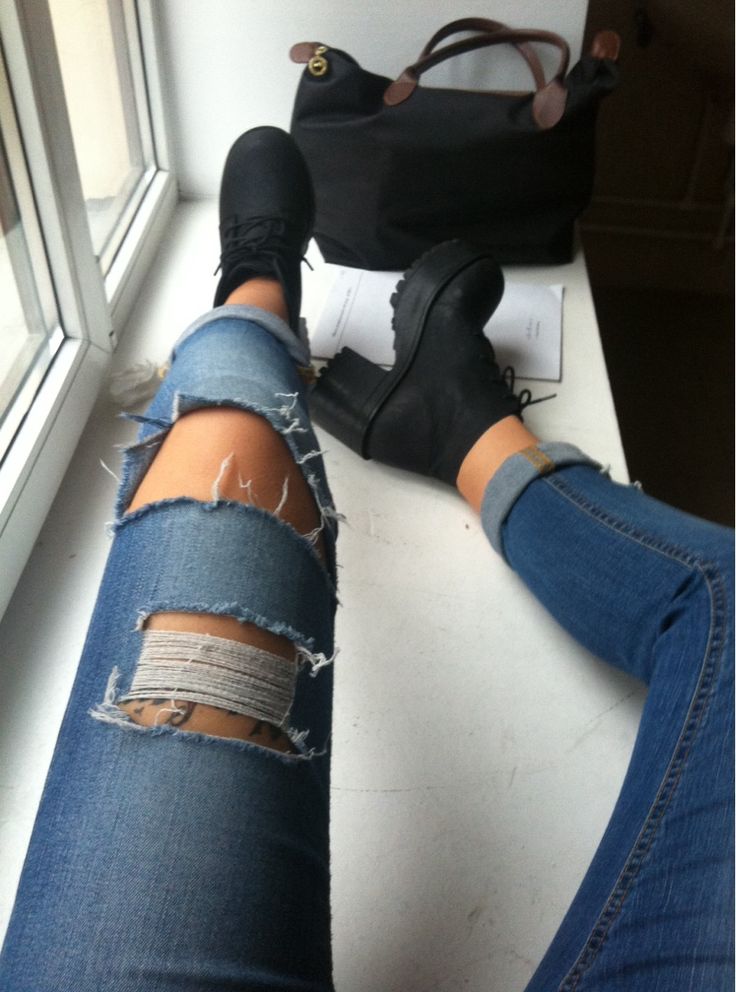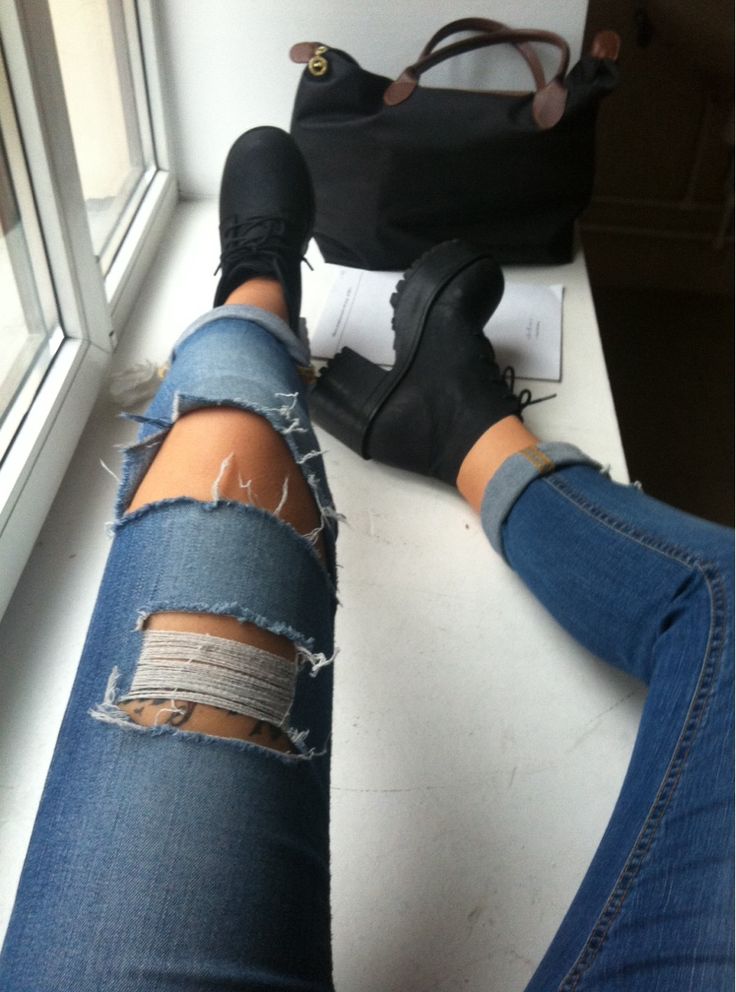 This is a fun look. Platform shoes are on trend right now. So, whether it's platform heels, ankle boots or calf boots, you'll look amazing in them and a pair of ripped jeans.
13. Ripped jeans and hat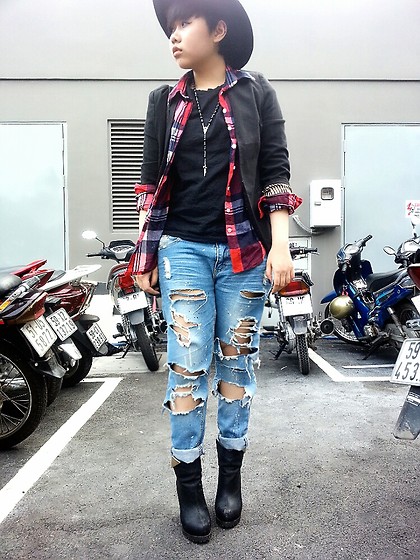 Did you wake up having a bad hair day? All good. Just throw on a pair of your ripped jeans and your favorite hat and you're good to go.
14. Ripped jeans with black and white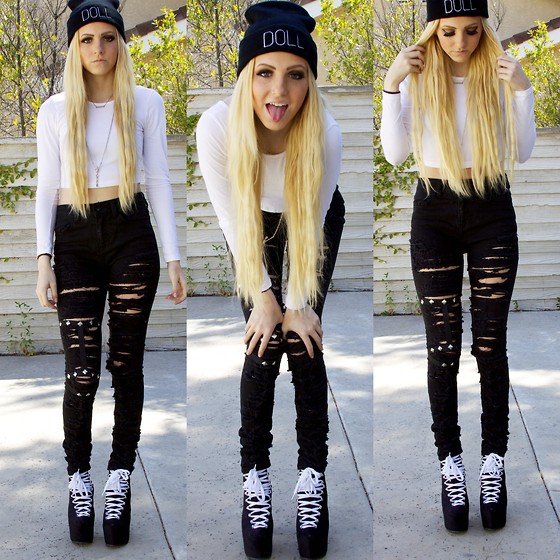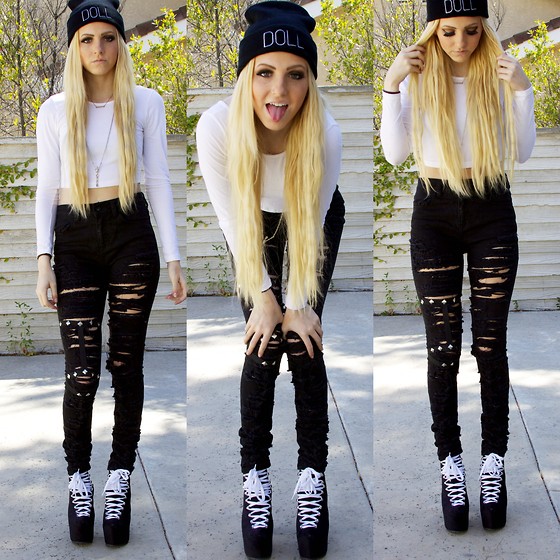 Who said that the only pair of ripped jeans in your closet should be blue ones? It would definitely work to your benefit to get a pair of black ones too. They will go perfectly with so many of your black and white items. Plus, they will add a bit of "flavor" to something as simple as a white shirt and/or black sneakers.
 15. Ripped jeans and scarf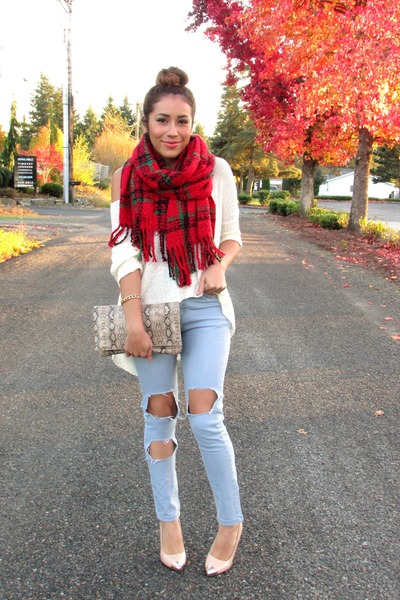 Accessories can do wonders for a look. This picture is a great example of that. With the help of a bright red scarf (and also that clutch), she's picture perfect.
16. Ripped jeans and tank top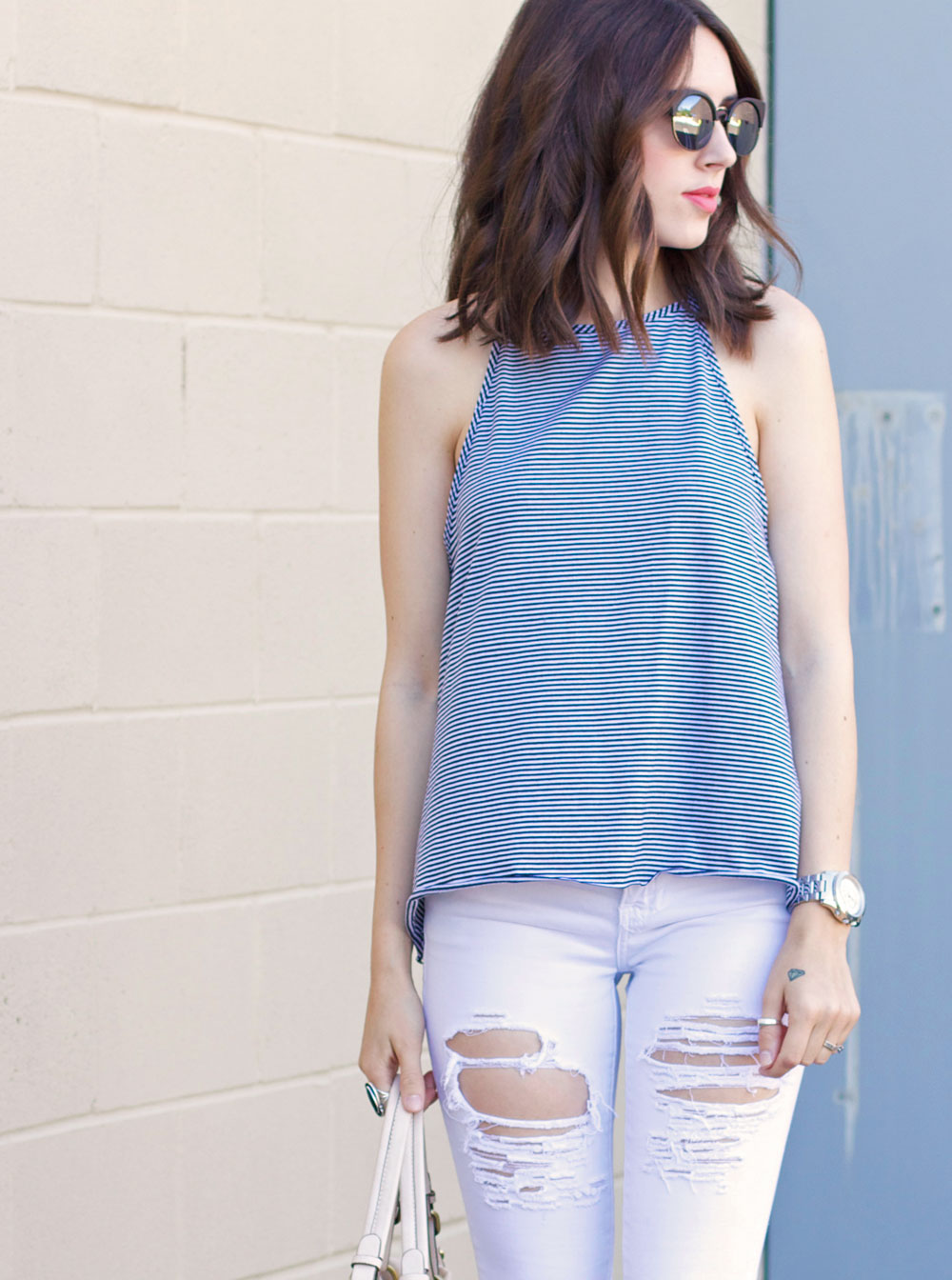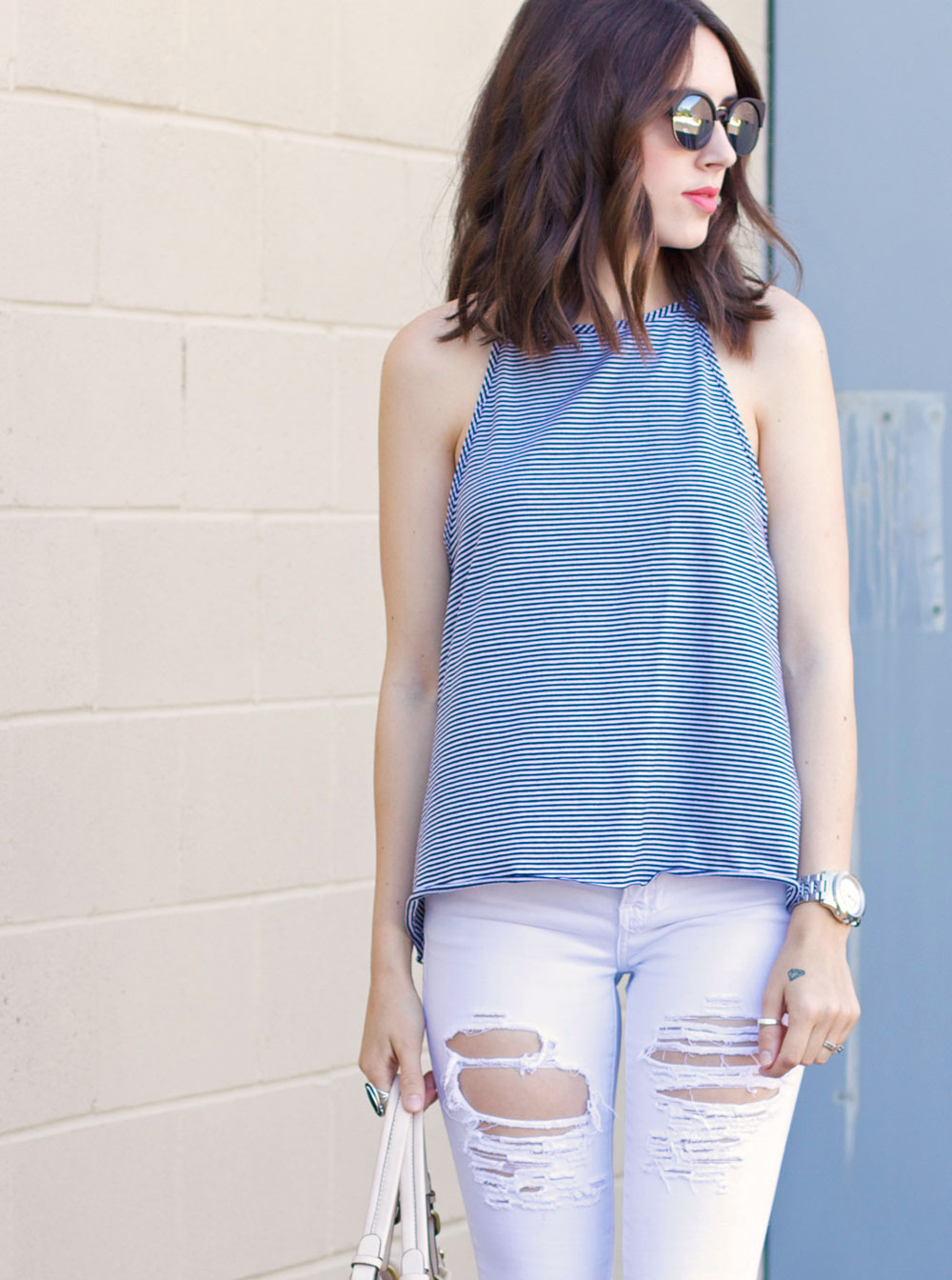 On a summer day, when you're in a rush, reach out for a pair of ripped jeans and your favorite tank. You'll look ready for whatever the day brings.
17. Ripped jeans and lace up heels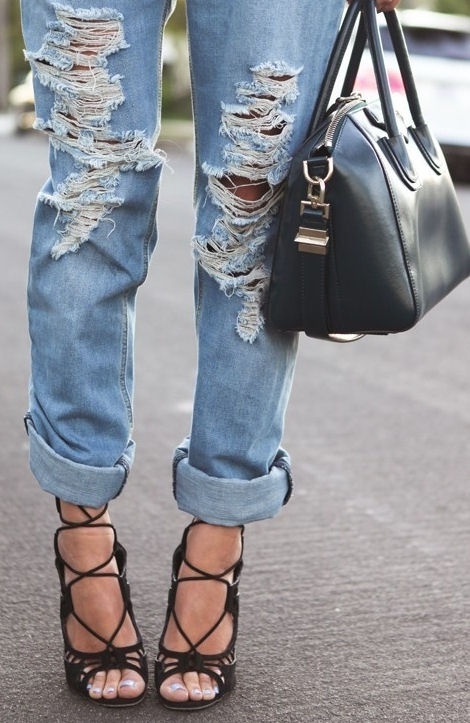 The perfect pair of ripped jeans don't need much more to make them look fabulous. But if you really want to stand out, you can always do so with the right pair of heels. During the summer, some lace up ones with a fresh pedicure will make you look so amazing.
18. Ripped jeans and bustier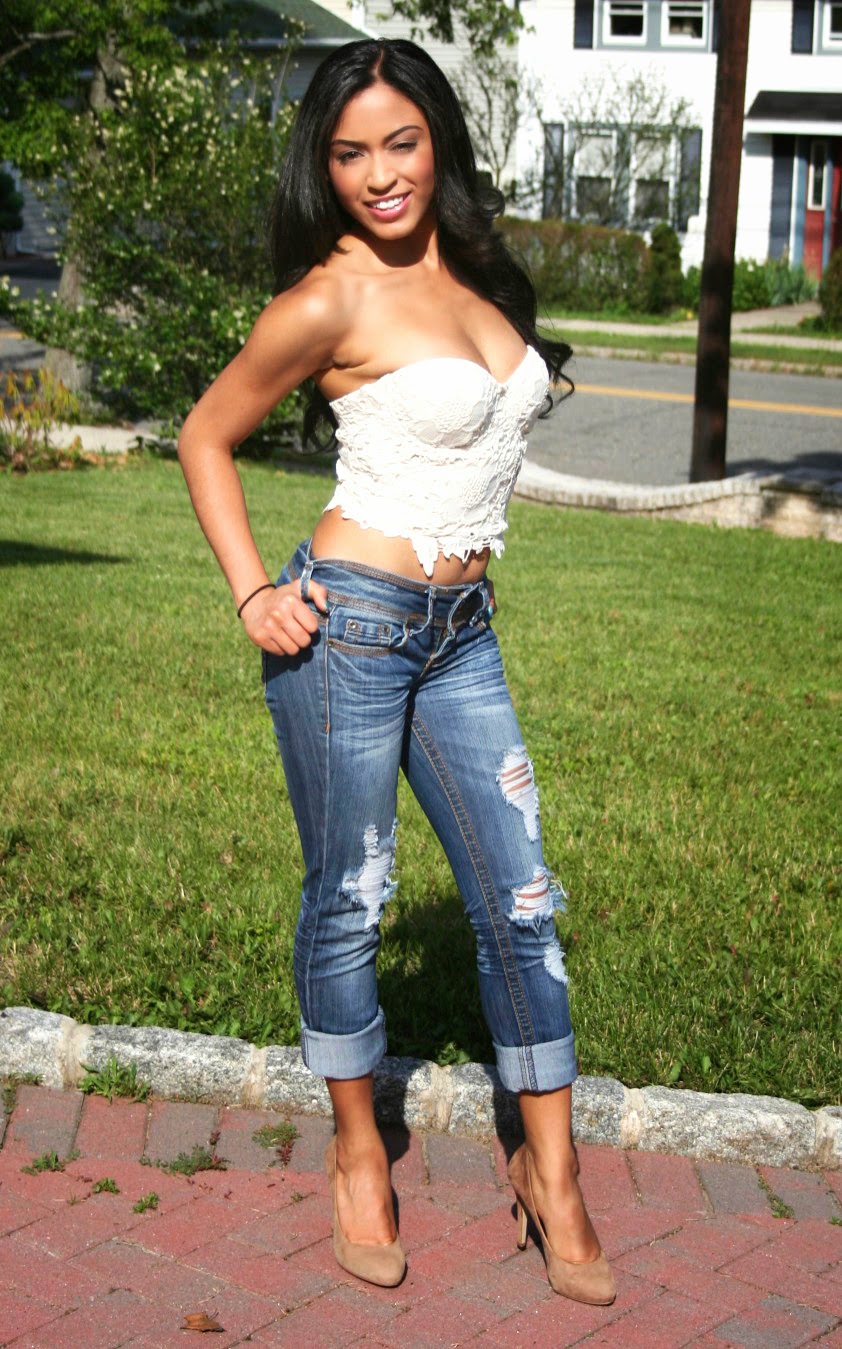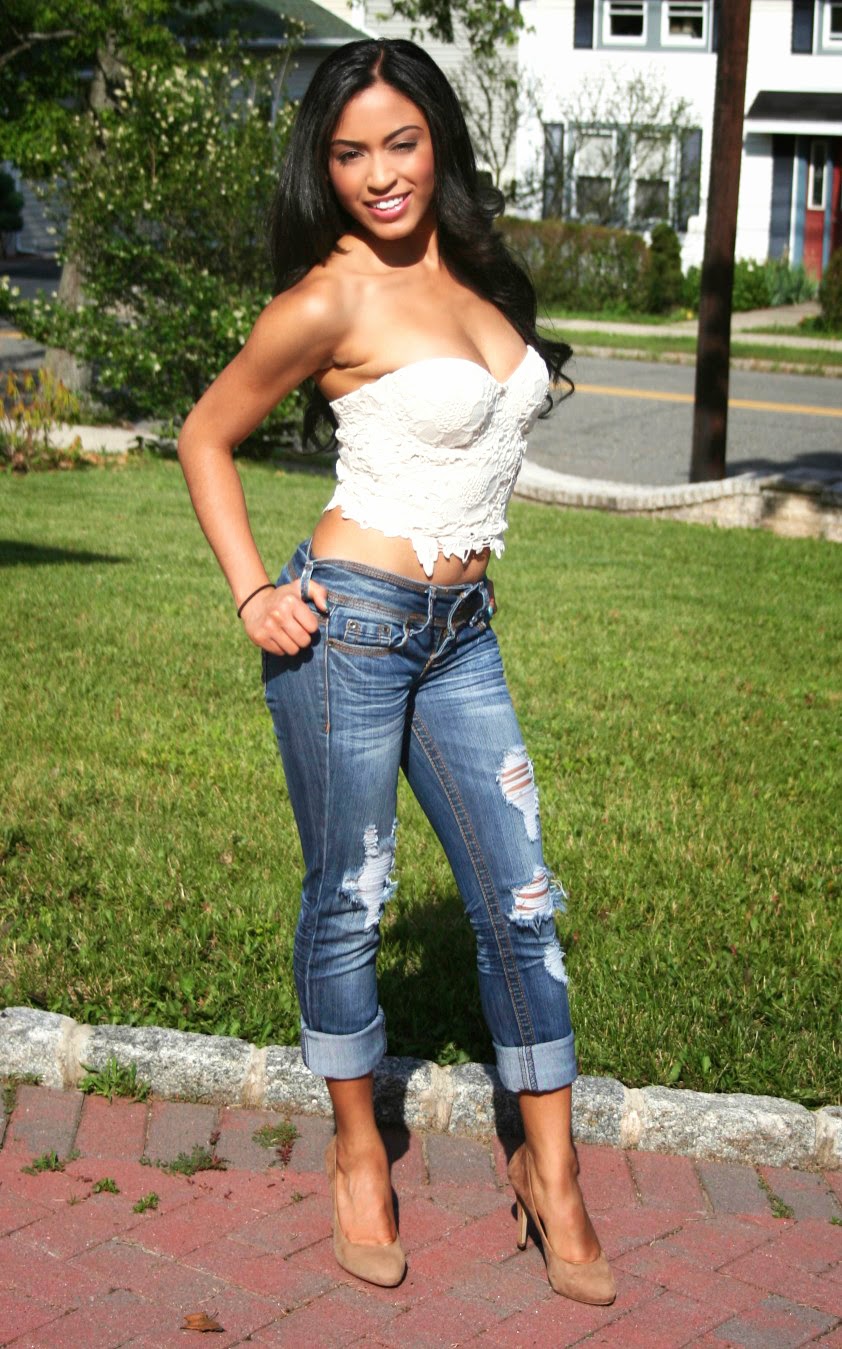 We personally feel that ripped jeans are pretty sexy all on their own. But if you basically want to redefine sexiness, you can always put on a bustier. Oh, and a pair of pumps too.
19. Ripped jeans and coat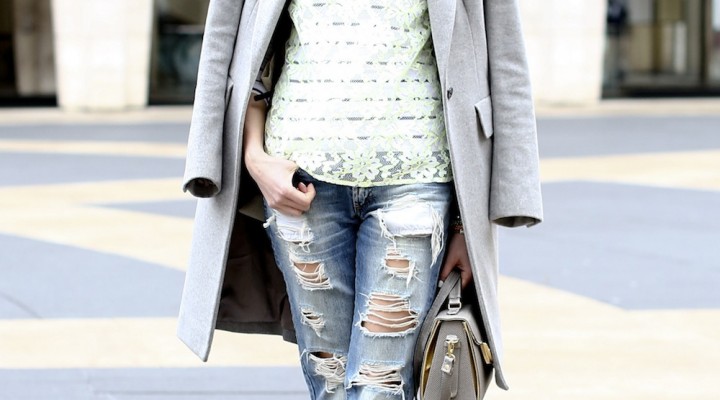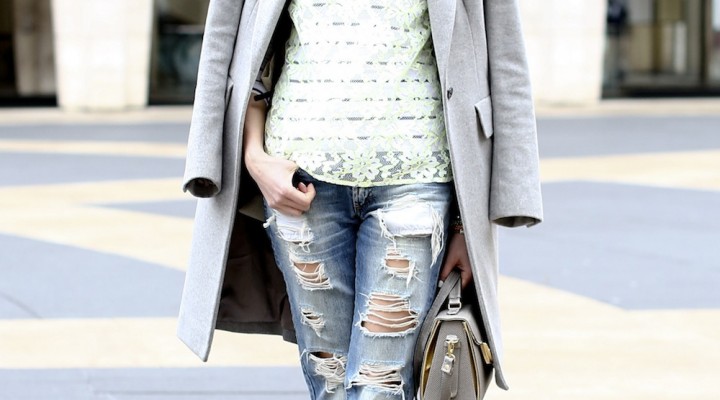 Here's a way to make ripped jeans work in the dead of winter. Simply put on a coat. You'll be all good.
20. Ripped jeans and V-neck tee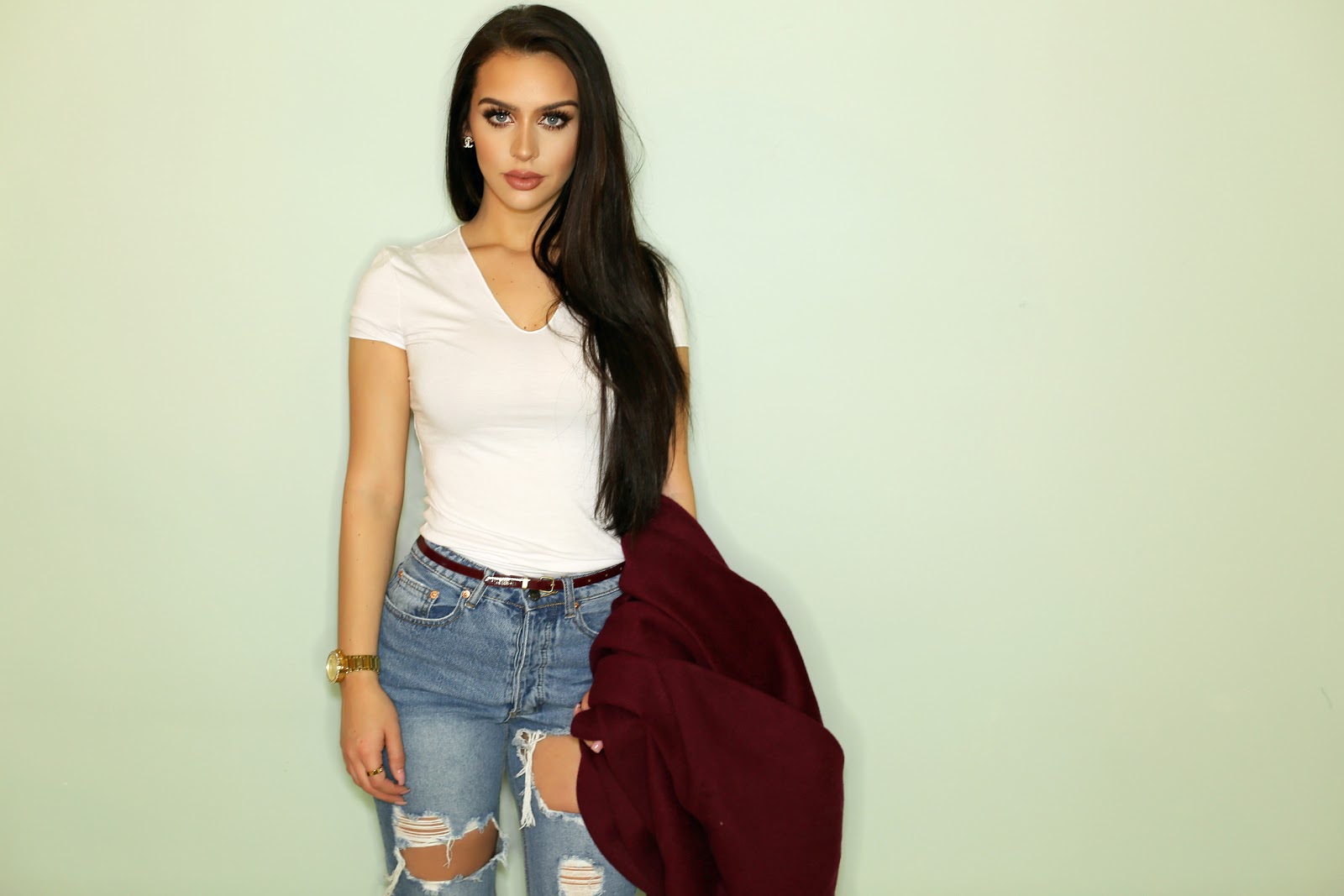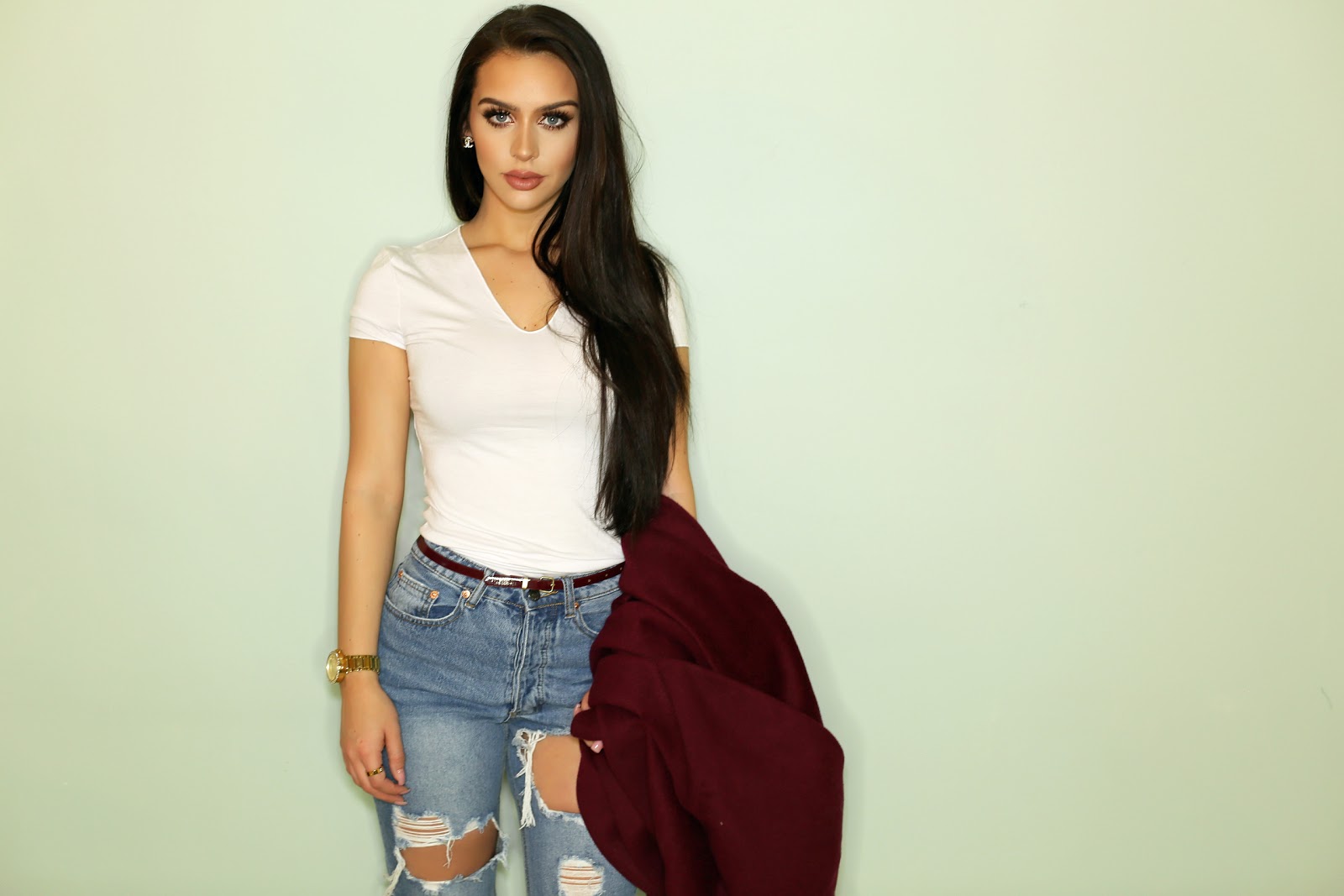 Being that ripped jeans happen to have so much of their own detailing, you can do something as simple as put on a solid color V-neck and you'll still look amazing.
21. Ripped jeans and off shoulder top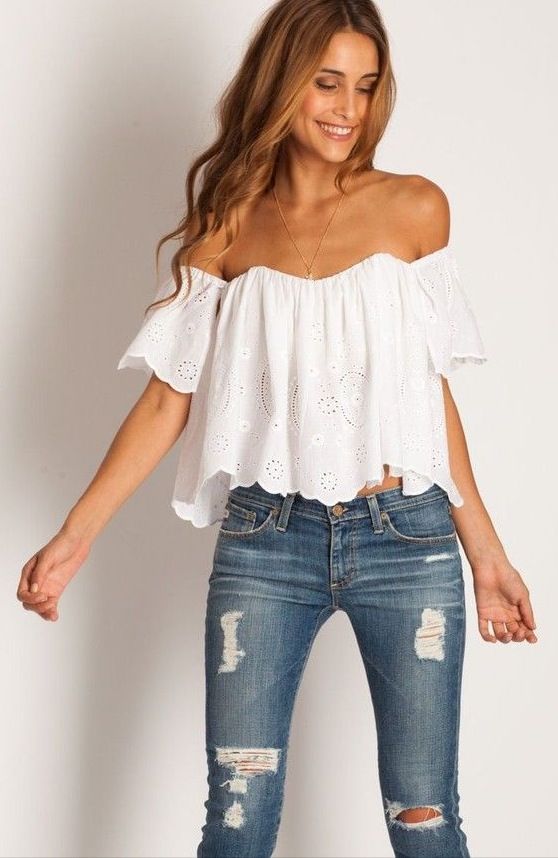 And here's a Boho chic way to wear a pair of ripped jeans. It really is one of the cutest kinds of off shoulder tops we've seen in a while. From the lace, to the sleeves to the cut of the top. Perfection!