It's not uncommon to see a lot of women wearing black in the wintertime. But this year, because wearing all black is an actual fashion trend, you may notice it more than usual. But hey, who's complaining, right? Black is sophisticated. Black is slimming. Black is also oh so sexy whether it's worn casually or it's (semi) formal wear.
Are you wondering how you can make the all-black trend work for you this winter?
If so, we've got a few ideas…
For with a coat and without one…
1. Black sequin top, black jeans and white wedges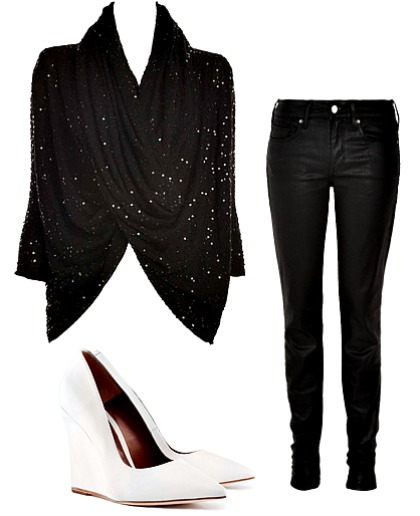 Let's jump right in with a black sequin long sleeve top paired with some really dark black jeans. A nice surprise to an all-black look like this one is to skip over going with black shoes and instead put on some white or even red ones.
2. Little black lace dress and black clutch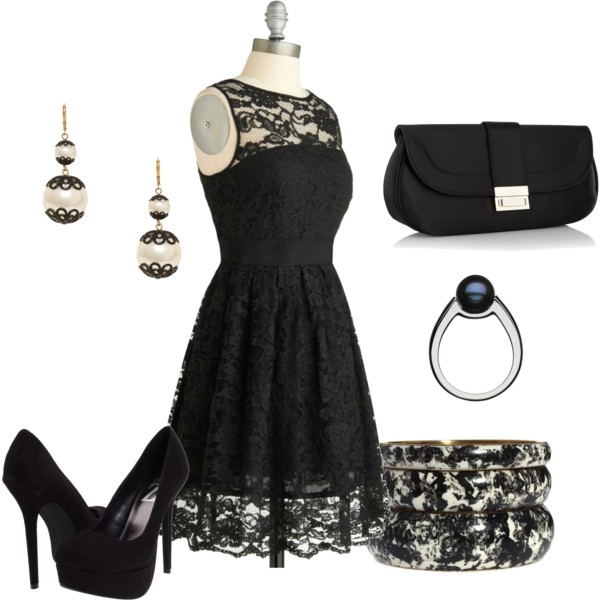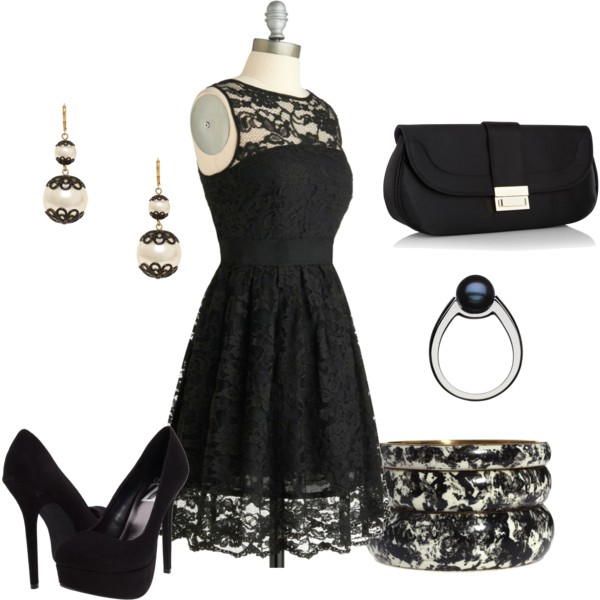 Cold weather doesn't stop things like romantic dates and weddings. And a little lace number like this one will work for both. Something that can be a nice winter addition is to look for heels that are made out of suede. And as this look is doing, have lots of fun with accessories. Glass bangles are a must-have.
3. Black sweater and leggings with Marsala scarf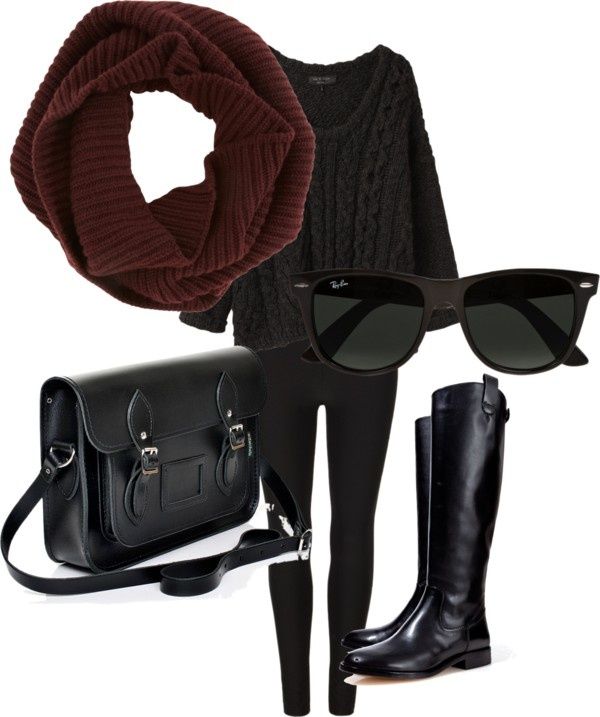 Are you headed to the movies or out for pizza? Throw on one of your (longer) black sweaters and a pair of black leggings along with some black walking boots. For a pop of color, put on an infinity scarf. Maybe one that's one of the popular colors right now: Marsala.
4. Black hoodie and jeans with black accessories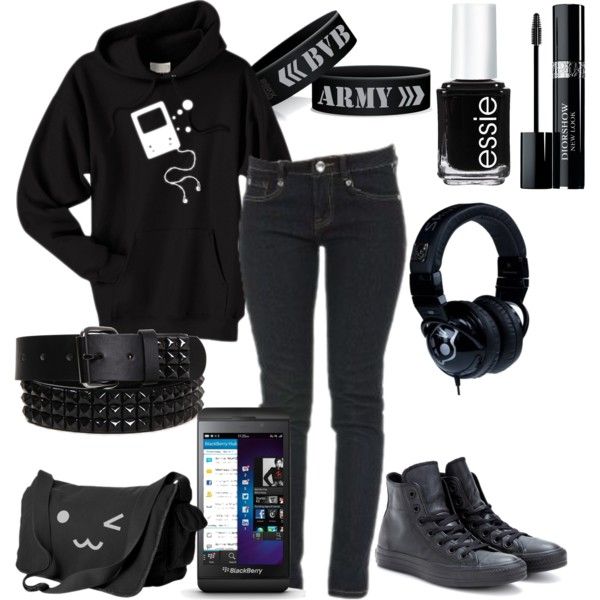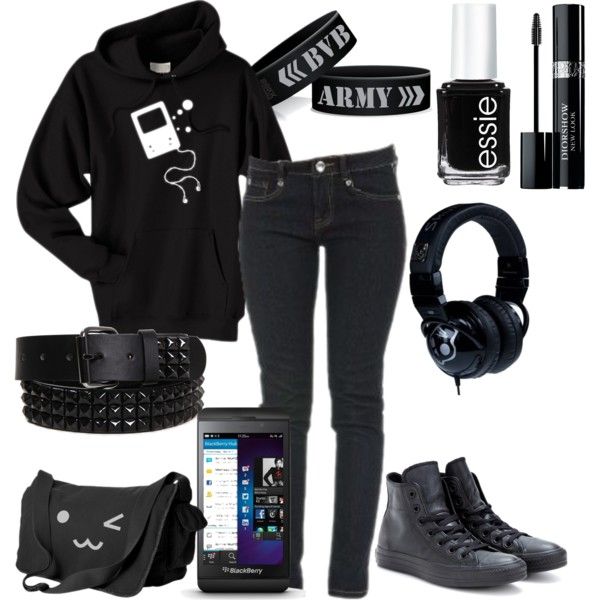 Whether you're looking for something to headed of in the gym in or just lounge around in, get a hoodie to go with your jeans. The best thing (at least to us) about this particular outfit are the black leather high tops. Yep. Awesome!
5. Black peplum top and black flare pants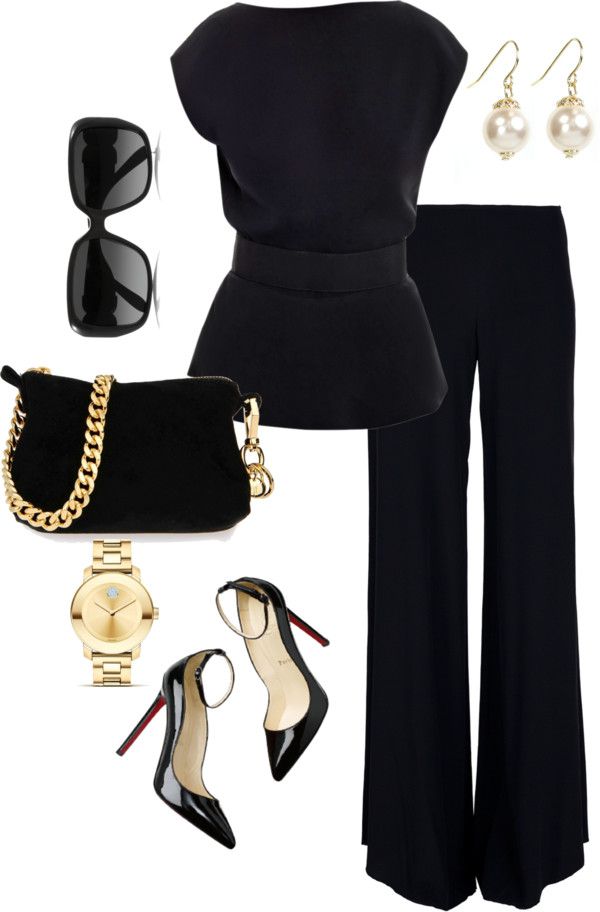 This outfit is perfect for work if you work in a corporate environment but you don't always want to wear a suit or a dress. Break up the black some by adding some gold accessories. It's always a classic approach to black wear.
6. Black thick-strapped dress with tri-tone metallic heels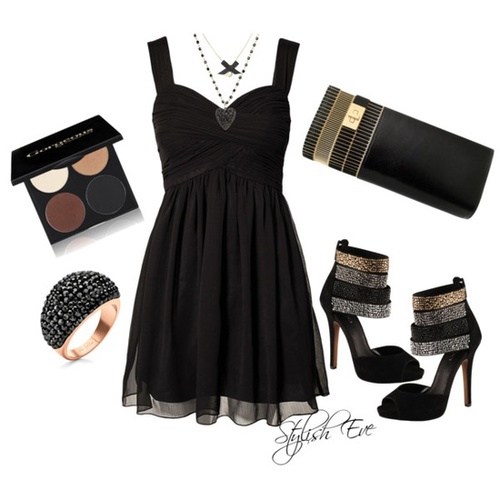 Does your man wanna take you dancing? Do your thing, girl! Put on a dress that flows as smoothly as you do like this one with the thick black straps. Don't forget to show up with your A+ shoe game such as these tri-tone metallic heels.
7. Black top with matching stretch jeans, blazer and leather jacket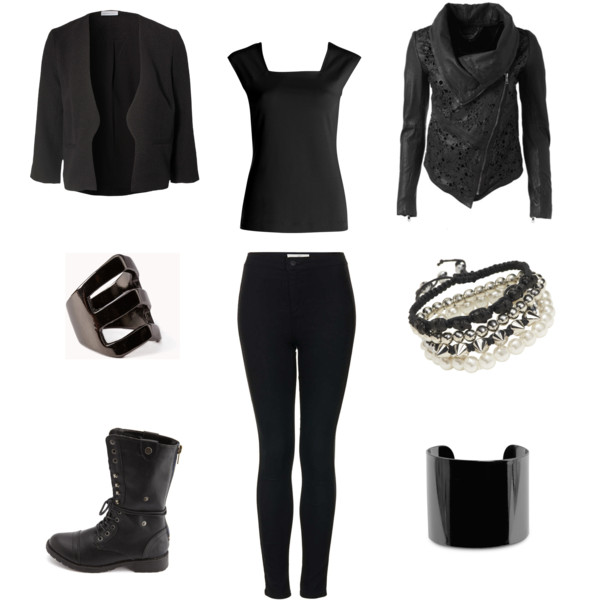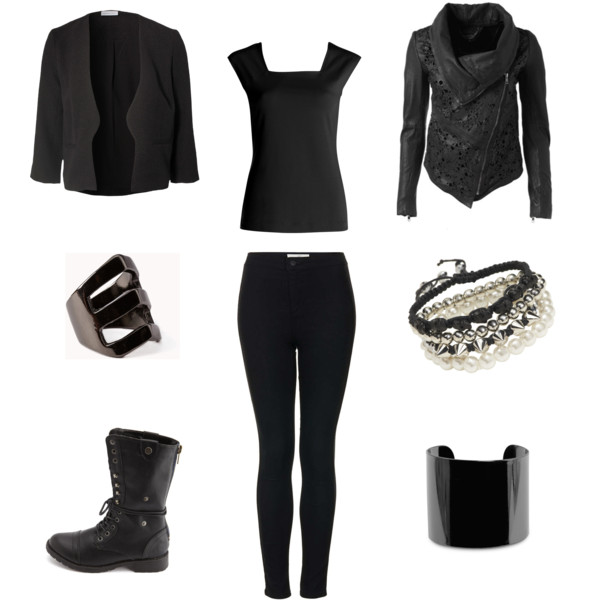 We like this look a lot because it shows you how one jacket and change the look of an outfit. Say that you have a date after work, for example. Wear the blazer to the office and then swap it out for the leather jacket afterwards. Easy and perfect—all the way around.
8. Black peplum top with matching leather pants and clutch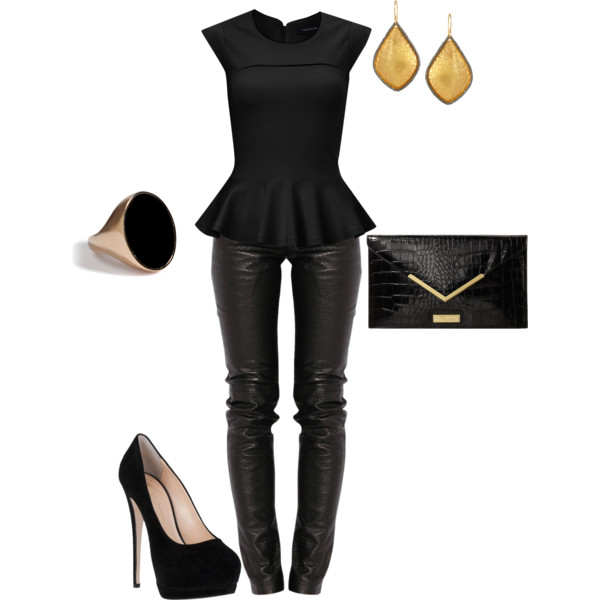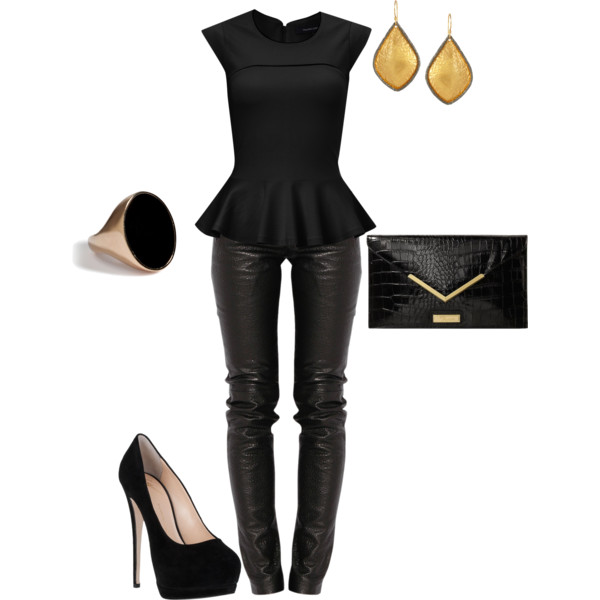 Hey, peplum tops are popular so be sure to get yourself a couple of them. If you're not quite ready to show off all of your backside in fitted leather pants, it's the kind of shirt that will ease you into the concept…beautifully and gracefully.
9. Black baby doll dress, matching leggings and coat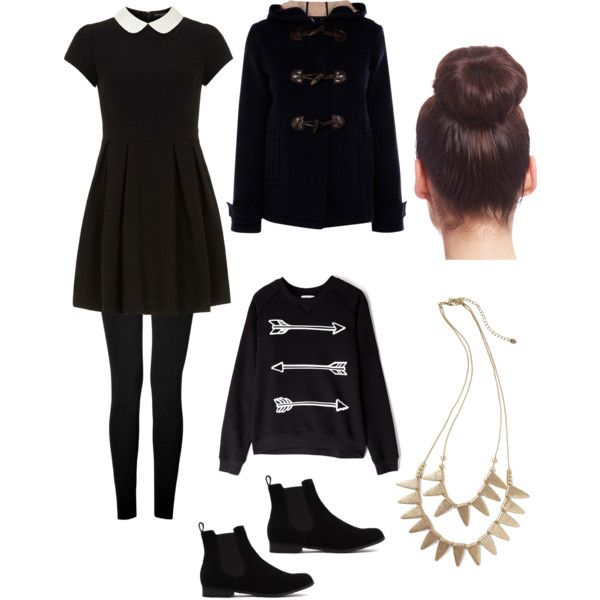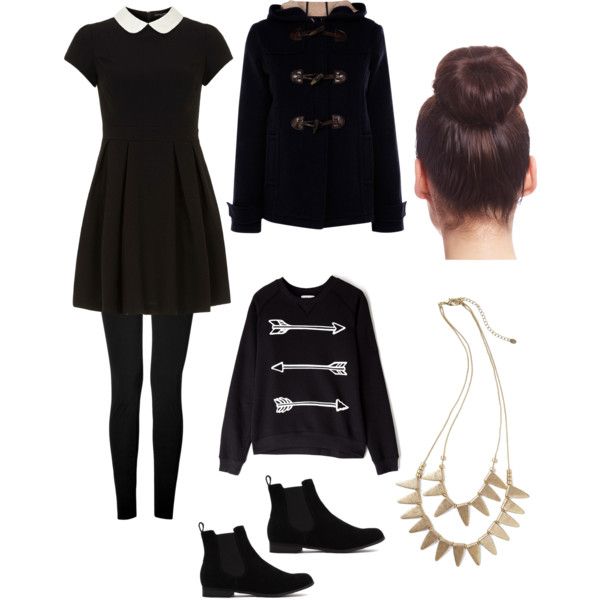 Too cute for words! That's what this look is thanks to the white collar that's on this black baby doll dress and the black leggings that are on underneath it. The black coat pulls it all in and there's also something about that high bun that's working for it too.
10. Black long tank, black leather pants and black jacket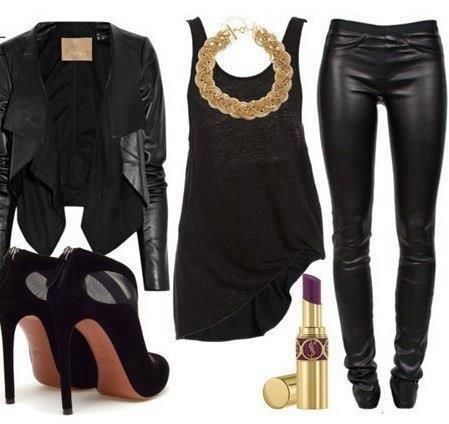 Something that you're probably going to see more and more of over the next couple of seasons is long tank tops. We like the option because not everyone wants to only have the short and figure-fitting styles to choose from. If the tank and leather pants are both black, they will go really well together. Especially with a black leather jacket, black high heels and yes, even (especially) the dark purple lipstick.
11. Black turtleneck and black leather pants (with grey faux fur coat)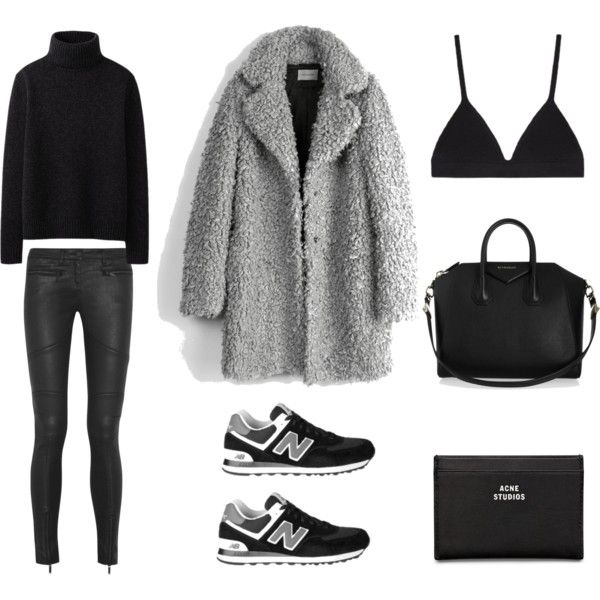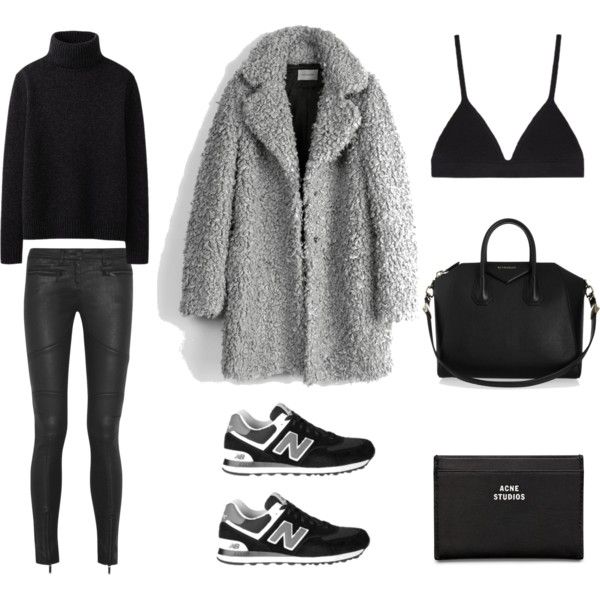 Even with sneakers, you're going to look so good if you decide to put on a turtleneck and pair of fitted leather pants. And here's another creative way to break up the black, even if it's only while you're outdoors: wear a coat of another color. We like this grey faux fur one because stormy weather is a popular color right now. So is fur. And faux fur.
12. Black asymmetrical top with black suede jacket and black jeans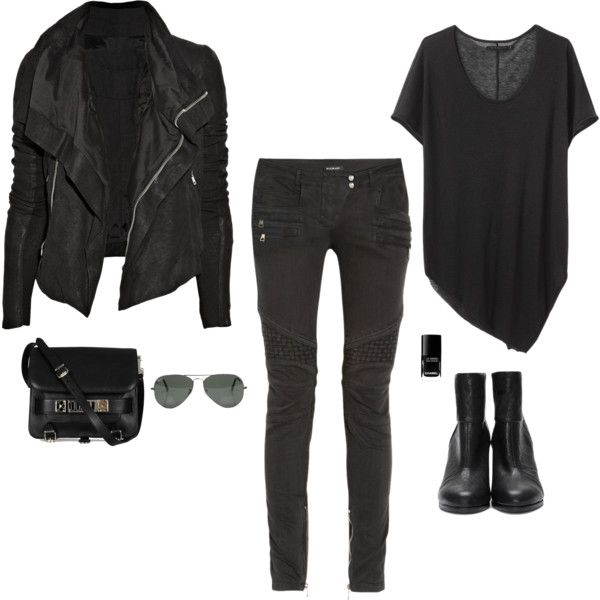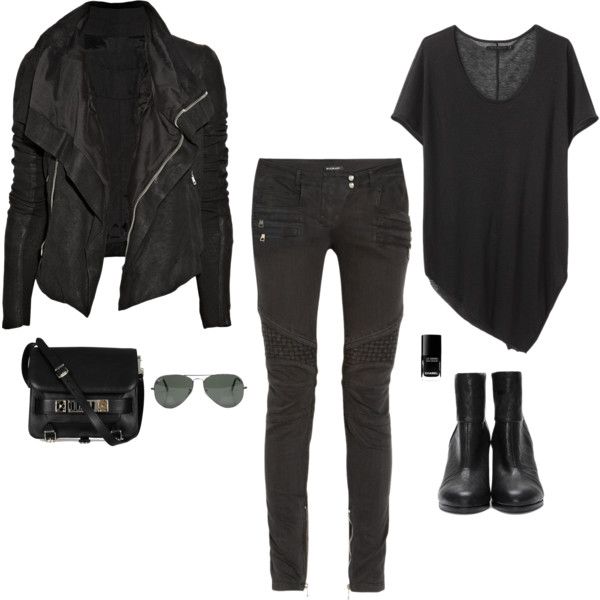 This is one of the best displays of "grunge chic" when it comes to an all black outfit. The black jeans are fitted with detailing on them, the shirt has an asymmetrical hemline (love that!) and the leather jacket is basically the icing on the cake!
13. Long black cable knit turtleneck sweater with matching jeans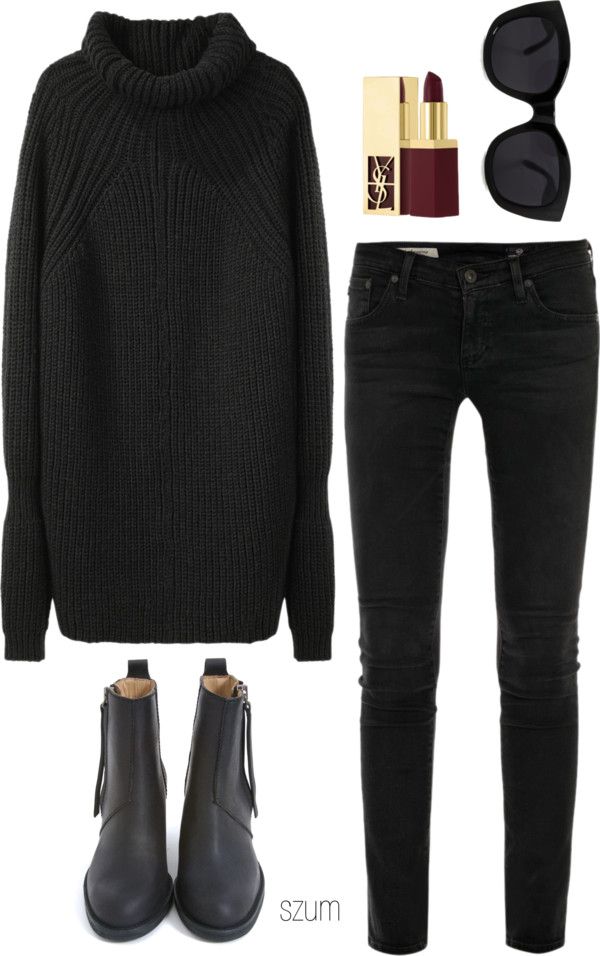 The fun thing about long sweaters like this one is you can wear them alone, with leggings or with matching jeans. These shoes are fine, but we recommend boots or heels to break up some of the…perceived "blockiness".
14. Black turtleneck, black boots (and black, white and grey accessories)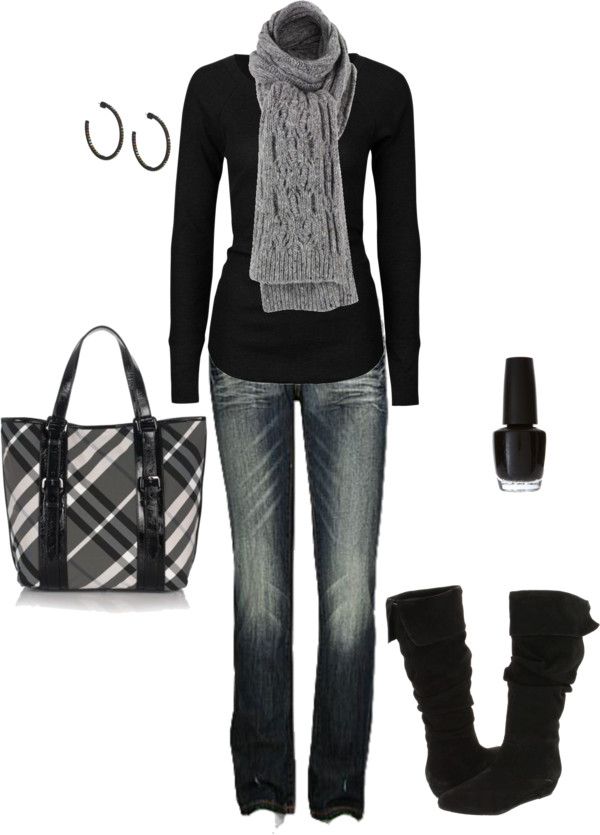 This is an example of how to wear all black…without it looking quite as obvious as some of the other examples. For one thing, rather than rocking black pants, try some jeans instead. And then rather than all black accessories, incorporate white and grey too.
15. Black mid top, black skinny jeans (and plaid top)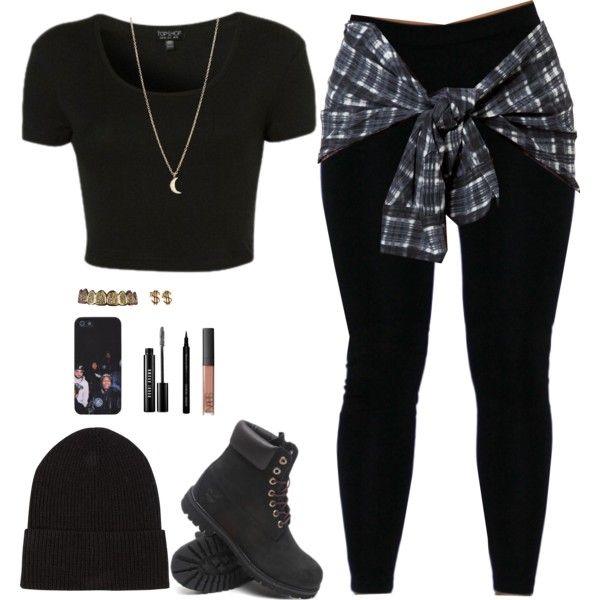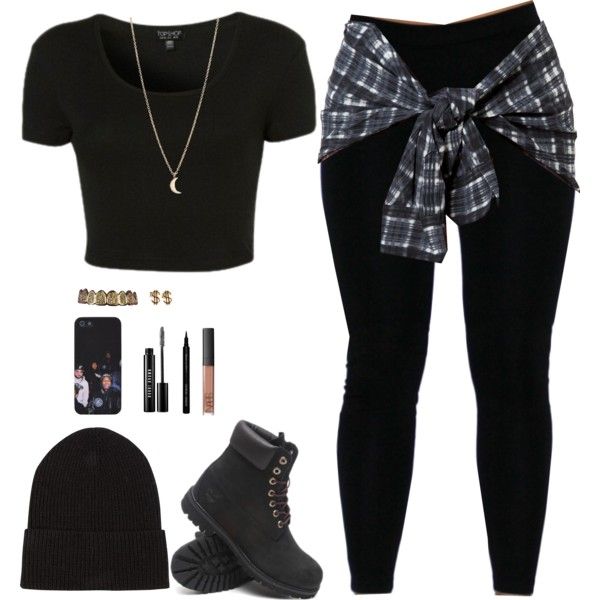 You can still wear your midi tops if you want to. One creative thing to try is adding a black (or another colored) tank underneath for extra coverage on the super cold days. Or, you can tie a plaid shirt (like the one in the picture) around your waist and take it off as you need it. Don't forget to get yourself some black Timberlands. You'll be able to rock them this winter and several ones to come.
16. Black halter dress with pearl and gold accessories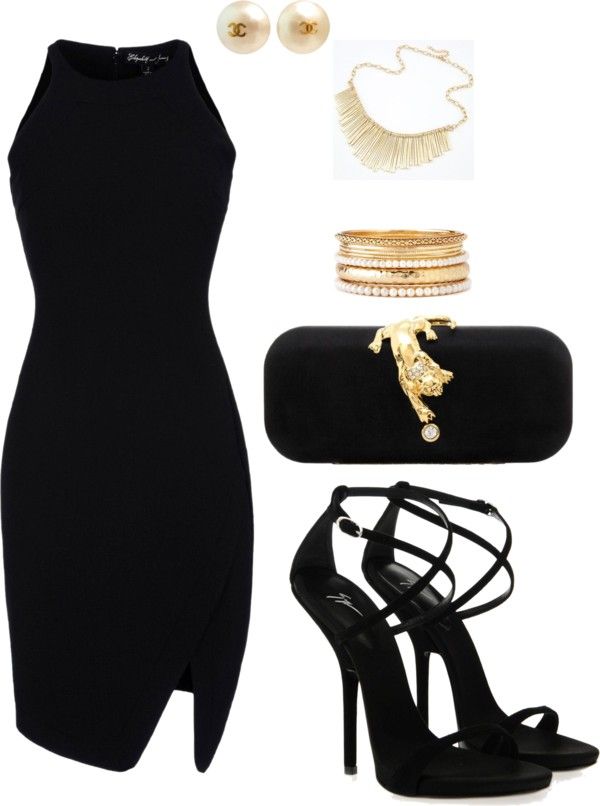 A little black halter dress works beautifully, all year-round. In the winter, we recommend putting on some sexy sheer stockings and perhaps adding a (faux) fur stole. Gold jewelry is a perfect accent.
17. Black off-shoulder quarter-length top and black skinny jeans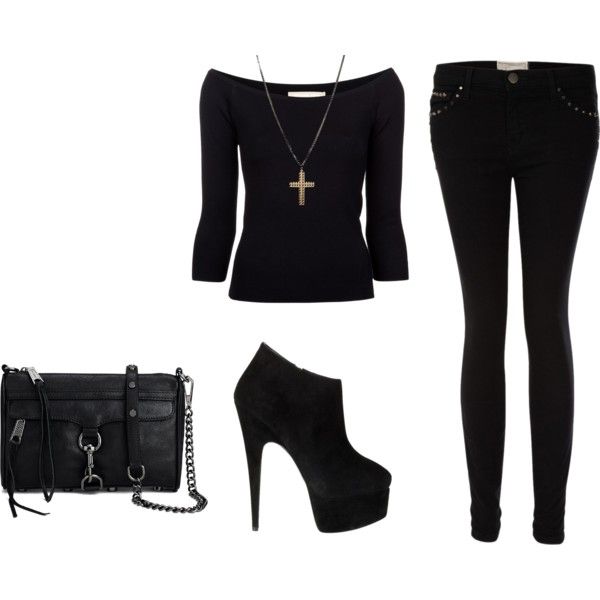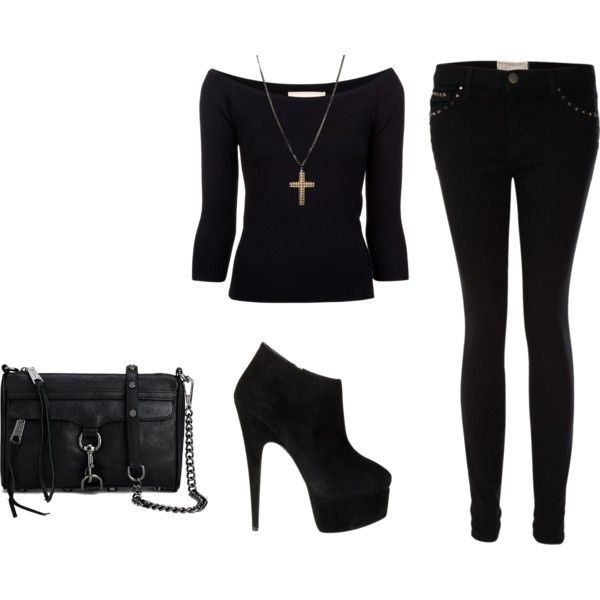 Here's a look that you can kind of dress up or down based on your accessories. As it's presented here, it's a pretty laid-back, all-black look. But with a blazer or some bright-colored accessories, you'll be able to pull of a completely different vibe.
18. Black sequin one-shoulder dress and matching clutch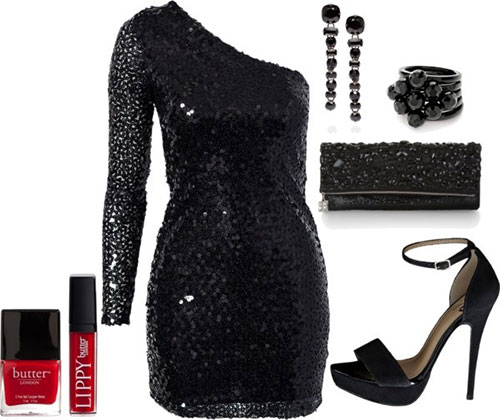 We liked this look so much that we seriously contemplated making it the feature shot. This is the kind of dress that works for a holiday part, a formal date or an evening wedding. Do make sure to add some color with your make-up, though to provide some added depth and dimension.
19. Casual black from head-to-toe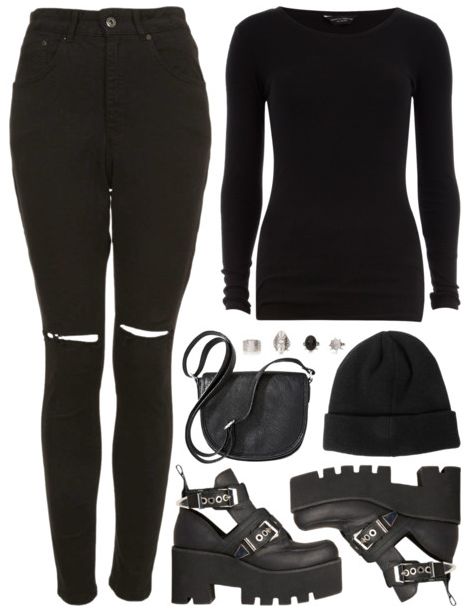 This is a casual look that you can wear when you're planning on just chilling out with friends. A long-sleeve black shirt (even a thermal one), some tight black jeans and a knit skull cap and matching accessories will have you looking great from head-to-toe.
20. Black bustier, black distressed jeans and black leather crop jacket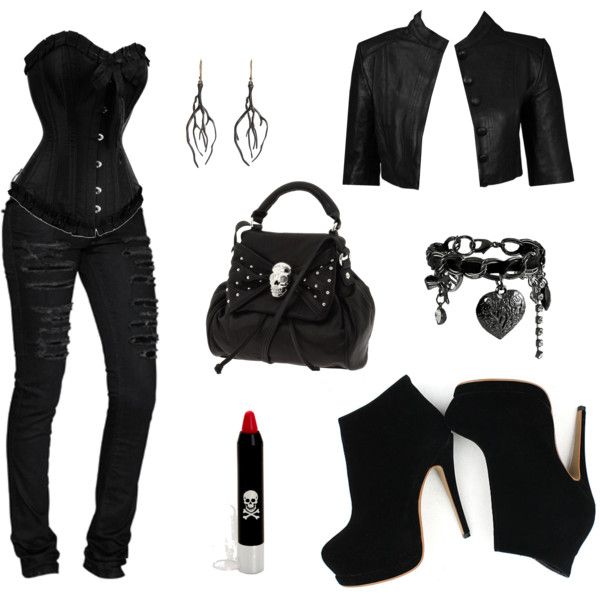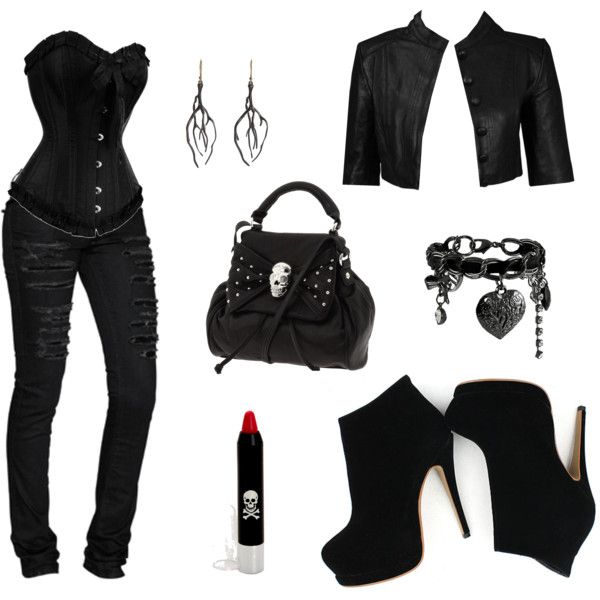 If you're the kind of woman who typically shies away from bustiers simply because you feel they are too revealing, here's how you can find a fashionable compromise that you'll feel good and confident about: put a leather crop jacket on over it. It will help to keep you warm and also prevent you feel feeling overexposed. As far as the distressed jeans, show some skin or don't with the help of some lace or striped tights underneath 'em.
21. Black strapless satin dress and leather jacket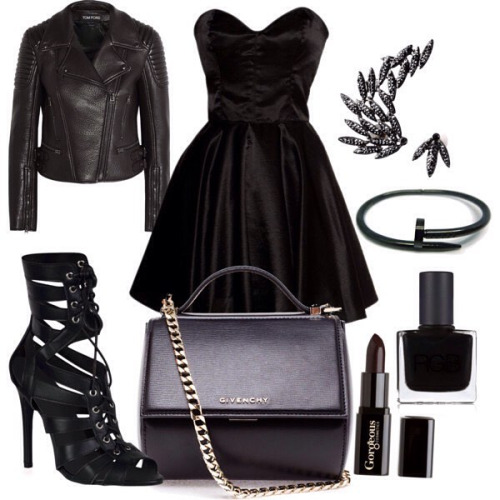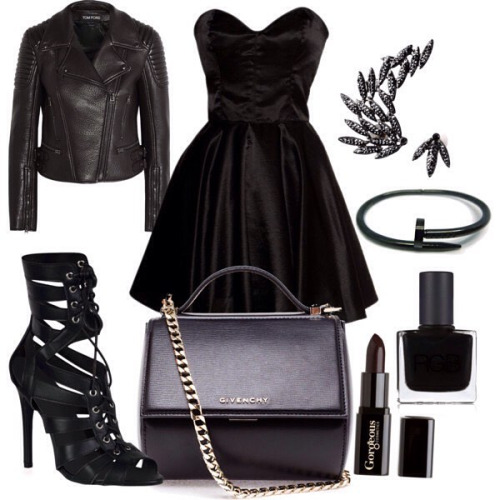 Do you want to appear to be both dainty and dangerous? First, pull out your black satin strapless party dress. Then add to it a black leather jacket and matching strap Stilettos. You'll be thrown off, in a good way, but how two accessories can make such a strong impact. And impression. Do you love these outfits? And you can find more cool and elegant outfits on stylesweekly!