Although you can certainly give yourself a pedicure from the comfort (and financial convenience) of your own home, there are two huge benefits that come with going to a spa or salon instead. One is that you can get pampered (and every woman deserves a bit of that!). The second is because there are professionals who can come up with all sorts of fun and creative designs.
Ones like these…
Swirly big toes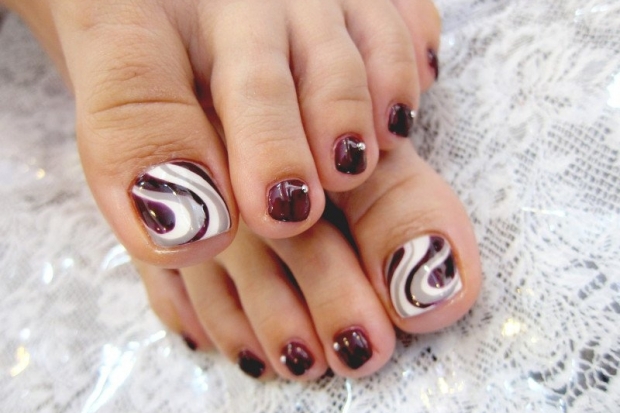 If you like a few different colors but you don't want your toes to look too "busy", how about mixing two or more into a swirl pattern on your big toe?
A gold metallic stripe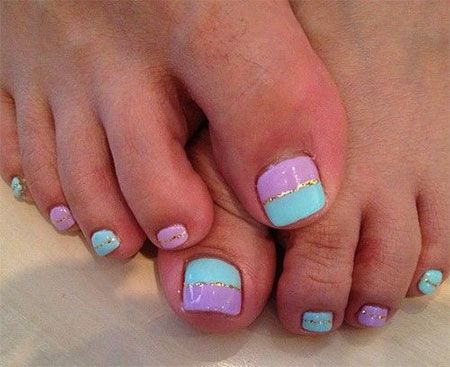 Metallics are big right now. One subtle way to incorporate them into a pedicure is by using a gold (or silver) line to separate two of your favorite colors.
Mosaic toes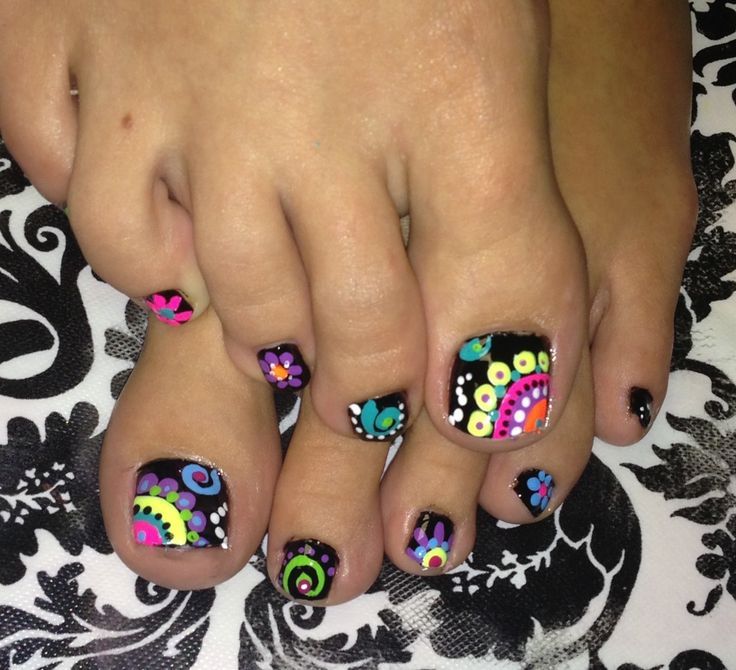 Doesn't this look like a work of art? Mosaic, to be specific.
Metallic stripes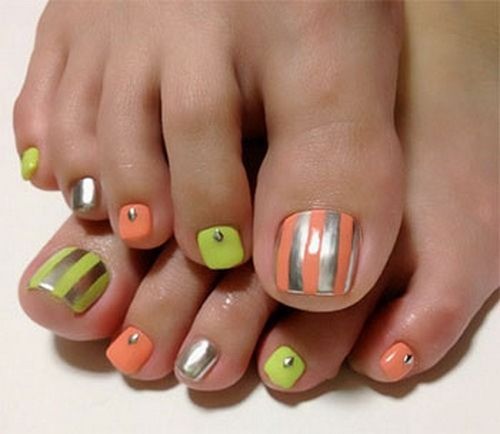 Another fun way to use metallics is to put some stripes on your big toe or to color a couple of your smaller ones silver, gold or copper. Or, you can even add tiny dots—like you see on this picture.
Pastel tiles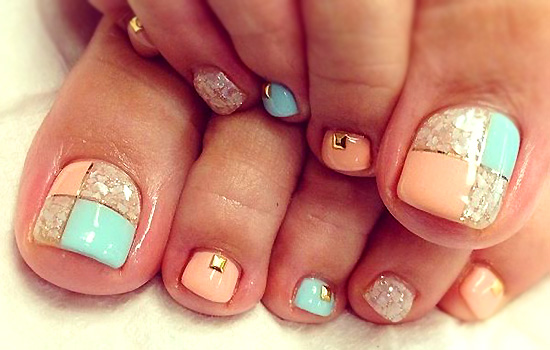 Before this picture, you might have only thought that tiles were good for bathroom flooring. Clearly, it's aesthetically appealing in a variety of other ways as well.
'American Flag' feet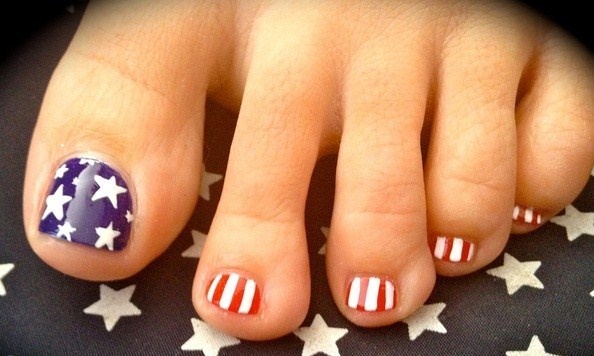 Whether the Fourth of July is coming up or you're simply feeling extra patriotic one day, this is a cute and creative way to express how much you love America.
Spring themes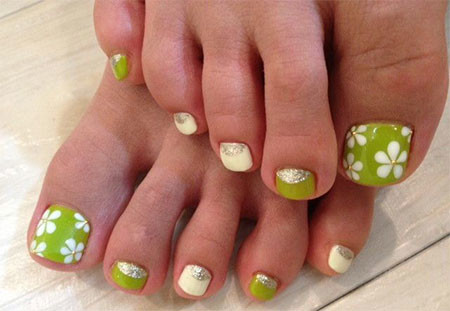 With the spring season comes flowers in bloom. Plus, being that retro flower earrings are currently a hot trend, this look will go perfect with some of your throwback accessories.
Halloween feet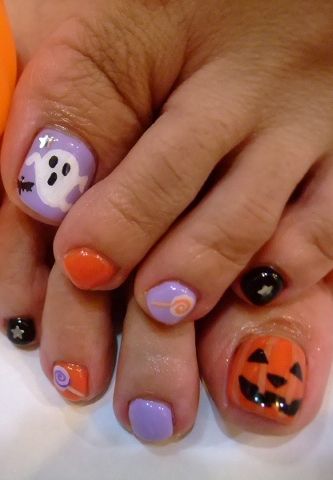 Do you like dressing up for Halloween? If so, don't forget about your feet.
Geometric pattern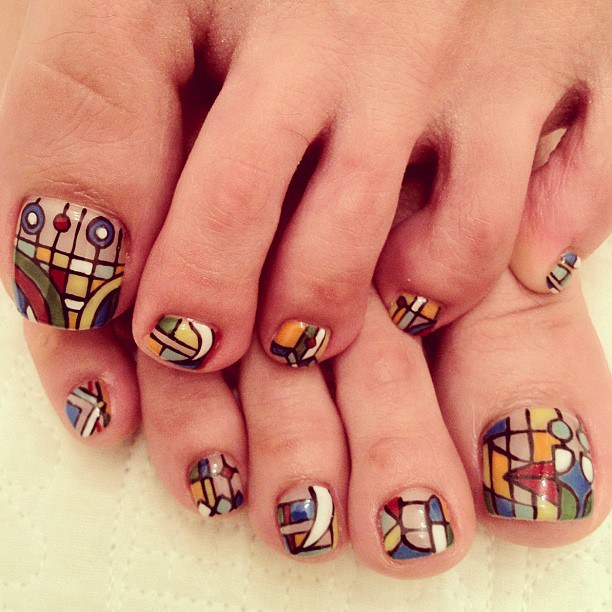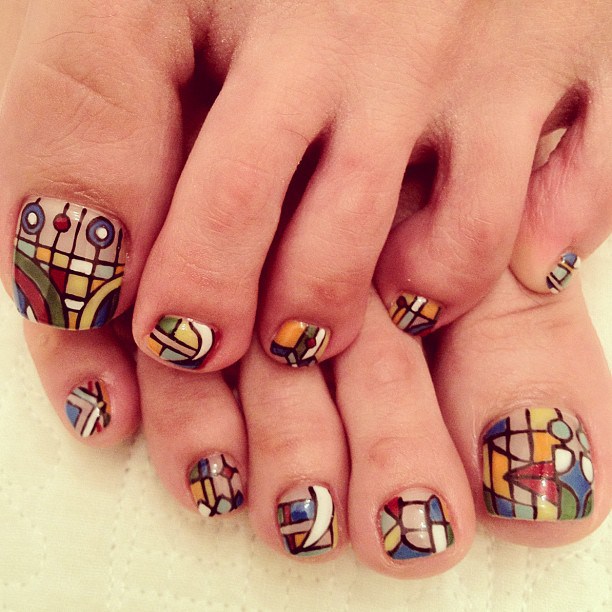 Initially, this might seem like too much for toes, but if you're someone who doesn't like wearing a lot of jewelry or prefers to wear solids or neutrals a lot, this can add a bit of "energy" to your outfits.
Peppermint feet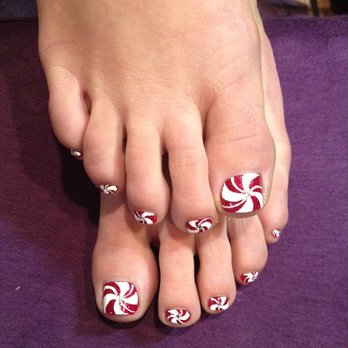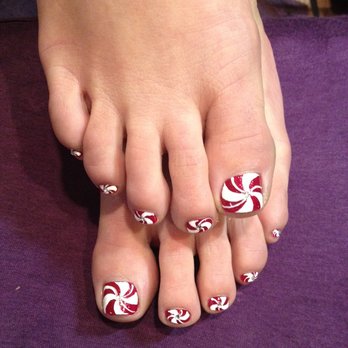 These toes are another take on the swirl pattern that was shown earlier. Except thanks to the red-and-white combo, the feet look good enough to eat. Plus, they are perfect for the holiday season!
Beaded big toes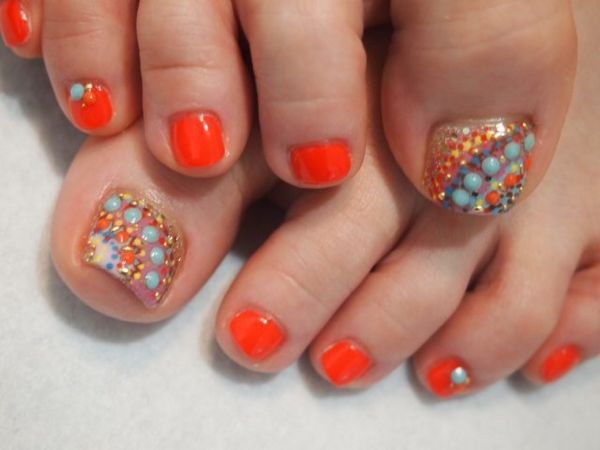 With the Bohemian style being so big right now, this is a perfect complement to a kimono jacket or lace mini dress. (Don't you just love how it looks like literal bead work on the big toes?)
Floral patterns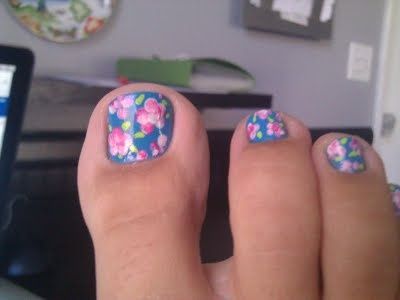 This is another way to do floral. Very cute for a summer vacation or outdoor wedding.
Animal print French pedicure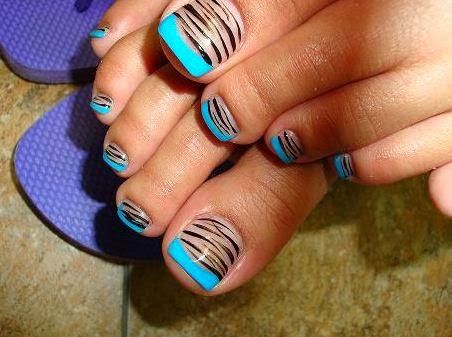 If you've always liked animal print, here's a way to wear it on your toes. It's one of the most inventive French manicures we've seen in a while, actually.
Strawberry big toes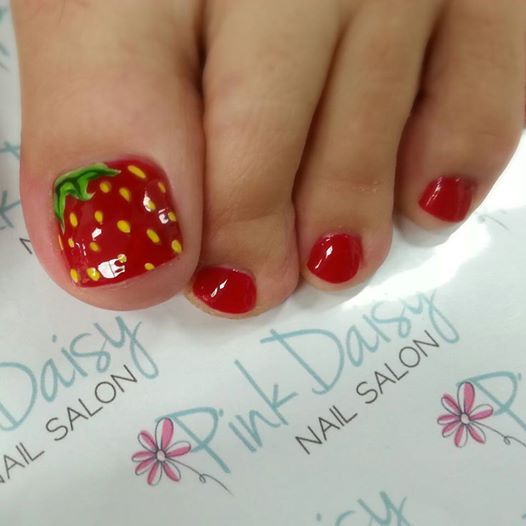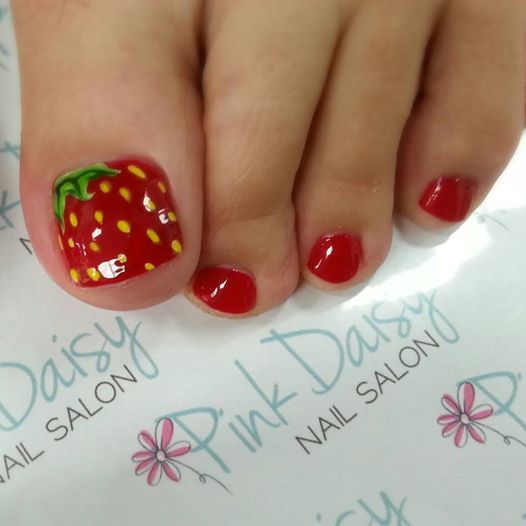 Enjoying bowls and bowls of fresh fruit is one of the best things about summer. This particular pedicure is simply a reminder of that.
Rainbow polka dots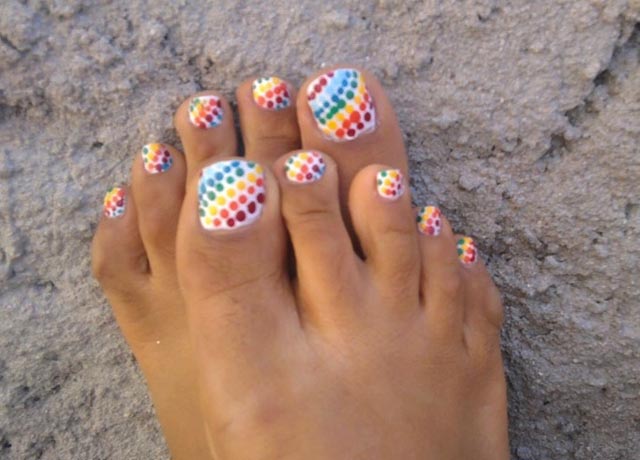 Polka dots are cute on just about everyone. Especially when they come in a rainbow pattern like this one.
Mint green with a design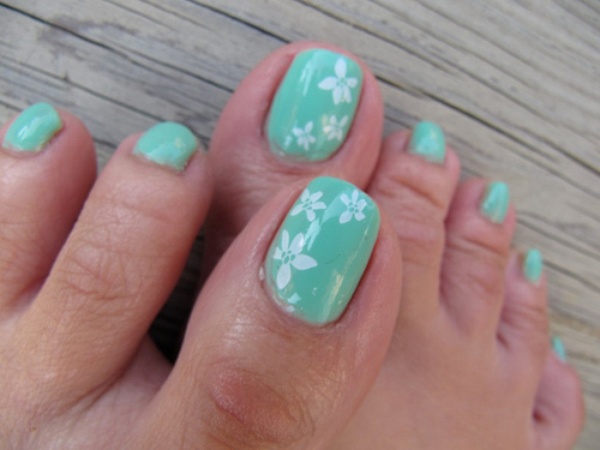 Mint (or seafoam) green is all over the fashion magazines and blogs right now. If you get your feet painted this color and add a feminine design, your toes will be fashion forward.
Multi-colors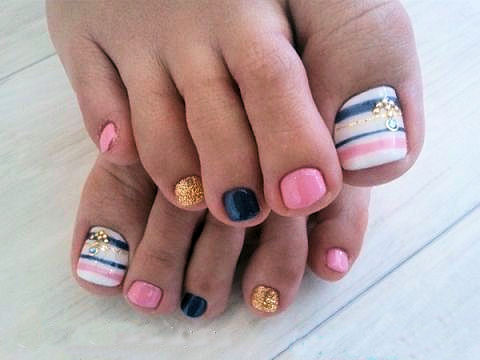 Can't decide on which colors you want to wear? Who said you have to choose?
Tropical look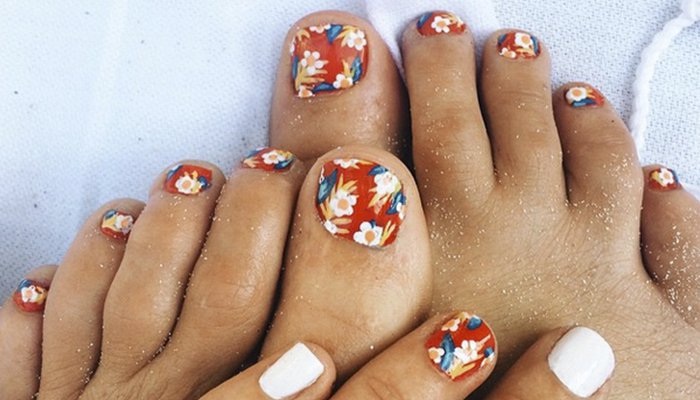 It would be awesome if you could take a tropical vacation soon. But even if you can't, you can make your feet look like you just did (or are planning to really soon).
Butterfly big toes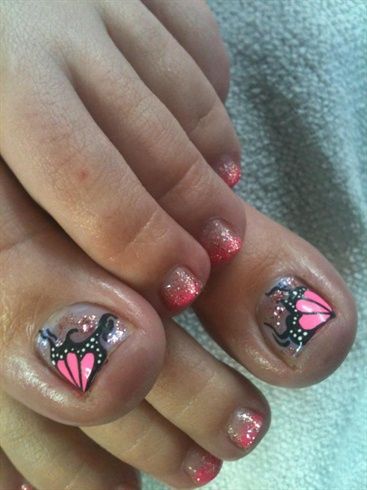 Butterflies symbolize things like transformation, joy and having a free spirit. Awesome things to convey from head to toe.
Tons of crystals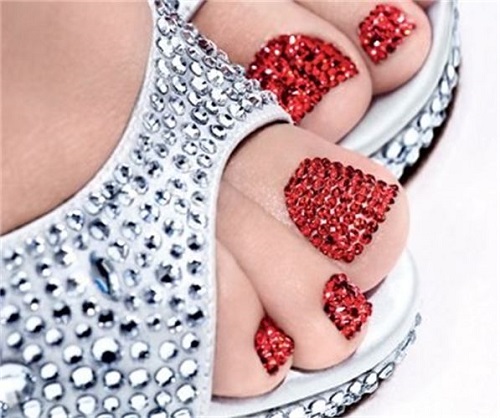 You know what they say: Diamonds are a girl's best friend. But even if your bank account is tight, your feet can look high-end with the help of a few well-placed crystals.