With the arrival of summer, women start to put on their sandals and slippers. This is the right time for every fashionista to choose a pedicure design for her toenails. And that's why we made this post today.
It's OK whether you decide to choose a bright colored nail design or a pastel hued one, becacuse summer is indeed a bright season and you also will feel comfortable when faced with some light and fresh colors. Stay here and check out what we have prepared for you. Any of them will be effortless fashionable to show off your fashion attitude this summer. Scroll down and enjoy!
Chic Silvery Toenail Design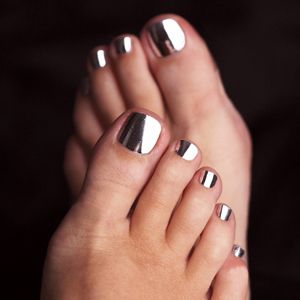 This silver toenail design is quite chic with the metallic effect. If you try these metallic nails, your every ordinary outfit will appear more stylish.
Beautiful Pedicure Nail Art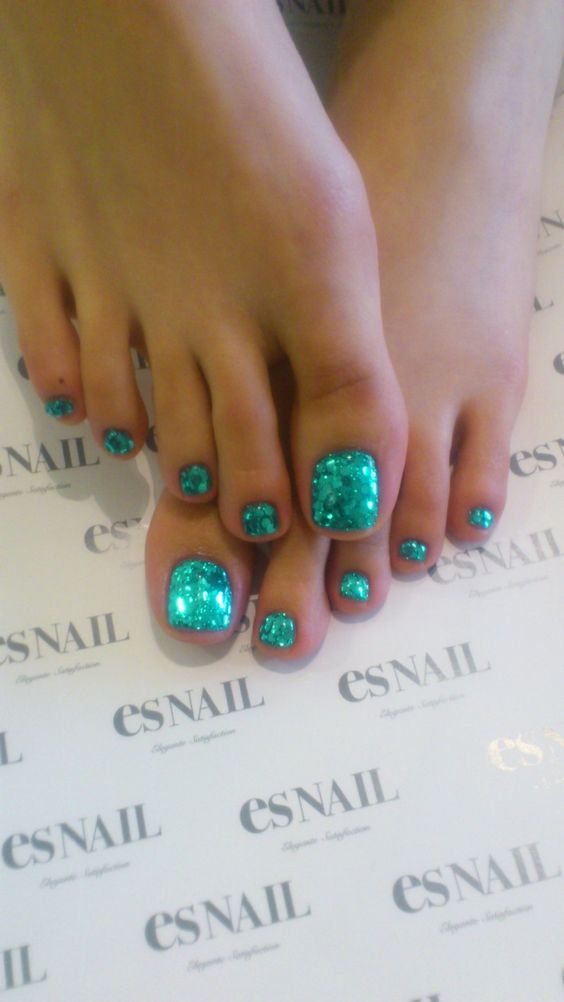 What a beautiful pedicure nail design! It seems that you are the pretty mermaid coming from the sea, just because of these shimmering toenails.
Diamon Toenail Design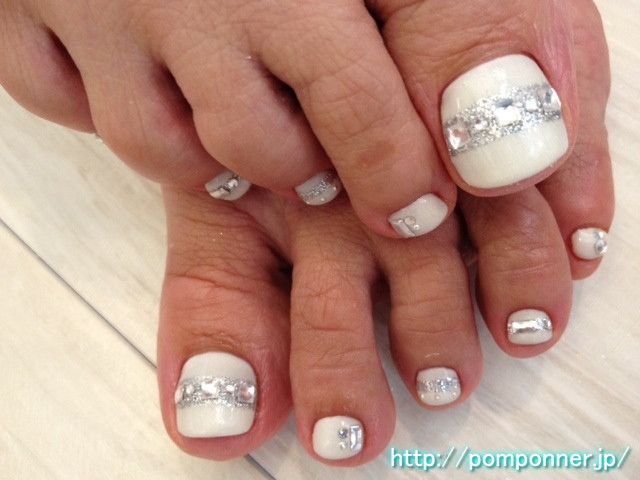 When you go to some important occaions, just try this white toenail design decorated with diamonds. It's holy and pretty . Do you love it?
Bright Flower Toenail Design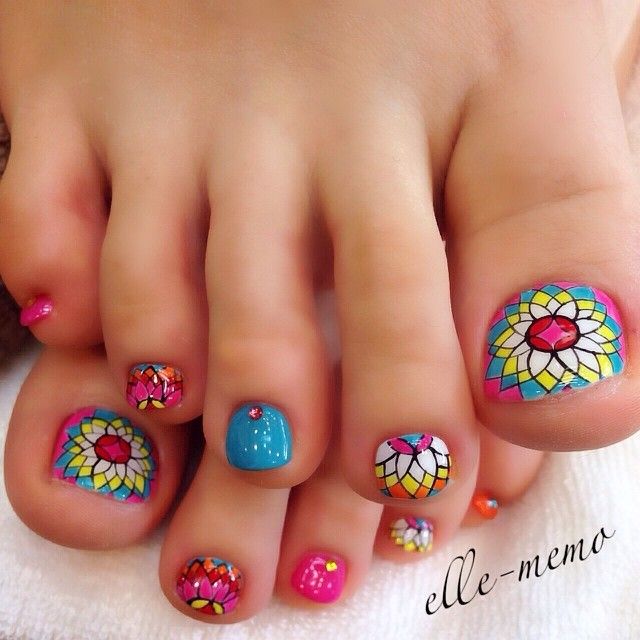 The bright and colorful flower toenail design is the best ornament for an impressive summer.
Fresh Green and White Pedicure Idea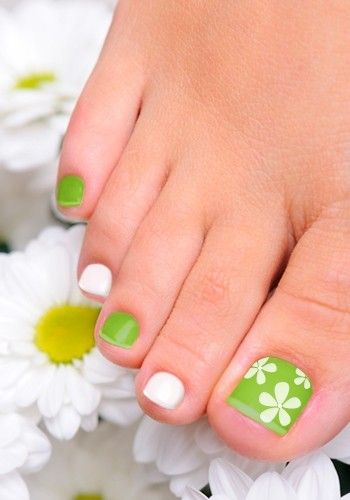 The grass green and white nail polishes look quite beautiful when used this way. It reminds us of the wonderful spring time and cheerful life.
Pink and White Flower Pedicure Nail Design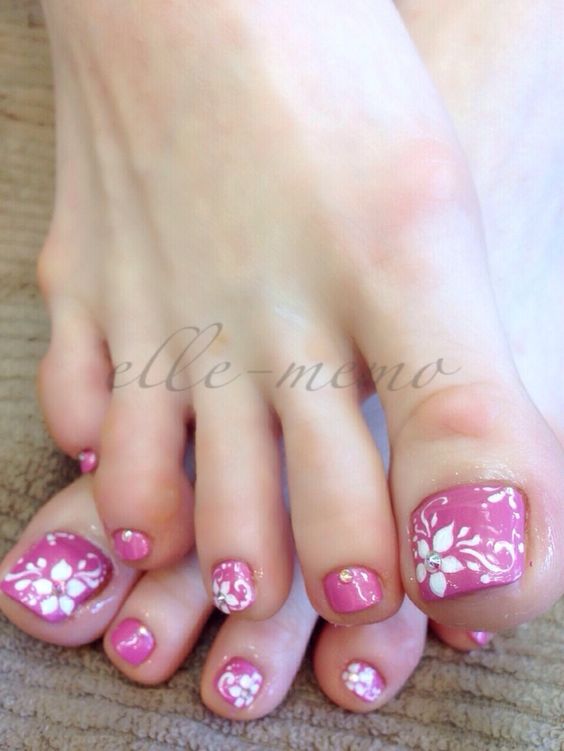 The white flowers look quite fantastic on the pink base color. It's quite a feminie and beautiful nail design for all elegant women.
Stunning Plum Flower Toenail Design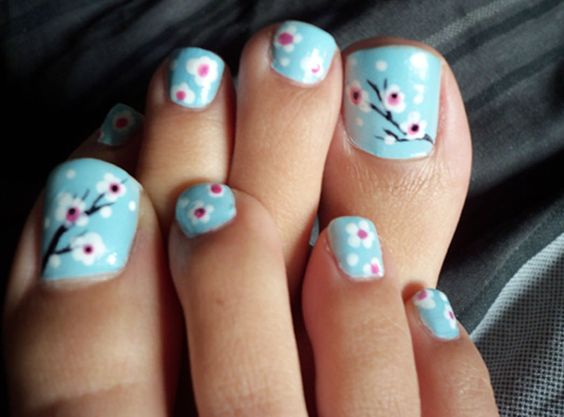 The Chinese style plum flower pedicure idea will make your toenails as fascinating as a painting. It's a pretty design to pair your lovely dresses in summer.
Beautiful Blue Floral Pedicure Design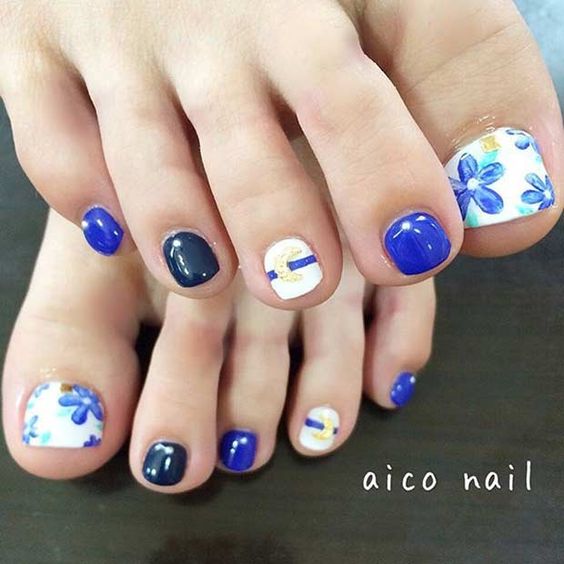 This blue floral pedicure nail design is so chic and it suits women over 25 better.
Black and White Floral Pedicure Nail Art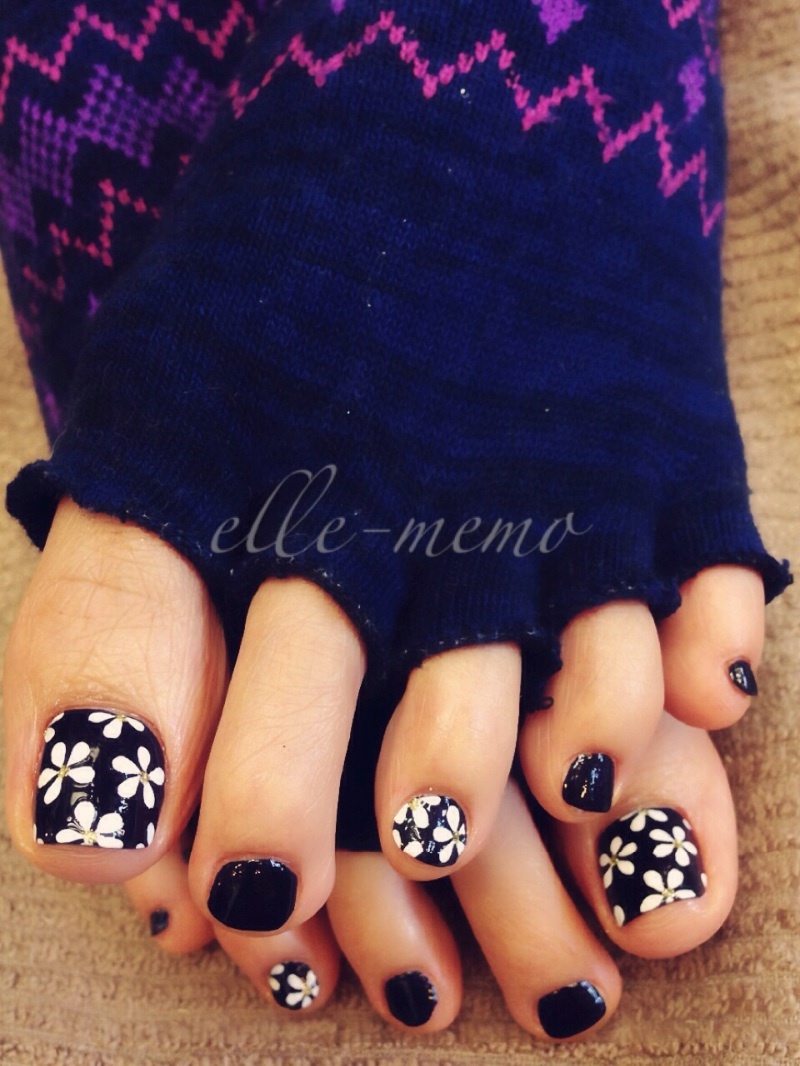 If you don't want your black nail design apper too dark or rebellious, just paint some pretty white flowers on it. Then you can get a super chic nail design.
Lovey Bow Pedicure Nail Design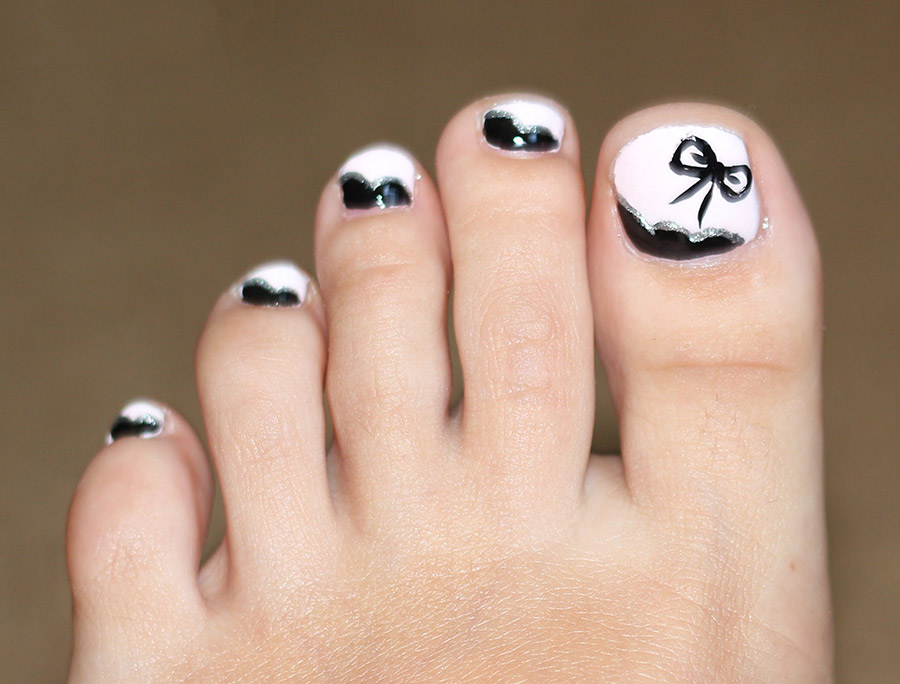 Black and white can be more than elegant! The bow pattern makes this toenail design a perfect choice for all the sophisticated women who pay attention to details.
Fascinating Dotted Pedicure Idea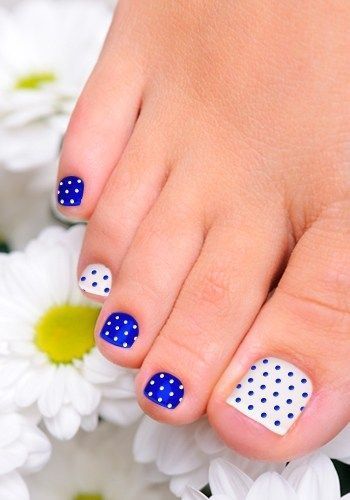 With some dots against the white and blue base, this pedicure idea is just effortless chic.
Stylish Pedicure Nail Art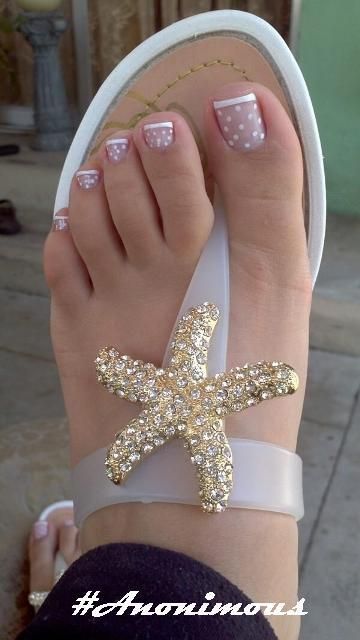 This irregular-placed-dots nail design is moderate and lovely for both the office beauties and college girls.
Beautiful Polka Dot Pedicure Idea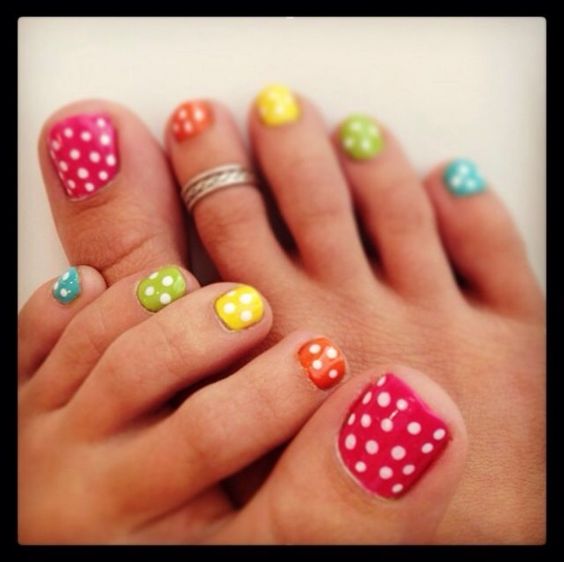 Each of the five toenails has been painted with different colors, which make this polka dots pedicure more lively and lovely for yong women to try.
Faddish Toenail Design
Sweet and sexy. This is what you can do just with pink, black and white nail colors. It's a great option for women in love.
Fashionable Pedicure Nail Design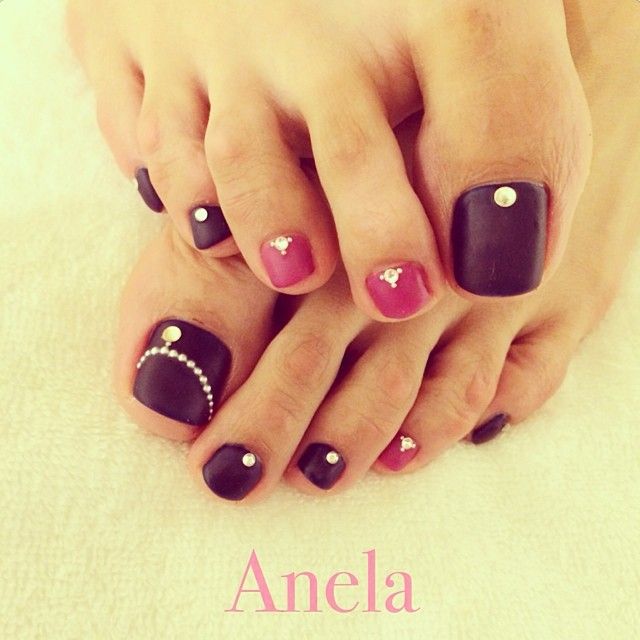 This pedicure nail design appears simple but actually it's quite exquisite. It would be a wise option for mature women.
Elegant Pedicure Nail Art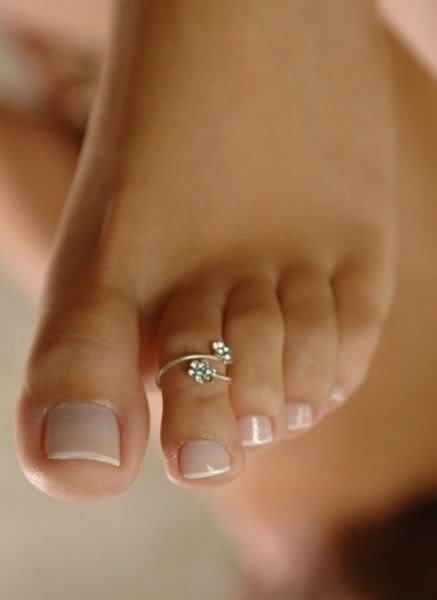 If your working environment is formal and serious, such a minimal and elegant pedicure nail design is suitable for you.
Fantasitc Toenail Art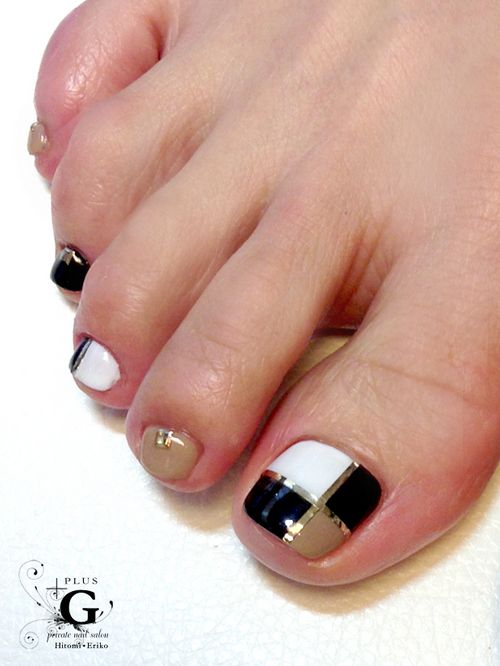 This toenail design is simple yet it is stylish enough for women who prefer a graceful fashion.
Simple Yet Stylish Pedicure Idea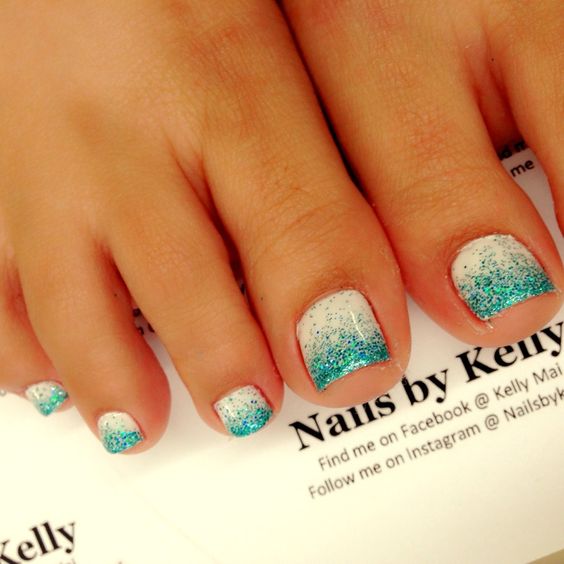 The glitter nails will shine in the sun.  Plus, this pretty blue glitters and white background just remind me of the sky and the sea. What do you think?
Blue Pedicure Nail Design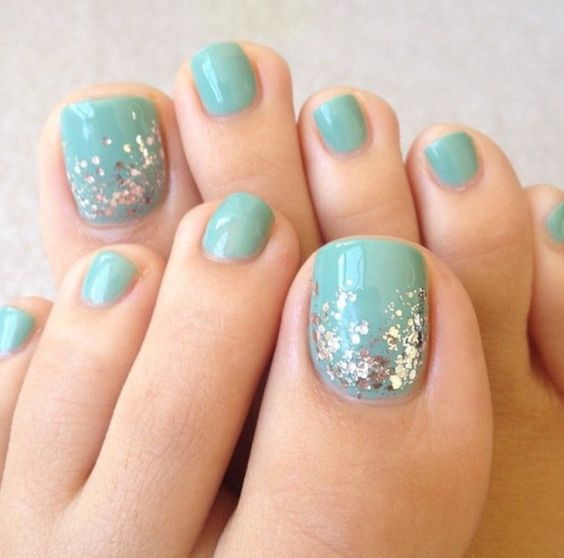 Use the pastel blue as a base and apply silvery sequins to lighten the whole design. Then, you can get an effortless chic toenail design for summer.
Heart Toenail Design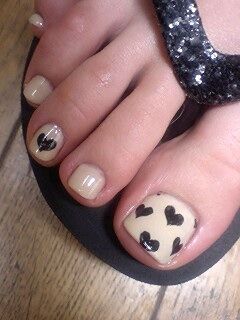 The heart shapes do an excellent job in turning the simple toenail designs more adorable and fashionable. Every chic girl can try this one.
Glitter Golden Toenail Design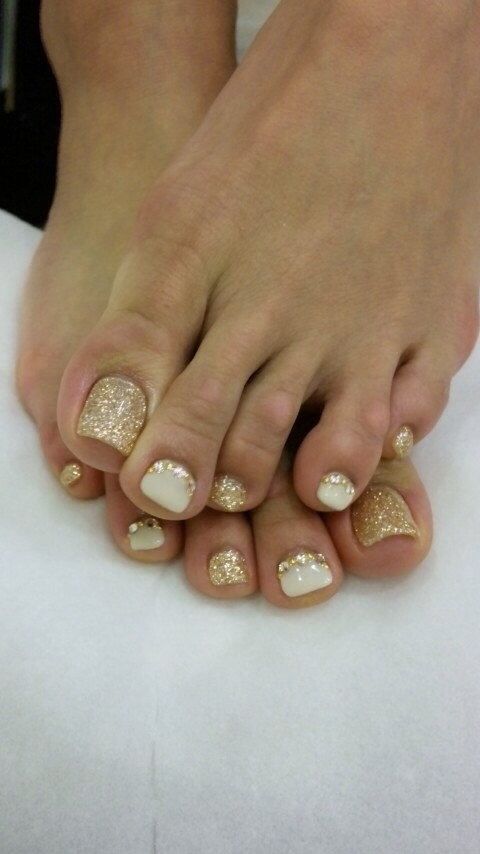 To attend some evening parties, the giltter golden toenail design can't be a better choice.
Mint Toenail Design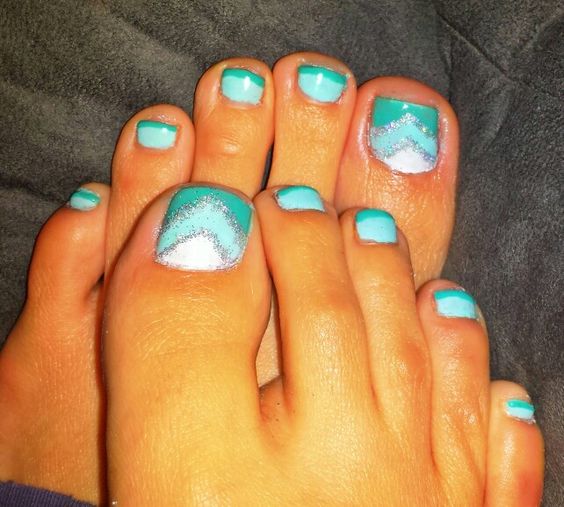 Mint and white colors can be nice choices to try in the scorching summer. This toenail design is not complicate, but it's just so stylish.
Colorful Pedicure Nail Design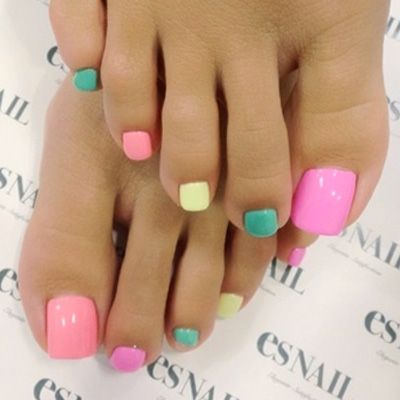 Those sweeties always love the soft and colorful hues. And this lovely toenail art is ideal for them.