We all know how important the hairstyle is to a person. So, if you don't want to look like a palin Jane every day, just try to make a stylish hairstyle for yourself. You should keep yourself at the best state every moment because you may meet someone important to you the next second.
In this post, we have made a collection of 15 stylish hairstyle tutorials for every occasion in our everyday life. All of them are quite simple for you to follow and experiment with. Whenver you need to change a new hairstyle, just take out these tutorials and try them. Now, check out these easy hairstyle tutorials and enjoy your day.
Effortless Boho Braided Hairstyle Tutorial

The ombre messy hair is very popular and you can see many women rock this hairstyle everywhere. But if you add a chic boho braid to it, you will definitely become more eye-catching.
Chic Lazy Bun Hairstyle Tutorial

No matter you are working or having a holiday, this loose bun hairstyle is always a nice idea to try. The careless style works well to make you look chic without any effort.
Adorable Braided Hairstyle Tutorial for Long Hair

Your straight long hair will look more adorable when you make two braids on it. This hairstyle is so beautiful that it will look great on all women no matter what you are. Plus, it's a very cute hairstyle for dates in a youthful relationship.
Pretty Braided Half Updo Hairstyle Tutorial

This braided hairstyle is very pretty and feminine. It's a versatile hair look for all occaions and can match any of your outfits.
Special and Simple Braided Hairstyle Tutorial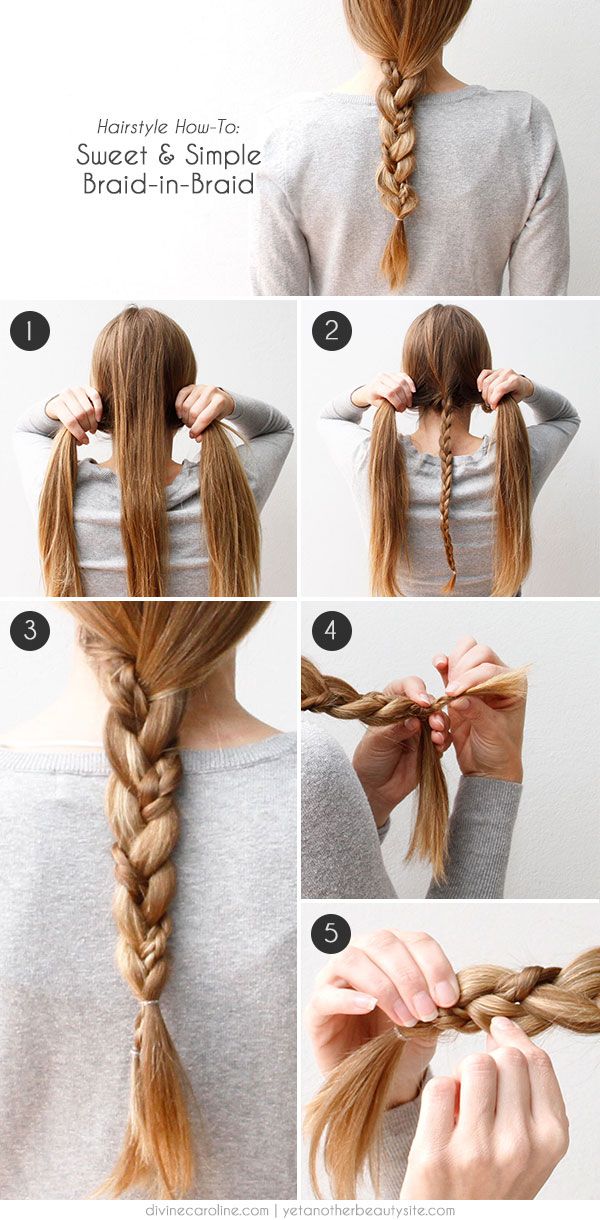 Tired of the normal braids, just try to have fun with your braids by making them more creative. This braid in braid hairstyle is very special and it's quite simple for every woman to try.
Amazing Ponytail Hairstyle Tutorial

If you still think the ponytail hairstyle is ordinary, then you should have a look at this one. This ponytail hairstyle is quite amazing and you can wear it on every occasion whether formal or informal.
Beautiful Hair Bow Tutorial for Long Hair

The sweet hair bow is quite lovely for young women to try and you just need to take two minutes to make your long hair look so different.
Twisted Bun Hairstyle Tutorial for Curly Hair

If you thick hair has bothered you, then just try a stylish hairstyle which can make your hair look more fabulouls. This twisted bun is designed for women with thick hair, and it is quite fashionable for all occasions.
Romantic Wedding Updo Hairstyle Tutorial

If you are going to some important occasions and want to get a more sophisticated hair look, then this romantic updo hairstyle is what you need. You can follow the tutorial and see if you can make it. Besides, it's also a great hairstyle for wedding. You can try this hairstyle on your big day.
Graceful Twisted Low Bun Tutorial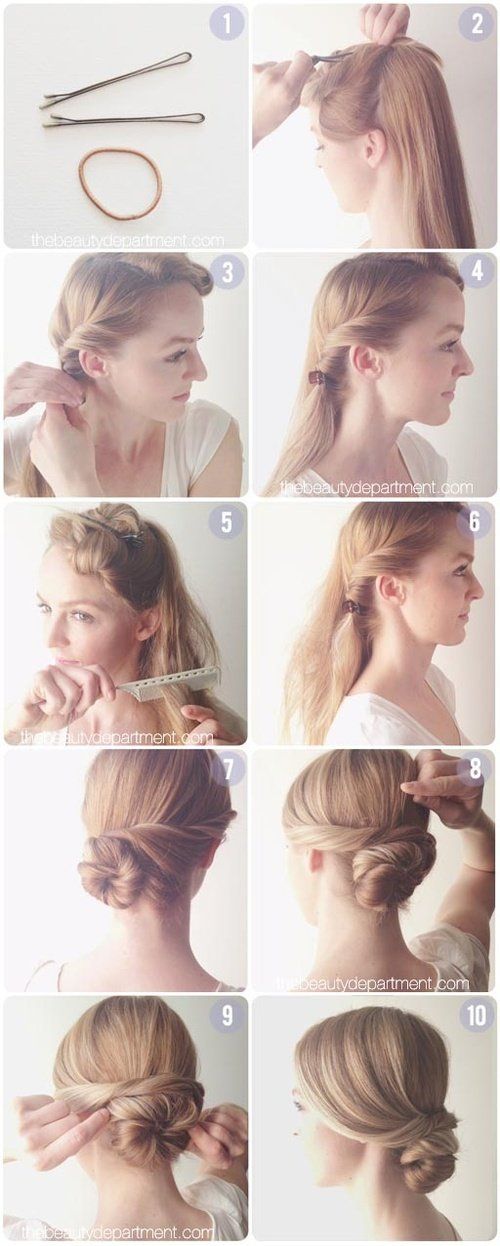 This twisted low bun hairstyle is very neat, simple and graceful, which make this hairstyle quite a stunning option for mature women. Your overall look will be elevated with such a simple yet stylish hairstyle.
Simple Beach Waves Tutorial

When you want to try the wavy hairstyles but you can't spare several hours at the hair salon, just try to make these pretty beach waves at home. Five minutes is enough to get a stylish hairstyle with beach waves.
Lovely Upside Down Braided Updo Hairstyle Tutorial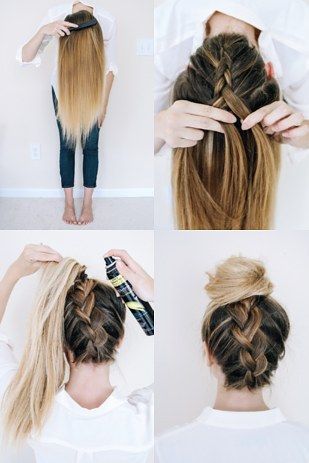 This upside down updo is very chic when you pair it with the black leather jacket. Yet, that's not all. It will look quite lovley when you pair it with some pastel outfits. So, both cool girls and sweet girls are suitable for this fashionable hairstyle.
Chic Braided Updo Hairstyle for Short Hair

Short hair can be styled into updo hairstyles. Whenever you want to look more gorgeous and feminine, just follow this tutorial and turn your short hair into a new look.
Stylish Pompadous Hairstyle Tutorial

Women with rounder faces should add some height to the crown so that their face would appear thinner. Or, if your bangs are growing to am embarassing legth, you can just try this refreshing pompadous hairstyle. It will make you more sophisticated.
Vintage Curly Hairstyle Tutorial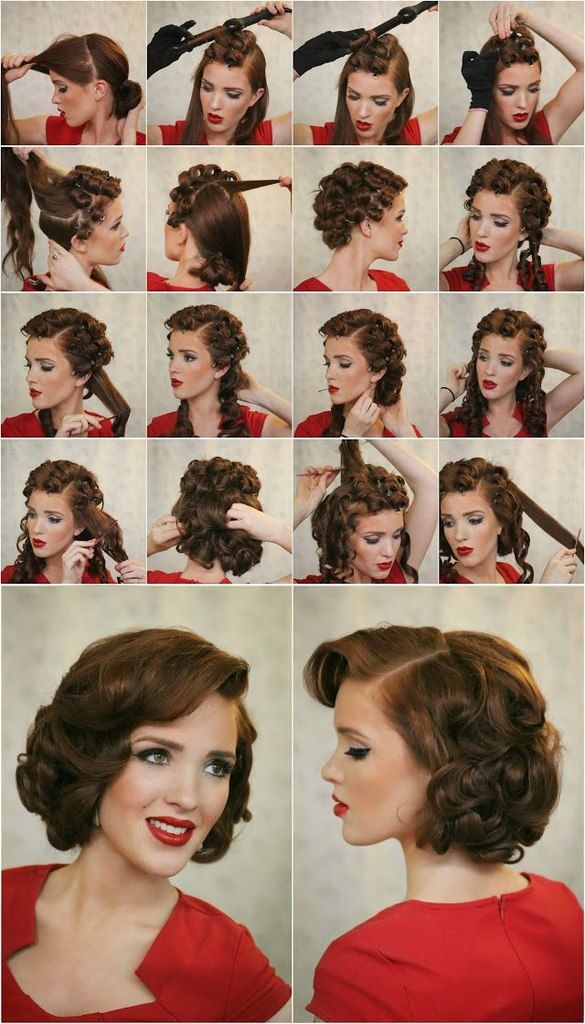 Perhaps ther is some moments when you want to take a great picture and need to get a vintage hairstyle. Take it easy. You can totally make one on your own. Follow the step by step hairstyle tutorial and you can be a great stylist for yourself.