Christmas is just around the corner, and here at the Styles Weekly office we simply couldn't be more excited. We're going all out festive this season – from our head to our toes, and we think that holiday nail designs are essential. There are a variety of gorgeous and glittery nail designs which are full of festive spirit, and here are our picks for the best holiday nail designs which would be super easy to recreate at home.
Dark Red with Glittery Christmas Tree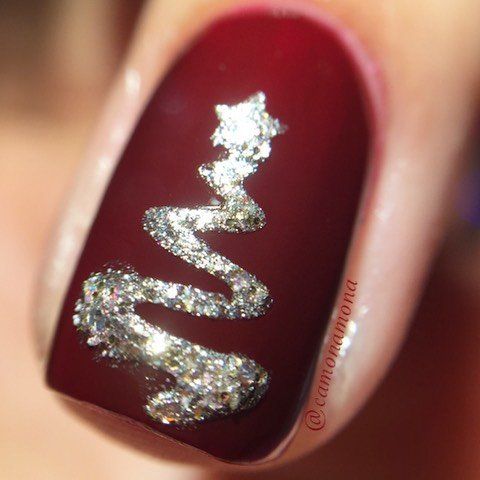 We're starting our holiday gallery strong today! This lovely lady has opted for a gorgeous dark red nail in a lovely matte shade, and has used a silver nail polish to create a unique and modern christmas tree design, which swerves from side to side and finishes with a little star on the top. Adorable and perfectly seasonally appropriate!
Glossy Red with Snowflakes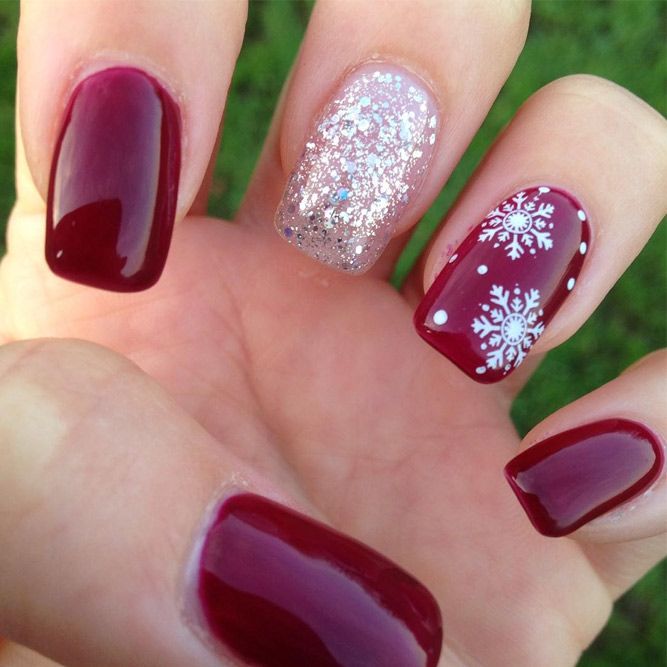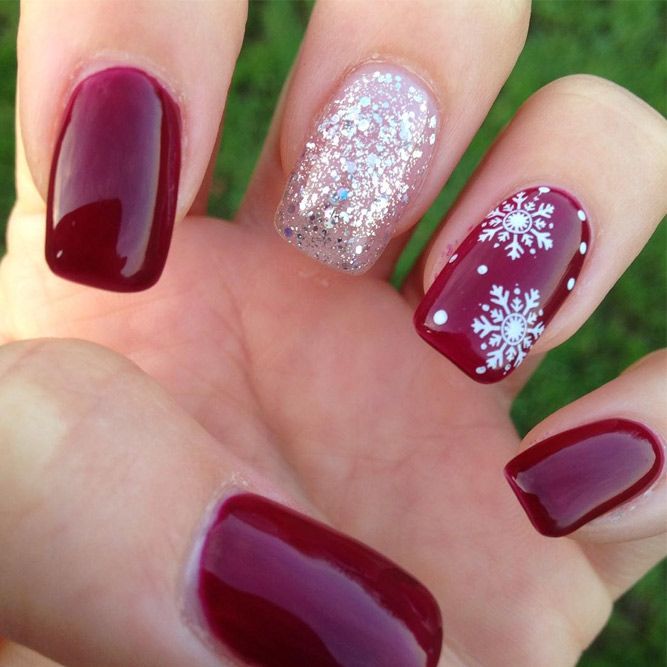 This gorgeous set of nails is glossy and bright – just perfect for the festive season! Starting with a lovely deep red on all nails except your middle finger, make sure you've picked a remarkable and glossy colour. Paint your middle finger with a wonderful silver glitter as an accent nail, and choose a seasonal snowflake sticker to adorn your ring finger nail for a festive finish.
Red and Gold Glitter Ombre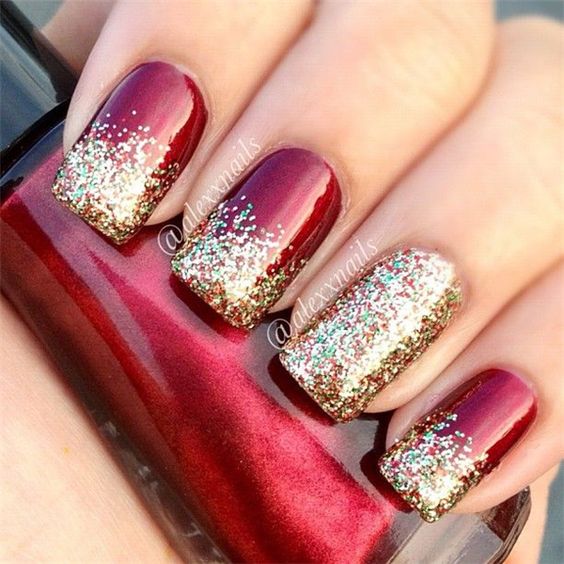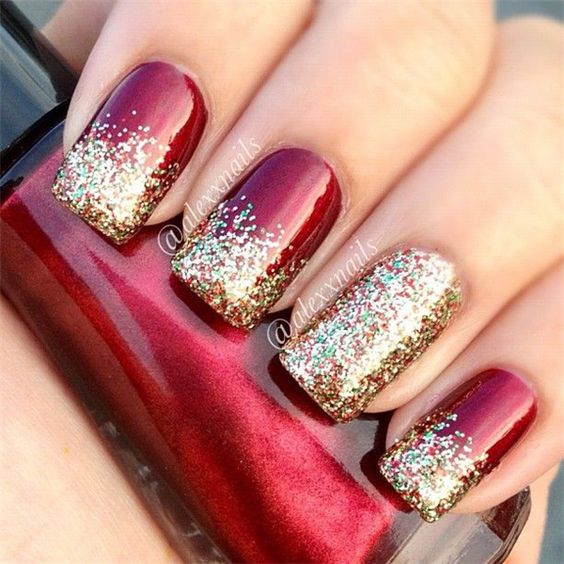 This might be one of our favourite, most classy festive nail looks from this entire collection! Start by painting all nails except your index finger with a glossy and glittery shade of red. Then, take a gorgeous gold glitter, paint your accent finger for contrast. Dab gold glitter on to a sponge and gently pat it across the tips of your remaining nails for a fantastic ombre effect.
Burgundy and Silver Patterned Nails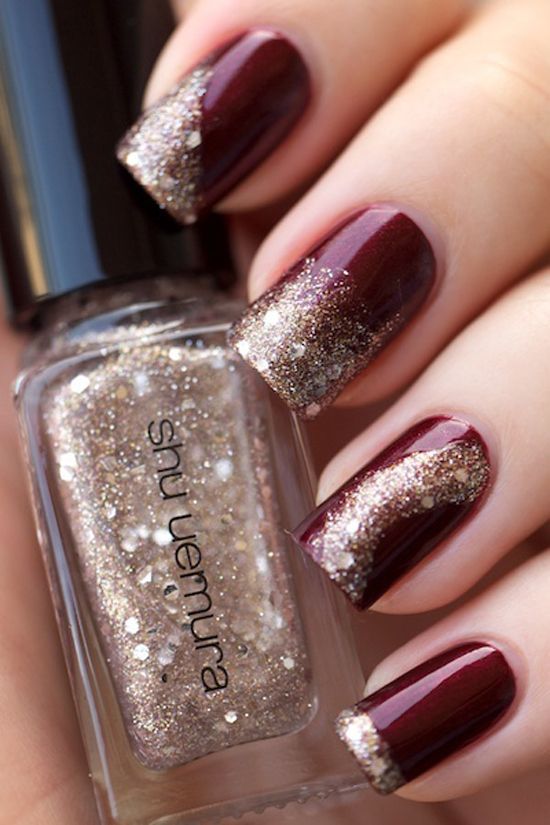 This beautiful glittery and glossy combination is just perfect for the holiday season – as we're sure you'll agree. Start by taking a beautiful and glossy burgundy colour and paint all nails. Then, with a unique silver glitter shade, paint different patterns on each nail – from the tips, to a unique swirl pattern or a fabulous diagonal flash; get creative and the results will speak for themselves.
Black Matte and Gold Glitter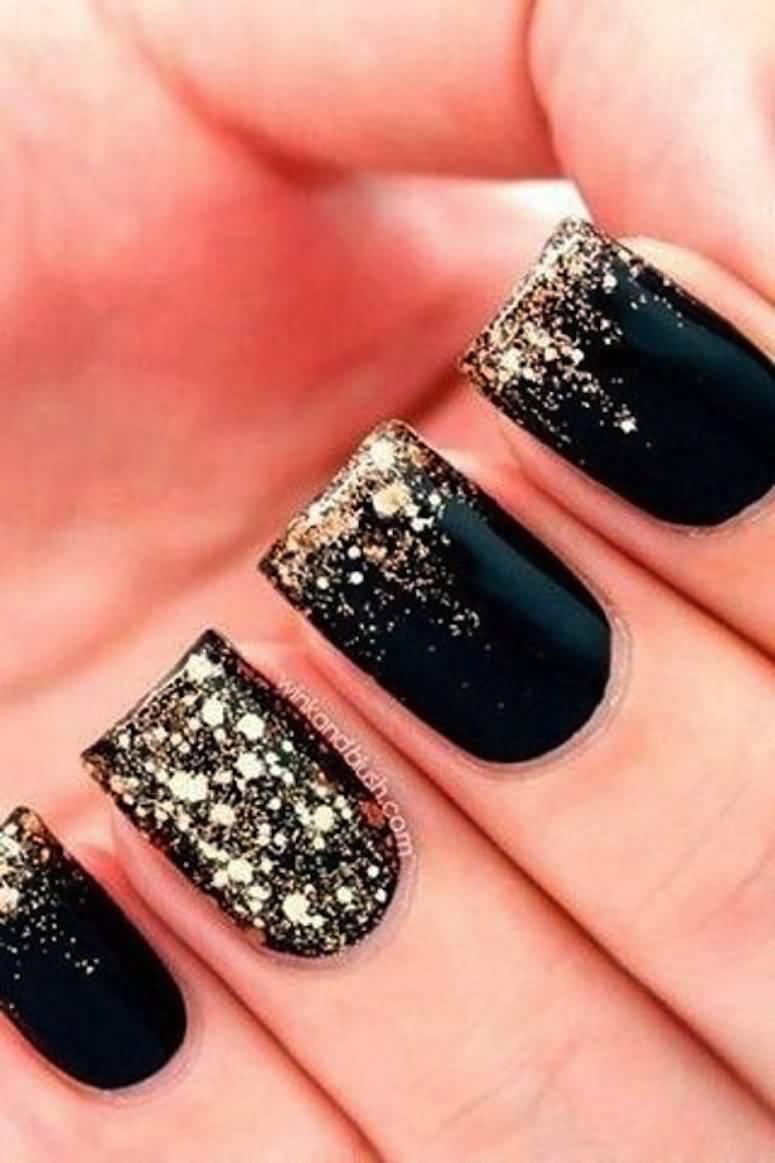 This wonderfully glamorous look is so sleek and stylish it's simply perfect for your Christmas party or fancy festive occasion. Start with a matte black colour and paint all of your nails, ensuring a consistent colour. With a lovely gold shade, gently pat across the tips of your nails for a gorgeous glittery finish, and take the colour the whole way across the accent nail for a lovely finished result.
Red Nails with Snowflakes and Gems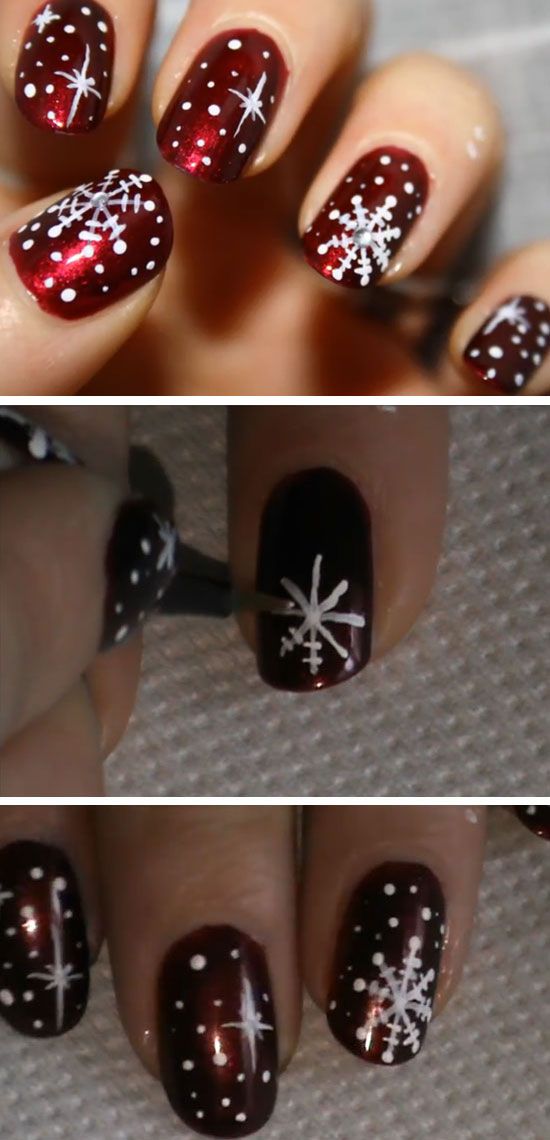 This gorgeous and glamorous DIY nail art has well and truly stolen our hearts – and we just cannot get enough of it! Starting with a dark and shimmery red, paint all of your nails this remarkable colour. Using a nail art pen, take a while polish and draw lots of snowflakes and subtle snow drops across your nails. Finish them off with nail glue and gems for a glamorous end result.
Glitter French Manicure with Holly Nail Art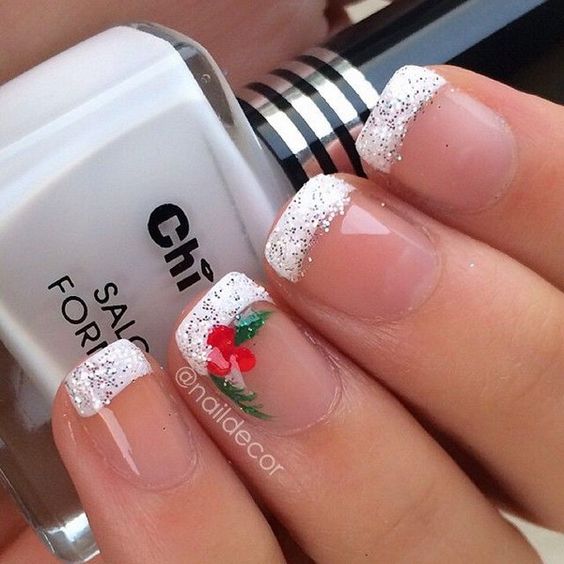 When it comes to manicures, you simply cannot beat a French manicure for a classic and stylish finish. With a nude colour, paint all of your nails. Taking a white shade, paint a thick line across each nail for the tip. With a silver glitter, subtly paint over the white tip for a sparkly finish. Using a nail art pen, paint some holly on your index finger for a festive twist.
Nu-de to Silver Ombre Glitter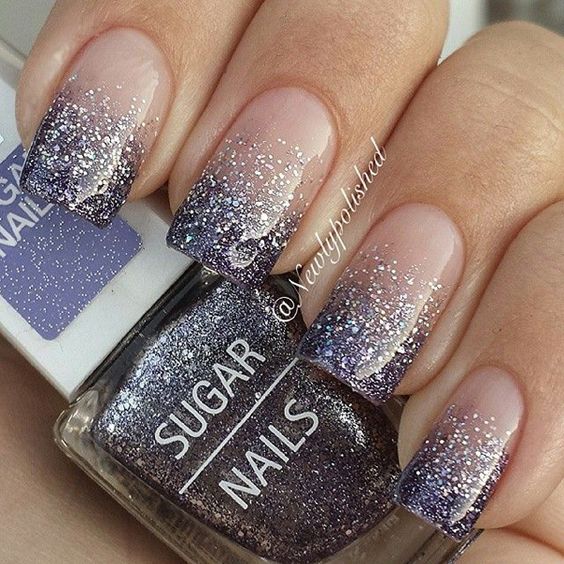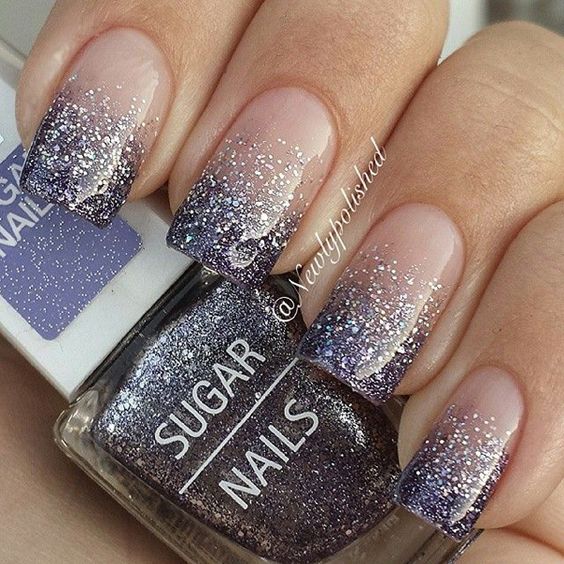 This might just be the most classy end result from this wonderful collection, and we simply adore it. Start with a stunning nude shade on all nails. Take your most glamorous silver nail polish and paint it across a sponge, gently dabbing it across the top of each nail to create a remarkable ombre blend. Finish with a top coat for a glossy finish.
Matte Burgundy with Gold Patterns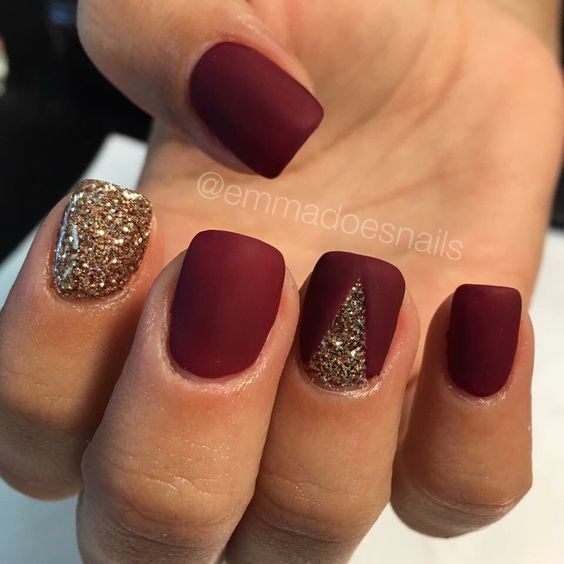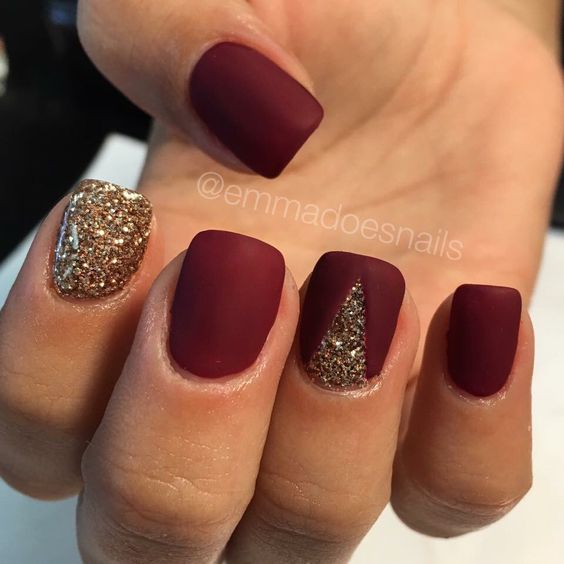 Another beautiful matte nail look to add to the collection! This lovely look is incredibly simple to recreate but is oh so classy. Start by painting your thumb, middle finger and little finger with your lovely matte burgundy shade. Using your glittery gold shade, paint your index finger and ring finger. Then use the burgundy to paint over the top of the gold, creating a christmas tree shape on your ring finger.
Red Nails with Glitter and Snowflakes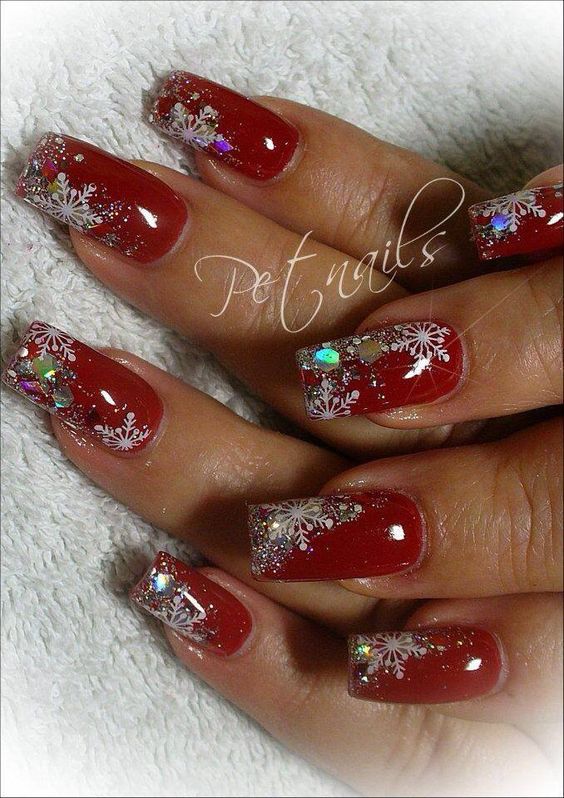 Take your brightest shade of cherry red and paint all of your nails, ensuring a consistent and glossy finish. With silver glitter, add a lovely edge to each of the nails on one side, creating a lovely and sparkly top layer. Purchase snowflake nail stickers to pop over the top for this incredibly easy but effective finish.
Red Nails with Sparkles and Snow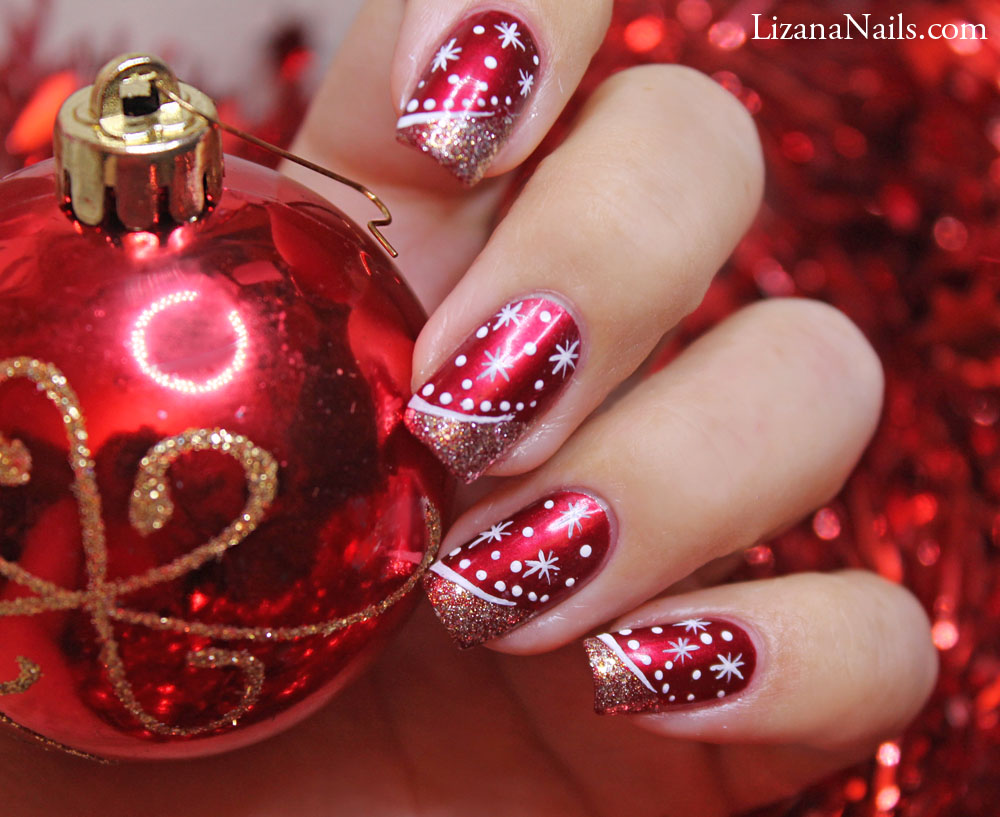 These wonderful and sparkly nails are so festive they look like holiday gift wrap! Simply start by taking a gorgeous, bright red an painting your nails. With a white nail art pen, draw a diagonal line for the tip and finish with polka dots to look like snow, and subtle stars. Fill in the diagonal gap with silver glitter for this glorious end result!
Which of our holiday nail inspiration styles do you prefer? Will you be copying any of these gorgeous looks at home?Let the Styles Weekly office know in the comments which is your favourite.