Blue as a colour is often associated with being cool, calm and stylish. Blue decor, blue clothes and now blue hair are completely in fashion, which is why we're bringing you some of our favourite blue ombre hairstyles in this latest post to hopefully provide you with some hair inspiration.
Perhaps you'll take the plunge and go bold and blue after seeing this incredible selection.
Baby Blue Ombre Slices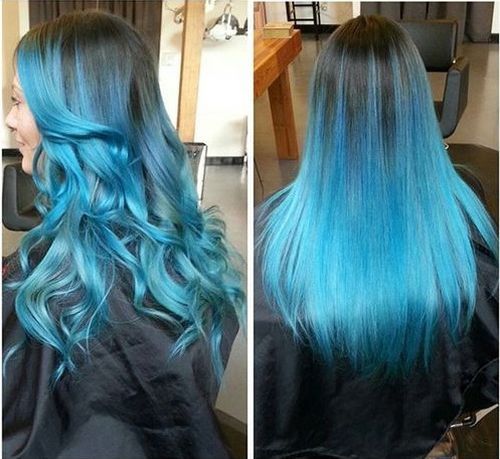 This absolutely incredible baby blue ombre design is simply stunning straight or curly – as proved in both of these amazing pictures. The ombre is sliced lightly throughout the darker roots and finishes in a flush of bright blue around the end. This gorgeous style reminds us of the Disney film Frozen – and what's not to love about that?
Mermaid Ombre Hair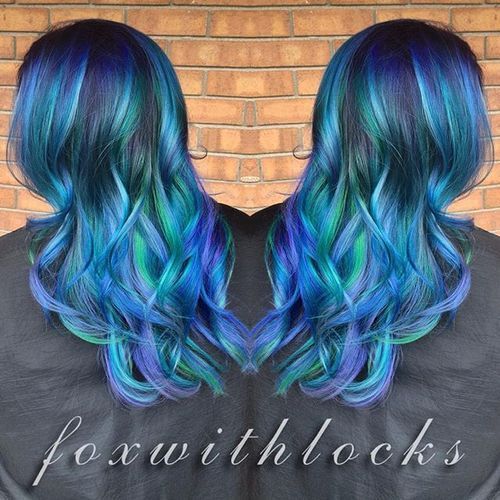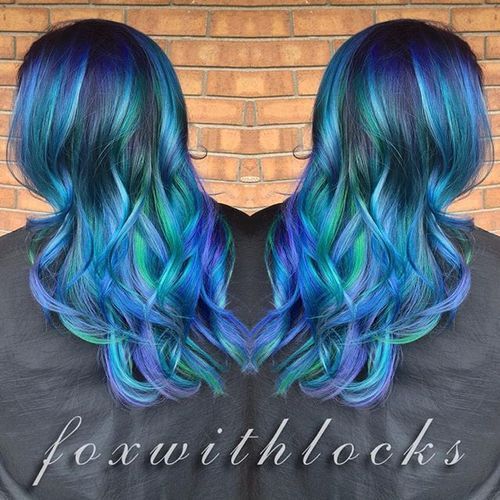 Though it's incredible difficult to describe 'mermaid hair' – if you looked it up in the dictionary we're pretty sure that this stunning picture is what you'd find. This gorgeous set of curls is full of a beautiful selection of blue hues that form the most striking finish, as we're sure you'll agree. The spectrum of blues look just amazing in loose curls!
Long Bright Blue Curls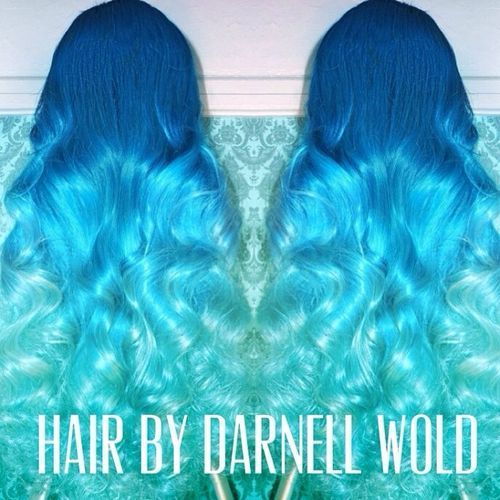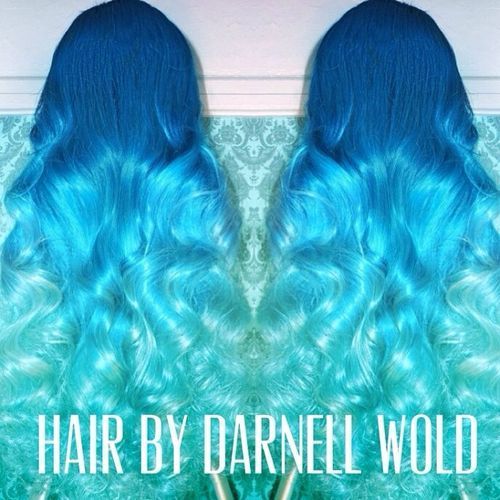 This fantastic hair is certainly a statement – and one way to ensure that the attention is always on you! With hair this fabulous, that's the least you deserve. This gorgeous bright blue long hair is incredibly curly and fabulous, with an impeccable ombre design that goes from a slightly darker blue at the top to a lighter blue at the bottom.
Blonde to Blue Ombre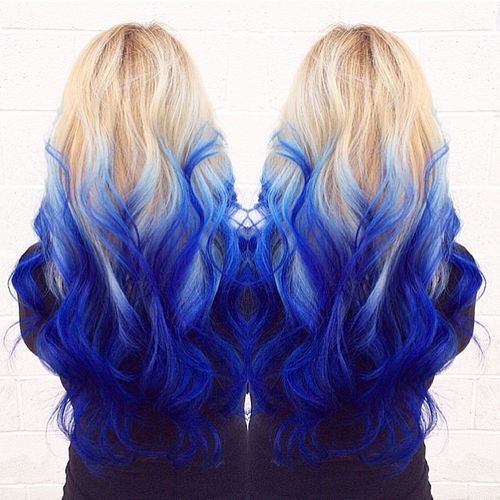 This stunning blonde to blue ombre is an incredible style that we just can't get enough of! With a gorgeous bleached blonde running into a deep and vibrant blue, we think the ombre transition looks simply incredible – especially with these gorgeous curls running right through it! These long and thick locks suit this colour, but a short cut would be great too.
Black to Blue Straight Cut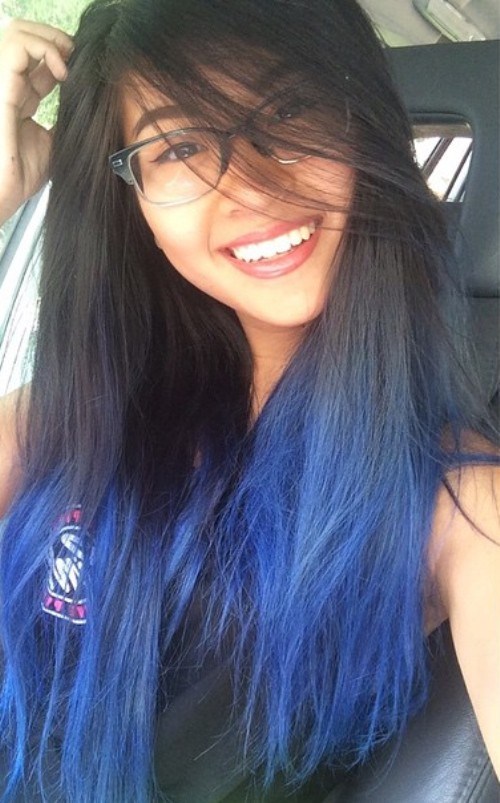 Black to blue is a classic hair colour combination, made famous by the fashion icon Kylie Jenner, looks simply incredible. This gorgeous straight and long cut makes the colour transition look particularly great, don't you agree? The blue ends are a subtle way to add a gorgeous flash of colour to your cut without doing too much.
Purple to Blue Ombre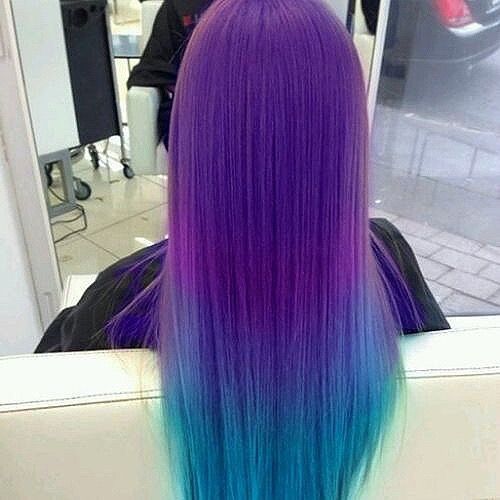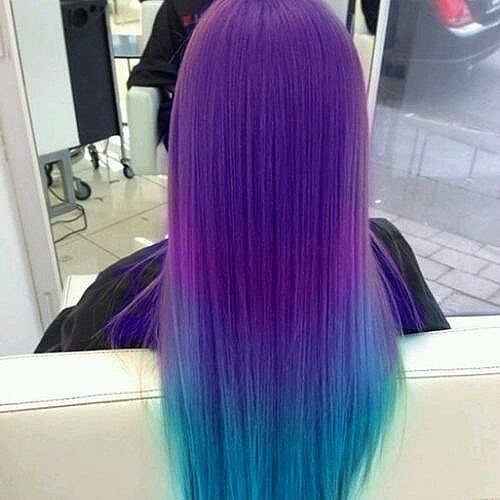 Blue doesn't need to be the only colour involved in your cut with a blue ombre style, just like this gorgeous purple to blue ombre cut showcases! The lavender to blue transition looks beautiful – like a section of the rainbow, and with the straight and sleek cut you can really see how the colours work together. We think purple and blue go together like a dream.
Light to Bright Blue Ombre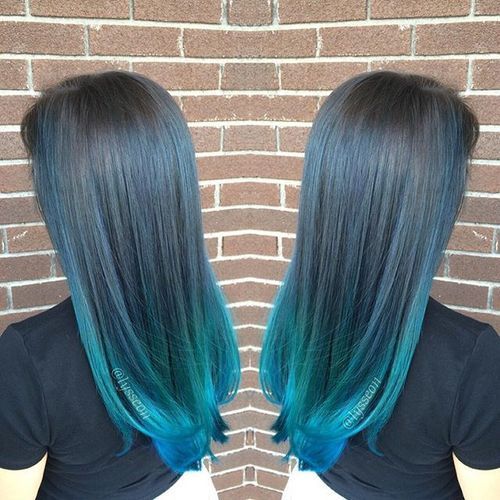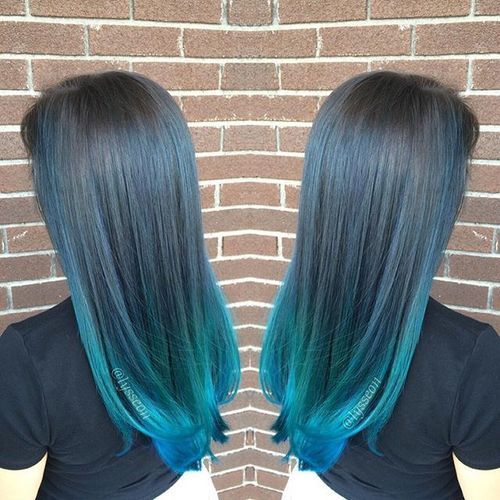 Starting strong with a straight and sleek masterpiece, this beautiful blue ombre goes from dark to light, with the ends finishing a magnificent turquoise hue. The shiny, straight style of this gorgeous long cut highlights the beautiful ombre work of this haircut, but we think it would look equally special with waves or curls too.
Black to Blue Sleek Look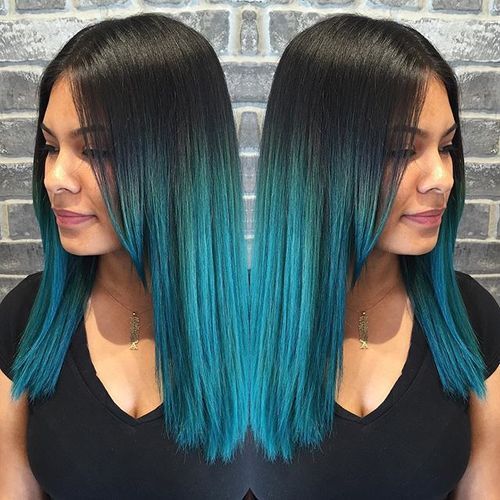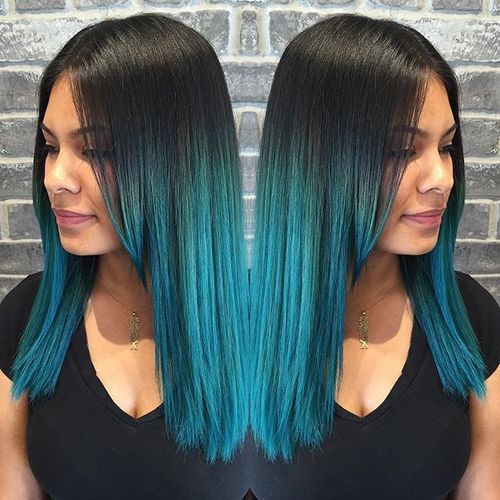 The Black to Blue Sleek Look is one of our favourite blue ombre styles. We love how the beautiful bright blue blends from the black roots to create a vibrant and stylish look – we're sure Kylie Jenner would love this one! This style has a beautiful shorter fringe section to frame the face and finish off the cut to perfection.
Fabulous Blue Highlights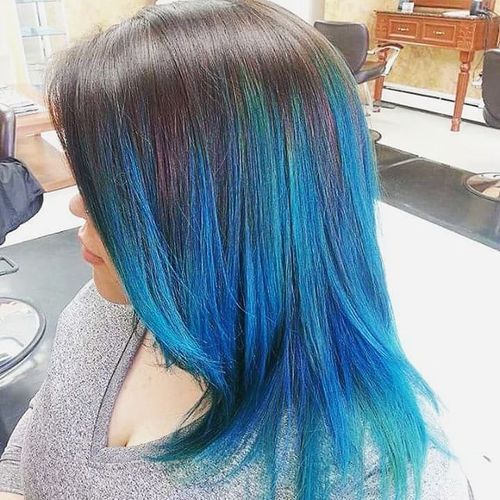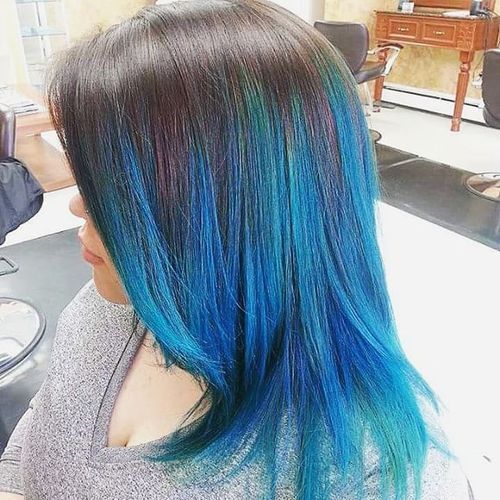 Ombre hair color ideas for 2017 – These fabulous blue highlights will suit absolutely anyone because the vibrant colour is so striking! We love this gorgeous cut – particularly how the stunning blue contrasts with the dark roots in a smooth ombre transition. The sleek and smooth hair cut shows off this transition to perfection, but we think this style would be gorgeous on curly hair too!
Roughly Tousled Blue Ombre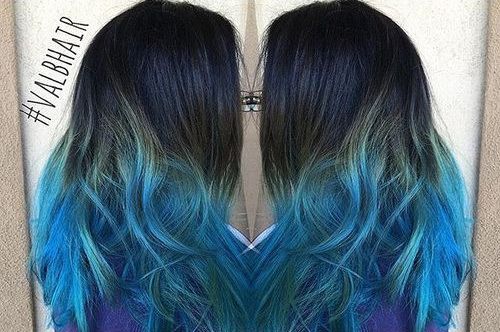 This gorgeous roughly tousled cut looks simply phenomenal when finished with a gorgeous blue ombre! This beautiful dark blue at the root resembles the colour of denim, which means the lovely light ends look even better because the colours match to well! Add a rough tousle and you're ready to go with blue, beachy waves.
Ombre Blue Ringlets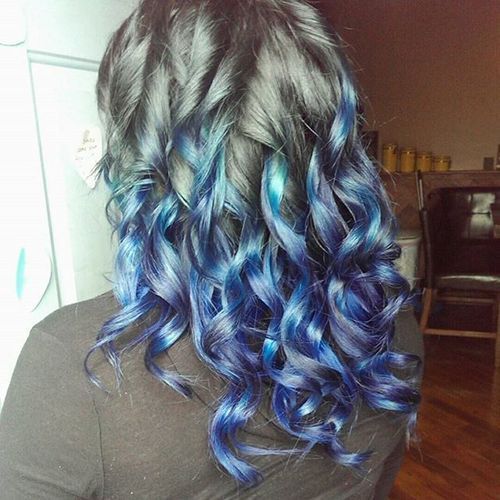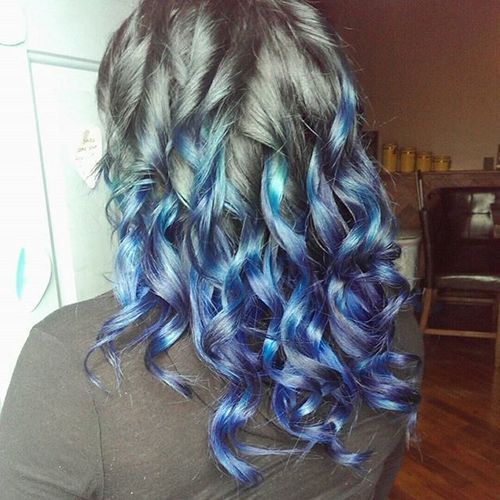 This stunning haircut is simply beautiful, with long layers curled into amazing ringlets which fall down this incredibly stylish lady's back. The ombre design goes from a grey blue tone at the top, through to a turquoise blue around the mid section of the hair and finishes with a bright blue. The colour spectrum is really quite special, we're sure you'll agree.
Chocolate Brown to Blue Ombre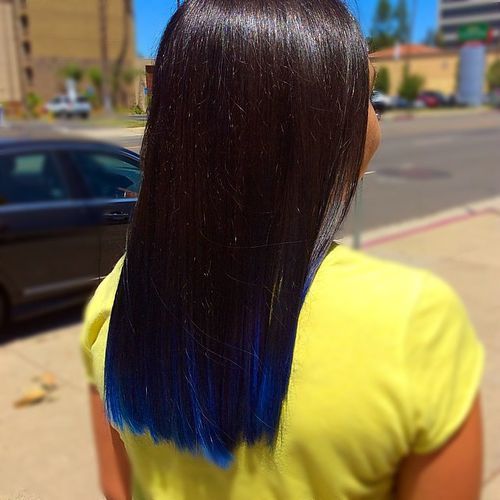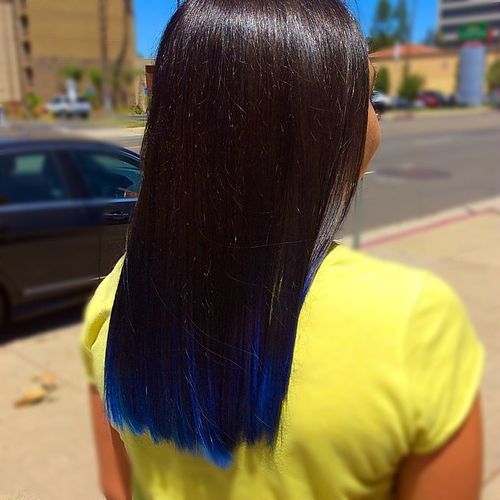 If you're looking to spice up your hairstyle with a flash of colour but you want to keep a relatively natural look, then this lady is showing you exactly how it's done! Her gorgeous and rich chocolate brown hair subtly transitions to a gorgeous cobalt blue at the ends, creating a truly unique look that shines on sleek and straight hair.
Long Blue Barrel Curls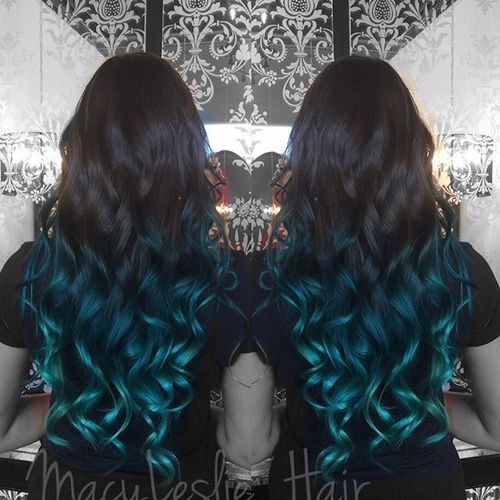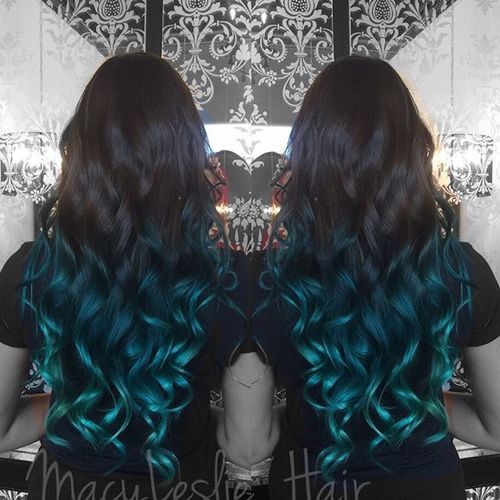 This is a prime example of why ombre colour jobs can look so stunning on long hair! This gorgeous long hair is finished with big barrel curls, and goes from a rich brown at the root through to a bright blue turquoise at the tips; a colour which is accentuated by the stunning style. We love the light blue tips and gorgeous cut featured in this picture.
Blonde and Blue Shoulder Length Cut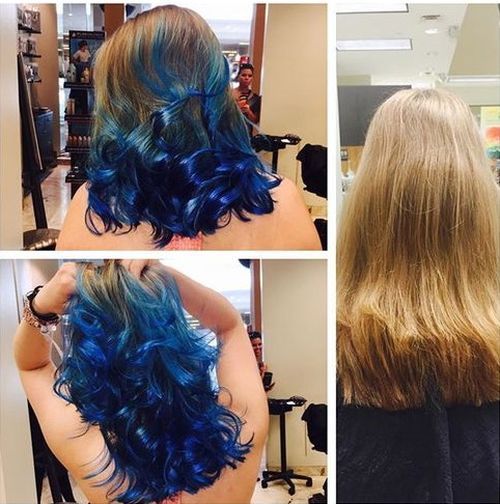 This incredible shoulder length cut is a prime example of why blue is best. The amazing natural blonde locks are highlighted with a gorgeous blue tone in a stunning ombre style, transitioning from one to the other. This amazing cut is finished with beautiful, bold curls to accentuate the stunning colour job – ready to go out and party!
Blonde with Bright Blue Ends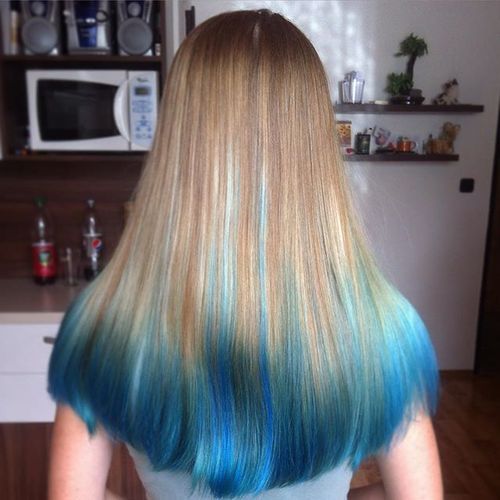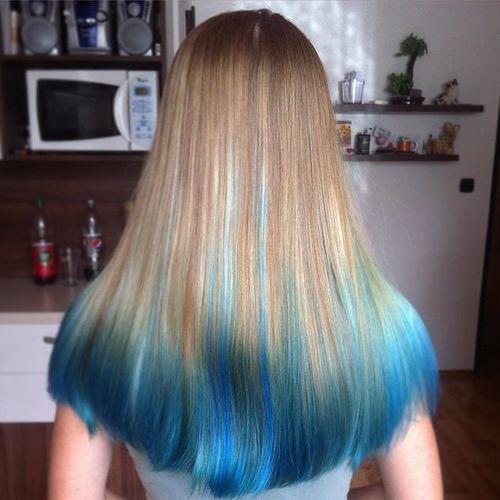 This beautiful smooth and sleek cut offers a stunning combination of a natural colour and something a little more vibrant – the best of both worlds! The bright blonde highlights transition into a stunning bright blue at the ends, which offers a subtle pop of colour and personality to this gorgeous cut. This would look amazing curled, too!
Deep Blue Ombre Waves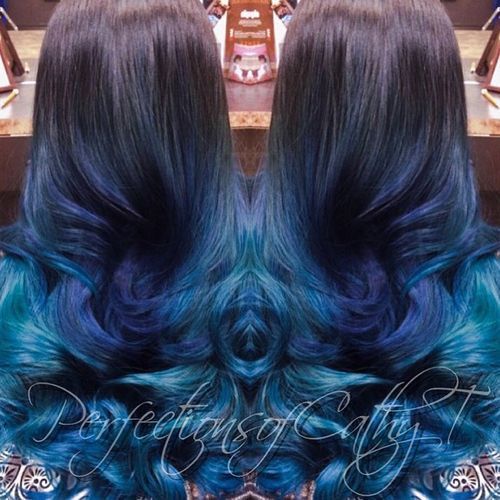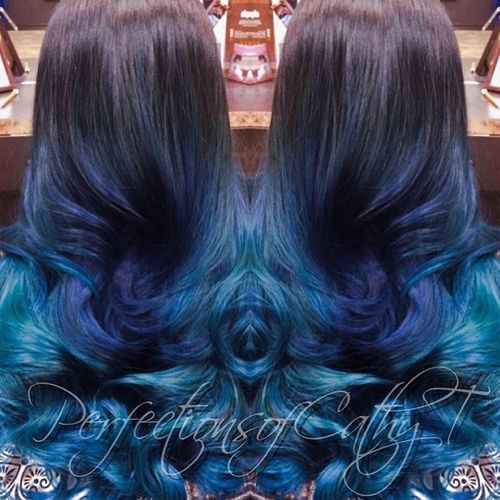 This beautiful and bold blue ombre makes this stunning and thick hair cut come to life in beautiful, bouncy blue waves. From a brown to a combination of gorgeous rich blue hues, these big barrel curls are ready for the catwalk or the dance floor! We think this style would look gorgeous straight, curly, up or down – it's just so pretty!
Turquoise to Blonde Ombre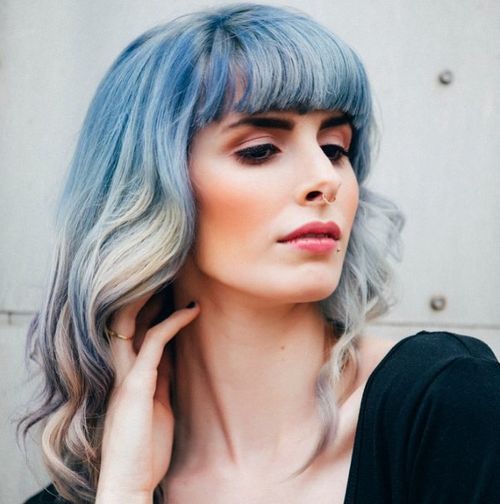 When you think of a blue ombre look, you normally imagine blue at the ends of the hair to finish off a style. This stylish lady has turned the trend around by opting for blue roots and ashy blonde tips, and we absolutely love how it looks. Finished with soft curls to accentuate the colour, this amazing style is giving us hair envy!
Colourful Cropped Cut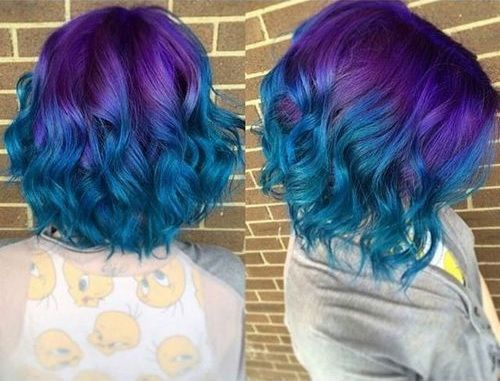 This fabulous cut proves that short hair can still rock an ombre look like no other! This amazing combination of purple and blue colours brings this fabulous short hair to life. We love the cropped layers and the bouncy curls, and think these gorgeous and vibrant hues go together perfectly. This style would look fantastic straightened too.
Icy Blue to Lilac Ombre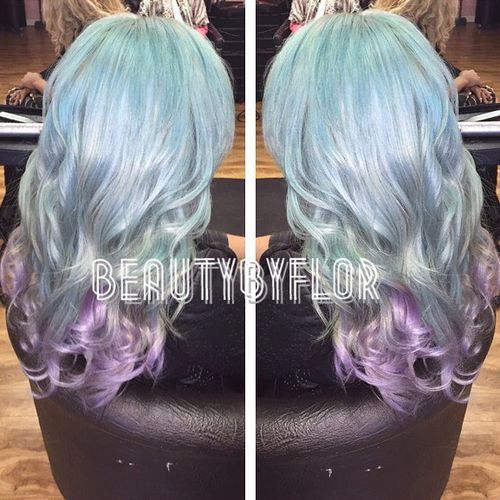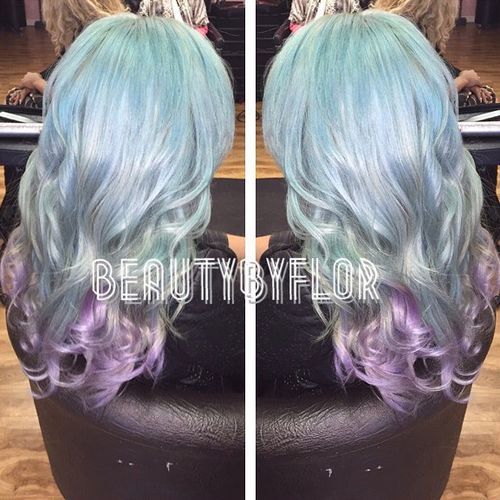 This stunning icy blue hair do is a simply striking look that is guaranteed to get you some attention! This beautiful baby blue cut is a gorgeous length with shorted layers running throughout, finished with a subtle lilac tint on the ends of this gorgeous cut. The soft curls accentuate the amazing colour transition on this fabulous cut.
Royal Blue to Ice Blue Ombre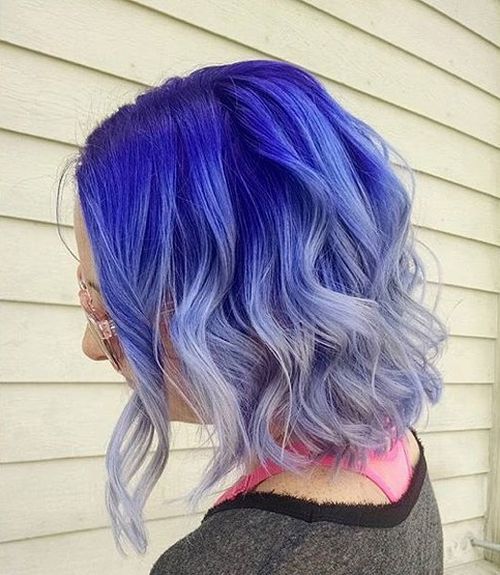 This blue to blue ombre style is certainly a show stopper – and we absolutely love the gorgeous transition from a royal cobalt blue to an icy grey toned blue on the ends. This stunning cropped cut has lovely long layers and a stunning colour palette of blues. Finished with soft curls it really shows off the beautiful transition – we just love it.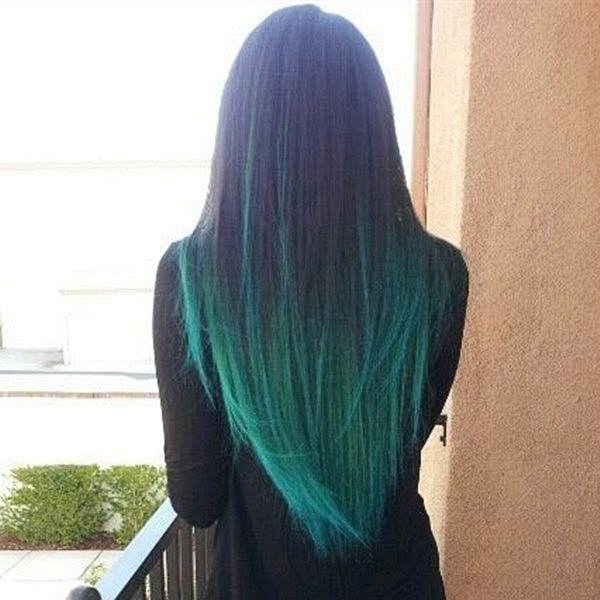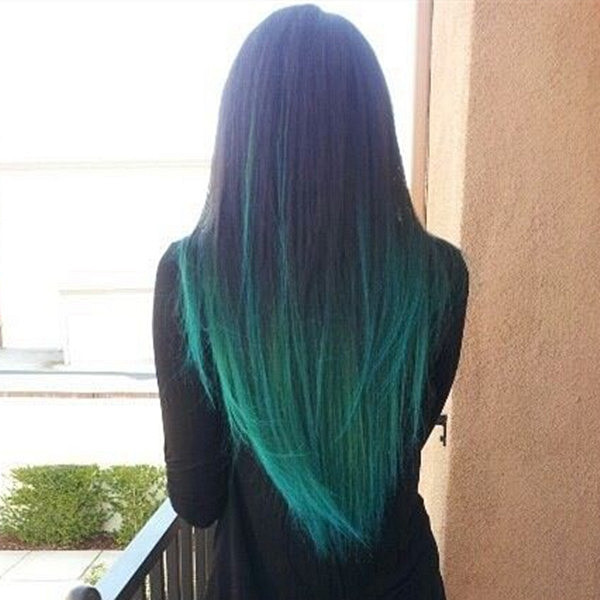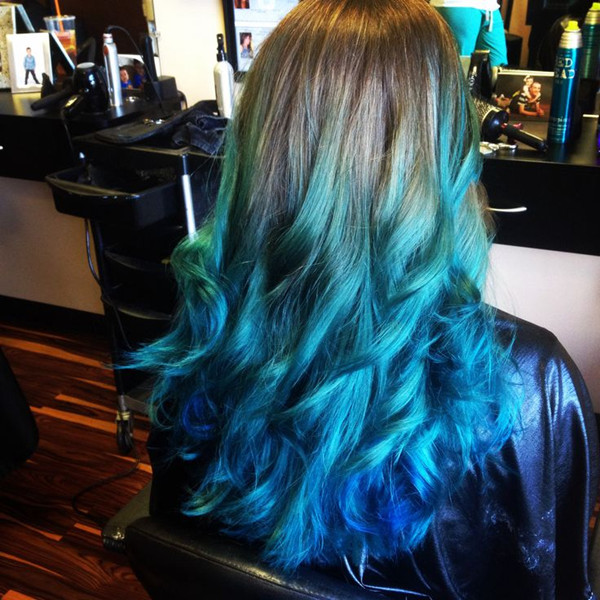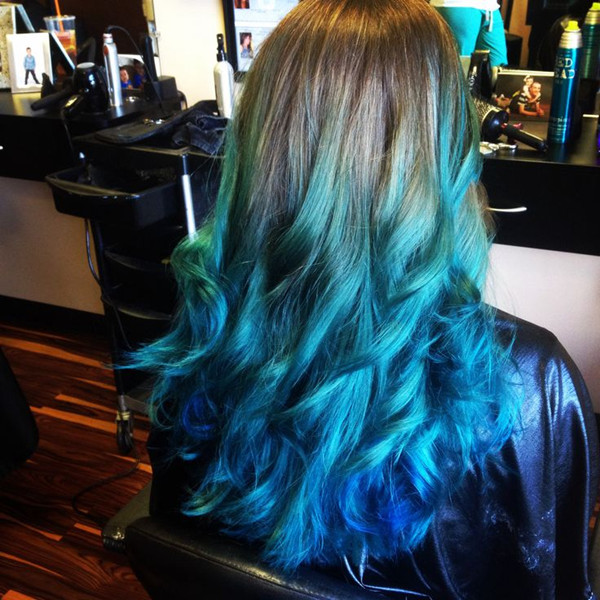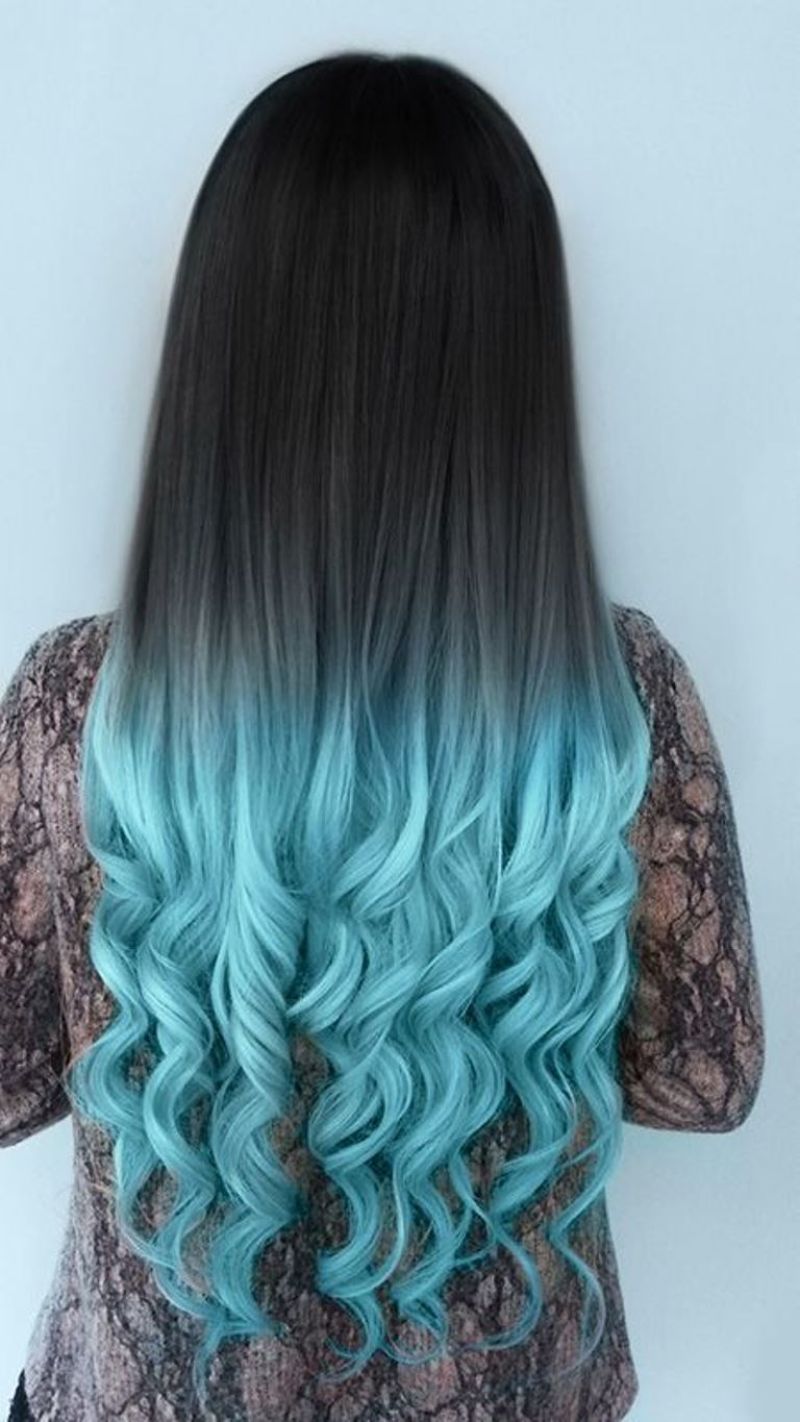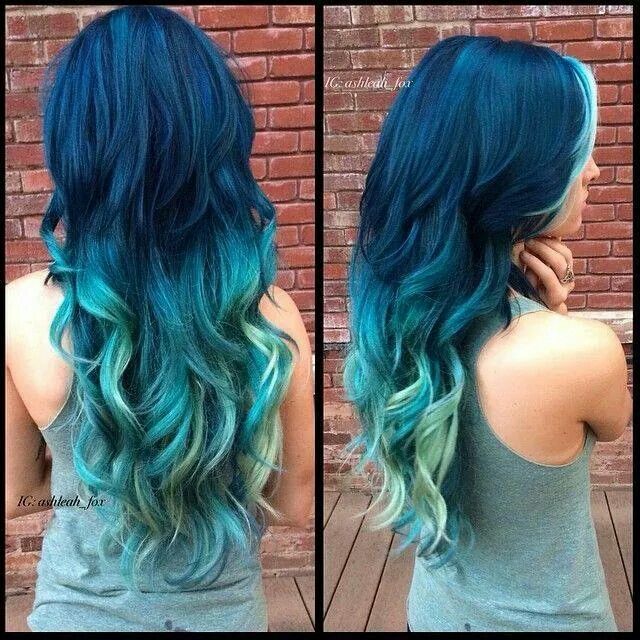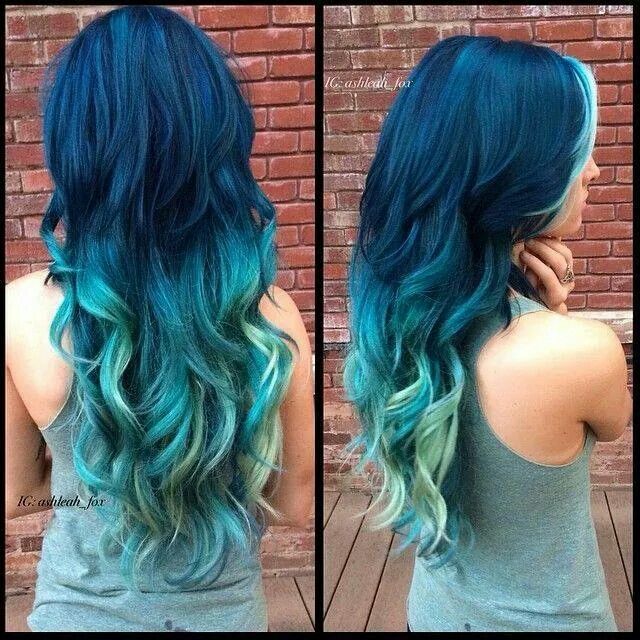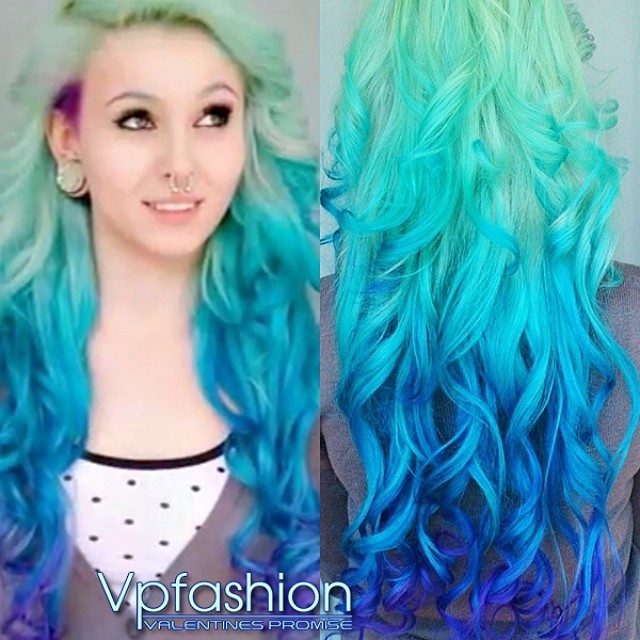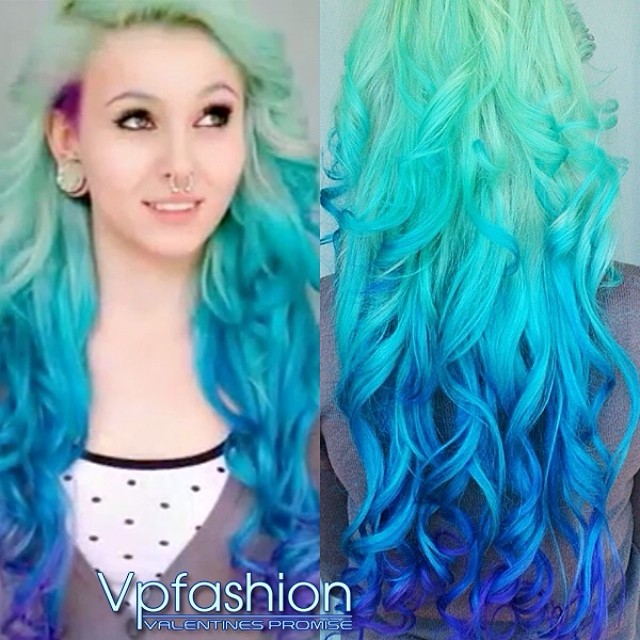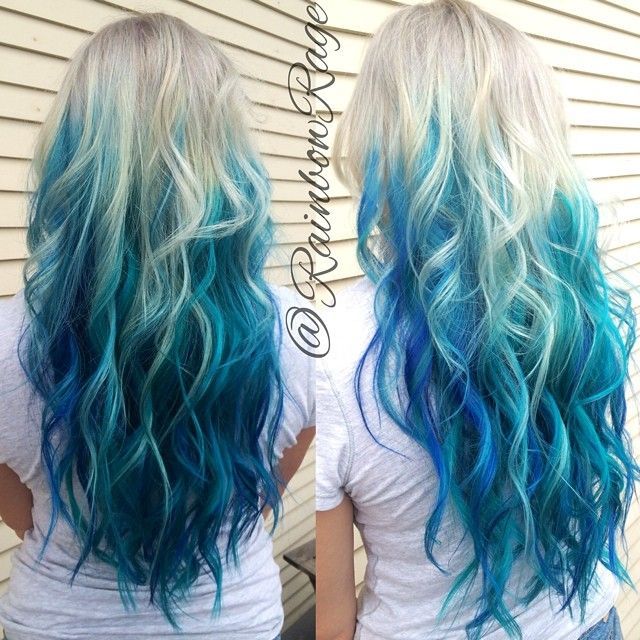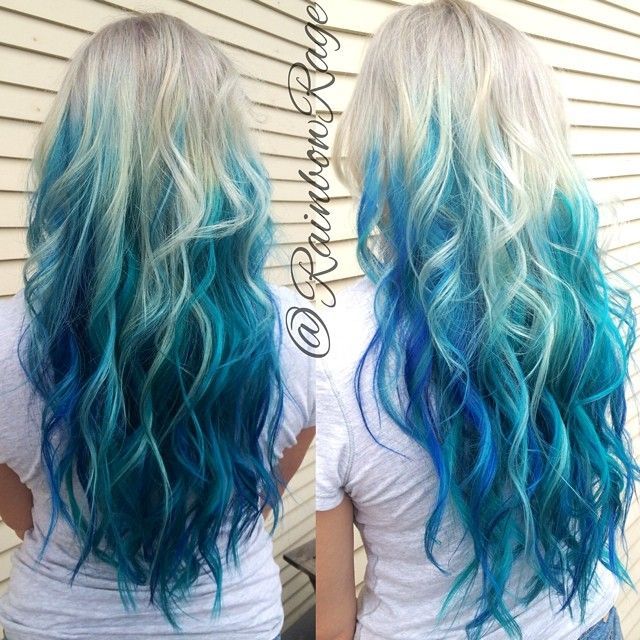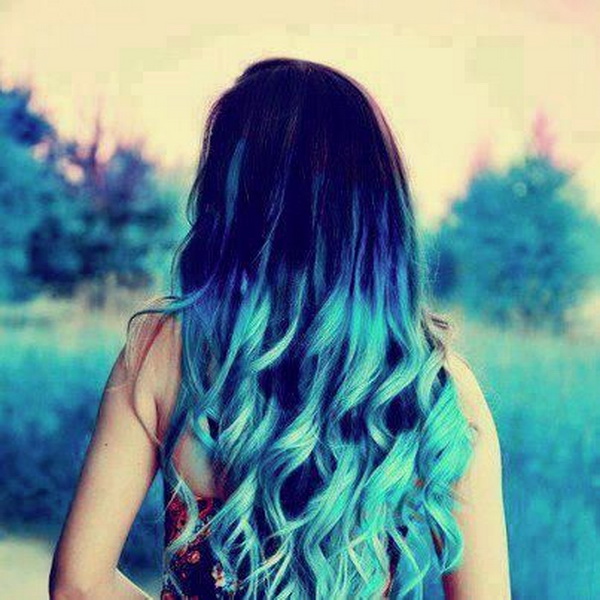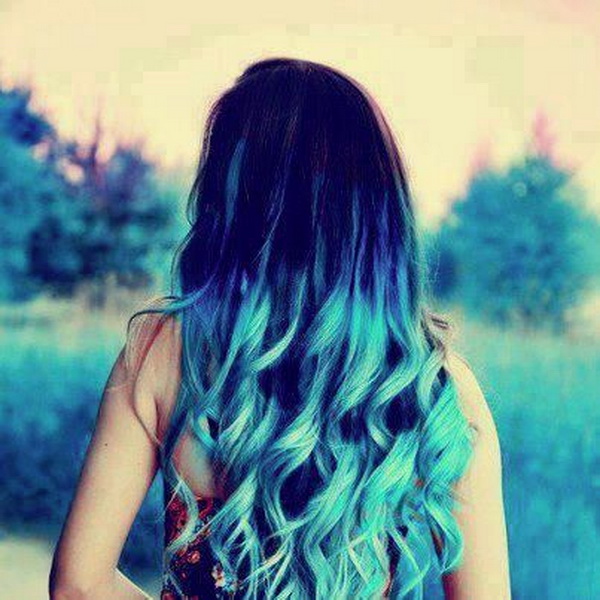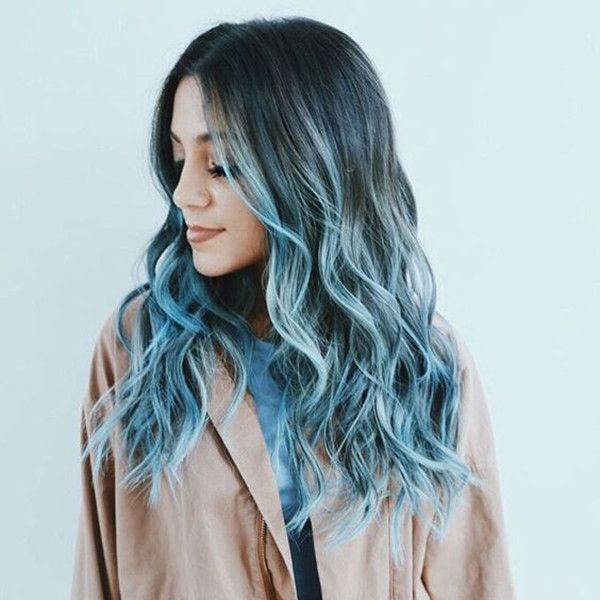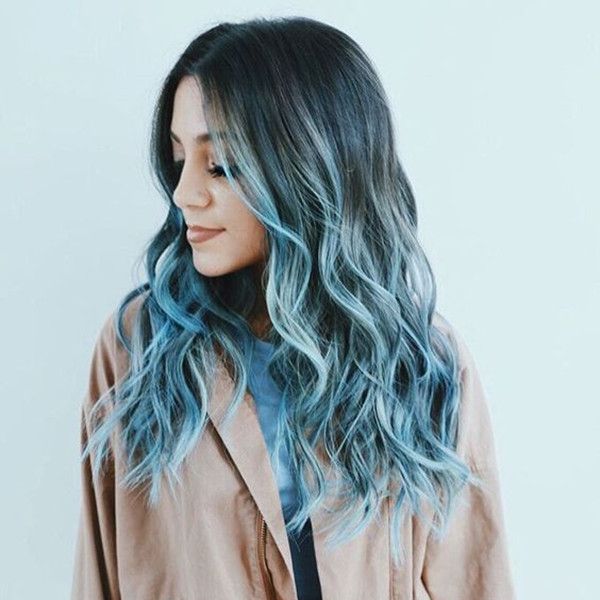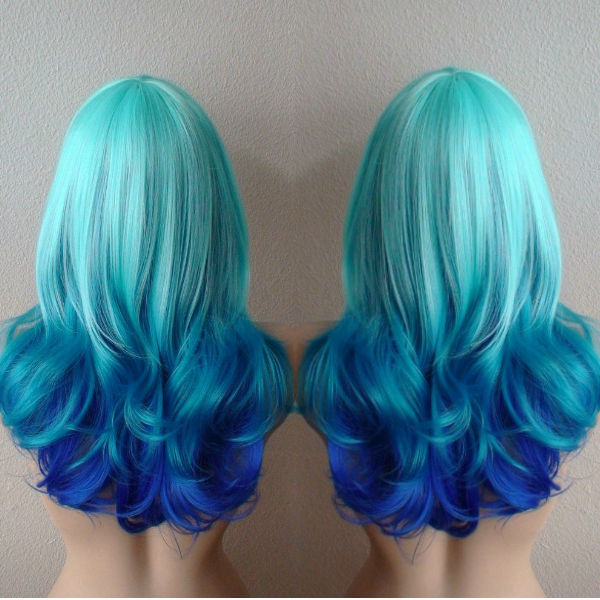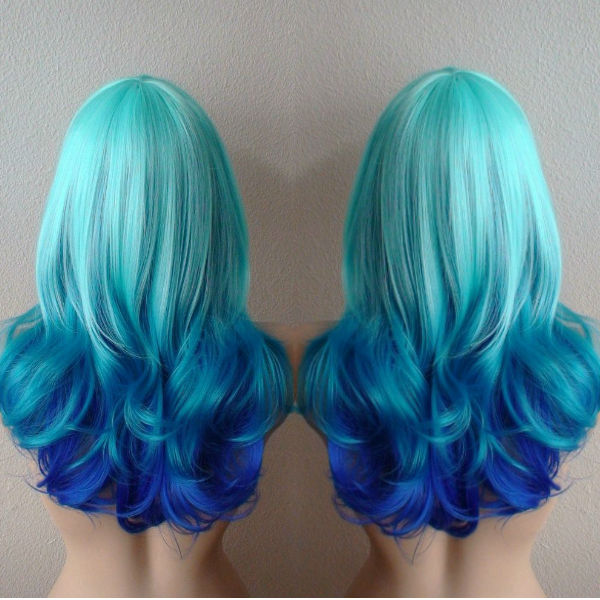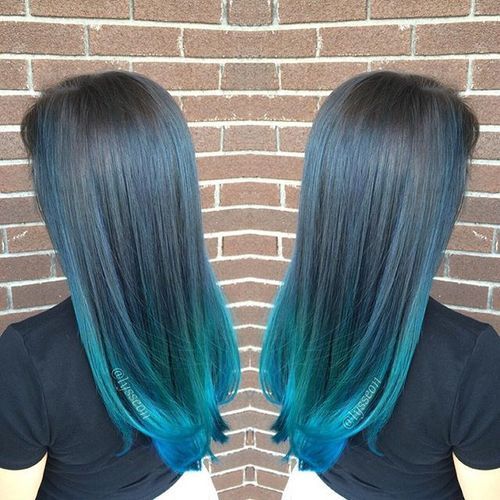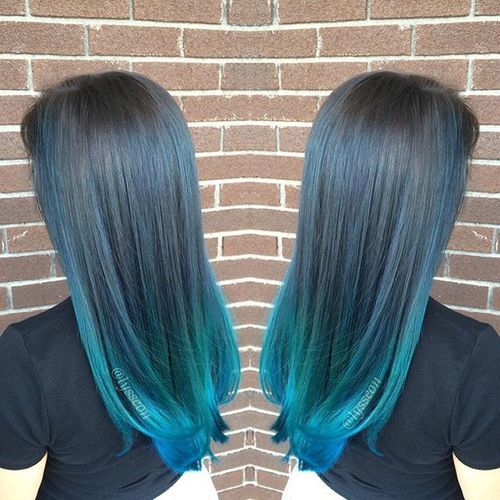 If blue ombre perhaps isn't for you, we still have an absolutely stunning selection of posts full of hair inspiration over on our blog. Follow styles weekly for the latest hair trends and styles and for plenty of ideas to keep your hair looking fabulous.