After they had their time to shine in the 1970s, Birkenstocks seemed to go the way of tie-dye and peace signs. Many people thought Birks had faded from fashion for good. However, these comfort shoes and their trademark wide straps and big buckles began to crop up again after the turn of the twenty-first century. Birkenstocks and their inexplicable lasting popularity is a mystifying phenomenon. Few people have ever examined a pair of Birkenstocks on their own and thought, "Wow, what a cute and trendy design for a shoe!" In fact, most people–even avid Birkenstock wearers themselves–agree that their beloved Birks are objectively not the most attractive footwear.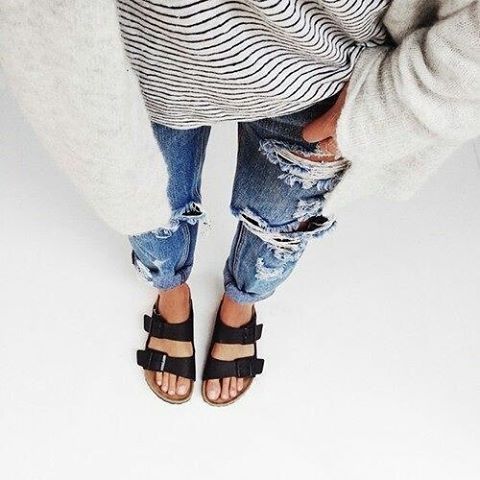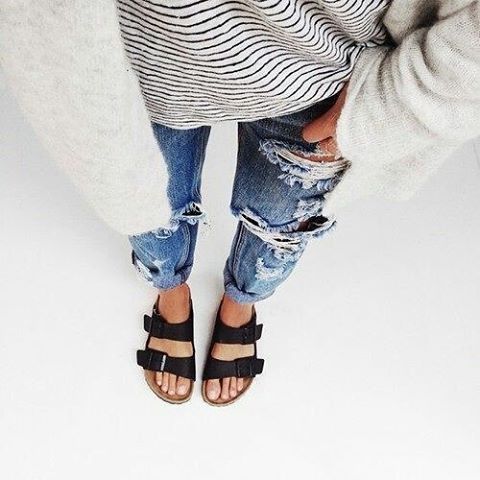 Against all odds, however, people continue to buy and wear Birkenstocks with pride. Even celebrities and style icons like Ashley Olsen, Jessica Alba, and Vanessa Hudgens have been spotted rocking their Birks on the street and even at some high-profile A-lister events. If you're hesitant to wear Birks because of their reputation as  If they meet the contemporary style standards of Vanessa the Coachella queen herself, they should be fashionable enough for you, too. Learn how to style Birkenstocks to take advantage of one of the only types of footwear that are simple, comfortable, and somehow timelessly trendy at the same time.
1. Get Loose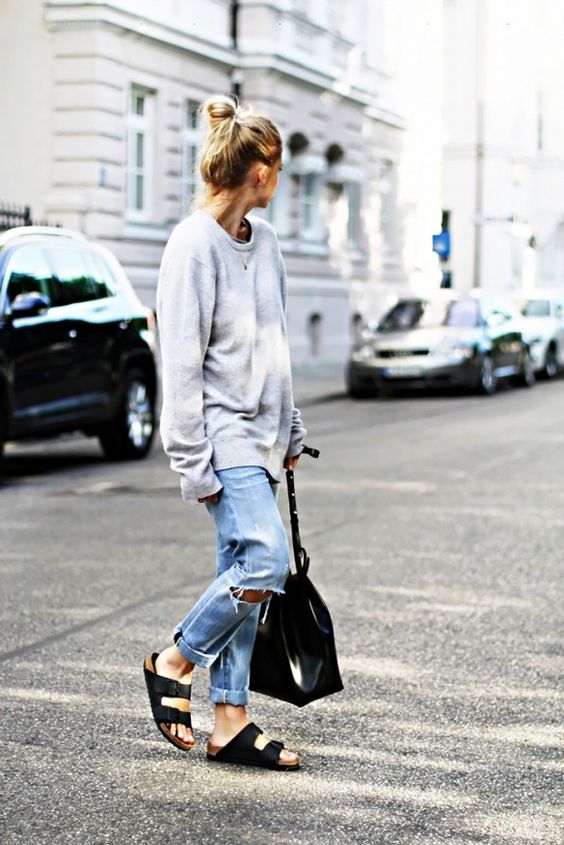 There are no better shoes than Birkenstocks to pair with a classic slouchy outfit. Because Birkenstocks are bulky and casual themselves, they fit right in with a casual, comfortable loose-fitting outfit.
Pair your Birks with mom jeans and an oversized sweater to create an uber-comfortable look with a carefree finish. If you're worried about looking shapeless, add one piece that shows off your figure. Try tucking a basic form-fitting tank top into high-waisted boyfriend jeans. Add a slouchy knit cardigan to add balance and a belt to further accentuate your figure.
2. Balance it Out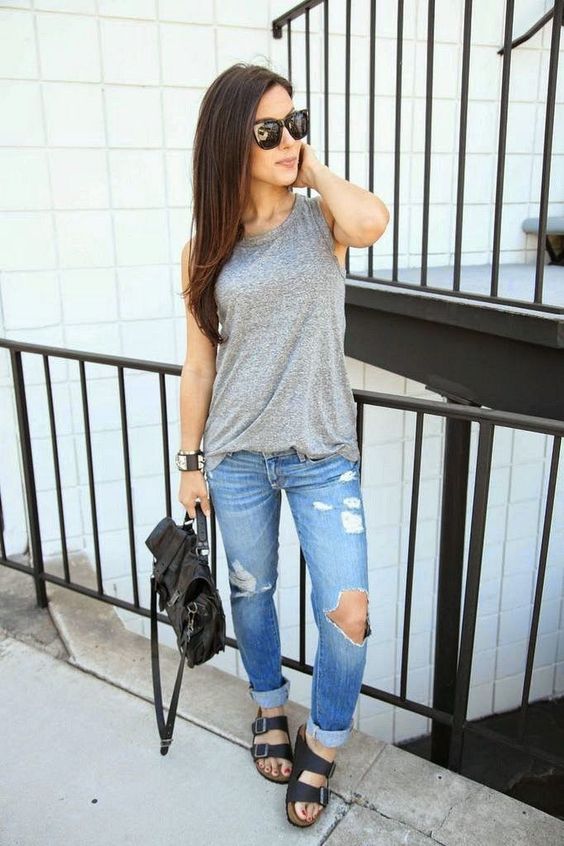 By nature, Birkenstocks are very bulky shoes. In fact, this bulkiness is why many women are hesitant to wear them or believe that Birks just can't look good on them. The truth is that anyone can pull off Birkenstocks, regardless of your foot size or body type.
Balance is key when it comes to successfully styling Birkenstocks. If you don't use the other pieces in your look to balance out your Birks, you risk making your body look disproportionate and your feet appear much larger than they really are. Avoid very slim-legged pants when you wear Birks. Skinny jeans and leggings that accentuate the slimness of your ankles tend to make your feet look bigger, especially in Birkenstocks. Opt for straight-legged pants for more balance. If you do wear skinny bottoms, cuff them to create more depth and take the focus off the size of your feet.
3. Go Cropped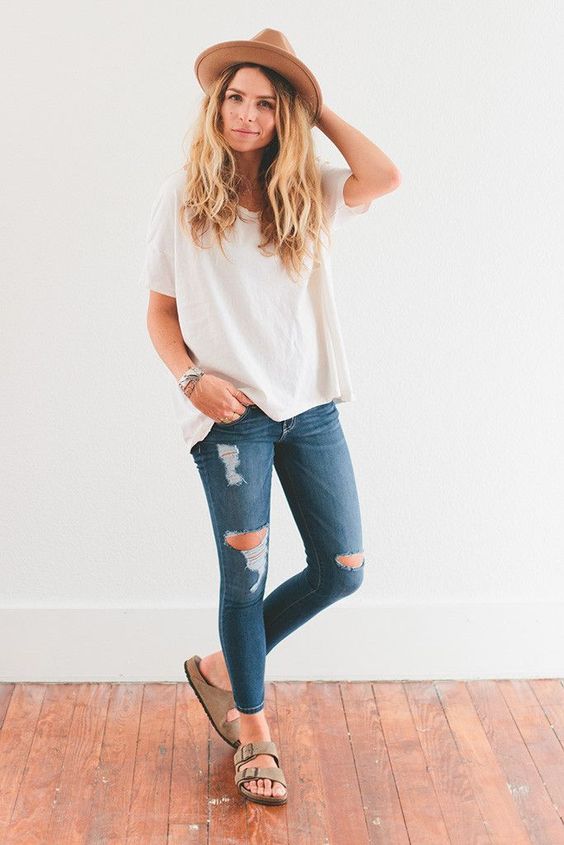 When in doubt, remember that cropped bottoms are the way to go when it comes to Birkenstocks. Wearing cropped bottoms with your Birks eliminates the risk of foot size distortion that comes with full-length jeans and leggings.
One of the best ways to balance Birkenstocks is with loose-fitting, cropped jeans. The casual style of boyfriend or mom jeans matches the vibe of Birks. Plus, the loose fit of these bottoms instantly balances the bulkiness of the shoes. Try pairing your Birkenstocks with cuffed, straight-legged, or flare jeans with a cropped cut. The wide leg and cropped cut of these bottoms complement the sturdy design of your Birks and give them some visibility without drawing too much attention to them. Choose jeans that are distressed to add depth and interest to your look while maintaining a balanced, casual finish.
4. Get Dressy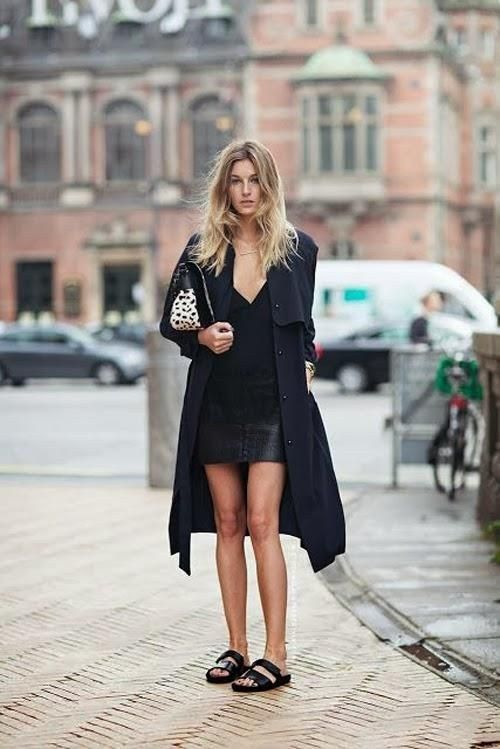 Birkenstocks pair surprisingly well with skirts and dresses. You can wear them with a short, loose-fitting sundress in place of other sandals for a more carefree look. Or, create an instant trendy Bohemian look by pairing your Birks with a midi or maxi dress or skirt.
Avoid wearing Birks with a form-fitting dress of any length. The combination of a tight, clinging dress and bulky Birks sets your look off-balance and exaggerates the size of your feet.
5. Wear Socks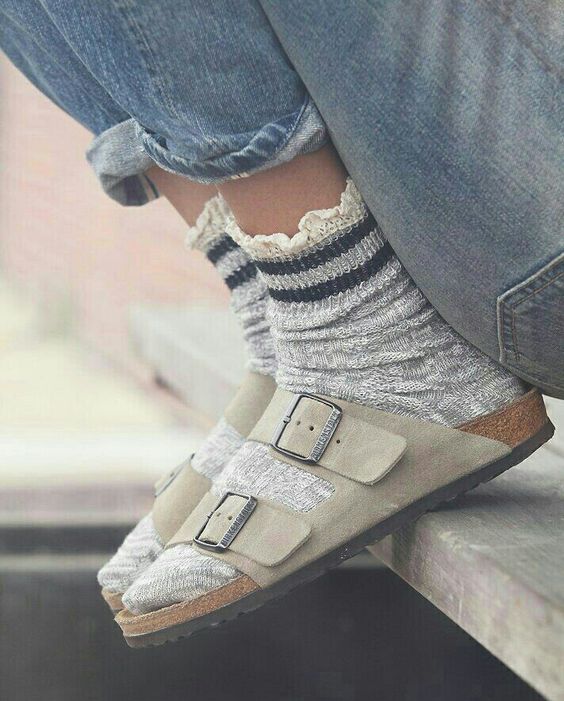 Socks and Birkenstocks have become somewhat of a punchline that is virtually synonymous with fashion faux-pas. Despite this, the pairing of socks and Birks prevails and many women have figured out how to rock the combination in a trendy way.
If you want to create a throwback finish for your look, wear your Birks over thick, high-cut neutral marled socks. Or, modernize this classic untrendy trend with detailed socks featuring lace, buttons, or bright colors. Don't pair socks and Birks with jeans or cutoff shorts. The footwear combo is best complemented by loose, short or mid-length skirts or dresses that don't contribute extra depth or texture to your look.
6. Take Style Risks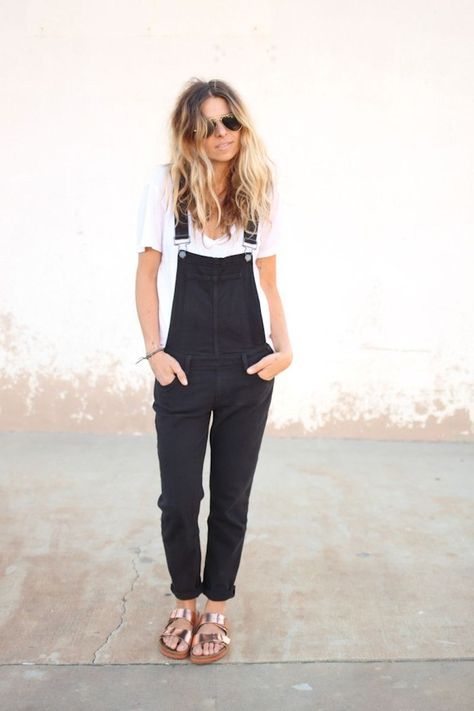 Even though Birks seem to have somewhat of a commanding presence on their own, it's surprising how easily they can fade into the background of your look. The next time you're nervous about wearing a risky outfit, pair it with Birks.
Because they have been around so long, Birkenstocks are accepted and expected. These classic, nondescript shoes automatically tone down the novelty of your look and give it a more down-to-earth finish. However, they have remained trendy enough that they won't make your outfit look drab or boring.
7. Take Advantage of Their Versatility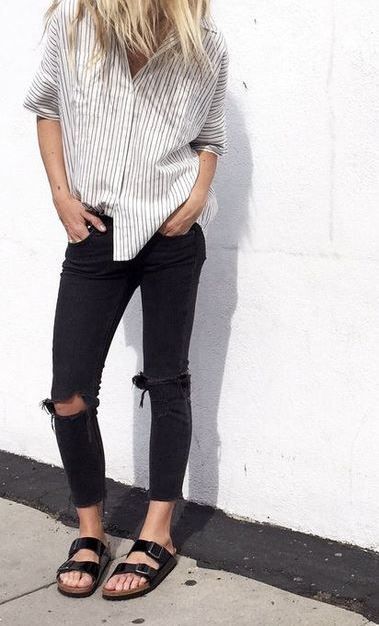 Birkenstocks are one of the most versatile types of footwear that exist. As long as you keep your look balanced, you can pair these classic shoes with almost anything and they won't look out of place.
In fact, you can use your Birks to manipulate the vibe of a wide range of different looks. Wear these shoes to add some edge to a delicate, feminine look. Pair them with a semi-formal dress to make it appropriate for a more casual occasion. Or, rock your Birkenstocks with a basic outfit to add an interesting focal point to your look without disrupting its simplistic finish.
If you style them right, you can use your Birkenstocks to create a wide variety of trendy looks that keep your feet comfortable all day long. Use the tips in this post to learn which pieces best complement your Birkenstocks to help you pull these classic shoes off without looking drab or outdated.