If you are fortunate enough to be a brunette – whether that's natural or artificial, with a beautiful shade of rich brown hair, then the best way to show off your gorgeous locks is by implementing a beautiful style to your look to show off your stunning hair! We've gathered some pretty hair styles together which are easy to recreate, to provide you with inspiration for your next style change.
Brown Braided Balayage Blend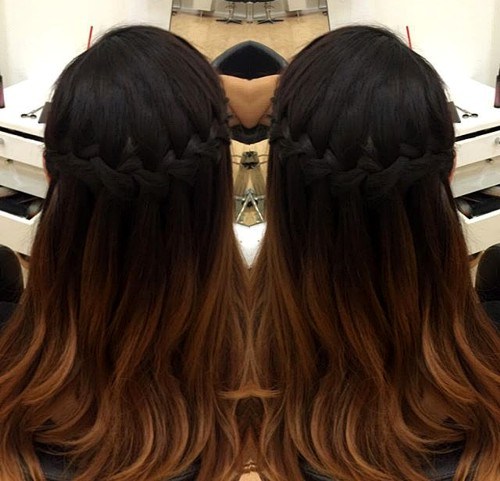 This utterly gorgeous long hair works from a deep and rich brown to a lovely lighter blonde at the bottom, blending seamlessly from one colour to the other. The hair is finished with a stunning soft wave throughout, and this fashionable lady has worked a gorgeous braid from one side to the other to create a half up, half down finish.
Mermaid Style Fishtail Braid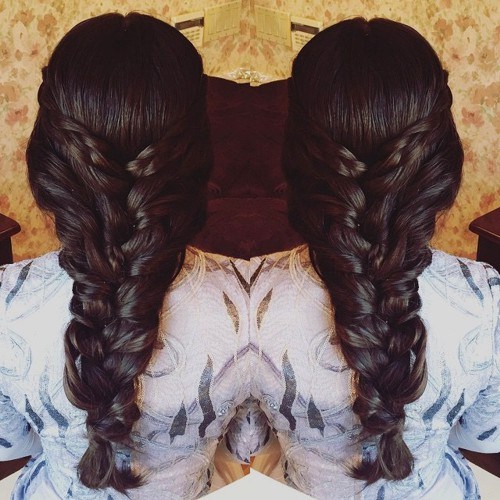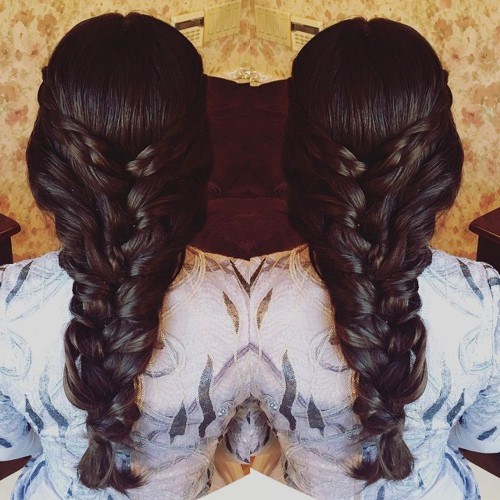 This fabulous mermaid style fishtail braid is utterly gorgeous and it looks so complex and striking – but trust us, to achieve it is really rather simple! Separate the sections of hair and braid them into a beautiful plaited look, and then gather them together to form one large french plait which creates this gorgeous and voluminous mermaid look that we adore!
Rich Brown Boxer Braids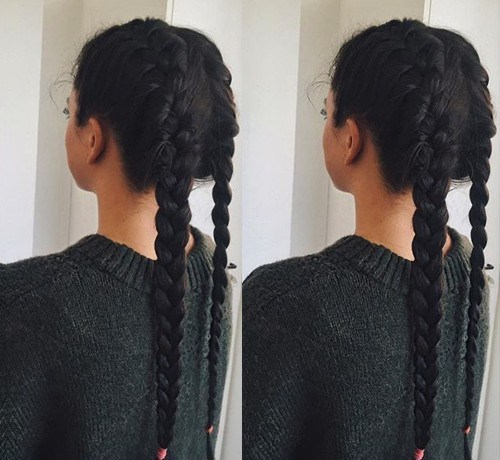 In a style which has been made incredibly popular by those ultra fashionable Kardashian clan, this striking and deep brown hair has been pulled tightly into a set of boxer braids – one on either side, working from front to back in a totally tight plait on either side. The sections of hair are pulled into a stunning french braid style on either side and the finished look is totally on trend.
Gorgeous Brown Extravagant Rapunzel Braid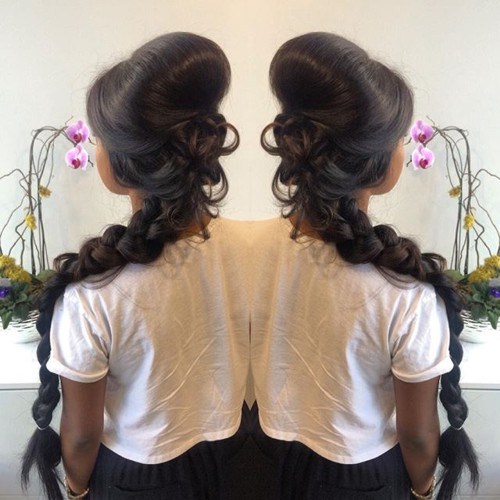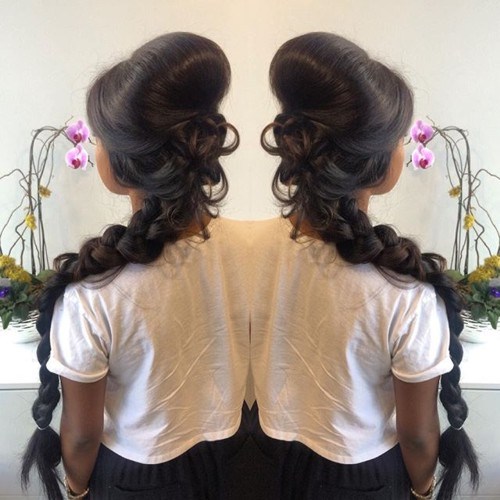 This stunning and striking dark brown hair is oh so beautiful, it reminds us of something from a Disney film! This impeccable Rapunzel style hair is difficult to tear your eyes away from; just perfect for a special occasion. She's swept the top layer of her luscious long locks into a beehive style quiff, and worked the rest into a chunky braid for a beautiful finished silhouette.
Glossy Brown Twisted Up Do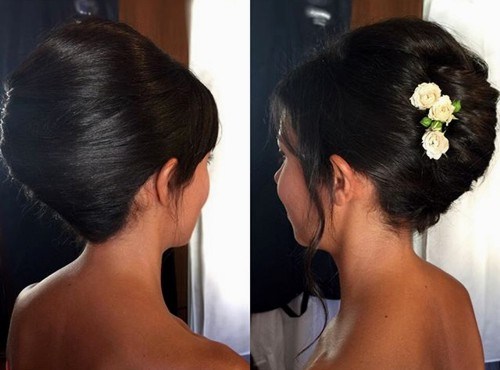 This gorgeous glossy brown do has been swept up into the most incredible twisted style that is absolutely perfect for a wedding or for a more formal occasion. This stunning and shiny hair has been back combed to create a gorgeous volume, and then pulled tightly into an incredible twisted style which is then pinned in place and finished with delicate flowers.
Gorgeous Curly Brown Balayage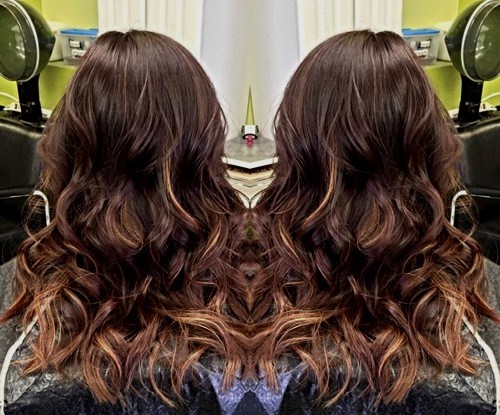 This utterly gorgeous curly style is a breathtaking blend of brown tones that melts from one shade of brown to the other; light to dark in the most striking style. These glossy locks are finished with amazing ringlets throughout which give the hair an incredibly thick and bouncy finish that is just absolutely perfect. This would look equally special when straight too.
Dark Brown Twisted Bun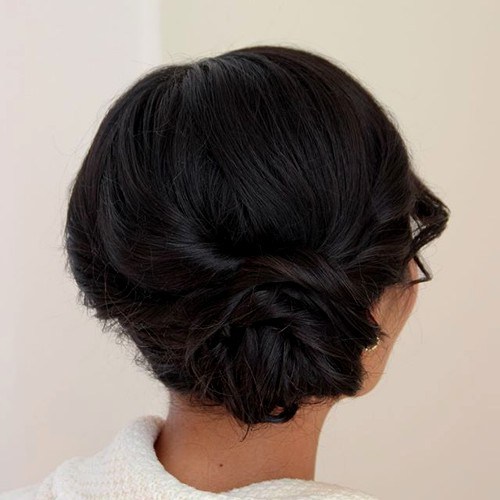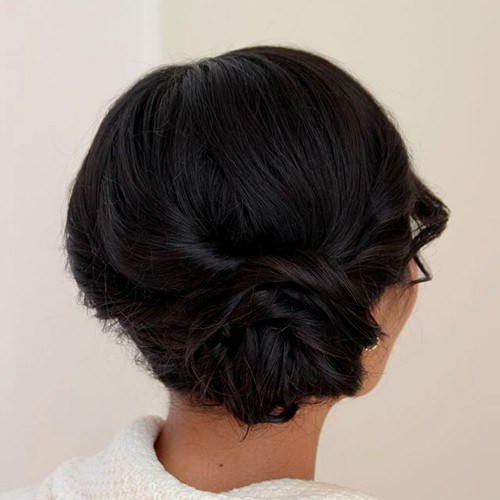 If you're blessed with luscious, deep brunette locks like this gorgeous lady, then why not show them off with a sophisticated up do that is absolutely perfect for a special occasion or a fantastic event? This lady has swept her glossy hair into a twisted side bun that she's pinned to create this remarkable finish that we cannot get enough of.
Brown and Caramel Pixie Crop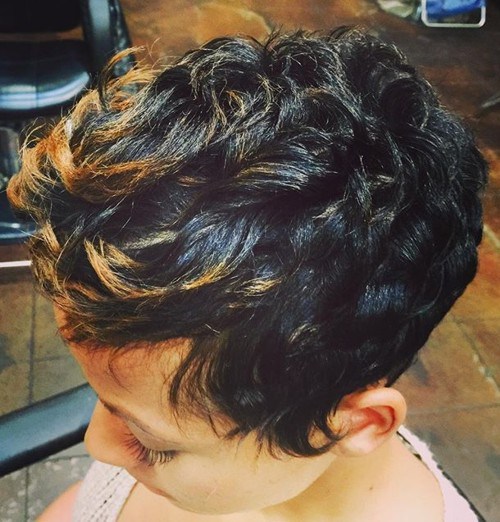 A pixie crop is a bold move in the hair stakes, but one that is utterly incredible too and just perfect for showing off your gorgeous facial features! This lady made the bold move and boy did it pay off; her pixie crop is curly and beautiful, finished with caramel tips towards the fringe section that brings light and lift to this incredible finish.
Curly and Braided Up Do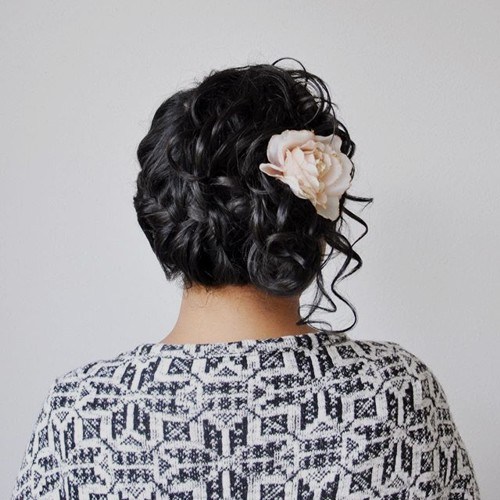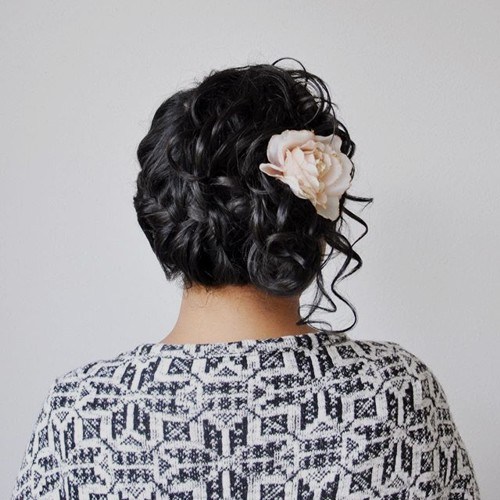 This hair is glossy, dark, rich and preened to perfection. Her hair is worked into tight ringlets throughout, and one side of the hair has been pulled tightly into a french braid section. The other side has been left loose to fall in ringlets around the bun section. She's finished the look off with a beautiful blush pink flower that makes this style perfect for an event or special occasion!
Elaborate Braided Up Do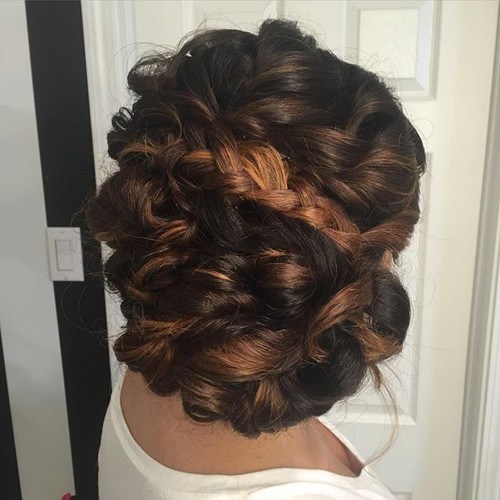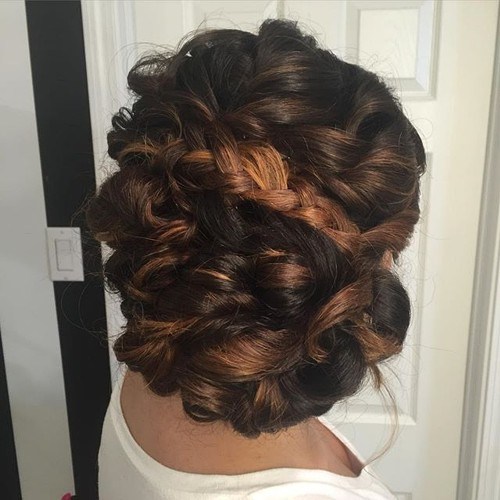 This spectacular brunette has a blend of utterly gorgeous brown shades which have worked together in a balayage blend to create a beautiful finished look. This hair is full of smaller and elaborate braids, which this stylish lady has merged together to create this outstanding and elaborate up do that we absolutely can't get enough of!
Black and Blonde Plaited Pin Curl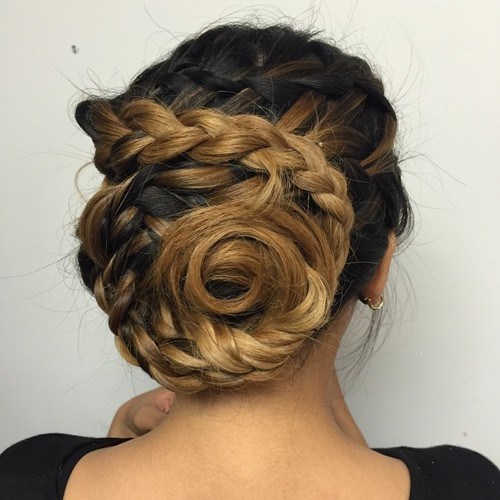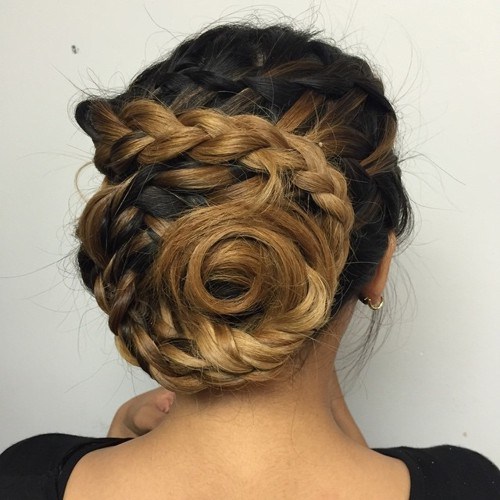 This lady has implemented a striking golden blonde colour into her rich and dark brown hair using a gorgeous ombre transition, and highlighted this incredible colour change by crafting an incredible up do to show off these beautiful shades. She's worked a fabulous french braid from left to right and back across the head, and then twisted the braids into a pin curl at the back of the head.
Glossy Brown Side Braid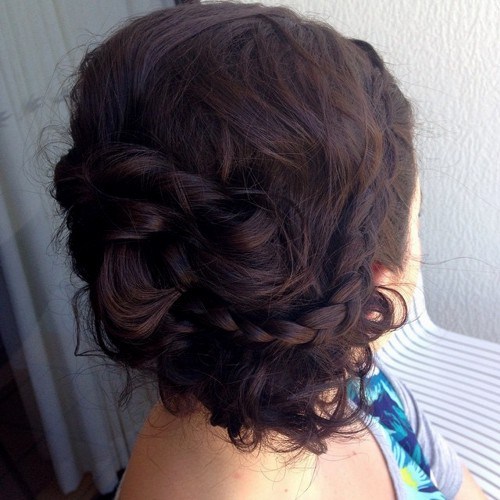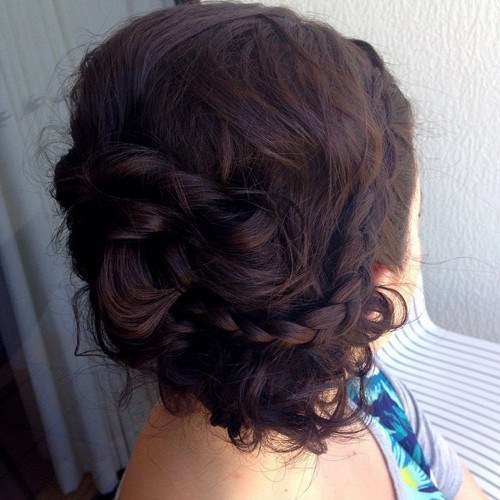 If a lovely braided up do is what you're looking for for a special event or occasion  you have coming up, then we strongly recommend this beautiful side braided do which is oh so glamorous and even more striking. This lady's deep brown shiny hair has been pulled, pinned and braided to work this glorious side braid into a stunning finish that we adore.
Gorgeous Glossy Tucked Under Style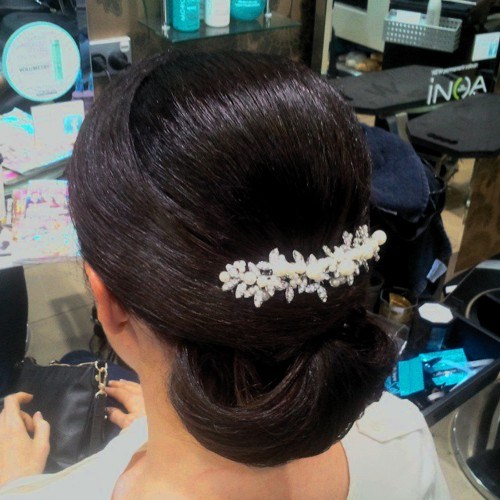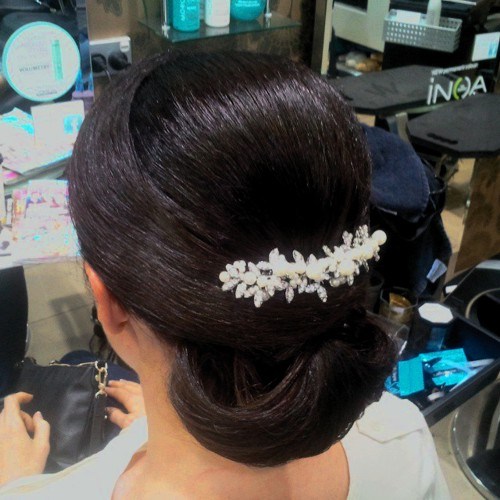 This beautiful and glossy rich brown look is smooth, sleek and striking; creating the loveliest finished product that would be perfect for a bride or even an event which requires something a little special. She's created a gorgeous and voluminous style full of bounce at the top, and tucked the underneath up to create a bun-style finish with a floral clip.
Corkscrew Ringlets with Plaits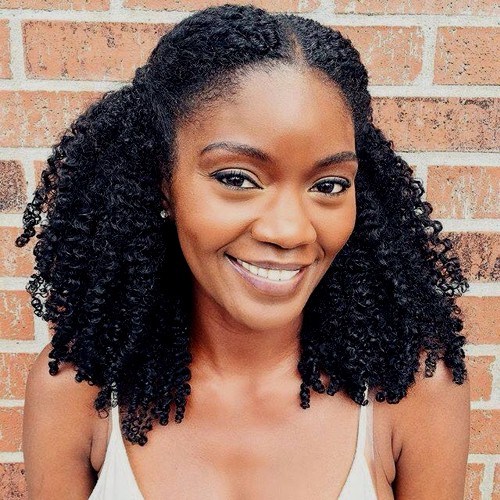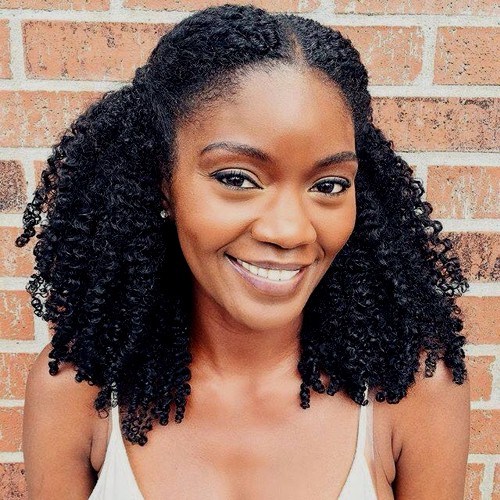 This lady has hair equally as beautiful as her face, and we can't stop staring at it! She has beautiful, glossy and shiny hair which falls into the most striking and natural corkscrew curls that so many people wish for their own hair. She's let her natural hair fall, but worked two braids on either side to create a half up half down style that is impeccable!
Glossy Curled Faux Hawk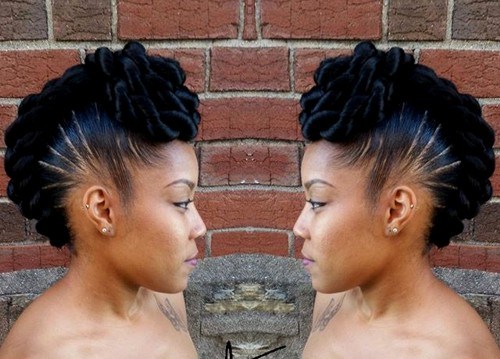 This lady has swept her remarkably glossy and healthy hair into an absolutely stunning faux hawk style that is simply designed to attract attention for all the right reasons; and boy does it! Her hair has been slicked back tightly, and then finished with a selection of stunning curls, gathered towards the middle of the head for a fabulous faux hawk finish.
Brown Plaited Braid with Ringlets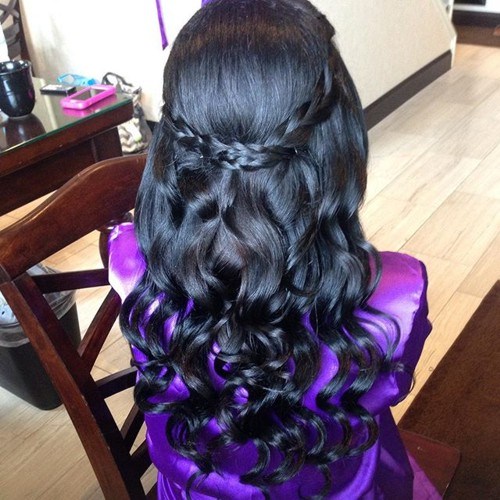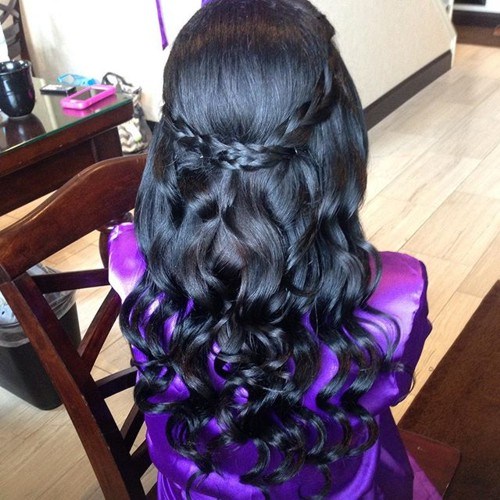 This lovely lady has chosen to show off her spectacular glossy hair with the most gorgeous style that we ever did see; simple but so effective! Her shiny locks are curled in tight ringlets from the top to the bottom of the hair, forming a wonderful bounce, and there are two braided sections from left to right which are pinned to make a stunning crown effect.
Braided and Voluminous Brown Bun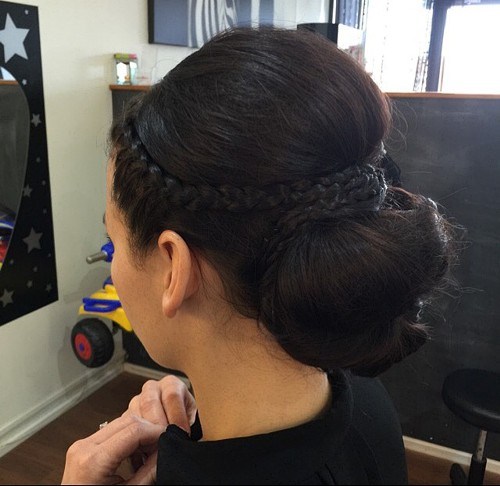 This gorgeous and beautiful deep brunette hair has been pulled into the most remarkable up do that would be oh so beautiful for a wedding, party or black tie occasion. The hair has been separated into two sections; the voluminous quiff at the top and the beautiful bun at the back, and both sections are joined by a tight braid which keeps the fringe section in check.
High Ponytail with Luscious Ringlets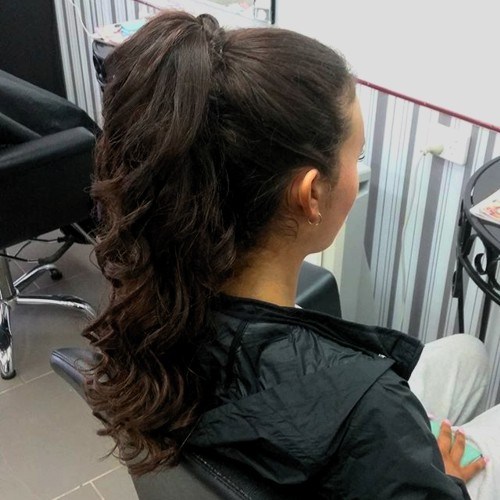 If you're blessed with lovely, long and thick hair like this incredibly lucky lady, then the best way to show it off is with an elaborate ponytail so that everyone can see your beautiful hair! Her stunning and dark hair has been worked into tight ringlets from top to bottom. She's pulled it into a tight and high ponytail so the curls cascade down her back and we just love it.
Brown and Red Curled Balayage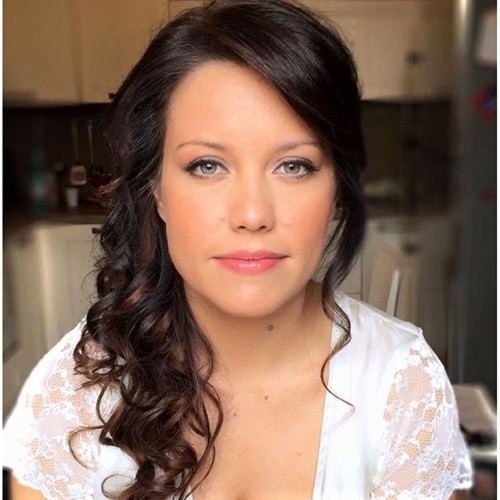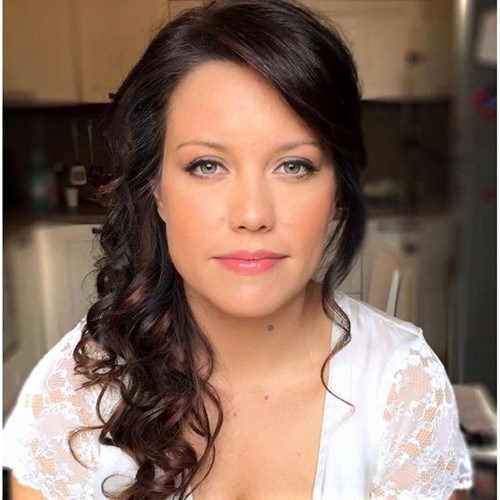 This stunning lady has added lift to her gorgeous brown locks with a beautiful fed tone, blending one colour to the other with a stunning balayage blend that we can't get enough of. She's curled her hair with lots of tight ringlets for a stunning and romantic finish, and pinned it to one side, letting it fall down her shoulders in a wonderful side style.
Graduated Halo Braid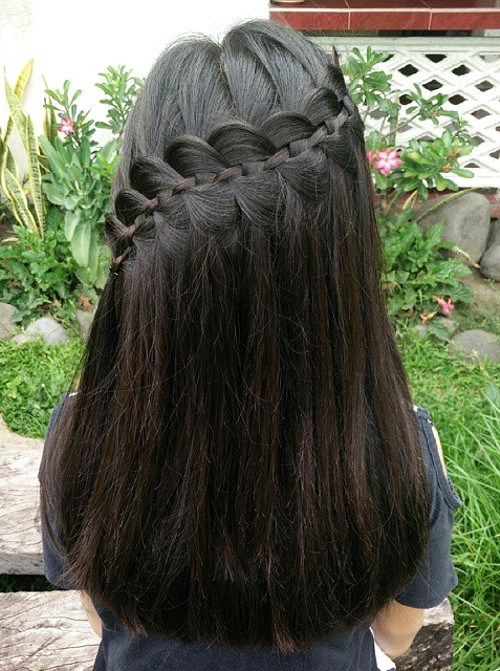 This stunning dark hair style is impeccably sleek, oh so shiny and wonderfully striking; especially because of the amazing graduated braid that works its way through the back of the hair. She's created a diagonal fishtail braid and pulled some of the sections loose to create a wonderful and exciting finish that looks simply striking, as we're sure you'll agree.
This utterly gorgeous gallery is full of beautiful brown hairstyles that are worked with incredible hair techniques to create the most stunning finishes, just perfect for wowing the crowds; don't you think? Let Styles Weekly know which of these amazing looks you've sought to recreate – we love hearing from you!