Adding a headscarf into your hairstyle is the simplest way of transforming your look. Headscarves can be incredibly versatile and wonderfully stylish. Adding your into your style will inject a welcome dose of personality into your look and simply transform your outfit. Headscarves come in a range of different patterns, looks and finishes, each of which will look equally amazing with your outfit. We've created this amazing gallery full of stunning headscarf styles. This is designed to inspire you to be adventurous with a headscarf with your next look.
Pink and Blue Scarf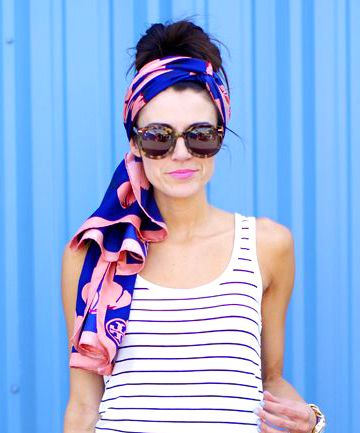 High buns are perfectly complimented by headscarves – especially pretty pink and blue ones! This silky number is a gorgeous royal blue with stunning pink flowers. Start by popping your hair in a high bun and tie your pink and blue scarf around your head. Leave the ends of the scarf to fall loosely down one shoulder for a chic end result.
Deep Blue Scarf
Scarves in a velvet texture add a perfect luxurious twist to your beautiful outfit. Particularly when used as a hair accessory! We adore this jewel blue scarf in a stunning velvet material. Tie your hair up into a beautiful messy bun. Be sure to sweep the fringe section backwards. Tie your scarf tightly around your head and tuck the ends away to finish.
Patterned Headscarf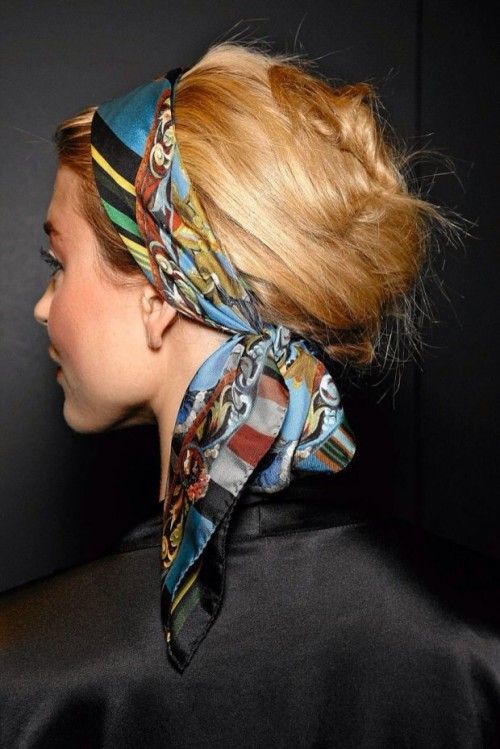 With headscarves – you can be as bold as you like. In fact, sometimes, the bolder the better, as this stunning look proves! Choose a silky headscarf with a selection of beautiful colours and patterns all over it. Tie your hair up into a twisted bun, being sure to tuck the ends away and create a cool, curved finish. Tie your headscarf around the top of your head and knot underneath for a fabulous finished look.
Headscarf and Messy Bun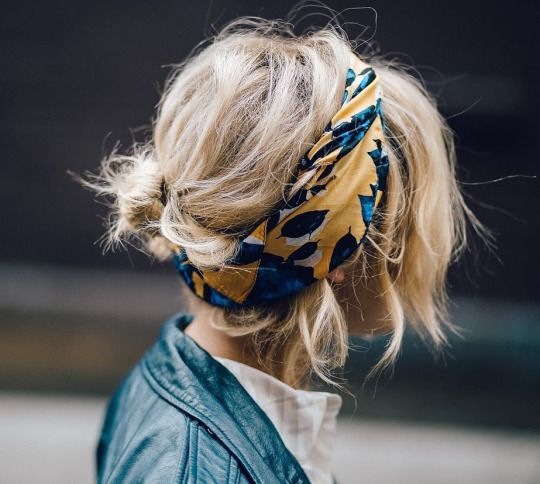 Headscarves present the perfect opportunity to jazz up a short hairstyle – don't you think? We just adore this look on her short, messy hair. Start by tousling your hair and gathering it into a low bun at the back of the head. Use your pretty headscarf to tie around your head, twisting at the top to add an element of interest.
Red Headscarf with Bow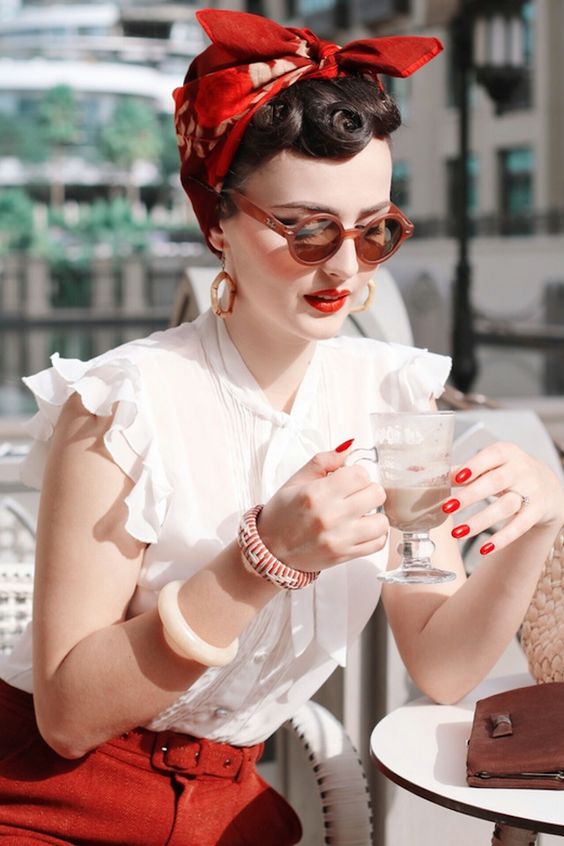 One of our favourite ways to work a headscarf into your look is to use it to create an adorable bow. This presents a wonderfully chic look, as pictured above. Steal this style by working your hair into an up do. Add a 50s vibe by adding pin curls to the front of your head, creating a beautiful style. Use your bright red headscarf to tie around your hair and finish with a bow on top of the head.
Patterned Headscarf with Hair Down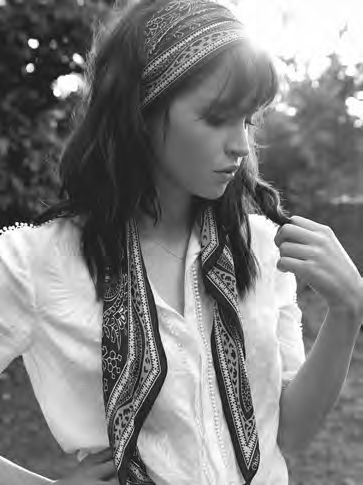 Wearing your hair down also presents the perfect opportunity to add a headscarf to your look. Rocking a headscarf with your hair down will give you a super cool 70s look as pictured above. Start by adding beautiful curls throughout your hair. Then, taking your favourite scarf, tie it around the top of your head and knot underneath the hair at the back of the head. Leave the ends dangle loosely over your shoulders.
Beach Style Headscarf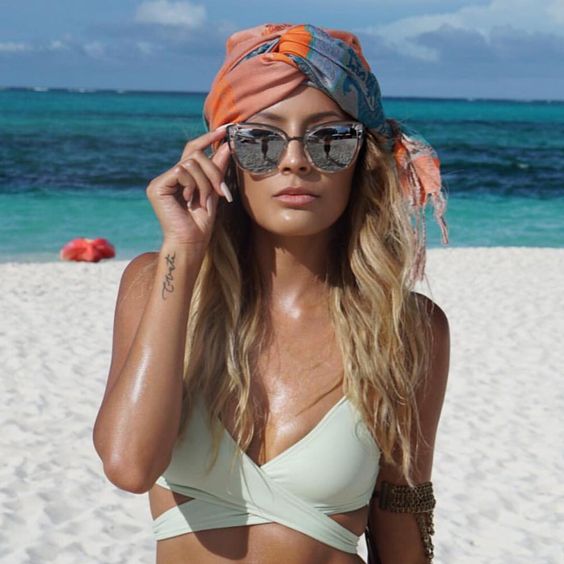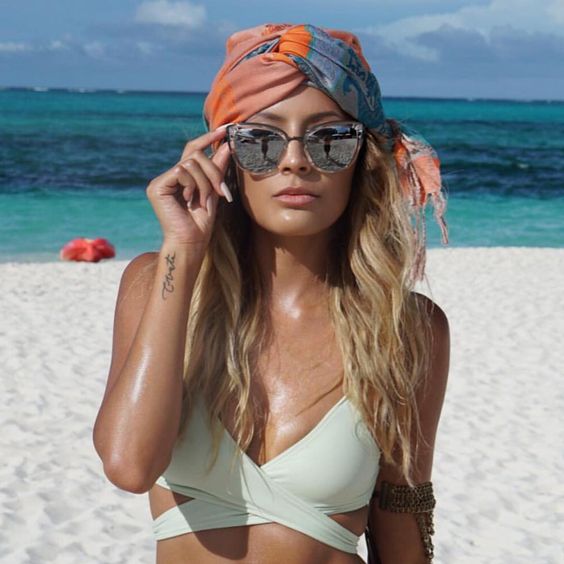 The beach is the perfect time to take a headscarf with you. Not only does it look incredible, but it'll keep you nice and cool at the same time! Steal this super chic style by adding beach style curls from the top to bottom of your hair. Use some salt spray to get a gorgeous crunch and style. Then, taking your headscarf, wrap around the top of the head and tie to the side.
Orange Headscarf with Loose Waves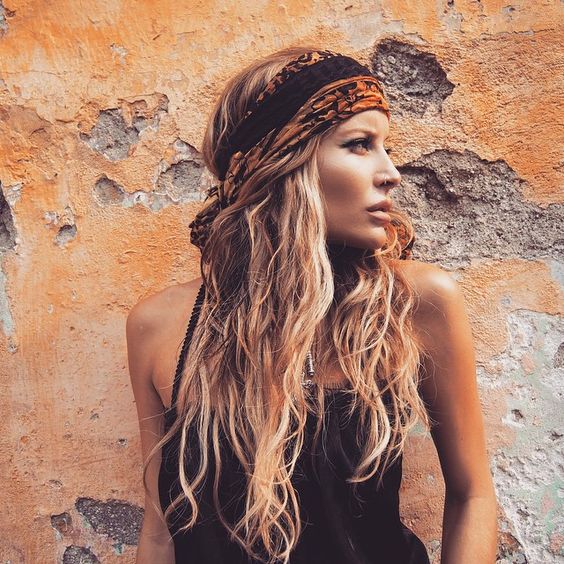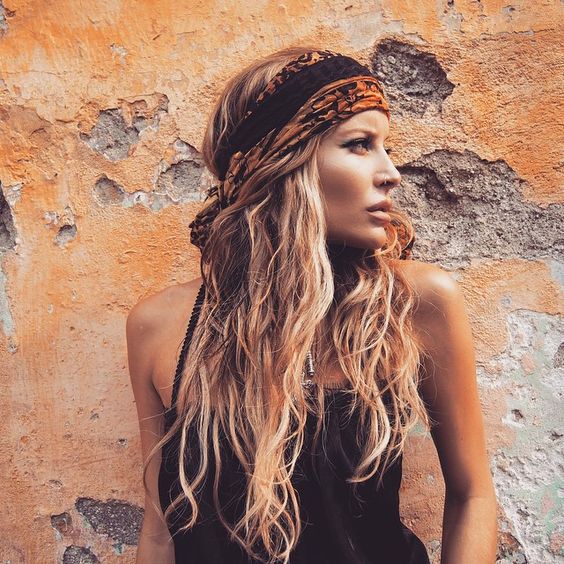 Orange or terracotta headscarves look so unbelievably good with a tan, as this stunning lady above proves! Recreate this look with ease by simply tying the headscarf around the top of your head and creating a knot at the back. Add lots of beautiful curls throughout and tousle to create a gorgeous textured finish.
Twisted Red Headscarf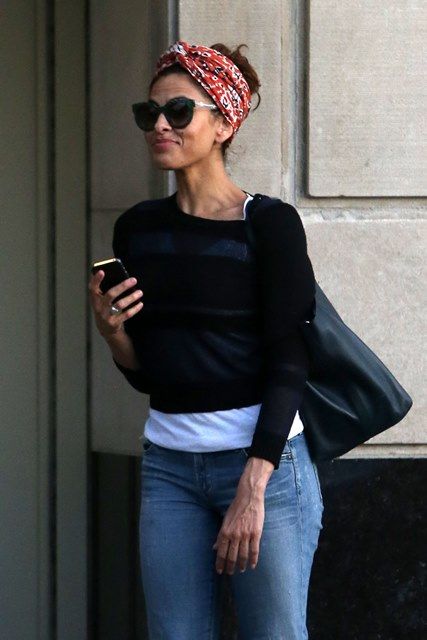 Who would have thought that adding a simple twist or knot into your headscarf can create such a stunning end result? The gorgeous Eva Mendes pictured above has created the perfect relaxed style. Work your hair into a beautiful high bun. Wrap your red scarf around the top of your head, twisting in the centre to create a cool knotted effect.
Vintage Style Scarf

Vintage headscarves are simply some of the very best. You can pick them up for wonderfully low prices at local charity shops or online, and they will quickly become your favourite items in your wardrobe. Choose a vibrant and beautiful vintage scarf and use it to wrap around your high up do. You can wear it straight, tuck the ends in or create a wonderful knotted effect.
We hope that this blog post has convinced you that working a headscarf into your style is simply the best way to go. From smart to casual, hair up or down, headscarves will transform your look. Leave us a comment and let us know which of these wonderful looks is your favourite.