Find Selena Gomez's Latest Hairstyles in this gallery! Including Selena's short haircuts, updos, long hairstyles & shoulder legnth hairstyles in straight, wavy, curly!
Teen queen and Disney Channel star Selena Marie Gomez (July 22, 1992 ) is an American actress and recording artist. Gomez first made her debut appearing as Gianna in Barney & Friends, lasting from 2002 to 2004.
Female celebrity hairstyles series: Selena Gomez Hairstyles pictures
1. Selena Gomez Long Hairstyles: center part long straight hair style for girls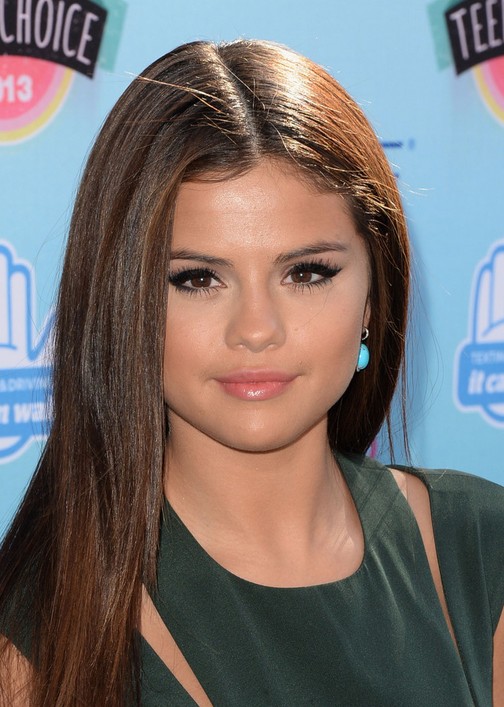 Selena Gomez looks so youthful with this straight, simple hairstyle. The rich colour of her brunette locks steal the show here and the fantastic condition of the hair – smooth as silk and just so glossy make this a really healthy, girl-next-door look. The centre parting maximises a smaller forehead and with half of the hair over the shoulder and the other half behind, she flatters her round facial shape.
2. Back to school hairstyle ideas: Selena Gomez Long Braided Hairstyle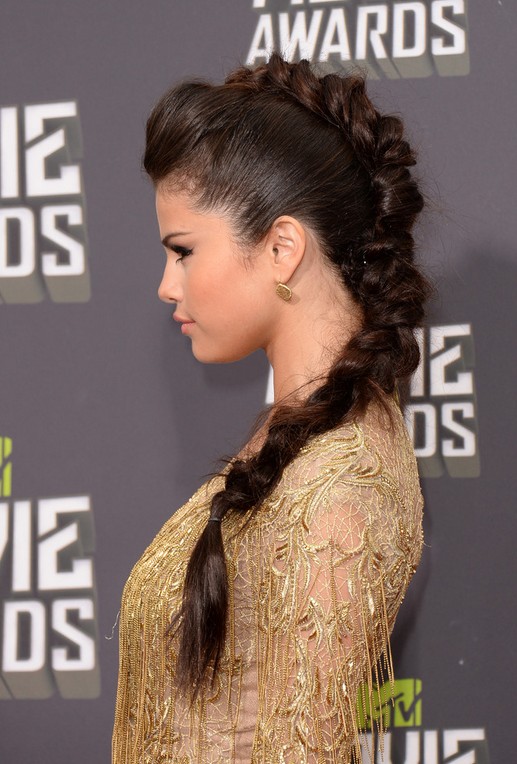 This is a really unusual way to wear a braid – think of it as a new take on the old French braid classic. The hair is pulled into a chunky braid right down the centre of the back of the head and then it trails to the side to fall over the shoulder. The look is completed by the front section which is given plenty of height. This is a bold updo that combines a girlish braid with an elegant updo for the best of both looks.
3. Selena Gomez Fishtail: chic braided hairstyle for girls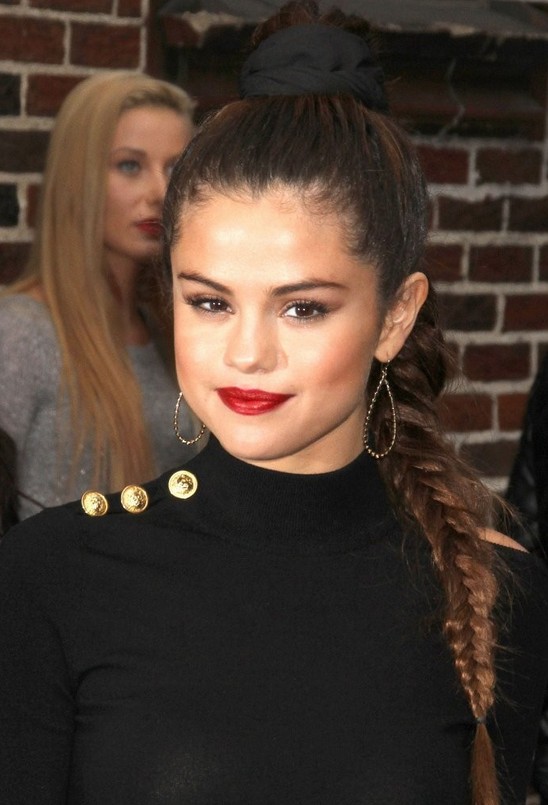 Girls hairstyles ideas: With all her hair pulled back high on the head and then braided in a fine fishtail braid, this is a twist on the fishtail braid trend with more than a touch of 1980's-inspired fun. The height of the hair, the outfit, the makeup… and is that a scrunchie? It all shouts Eighties revival – so how you feel about all things 80s will affect what you think of this style… and if you look as good as Selena Gomez, go as 80s as you like!
 4. Selena Gomez Chignon Updo – casual dark brown updo for prom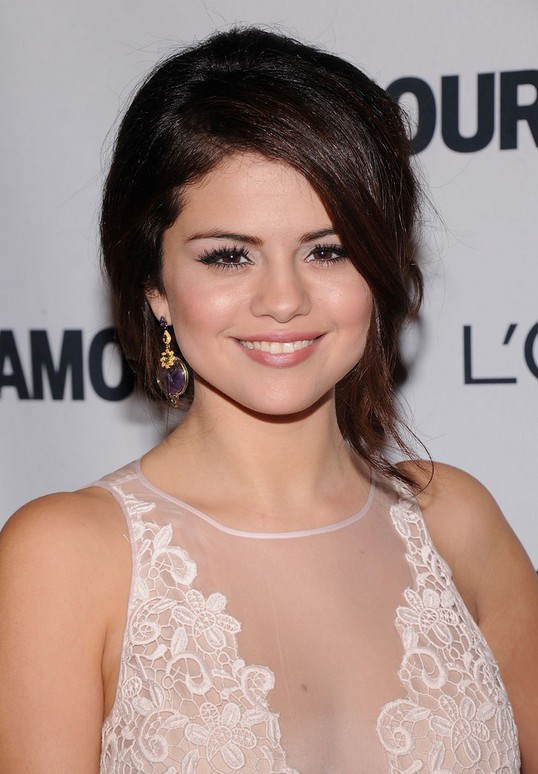 The chignon is a classic look that combines elegance and glamor – perfect for the red carpet but perhaps a little expected. However, Selena Gomez updates the look with a messy finish; lots of loose strands and a side sweep make this a youthful and carefree style while still capturing the classic elegance of the chignon updo.
 5. Braid for summer – Selena Gomez Side Braided Hairstyle – black braid with bangs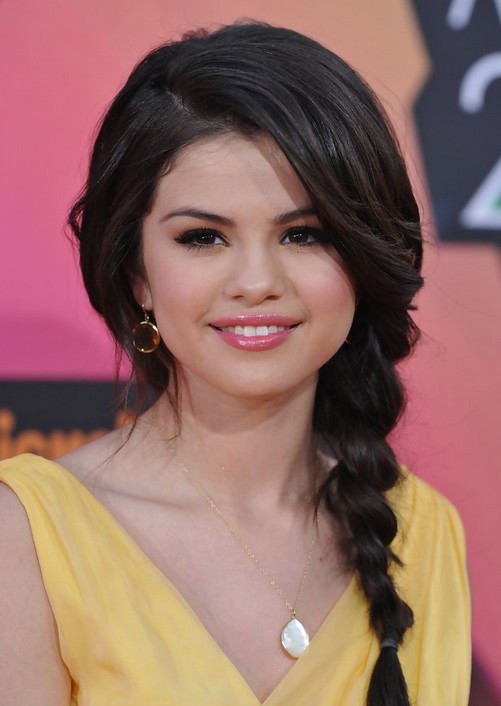 Selena Gomez braided hairstyle: A side braid is a great compromise between an updo and keeping long hair down. The key to this particular look is the way Selena Gomez' hair is swept to the side with lots of volume teased in so the hair on top of the head looks full and thick. The glossy darkest brown really complements Selena's dark eyes – a great look for her. Selena love black hair!
6.Wedding hairstyle ideas: Selena Gomez Romantic Messy Updo for wedding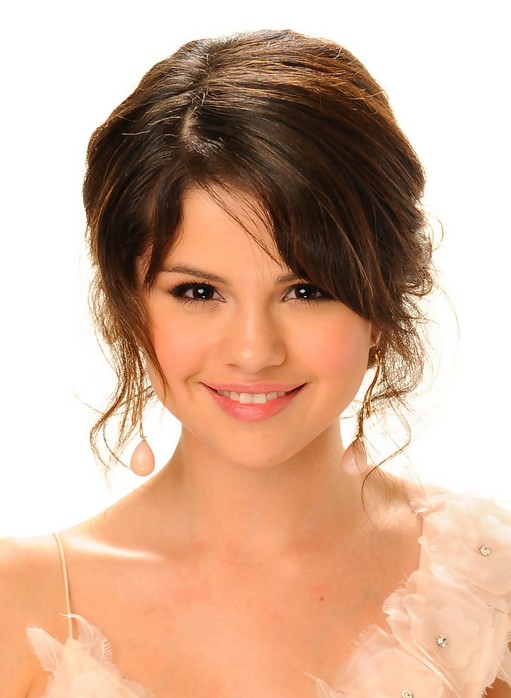 Messy wedding updo with bangs: With a side parting creating a pretty side sweeping fringe and loads of loose strands of hair falling softly around the face, this is such a feminine, romantic style for Selena Gomez who looks almost angelic here. This style is ideal for going out, staying in and from the most formal of events to the most casual – a truly versatile look that flatters any face shape.
7.Selena Gomez Casual Messy Updo for girls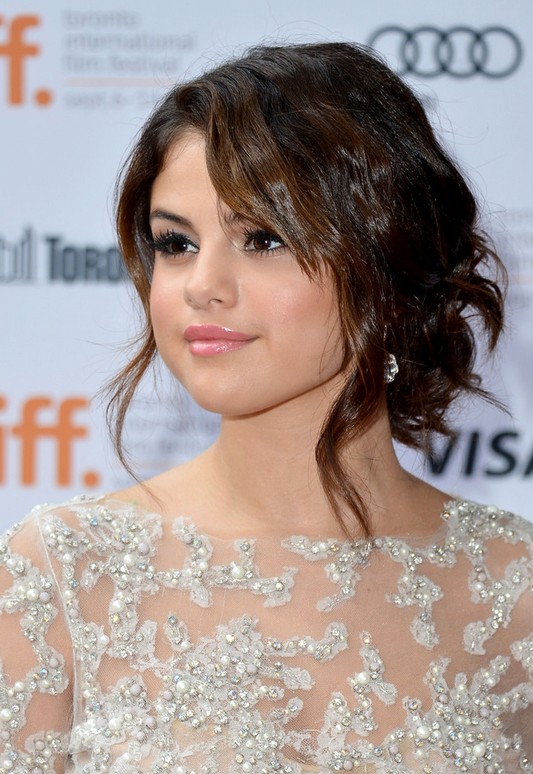 This is a fantastic updo for Selena Gomez, with plenty of loose strands and visible ends to give that touch of messy, youthful style that is right on trend. A messy updo is a great way to combine the formal elegance of an updo with the fun and carefree aspect of having hair down to give movement and flatter the face. Some of our readers ask us the Selena Gomez hairstyles how to steps, if fact, you can find a lot hair tutorials on our site stylesweekly, please use the search form or navigation to find the guides, I'm sure you will find Selena Gomez hairstyles tutorials on our site, we have posted some weeks ago.
8.Selena Gomez Medium Hairstyle: shoulder length wavy hair style for women under 30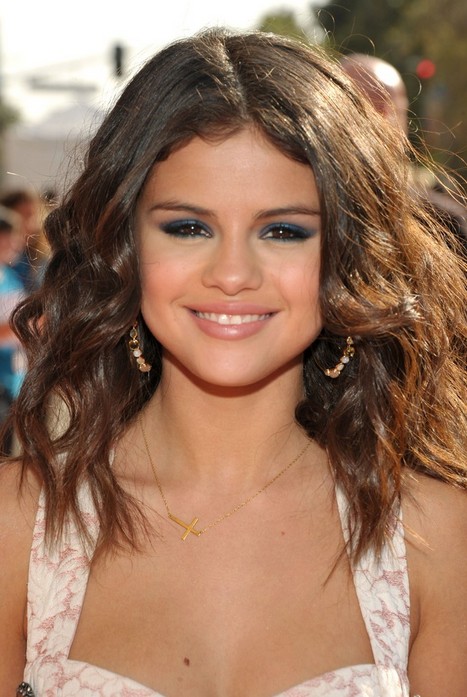 This fun style is Selena Gomez' messy chic look which frames her face perfectly with loads of volume and fun tousled waves. The centre parting flatters a small forehead while hair around the face helps lengthen her round face. This look is great as a casual style or as here, to ass some impact to a more formal occasion.
9.Students hairstyle ideas: classic sleek hairstyle for long hair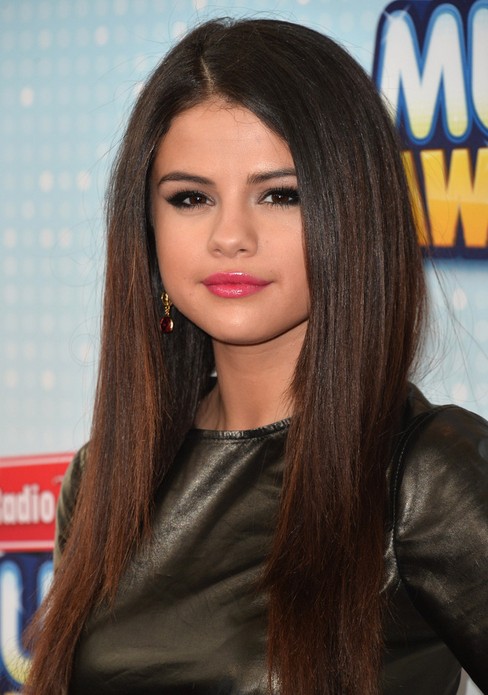 Do you love this style from Selena Gomez? I love her hair color very much. Selena looked sleek as ever with a center-parted hairdo, she chose this glossy fuchsia color to add some feminine flare to her edgy red carpet look.
10. Selena Gomez Hairstyles – casual long dark to brown ombre hair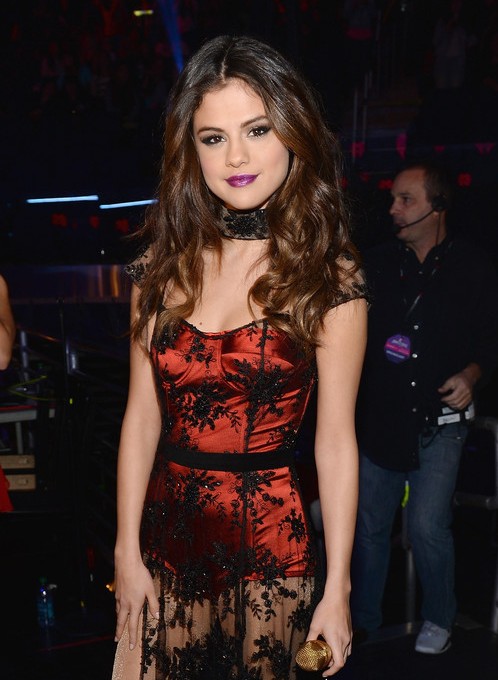 Here is Selena Gomez's latest hairstyle, she wears long wavy curly hairstyle recently.
11.Selena Gomez Short Haircut – chic short straight bob hairstyle with bangs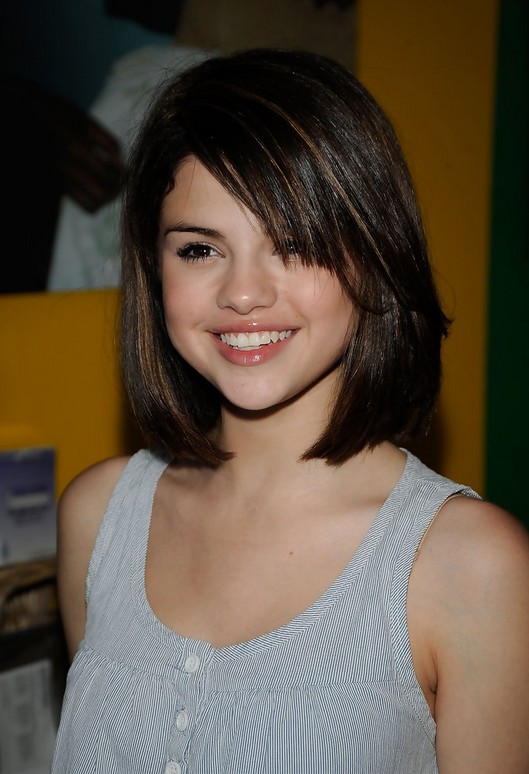 Selena Gomez hairstyles with short hair: Looking for a back to school hairstyle for short hair? How about this straight bob cut from Selena? She showed off her precision bob and wispy bangs at the Celebrity Carnival, I love this cut so much ;)