Find Hayden Panettiere's Latest Hairstyles in This Gallery, Including Hayden's Short Haircuts, Medium Hair Styles, Updos, and Long Hairstyles!
Hayden made it big playing cheerleaders and has the silky, blond hair to go along with the roles, I'm a big fan of her, and she is my hair icon! I have tried almost all of her hairstyles already! Hayden Panettiere's hair color is blonde, and she likes to wear her hair long and loose, parted to the side with volume and waves or pulled back in a casual, do-it-yourself updo, here I have collected the best of Hayden Panettiere's Hairstyles, enjoy.
1. Summer Hair Ideas: Hayden Panettiere Knotted Fishtail Braid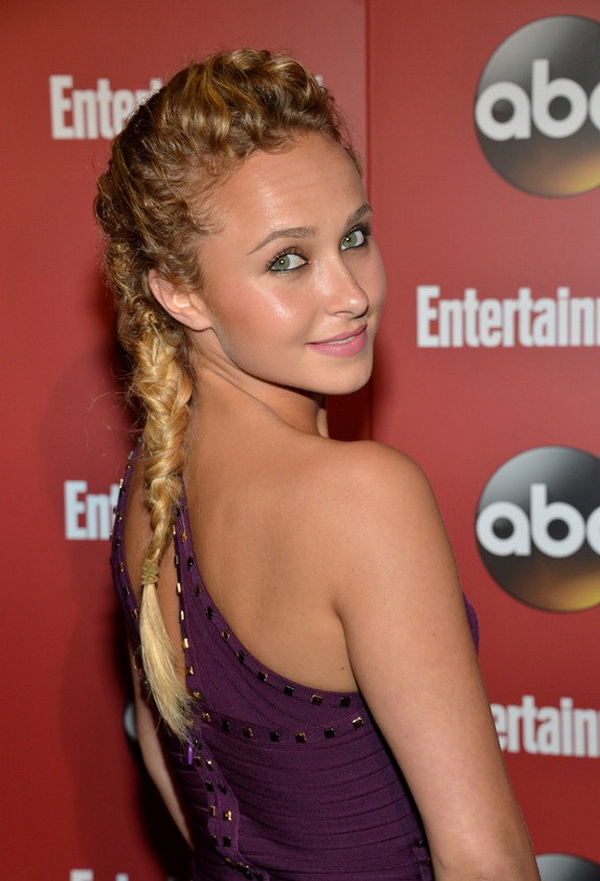 Fishtail braids are a 'love it or hate it' style and here Hayden Panettiere mixes it up further with a twist on the trend. Curls on the top of the head have been teased and pulled into the braid, giving a messy but oh-so-cute style that manages to look beachy and casual while still rocking the red carpet. This style is perfect for the 23-year old, combined with minimal makeup it gives her a youthful glow that she wears so well. If you're looking for a new summer hairstyle, this braid is for you!
 2. Hairstyles for prom: Hayden Panettiere's Half Up Half Down hairstyle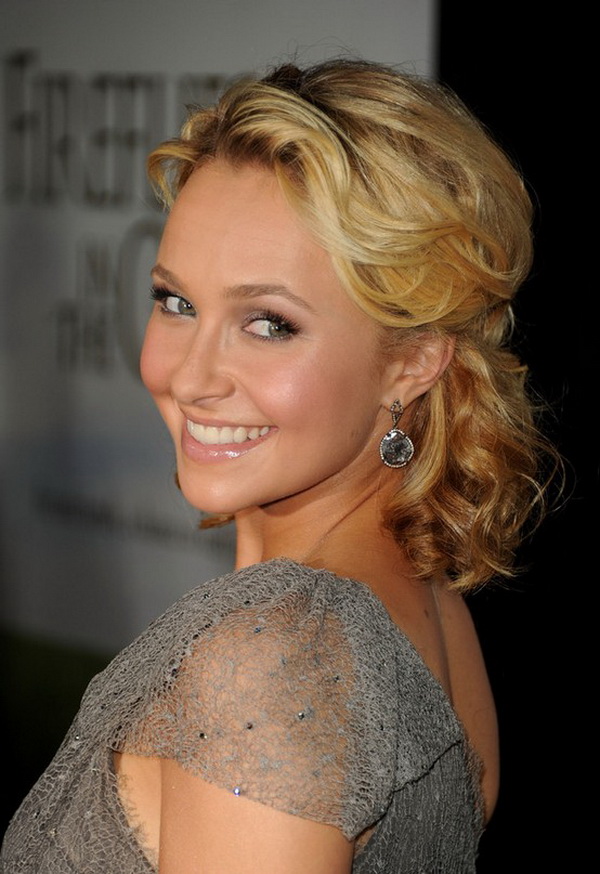 The half-up, half-down style is usually seen on those with long here, but as Hayden Panettiere illustrates, it can work for shorter hair too. The loose waves on top and tighter curls on the lengths make this a playful, effortlessly pretty style and it works well with the warm golden blondes and honey tones. This is a great hairstyle for prom, homecoming and wedding.
3. Hayden Panettiere Hairstyles: elegant updo for formal events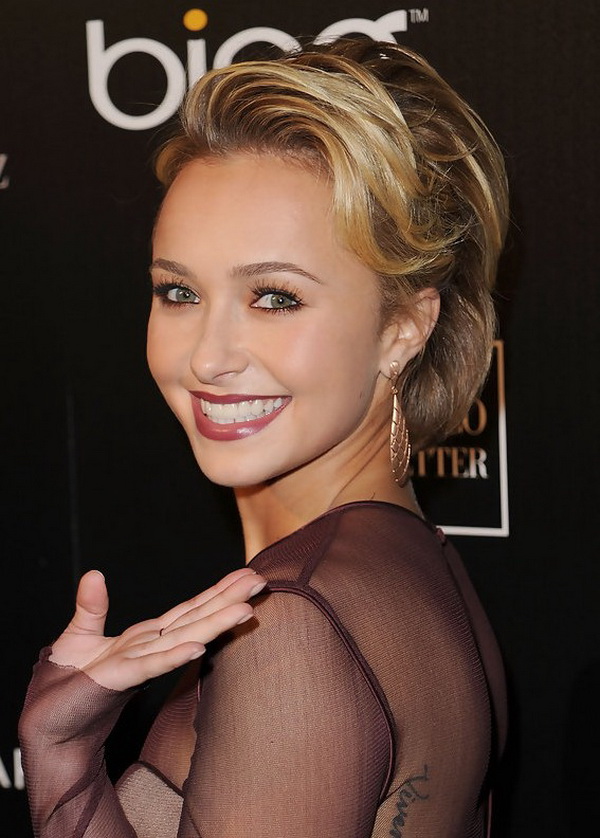 Short hair can look amazing with waves, and a style like this is great for giving those with short hair the elegance of an up-do. This may look like quite an 'old' style on Hayden Panettiere but her youthful complexion and picture-perfect features mean she can carry it off better than most people. This is a bold style and should be copied with caution! This updo is great for formal events.
4. Hayden Panettiere short haircut: side view of graduated bob cut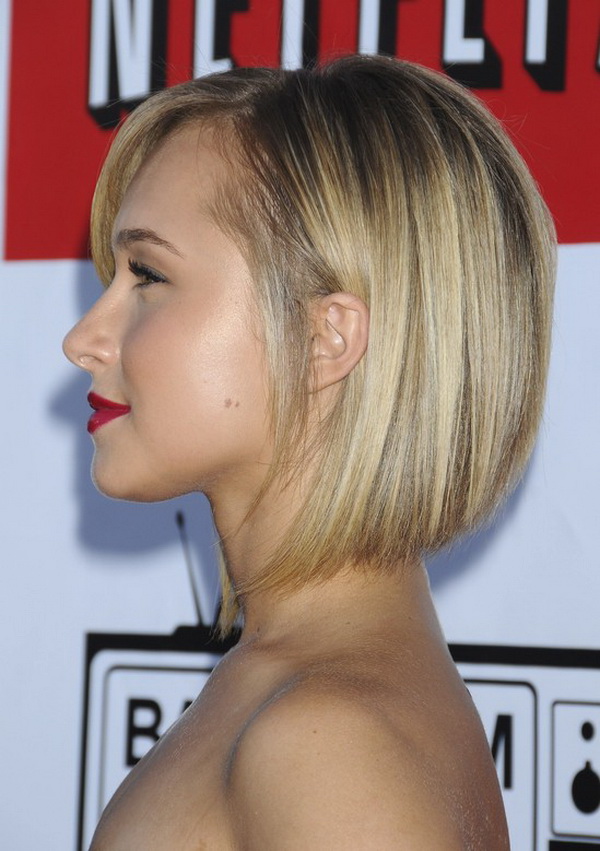 This is a graduated bob done very well indeed. Hayden Panettiere opts for a gently graduated style that ends in a flattering point. A side fringe adds detail to the front of the hair while the casual 'tucked behind the ear' look is a great example of how the graduated bob can  look as formal or as casual as you choose. The wavy bob is hot in the last year, and the graduated straight bob cut is back this year! This short hairstyle is great for square, round, oval, oblong face shapes.
5. Hayden Panettiere Updo: best updos for wedding, prom and homecoming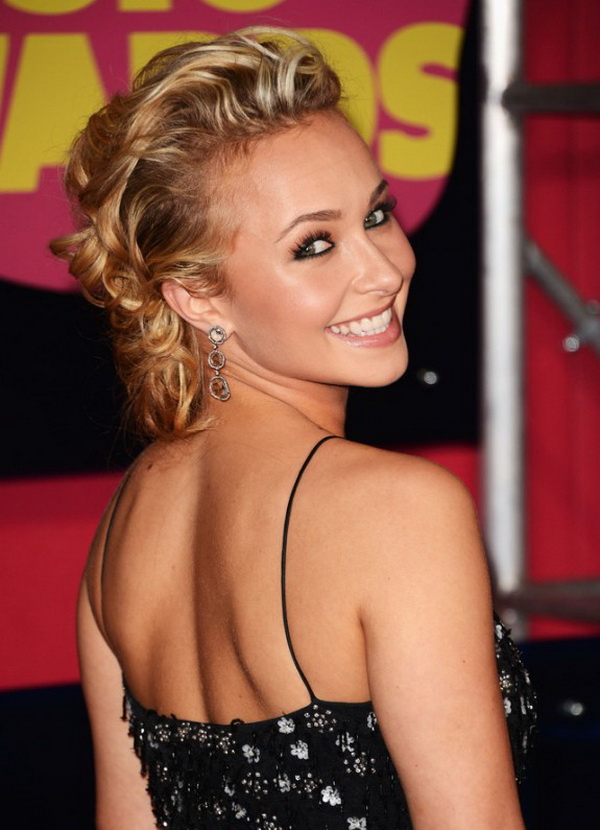 This is a fun style that gives Hayden Panettiere plenty of texture and height. The curls are quite defined but the whole look is kept loose and tousled for a playful look that packs in lots of movement and bounce. The contrast of her darkest blonde shade and her lightest highlight create even more depth and give this a sun-kissed look that suits Hayden's complexion perfectly. Also this is a great updo for night-out.
6. Hayden Panettiere hairstyle:   Classic Twisted Bun updo for women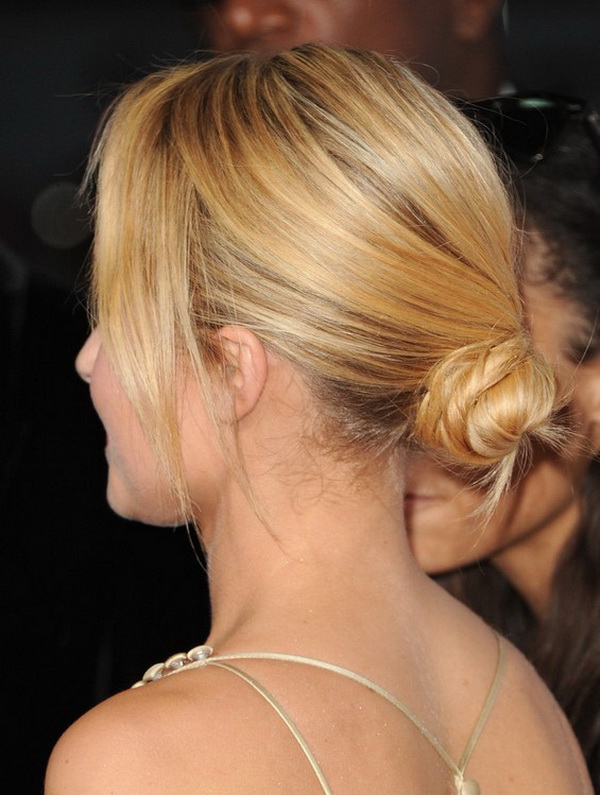 Updo for medium length hair: This is a simple and elegant solution for any event and allows Hayden Panettiere to make the most of the detail in the back of her outfit. Her hair is gleaming with health and shine and looks soft and fine, pulled back and twisted into a small, very sweet bun at the back of the head. By keeping some of the front strands down, the look is softened and all the blonde tones are allowed to shine through. This simple easy updo is great for night out.
7. Hayden Panettiere Short Hairstyle:  chic short haircut without bangs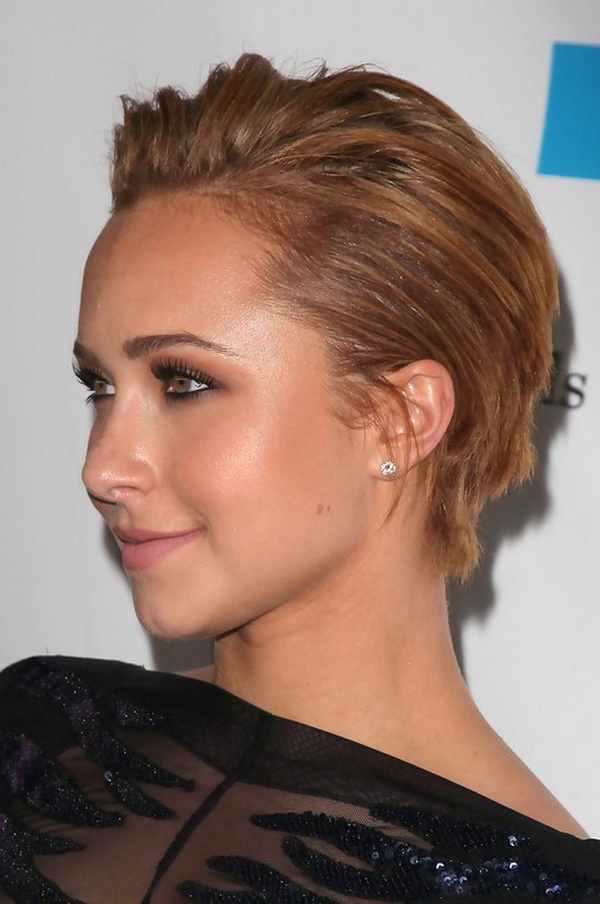 Summer short haircut for women: This choppy, rough-cut look in shades of warm dark blonde adds a casual twist to Hayden Panettiere's look which actually works really well. With the hair pushed back from the face, it allows her to show off dramatic eye makeup and flawless skin. What works about this style for Hayden is the texture which makes a bold cut like this is made all the more striking.  Do you like this choppy short cut from Hayden?
8. Hayden Panettiere Short Haircut: longer blonde pixie cut with side swept bangs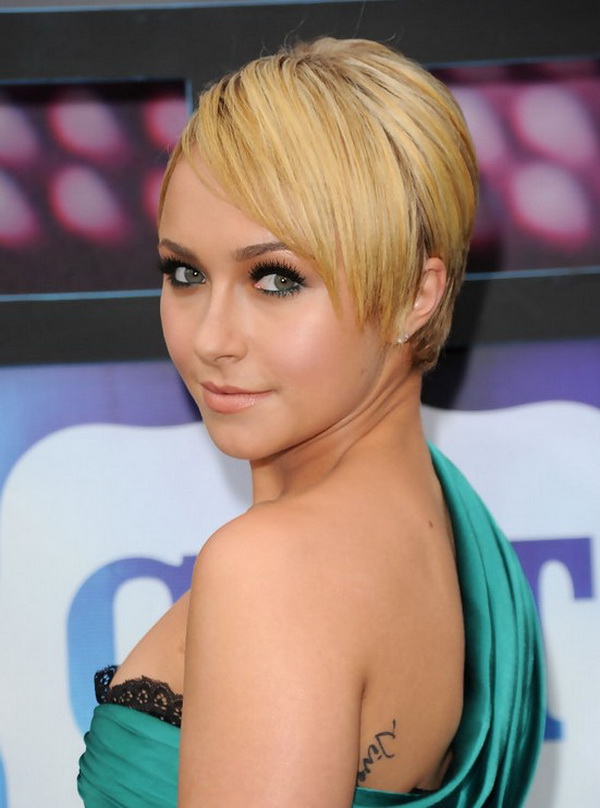 This style, worn by Hayden Panettiere, is quite flat to the head, giving her quite a harsh look. This is quite an in-between style, like a grown-out pixie cut or a bob that hasn't quite got there yet… The warm blonde tones aren't Hayden's best colour choice either, but on the plus side, the side fringe is quite a flattering shape.
9. Hayden Panettiere Short bob Haircut: most popular short layered haircuts for women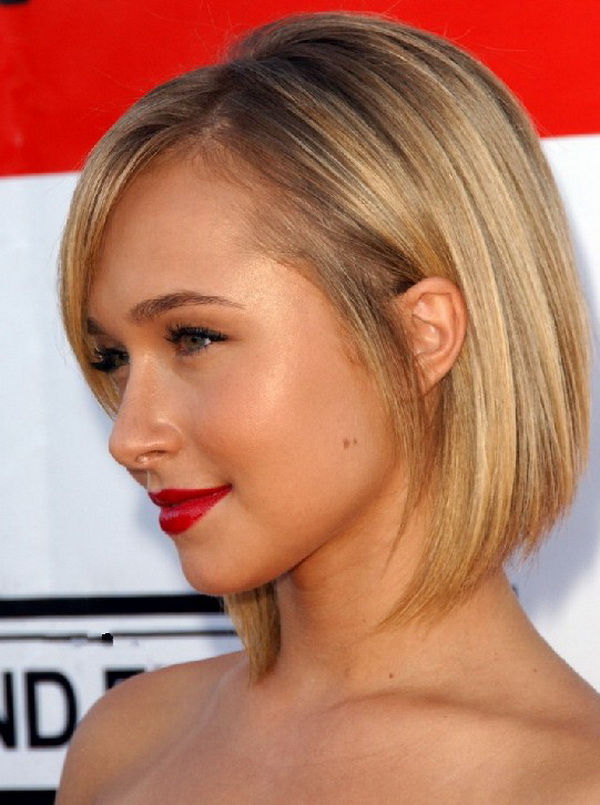 This bob has it all – a gently graduated shape, the dratic side fringe and the casual way it has been tucked behind the ear at one side. Add to that the touch of volume worked in at the crown of the height to give height, and you have a lesson in how to get a short bob right. The colour is fresh and multi-faceted, adding a real touch of texture to a sleek style. Hayden Panettiere looks fantastic with this face-flattering cut.
10. Hayden Panettiere Long hairstyle: Elegant Blond Retro Hairstyle with Waves for Women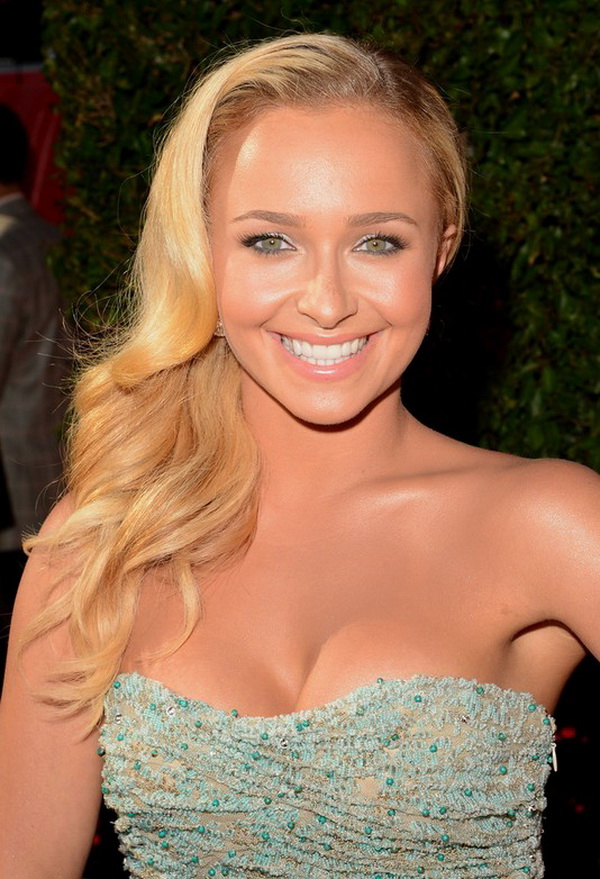 With her hair pulled to one side to create a vintage style wave at one side, Hayden Panettiere acknowledges the retro trend. A touch more volume or a few more curls would have given a mo0re dramatic effect. The colour here is perhaps a touch brassy against the skin but overall, the simplicity of the style and the length save it from falling flat. This blonde retro hair style is great for oval, heart, square face shapes.
11. Hairstyles for Summer: Hayden Panettiere messy Ponytail for short hair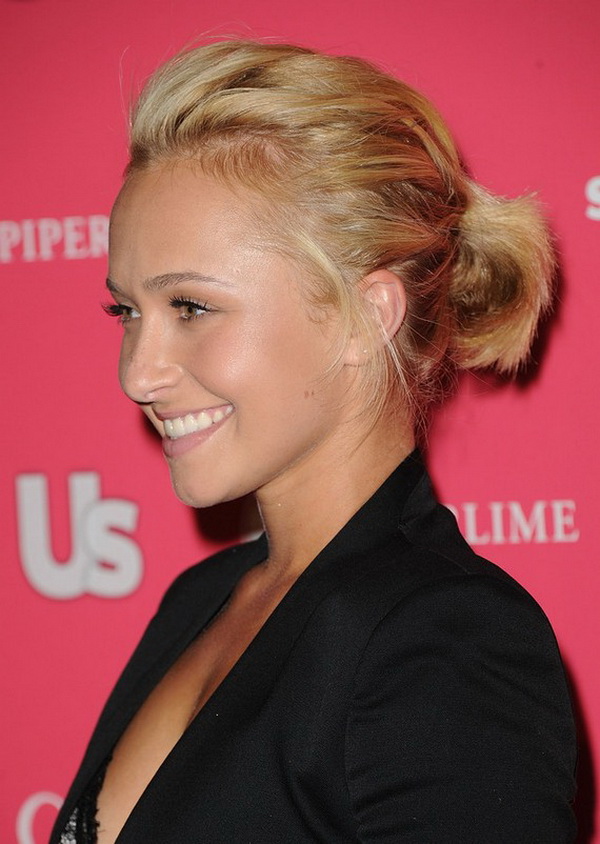 Yes, it does look like Hayden Panettiere simply pulled her hair back into a messy ponytail in the limo before arriving… but why does this style work? It's all about the context – the hair is effortless and casual but it is combined with perfect skin and a crisp tailored jacket. The combination is classy, yet relaxed. A hard look to pull off, and a good example of cleverly mis-matching hairstyle with an outfit to create a new look. Some of our readers asked me how to do Hayden Panettiere hairstyles, well, pls follow our facebook and our site's news feed, we publish hair tutorials frequently ;)
12. Hayden Panettiere Medium Length Hairstyles: Side parting Retro for Prom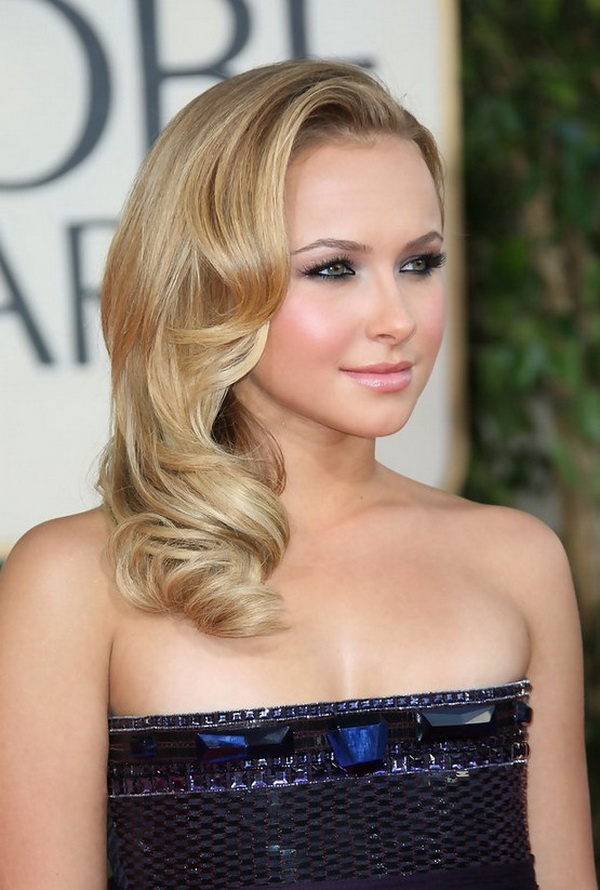 With a dewy complexion and perfect blonde waves, Hayden Panettiere looks every inch the prom queen with this stunning retro style hairstyle. The volume that has been teased into the hair is just enough to give it bounce and shape while the curls themselves are sleek and shiny. Admit it – you just want to touch it!
13. Simple easy daily hairstyle: long blonde straight sedu hairstyle with blunt bangs for women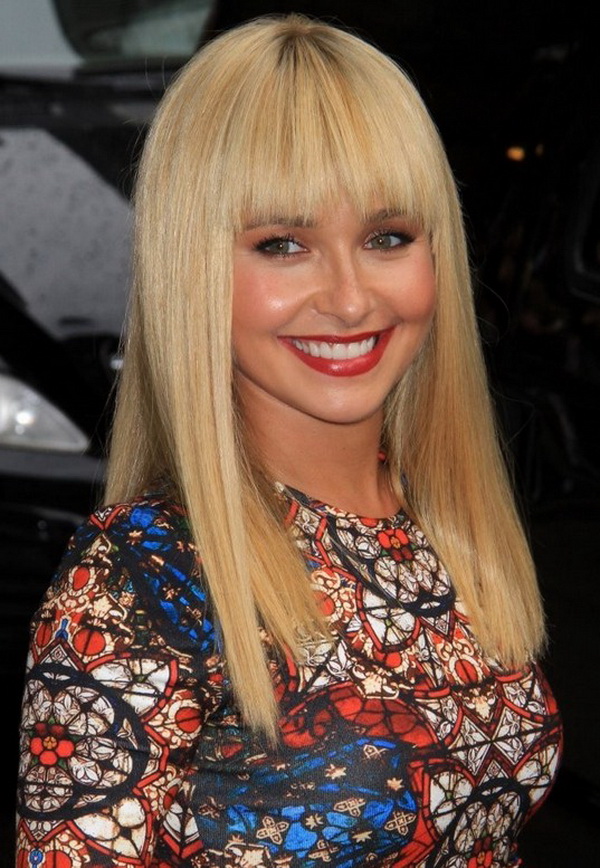 With a long sleek style like this, it is often the colour that grabs our attention, and here Hayden Panettiere has opted for an unusual colour combination; the bright platinum shade and the golden tones clash somewhat and yet the overall effect works to create quite a statement. Love or hate the colour, there is no denying that the bold fringe is a good look on Hayden; she has the bone structure and high forehead to make a long fringe really work. Do you like this long sleek hairstyle?
14. Hayden Panettiere Long Straight Hairstyle: Sleek blonde hair for women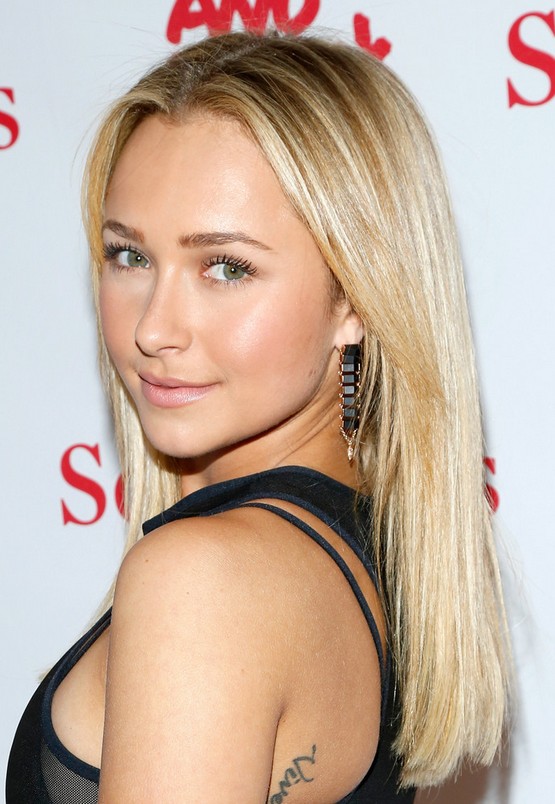 Here is Hayden's latest hairstyle,  she wore a glossy long straight hairdo with a center part when she attended Jony and Marc's (Red) Auction. By the way, have you noticed Hayden Panettiere's tattoo?