If you're looking to keep your hair short and easy to maintain but still with bags of style and character, then the most simple way to tick all of those boxes is by opting for a super sassy and incredibly fashionable inverted bob. Inverted bobs work from a shorter length at the back and fall in longer strands at the front, creating a stunning shape with lots of bounce. Here's our selection of some of the most gorgeously styled inverted bobs to give you a little more inspiration!
Inverted Bob with Blonde Fringe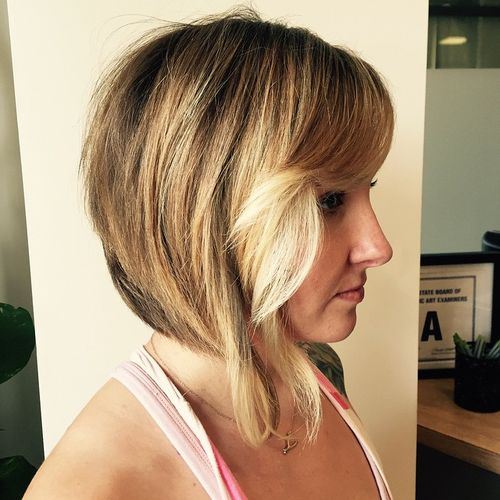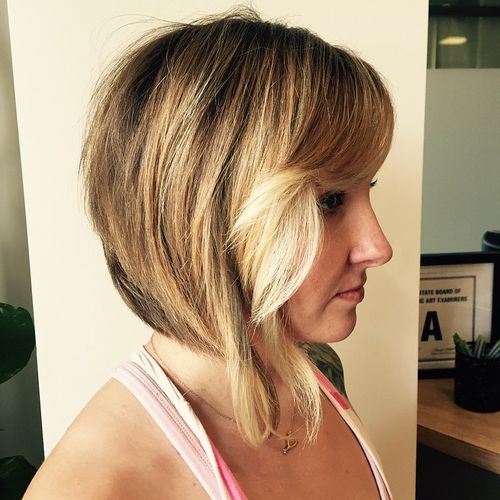 This stylish lady has used the shape of her gorgeous inverted bob to play with the colours in her hair and we just love it! From a shorter length at the back which is a beautiful brown colour that's softly highlighted with a caramel tone, working towards a stunning light blonde effect that kisses the longer strands at the front and the fringe.
Brown Loosely Tousled Bob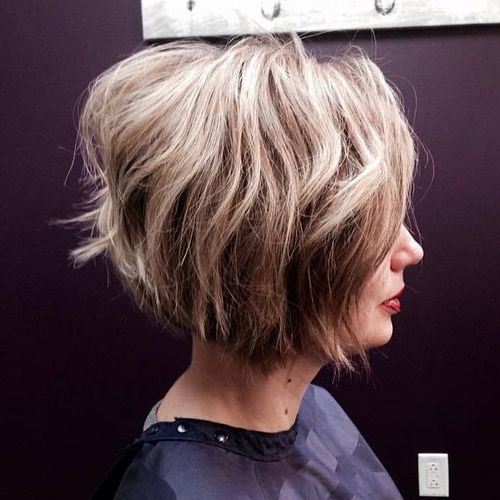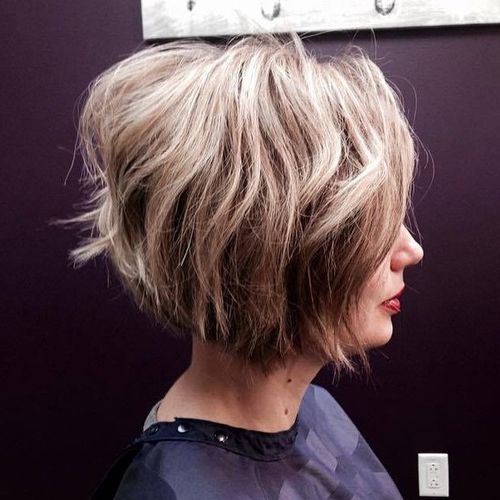 This lady's gone for a beautiful and rich brown tone throughout which is softly lightened on the top layer creating a gorgeous and sun-kissed look. Her inverted bob is full of body and texture, especially because she's opted for a loose tousled effect throughout the hair to add a slight curl to the shorter layers! Finished with a long fringe, we love this look.
Ash Blonde Curly Bob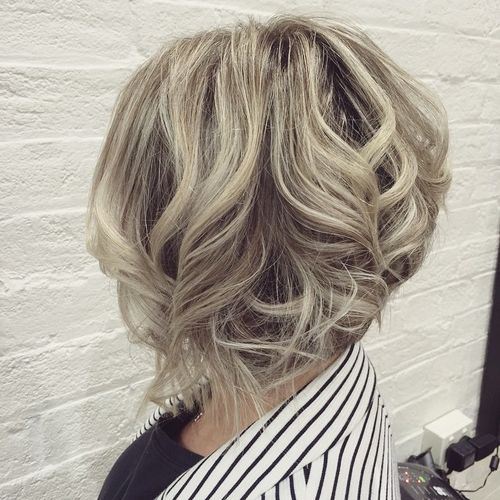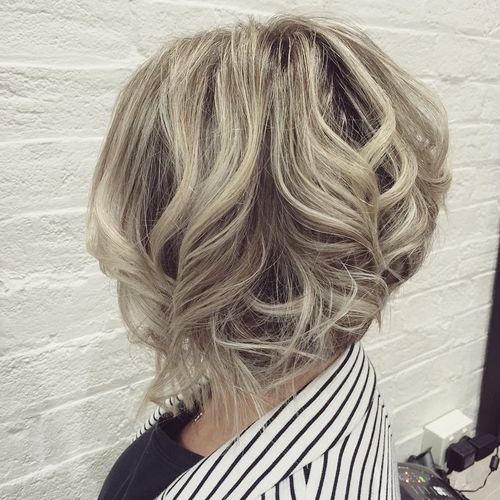 We can't get enough of this gorgeous ash blonde tone this lady's gone for with her fabulous inverted bob! It's almost a silver tone which is so striking, and is highlighted to create a gorgeous natural look featuring several blonde tones. She's finished off this striking look with big curls all around the head, adding a wonderful lift and style to the cut.
Textured Black Bob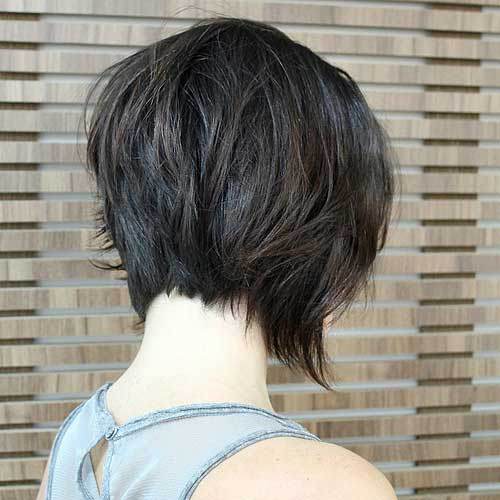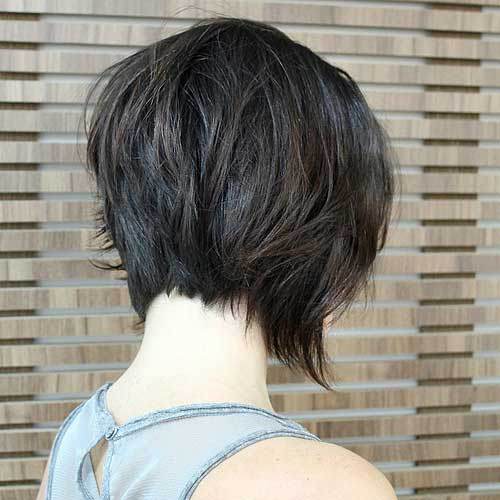 This incredible textured black bob is so incredibly stylish this fashionable lady looks like she's come straight from the catwalk! She's gone for a gorgeous and glossy black look all over which glistens in the light, and added lots of rough texture and body to the cut which creates a simply stunning silhouette. You could add curls for a different look too!
Rich Brown and Striking Caramel Cut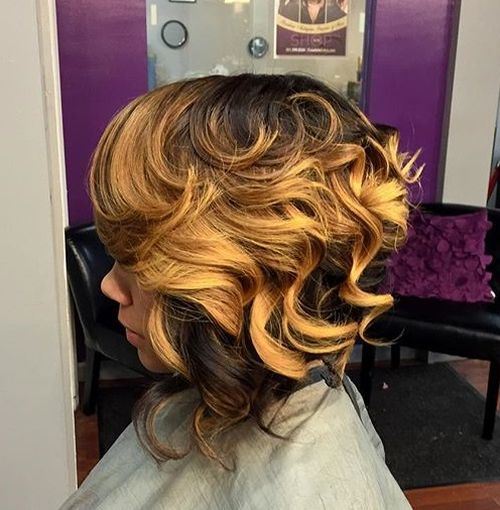 If you're looking for a cut which will attract attention and make you look simply fabulous, then we think we've found it! This remarkable graduated bob has a rich and deep brown base but is finished with the most striking and remarkable caramel highlights which lifts this look no end. She's finished the look with tight ringlets and we just adore it!
Shaved Auburn Crop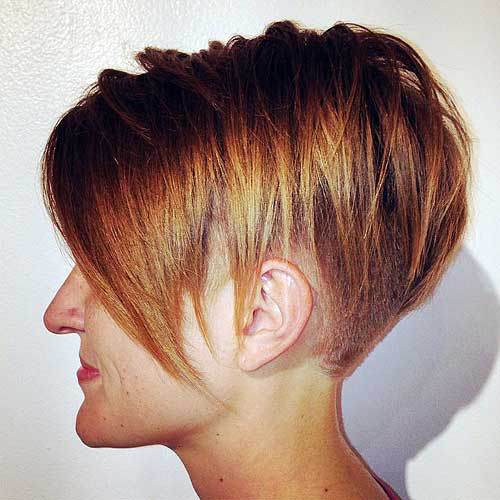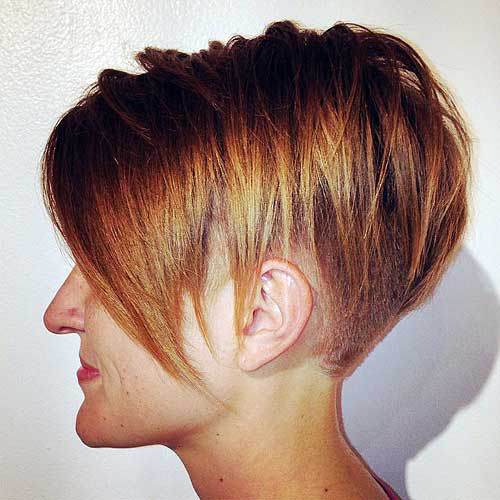 This fabulous auburn crop is daring, striking and oh so stylish look and we absolutely adore it! This gorgeous lady has gone for a shaved layer at the bottom of the head, and a gorgeous longer layer of beautiful auburn hair which sits on top, graduating from the front to the back. The straight and sleek style contrasts the shaved section perfectly!
Bouncy Brown Bob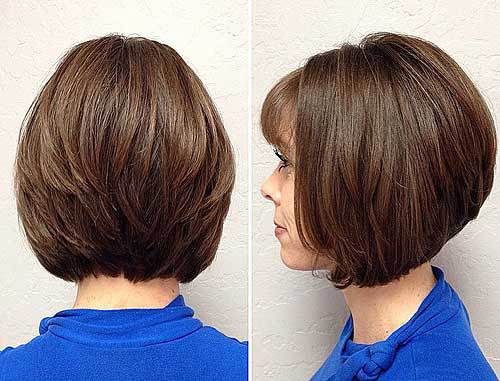 This stunning bouncy brown bob is glossy, glamorous and simply everything you'd hope for from a hair cut! Finished with a gorgeous fringe that frames the face, this beautiful graduated bob has shorter layers working right the way to the top of the head to create a simply stunning bounce and shape. Finished with straight layers that are slightly curled under at the ends, we adore this cut.
Dark Brown Sleek Bob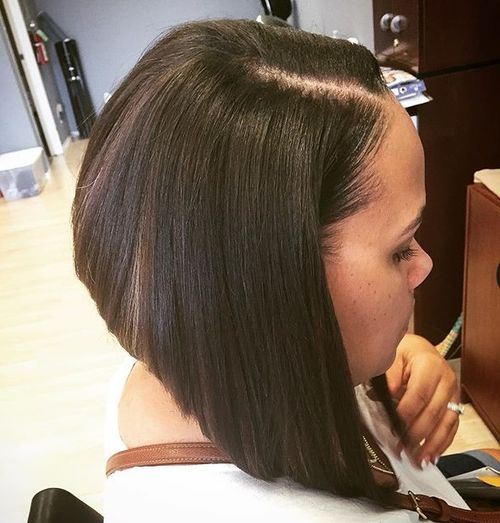 This glorious dark brown sleek bob has a sharp graduated edge which creates quite the striking finish, we're sure you'll agree. She's opted for a straight style which makes her gorgeous glossy brown hair look remarkable! She's gone for a subtle blonde highlighted layer underneath which gently peeks through; and we just adore it!
Silver Blonde Straight Bob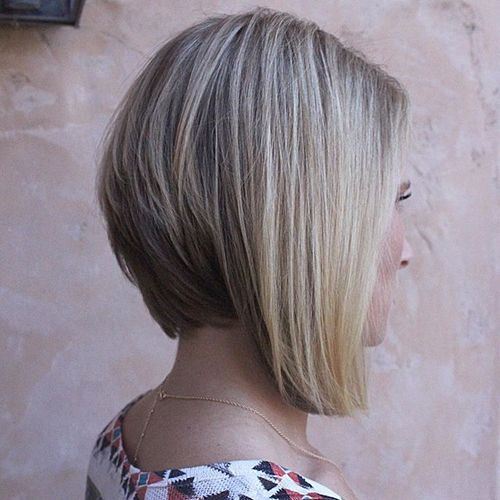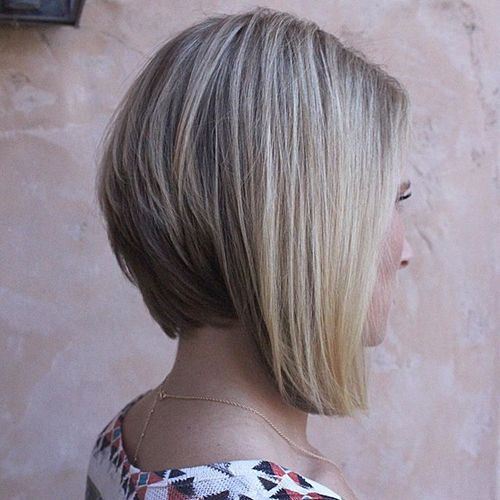 This silver blonde straight bob is absolutely gorgeous, and the inverted bob has a rather steep graduated section, as opposed to a more smooth gradual line. It's different, but we absolutely adore it and think it's simply stunning. From a wonderful silver look at the roots graduating to a light blonde colour at the ends, we love this ombre colour transition!
Bouncy Red-Toned Brown Bob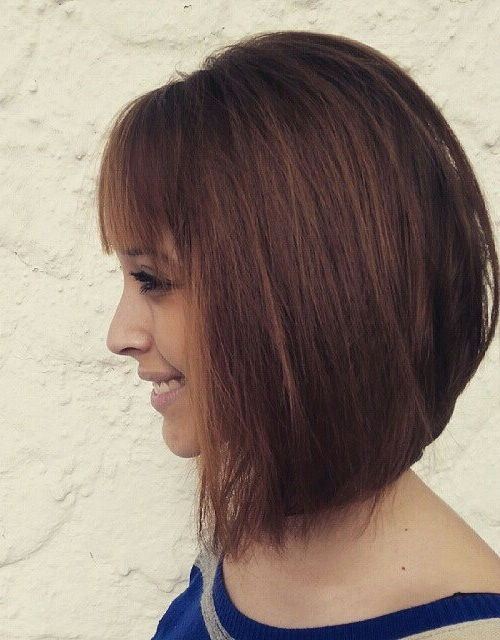 Perhaps one of our favourite looks of the bunch, this inverted bob is simply stunning. With a gorgeous red-toned brown bob is a gorgeous and beautiful colour which we just adore, but this lady has gone for blonde streaks which fall around the fringe area of her hair, creating a lovely halo. This cut is bouncy, bright and oh so beautiful we're sure you'll agree.
Edgy and Blunt Black Crop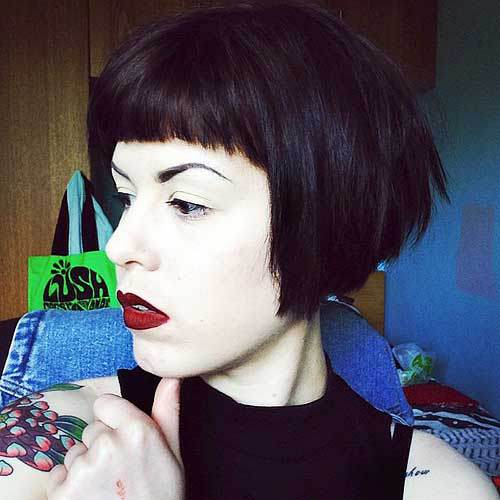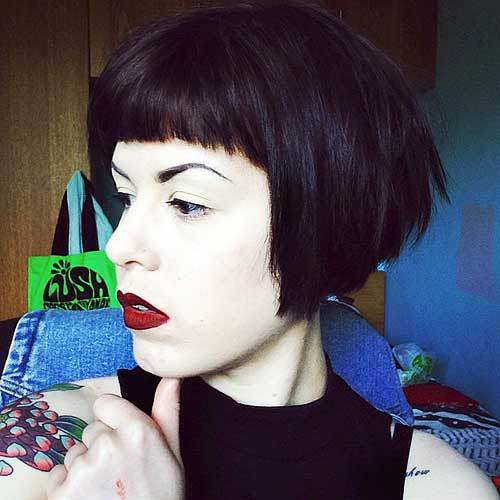 If you're looking for a cut which will ensure that you stand out from the crowd then we might have just found it! This stunning black crop is short, edgy and oh so cool, as we're sure you'll agree! With a beautiful black colour and a blunt short fringe, this graduated cut is finished perfectly with a little bit of texture to finish the shape off perfectly.
Beautiful Brown Bob with Blonde Highlights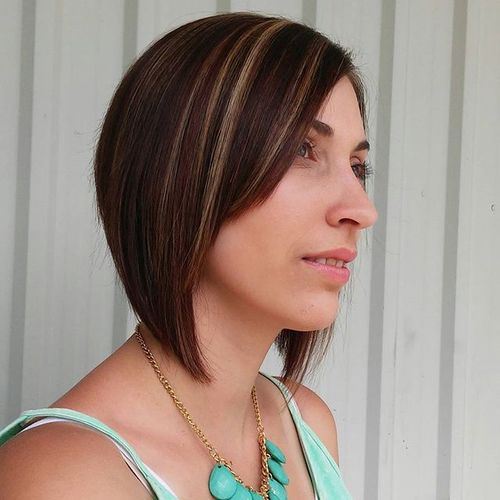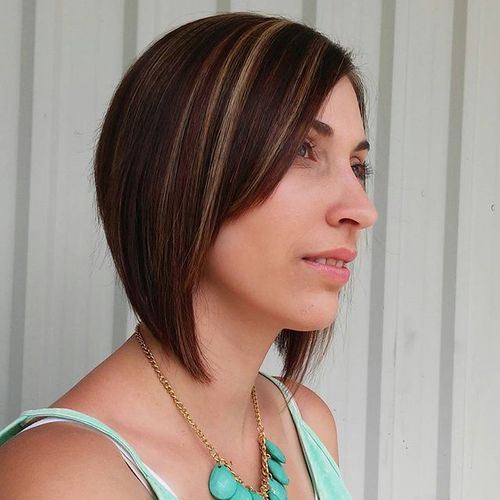 This glorious brown bob is sleek, straight and oh so gorgeous. Finished with a beautiful smattering of blonde highlights fro the parting down, there's a stunning combination of colours at work here. This lady's finished her breathtaking cut with a longer fringe section that frames the face beautifully and we just adore it!
Light Brown Bob with Longer Fringe Section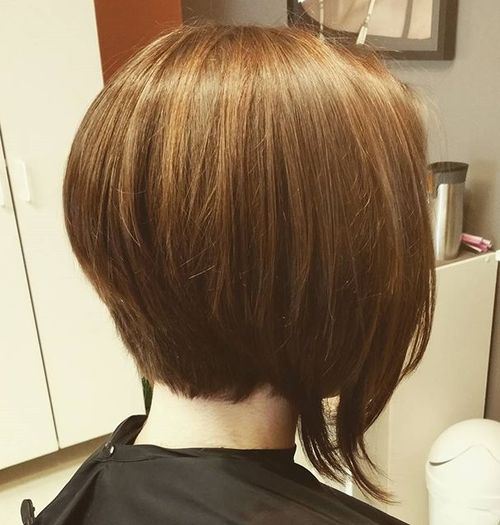 This lovely light brown bob with a longer fringe section is shiny, glossy and oh so gorgeous, which makes for quite the striking finish. Cropped closely to the neck at the back and finished with longer strands towards the front of the face, this cut is finished with shorter layers towards the back of the head to create a glorious bouncy shape!
Brown to Auburn Ombre Bob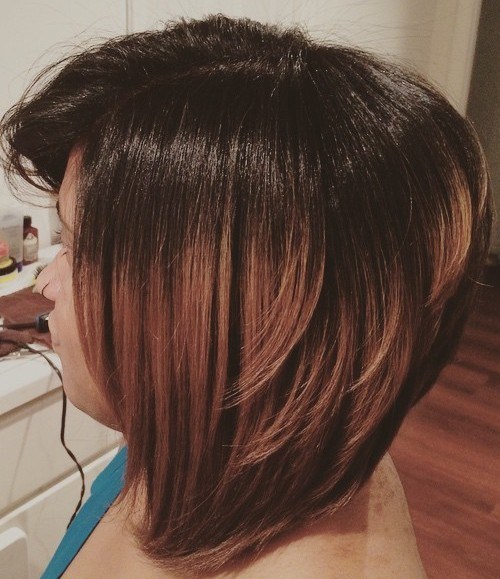 This gorgeous brown to auburn ombre bob is a colour melt of two simply striking colours that creates a striking finished look, don't you think? It has a rich brown root and more of a copper colour for the bulk of the hair. This lady's gone for a straight and sleek look with flicked ends that create a glorious shape. We love her fringe too!
Black to Red Inverted Bob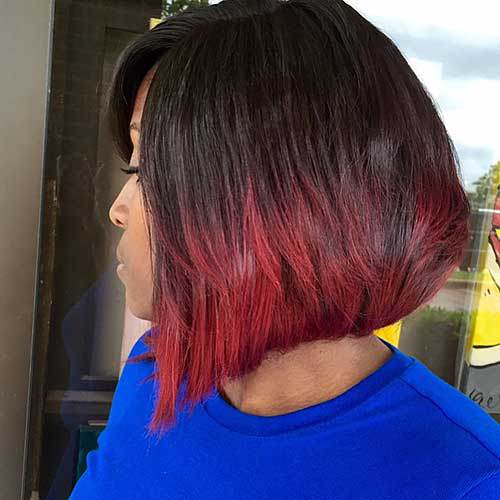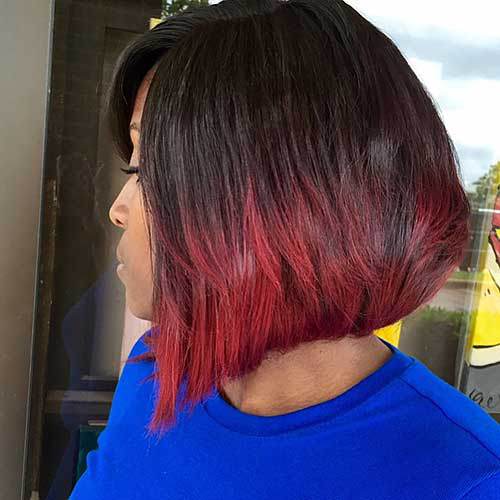 If a sassy cut is what you're looking for then you really need look no further than this absolutely gorgeous black to red inverted bob! Why go for one colour when you can have two? As this stylish lady has proved, two colours work together perfectly! The colours blend from one to the other, and she's finished the cut with a lovely fringe shape.
Black Pixie Crop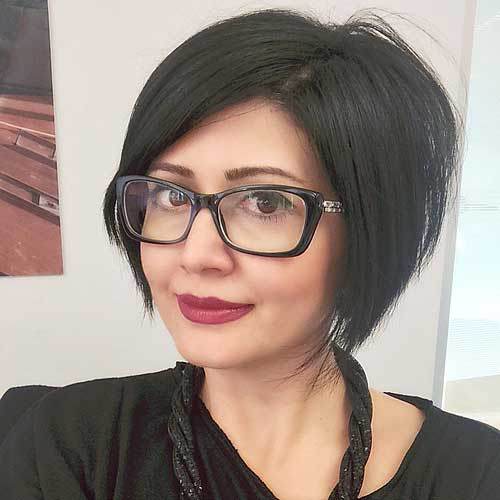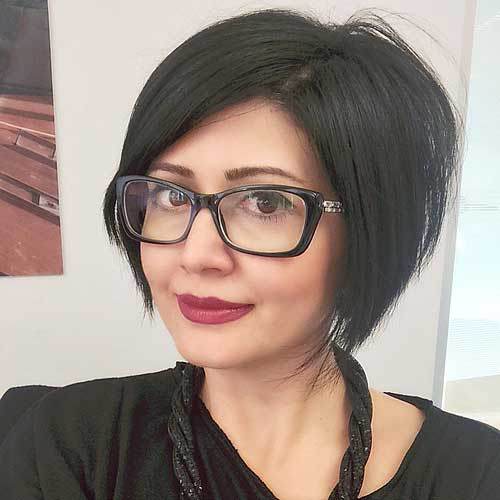 This black pixie crop is stylish, sassy and oh so sophisticated! This gorgeous lady has gone for a beautiful crop where the longest strands of hair fall around the jaw, and the layers get shorter and closer to the head towards the back of the cut. In a glossy black colour, we just adore this look – especially with the straight and sleek style, don't you think?
Strawberry Blonde Bouncy Bob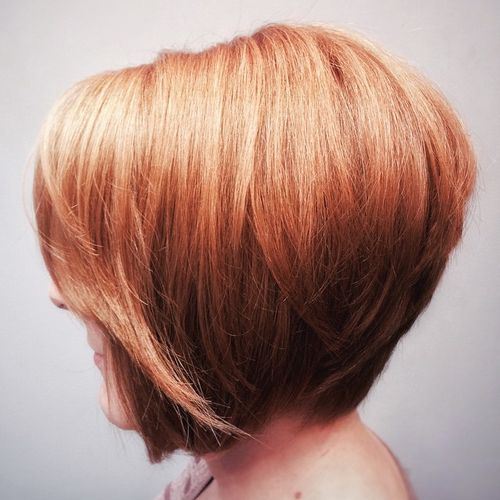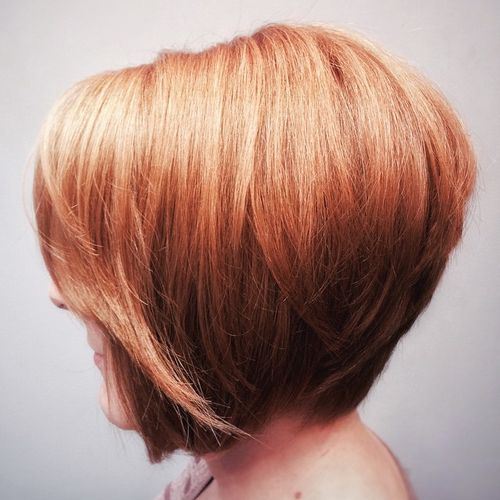 If you're looking for a bob that is easy to maintain but simply full of bounce and body, then this inverted bob is exactly what you're looking for! With a longer layer at the bottom working towards shorter layers at the top of the hair, this creates a gorgeous and curved style which looks fantastic when straight. This is finished with a stunning fringe to frame the face.
Boldly Highlighted Inverted Bob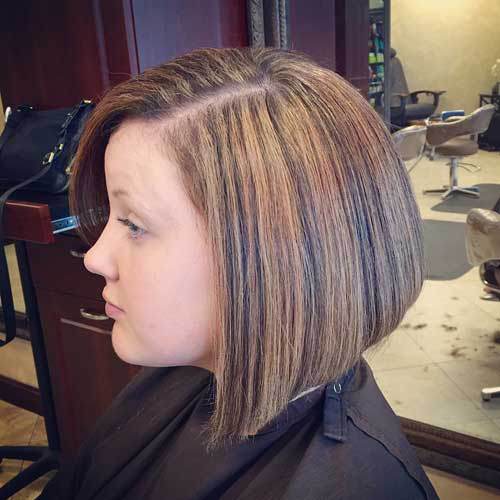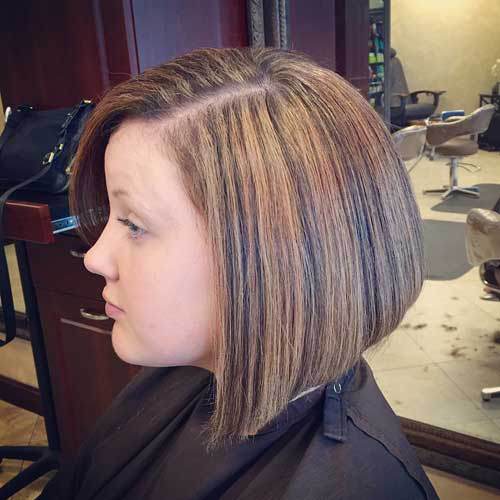 This beautiful bob is not only perfectly cut in an inverted style which graduates from longer at the front towards shorter at the back, but it's coloured to perfection too, with thick lighter brown highlights scattered throughout the rich brown hair. The straight style shows off the beautiful cut, but a few curls will take this look from day to night with ease.
If an inverted bob is what you're looking for then we hope this gallery has given you plenty of inspiration for how to cut your hair, style it and even colour it too! A bob can work perfectly no matter what your natural hair style is, so be brave and go for something new this season – thank Styles Weekly later.