If you want to be more fashionable and stand out from the crowd, the easiest way is to get an edgy chic hair color. One stunning hair color is pink. The pastel hair has become more and more popular and there are many fashionable ways to rock the pastel pink hair.
You may stay here and check out the stylish and wearable hair color ideas about the pink hair. Just find the one and like and have a try for the upcoimg holidays and parties.
Fashionable Pink and Purple Hair Look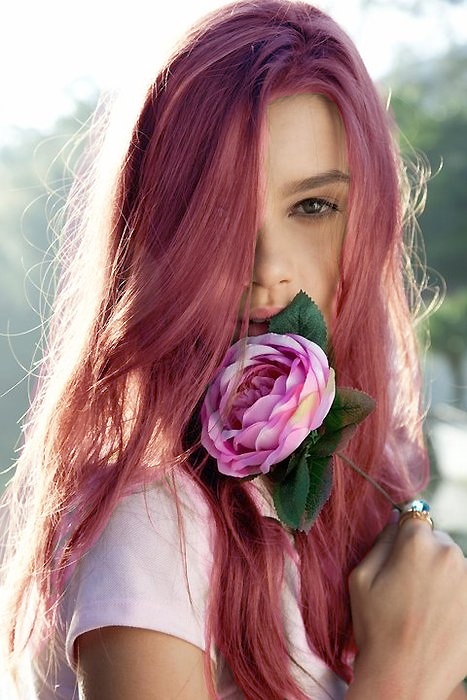 Pastel pink hair will look rather attractive when mixed with the purple hue. You will be a fairy beauty with such a pretty hair color.
Faddish Pink Hair Color Idea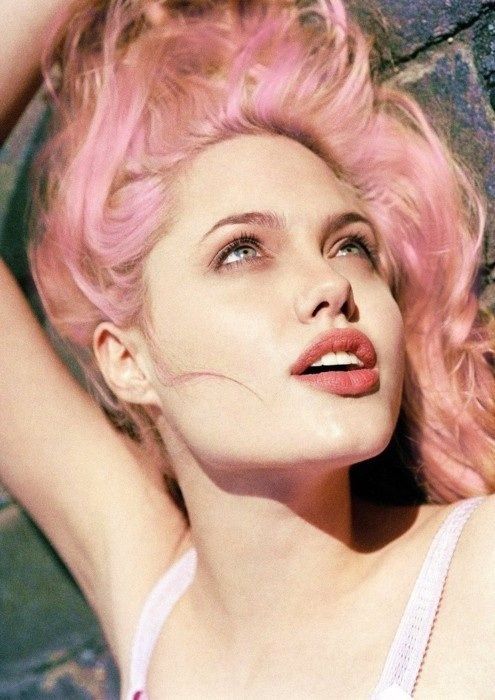 Pink highlights turn the blonde hair more fashionable and you will look more youthful with such a beautiful hair color.
Beautiful Blonde to Pink Ombre Hair Look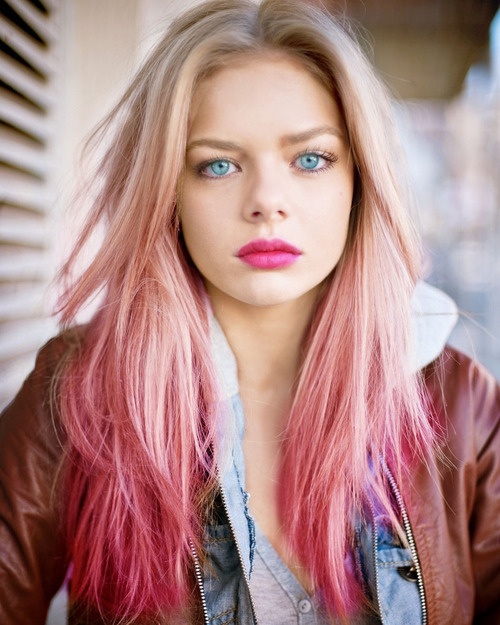 If you want to elevate your simple hair look, just add some ombre effects with the pretty pink tones. It's a very chic idea for young fashionistas to try.
Chic Pastel Pink Hairstyle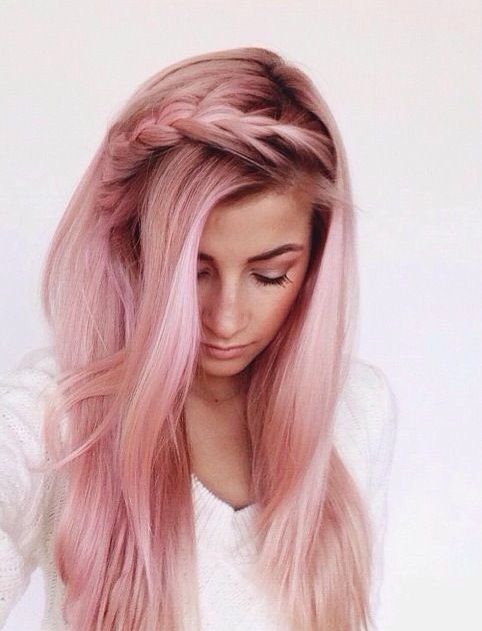 This soft pink hair color gives off a smooth attraction. It's quite a beautiful hair color for young women to try. Plus, your pink hair will be more fashionable if you try to add such a chic braid to it.
Pretty Pink and Purple Wavy Hairstyle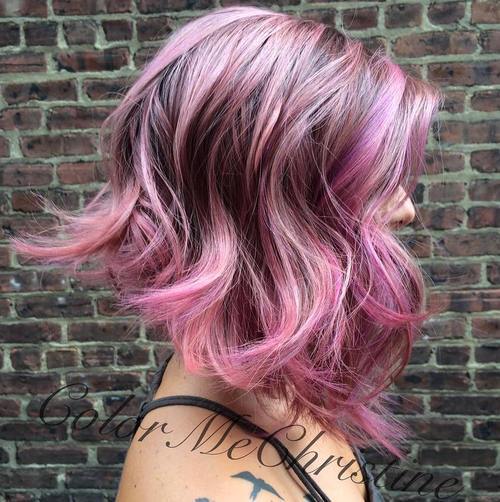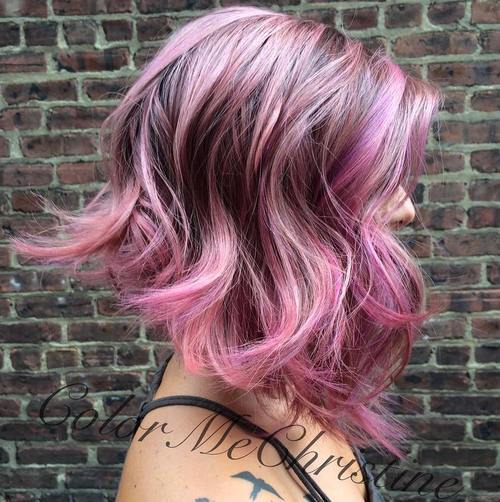 When pink walks along with purple, a chic pastel hair color will be created. This dreamy and pretty hair color will elevate any ordinary hairstyle and it's quite stunning for women to get a refreshing feeling.
Glitter Pink Hairstyle for Holidays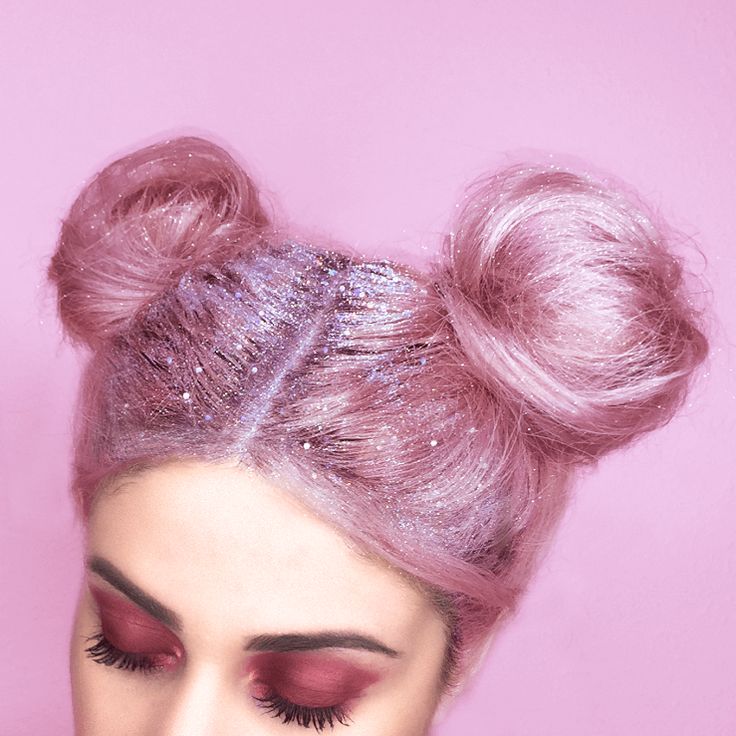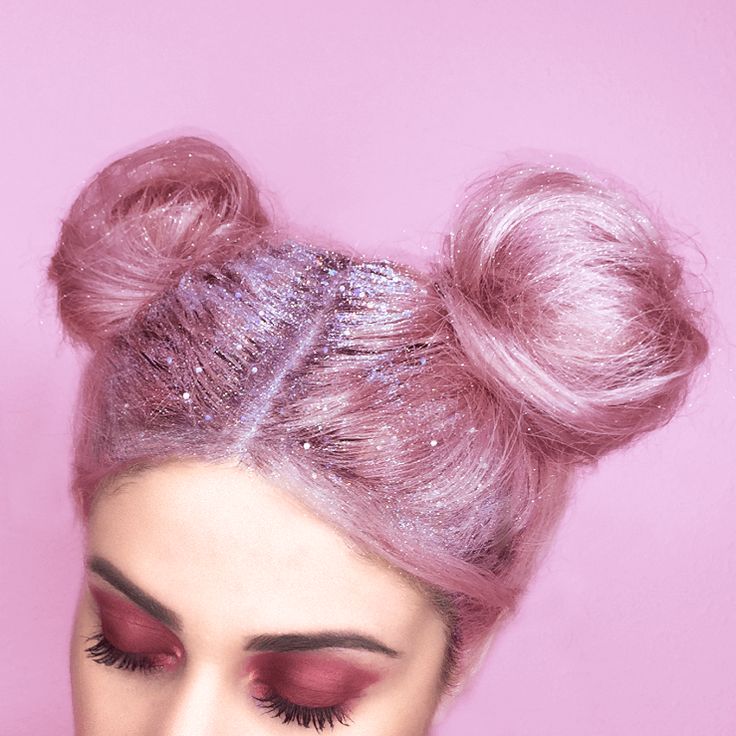 The cute top knots hairstyle looks must sweeter with such a sugary pink hair color. It will a very wonderful holiday hairstyle if you strew your hair with shimmering glitters.
Blonde Wavy Hair with Pink Highlights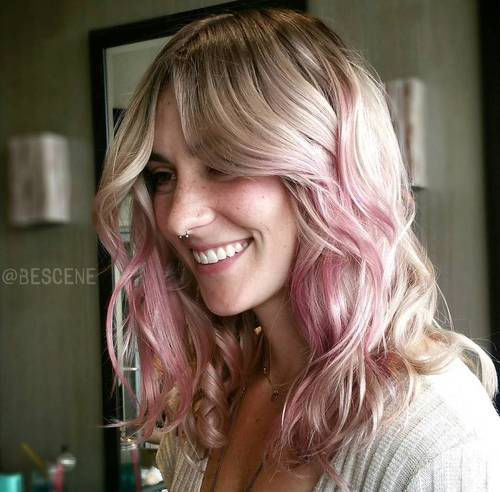 Your shoulder-length hair will be super chic if you try the fashionable blonde hair with some romantic pink highlights.
Pink and Lavender Highlights for Honey Blone Hair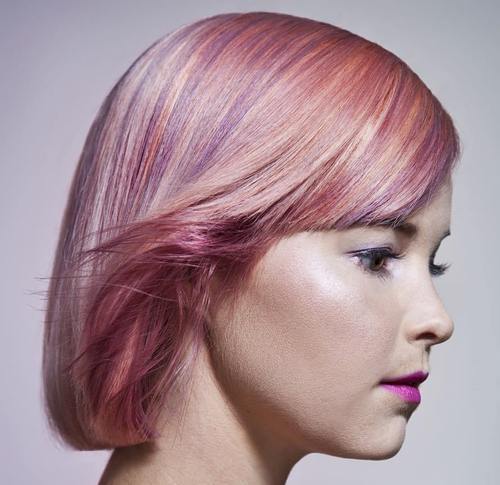 The sleek short haircut is quite cute with the side-swept fringe. However,  the pink and lavender highlights work so well to add more mysterious vibes to the pretty honey blonde hair. So, the conservative hairstyle becomes incredibly eye-catching when it gets such a chic hair color.
Brunette to Pink Ombre Hair Look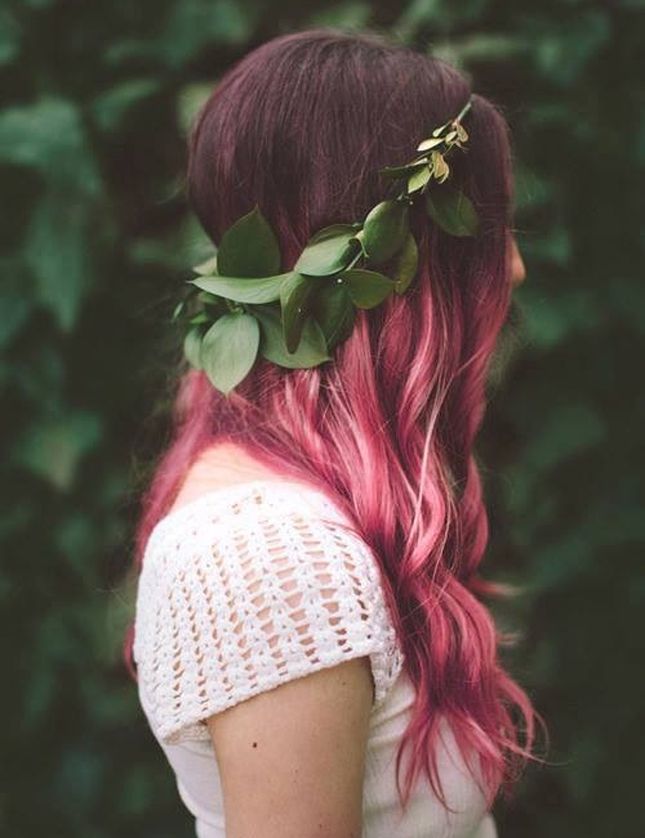 Pink hair will look more sophisticated when go with a darker hair color. For example, this brunette to red hair is stunning for all women from 20 to 45.
Stylish Violet Highlighted Pink Hair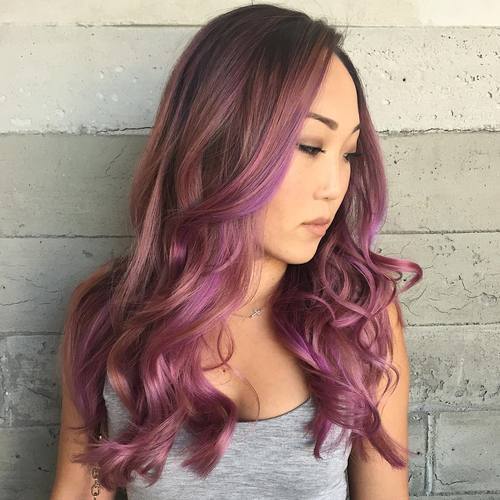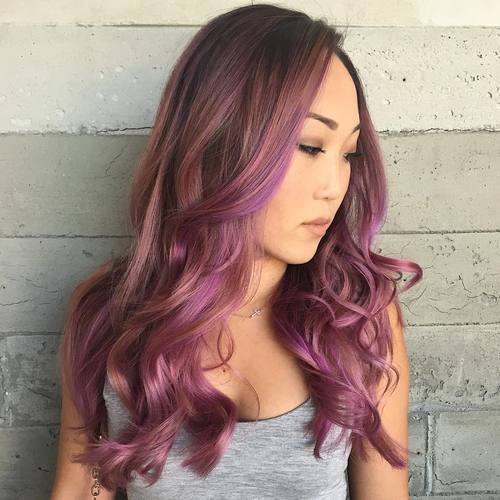 For a more stylish look, you can go for an ashy hair look. The ash pink hair looks effortless fashionable and the purple highlights add more dramatic touches to the final look.
Trendy Ombre Pink Hairstyle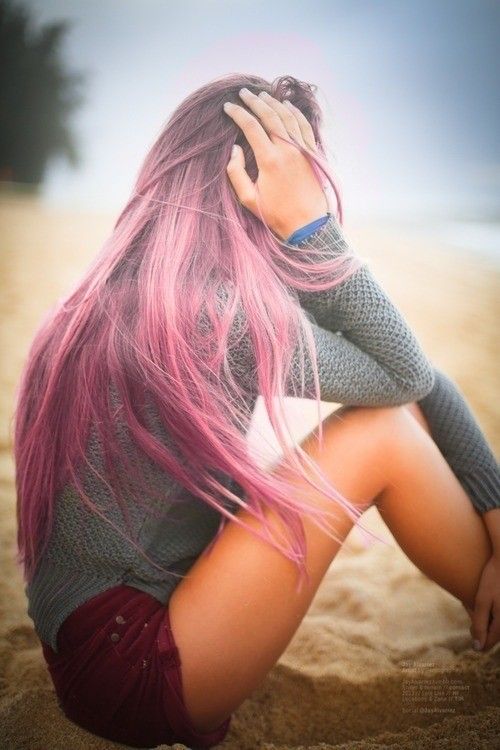 For women with longer hair, you can style a pink hair color in a more graduated way. This ombre hair will work quite gorgoeous as you let your soft long tresses flow down naturally.
Trendy Pink Hair for Young Women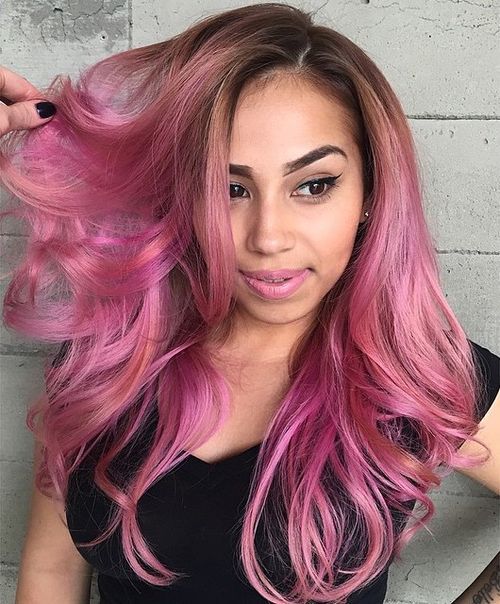 Dye your hair roots in the brown tone and the rest pink with some peachy highlights. You will look quite chic with such a trendy hair color.
Pretty Ombre Pink Hairstyle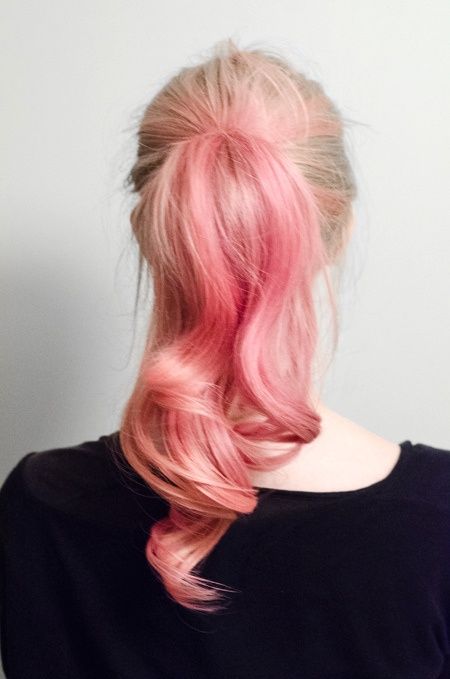 The pretty lollipop hair color makes women look quite sweet and the blonde to pink ombre effect makes this hair look more fashionable whether you just wear them down or do a cute high ponytail.
Auburn Hair with Pink Highlights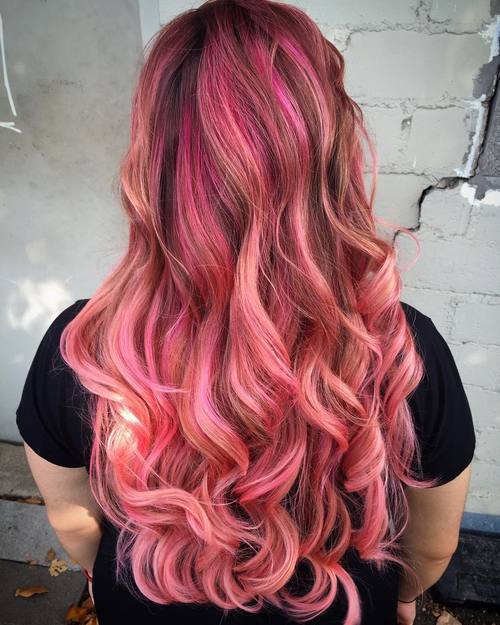 The auburn hair is quite warm and trendy. When you add some pink highlights, it will look much more feminine and beautiful.
Bright Purple to Pink Ombre Hairstyle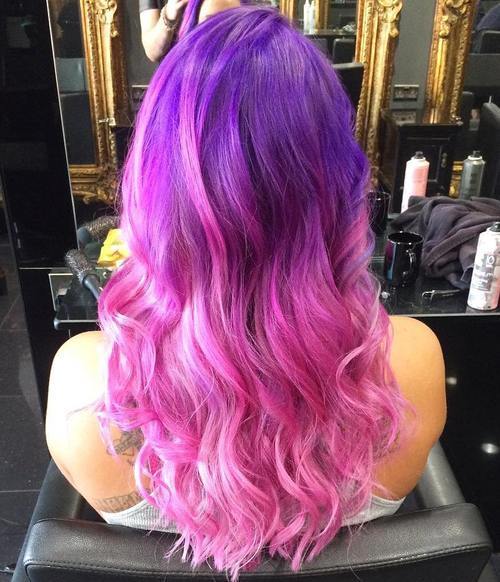 The bright purple to fiery pink ombre hair is edgy chic for fashionistas to try. It's a great hair color idea for parties and informal occasions.