1. Ciara Wavy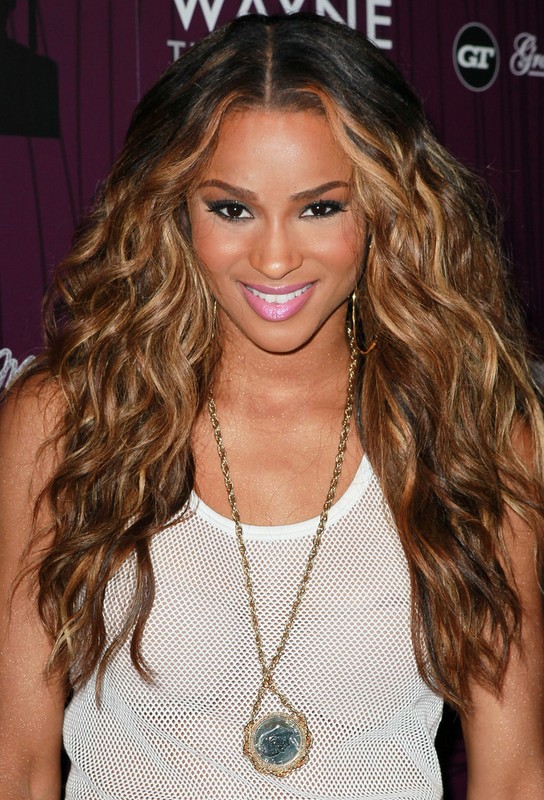 If you want big hair that makes a big statement while remaining stylish and feminine, then this is a great style. Ciara's dark hair is layered with many shades of blonde and warm golden highlights and then styled simply in a centre parting with absolutely loads of perfectly defined waves falling down her back and over the shoulders. The sheer level of volume in this style is truly impressive; it frames her face and steals the show, creating a really memorable look for casual or more formal occasions.
2. Ciara Short Haircut: Cute Pixie Hairstyles for Black Women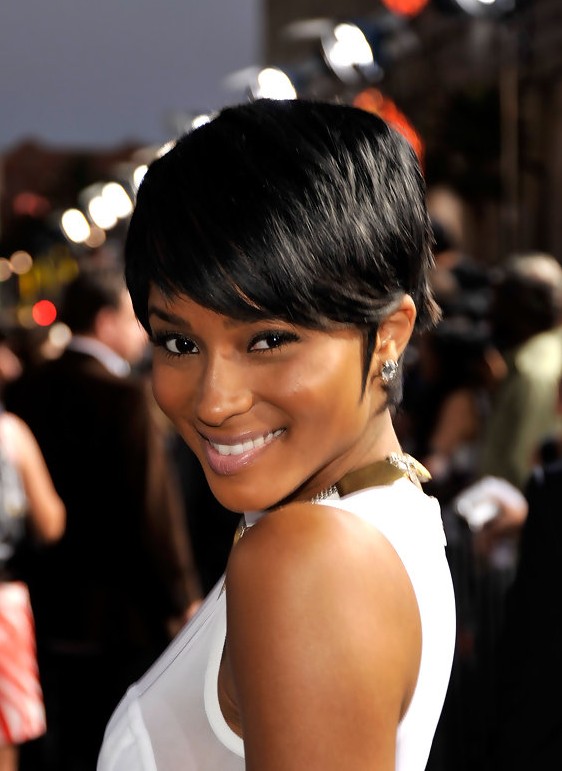 Ciara is one of the lucky few who can wear her hair long or short and in virtually any shade and still look fabulous. A well balanced facial shape with high cheekbones and defined features makes her able to wear most styles. Here, she wears her hair in darkest brown/black, cut in a fashionable pixie style. This highlights her dark eyes and brows and enables her to show off that amazing bone structure. With mirror shine and a choppy, contemporary feel, this is a top hairstyle for Ciara.
3. Ciara Short Curly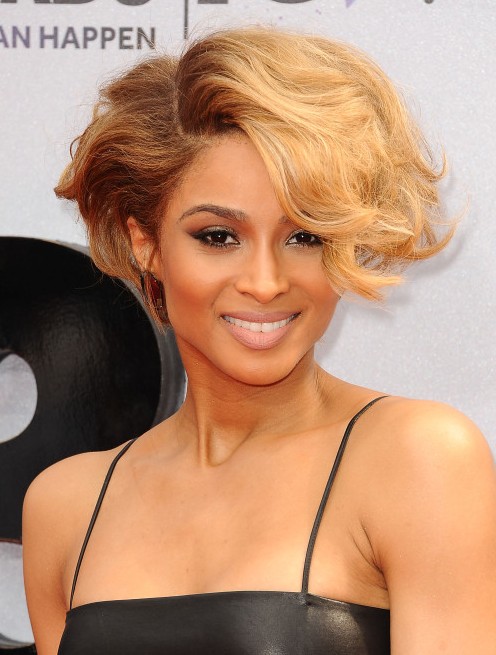 For a bold and daring look that takes a short style and turns it into a big look, then look no further. Ciara's short hair is styled with loads of volume and soft teased waves, tousled for a sexy, bouncy look with loads of movement. The sweep of the hair is simply so flattering to Ciara's symmetrical, well-balanced face. The colour here is graduated from a warm medium brown at the roots to warm golden and honey shades on the longer hair.
4. Ciara Ombre Hairstyles for Long Hair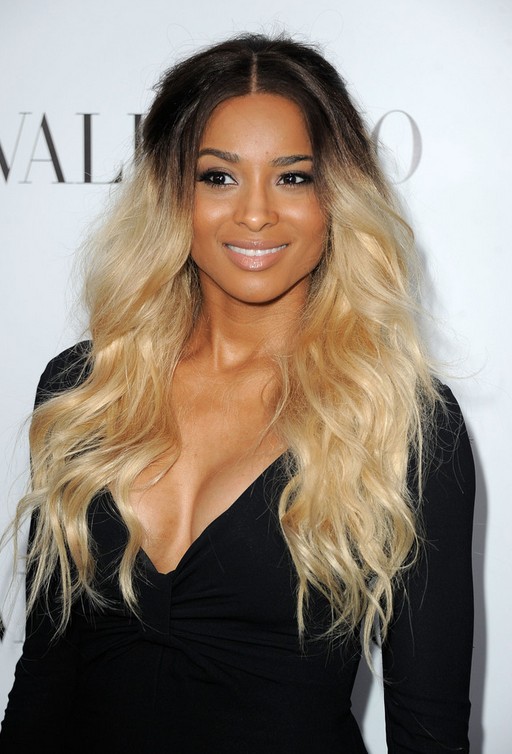 If you love the ombre look and want to take it to the extreme, this is a clear option. Ciara wears her long hair loose and wavy, falling over the shoulders in gorgeously smooth blonde waves. The blonde along the lengths and ends of the hair is perfect – beautifully golden with stunning shine and highlights. Darkest brown at the roots ends at eye level, makingCiara's gorgeous eyes really pop. This ombre style is less graduated than most; the change in colour happens very quickly rather than one colour melding slowly into another. The result is a dramatic, bold look.
5. Ciara Cornrows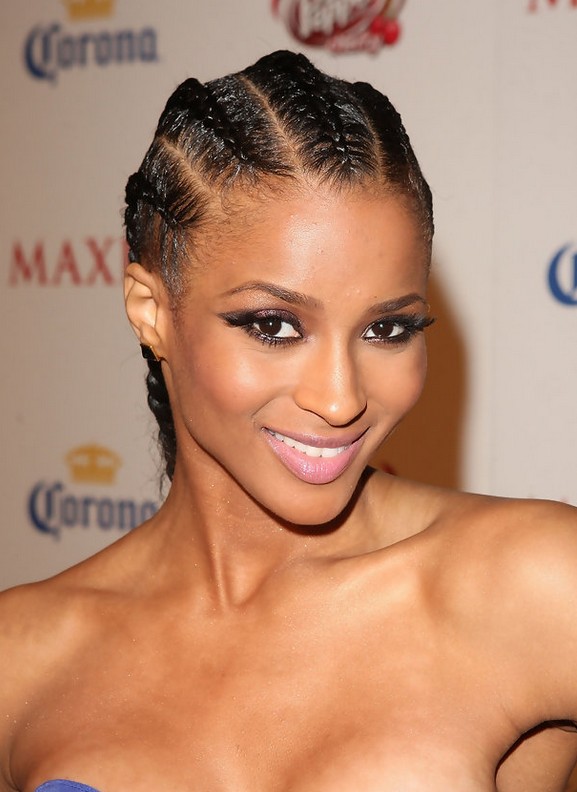 If you have the patience for cornrows, it can be a great look – fun, sassy and timeless. Here, Ciara wears her dark hair in perfect cornrows. With perfectly straight lines and delicately braided rows, there isn't a hair out of place. The hair is made glossy and given a mirror shine with product, preventing fly-aways or frizz and adding to the perfection of the look. With the hair all pulled back from the face, Ciara makes a big impact with dramatic eye makeup and glossy lips. A great casual look, a great formal look – this is a truly versatile style.
6. Ciara Bob: Easy Short Haircut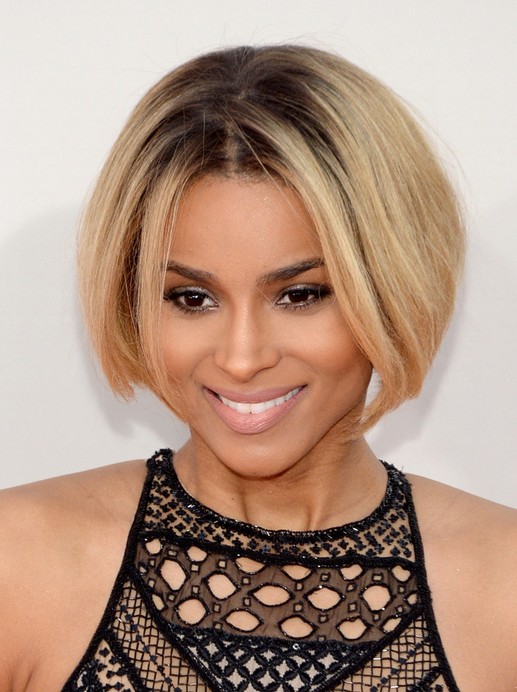 This is a lovely soft style with loads of shape. Ciara's bob is a graduated cut – shorter at the back than the front for a flattering, feminine style that is right on trend and just so perfect for her facial shape. A short style like this really shows off a chiselled jawline and those stunning high cheekbones. Dark roots and hints of dark under layers of sun kissed blonde really lifts the whole look and creates a real sense of light and femininity.