1. Sarah Hyland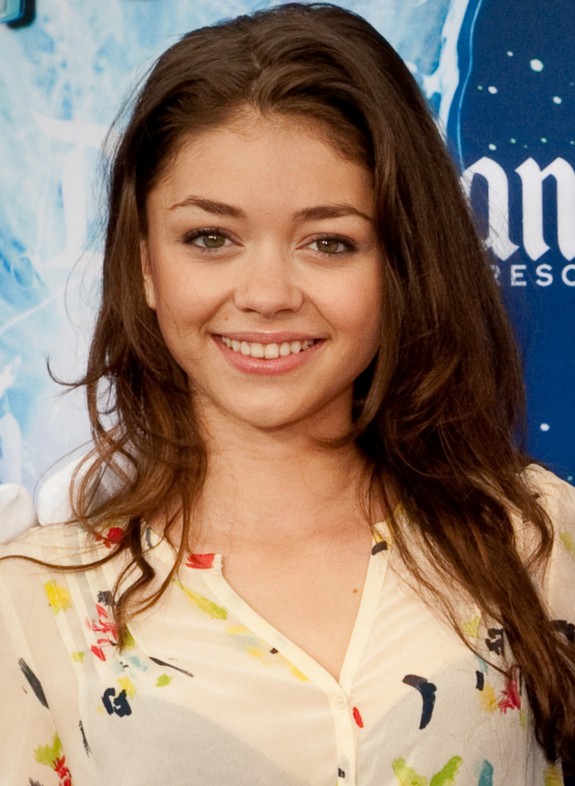 Actress Sarah Hyland wears her natural brunette locks loose and wavy in this relaxed style. Her warm brown tone looks perfect against her warm skin tone. A long style is the perfect choice for Sarah's face shape as it lengthens the face – but with symmetrical features, she is lucky to be able to wear most styles well. The hair is simply styled, with some subtle volume on top and most of the hair brought to one side of the face where it falls over the shoulder in natural looking waves. A casual, pretty style that looks girly and wholesome.
2. Sarah Hyland Messy Updo
Sarah Hyland's fine facial features really suit a messy updo, and this is a particularly well-styled updo. The young actress' chocolate brown hair is secured at the back of the head with the shorter layered section at the front of the head left loose and wavy at the sides of the face, framing the face and sweeping across the forehead from the side parting. The texture of the hair is kept soft and slightly messy, for a young, edgy take on the classic updo that really works.
3. Sarah Hyland Long Straight Hairstyles: Long Hair for Short Bangs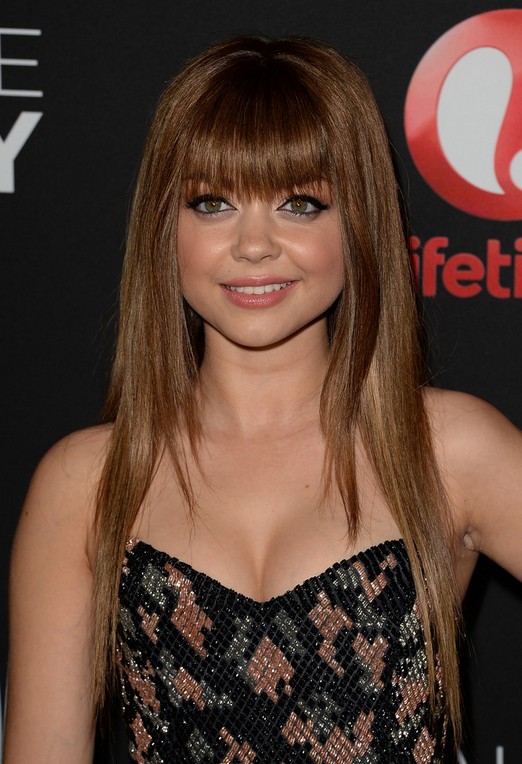 While we might be more accustomed to seeing Sarah Hyland with her hair long and wavy, this long straight style is actually a great look for her. The dramatic layers cut into the front of the hair are fantastic for creating shape and style. The heavy fringe, skimming the eyes, does shorten the face – and with a round facial shape, this shouldn't be such a good look. However, the heavy fringe is offset by the long lengths and layers. The colour is lighter than Sarah's usual darker shade, but it really works with her skin tone for a warm, autumnal look.
4. Sarah Hyland Long Hairstyles: Big Curls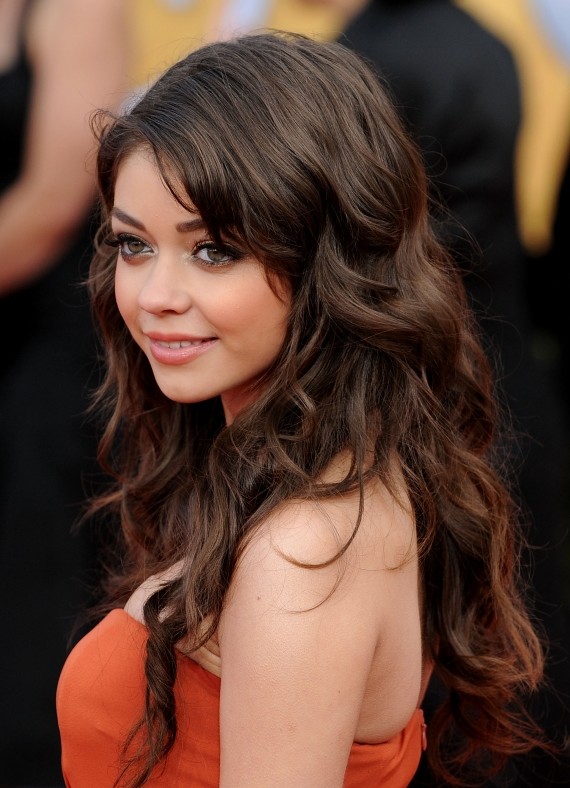 Most of us would do anything to have a head of hair as thick and full as Sarah Hyland. Her incredible brown locks are dense and by the look of this style hold a curl very well. The hair here is styled to create a pretty side sweeping fringe that has layers cut into the sides to create shape, while the long lengths are full of loose curls and bouncy waves. The colour is a warm chocolate brown that really highlights the actress' eyes and brows.