Hairstyles gallery of Paris Hilton's. If you are looking for Paris Hilton's latest hairstyles, check it out here. Including long hairstyles, shoulder length hair, updos, short haircuts from Paris Hilton!
Paris Whitney Hilton (February 17, 1981 ) is an American socialite, businesswoman, and entertainer. She is the great-granddaughter of Conrad Hilton, the founder of Hilton Hotels, Paris Hilton's natural hair color is blond, and she loves this color very much, her favorite hair styles are short bob cuts and long blonde wavy hair!
Paris Hilton Hairstyles Pictures
Paris Hilton Short Bob Haircut: chic straight bob cut with side swept bangs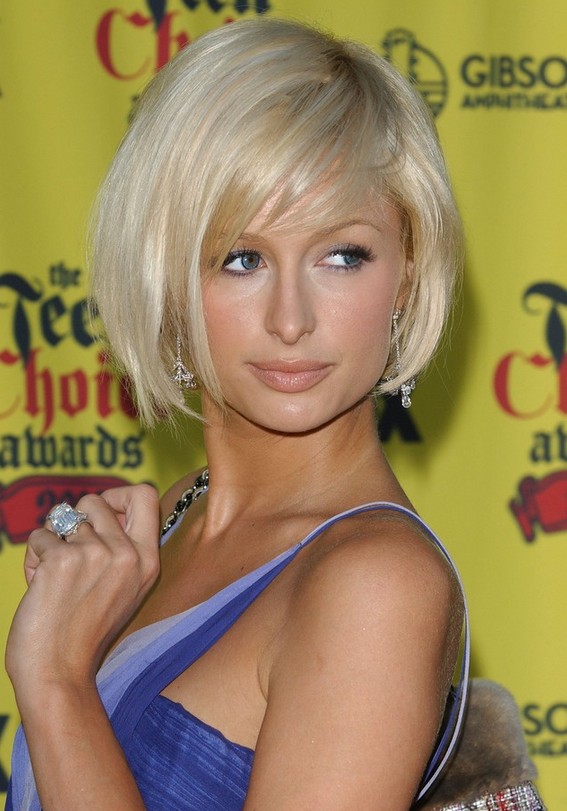 This is a grown-up, sophisticated look for Paris Hilton. Her bob is beautifully cut; the shape has been softened by cutting into the lengths so that the hair doesn't fall in a perfectly straight line. The fringe sweeps from the side and the back of the crown and slants down, just grazing the eye. The platinum, bleach blonde color looks much better in this short style than in her long extensions styles.
 Paris Hilton Blonde Curly Hairstyle – casual long hairstyles for women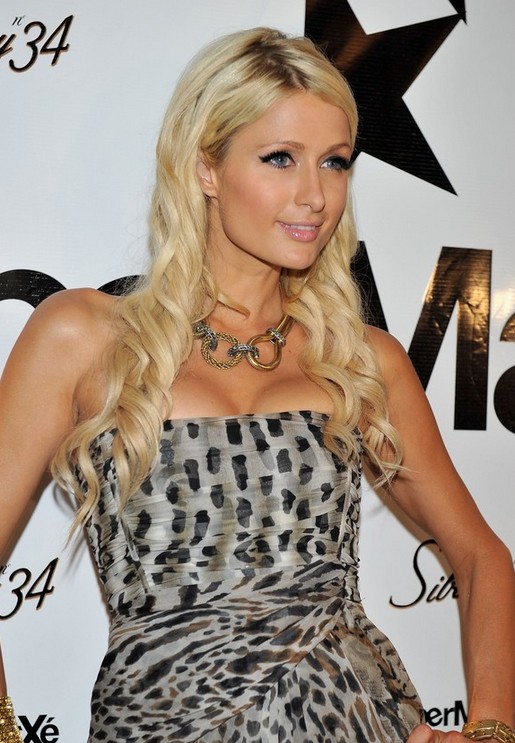 Paris Hilton goes for defined spiral curls for this platinum hairstyle that gives her a summery look which matches her tanned complexion and animal print outfit. The perfect curls are offset by a relaxed, messy parting at the side of the head which results in a flattering side sweep that doesn't cut the forehead off; a good choice for someone with a smaller forehead.
 Paris Hilton Long Wavy Hairstyle – Hair color: brown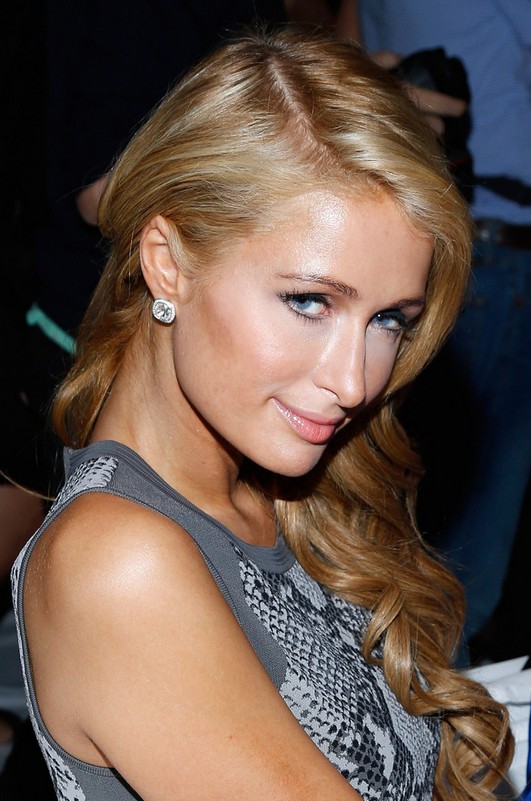 A side parting and a broad side sweep teamed with loose but defined curls gives Paris Hilton a touch of Hollywood glamour in this retro-inspired style that is a great showcase for her beautifully colored blonde hair. Hints of dark blonde, honey tones and lighter straw shades make this a very soft and flattering color with lots of depth.
Paris Hilton Long Straight Hairstyle: cute off center platinum blonde hair style for women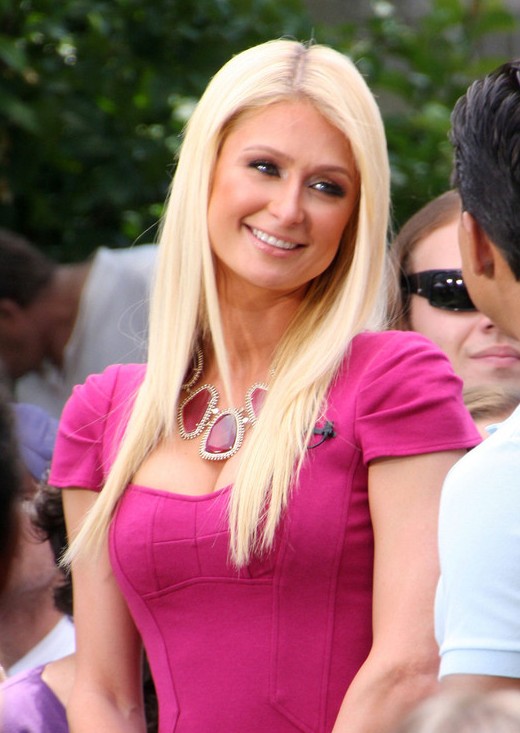 This long straight style, parted slightly to the side, is a staple look for Paris Hilton. Layers at the front of the hair give a little shape, but with a poker-straight style like this the layers are a little lost.  The color is quite blindingly bright here, the bleach blonde look gives her a solid, all over colour with no variation. This is a color that can easily look tacky, so beware!
 Paris Hilton Braided Hairstyle: summer hairstyle ideas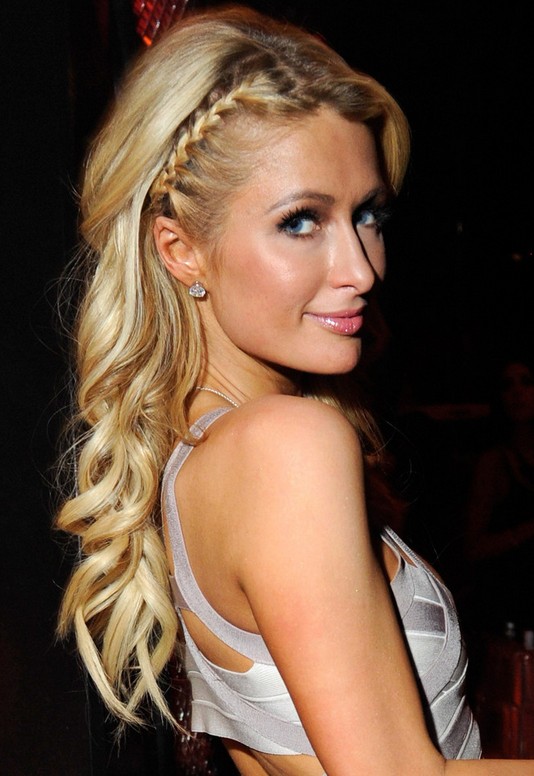 Paris Hilton styles her trademark blonde hair with a girls braid to the side, holding the hair back behind the ear. A side parting brings the hair at the other side over the face while the lengths are curled and trail down the back and over the shoulder. This is a fun look and a great way to keep hair back away from the face.
 Paris Hilton Short Hairstyles: cute short blonde bob cut with side swept bangs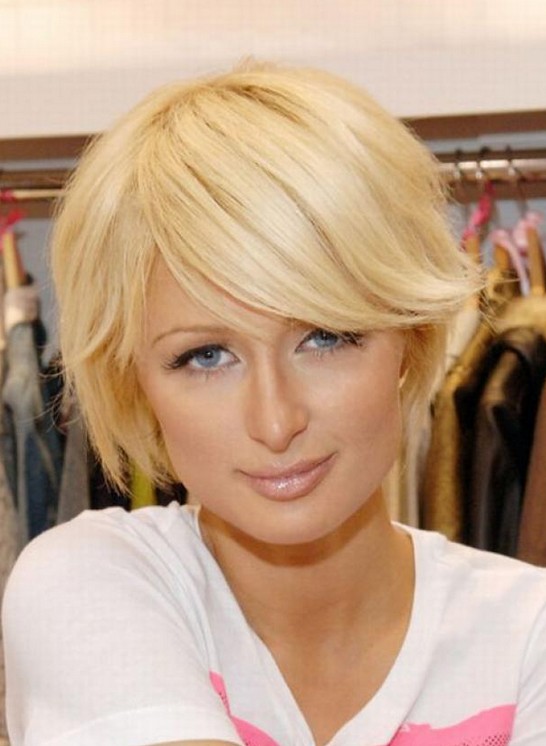 This is quite an edgy look for Paris Hilton. The entire front section of hair has been brought forward and skims the eye as a sweeping fringe while the sides have been cropped with rough edges for a razor-cut look that is on-trend and allows her impressive bone-structure to do the talking. The colour is rather flat but the shade suits her pale complexion. This short hairstyle is great for oval, square, oblong, heart, and round faces.
More hairstyles from Paris Hilton: