A bun is an impeccable and simple hair style that creates the most beautiful finish. It will keep your hair off your face which is oh so practical, but can also create a gorgeous look that is suitable for a smart event at the very same time! Few hair styles are as versatile as the bun, so Styles Weekly have gathered some of the prettiest buns into one gorgeous gallery just full of hair inspiration for you! Here it goes:
Unique Twisted Bun with Floral Decorations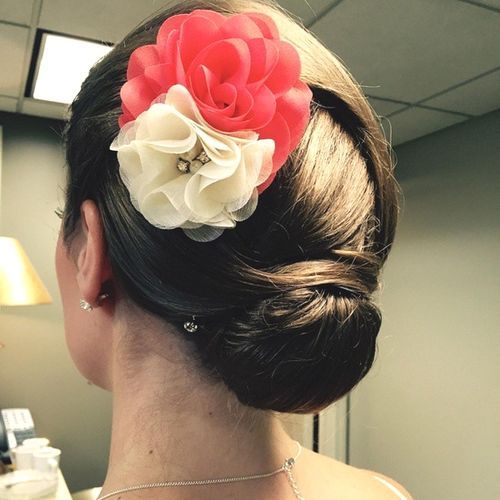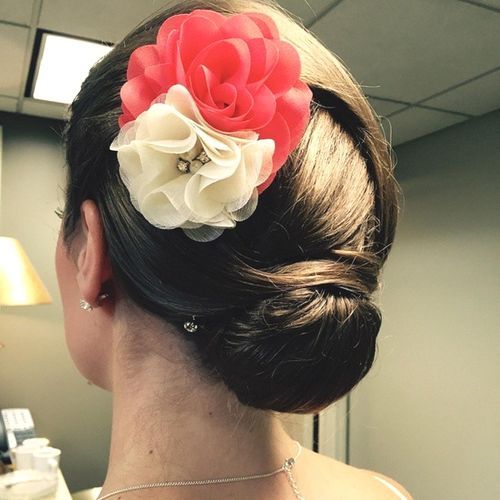 This bun is elegant, classy and oh so stylish – not least because of the beautiful floral decorations which finish off the look. Her wonderful brown hair is full of blonde highlights which add lift and body to the tone. She's created a lovely low bun and whisked the top layers into striking and sweeping sections across the hair which wrap around the bun in style.
Blonde Back-Combed Bun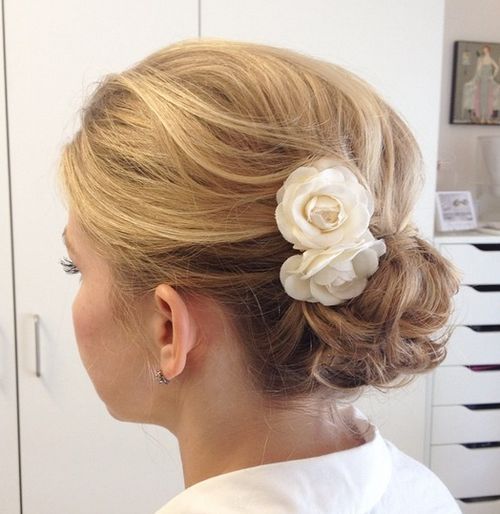 This gorgeous blonde look is simply stunning, not least because of the wonderful bun style this remarkable lady has opted for! She's back-combed the top of her hair to create an absolutely gorgeous top layer with an incredible voluminous style, worked into a lovely, low curly bun, which has been finished with a cream flower decoration.
Upside Down Braided Bun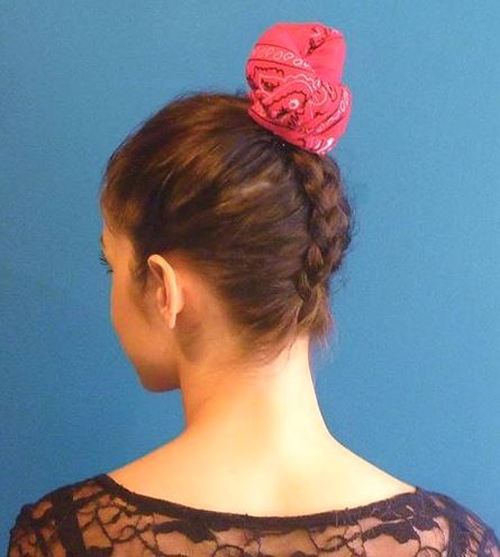 This gorgeous brown hair has been worked into a stunning and unique bun style, with an impeccable braided section that is oh so beautiful. She's worked a stunning french braid into the back of the hair, from the bottom up, and then twisted the braid into a bun style, which she's covered with a unique handkerchief finish to add a dash of personality.
Glossy Blue Twisted Side Braid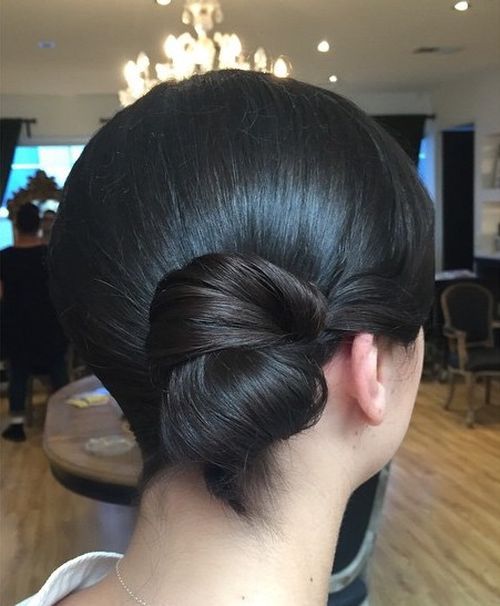 This stunning bun style is made particularly beautiful because of the gorgeous colour job she's opted for, with a beautiful and glossy blue and black blend that gives off a striking shine effect. The hair has been worked into a sleek bun style on the side, which has then been twisted into a unique and striking knotted bun style on one side.
Cool and Casual Blue Top Knot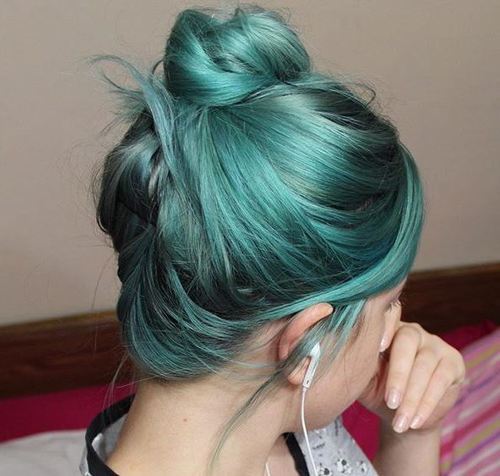 These bubblegum blue locks are so on trend, creating a super stylish look; not least because of this cool and casual bun this lady has opted for! In a look that is absolutely perfect for a day occasion, this lady has whipped her hair into a top knot bun style that sits on top of the head, creating a lovely finish. We love that she's left some loose strands to fall around her face to frame the look beautifully.
Caramel Twisted Bun with Loose Curls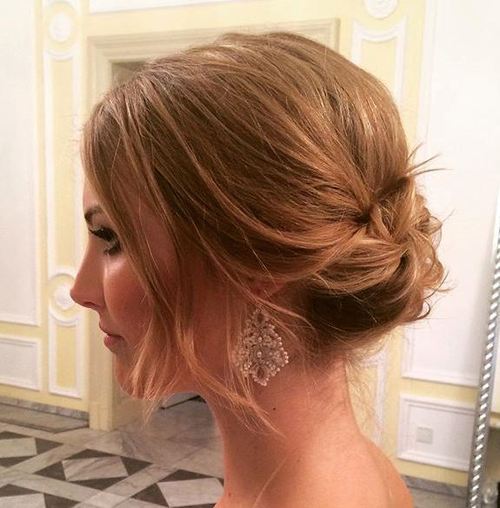 This lovely and impeccably stylish lady has utterly gorgeous caramel blonde locks, white are golden and striking; creating the most beautiful finish. She's left the front of her hair hang loosely in curls and twisted the back into a wonderful braided bun style at the nape of the neck, which is just perfect for a smart occasion or event.
Bright Blonde Pin-wheel Bun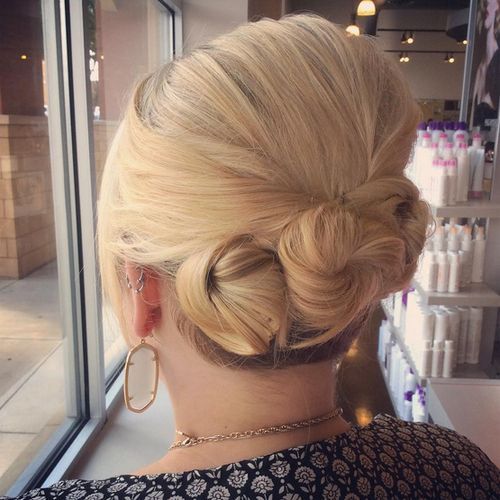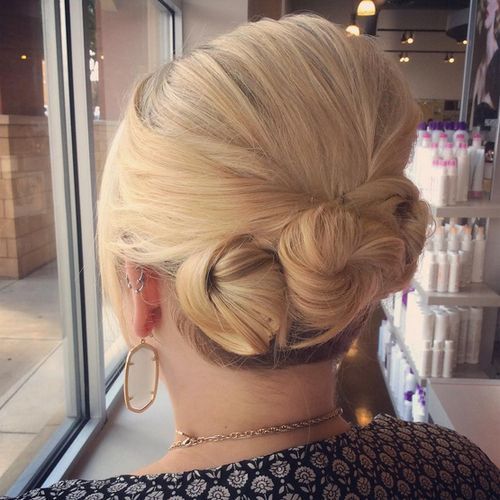 This lady's gorgeous bright blonde locks have been worked into the most striking up do that we ever did see; she looks fitting for a red carpet event! The front section of the hair has been back-combed to create a lovely voluminous look, and it's been gathered into three pin-wheel buns at the back of the head to create a wonderful and regal finish.
Brown Ballerina Bun with Pin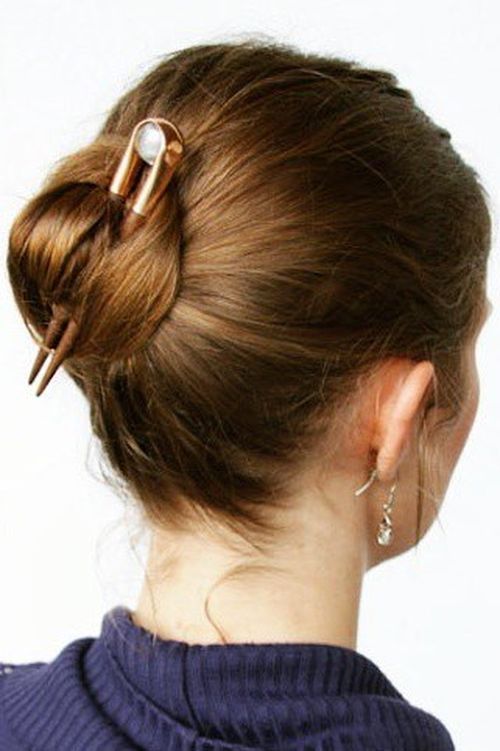 This beautiful brown bun is in a stunning ballerina style that we absolutely cannot get enough of! Her striking brown locks are glossy and shiny, worked back into a high bun which is tightly twisted around in a wonderful ballerina style. She's finished off her amazing bun with a copper pin accessory to finish off the look and add an extra touch of class to the style.
Blonde Pinned Side Bun
This twisted bun style of stunning and oh so full of class; especially because of the gorgeous light blonde colour of her hair! This hair is absolutely wonderful; just perfect for an event or a special occasion. The top layer has a wonderful top section which is full of volume, worked into a beautiful twisted section. The ends of the hair are twisted and pinned to the side to form the bun section.
Powder Pink Half Bun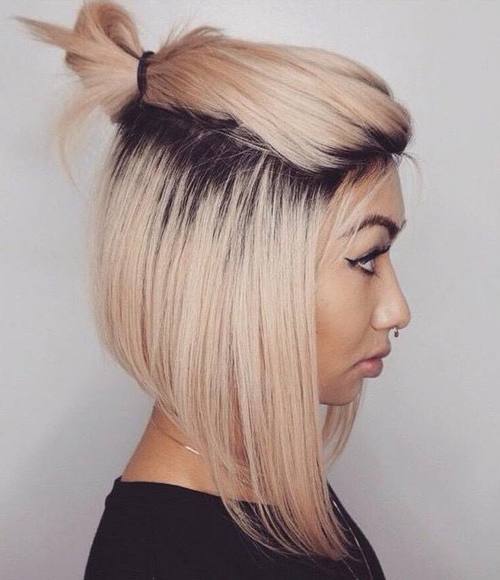 This lady has a stunning powder pink graduated bob that is oh so on trend! Working from a shorter layer at the back and falling in longer strands framing the front of the face, this incredibly fashionable female has highlighted this incredible style with a half top knot, working the top layer into a bun style that is the perfect mix between smart and casual.
Voluminous Twisted Bun Style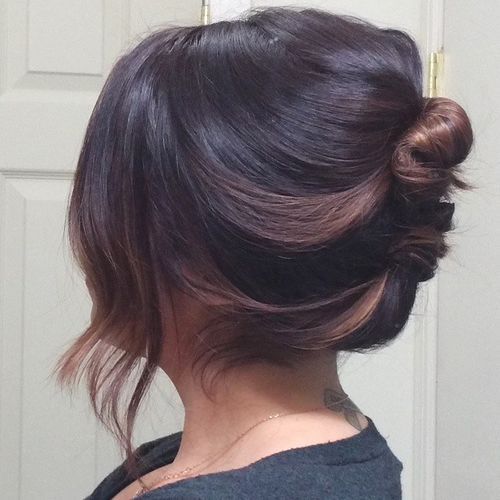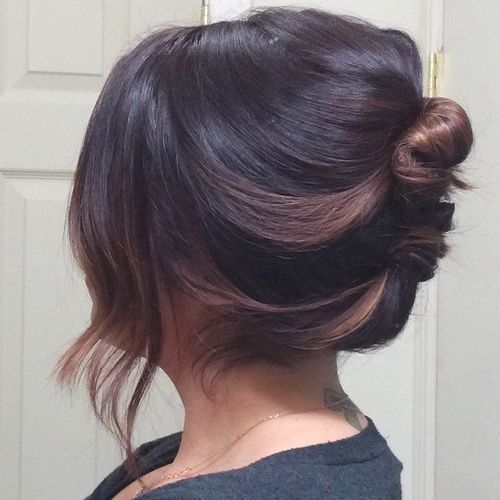 This lady has created the most beautiful twisted bun style which perfectly shows off her dark to light brown style that is extremely sophisticated and incredibly stylish all at the same time! The front section of hair falls in soft curls around the face, while the remainder is pulled into a twisted and voluminous bun style that works at the back of the head.
Dusty Blonde Twisted Bun with Pin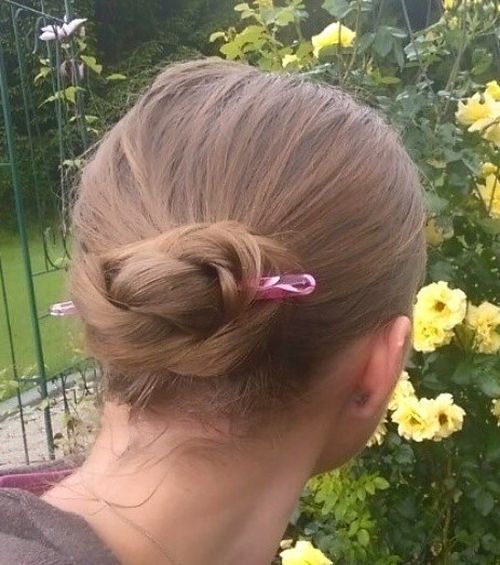 This lovely lady has created a hair style which is incredibly practical, keeping all of her hair off her face, yet incredibly stylish at the very same time! This gorgeous dusty blonde colour that graces her locks is showed off perfectly with this twisted ballerina style bun, which she's fastened with a lovely pink grip to accessorise it.
Copper Ombre Braided Bun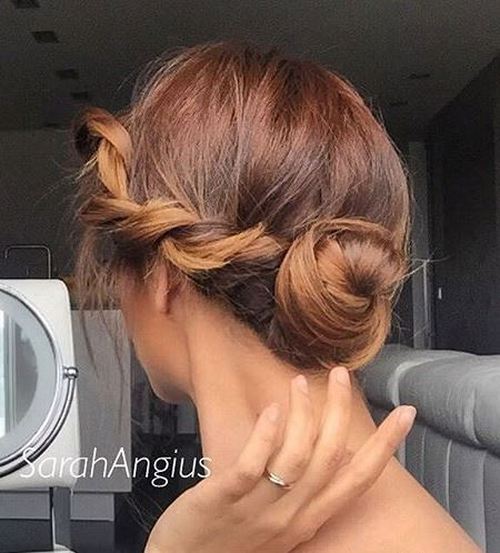 This lady has absolutely stunning hair; working from one shade of a deep and dark copper to a lighter copper shade using a gorgeous and totally on-trend ombre transition. To show off the wonderful colour blend, this lady has worked a french braid from the front to the back on one side of the hair, and finished it off with a low bun; which is just perfect.
Fabulous and Flicked High Bun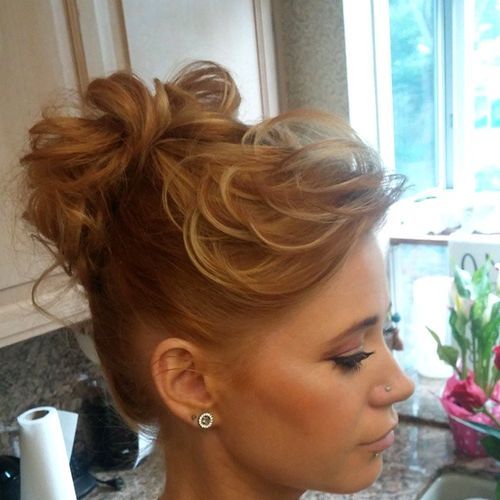 This utterly gorgeous lady is made even more lovely to look at because of this striking hair! Her hair is a gorgeous copper shade which has been highlighted with beautiful blonde touches throughout. She's created an impeccable high bun which is full of life and volume, and she's flicked her fringe section back for a fabulous finished style.
White Blonde Twisted Low Bun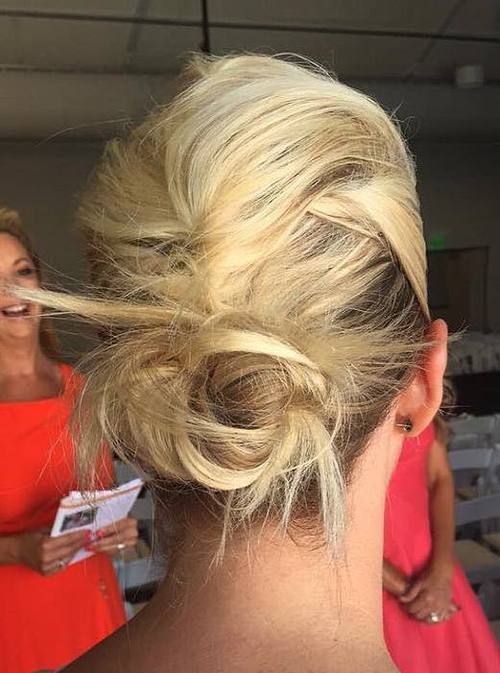 This lady has created a fabulous and extravagant bun style that is designed to attract attention; in the most stylish way possible too! Her beautiful blonde hair has been back-combed for volume at the top and twisted tightly, working its way into a low bun which is finished with flicked ends to create a firework-style effect! This look is ideal for a wedding.
Elaborate Chunky Fishtail Braided Bun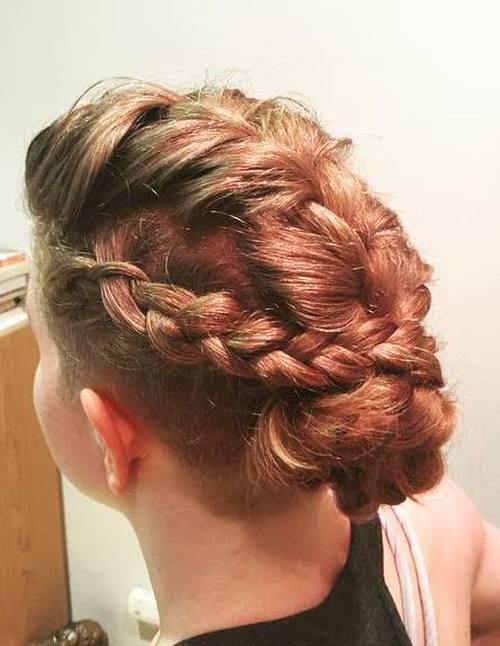 This lady has devised a simply stunning bun finish with a range of remarkable braids which gather in a low bun. This shows off her wonderful pink and blonde ombre hair to perfection; and we can't get enough of it! One large fishtail braid forms the centre of the hair, and two braided sections either side wrap around it to finish the bun off in style.
Bright Blonde Twisted Curly Bun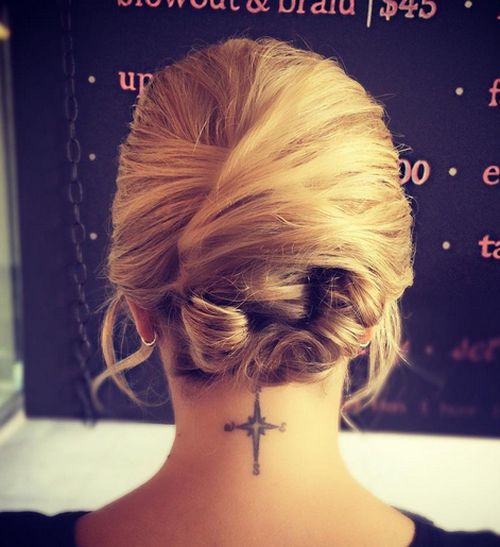 This absolutely stunning hair style has stolen the hearts of the Styles Weekly office; we think this wonderful look would be just perfect for a formal occasion. This lady has created a wonderful and voluminous swept back layer, and both sides of the hair are brought together in a remarkable, swept look. The ends are twisted and curled into a beautiful bun at the bottom of the neck.
French Braided Brown Bun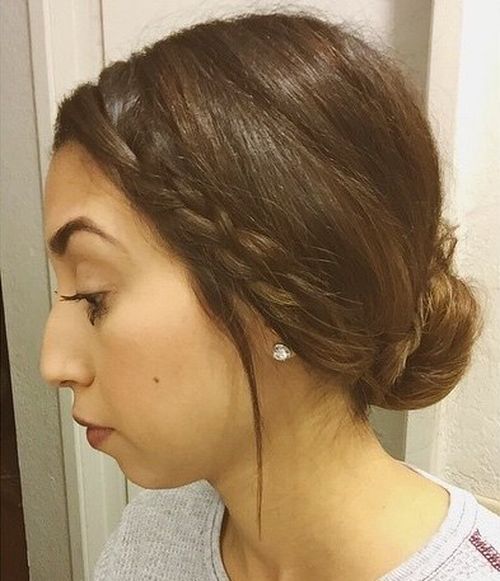 This remarkably stylish young woman has created the most gorgeous bun style that is perfect for the office or for a wonderful finish. Her brown hair has an incredible deep brown to light brown ombre style, and has worked the front of her hair into a french braid which is pulled tightly into a low, twisted bun that finishes the style off to perfection.
Roughly Tousled Blonde Bun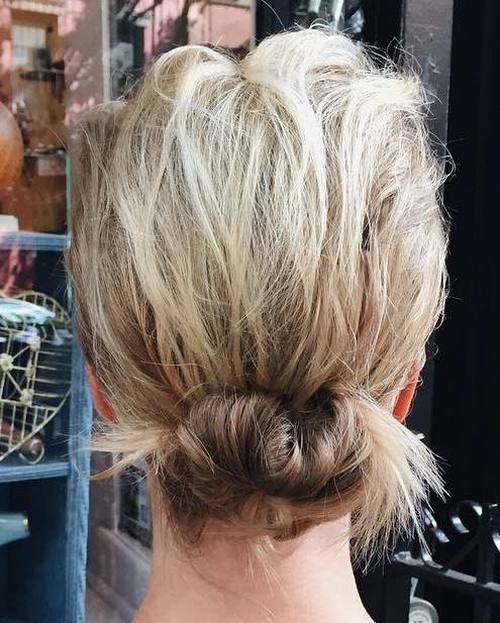 This lady's glorious blonde locks have a stunning brown under layer that is utterly gorgeous when they fall together, blending the two colours together seamlessly. She has created a wonderful and edgy bun style with a tousled and rugged top layer which has been back combed for volume and effect. The bottom of the hair has been tucked up to create a lovely low bun.
Brown and Blonde Highlighted Bun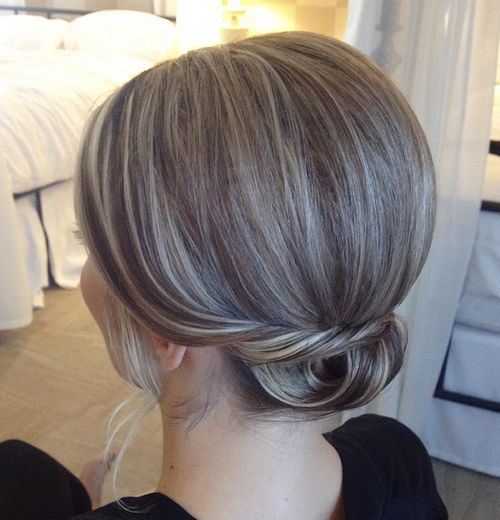 In what might be our favourite bun style from the entire collection, this lady has created a simply striking and oh so seamless style which is guaranteed to help you stand out from the crowd. Her gorgeous blonde and brown highlighted hair has been worked into a voluminous layer that creates a wonderful curve, and twisted into a low bun  to finish off the look beautifully.
A bun has been the hair style which has dominated the fashion stakes for decades now, and when you see all of the incredible ways that you can work one into your look, as proved by this wonderful Styles Weekly gallery, it's really not difficult to see why! We hope some of these glorious bun looks have inspired you today.