A common misconception about short hair is that it is less versatile than long hair, but the Styles Weekly team believe that is simply not true! Short hair can be incredibly versatile, offering a range of different ways that you can style it – let us prove it to you! Here are our collection of cute hairstyles for short hair.
Braided Asymmetrical Style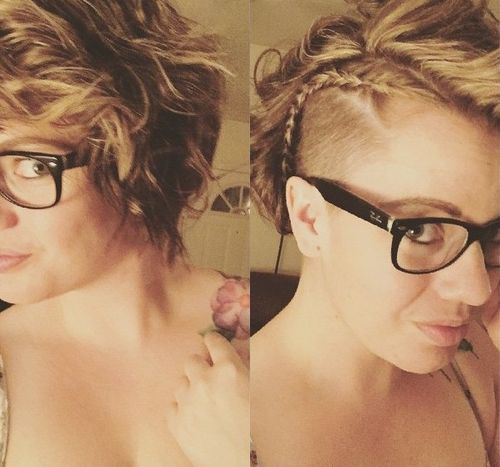 This lovely lady has been incredibly versatile with her hairstyle, and we think it most certainly pays off! Opting for an asymmetrical style where one side of the hair is shaved close to the head, and the other half is left a little longer, falling in a gorgeous curly style across one side. To finish off the look, she's added a braid alongside the shaved layer to highlight the contrasting styles.
Long Bob with Curled Ends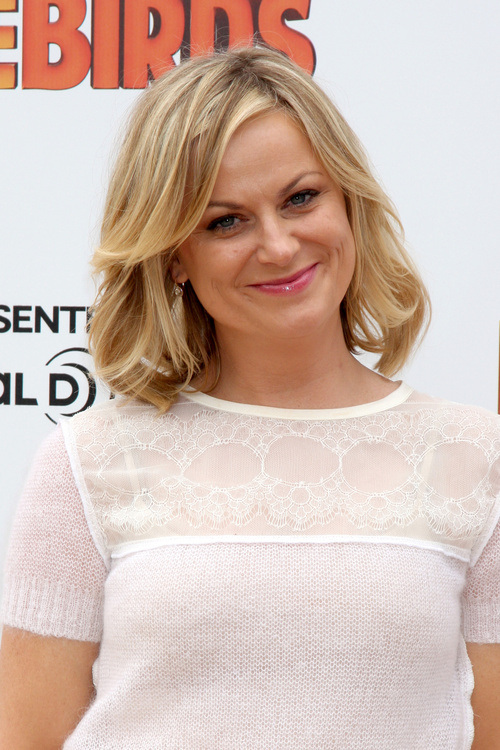 This gorgeous blonde bob is oh so beautiful! Falling just above the shoulders This style has been curled on the ends of the layers to create this beautiful bouncy finish, curling the ends under for a wonderful shape. With a side parting and a long fringe to softly frame the face, we think this bob style would be equally beautiful when straight too!
Choppy Brown Bob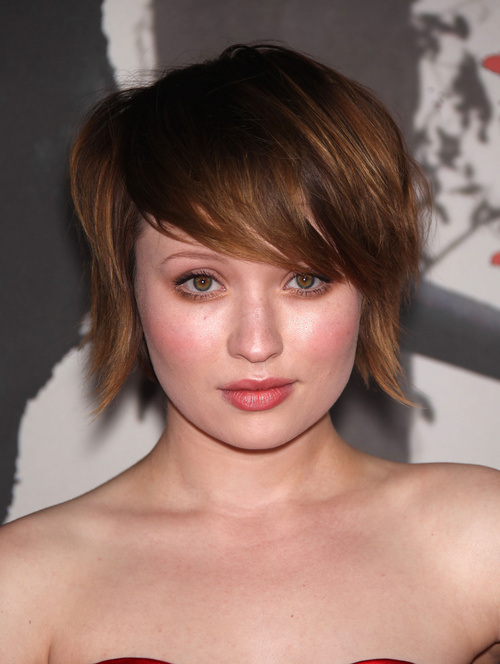 We're swooning over this beautiful brown bob full of choppy layers – the finished style is just so gorgeous! With a sweeping full fringe across the forehead, the hair is slightly longer on either side around the ears, with graduated choppy layers right to the top of the head for this amazing finish. We love the sleek and shiny brown colour too!
Plaited Brown Bob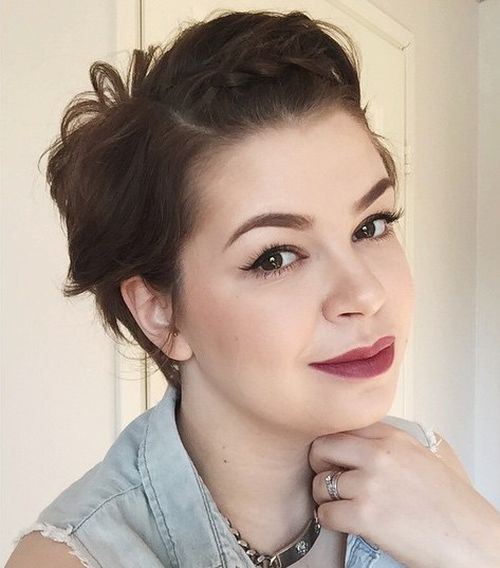 This lady has worked her fabulous pixie crop into a style which is both stylish and practical, sweeping that fringe section right off the face in a gorgeous plait which she's pinned behind the ear. The rest of her rich brown hair falls in a short crop, which is loosely curled for the most bouncy and vibrant finish that we ever did see! Love this look.
Braided Brown Bun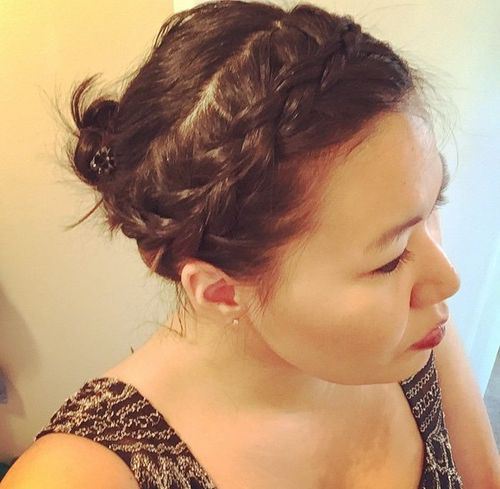 This lady's lovely short brown hair has been fashioned into a practical up do which is full of style – we cannot get enough of it! She's split her hair into two sections, working the back into a bun style which she's clipped at the back of the head. The front section has been worked into a french braid right around the head, creating this lovely halo effect.
Blonde Pixie Crop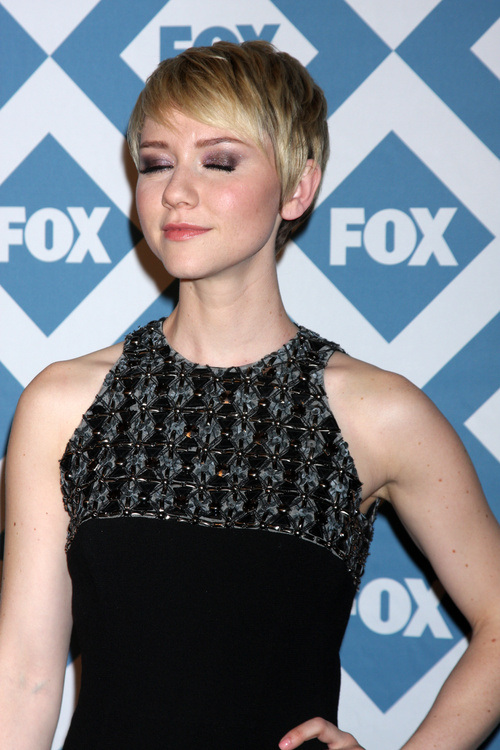 This lady is rocking a classic pixie crop, but it's classic for a reason – a pixie crop is always a good idea! Her beautiful hair has been highlighted a warm shade of blonde, and falls into a lovely cut which finishes roughly around the ear length, but is kept close to the head. She's worked a lovely fringe across her forehead to finish the look off perfectly.
Tousled Bob with Fringe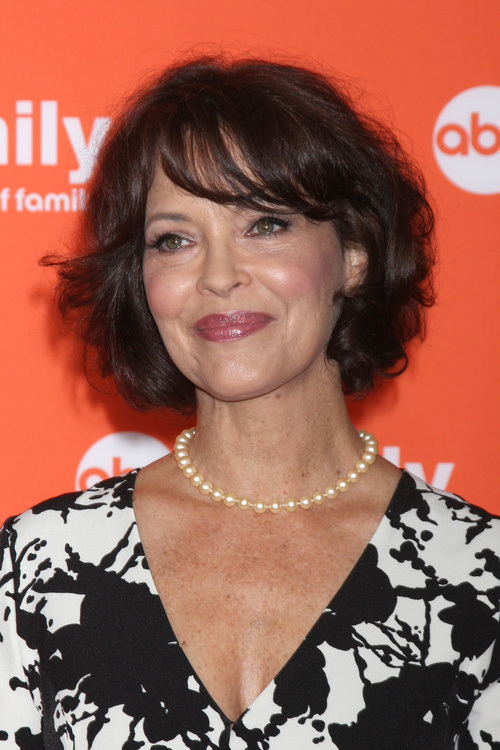 This is a gorgeous brown bob that is simply striking with a tousled finish. With a lovely style which finishes roughly around jaw length, this hair is finished with subtly shorter layers throughout and a beautiful flicked fringe which moves to the side. This lady has curled her gorgeous hair to create this wonderful hairstyle which is both classy and glamorous. This is a perfect short hairstyle for women over 50.
Red Highlights with Ringlets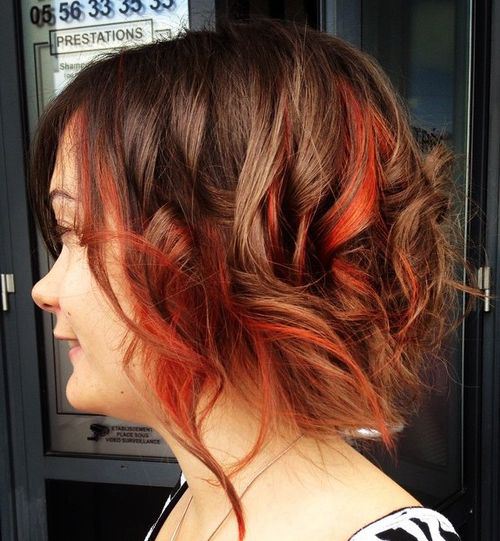 This beautiful bob has stolen our hearts – we absolutely adore the red highlights, which look incredible against her brown hair, don't you think? Her hair starts a rich brown at the root and works into a lighter brown and the red shade towards the ends, and this amazing colour transition has been highlighted by these tight ringlets at work throughout! If you're looking for short hairstyles for thick hair, try this one.
Curly Asymmetrical Crop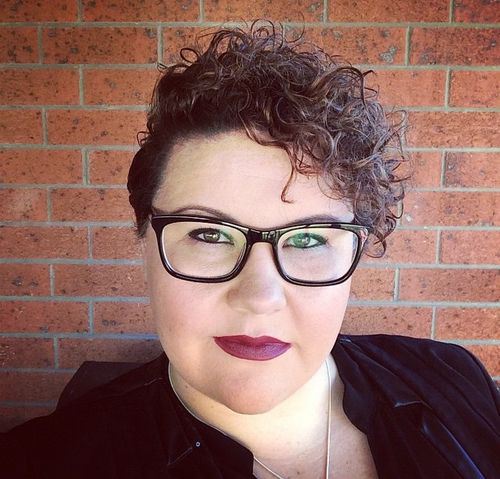 This striking lady looks like she means business – and we expect it's because she knows she has simply fabulous hair! Her locks fall in an asymmetrical style, shorter on the one side and working their way into slightly longer tight curls on the other side of the head. The colour is a beautiful and dark brown which we cannot get enough of.
Glossy Black Pixie Crop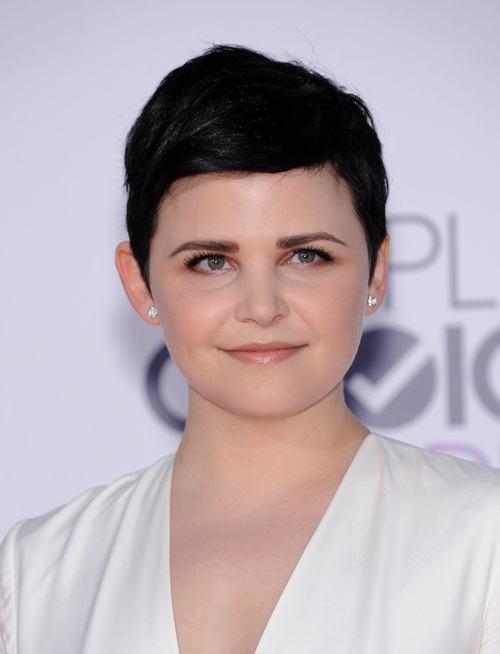 The striking lady pictured has emphasised her gorgeous features by opting for a very short pixie crop which perfectly compliments her face shape. She's opted for a glossy black shade which is oh so gorgeous, especially on this lovely cut which is very short indeed. She's kept the hair close to the head and has a very slight fringe on one side.
Braided Bun with Curly Fringe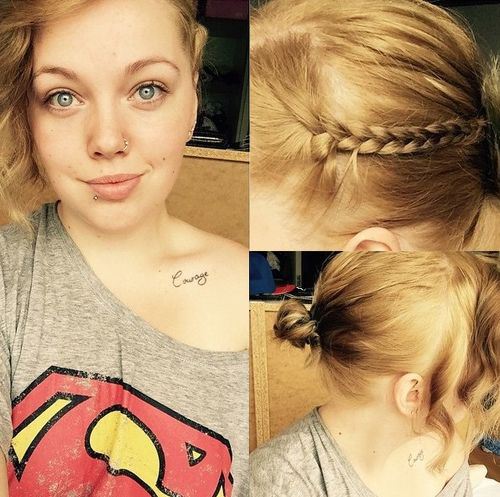 This utterly adorable girl has the most lovely hair and she's been so creative with the style; we will definitely be using her as inspiration! She's added a lovely braid to one side of the hair, and swept the bulk of her hair into this adorable little bun at the back. The other side of the head has been left in loose ringlets which fall around her face.
Striking Flicked Bob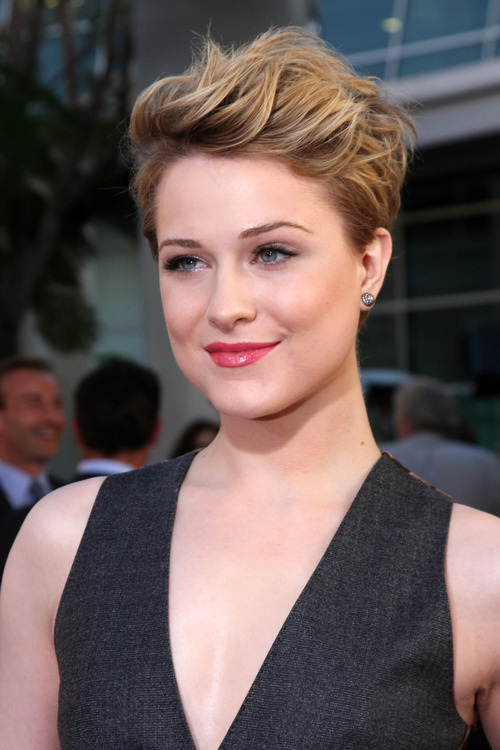 This absolutely stunning caramel blonde bob has been styled in a dramatic effect to create the most beautiful finished look we ever did see. This gorgeous lady's hair starts a darker brown and then blends into this warm blonde shade, creating an amazing effect. She's showed the colour transition off by spiking her hair into this amazing flicked finish.
Contrast Fringe Bob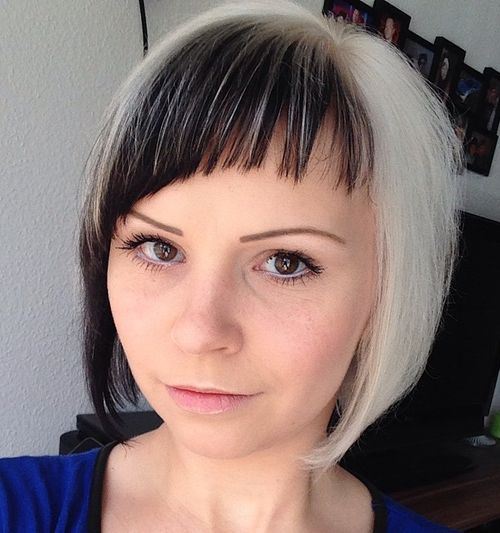 This stunning lady has totally striking hair which is designed to attract attention – in the best way, of course! Her hair a short bob which finishes around the jaw level, with a wonderful graduated fringe, slightly longer on one side than the other. Her hair is an icy white blonde, and the fringe is a total contrast with a glossy black shade we adore.
Asymmetrical Bob with Curly Fringe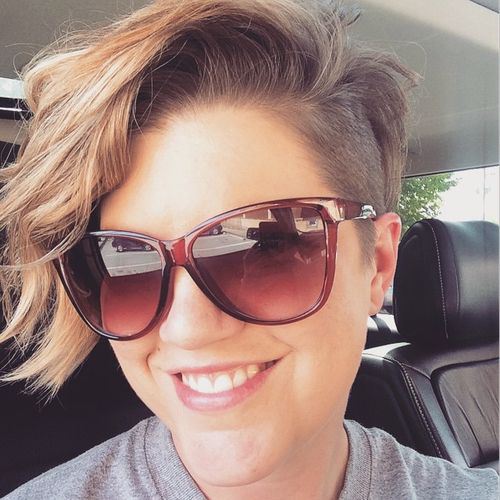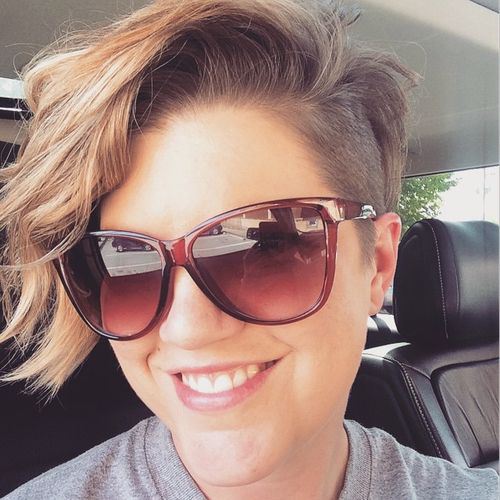 This stunning lady has a winning smile – and wouldn't you, if you had that gorgeous hairstyle? She's worked the asymmetrical style, with one side of the head shaved closely to the head, and the other side left a lot longer, falling into this beautiful fringe section which has been curled perfectly. This look would be equally special when straight too.
Curly Pixie Crop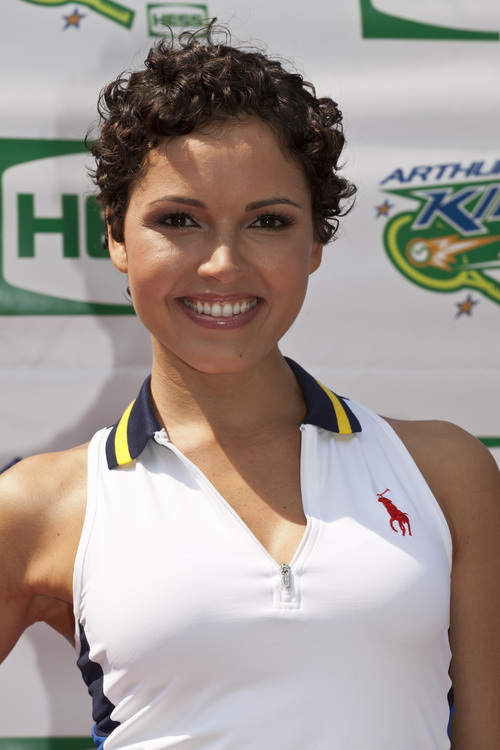 This wonderful pixie crop is cute, easy to maintain yet oh so stunning, every single time. In a gorgeous and glossy deep brown shade, the hair is cut close to the head all over, creating the ultimate low-maintenance but high-impact style. This beautiful lady has left her naturally curly hair in wonderful ringlets throughout which gives an amazing finish.
Black Bob with Waves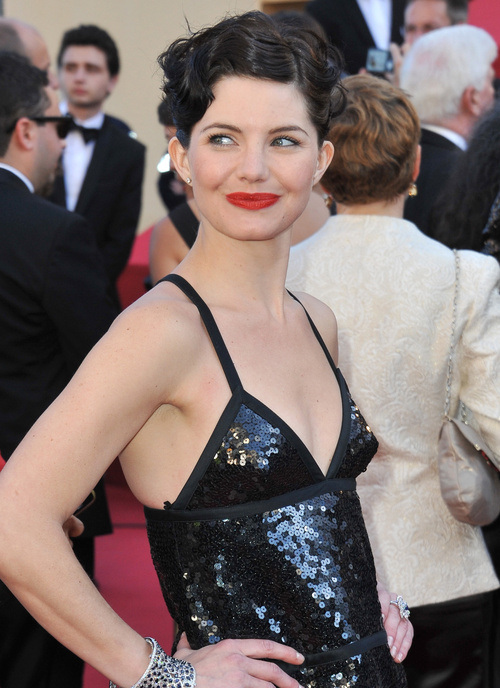 This gorgeous and glamorous short hairstyle is oh so beautiful – just perfect for a formal event or a special occasion. She's gone for a slightly longer pixie crop, with a lovely long fringe around one side of the head. Her hair is a wonderful and glossy shade of black, and is worked into loose waves throughout. We love this finished style, don't you?
Loosely Curled Blonde Bob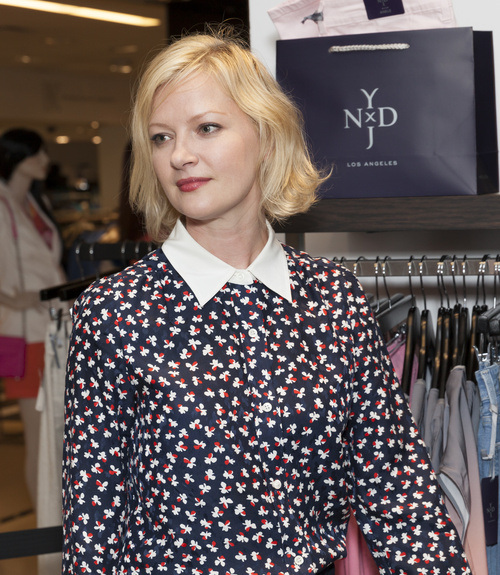 This stunning blonde bob is relaxed and striking, creating the perfect daytime look. Her hair is a light blonde shade which is very warming. It's cropped to around the jaw length, and is parted on the side, leaving a lovely side fringe to finish the look off. She's ever so slightly curled her hair to create this casual yet fabulous finish and we absolutely love it.
Purple Glossy Bob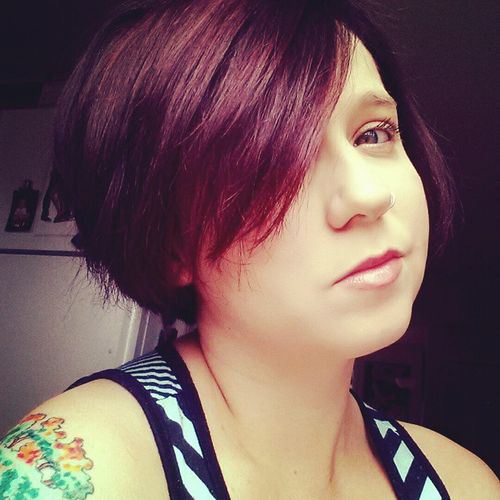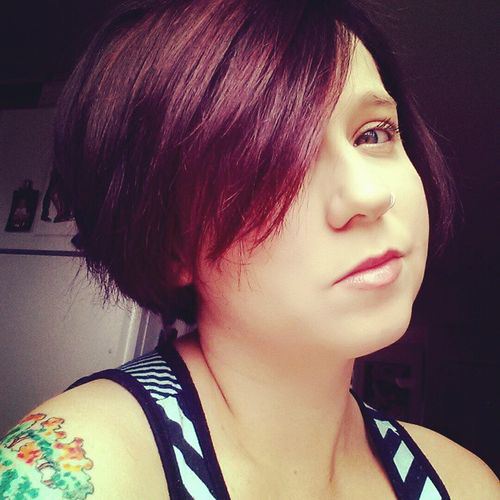 This lady's hair is the most gorgeous shade of purple-toned red that stands out from the crowd – it truly is lovely. It looks even more special because of the stunning bob she's gone for, which forms this wonderful curved shape just below her ears, with a longer fringe section towards the front of the face. We think this look would be lovely with curls too!
Curly Black Fringe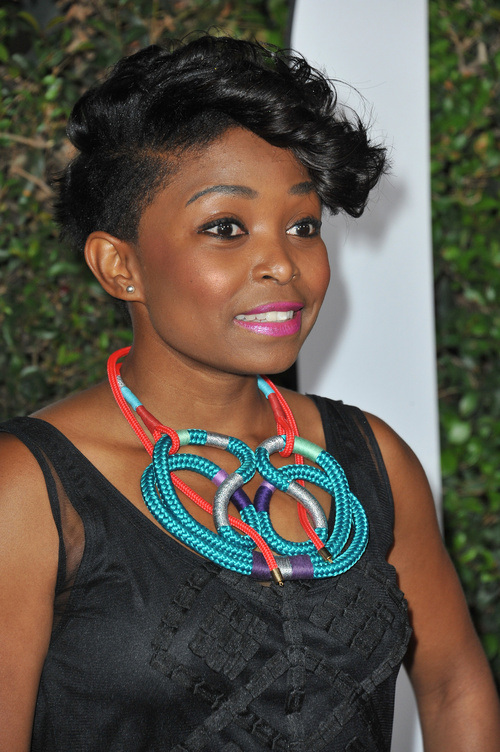 This striking lady has styled her hair to perfection, creating this gorgeous look which is ideal for a formal night out or special occasion. She's opted for a fashionable asymmetrical style, shaving one side of the head and leaving the other side long, falling into this incredible fringe section, which she's curled backwards to create this wonderful look.
Straight and Choppy Brown Bob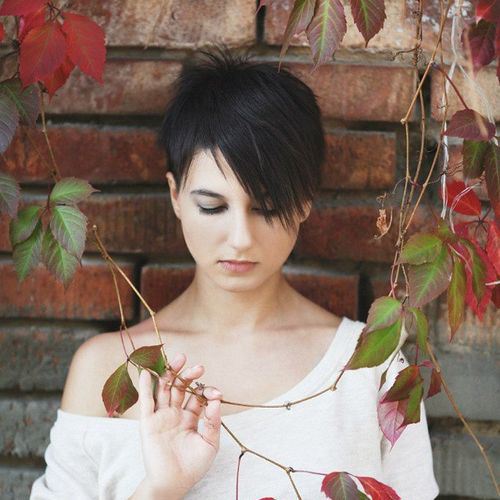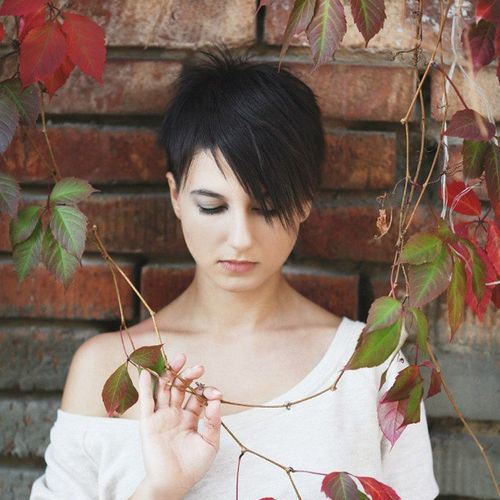 This utterly gorgeous style is straight, choppy and edgy creating this perfect and fashion-forward finish. This beautiful brown style is parted on the side, with a long front fringe section and slightly shorter hair right around the back of the head. The top of the hair is left in short and choppy layers right to the top of the head, which looks fantastic.
White Blonde Bob with Long Fringe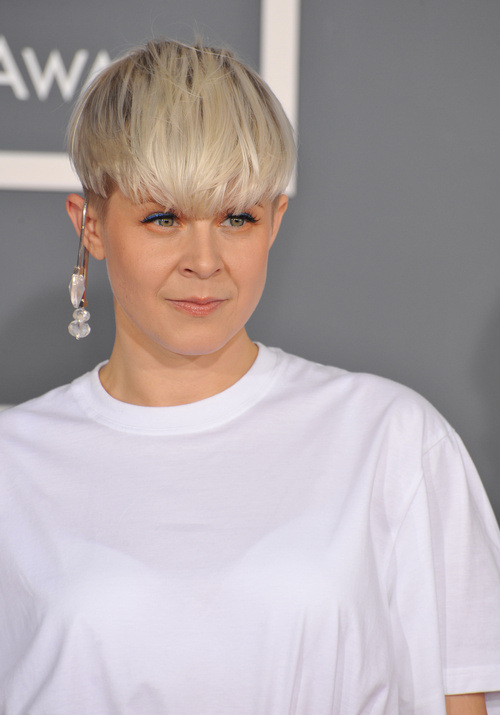 We can't get enough of this incredibly stylish look – we think it looks just incredible! This gorgeous lady has opted for a short bob which is finished in a long fringe, and a straight line right around the head for this fabulous and trendy style. She's opted for a white blonde shade that is even more striking, creating the most fantastic finished look that we ever did see.
Cropped Bob with Straight Fringe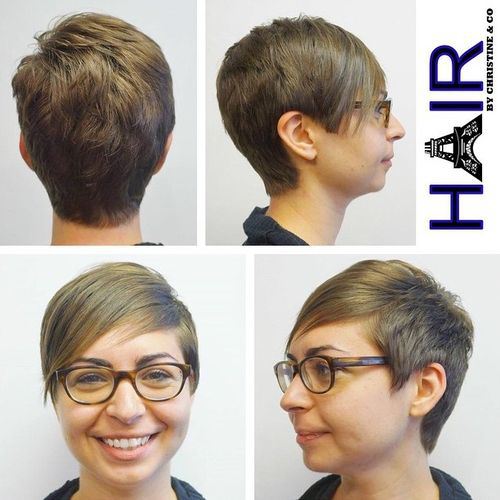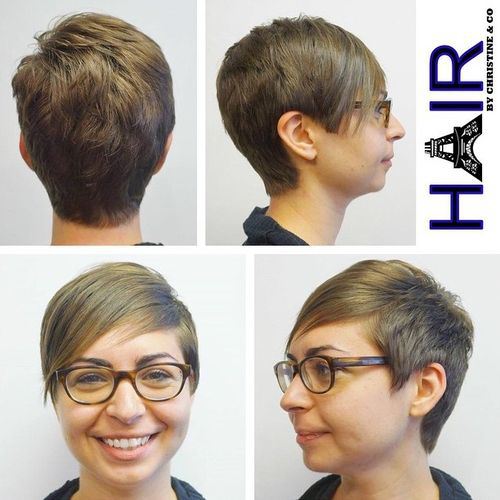 This gorgeous pixie crop has stolen our hearts – we think it looks simply striking! It's kept incredibly close to the head around the back and sides and finished with a longer fringe section which sweeps across the forehead. She's kept her fringe straight and sleek, creating the most stylish finish – especially in this beautiful light brown shade!
We think that this gallery of beautiful short hairstyles proves the range of styles you can choose for your shorter look. Let us know which one is your favorite!