Bohemian style is all the range lately, which makes French Braids incredibly fashionable, and we couldn't be happier about it! A french braid is not only a stunning hair style, but it's a really innovative and cool way to get your hair up off your face and looking effortlessly glamorous. A french braid ponytail is always a winning style, and can be introduced and worked into your hair in so many different ways, so here we've gathered some of our favorite looks.
Brown to Blonde Ombre with French Braid Ponytail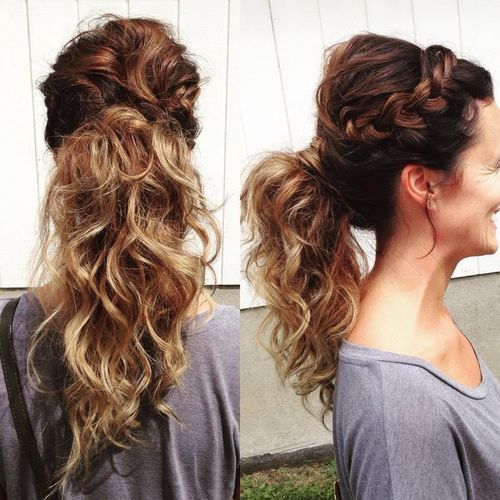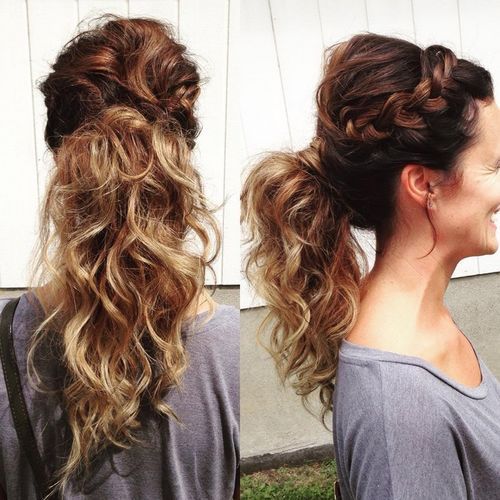 In what might be one of our favourite looks from the collections, we absolutely adore this stunning ombre french braid ponytail! Her beautiful curly hair goes from a glorious rich brown to a beautiful bright blonde at the ends, and she's worked this amazing hair into a stunning ponytail with a french braid crown across the top of her head.
White Blonde High Ponytail with French Braid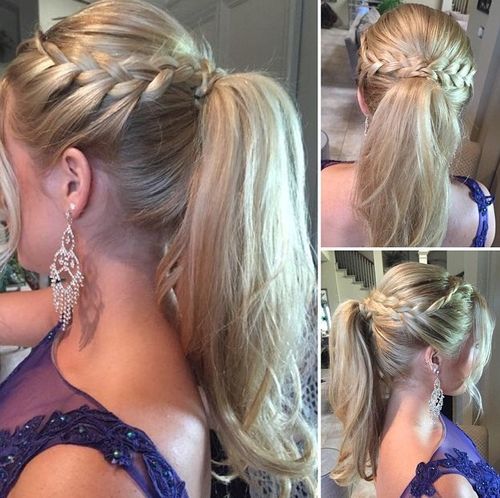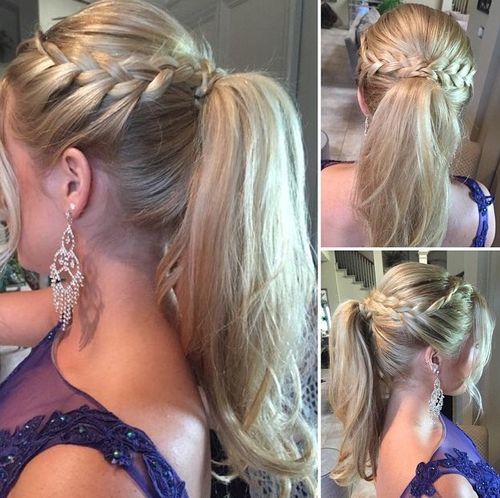 This beautiful white blonde ponytail is effortlessly glamorous and oh so stylish – especially because of the gorgeous french braid detail which sweeps the hair into the ponytail perfectly. This lovely lady has created the stunning look which is just perfect for her formal event, especially because of the sweeping ringlets of hair which frame her face!
Caramel Blonde Low Ponytail with French Braid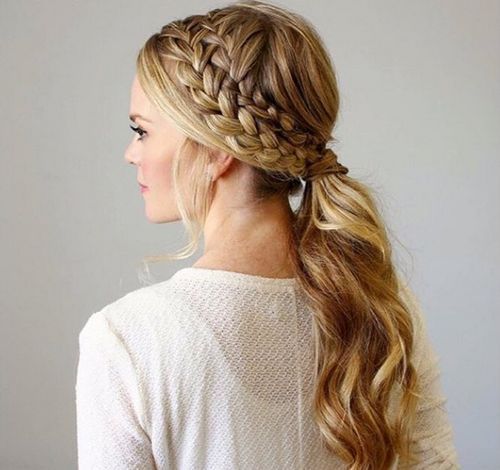 This lady is absolutely gorgeous, and not least because of her simply beautiful hair. This beautiful hair is a spectrum of warming caramel tones, which she's swept into a low ponytail full of soft curls with two amazing french braids from the parting right to the ponytail. It adds a unique and exciting element to this look which is oh so glamorous.
Blonde French Braid Ponytail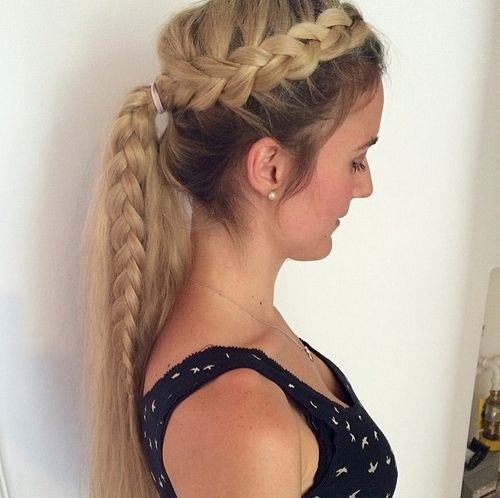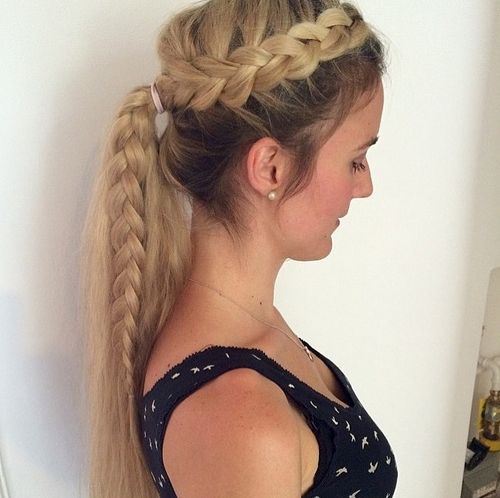 When creating a french braid ponytail look, the braid doesn't need to stop when you form the ponytail, like this gorgeous lady proves. Her beautiful blonde hair has a french braid section which runs right through the hair, which is fashioned into a stunning ponytail that falls down her back. We love this beautiful blonde style which stands out!
Fabulous Bohemian French Braid Ponytail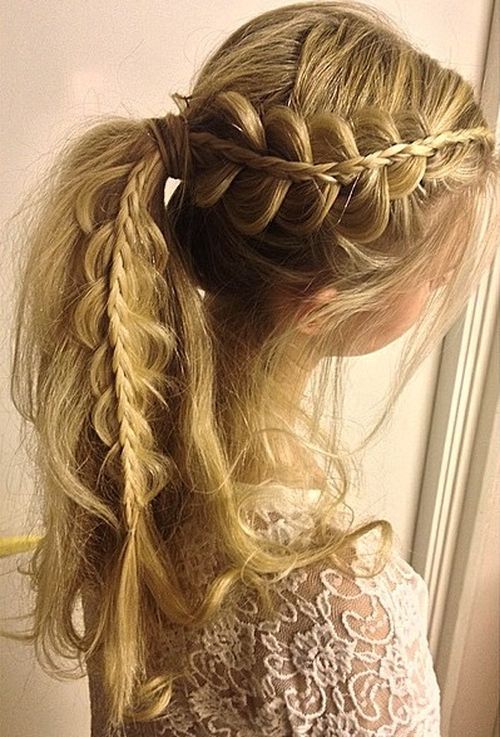 This stunning french braid ponytail is oh so bohemian and incredibly stylish – and we simply adore it! This stunning lady has an absolutely stunning shock of blonde hair which falls long down her back. She's swept it up in a messy ponytail scattered with curls, and has gone for an intricate french braid on one side with an incredible bohemian plait effect throughout!
Copper French Braid Ponytail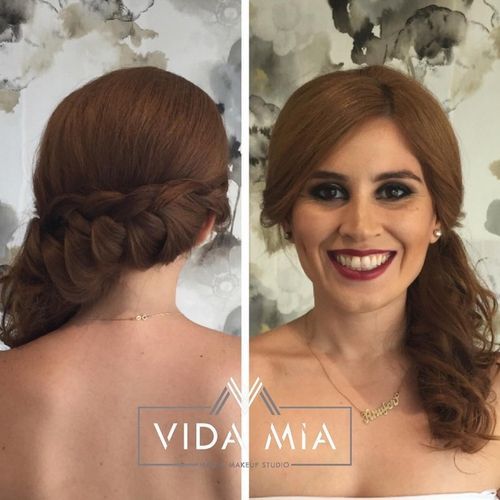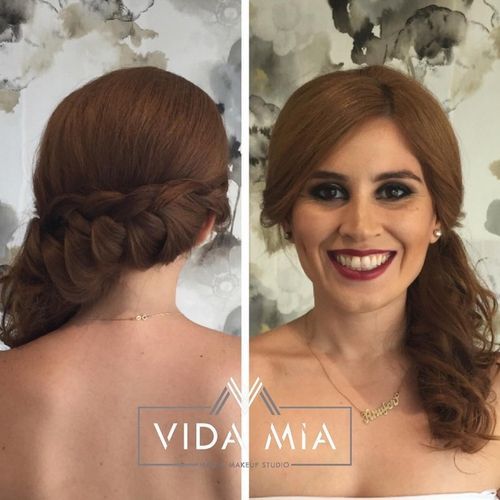 This beautiful lady has a shock of simply stunning copper hair, which she's styled in a remarkable fashion with a french braid ponytail. Her smooth and sleek hair has a french braid working its way from one side of the head to the other, and is finished with stunning curls which fall softly over one shoulder. This look is gorgeous and glamorous.
Thin French Braided Up Do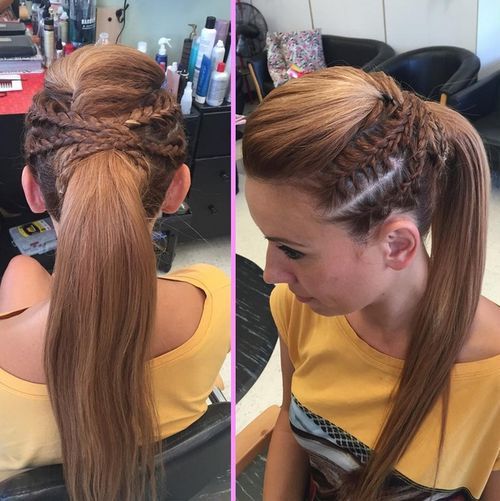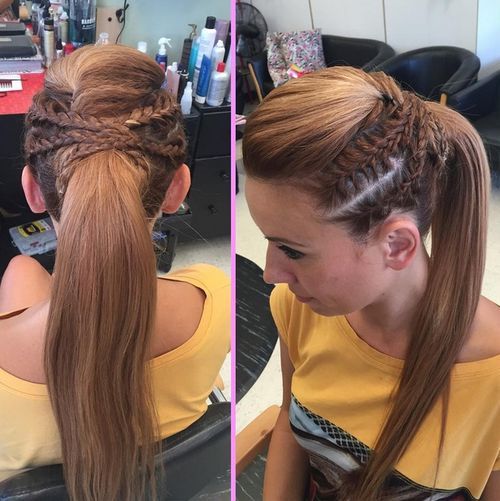 This lady has swept her hair off her face in a glamorous ponytail style, but it's far from ordinary indeed! Her gorgeous caramel coloured hair has been french braided twice on each side and worked into a beautiful ponytail. Finished with a quiff at the front and a gorgeous long ponytail which falls down her back, this style is amazing.
Brown and Blue French Braid Ponytail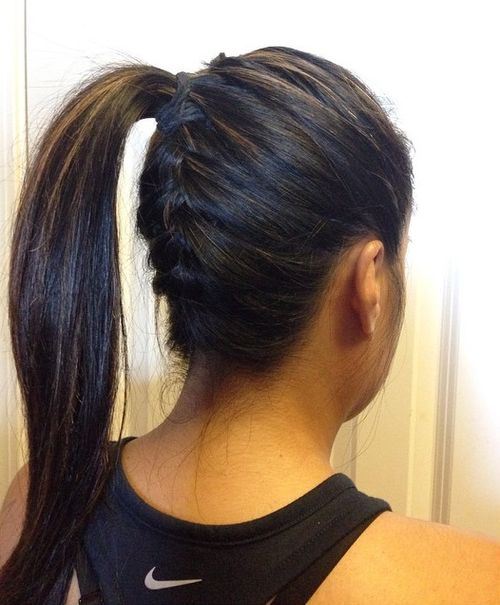 What better way to show off your beautiful brown and blue ombre hair than with an impeccable and intricate french braid design that showcases the colour blend to perfection? This lady has gone for a wonderful french braid design from the base of the head that is swept up into a ponytail which falls straight and sleek down her back.
Double French Braid Ponytail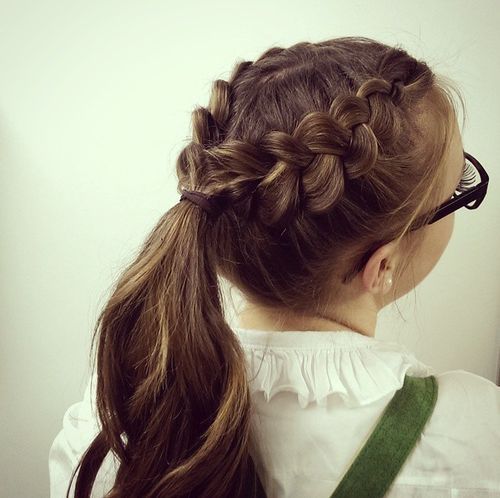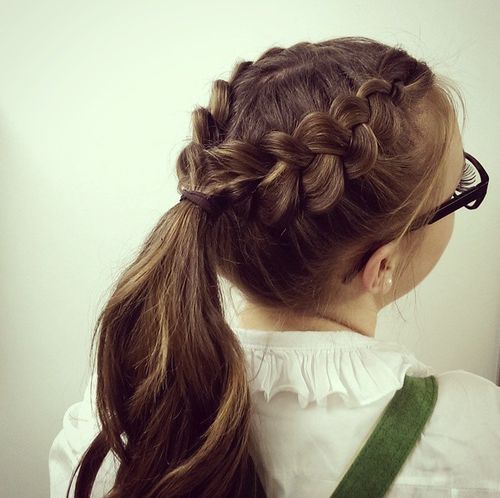 Why opt for one french braid when you can have two? This gorgeous lady proves that with her amazing hair style in this picture! Rather than one french braid, this lady has braided her hair twice, one on each side, and swept them both into a ponytail which is finished with loose waves throughout and falls down her back. We adore this style.
Pastel Pink French Braid Ponytail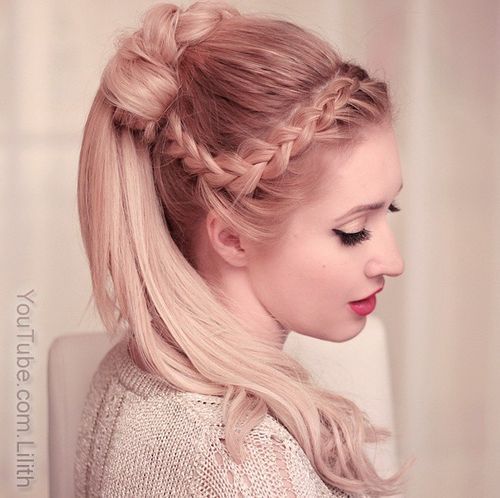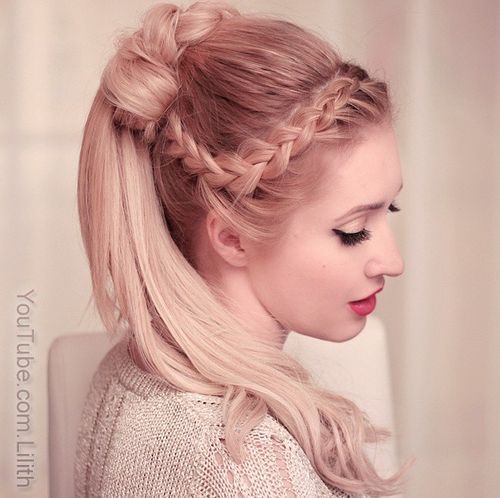 Not only is a french braid incredibly practical at getting your hair off your face, but it can create a gorgeous style that will wow the crowds – as this lady proves! Not only does she stand out from the crowd because of her stunning pastel pink hair, but because she's opted for a french plait across the front of the hair that's swept up her high ponytail to create the most gorgeous style.
Blonde French Plait Twisted Ponytail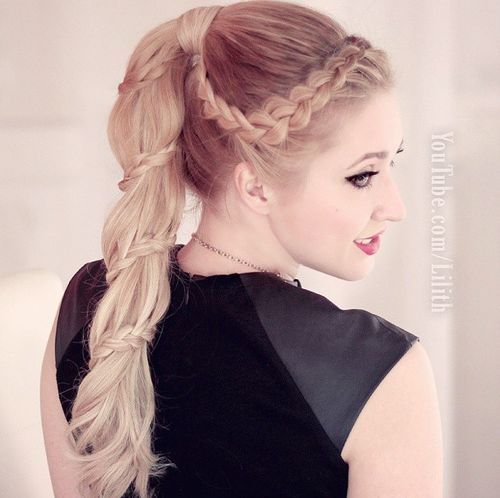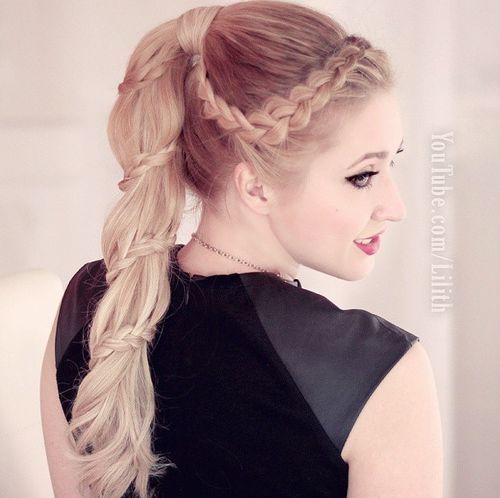 This lady has a head of luscious long locks which are a stunning light blonde colour that we can't get enough of. She has a high ponytail which falls in a gorgeous and loose curl down her back, and she's worked an intricate french plait into the ponytail. We love the finished result, because she's wrapped the plait around the ponytail for a unique twisted look!
Grey and Blonde French Plait Ponytail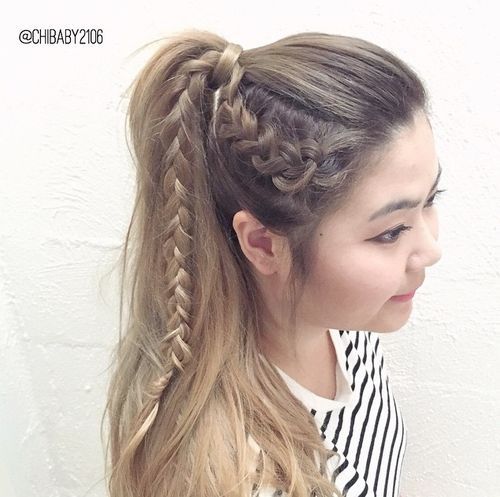 This incredibly fashionable lady has embraced both the ombre hair trend and the grey hair trend and worked them into her look, going from a wonderful grey root to a gorgeous blonde finish in a stunning ombre transition. She's swept this stunning hair into a high ponytail working an intricate french braid into one side for a fabulous finish.
Double French Braid Blonde Look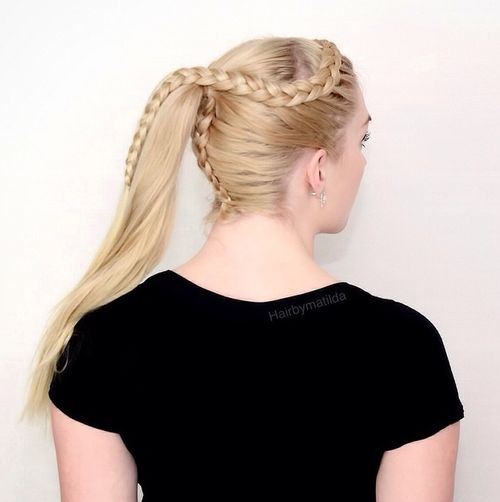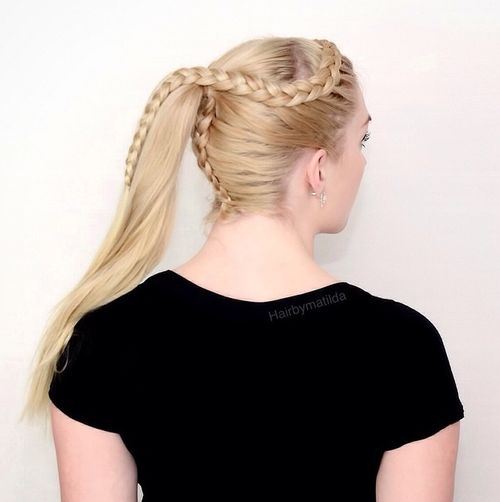 If you're looking for an incredible way to sweep your hair up in a tight ponytail with a bit of interest too, then let this amazing lady be your inspiration! She's got stunning caramel blonde hair and has gone for a french braid from the bottom of her hair upwards and simultaneously from the fringe section of the top of her hair, creating a unique double french braid ponytail.
Chunky French Braid Side Ponytail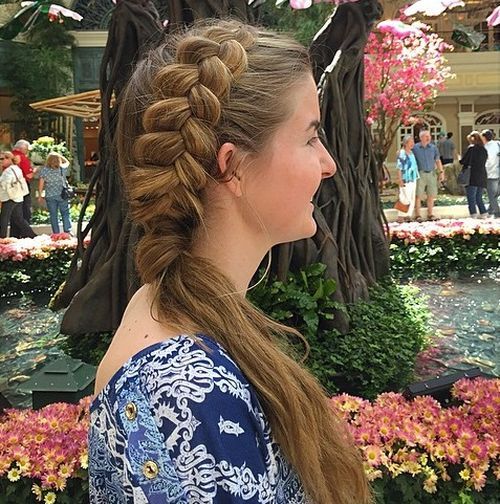 This fashionable lady has swept her thick and loose curly hair to the side in fashion, by embracing the bohemian trend. Going for a thick and chunky french braid style, shes swept all of her hair into a side ponytail so that it falls in waves across one shoulder, keeping it off her face and looking incredibly stylish at the very same time.
Thin French Braids to High Ponytail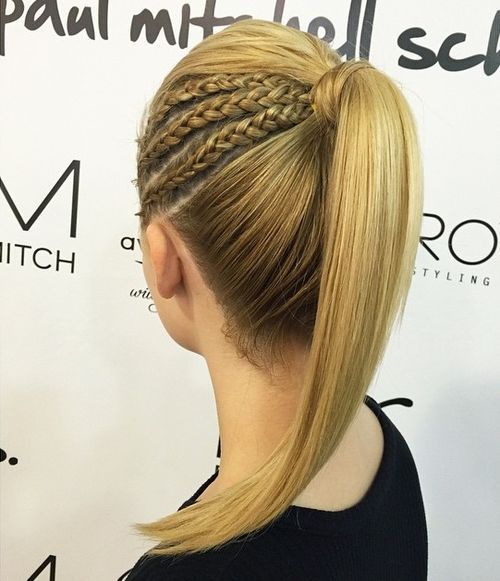 Sometimes there's nothing better than wearing your hair up. It can look incredibly fashionable but be practical too – sweeping any loose strands off your face. This lady has gone for a high ponytail which looks amazing, but she's added an element of interest by introducing three thin french braids on each side that work their way into the ponytail seamlessly.
Brown to Pink Elaborate Ombre French Braid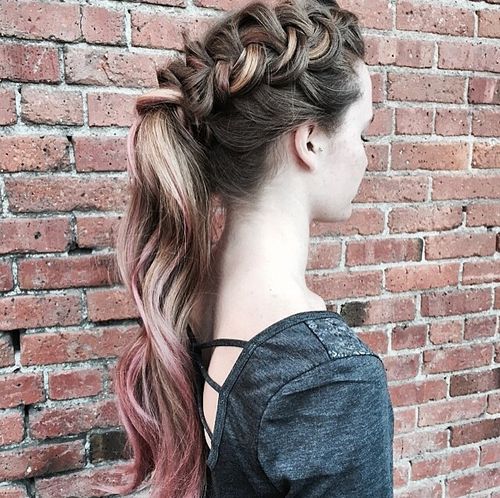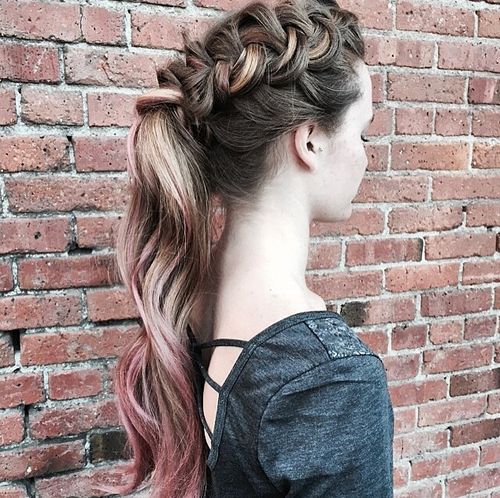 This girl has absolutely beautiful hair, which falls in large and loose barrel curls throughout the brown to pink ombre locks she is so fortunate to have! To show off this gorgeous colour transition and her beautiful curls, she's swept her hair into an elaborate and messy french braid across the top of the head and fastened it in a high ponytail which we adore.
Triple French Braid Look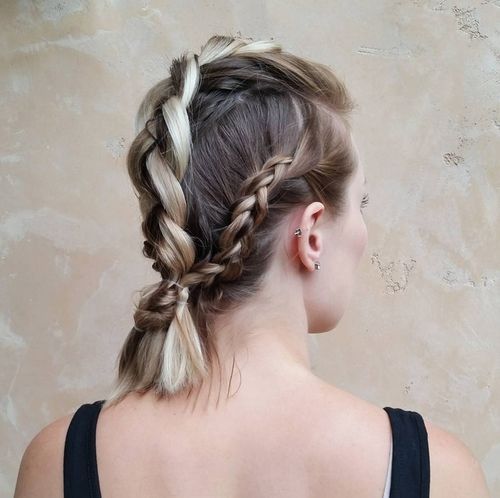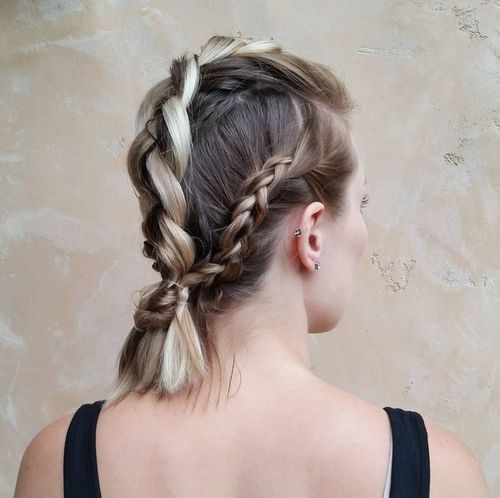 This wonderful lady has swept heir hair into a thick and chunky french braid from the parting, showing off her gorgeous blonde and brown hair as the colours merge together throughout the plait. Rather than sticking to one braid for all of the hair, she's also braided the two sides in a french plait and tied the trio of braids together at the nape of the neck.
Double French Braid with Ribbon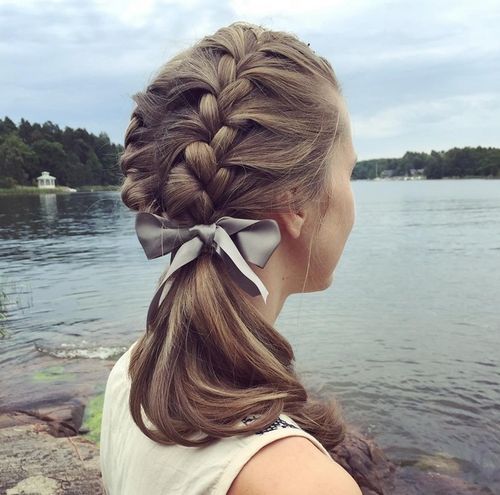 This intricate french braid style is sophisticated, classy and oh so beautiful – we really cannot get enough of it. This breathtaking look has swept all of this lovely lady's hair into two intertwining french braids from the top of the head to the nape of the neck. She's then fastened the hair with a silky ribbon and let the remainder fall in curls over one shoulder.
Incredible Intertwining French Braids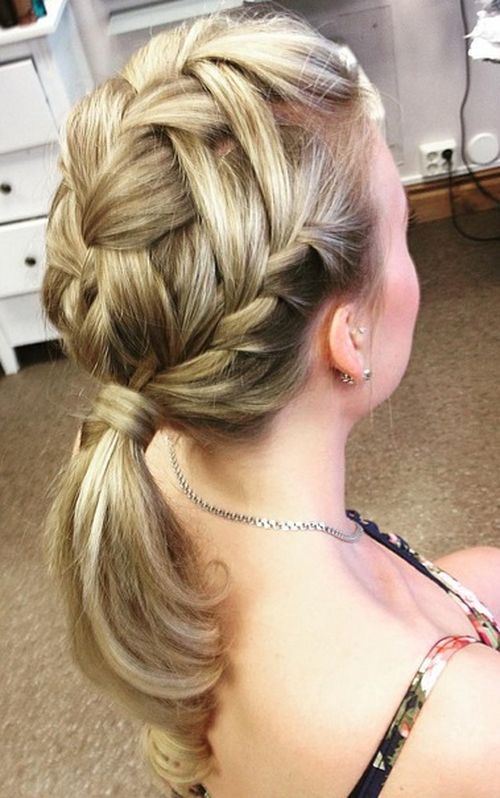 This incredibly complicated and stunningly beautiful french braided style shows off this lady's glorious blonde hair to perfection. She's managed to work her striking blonde locks into a selection of french braids which intertwine, creating a totally unique look for the top of the hair. She's gathered the plaits into a ponytail and let it fall, creating the perfect party look.
French braids can be incorporated into your hair in so many different ways, but a french plait ponytail is the best way to get your hair off your face in a stylish and sophisticated manner which is just perfect for a night out. We hope the Styles Weekly gallery of french braid ponytails has inspired you today!