A waterfall braid is a stunning braid which has a graduated line, finished on a slight diagonal line, as opposed to one which is straight across. Implementing a waterfall look into your hairstyle is an incredibly convenient way of sweeping your hair off your face for practical reasons, but also ensuring that your hair is incredibly stylish at the same time! Here are a collection of stunning waterfall hairstyles that we simply cannot get enough of!
Double Waterfall Braided Half Up Style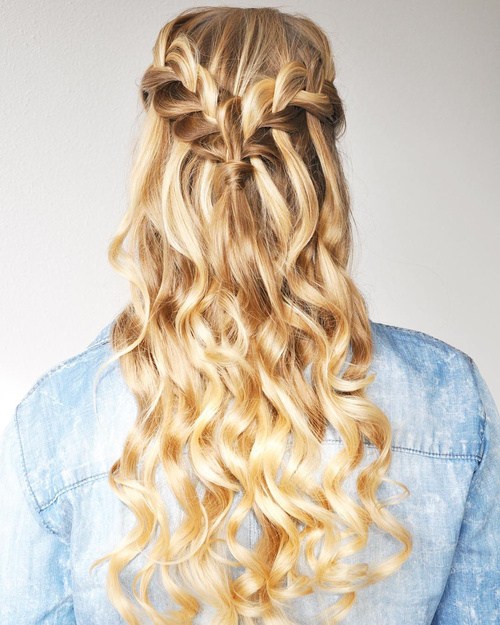 This incredibly fashionable lady's locks are worked with the most beautiful balayage transition from a dark blonde to a light blonde, melting one colour to the other seamlessly. To highlight this colour combination this lady has worked ringlets throughout, and taken the two front sections on either side of the head and waterfall braided them to meet in the middle, creating a half up, half down style.
Brown Waterfall Side Braid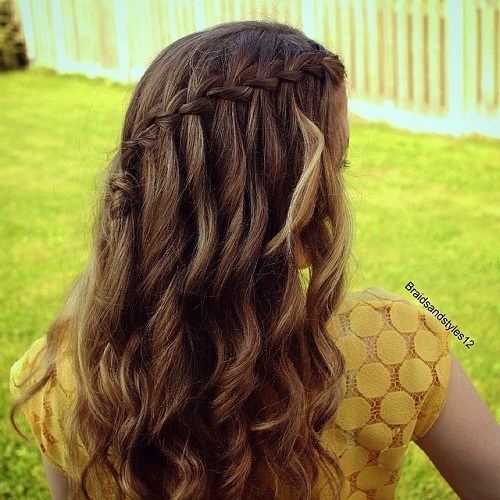 This beautiful brown hair is glossy, shiny and oh so gorgeous – especially because of the subtle blonde highlights scattered throughout! She's curled her hair into tight ringlets from the root to tip, creating a stunning and bouncy silhouette. The front section of hair has been worked into a diagonal waterfall from one side of the head to the other to finish the look off perfectly.
Blonde Double Waterfall Crown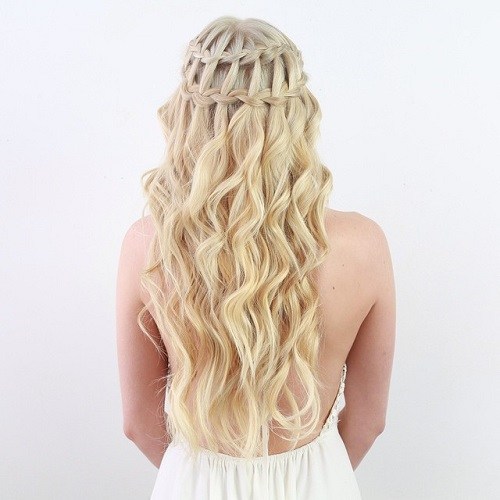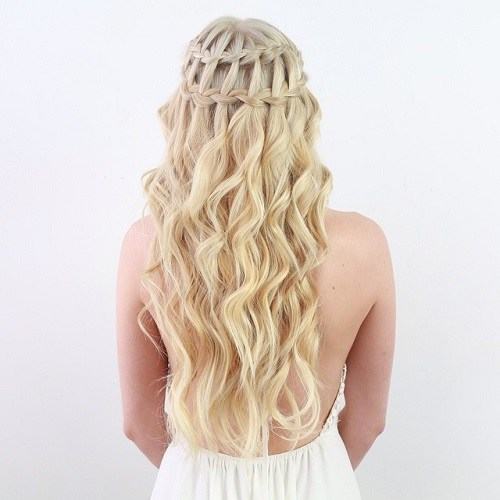 This lady's luscious locks are long, strong and thick; looking especially wonderful because of the big barrel curls this girl has added to them. Finished with a stunning golden blonde shade throughout, the double waterfall braid which works from side to side is the true cherry on top of an already special cake, creating the most stunning and romantic finished style.
Waterfall on Brown Balayage Curls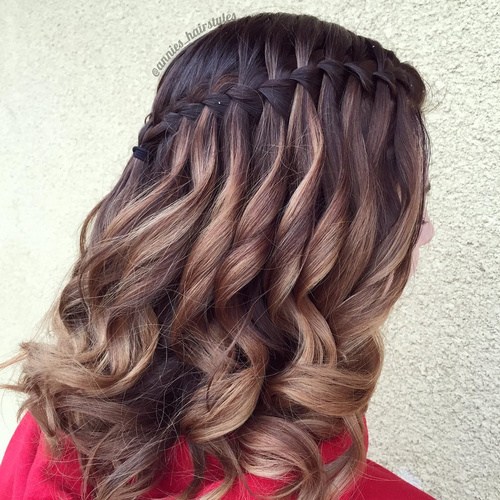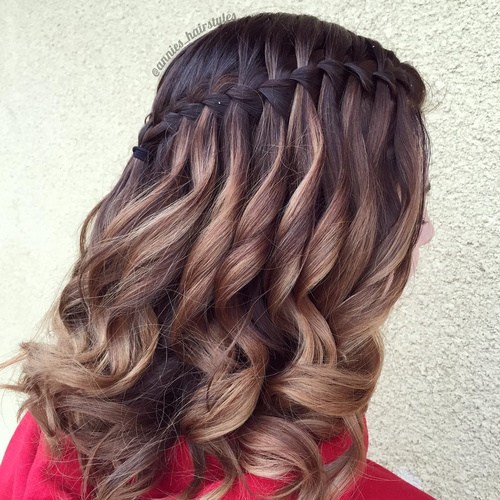 This beautiful brown balayage blends a rich and dark brown at the root into a gorgeous lighter blonde at the ends, melting the two colours together seamlessly. There are even subtle blonde streaks throughout the ends adding lift and light to the style. She's worked gorgeous barrel curls throughout and implemented a stunning waterfall braid to finish the look off delicately and beautifully.
Brown and Red Waterfall Half Up Half Down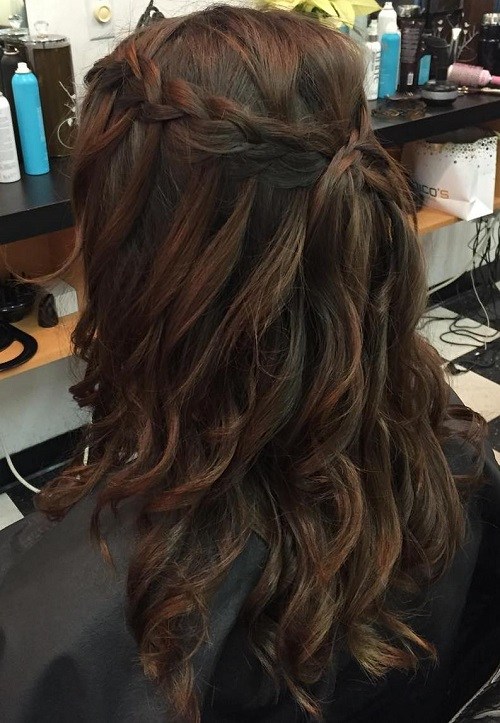 This lady has enhanced her beautiful and rich brown hair with subtle red highlights throughout, adding lift and light to the overall tone of the hair which is simply gorgeous. This lady has created a unique half up half down style by working the front sections at either side of the head into waterfall braids that are fastened at the back and centre. The rest of the hair falls in ringlets down her back.
Structured Blonde Curls with Waterfall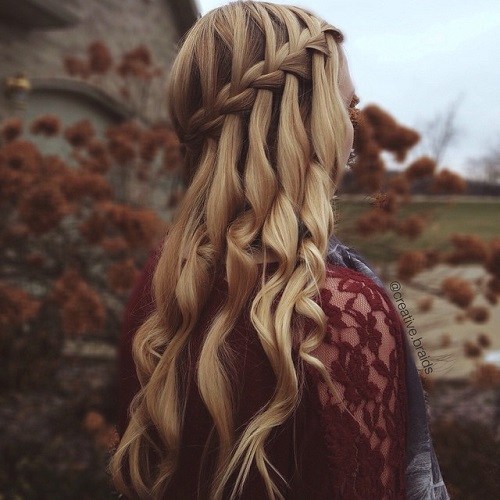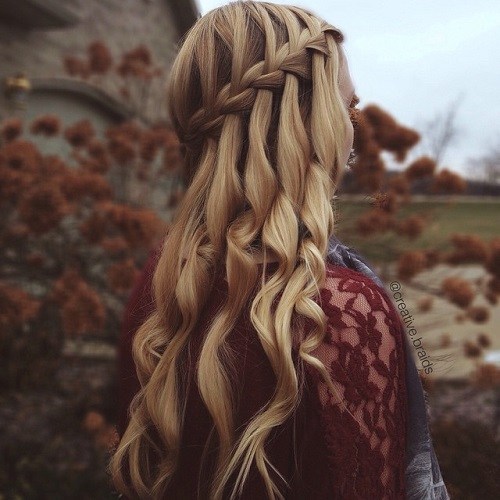 This stunning lady resembles Rapunzel with her lovely long locks; especially in that remarkable honey blonde tone! They fall in structured curls from root to tip which show off the most beautiful blonde shade to perfection. She's swept the fringe section back off the face in a gorgeous waterfall braid that adds a romantic twist to the finished style.
Tousled Blonde Waterfall Braid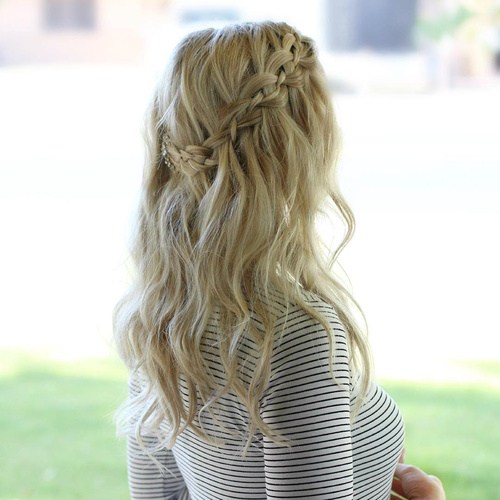 This gorgeous hair is utterly perfect for summer – it's light, bright and beautiful, full of darker blonde highlights to set off the white blonde which blesses the bulk of her hair. She's added loose curls and tousles throughout the hair for a wonderful beach style. She's worked a complicated waterfall braid throughout the hair from the side for a fabulous finish.
Waterfall Braid on Loosely Waved Hair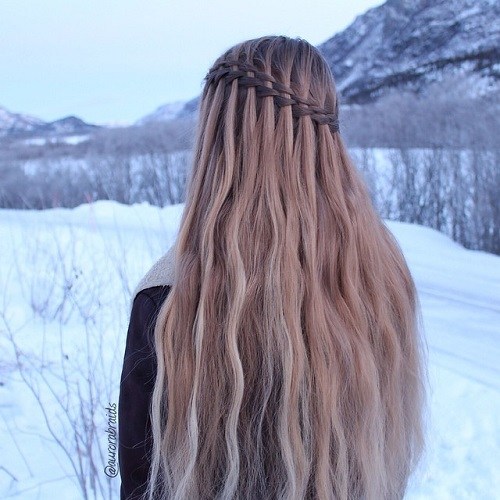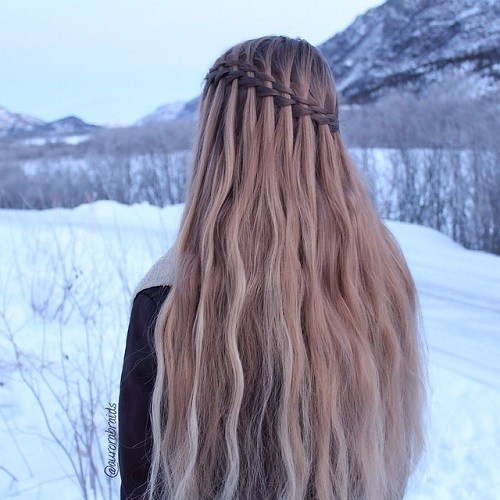 This gorgeous lady has incredibly long and thick hair which is so striking it's guaranteed to turn heads! It's a stunning honey shade of blonde with white blonde highlights throughout, that falls in an incredibly loose wave from root to tip. It creates an incredibly natural look, complete with waterfall braid at the top for a truly fabulous finish.
Red and Copper Waterfall Curls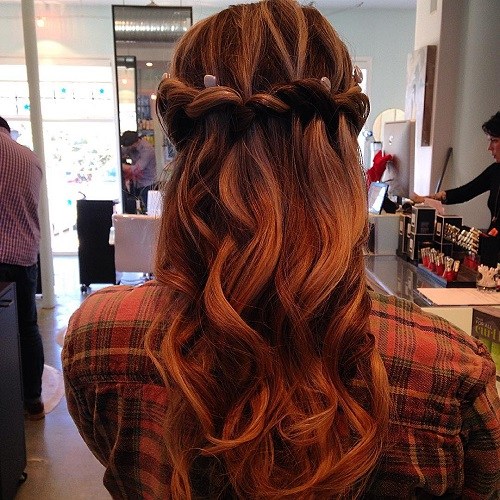 This deep red shade that graces the roots of this lady's gorgeous hair blends seamlessly into a copper shade from around the ear length down, using a stunning balayage blend. To show off the stunning colour transition at work, she's worked beautiful barrel curls throughout that blend the shades together. A waterfall twist works throughout the top of the hair to create a wonderful finishing touch.
Loose Blonde Waterfall Braid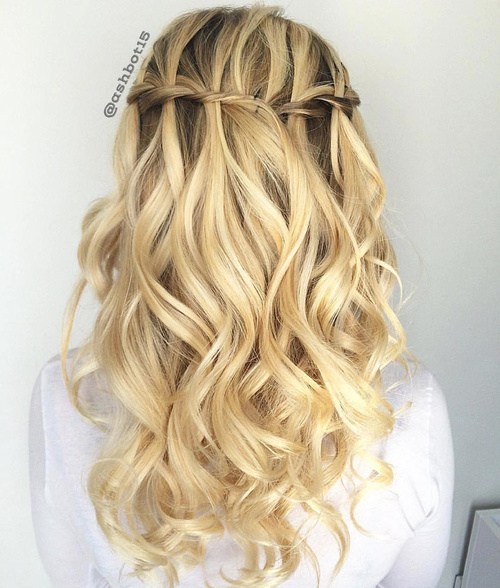 This romantic hairstyle is simply perfect for a night out or special occasion; littered with the most breathtaking ringlets that we ever did see. Voluminous and stylish, this gorgeous blonde hair has been lifted with white blonde highlights for a subtle finish. She's added a loose waterfall braid from either side to create the most stunning halo finish.
Waterfall Braided Blonde to Red Locks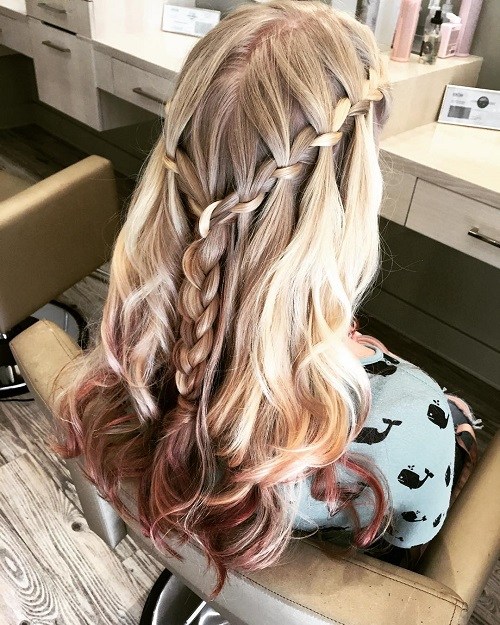 This incredibly fashionable lady's hair is so full of gorgeous colours that we almost don't know where to start! Working from a dark blonde at the root to a white blonde in the mid section and finished with deep red tips, curled loosely throughout. Both sides at the top are worked into a loose waterfall braid, which meet in the middle and fall into a braided ponytail for the most beautiful finish we ever did see.
Romantic Ringlets on Brown Hair with Waterfall Braid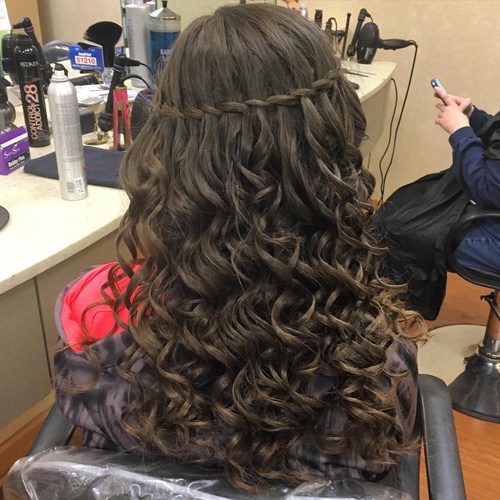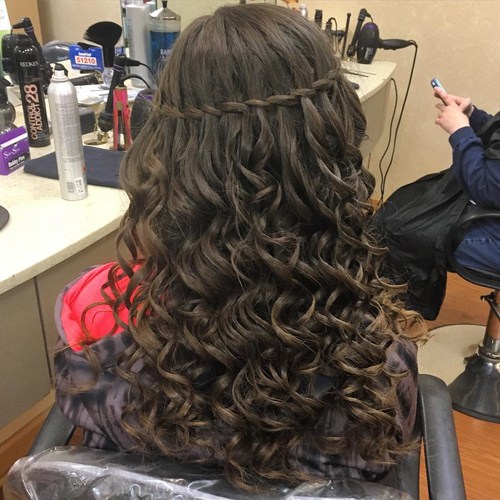 Voluminous, bouncy and oh so striking, these gorgeous chocolate brown locks are full of the tightest ringlets which create a wonderful curved silhouette which is both romantic and stylish; ideal for a special occasion! There's a lovely, twisted waterfall braid which works from one side of the head to the other, creating an incredible finish for fantastic hair.
Blonde and Red Tousled Curls with Waterfall Braid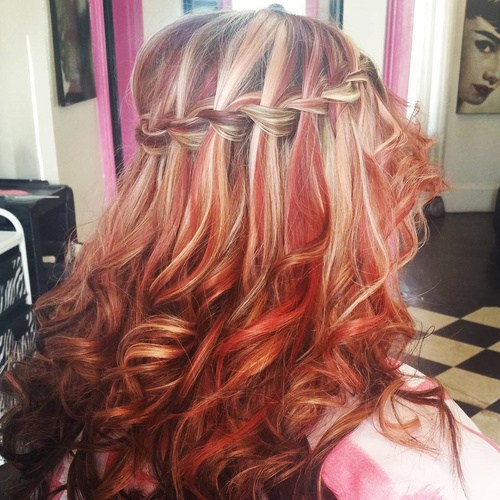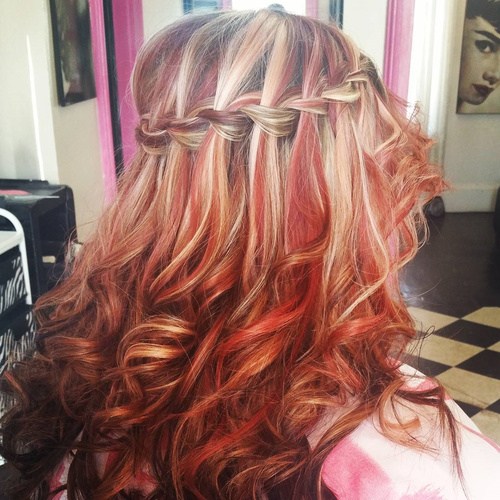 This fashion-forward female has lifted her naturally brown hair with blonde highlights and a gorgeous and vibrant red shade to create a stunning finished look. She's curled the ends and loosely tousled the rest for a fabulous and rough style; finished to perfection with the waterfall braid that showcases the three colours and runs from one side of the head to the other.
Grey to Silver Loose Curls with Waterfall Braid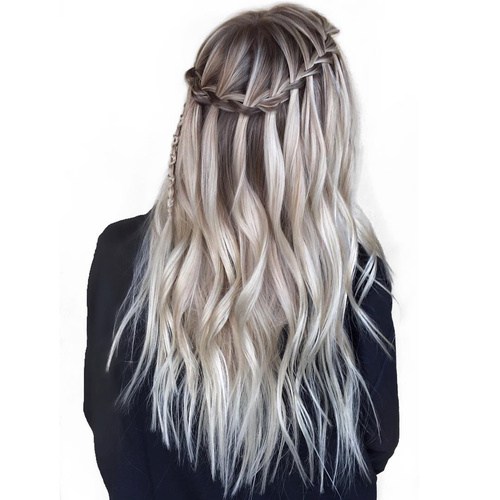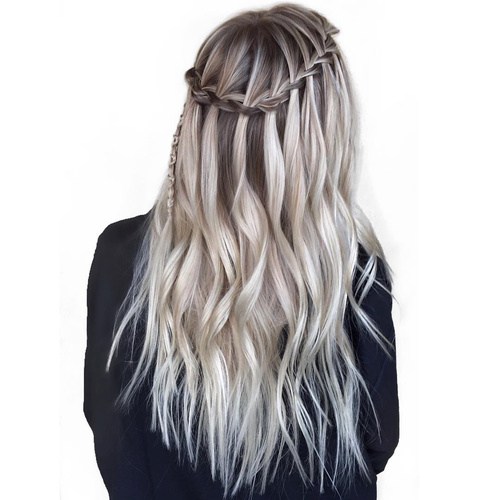 Grey hair is so incredibly on trend that we simply cannot get enough of it this season – especially when it's blended from dark to light via gorgeous balayage transition like this lady has done! To show off the colour melt she's worked loose curls throughout the length and a graduating waterfall braid from one side of the head to the other, finished with a plait that falls down the side of the head.
Honey Blonde Beach Waves with Twisted Waterfall Braid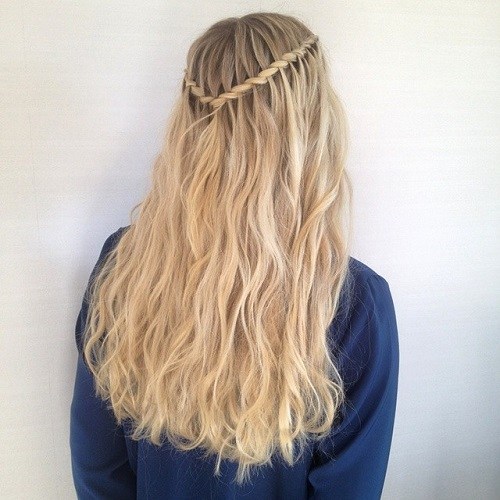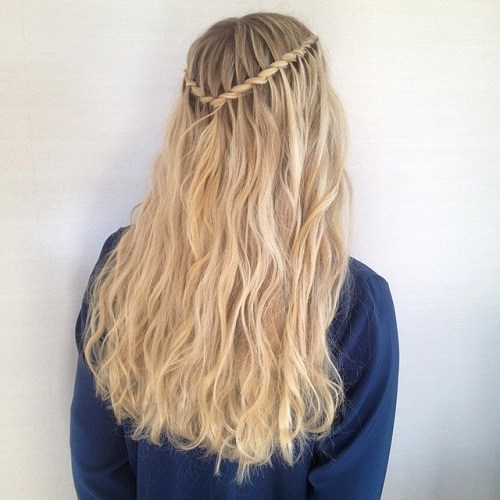 These gorgeous, long beached waves are loosely tousled and scrunched to create a wonderful finish which falls down her back in the most perfect bohemian style. The colour is a stunning golden blonde which has white blonde highlights to add a lovely lift, and the front sections of either side have been loosely twisted into a waterfall braid, and it meets in the middle at the back.
Brown Bob Chunky Waterfall Braid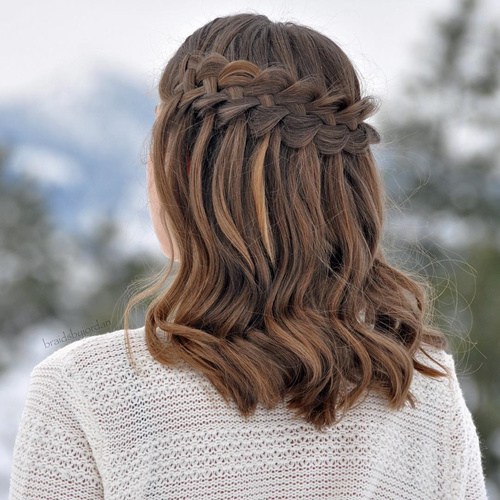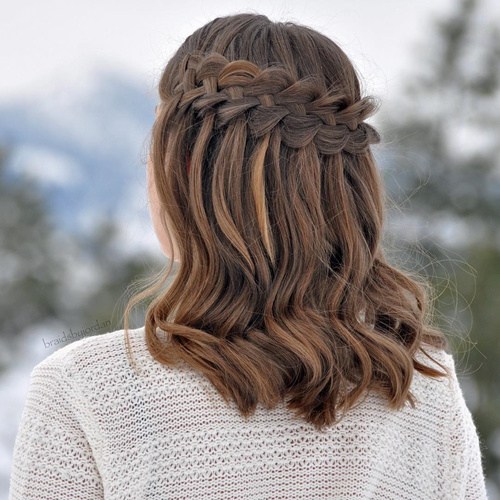 This lovely brown bob falls just below the shoulders in a lovely straight line, and the chocolate brown colour has subtle light brown highlights throughout to add a lovely lift to the shade. She's loosely curled the end to add a beautiful bounce to the shape, and has worked a chunky plaited waterfall braid from one side of the head to the other for a glamorous finish.
Elaborate Double Waterfall Braid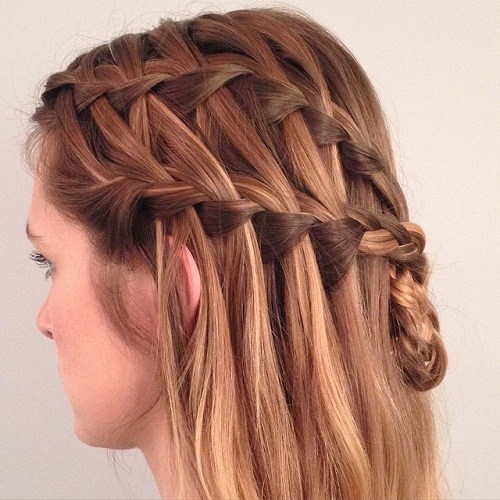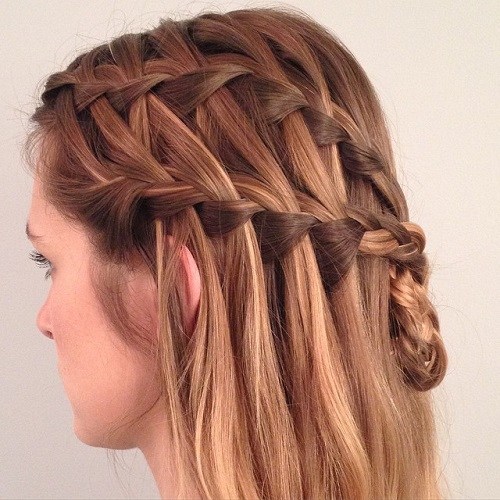 This utterly gorgeous light brown hair is blended into a beautiful blonde shade through a stunning balayage transition, blending the two colours together seamlessly. One waterfall braid wasn't enough for this stylish lady, and she's opted for two running from the front of the head to the back seamlessly, tying them together in a twisted bun effect.
Purple Waterfall Braid with Twisted Finish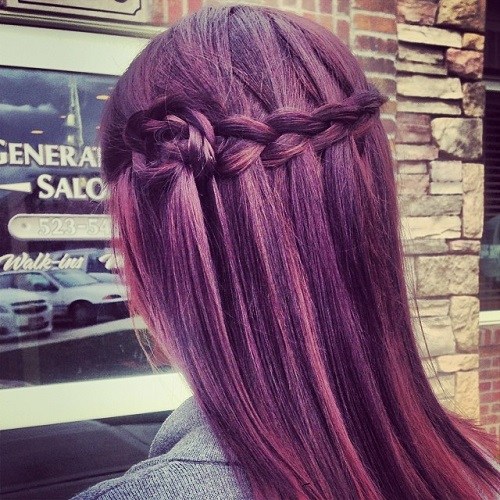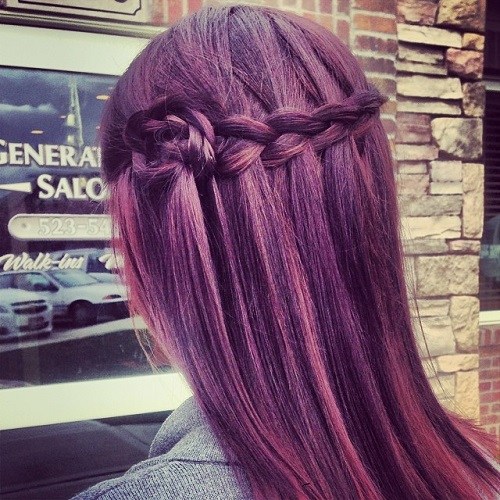 This absolutely stunning lady has opted for a gorgeous lavender colour for her straight and shiny locks, working incredibly thin baby pink highlights throughout the top for the most beautiful sun-kissed finish. She's swept the hair into a loose braided waterfall plait at the back of the head, and twisted the ends into a stunning flower design that is both eye-catching and fashionable.
Black and Copper Twisted Waterfall Crown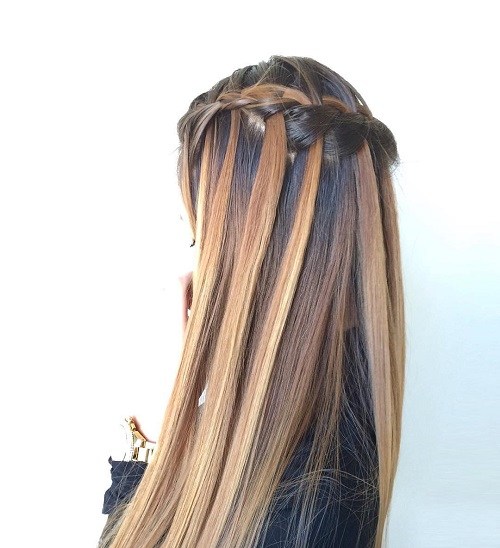 This incredibly stylish woman has straight and sleek hair which is oh so glossy we can barely take our eyes off it! Starting with black roots and quickly working into a gorgeous copper tone that is lifted ever so slightly with blonde highlights, these gorgeous locks are brought to life by the chunky braided waterfall section at the top of the head.
Auburn Graduated Waterfall Braid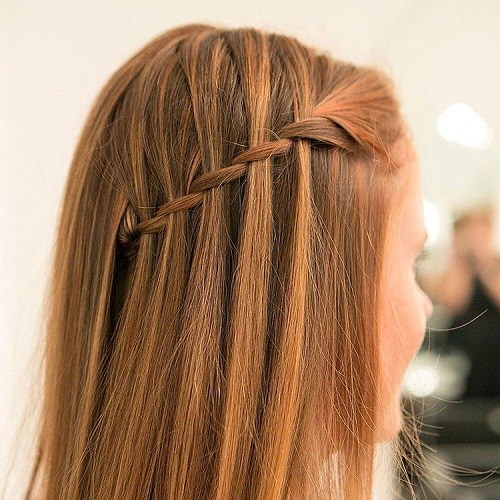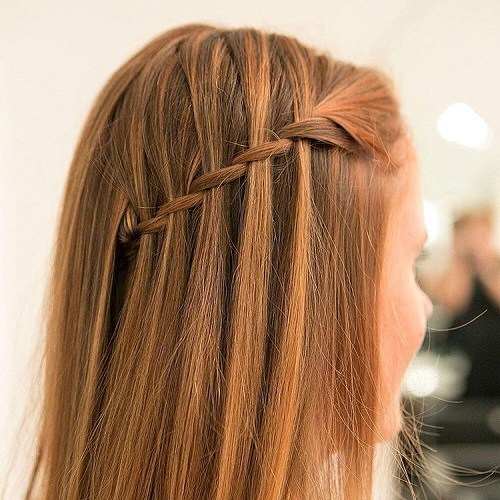 This utterly stunning auburn hair is the most breathtaking natural shade that we cannot get enough of! This gorgeous lady has left her fiery locks straight and sleek, working a gradual twisted waterfall braid on one side of the head and fastening it at the back of the head. It adds an element of style and interest to this gorgeous finished style.
A waterfall braid is utterly stunning, regardless of how you work it into your hair. The gorgeous graduated style adds an element of interest to your hairstyle, regardless of the colour or finished look you've opted for – and Styles Weekly have gathered some truly striking waterfall braids in this blog.