Have you ever troubled by what to wear for work? We have to wear formal suits in their offices, but sometimes we may feel those clothes are too boring and hate wear the same suits every day. Then, how to wear in a fashionable and decent way on work days? You will find the answers here.
Today, we are going to show you 16 most fashionable office outfit ideas for spring and summer. You can learn how to make your routine black and white outfits more stylish and how to make your pant suits more fashionable… Now, scroll down and find more.
Stylish Office Outfit Idea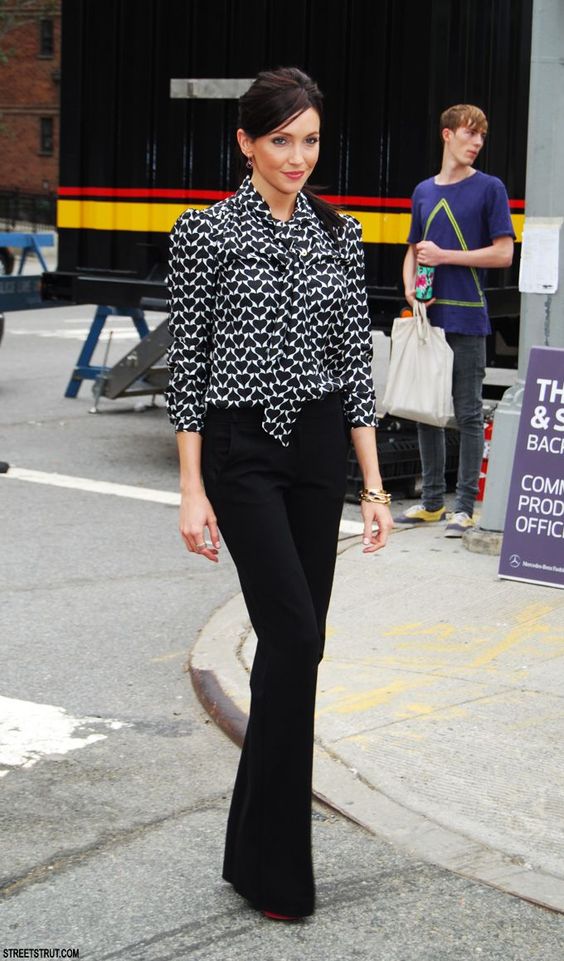 The black pants are a necessary piece for office ladies. If you need them, you can choose the black flares because they can make your legs look longer. And a printed chiffon blouse will complete the stylish office look.
Elegant Office Outfit Idea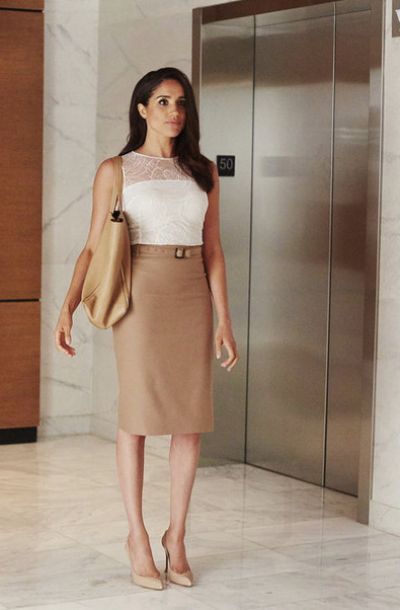 Most women will choose the pencil skirt for an elegant and feminine office look. The khaki skirt will look more stylish when you pair it with a figure flattering top.
Chic Office Outfit Idea

Black and white outfits are the safest choice for work. Yet, the basic pieces will turn out to be far more fashionable as long as you choose the right accessories for them. For example, chic necklaces, bracelets and even shoes will make the final look quite different.
Black Suit for Women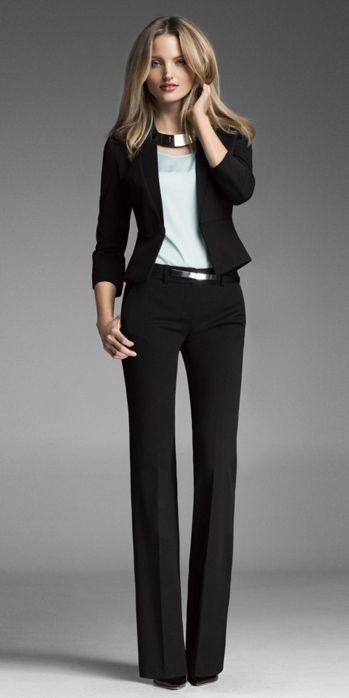 Here is another example of how important the accessories are for the boring suits. Besides, when you are buying a blazer, choose the ones that are well-tailored so that your figure will look better.
White Shirt Outfit for Work

The white shirt can go well with any other piece in your wardrobe. To get an effortless chic look, you may just pair it with the printed pants and nude tone pumps.
Graceful Office Outfit Idea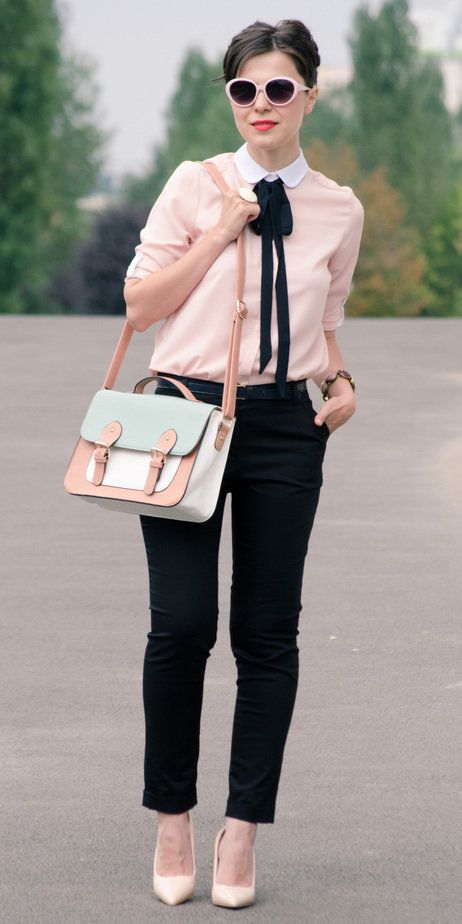 The cute blouse is also great for office women to try. Such outfits will give you a more feminine and graceful look than the basic black and white outfit.
Denim Skirt Outfit for Work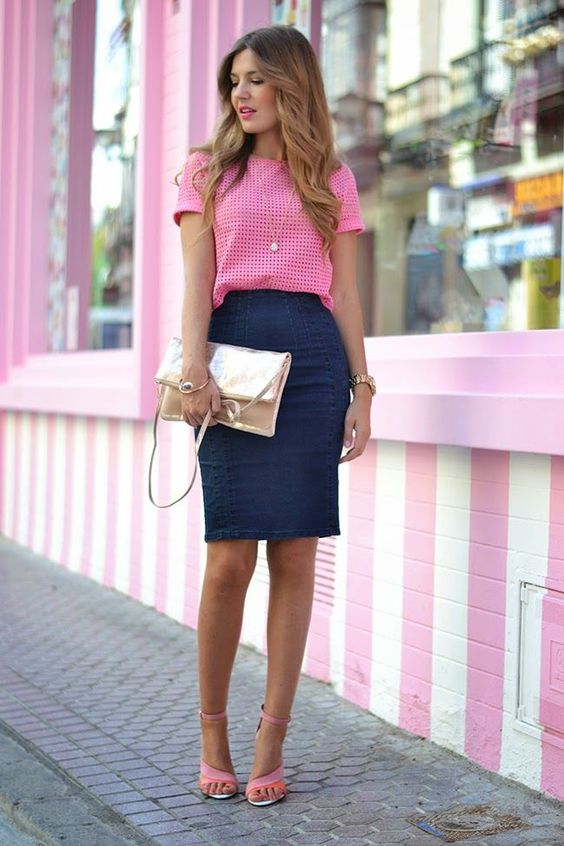 If your work doesn't require a formal look, you can wear your denim skirts and pink tee. This is quite a suitable outfit for work and it can also show your lovely character.
Chic Skirt Outfit for Work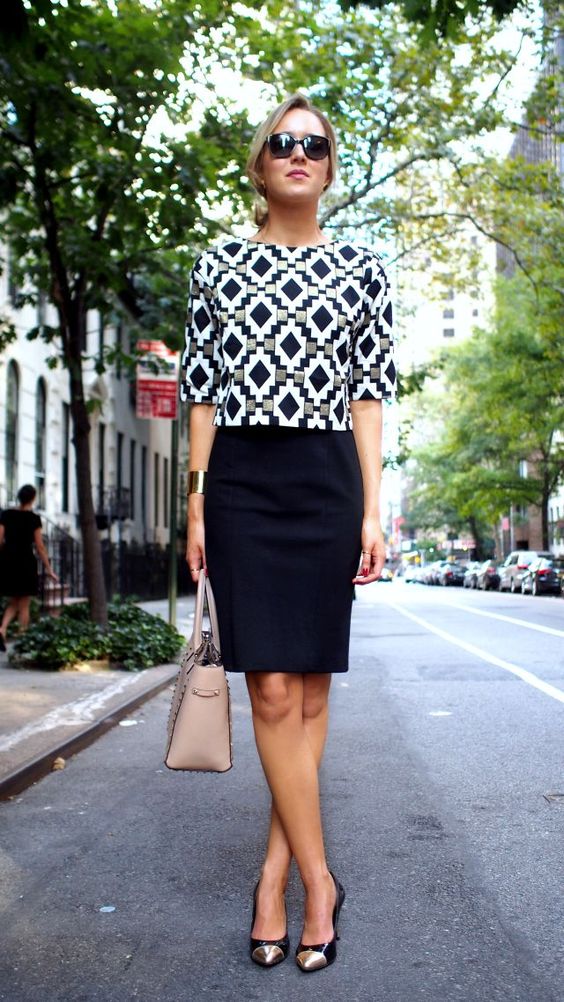 If you want a more serious look, then the black pencil skirt is better than the denim one. In addition, the printed crop top makes this outfit more stylish than serious. It's a great idea to copy for mature women in the office.
White Crop Top with Black Midi-Skirt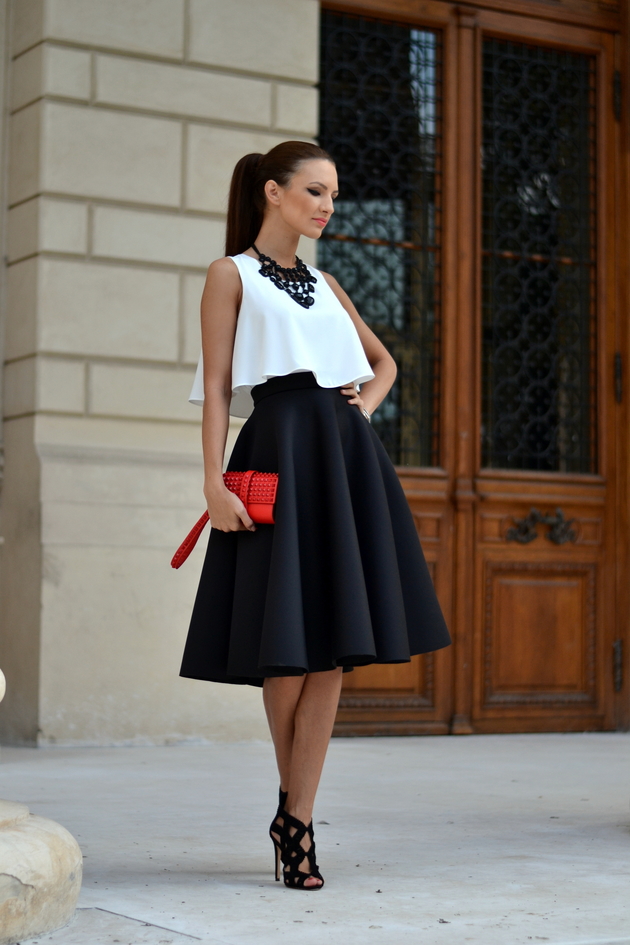 For younger women, there is another way to rock the black and white outfit. A white crop top and a black midi-skirt is beautiful enough for a decent office look.
Fashionable Black and White Outfit for Work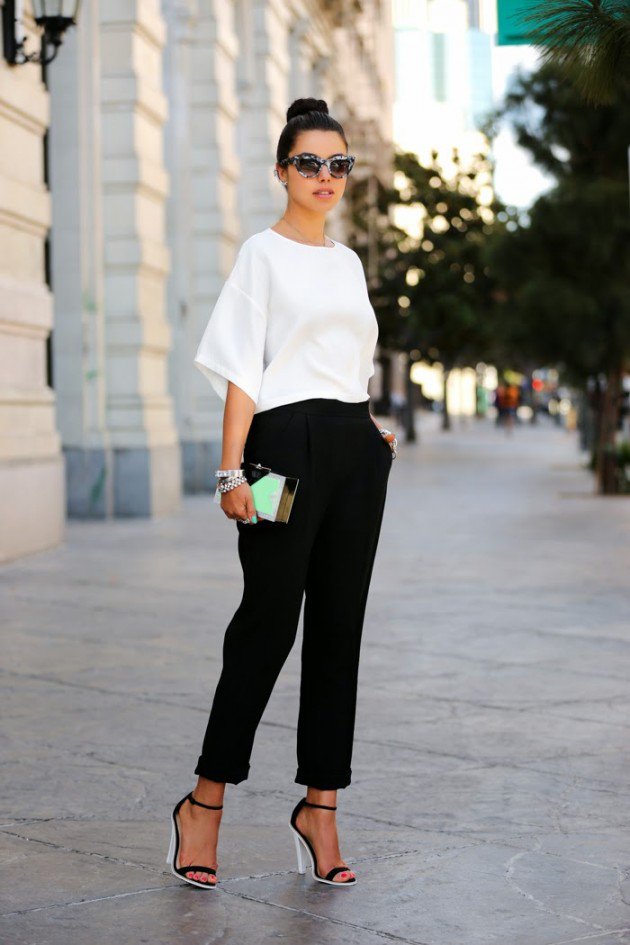 Or you can choose a baggy black pants and pair them with a loose white top. Then, wear some stylish accessories to complete a chic office outfit look.
Faddish Office Outfit Idea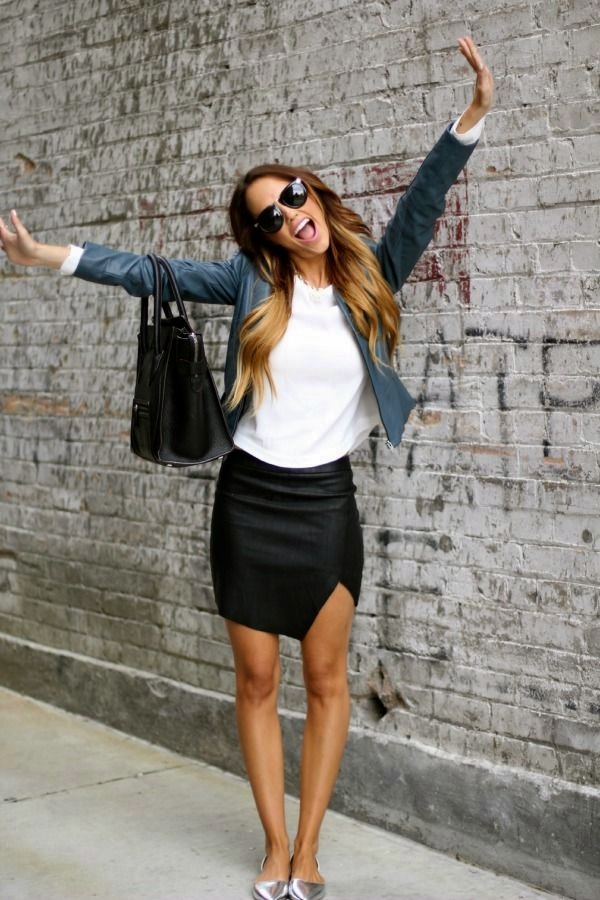 In spring, the leather jacket it a stylish piece to own. Layer it over your white shirt and then put on your silvery flats. Thus, you can get a super faddish office outfit.
Pastel Skirt Outfit for Work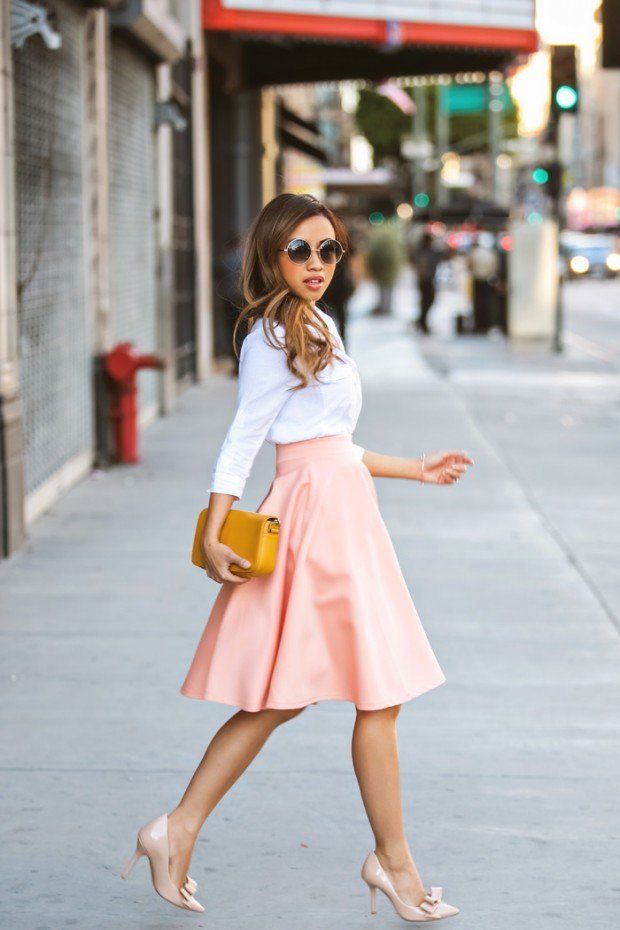 White shirts don't have to be together with black skirts all the time. You can absolutely put on your pastel midi-skirt to match your white shirt. Spring and summer are beautiful seasons for women to wear pastel outfits.
Office Outfit with Bright Pumps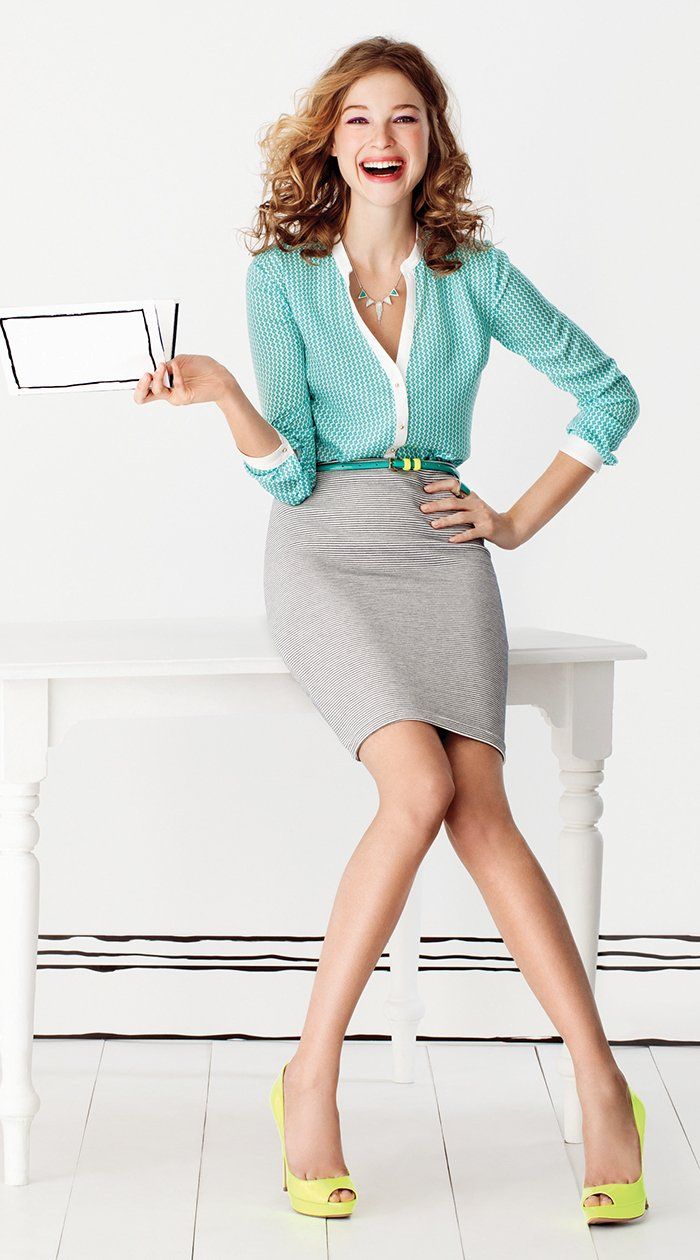 Choose a colorful shirt to pair your grey or black skirts and put on a pair of bright shoes to light up your office look. You must be a fashion icon in your office this way.
Effortless Chic Office Outfit Idea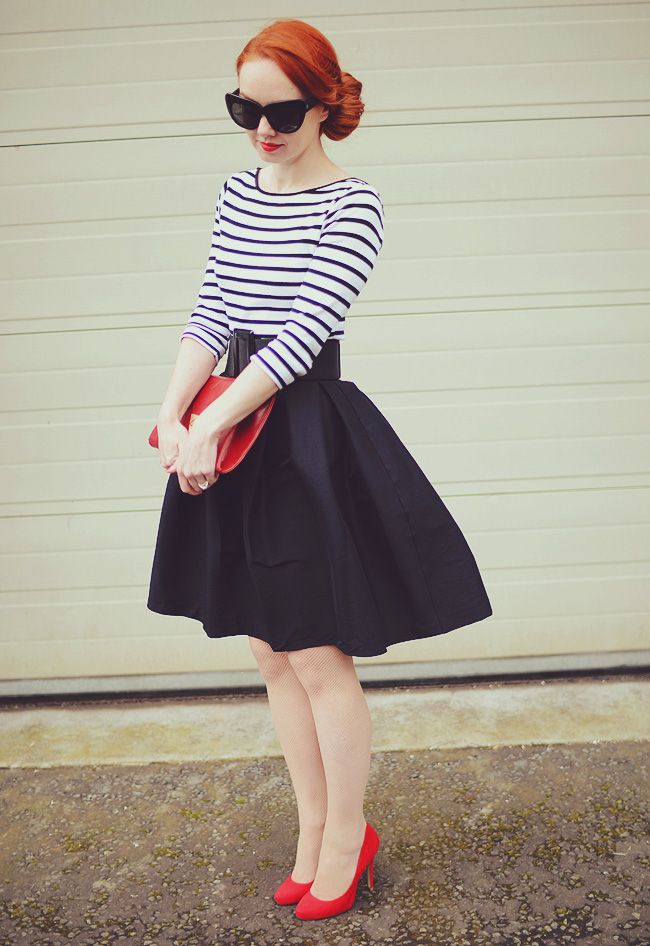 Stripes are hot for spring and summer. So, why not just choose a striped top to match your black full skirt? This will be a very graceful look if you complete the look with a pair of red pumps.
Classy Office Outfit Idea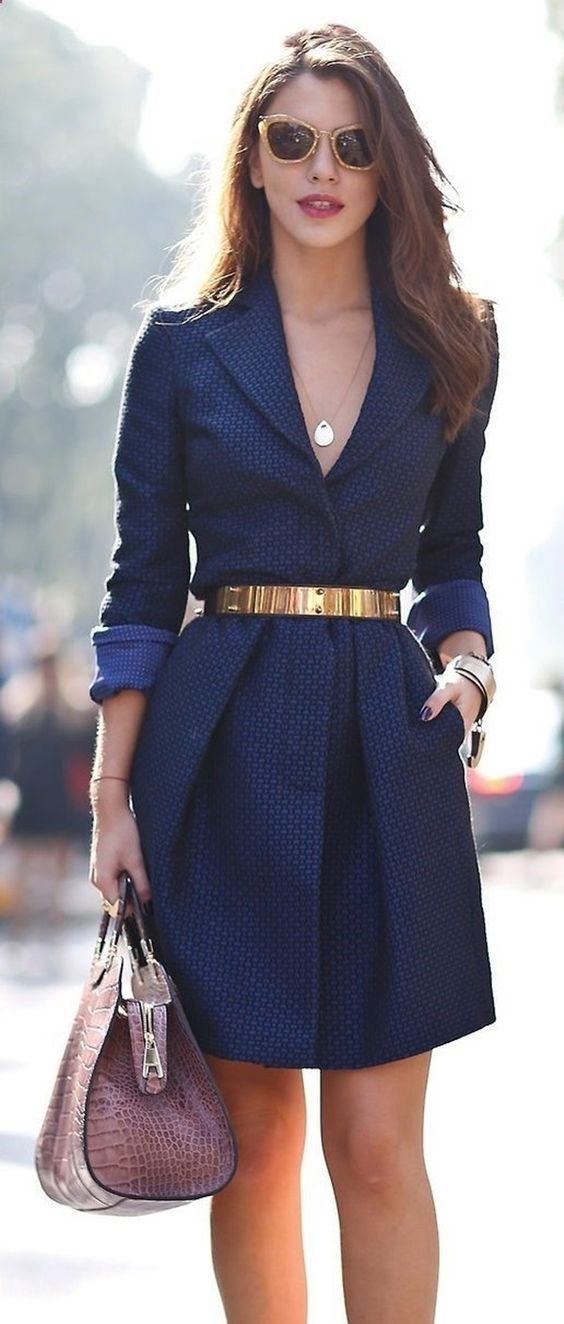 If you wear a dark dress for work and want to look more classy, just try to add some metallic accessories to your outfit.
Polka Dotted Blouse with Black Jeans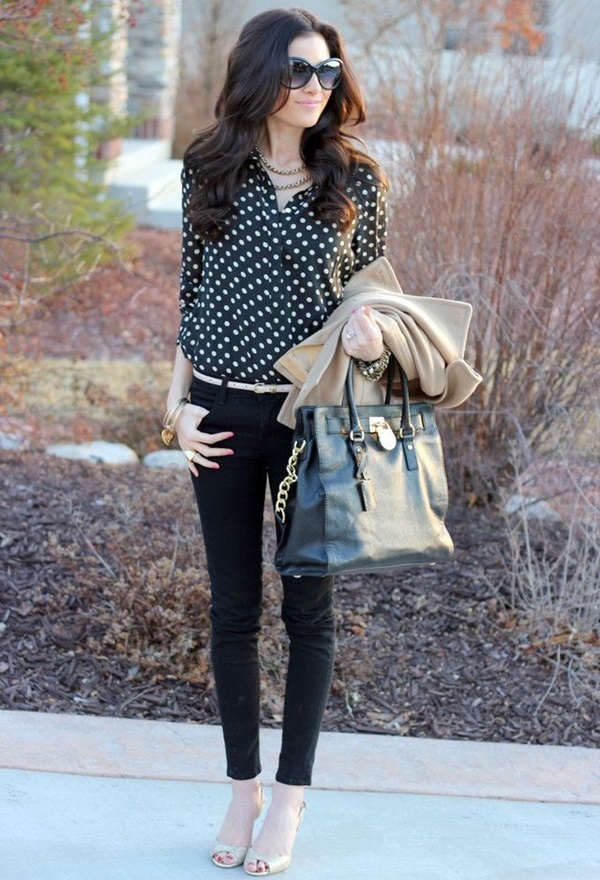 Black jeans are great for polka dotted blouse. This is a very simple yet quite stylish outfit look for office ladies. If you wear some chic accessories, your will look even more fashionable.