To get a stylish winter outfit, you should never ignore one piece: the hat. That's what we are going to talk about in this post. The hat can keep you from cold wind and keep you super chic during those chilly days. However, sometimes you just feel there is something wrong with your overall look when you wear your hat, right?
The gallery below is made of 15 stylish ideas to wear a hat. You must can get some fancy inspiration from this collecion. Now, just stay here and check out these fashionable outfits with a hat. Enjoy!
Black Jacket and Jeans Outfit for Cold Days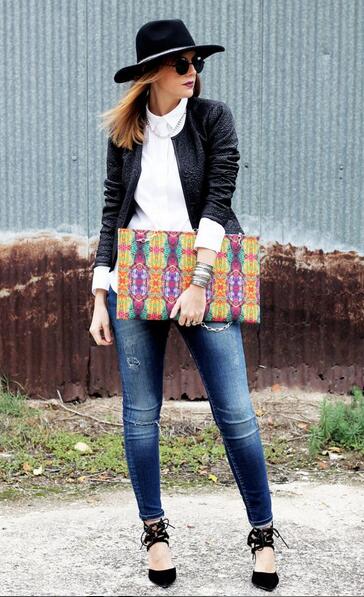 White shirt looks perfect with a pair of blue jeans. You can get a more stylish look by wearing a pair of black shoes, a chic black jacket. And your little hat will look more fabulous at this moment.
Striped Coat with A Hat and Scarf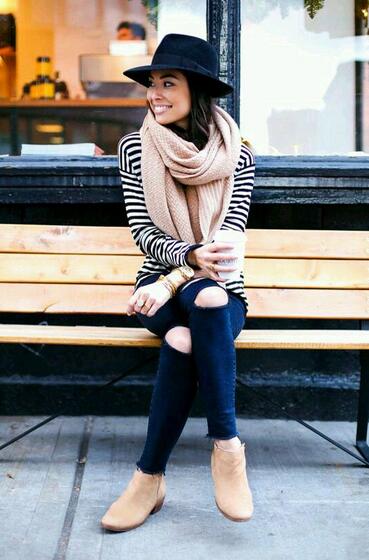 Ripped jeans are popular for all seasons. You don't have to feel cold when you pair it with a striped cardigan and a chic black hat.
Fringe Coat Outfit with A Hat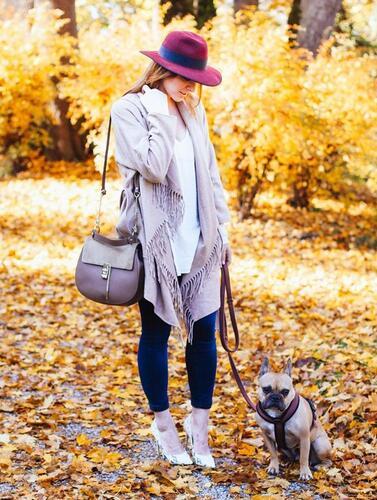 Fringes can add movement to your look and the fringe coat is quite trendy for this season. You can wear a maroon hat to pair the beige coat.
All Black Outfit with A Red Hat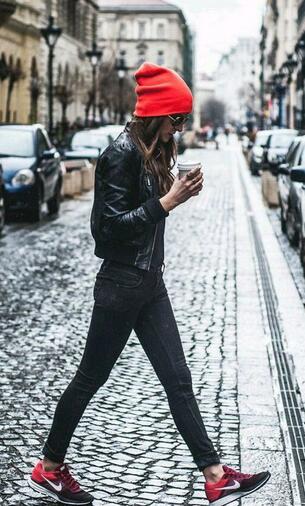 There is no doubt that all black outfits are rather cool. But if you wear a red hat which will embellish your black outfit, you will look much more fantastic.
Pretty Blazer Outfit with A Hat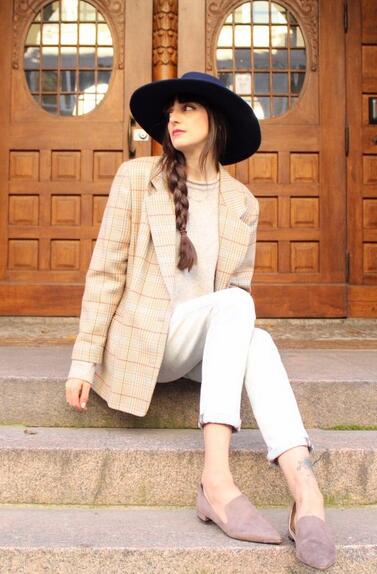 Or you can choose an oxford blue hat to pair your light outfit. This blazer and the flat shoes make this outfit an ideal combination for work.
Flaring Outfit Idea with A Hat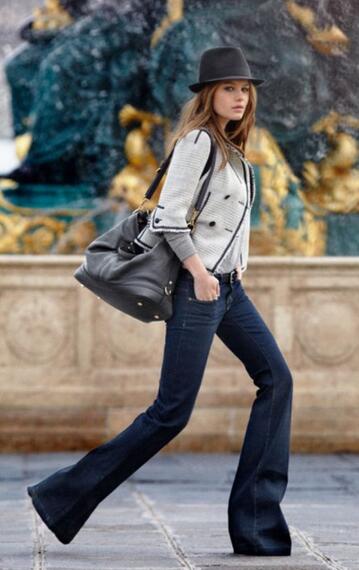 The flare pants are coming back again. They can really make your legs look longer. When you add a hat, you will look as fabulous as a super model.
Maroon Cardigan Outfit with A Black Hat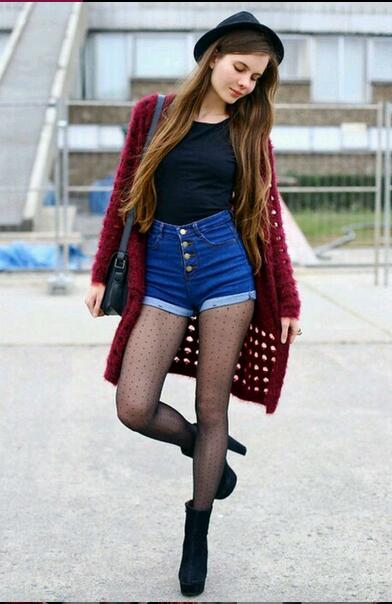 If you like showing off your pretty long legs, just do it. A maroon cardigan will keep you warm and let hat won't let you catch a cold because of the cold weather. But when it become really freezing, you'd better wear more. OK?
Gorgeous Knee-Length Coat Outfit with A Hat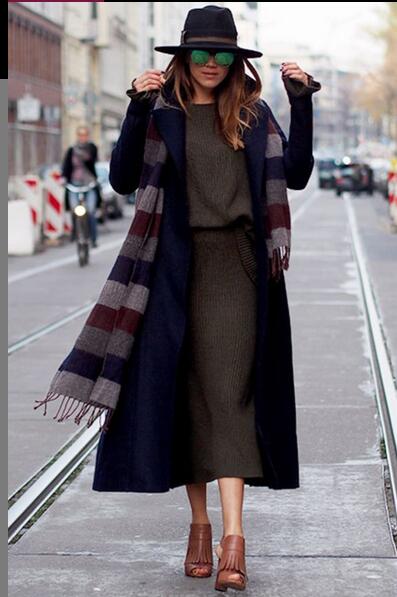 The knitted dresses are easy to get matched and they are more feminine than the pants outfits. In the cold days, you need a knee coat and hat to complete a trendy outfit.
Trendy Black Leather Jacket with A Hat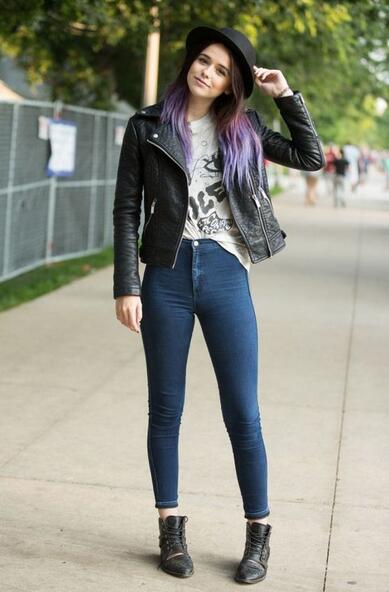 All women should have a black leather jacktet and a pair of black boots. They can turn any of your outfit stylish without any effort. Plus, the hat will make your overall look more fashionable.
Fashionable Grey Outfit for Winter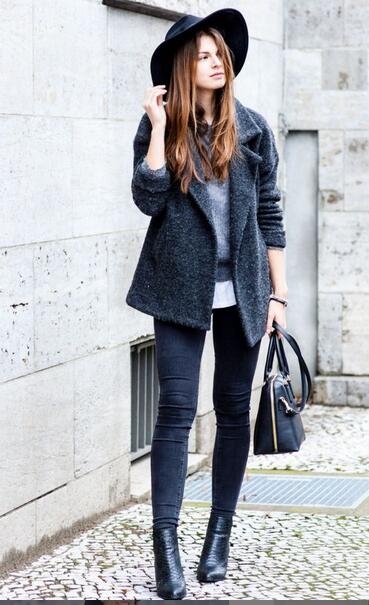 This basic grey outfit becomes so chic when a hat is added to the final look.
Camel Hats with Camel Boots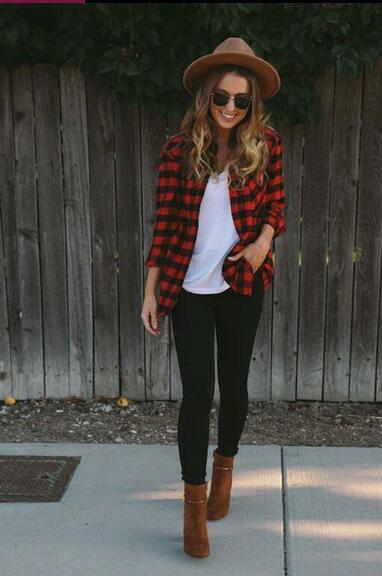 Camel is really a fantastic color for fall and winter. Get your ankle boots and hat matched in the same color and put on your pretty red plaid shirt. Then, you can get a causual chic outfit look for most occasions.
Floral Blouse Outfit with Blue Hat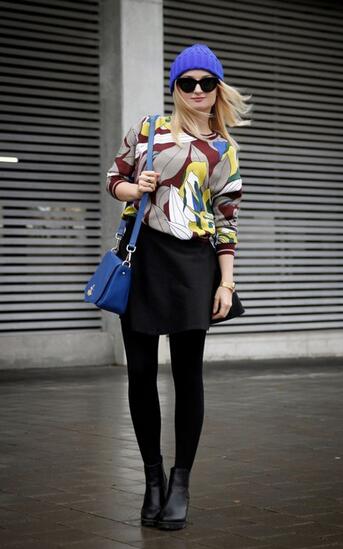 The floral blouse will add fun and fashion attitude to your outfit. And the bright blue hat is really an eye-catching piece. It's important the color of your hat goes well with your bag or other accessories if you want to look chic.
Stylish Fur Coat with Black Hat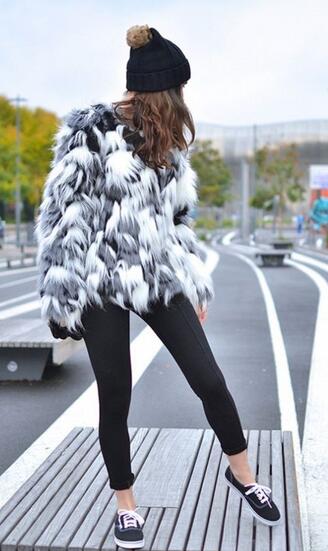 Fur coat, black leggings, sneakers and a cute hat. You won't imagine how stylish they will look when combined together unless you see this final look.
Causl Outfit with A Hat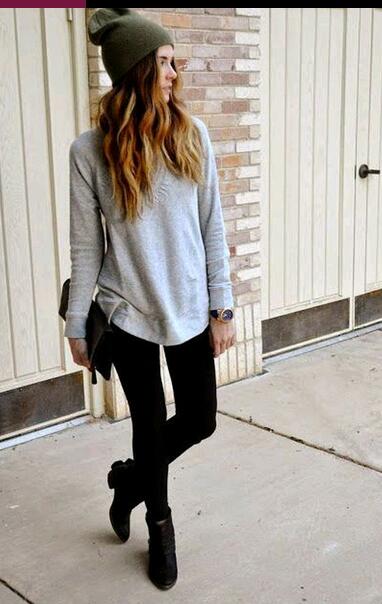 This causl outfit is just simple and chic.
Floral Midi Skirt with Maroon Hat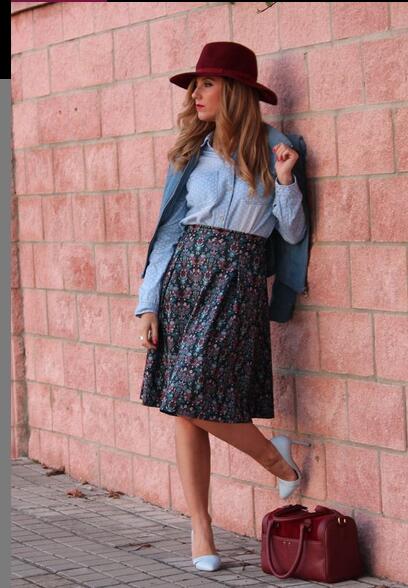 The floral midi skirt is quite beautiful for spring days and the maroon hat works well to bring more fashion vibes to the look. It's great idea to get your hat and bag matched.