If you've been invited to a summer wedding and it's going to be outside, there's almost always a fashion dilemma: figuring out how to look amazing while not turning into a sweaty mess due to all of the heat.
Boy, do we have some solutions for you! Whether the wedding is inside of a nice air-conditioned building or in a backyard or garden, here are some summer dresses that will have you looking truly beautiful while feeling pretty comfortable too!
1. Strapless red dress with black accessories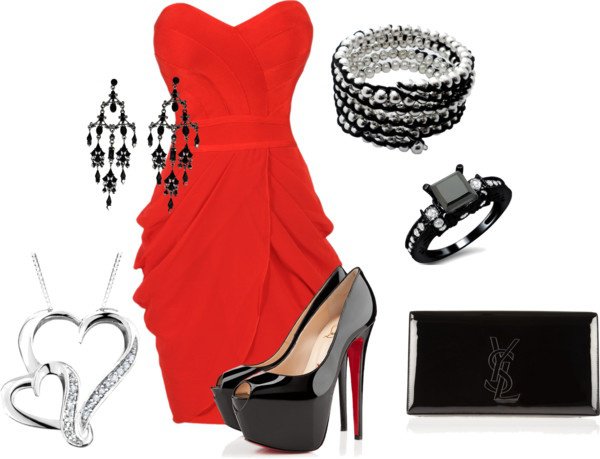 Outfit ideas for wedding: RED. HOT. Yeah, this is quite the number to start off with for a summer wedding (or any time of year for that matter) but why not begin this feature with a bang? If you pride yourself on being a bold and confident woman, don't let the color of style of this dress top you. Red is not the most common shade for wedding guests but it's truly a memorable one.
2. Taupe and off-white sleeveless lace top and rose gold pencil skirt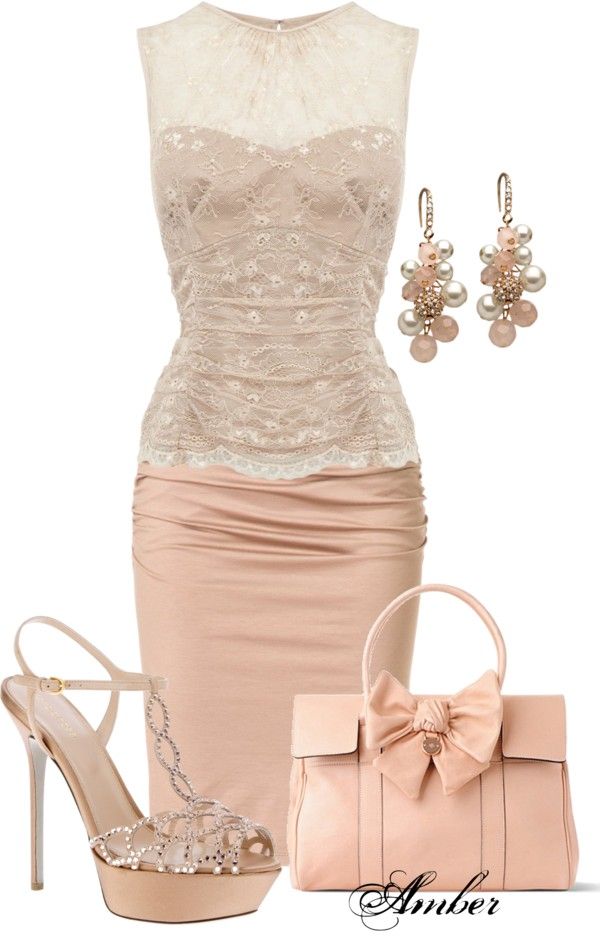 This is probably one of the most fitting looks for a summer wedding out of all of the ones in the bunch. It's a romantic look that is not overstated yet still makes quite the impression. It's also nice to see how three similar hues can work well together to keep things from looking too "matchy matchy".
3. Green sleeveless one-shoulder green dress and taupe purse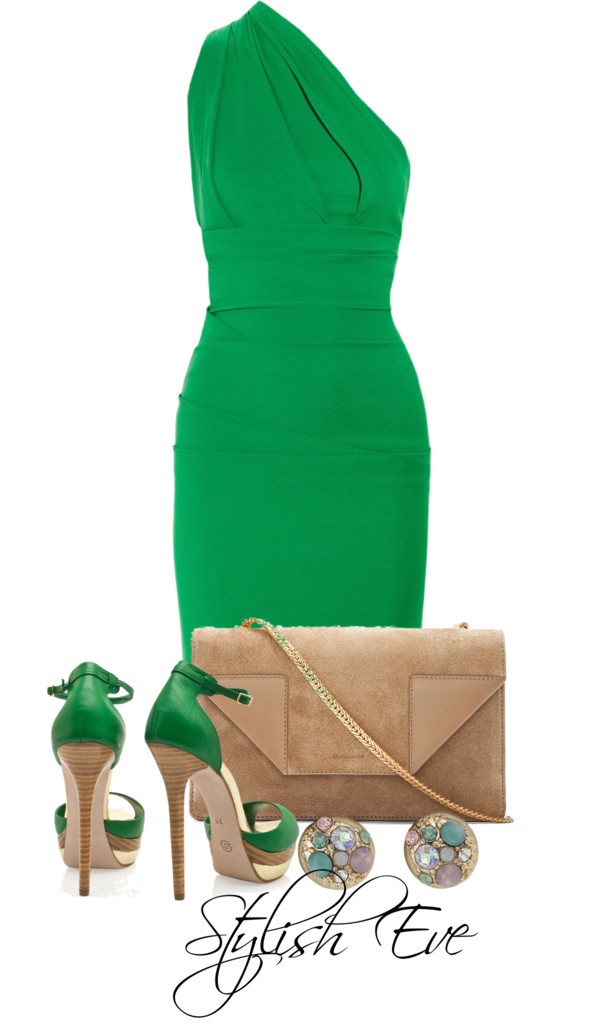 Green. It's the color of growth, harmony and fertility. It's basically the color that sends well wishes to a bride and groom without saying a single word. And this one-shoulder dress in green will have several people asking you for a dance—if you don't have a date.
4. Sleeveless floral dress with sheer and lace overlay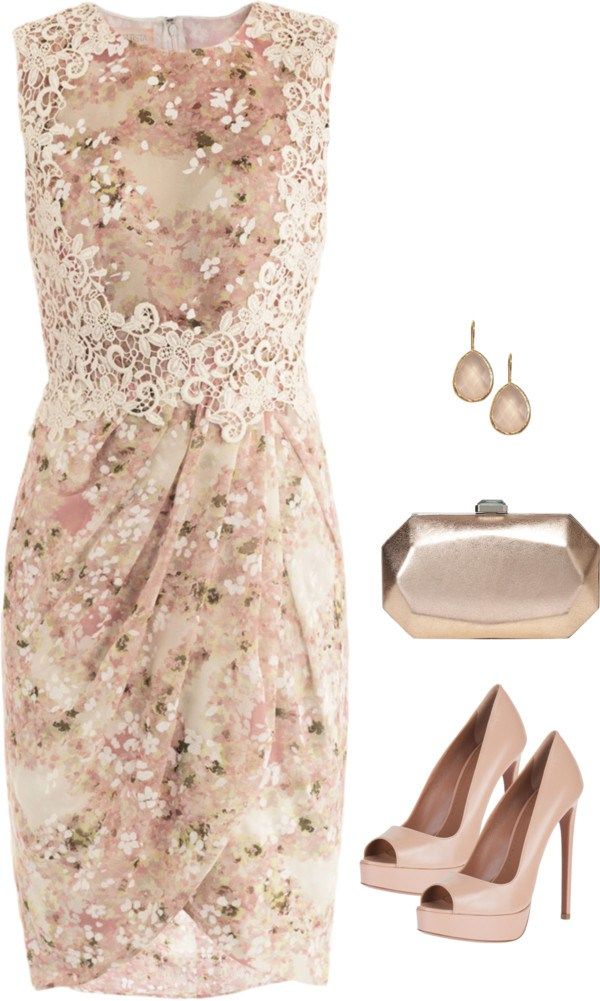 Flowers are something that a lot of us think about when words like "spring" and "summer" comes to mind. This is one kind of way to wear floral to a wedding. It's very romantic and the subtle colors are quite lovely.
5. Multi-color strapless maxi dress and strap heels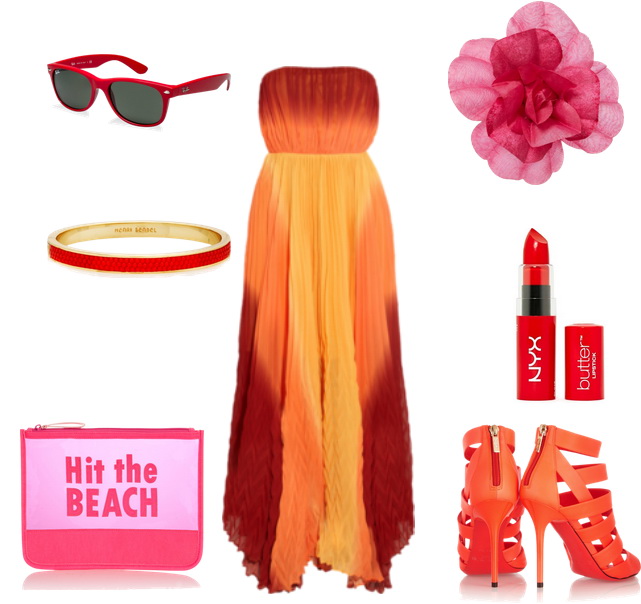 Just like a beach sunset. This dress literally looks like one with the multi-colors of red, orange and yellow in this strapless maxi dress. The only thing you have to be worried about in something like this is the bride feeling like you showed her up by putting it on!
6. Nude sleeveless dress with floral print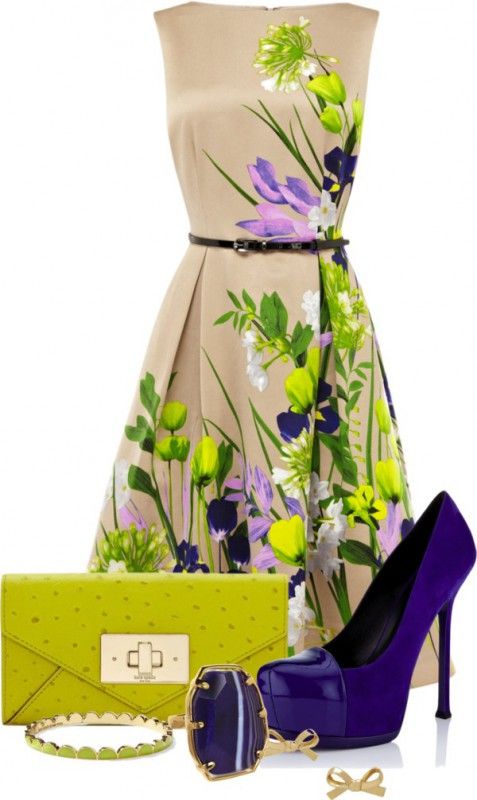 Nude is in and so we wanted to show you a few different ways to wear it, beginning with this number. If you like floral patterns but the first dress we showed you was a bit too "flowery", what do you think about the print that runs along this dress? Sometimes darker and deeper colors can add to the sophistication of a look. And either way, the color of those Stilettos are a real fashion game-changer. Get those if you don't purchase anything else here.
7. Sleeveless satin black-and-white fitted dress and black heels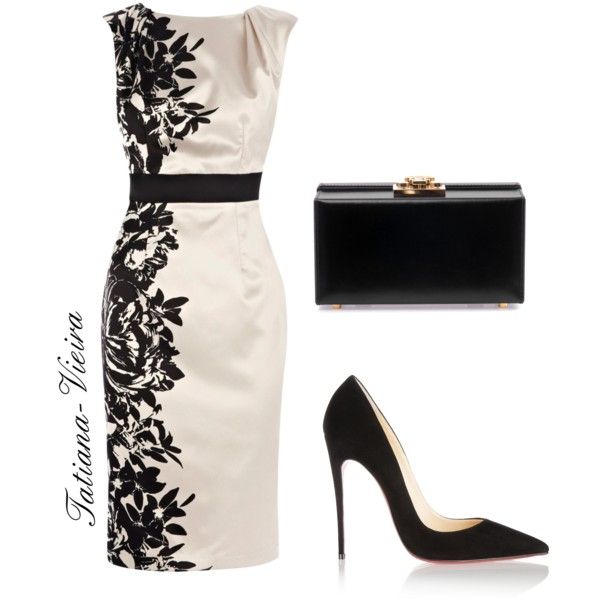 And here's even one more way to wear the floral print. It's super chic in black-and-white. Actually, because it's made out of satin, this dress would be just perfect for a semi-formal wedding (or other) occasion. You could do the black heels or even red or royal blue if you want to be a bit more daring.
8. Sea foam green strapless maxi dress and short white crochet jacket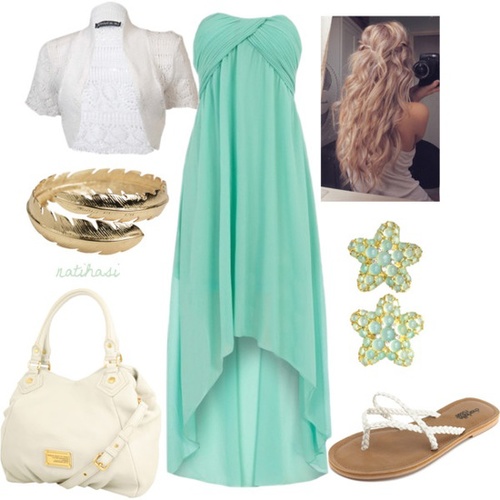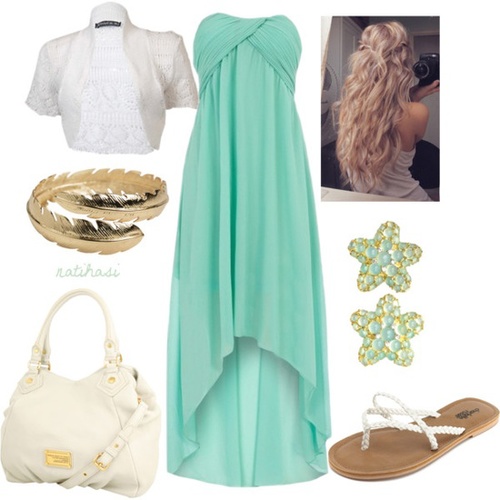 Limpet shell. Mint green. Sea foam green. All of these are basically variations of the same color—and all of them are highly in fashion right now. So yeah, a dress in the color also had to go on the list. And that short crochet jacket? Crochet is on all of the fashion blogs too. You'll be knocking out two trends at once with this outfit.
9. Floral sleeveless dress with a low-V and pearls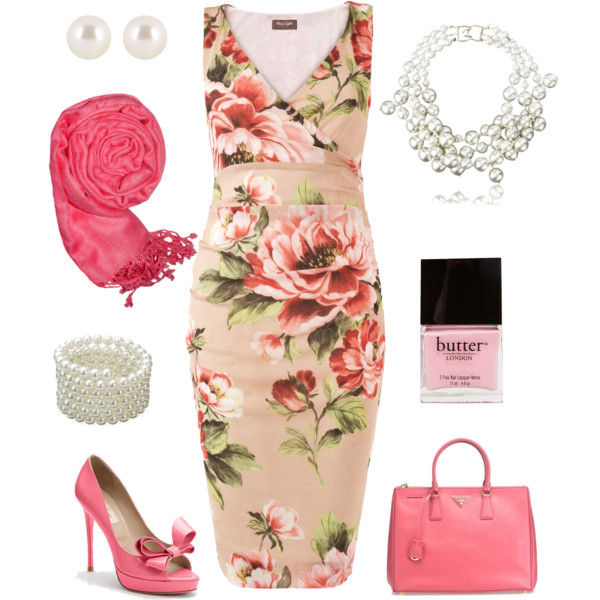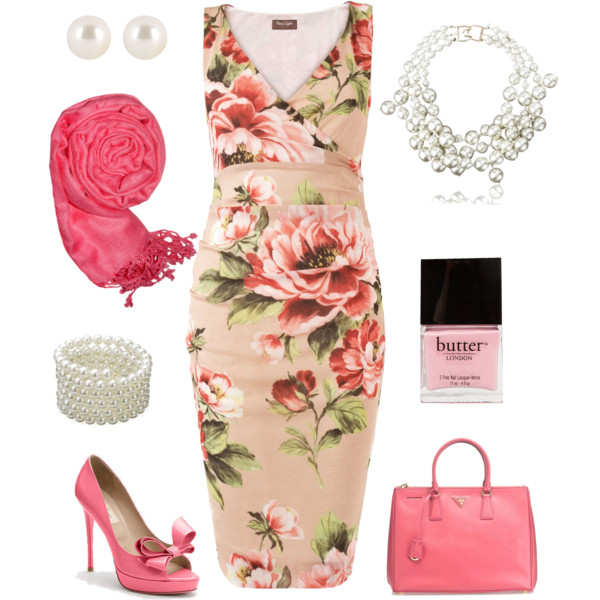 Another floral dress with super classic appeal, thanks to the pattern and the pearls. Plus, low-V necklines are big right now too. Without question, this is another dress that is a signature summer wedding outfit.
10. Peach, white and taupe sleeveless dress and matching accessories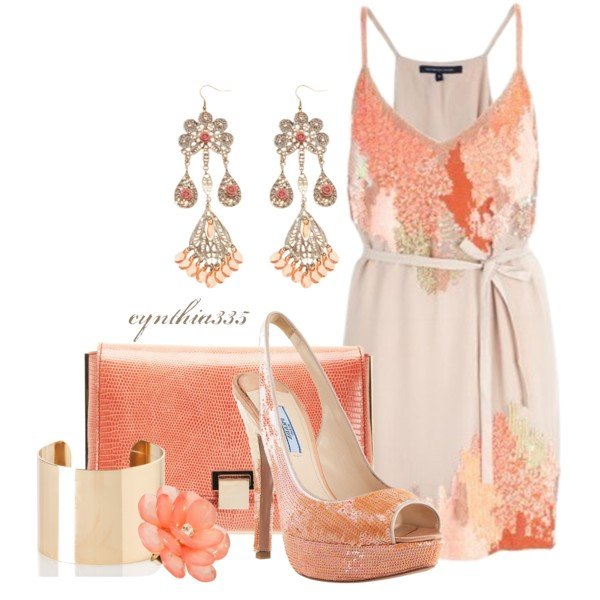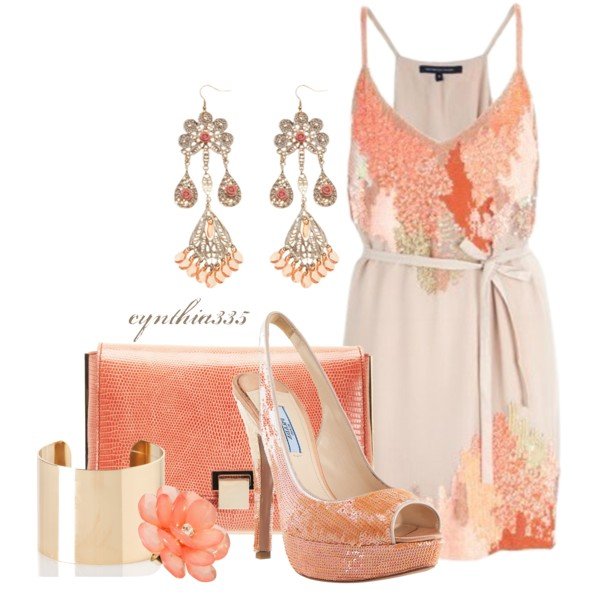 No matter where the wedding is, you'll be dressed perfectly for it with this dress—one that's in so many beautiful colors that also look a lot like the sands along a tropical beach. Plenty of compliments will be coming your way with this dress. PLENTY.
11. Maxi dress with razor back and sandals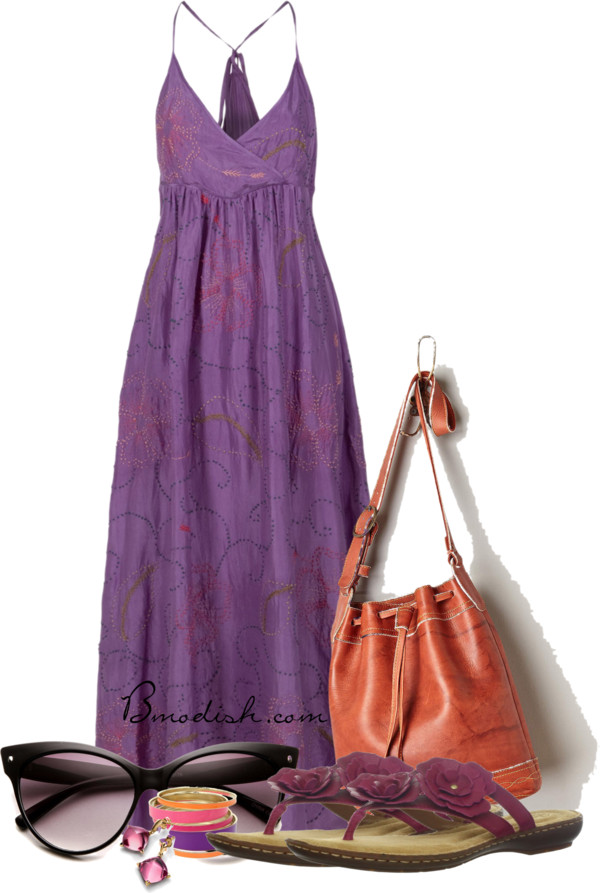 This is another recommendation for the beach or a wedding in someone's backyard. The deep purple is probably not going to be what others will be wearing and the razor back is seductive without trying too hard. Only…when it comes to the sandals, if you're not going to be walking on sand, it's better to wear a wedge. That way, things won't look too casual.
12. Strapless dress with a sweetheart neckline, floral skirt and a straw hat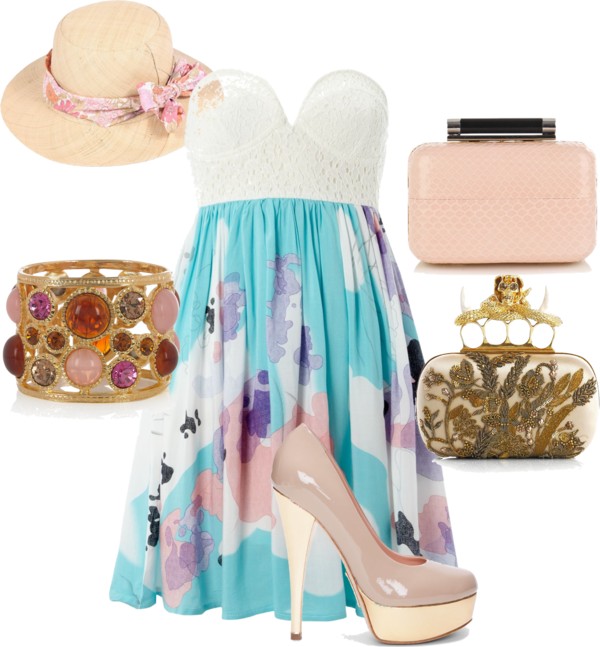 A more casual, fun and festive wedding would welcome a dress like this. And aside from all of the colors in the skirt, thanks to so many "textures" in the accessories, it will be a great conversation piece at the reception.
13. Navy fitted dress with a cream belt and matching patent leather pumps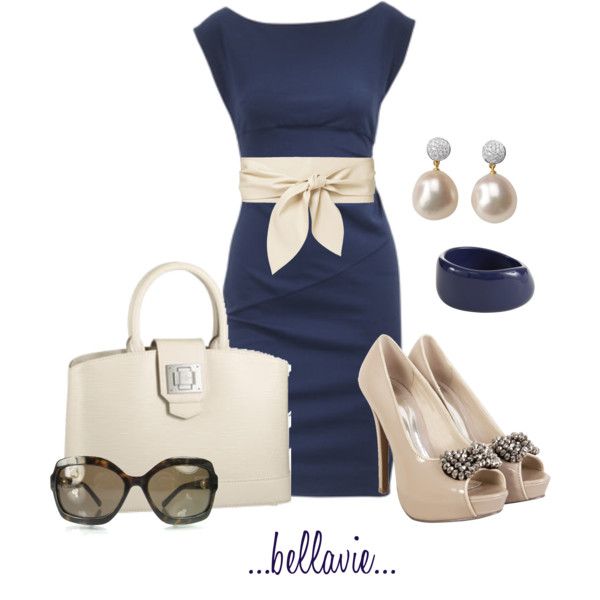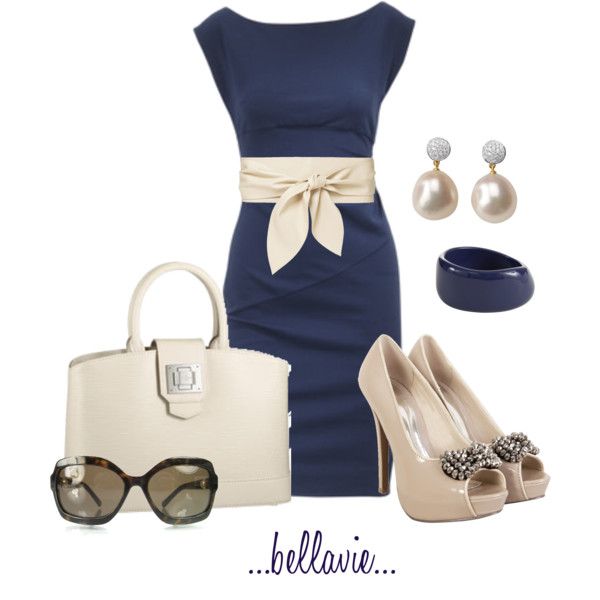 A lot of people don't want to talk about certain situations, but we try to do our best to cover all bases. That said, if you have a business meeting or some other appointment and you're honestly not going to have time to rush home and change before a wedding ceremony that you've been invited to, this kind of look will look great for both events. Guaranteed. Find more on stylesweekly.com
14. Camel-colored asymmetrical dress and black heels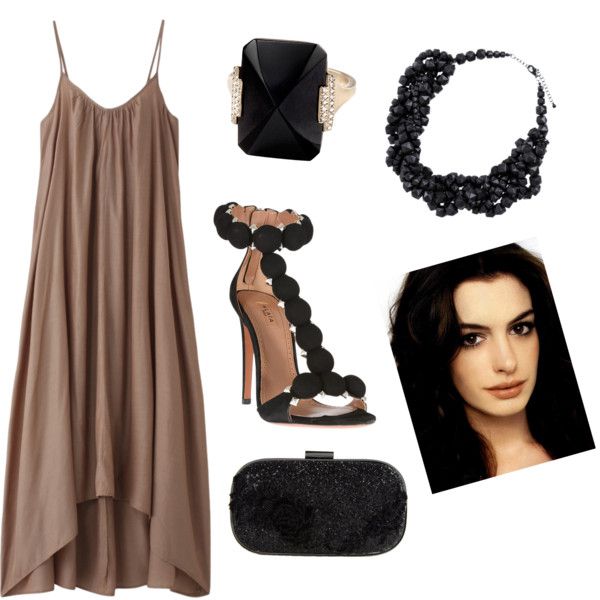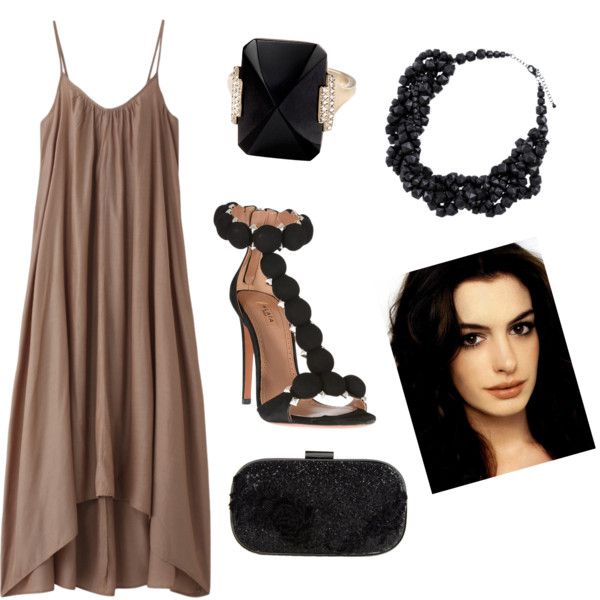 Going to a beach wedding and you want to wear something comfortable? This kind of dress with an asymmetrical hemline comes to mind. Only, nix the black accessories if you're going to be outside. You'll match the landscape so much more with mint green, light orange or pink.
15. Nude strapless maxi dress and…everything else nude too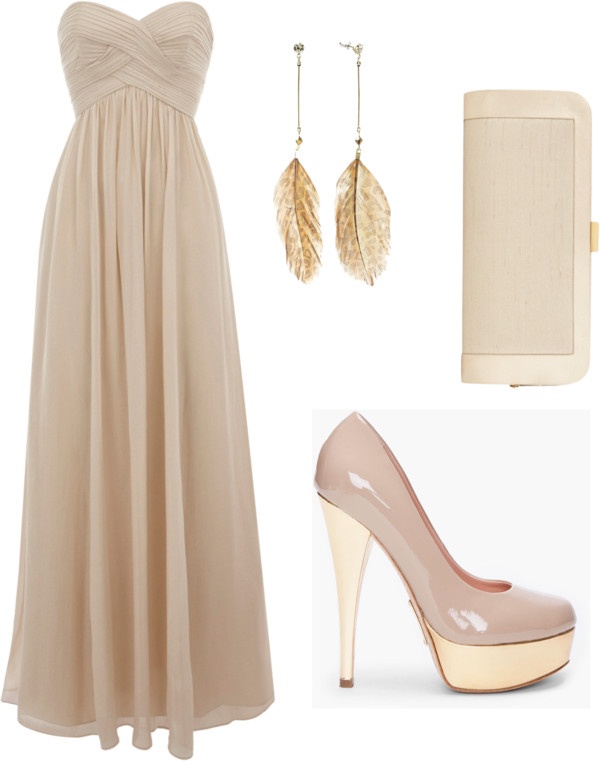 Going in the nude to a wedding. No, not literally. We mean opting to wear one of the hottest colors this year. It's one of the best ways to "get away with" wearing a neutral that is close to white…but not quite (since traditionally, the bride is the only one who is supposed to wear white to a wedding unless she requests otherwise). Day or night, indoors or out, you'll flow so gracefully in this kind of strapless maxi dress.
16. Coral dress with ruffled sleeves and nude pumps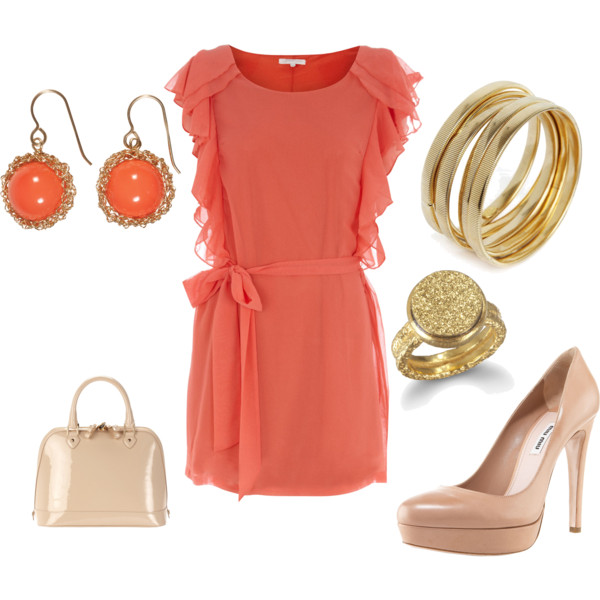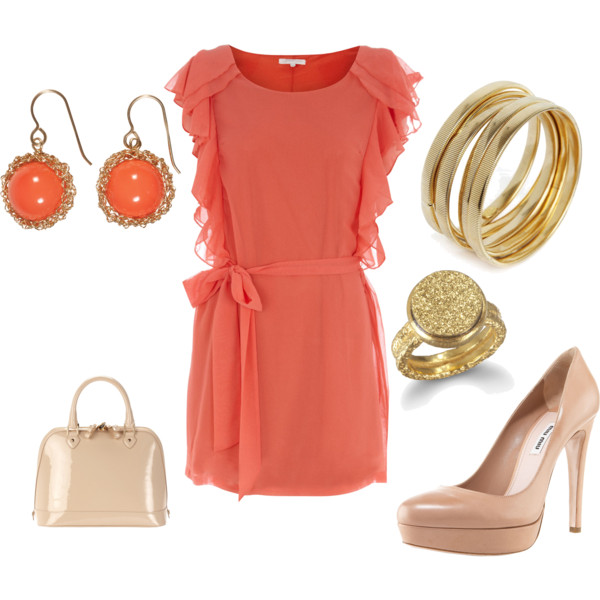 Coral is a really special color. Since ruffles are trending these days, we're happy that we were able to show you a dress that had a combination of the two. As a bonus, being that a really popular color right now is nude, we're glad to show you how it can be the ultimate color complement when it comes to accessories.
17. "Little black dress" with gold accessories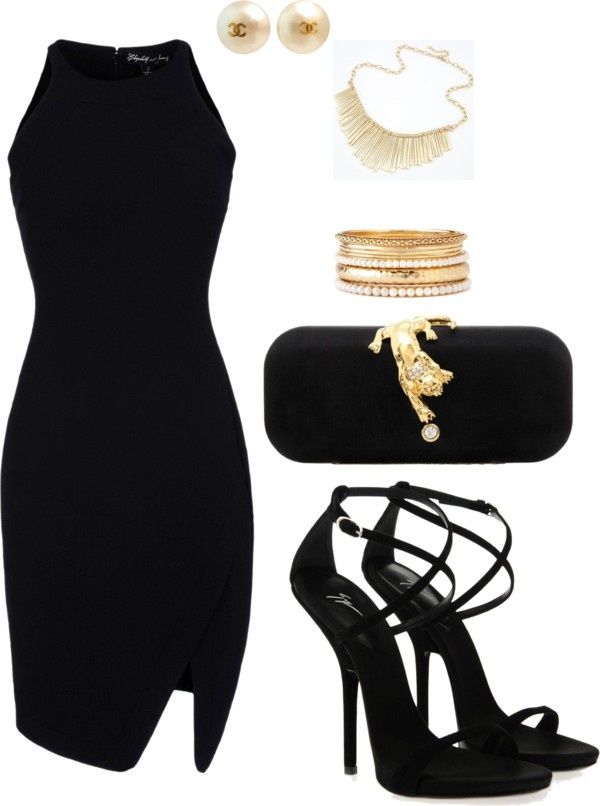 We're pretty sure you've got a little black dress, right? If it has short sleeves, a halter top or its strapless, it can work for a wedding too. We will say this, though. During the summer, black is best for formal weddings. Otherwise, it can come across as being too "dark" and "heavy" for that time of the year.
18. Taupe lace dress with spaghetti straps, lavender jacket and blue purse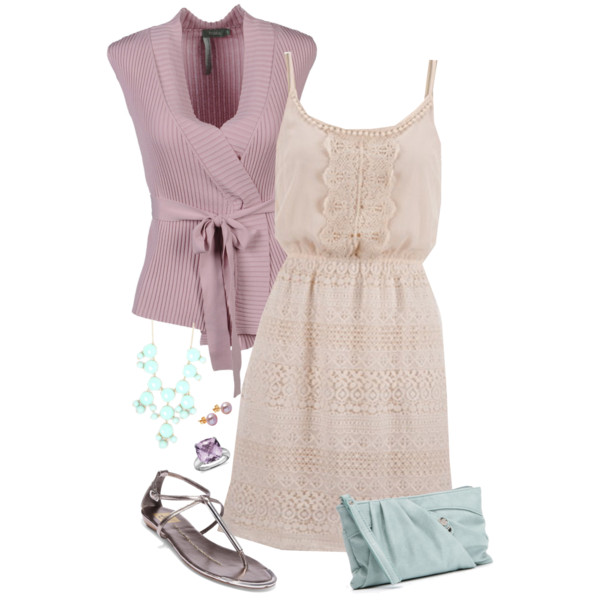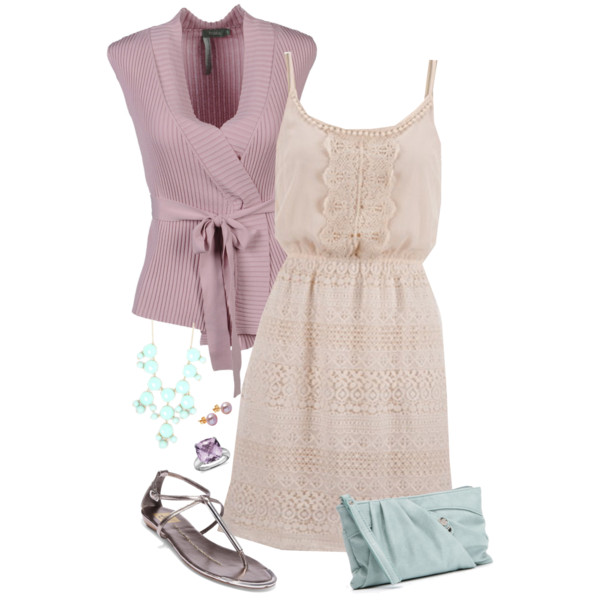 If the wedding is more on the casual side but you still want to wear a dress, look for a sundress that has some detailing like lace or eyelet on it. And these colors put together? How lovely is this? A series of pastels that are perfect for the summer season.
19. Sequin gold sleeveless dress and white blazer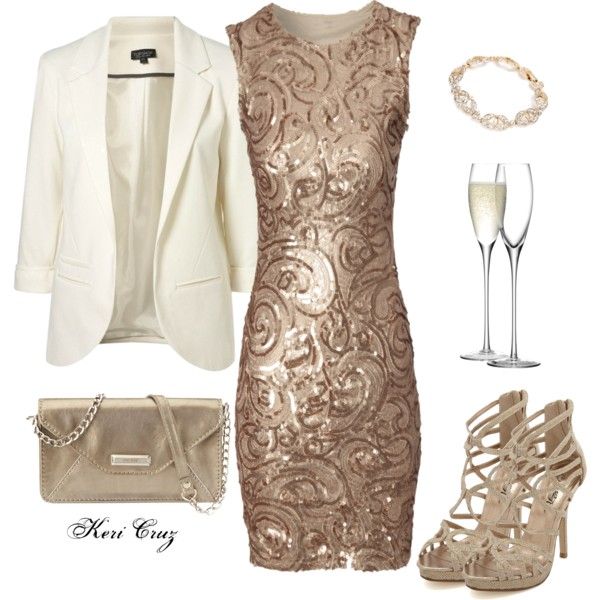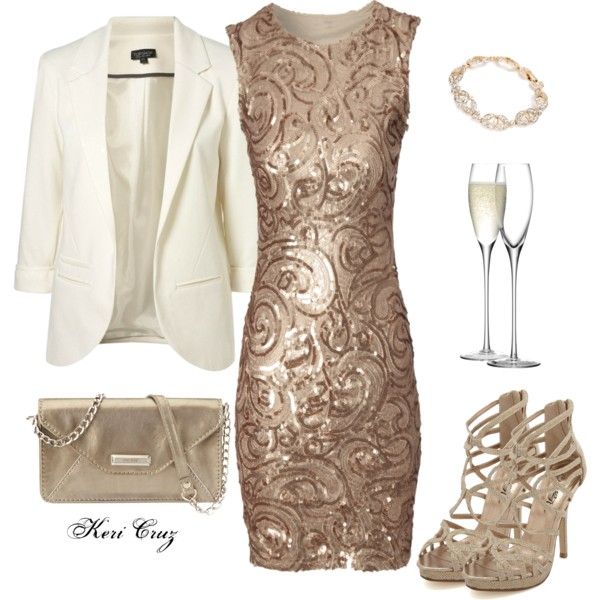 Is the wedding a formal one? Whether it's outdoors or in, you'll be so magnificent in a gold and sparkling dress like this one. Not only that but it's the kind of dress that you actually can wear year-round. In the spring and summer, put on a blazer. In the fall and winter? Put on a fur stole.
20. Pink-and-white polka dot dress and pink heels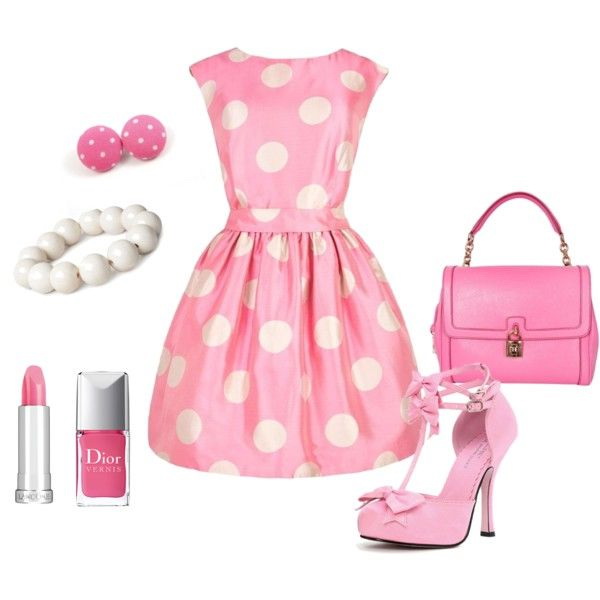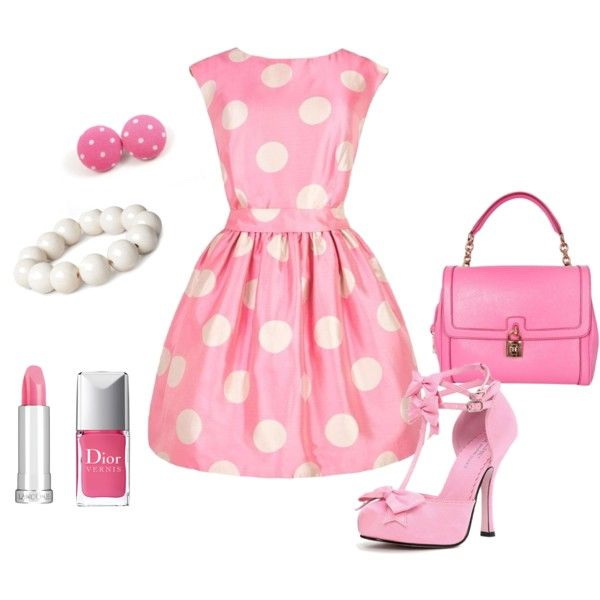 Although the wedding day is reserved for "ooo" and "ahh" for the bride, there are still some folks that will take a second look at you too with a super sweet pink-and-white polka dot party dress like this. The make of this type of dress makes it totally find if you want to go up a few includes on the hemline. It's too cute to be seen as…risque.