If you are looking for Kristen Stewart's latest hairstyles, check out this gallery of Kristen's hairstyles.
Kristen Jaymes Stewart is an American actress who is best known for playing Bella Swan in The Twilight Saga and for her prolific work in independent films. Kristen Stewart's natural hair color is blond, but she loves to dye her hair into dark brown. Kristen Stewart loves to wear long messy hairstyles very much, she looked great with these hair styles.
Kristen Stewart Hairstyles: soft wavy curly hairstyle for long dark hair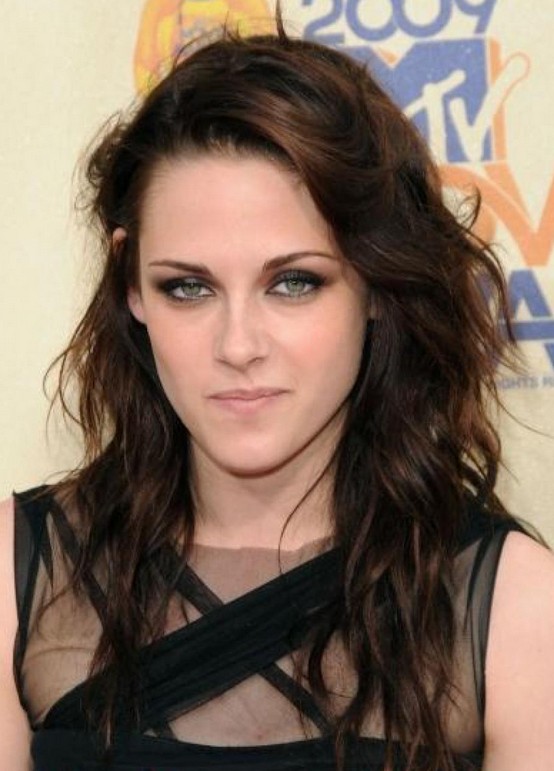 This messy hairstyle in various dark brown shades is a staple look for Kristen Stewart who makes the most of her pale skin tone and opts for smoky eyes and nude lips to complete the look. With a side parting and plenty of tousled waves to frame the face, this is an edgy, gothic inspired look that really works for Kristen. This long hairstyle is great for oval, heart, square, oblong faces.
 Kristen Stewart Deep Side Sweep Hairstyle -prom hair ideas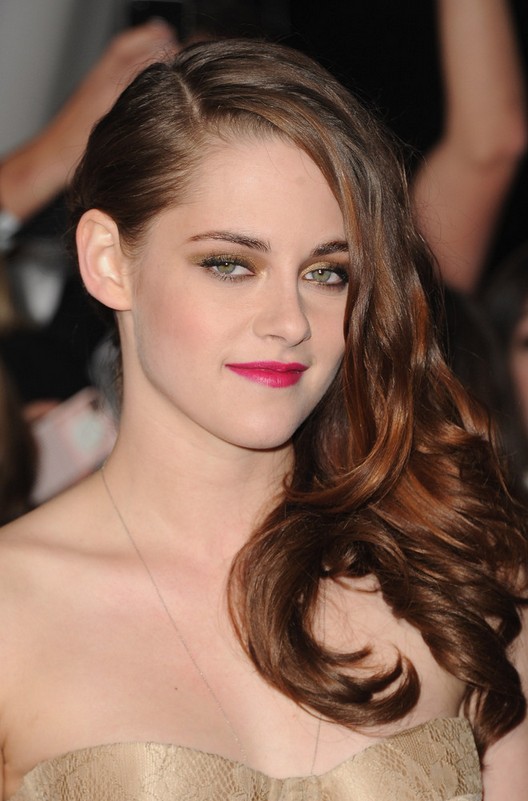 This deep side sweep which draws most of Kristen Stewart's hair to the side where it has been given a soft wave is an instant yet easy way to create glamour for a special occasion. While the hair is slightly flat on top, the loose waves create real impact, especially with the warm copper tones which shine through the rich chocolate brown and really warm Kristen's pale complexion.
 Kristen Stewart Side Sweep Hairstyle: messy long wavy hair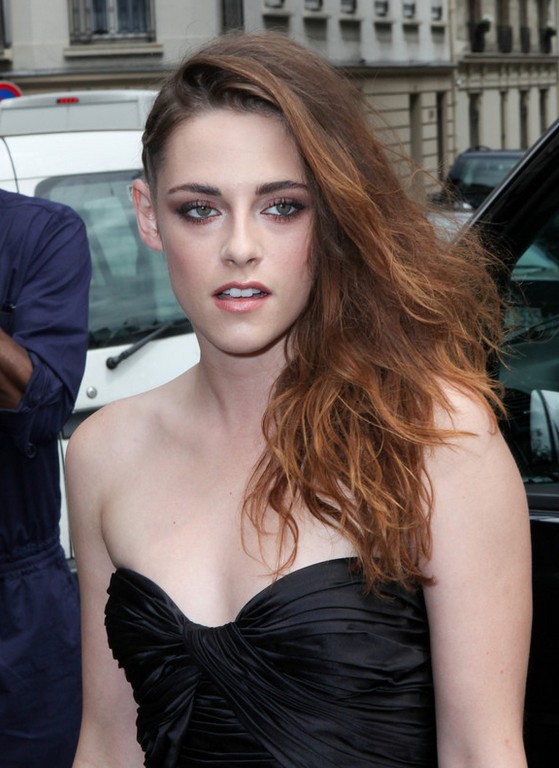 Kristen Stewart Fashion style: Kristen Stewart wears her long hair swept to the side and styled in small sections to create loose but defined waves. Lots of warm copper tones really show off the texture in this style and also help lighten the hair to prevent it being too harsh against Kristen's very pale complexion. The actress wears the messy look well.
 Kristen Stewart Messy Updo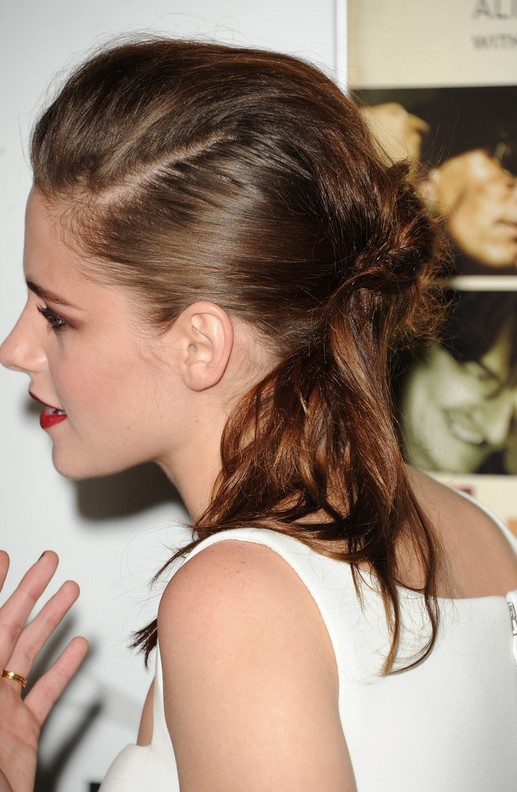 This is quite a unique style, with the hair pulled back and teased for lots of height at the top of the head. A side parting allows hair to gather at the back of the head where it is pinned, and the wavy lengths are brought to the side. As a messy updo for a touch of undone glamour it isn't a bad look but it isn't the most flattering of choices.
 Kristen Stewart Long Wavy Hairstyles: redhead -long wavy red hair style for women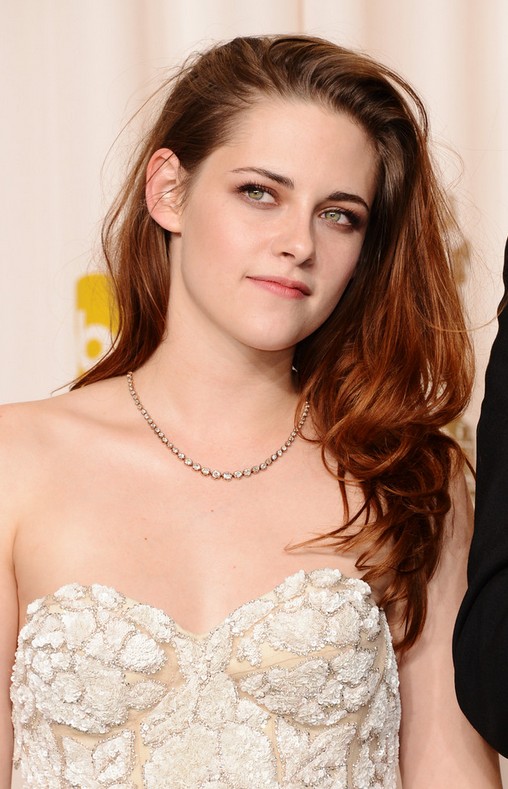 This tousled style worn by Kristen Stewart is a simple but elegant choice – the actress has swept her hair to the side and back so that one side of her face is framed by a cascade of loose waves and gently curling lengths, while on her right side, her face and shoulder are exposed. With plenty of red and copper tones, the colour works brilliantly with Kristen's light colouring. This is a great long hairstyle for prom.
 Kristen Stewart Long Hairstyles 2014: simple easy daily hairstyles for women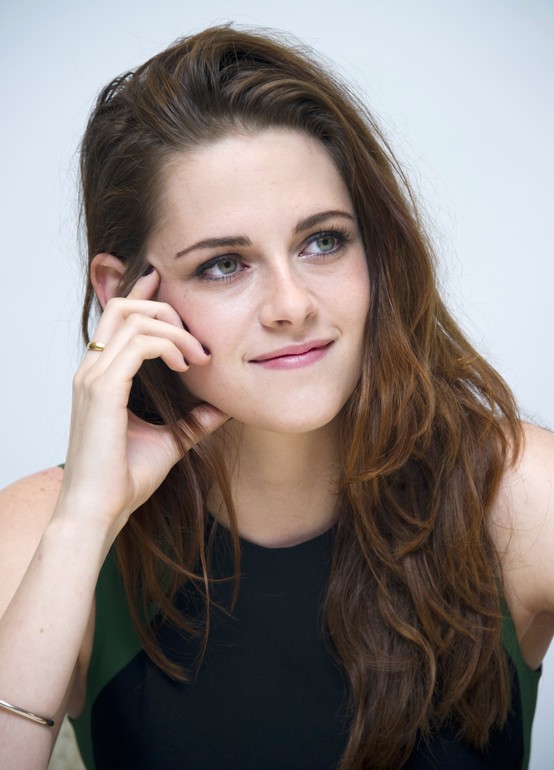 Kristen's trademark long brunette locks are given an un-styled feel in this look which relies on gorgeously rich, warm colour to give it impact. With no defined parting to the hair, Kristen has swept the hair to the side and tucked it back behind the ear for a casual look but thanks to well-cut layers, it still has shape and more than a touch of messy-chic. Do you want to know how to get Kristen Stewart messy hair? Please search Kristen Stewart hair tutorial on our site, you will find some guides.
 Kristen Stewart Long Blonde Hairstyles: best back to school hairstyles for girls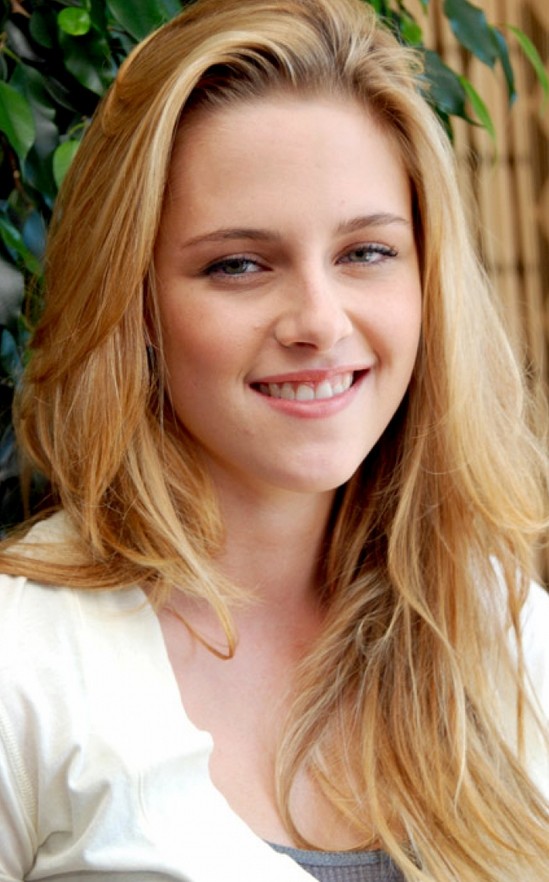 We might be more used to Kristen Stewart's trademark dark hair but here she wears the blonde look really well thanks to her pale complexion and a gently flowing style that makes great use of subtle summer highlights for an easy-going, relaxed look. This style has a real 'girl next door' feel that Kristen suits.
 Kristen Stewart Long Blonde Hairstyle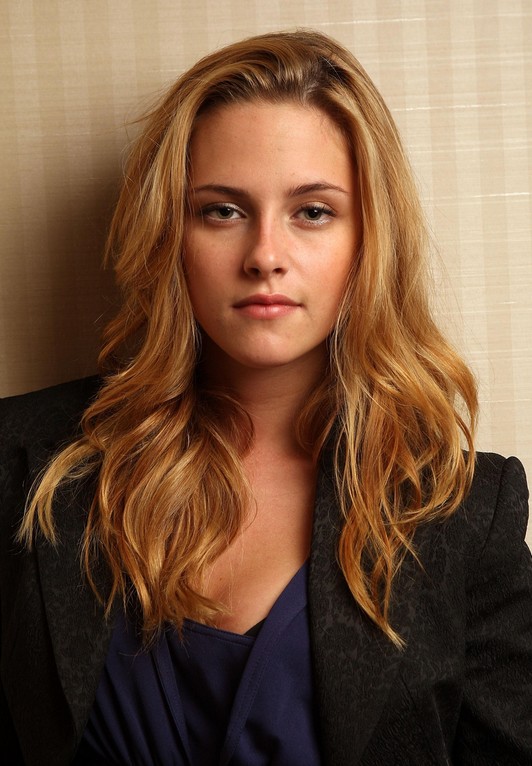 Kristen Stewart's hair color is blonde, but she loves to wear dark brunette hair.