Find La La's latest hair styles on stylesweekly! In this gallery, you will find Lala's long wavy hairstyles, curls, straight hairstyles, ombre hair etc.  Get hair inspirations here.
Alani "La La" Anthony(June 25, 1979 ) is an American disc jockey, television personality, and actress. Born and raised in Brooklyn, New York, she attended Piscataway High School as a teenager, Lala loves to wear long hair very much, no matter wavy or curly hair, also the loves to wear long straight hairstyles, La La Anthony's hair color is black, but she loves to dye her hair in ombre and blond. Check her latest hairstyles bellow, enjoy.
La La Anthony Long Sleek Hairstyle – African American long straight hairstyles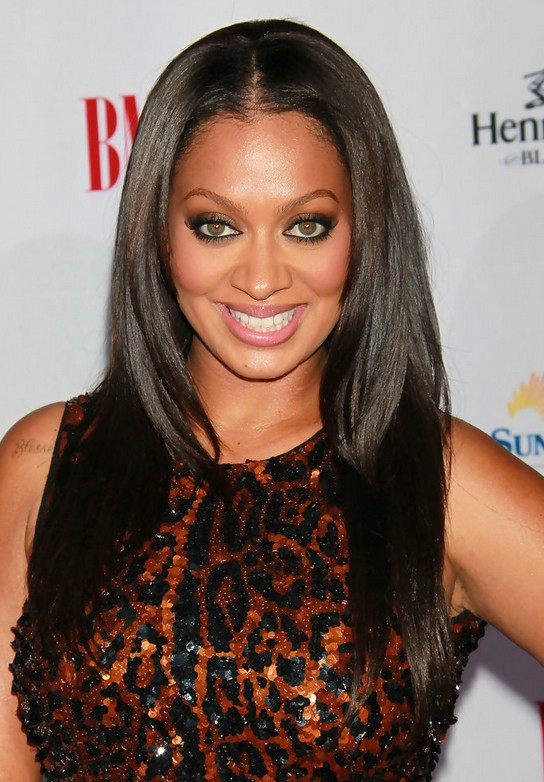 La La Anthony goes for a simple but oh-so-sleek look here, showing that if your hair is smooth as silk and has that mirror-shine, a solid, all-over colour can look stunning. This is a great length on La La Anthony; long hair elongates her face and the flattering chunky layers that have been cut into the front of the hair add shape and draw attention to those amazing cheekbones.
 La La Anthony Ombre Hairstyle: sexy long wavy ombre hair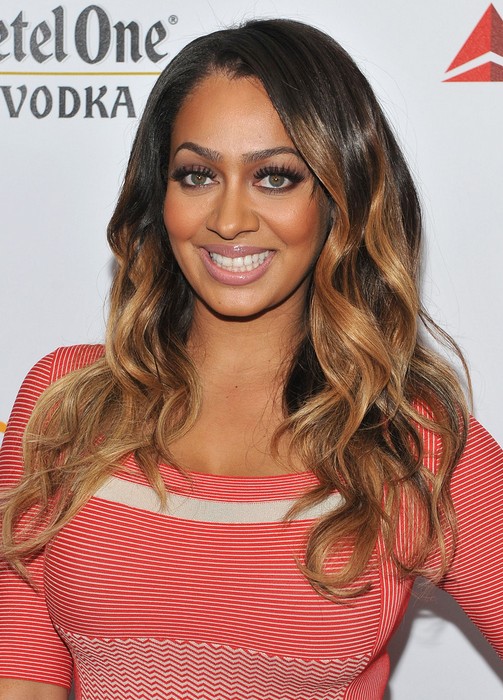 There is nothing subtle about La La Anthony's colour choices but the combination of glossy darkest brown and warm honey tones matches her dark eyes and brows and her beautiful warm complexion. This is a good example of matching hair colour to skin tone to create a style that is tailored to your unique natural look. This dark to brown ombre hair is very popular recently.
 La La Anthony Half Up Half Down Hairstyle – Elegant prom hair styles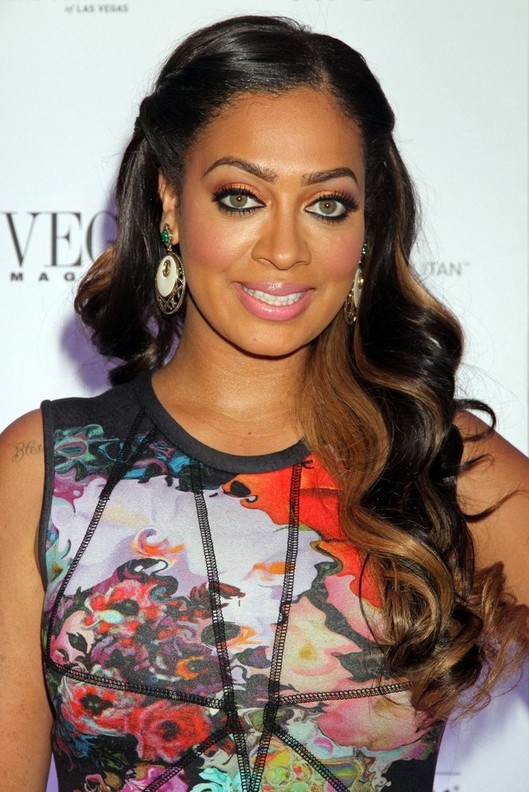 This is an unusual half up and half down look in that La La Anthony has opted for a side parting and has brought one half of the hair over the shoulder. With the front section of the hair pulled back from the face you get the classic elegance of an updo, while the long wavy lengths and curls ends give it a young twist, made even more dramatic with contrasting warm brown sections. This Half Up Half Down hairdo is not only great for prom, but also perfect for wedding, homecoming, the updos are not the only opts.
 La La Anthony Hairstyle with Bangs – sexy long black wavy hairstyle with side swept bangs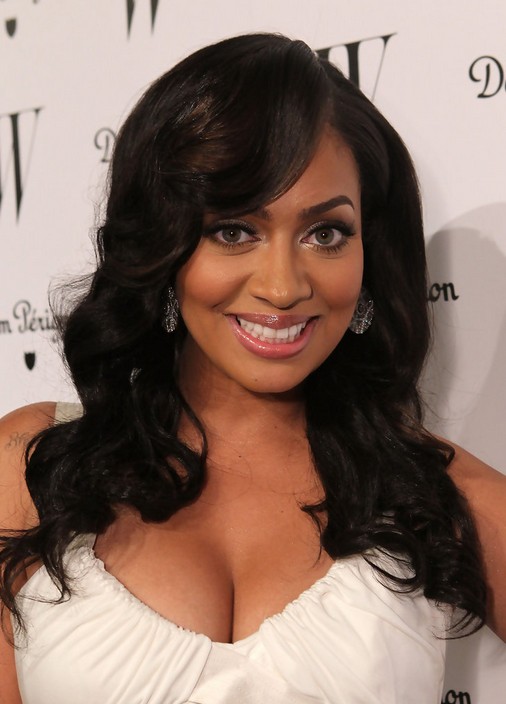 It can be really tricky to get side sweeping bangs like this without it dropping or needing tons of product to hold it, and getting a harsh look. La La Anthony's side sweep is a triumph of silky, glamorous waves  and the lengths are perfectly sleek and curly. This is a really great look, full of shape and just so soft looking we want to touch it! This is a great long black wavy hairstyle for black women.
 African American updo hairstyle idea: La La Anthony Braided Bun Updo
If you want height, drama, glamour and maximum impact from an updo then this could be the look for you. You will also need oodles of glossy dark hair and the perfectly symmetrical features of La La Anthony to carry it off. The braids that carry the hair back to the huge bun at the back of the head are what really make this look, we love the feminine detail.
 La La Anthony Side Parted Curly Hairstyle for summer – beautiful!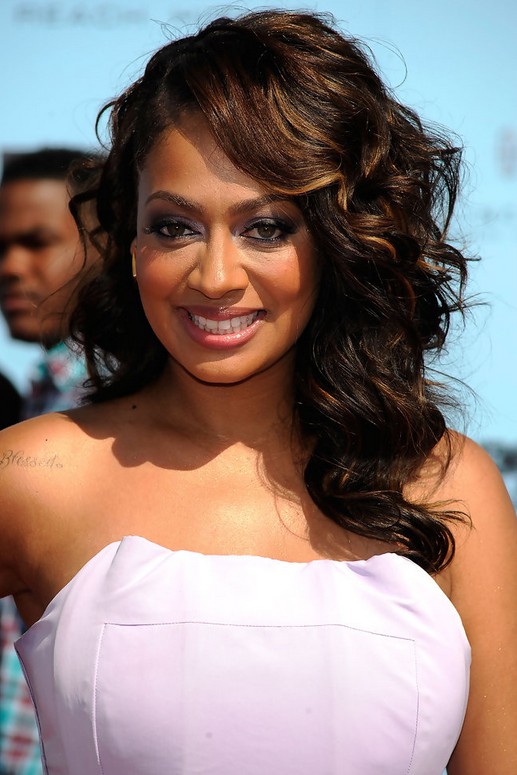 So much volume, and so many curls! This is a flattering style for La La Anthony – big hair works really well to frame the face when someone has big beautiful facial features. The curls have been teased to get lots of volume, and there is a real touch of vintage glamour with the side parting and sleek wave over the forehead. A fun look that La La Anthony wears very well. This is a romantic wedding hairstyle for black women, if you wear long hair, why not try this side parted wavy curly hair this time?
 La La Anthony Long Straight Hairstyles for black women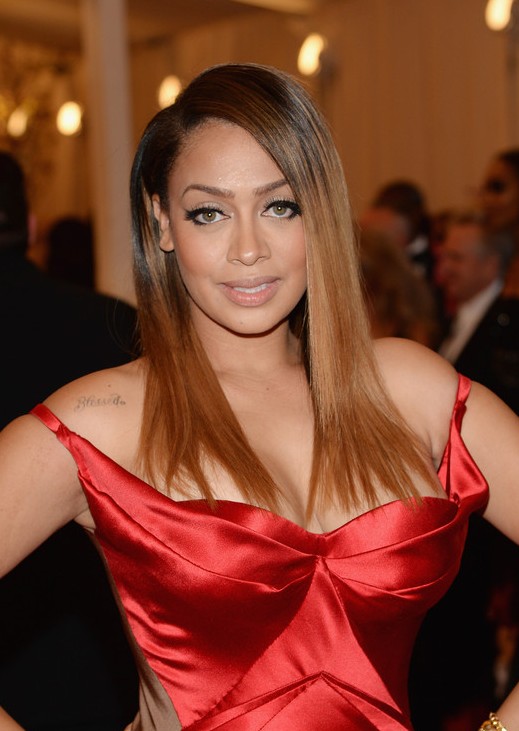 La La Anthony goes for the dip-dyed look here, her dark hair fading to copper and honey tones towards the lengths. Styled with a deep side sweep and plenty of height at the top to lengthen the face, it works well for her. However, by fanning the ends over the chest we get impression that La La is trying to cover up her assets with her hair, taking away the wow factor of that fabulous dress! If you're tried of wavy or curly hairstyles, why not have a taste of the straight hair? This fabulious long straight black to blonde ombre hair also looks great on Lala!
La La Anthony Hairstyles 2014 – lala's latest hairstyle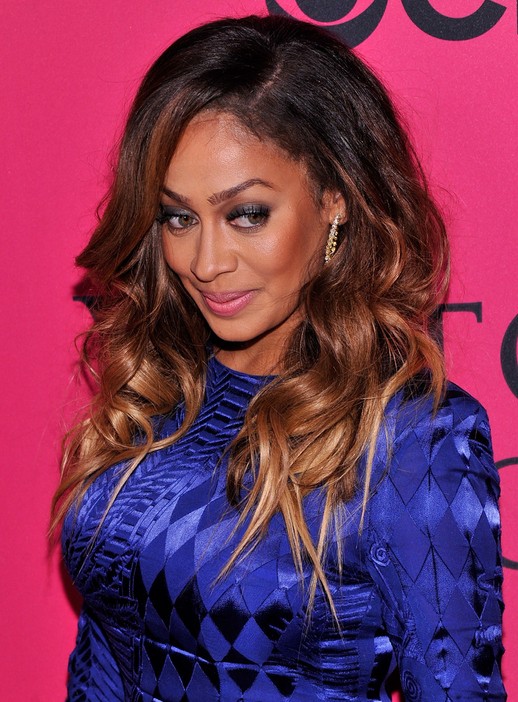 La La Anthony was beautifully coiffed with a high-volume curly 'do during the Victoria's Secret fashion show. This sexy long wavy hair style is great for thick hair. Popular long hairstyles for women over 30.
La La Anthony Ponytail Hairstyles with Bangs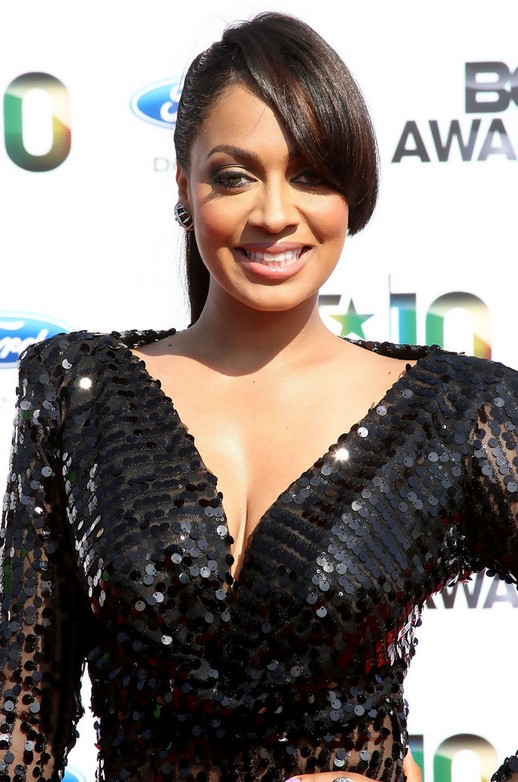 Hairstyles for black women – this casual low ponytail with side swept bangs looked great on lala.