Kim Kardashian Long Braided Hairstyle: easy hairstyle for spring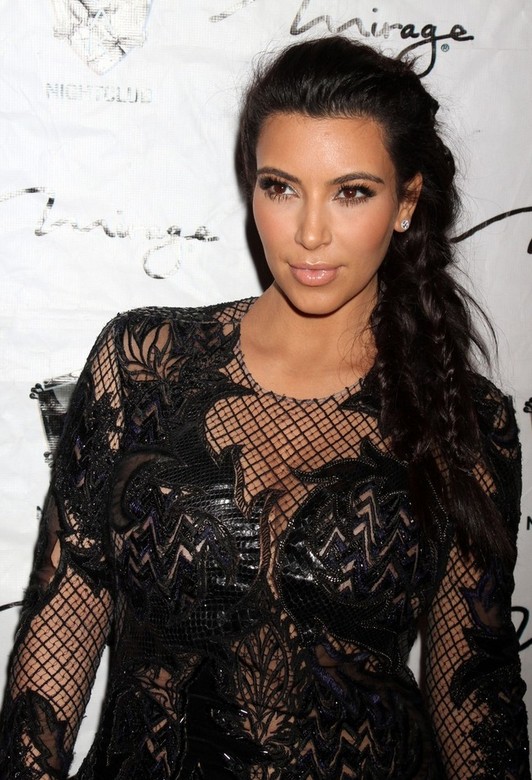 With her trademark long, dark brown hair swept to the side and styled in a number of messy braids, Kim Kardashian embraces a carefree look but while the length of the hair may look effortless and even messy, the hair close to the head has been perfectly styled to create a soft, feminine feel that really works for Kim.
 Kim Kardashian Layered Hairstyle: layered long straight hairstyle with side swept bangs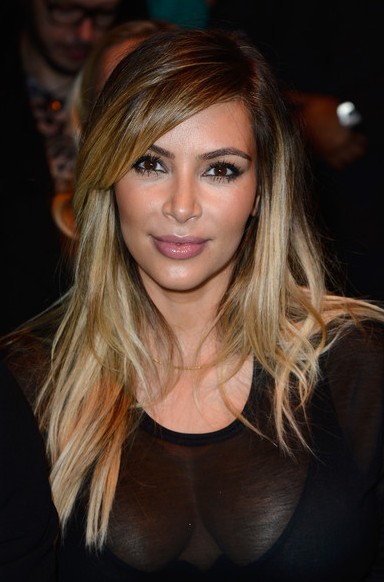 This layered style is a great cut for Kim Kardashian with a side part that gives her a flattering sweep of hair across the forehead which then disappears into tousled but straight lengths. Deep layers add plenty of shape so while this look is simple, it is certainly not flat. The colour lightens gradually along the lengths moving from warm browns to honey blonde for a youthful, sun-bleached look.
 Kim Kardashian Straight Hairstyle: center part long sleek hair style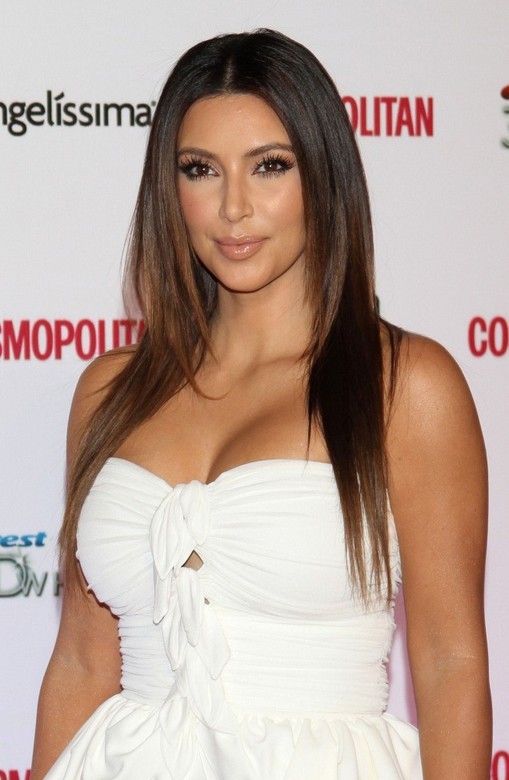 Simple easy long straight hair style for women: This long, straight style has had lots of layers cut into it, this allows lots of volume in the hair around the face, but tapers the thickness of the hair towards the ends. Thicker layers below the jawline allow the hair to curve inward which flatters the face and softens the look. The hair colour gets slightly lighter and warmer as the hair thins towards the ends, the colour and shape working together and reinforcing this strong shaped look. This long hairstyle is great for oval, heart, oblong faces.
 Kim Kardashian Hair Knot: Best hairdos for summer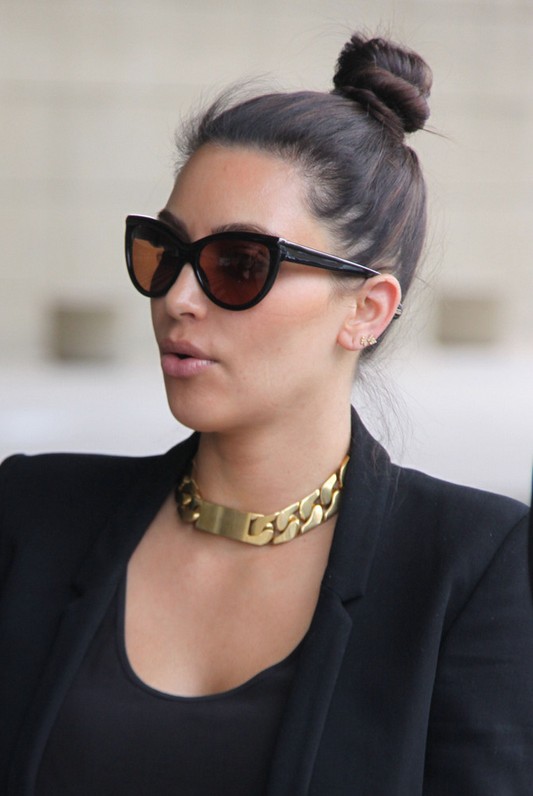 Kim's long flowing locks are tightly wound into a tight knot on the top of the head for this look which exposes the whole face. This is great for an oval face shape like Kim Kardashian's (while it would elongate a long face rather harshly). This creates a business-like look that matches her tailored jacket and outfit while giving a definite nod to the current trend for the top-knot. If you want to know how to do this hairstyle, please search the Kim Kardashian hair tutorial on our site, we have published some tutorials already.
 Kim Kardashian Braided Long Hairstyle: casual French fishtail braid with bangs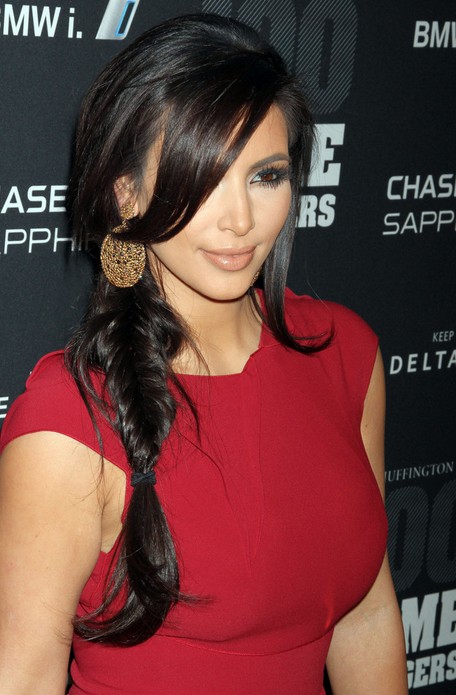 Kim Kardashian turns a fishtail braid into an elegant affair here by opting for a dramatic parting and bringing all the hair to the side with the exception of the front section which is left down and shaped to sweep over the eye and frame the side of the face. Height at the back of the head adds even more glamour, cleverly turning a casual style into an evening updo.
 Kim Kardashian Ponytail: High ponytail with hair highlights for summer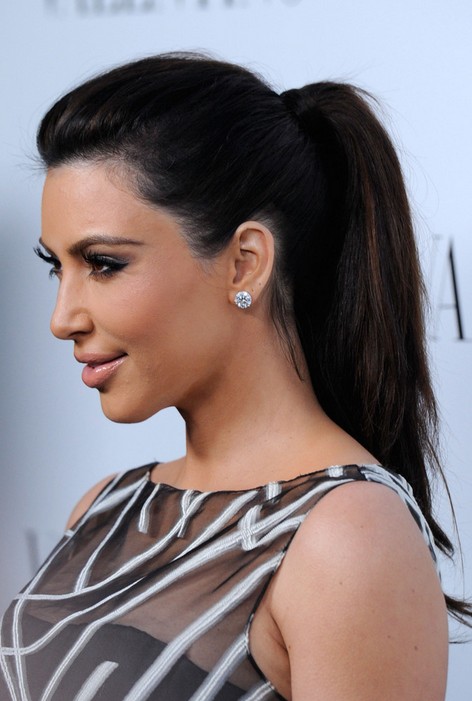 A simple ponytail can look elegant and chich when done right. Here, Kim Karashian shows off a great elegant version of an everyday classic. With height and volume at the front of the head and the hair pulled gently back and tied high up at the back, the lengths fall perfectly. The ultimate finishing touch is the hair wrapped around the ponytail to hide the band. The elegant ponytail is more difficult to achieve than you might expect – the key is keeping it soft yet structured. And I lover her smoky eyes very much!
 Kim Kardashian Hair color – brunette: Sexy  Long Wavy Hairstyle hairstyle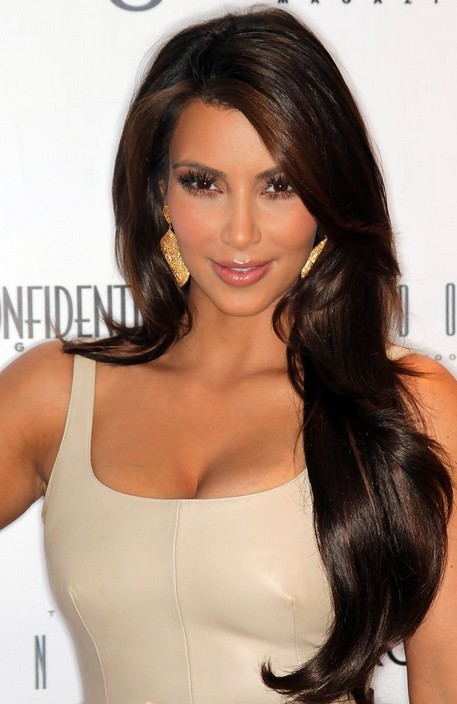 This uber-long style prvodes Kim Kardashian with enough hair to get tons of volume on top, a huge sweep of hair over the side of the face and a long swathe of hair which falls over the shoulder and down to the waist with a stunning spiral twist, and there is still enough to frame the face and fall down her back. The end result is glossy, multi-tonal and gravity defying!
 Kim Kardashian Long Straight Cut with Bangs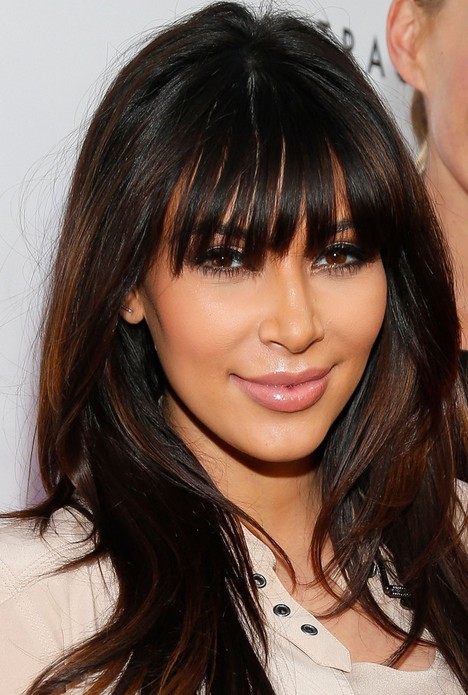 As always, Kim Kardashian's signature long brunette tresses are glossy and styled to perfection. The hair is straight, but has been styled in sections so that there is a natural, easy wave to the layers that is flattering and feminine, highlighted with copper tones that add warmth. The fringe has been cut in sections as well, giving it a modern shape that sits just over the eyes. Sometimes Kim Kardashian also uses hair extensions.
 Kim Kardashian Hairstyles 2014:  Kim Kardashian's latest long wavy hairstyle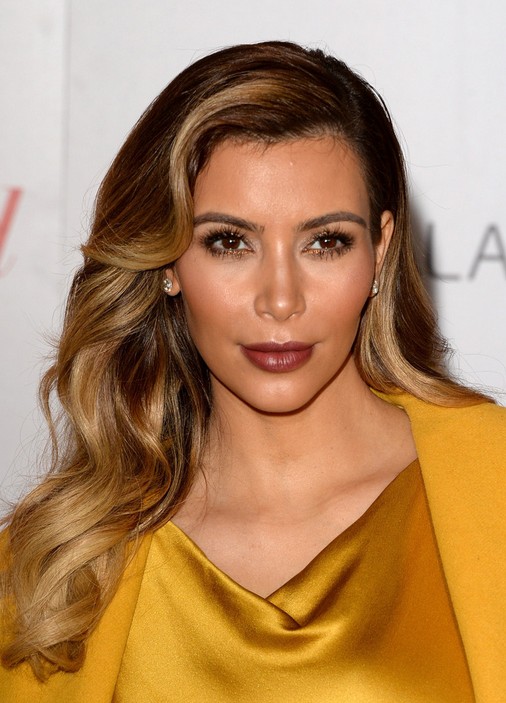 Kim Kardashian looked sultry with her retro waves during the Women in Entertainment Breakfast.
Kim Kardashian Blonde Hair –  Wigs – Long straight blonde hair with blunt bangs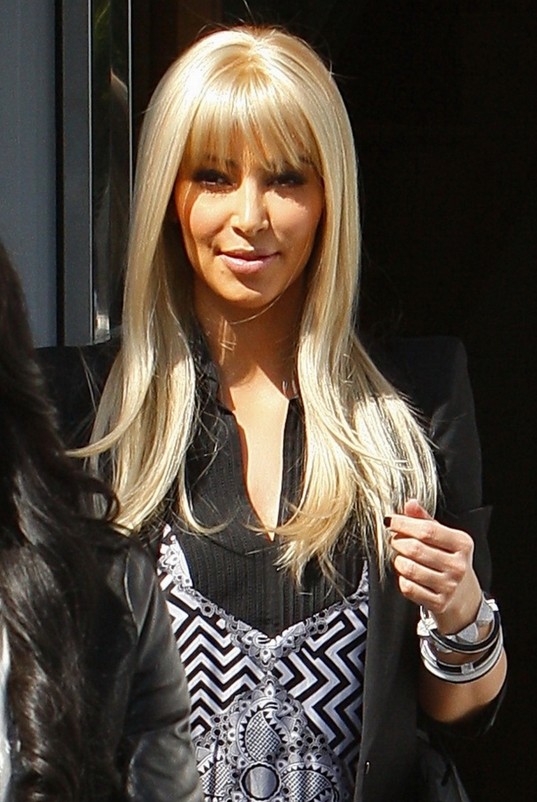 Kim's favoreite hair color is brown, usually she doesn't wear blonde hair, but this time, she wore blong wigs.  Kim Kardashian Leaves The Hair Shop in a Blonde Wig. Do you love this style?
Kim Kardashian Curly Hairstyles: long dark curly hair for women – retro style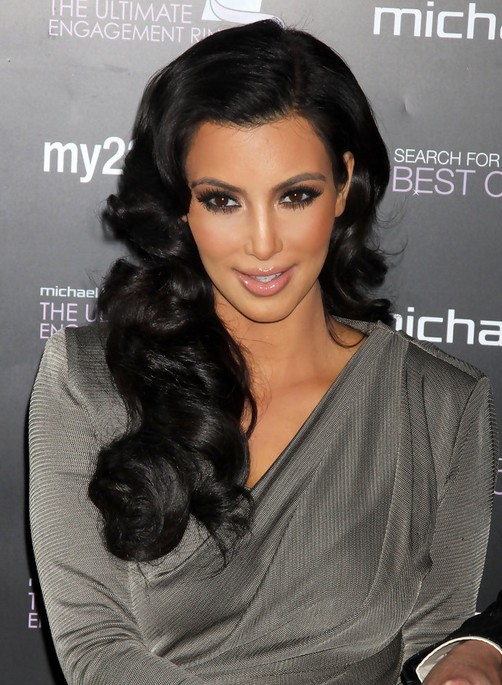 Kim Kardashian showed off long retro curls, which made her smoky eyes pop. She finished off her smoldering look with nude gloss. Do you love this sexy long black curly hairstyle from Kim?