1. Gwyneth Paltrow Wavy Hairstyle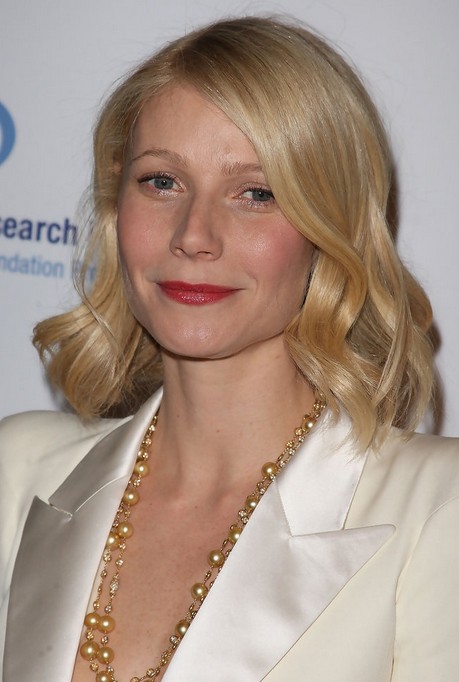 We might be more used to seeing Gwyneth Paltrow with long straight styles, but here she shows what a difference some Hollywood glamour waves can make. A side parting and some subtle volume combined with perfectly smooth, silky hair create an elegant look that ties in perfectly with the tailored outfit she is wearing. The shoulder length waves are soft and feminine, and then shape is great for a long or thin face, rounding it out for a more youthful balanced look.
2. Gwyneth Paltrow Straight Hairstyles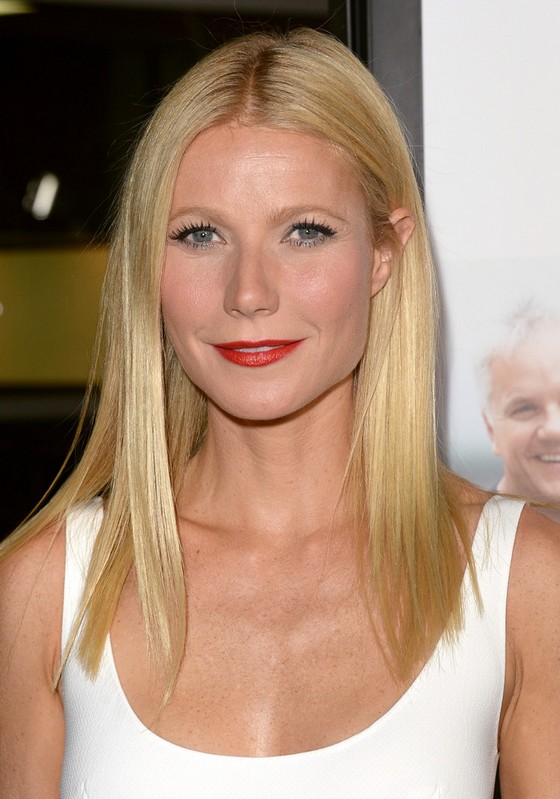 Gwyneth Paltrow's cool blonde shade is just slightly at odds with her skin tone here. The style is very simple and easily achieved with a straight centre parting and poker straight hair. A few fine layers add a touch of shade, as does the way she has tucked one side behind her ear while the other side brushes the side of the face. The hair is very smooth and silky with sharp, tidy ends. The length elongates the face and neck and draws attention to her strong jawline. A dash of red on the lips stops the look from falling a little flat.
3. Gwyneth Paltrow Short Hairstyle without Makeup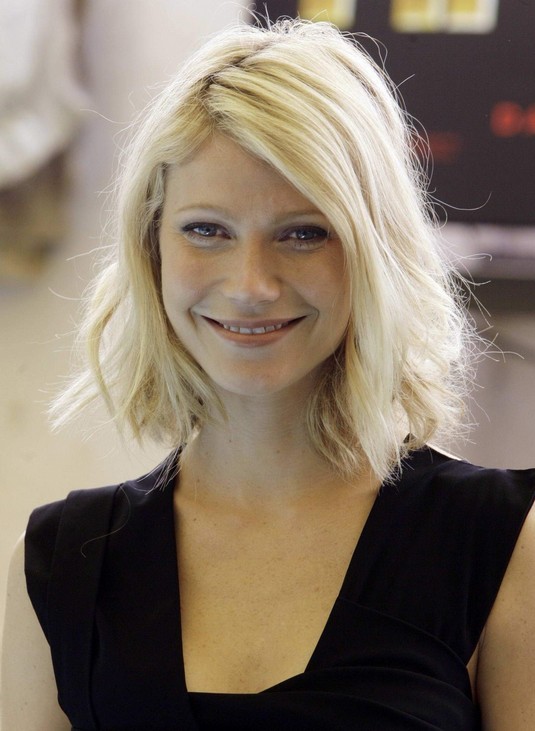 Going bare faced without makeup is a bold move for a celebrity, and perhaps especially for such a huge name as Gwyneth Paltrow. Here, she carries the look off perfectly with flawless skin and a fabulous youthful hairstyle that gives her a contemporary twist. With a slight side part and some teased volume, her short blonde hair falls in loose waves, stopping just above the shoulder. The length really rounds out her face for a young, pretty look. Crisp white blonde shades meld with warmer straw tones for a balanced blonde that is just so feminine.
4. Gwyneth Paltrow Medium Hairstyles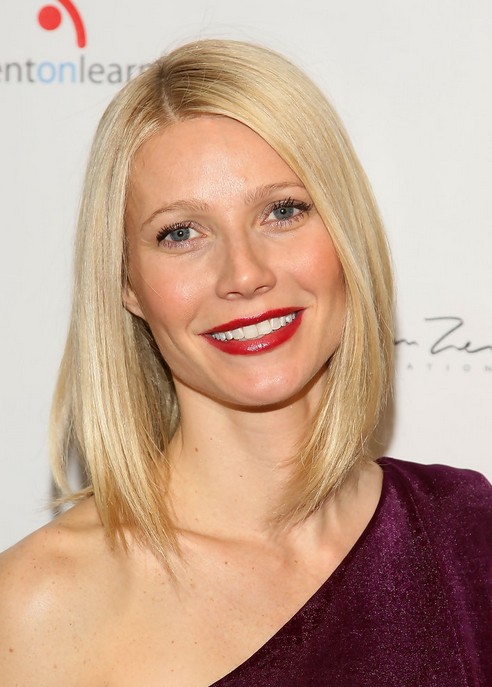 Gwyneth Paltrow's trademark blonde hair has a soft, feminine look here, with a slightly warmer shade of blonde than she usually wears. Styled with a parting that is set slightly to the side, this is a great look for framing one side of the face and exposing a perfectly shaped cheekbone at the other. The hair curves prettily around the face as well, softening the neckline and giving this style a gentle, feminine look that suits Gwyneth 's chiselled features. The ruby red lips are a great finishing touch for this blonde style.
5. Gwyneth Paltrow Hairstyle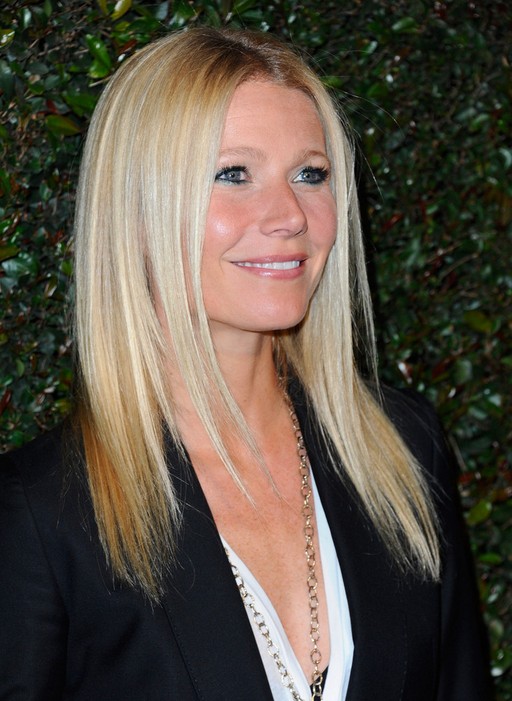 This look is a great example of a perfectly straight style. Here, Gwyneth Paltrow's icy blonde shade has had subtle warm blonde and platinum tones added for depth and to prevent the look from being too harsh. The shape comes from the layers which are cut into the front sections of the hair – the shorter strands help to frame the face and draw the eye up a little. A simple centre parting means that the hair falls evenly at both sides for a symmetrical feel.
6. Gwyneth Paltrow Demi Bob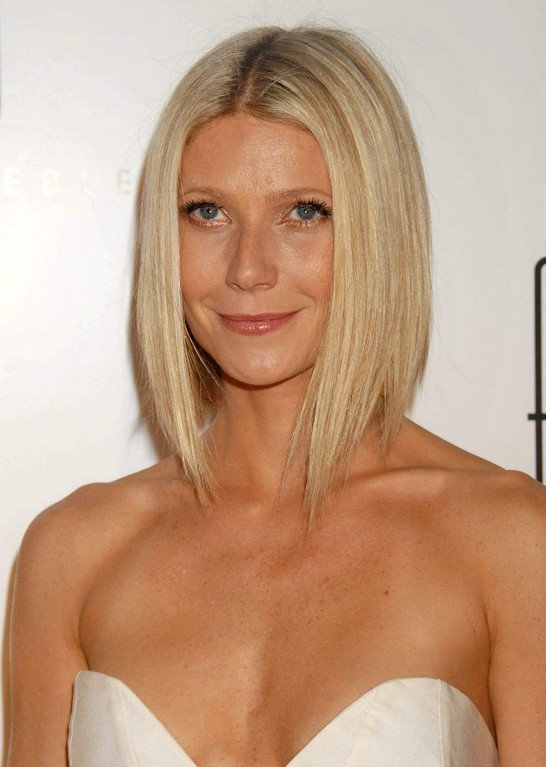 The demi bob is a flattering look for anyone unsure of whether they will suit a full bob. The front is kept long and the back cropped shorter for a graduated look that lengthens the face and flatters the neckline. Here, Gwyneth Paltrow wears her cool blonde hair in a graduated demi bob, with razor cut ends for a feathered look. She keeps the style poker straight so that the shape of the style is the main focus of the look. With lighter highlights and nude, barely there makeup, this is a summery look that she really suits.