1. Jennifer Aniston Straight Hairstyle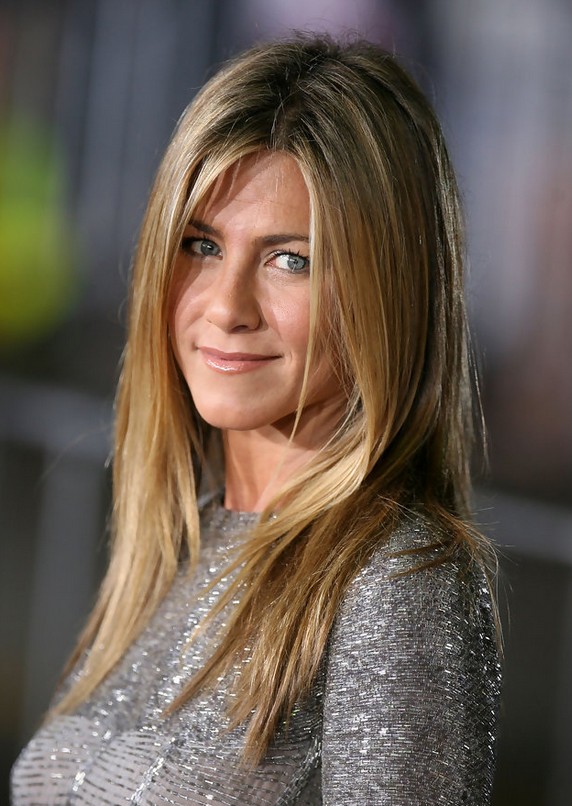 This long straight hairstyle elongates the face slightly, which draws attention to Jennifer Aniston's angular jawline rather than up to the eyes. It is still a very good style for her; the dark blonde tones with those warmer and brighter touches is a very flattering colour for her complexion while the layers add shape. Instead of opting for a totally smooth, silky style, this is a slightly tousled look and it gives Jennifer a slightly edgier look that she wears really well.
2. Jennifer Aniston Short Bob Haircut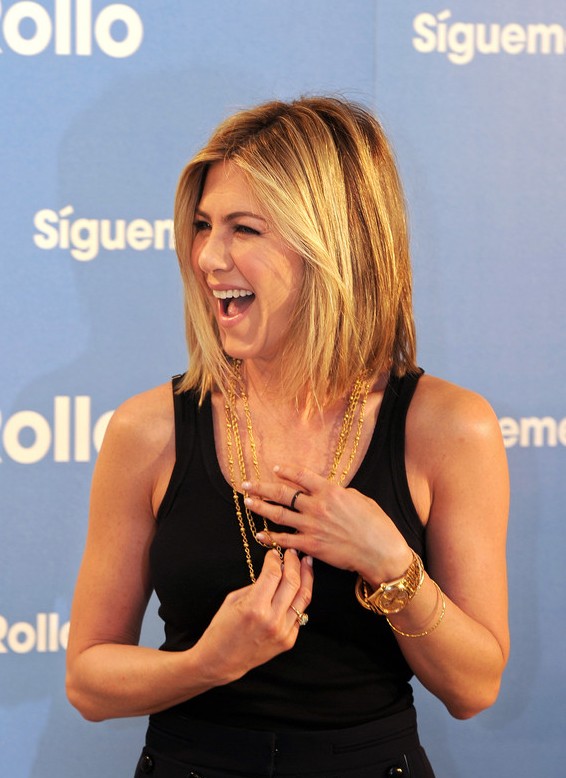 When Jennifer Aniston cut her famous long hair short, it caused quite a stir – but luckily it was for all the right reasons. Casting off the long layered look that made her so famous, she opted instead for a layered bob with choppy ends for a rough, slightly edgy look. The style works so well for her because it rounds out her face and draws the eye up to her own eye line. As always, her range of blonde tones is bold but beautiful, with just a hint of copper for warmth.
3. Jennifer Aniston Medium Hairstyles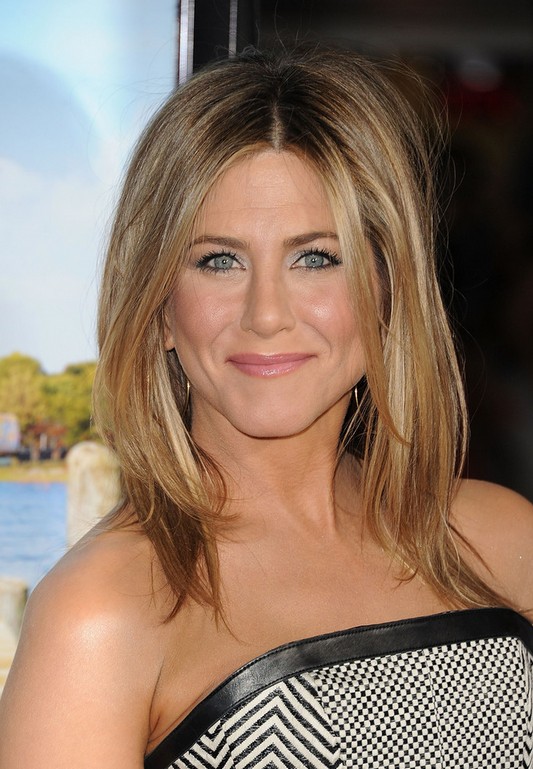 Jennifer Aniston is master of creating shape using layers – it was Jennifer who brought us that heavily shaped and layered style in the 1990's during her Friends days, and she is still ricking the layered look today (aren't we all?). This style has just a touch of volume to make the most of those layers, and the rest of the styling is fairly simple – tousled, sexy lengths in warm blonde tones with a simple centre parting and that effortless 'just ran my fingers through it' style. She makes it look so easy!
4. Jennifer Aniston Long Hairstyle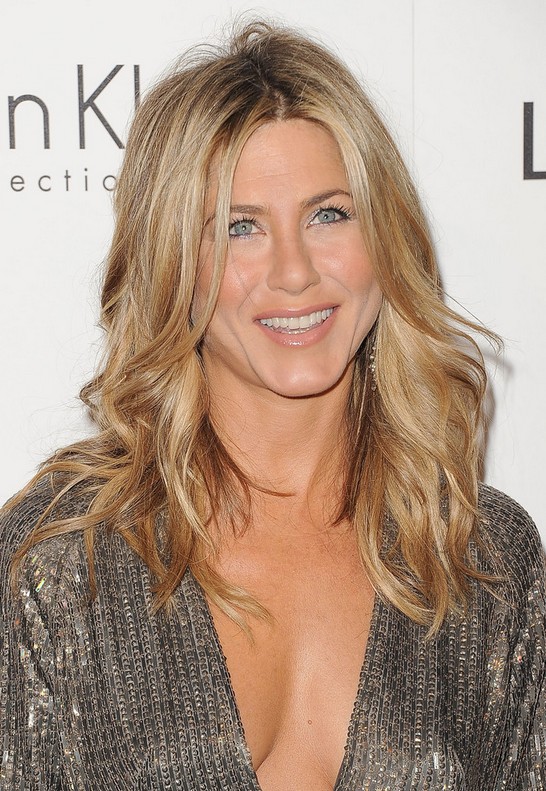 Jennifer Aniston has got so much hair to work with, and she maximises this with great layers that really add shape and volume to the hair. In this style she wears her long hair with a fabulous multi-tonal blonde shade and highlights that really lift it for a sun-kissed, glamorous look. The lengths of the hair are styled in soft waves which frame her face and flatter her neck perfectly. A tousled, sexy style really looks good on Jennifer, balancing an angular jaw.
5. Jennifer Aniston Layered Hairstyle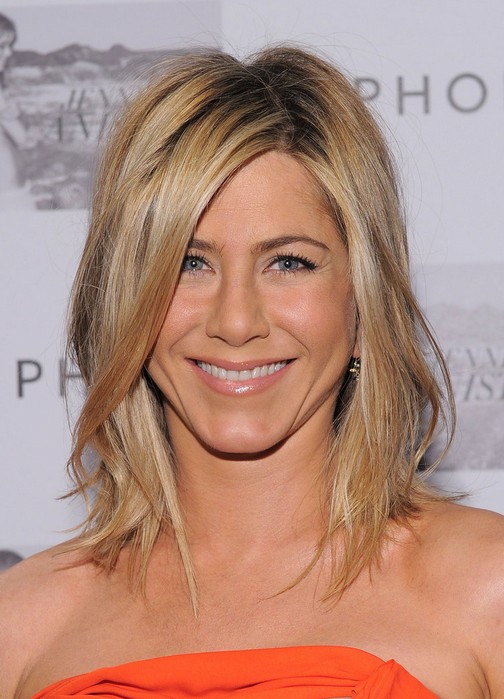 This is an edgy contemporary style for Jennifer Aniston. Her usually smooth locks are teased and ruffled for a touch of the rock chick look. A side parting and side sweep which partially obscures the eye make adds some curvy shape while the straight lengths are kept sharp and defined. Dark roots and under layers are lifted with a range of blonde tones, all of them complementing her flawless skin tone for a healthy glow that just radiates natural beauty.
6. Jennifer Aniston Hairstyle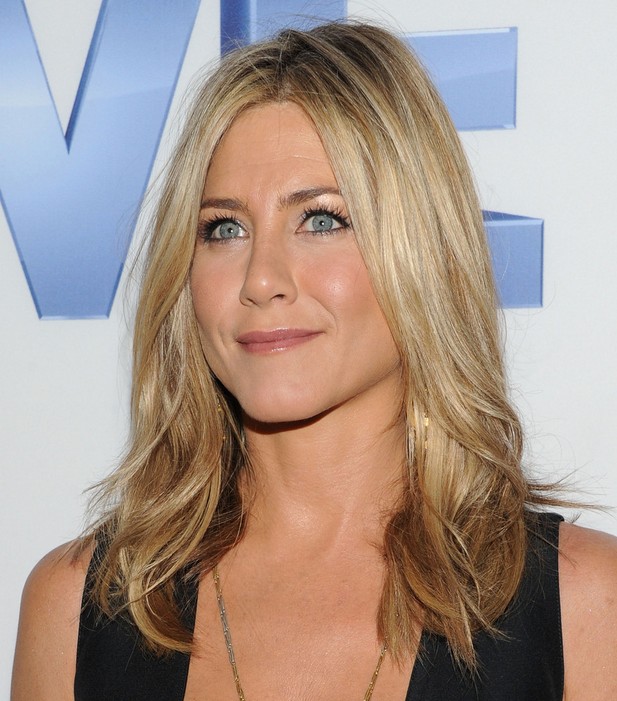 This is a very feminine style for Jennifer Aniston and it really softens her angular jawline and defined features. With a natural looking, slightly grown-out blonde, this is a summery style; the sun kissed highlights and darker tones just peeking through from underneath the top layer give this a touch of beach chic. The lengths are slightly wavy, giving the style shape and creating some volume. With natural makeup, this is a great look for Jennifer.
7. Jennifer Aniston Haircut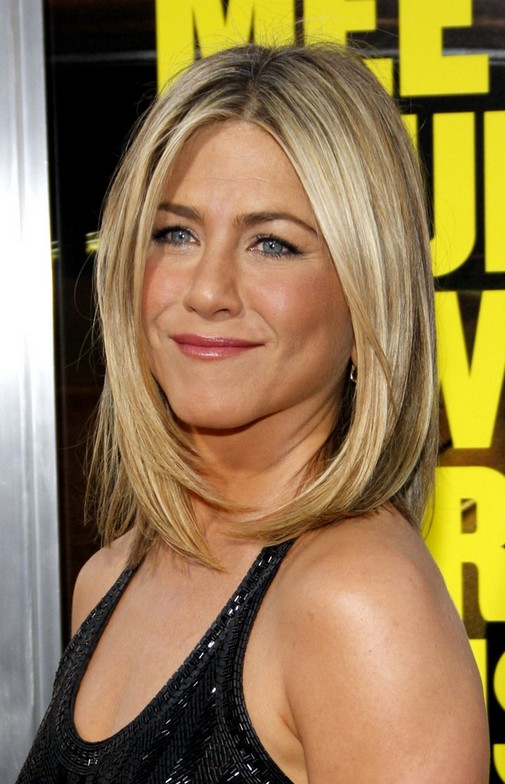 Jennifer Aniston really suits a shorter style; it rounds out her face an flatters her strong jawline. Here, her hair is lighter than we usually see it, with icy platinum tones and ash blonde undertones. The result is very pretty beside her slightly tanned skin tone and gives her a carefree summer look. Her hair is straight but tousled slightly and the end are turned in to show off the layered that have been cut into the front of the hair.
8. Jennifer Aniston Blonde Hair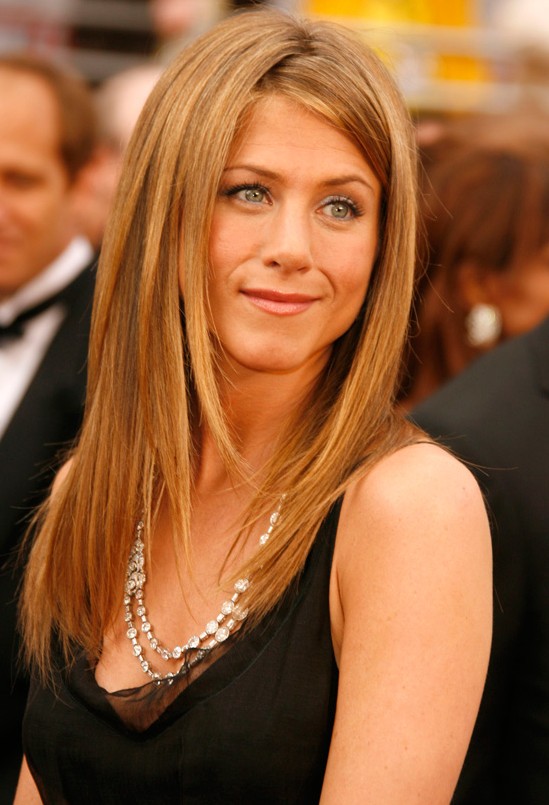 Jennifer Aniston's dark blonde hair has a real honey tone to it here, warm and flattering to her skin tone. Her trademark layered style has been given a twist with an unusual parting; most of the hair is parted in the centre for a balanced look while just the front section is side parted and then tucked underneath the lengths. The result is a strong style with loads of shape and volume that sits really well – if only we all had such thick perfect hair!