It seems that women have so many things to worry about. For example, they always think their skin is not tender and healthy, their waists are too fat and even their calves are not pretty… Among all the things they concern about, a slim face is the most important. As long as you've got a thinner, you can still look fantastic in your selfies, even though the other parts of body are fat.
In this post, we have made a collection of some useful ways to help you get a slimmer and prettier face. Stay here and see what they are. Scroll down and enjoy.
Improve Your Posture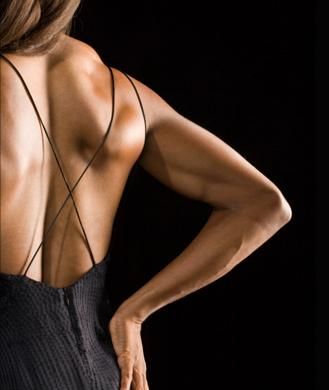 A good posture is helpful to deal with problems such as fat jawline or the double chin. Always keep your shoulders back and keep your spine straight no matter your are standing or sitting. Plus, you can take some Pilates and yoga classes to improve your figure.
Avoid Edema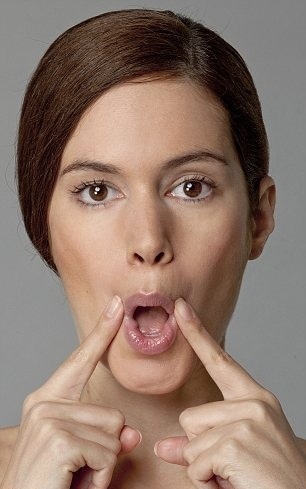 For some people, the round face is caused by edema instead of fat. If your eating habits are not healthy, some water may be retained in your body, which in turn will cause a puffy face. To prevent this happening, you should massage your face, cheeks and your neck frequently, which is great to activate your lymph nodes.
You May Need More Water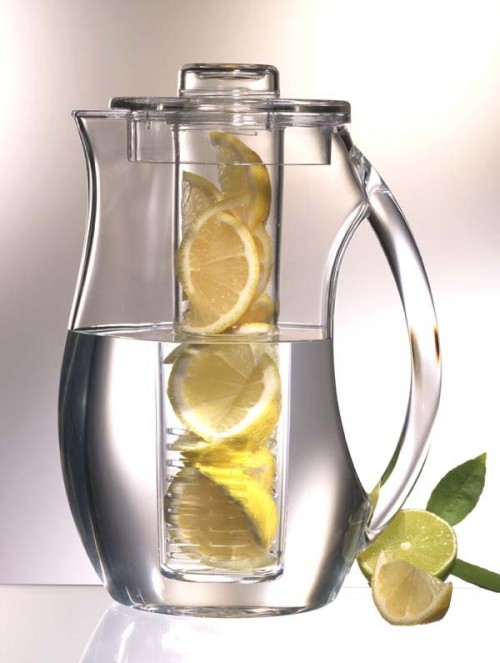 Women dare not drink much water as they are afraid the water may be retained in their body. However, they don't know it is right the lack of water that result in water retention. When your body has got enough water, it will release all the retained liquid in it. Generally speaking, you need to drink 64 ounces of water each day.
Facial Exercise
The facial yoga works well to make your face tight and remove the bags under your eyes and the the wrinkles on your face. The facial yoga is quite popular and as you keep practicing it, you can see the best result within one or two months.
Longer Earrings to Frame the Face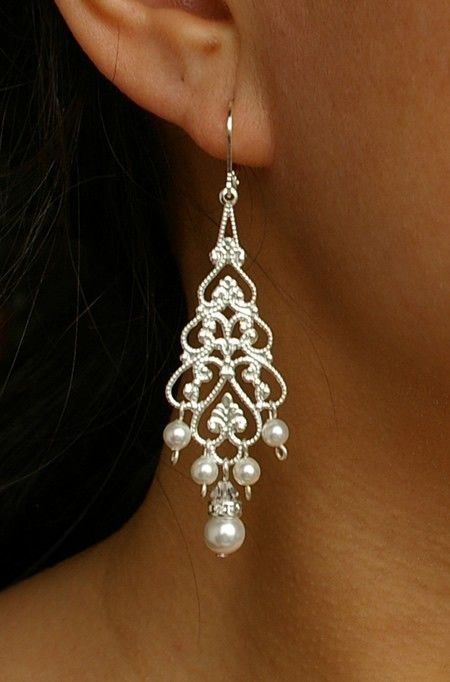 I know there are still some women who wouldn't spare any time massaging their faces and doing the facial exercises. So, here is an easier way to frame your face. That is to wear longer earrings. However, not all earrings can do a good job. The round or hoop-style earrings should be ignored.
Mid-Height Ponytail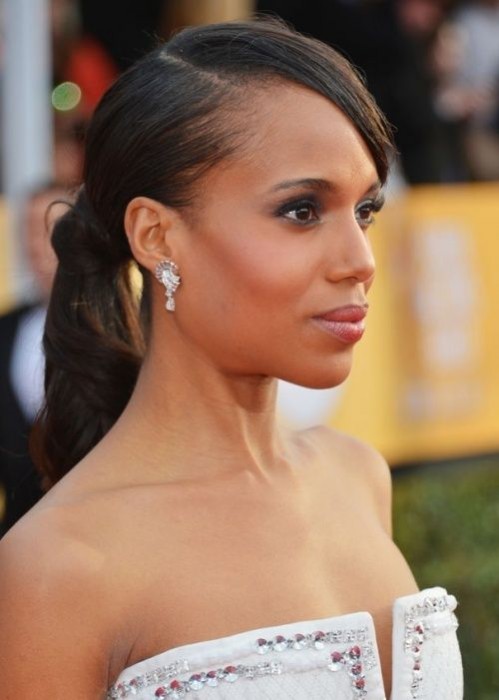 You may not know that the mid-length ponytail works so well to lift your face. Comb all your hair back and do a ponytail the height of your cheekbone. You will find your face become slimmer instantly.
Try The Ombre Hair Color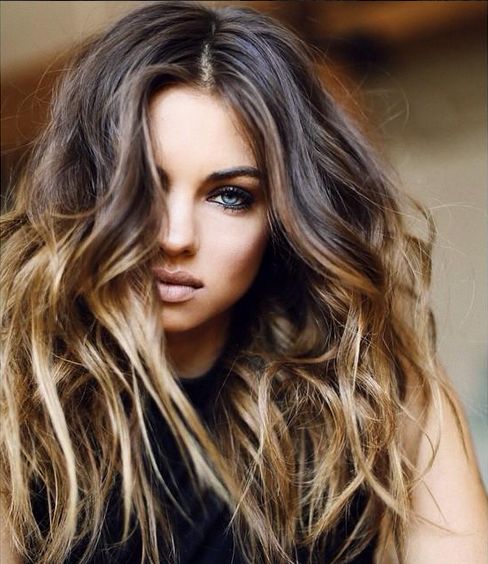 A fashionable way to get a slimmer face is to change your hair color into the ombre style. You face will look thinner when your hair is darker than darker than your face. You can go for an ombre hair look with your hair roots dyed in a darker shade.
Add Volume to Your Hair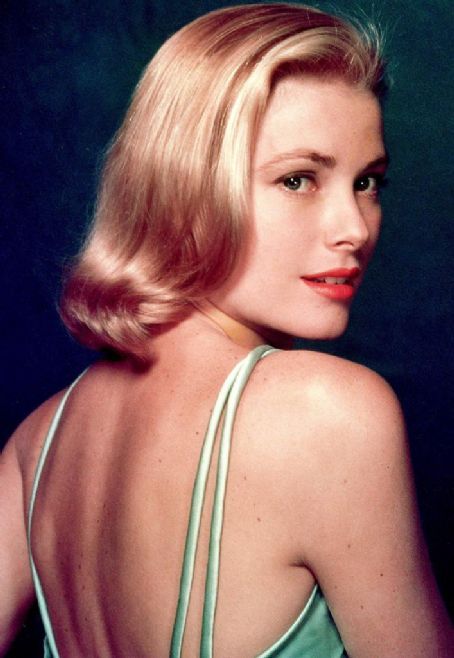 Hair at the crown should be piled up so that your face can look much slimmer. How to make it? Just tease the hair strands with a wide-tooth comb from the top of the hair. The rest hair should be kept straight and falling naturally. That's because the straight hair lines can minimize the roundness of your fatty or puffy face.
Charming Cat Eye Makeup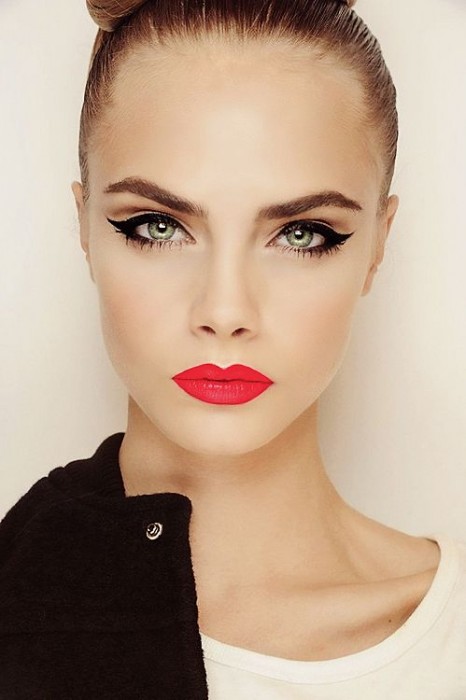 The cat eye makeup will elongate your lash lines so that your eyes can look bigger. Once you've got charming eyes, all the attention can be drawn to them. Here are the best cat eye makeup tutorials and how to make your lashes longer  just like a doll. Follow the tutorial and experiment with them.
Wonderful Contour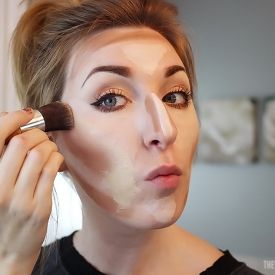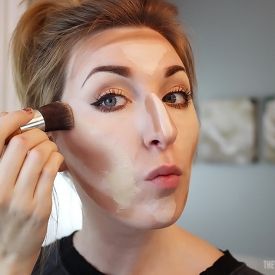 All makeup addicts know how magical the contouring skill is. It can give women a new face as long as they have mastered the skill. Here you can learn how to do a perfect contour and get a smaller face.
Blush Properly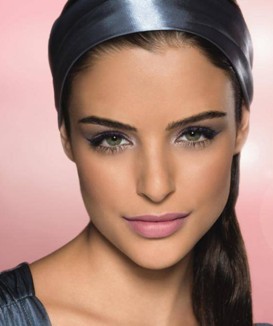 Your face shape can be framed with the proper use of blusher. Although most women know this method, few of them knows which blush shade looks best on their face and how to apply the blush properly. So, click here and check out how to do a perfect blush makeup.