Yeah, we're pretty excited to show you this hairstyle! That's because out of all of the ways that you could wear a graduated bob, hands down, one of our favorites, is the graduated bob. Although from the front, it tends to look like a classic bob, from the back, it has a stylish surprise thanks to the short—and oftentimes tapered—neckline. It's so sleek and sexy. And really, what woman doesn't like those kinds of end results?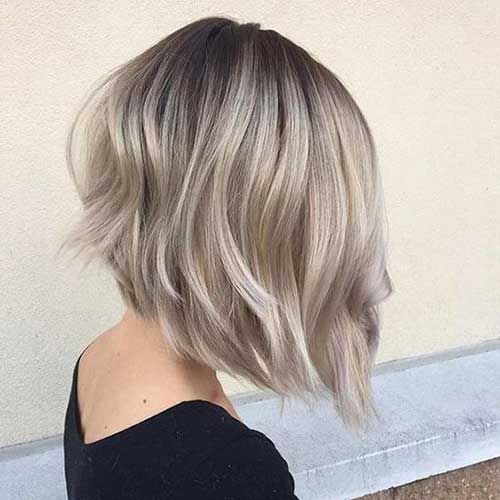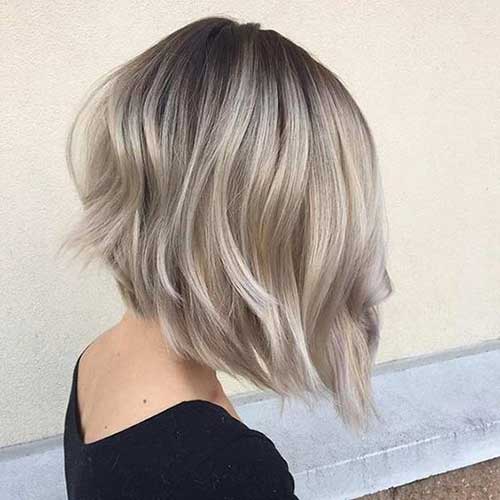 So, let's dive into some of the HOTTEST graduated bobs around…
Ready?
Short ombre graduated bob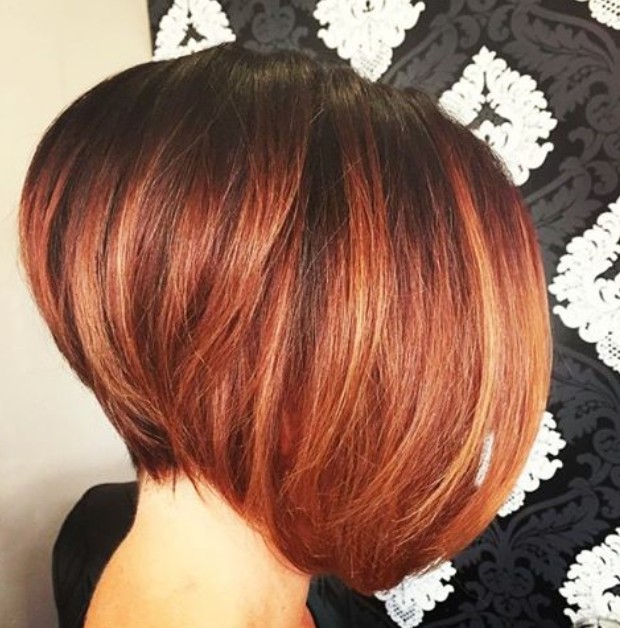 Hair color ideas for short hair: Honestly, the best thing about this bob is the color. That reddish-brown ombre is EVERYTHING. That's not to say that the cut isn't pretty amazing too. The neckline almost appears to be tapered which gives it a very "clean" look.
"High" graduated bob with a middle part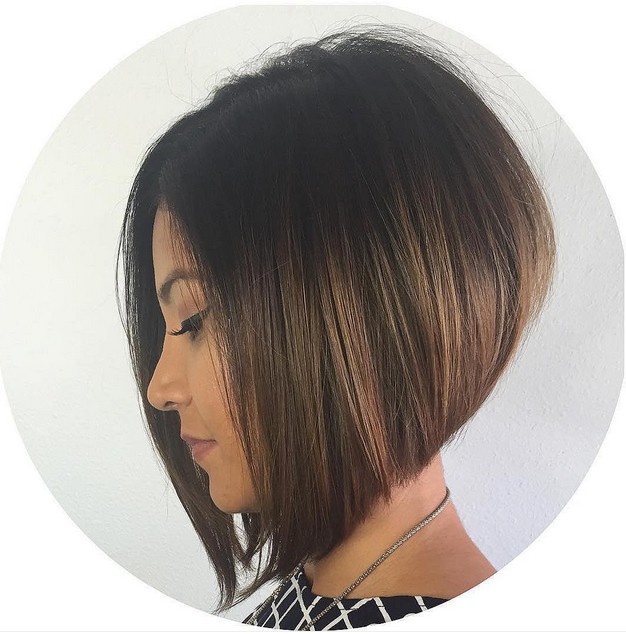 This is another type of bob that looks really good on someone who has naturally thick hair. Check out how "high" the back of her hair is and how the A-line goes way beyond her chin in the front. The middle part completes the look.
Blunt black graduated bob with bangs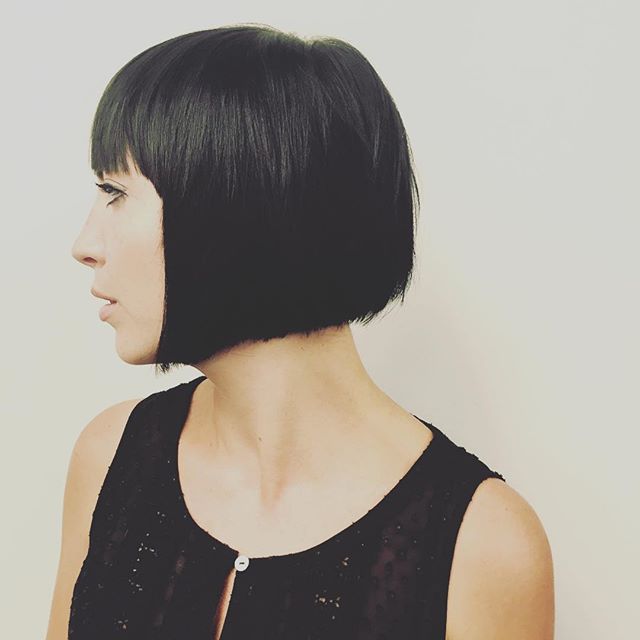 Yeah, this is a favorite look for sure being that it's a blunt graduated which is a nod to the 60s. We also dig the blunt bangs in the front. And the fact that it's black? It makes her look that much classier.
Wavy graduated balayage bob with soft pink streaks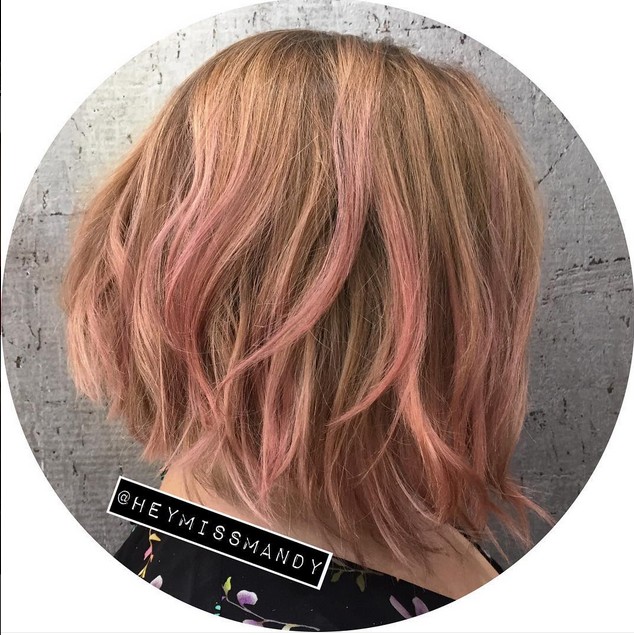 If your hair is naturally wavy, here's a graduated bob that would be absolute perfection on you! Especially if you're willing to go all out and add some soft pink highlights to it!
Three-tone graduated bob with long tips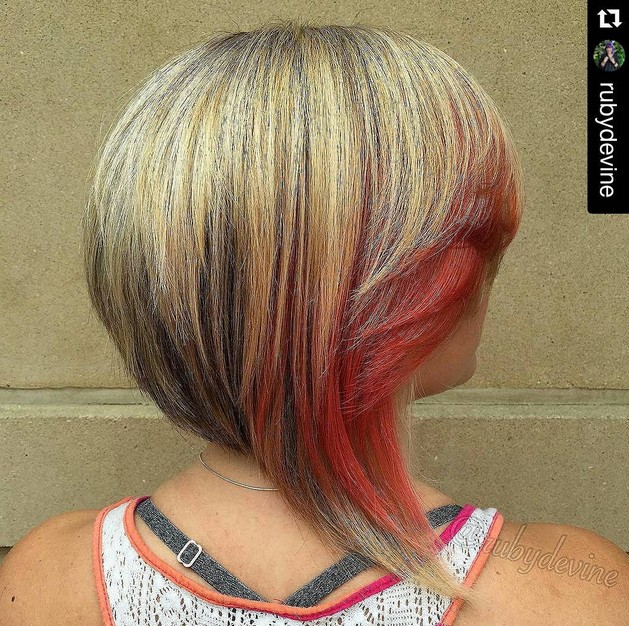 To get this look, first start off with a graduated bob that is a bit longer in the back (no tapering) and then has tips that reach to your shoulder in order to give it a more dramatic effect. Once you're done, then add 2-3 different colors to it. If you want to do all of this in one hair appointment, our recommendation is to go with something semi-permanent as to avoid any significant damage.
Soft brown and wavy graduated bob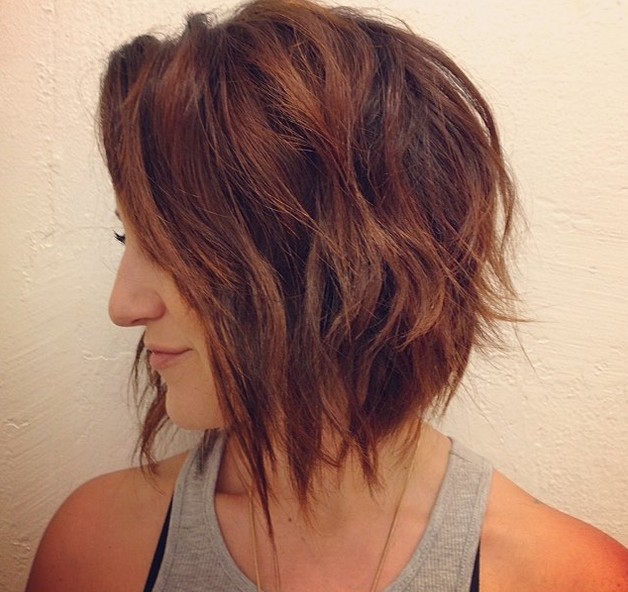 If you have naturally wavy hair and you're looking for a really low-maintenance haircut, here's one that will not disappoint. Loose waves go oh so well with lots of layers. This is especially the case if it's a graduated bob.
Super curly graduated bob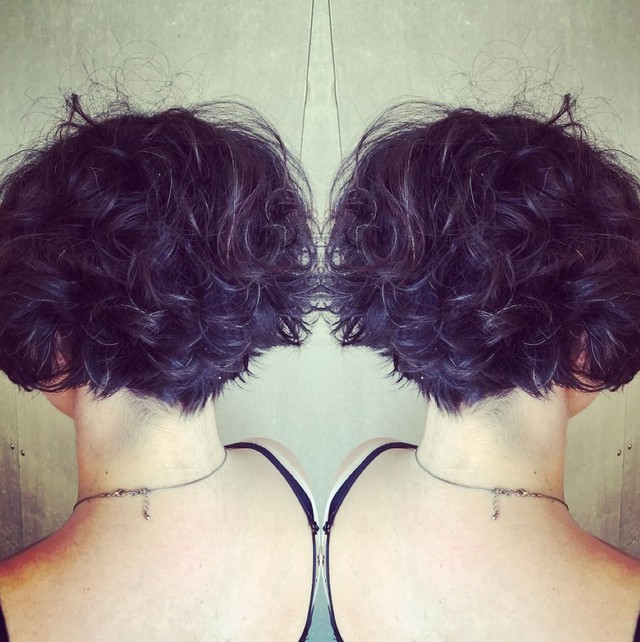 So, what do you do if your hair is super curly? Here's a top recommendation. As you can see, graduated bobs work really well with any hair texture. Including if you happen to be someone who was blessed with lots of ringlets.
Buttery blonde wavy graduated bob with side part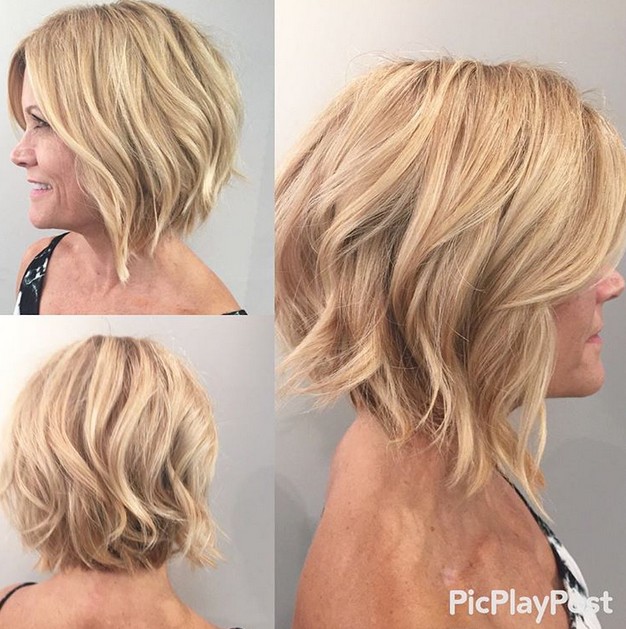 If you're looking for a new hair color to try, one of the most popular ones right now is buttery blonde. If you already have naturally wavy hair, can't you just imagine how your tresses with beautifully cascade around your face?
Dark brown wavy graduated bob with long side bangs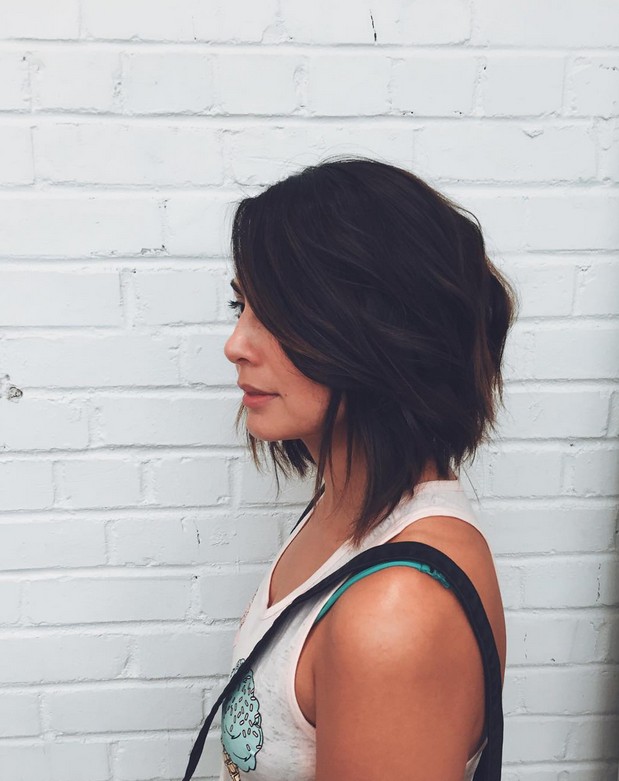 This is a youthful look for a graduated long bob. The dark brown adds some mystery to the natural wavy pattern. Notice how there are also a "hint" of a bang in the midst of all of the long layers that it has.
Smooth platinum graduated bob with dark brown "base"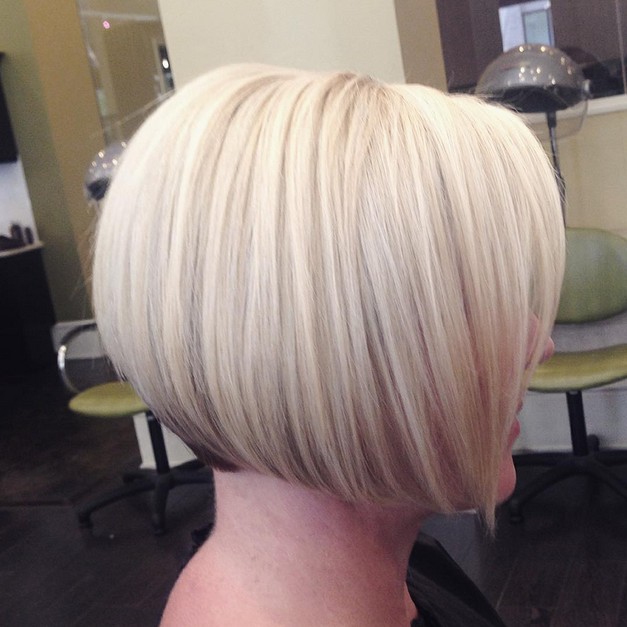 There are very few layers with this look as well. However, you can tell that there are some around the nape of her neck, not so much due to the cut itself but because there is a dark brown layer of hair that's under all of the platinum coloring.
"Brassy" graduated bob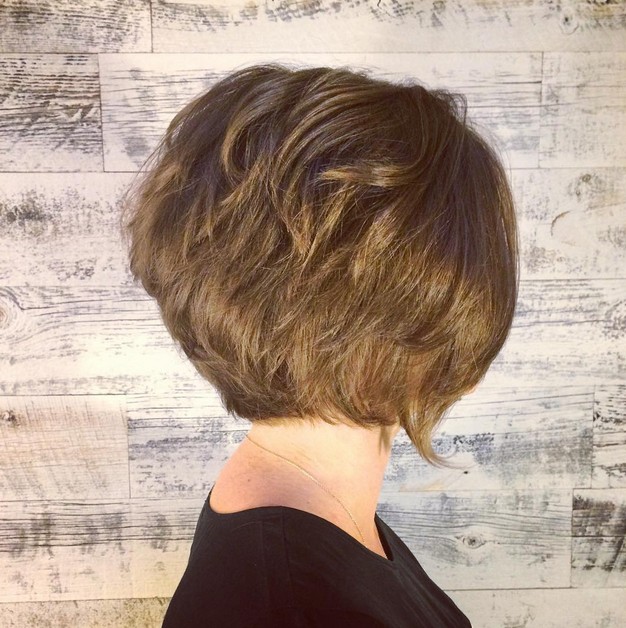 This wavy bob has a really brassy color to it. It's the kind of look that works well for a woman over 50 who may be looking to update her hairstyle a bit. Whether your hair is curly, wavy or straight, you can make this look happen.
Brown graduated bob with very long layers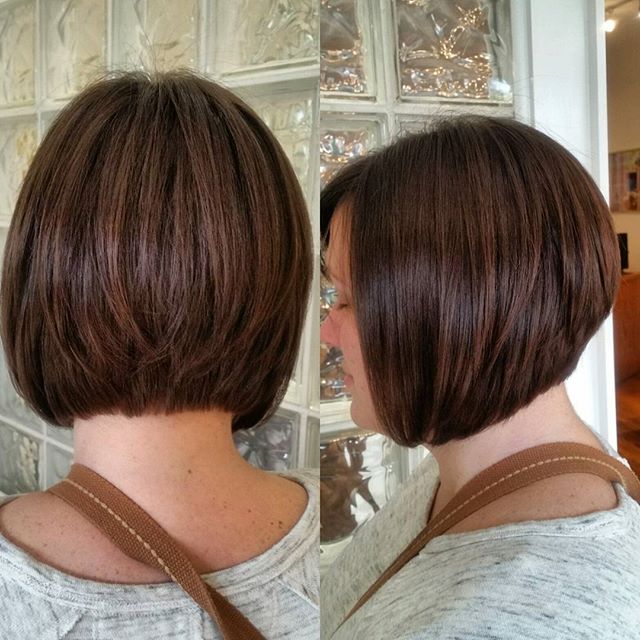 Basically, this is an example of a blunt graduated bob. We say that because although there are minimum layers towards the back of the neck, overall, there is very little layering going on. If you want a sophisticated cut with very little muss or fuss, here's a great example of that.
Blonde graduated bob with virtually no layers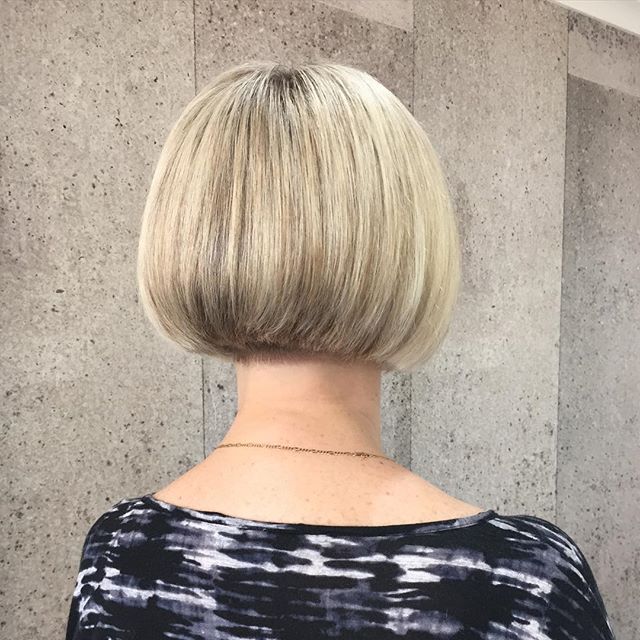 If you would prefer to go with blonde rather than brown, this is pretty much the same version of the cut above it. The main difference, aside from the color, is that it barely has a "slope" in the back. If you love this cut, you may also like these blunt bobs.
Violet graduated bob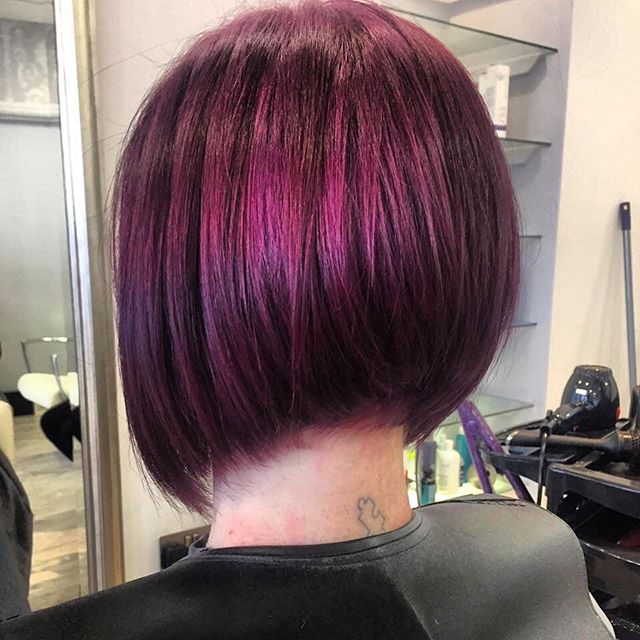 Short hair ideas for 2016: If you like the experiment with color, take the risk and go with a shade like this violet one. It's deep enough to not appear too jarring but still radical enough to have lots of people ask you "Where do you get your hair done?" Also you may try these omrbe bob hairstyles.
Graduated bob for thick hair with brown layers and blonde highlights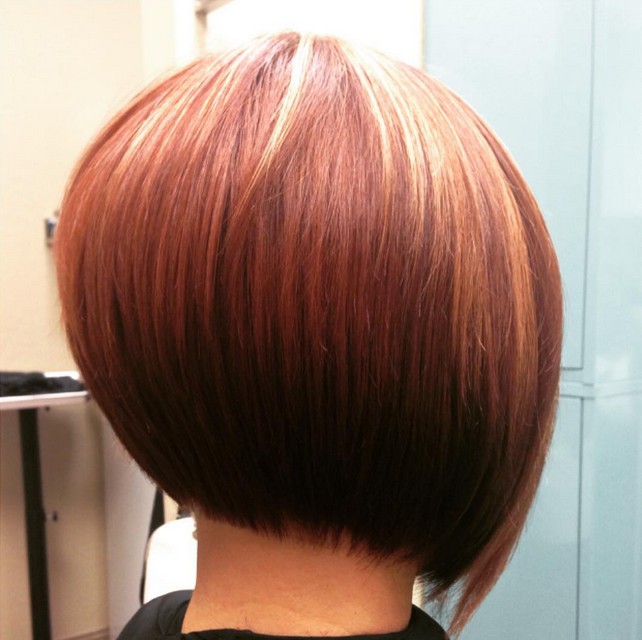 A part of the reason why this bob appears to be so full is because her hair is super thick. We're also willing to bet that some shorter layers were added towards the middle of the back of her head in order to give it that "bouffant" look. The look is then completed with some light brown layers and then blonde ones on top of that.
Black, brown and blonde graduated bob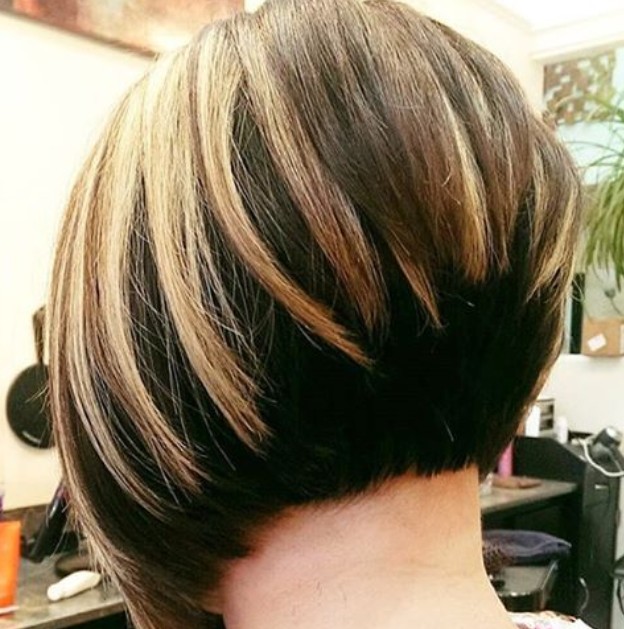 Back view of Angled bob haircut. Something that's awesome about having a graduated bob is, thanks to all of the layers, you're able to show off even more colors. Take this look, for instance. The back is black and then there are brown and blonde layers all throughout it.
Straight graduated bob with lots of layers in back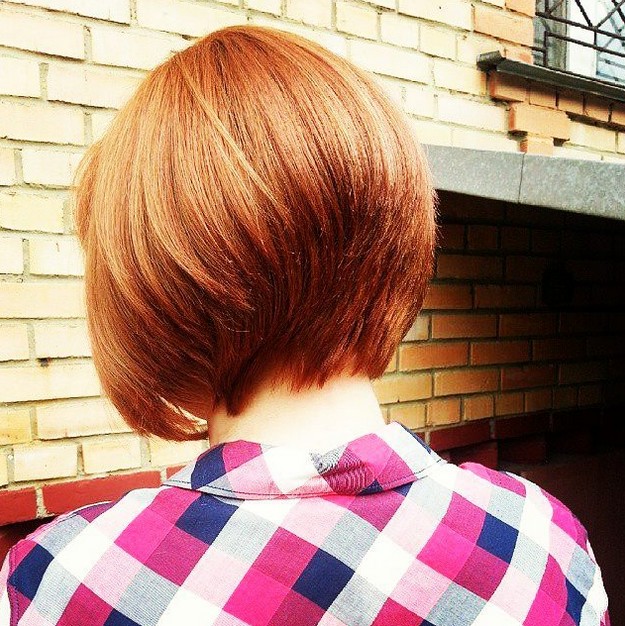 Sometimes, when hair is really straight, it can be hard to notice all of the layers that are in it. That's not the case with this graduated bob, though. The razor detailing actually makes it very easy to see.
Straight graduated bob with long bangs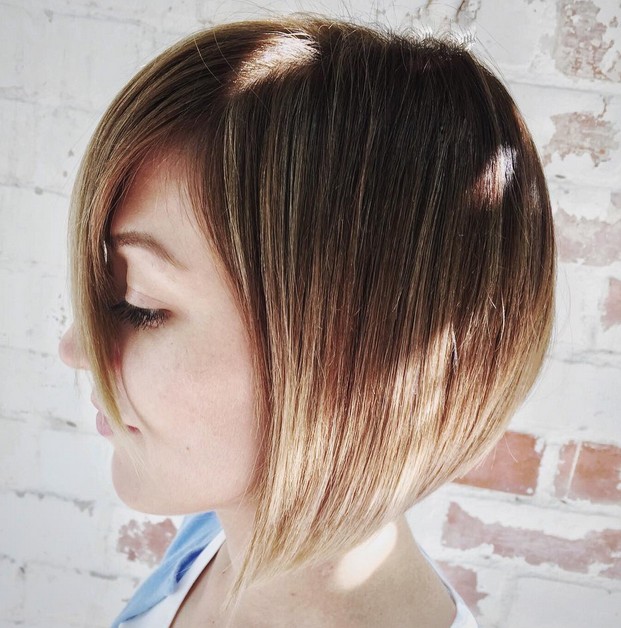 Is your hair so straight that it's close to impossible to keep any curls in it? Rather than get frustrated with it, go with a cut that will bring out the best in your hair's natural texture. We'll find it really hard to believe that after looking at this, you're not totally in love: with the bob and your straight hair. (That bang makes the cut!)
Wavy graduated bob with really long sides
Messy bob hairstyle for summer: What makes this particular bob unique is the fact that from the front, it looks like a lob while from the back, it's a regular graduated bob. And being that it's wavy, it has a bit of a "messy" look which is so on trend right now.
Graduated bob with side-swept bangs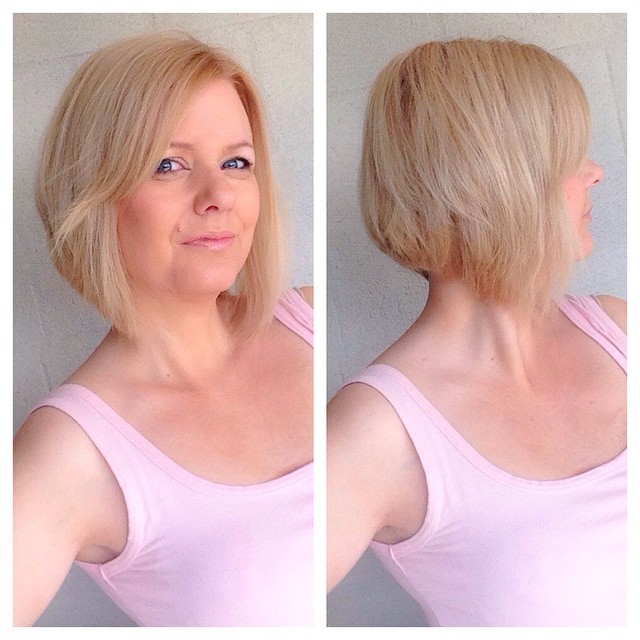 Short haircut for women over 50: Bangs don't have to be short or blunt. As you can see here, they can also be a little on the longer side so that you can put in a side part and then sweep them over to the left or right. This bob cut is great for round faces.
"Throwback" graduated bob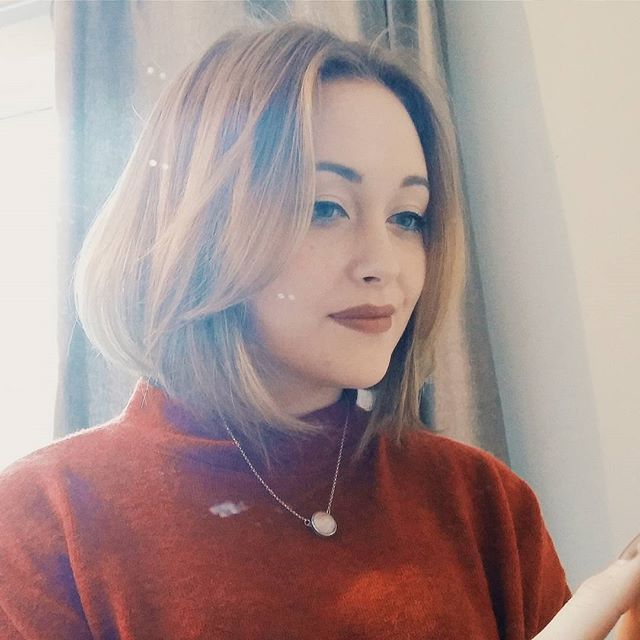 We refer to this as a "throwback" graduated bob because if a woman for the 50s were to get this haircut, we're pretty sure this is what it would look like. The reason why it's one to consider even today is because it's still very pretty and could be a lot of fun to accessorize.
Straight graduated bob for thin hair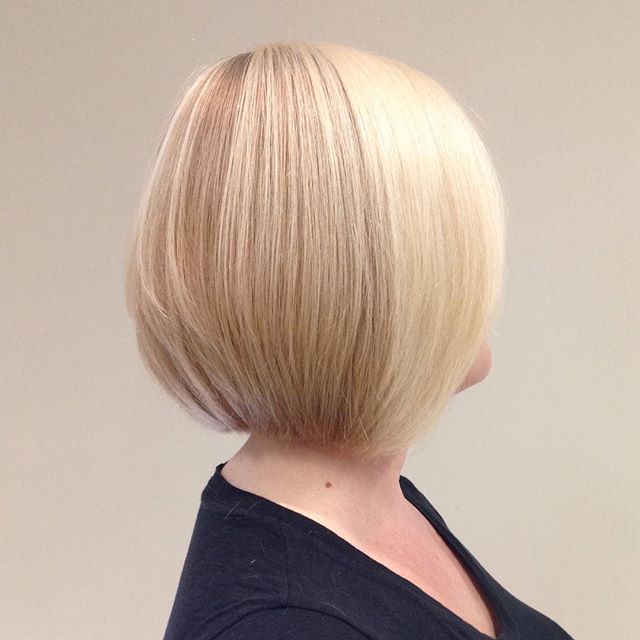 This graduated bob doesn't look much different than all of the ones that you've already seen. There is one exception though: While others had thicker hair texture, this gives you an idea of what your hair would look like if yours happens to be on the thinner side.