There are all sorts of ways to wear a bob. But if you were to get a room full of women who have a bob together and ask them why they decided to go with that particular kind of hairstyle, they would probably give you the following two reasons: It's super cute and, when it's a bit on the shorter side (because there are also mobs and lobs), it can be super easy to maintain too!
The different kind of bob hairstyles are endless, but if you're thinking about taking a few inches off of your hair and you'd like some inspiration on what would look best on you, here are some super cute—and short—bob hairstyles to consider.
Platinum wavy short bob with "crown braid"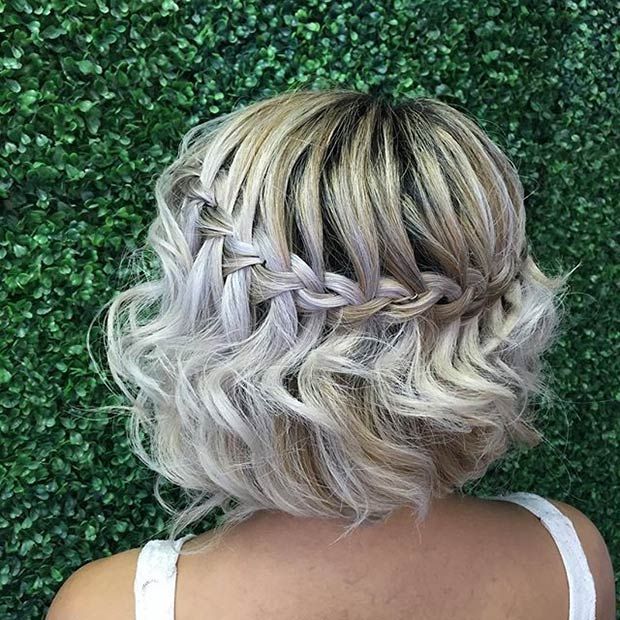 Is your hair naturally wavy? Ask your stylist to cut your hair up to the nape of your neck, to add a few long layers and then, for a bit of additional style, to add a French (or Dutch or fishtail) braid throughout the circumference of your head. It will be super Boho chic.
Dark brown bob with light brown highlighted tips and bangs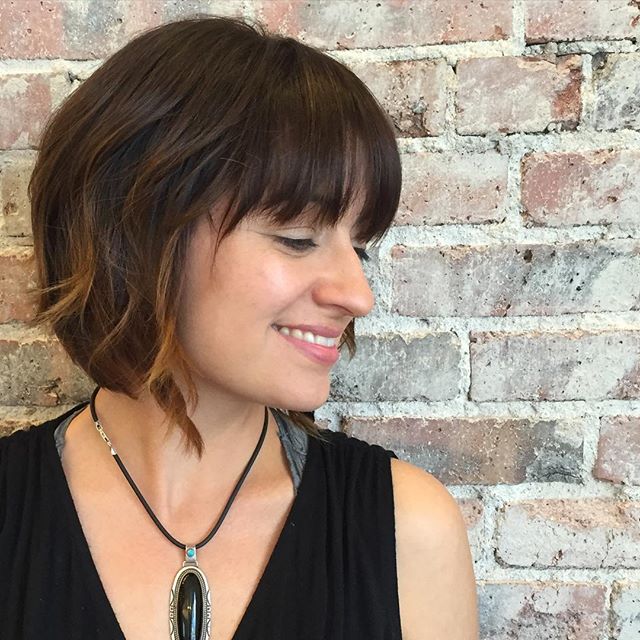 If you compare and contrast this bob with the one right before it, there are quite a few similarities. The main difference is that this bob is brown rather than black, some of the pieces towards the front are a bit longer and the tips of them are lighter. It's a fun look. This short bob hairstyle is perfect for round faces.
Silver and light brown streaked A-line short bob for thick hair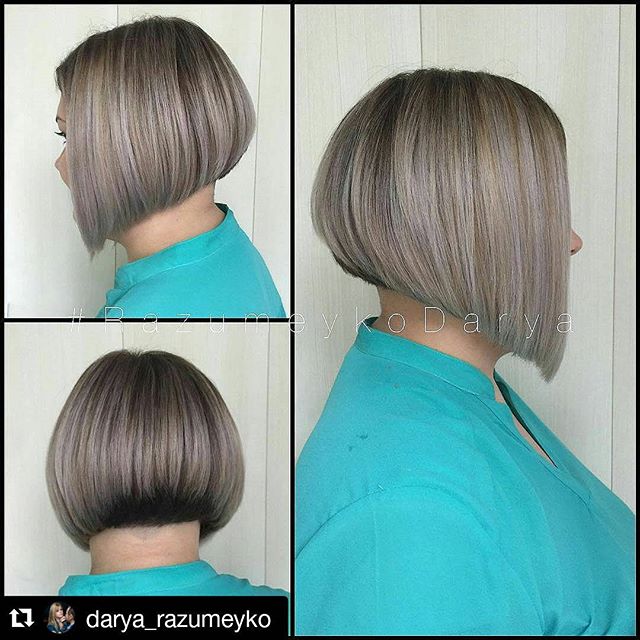 If your stylist was to say to you "How about we color your hair silver and light brown today?" we wouldn't blame you if you thought they were crazy for suggesting such a thing! At least not without seeing a hairstyle that's similar to this one. On a more mature woman, it's a wonderful way to let your natural silver shine while adding some highlights to make it a bit younger looking. This is something that is also best on thick hair.
Light brown and grey angled short bob with blunt bangs and short and tapered neckline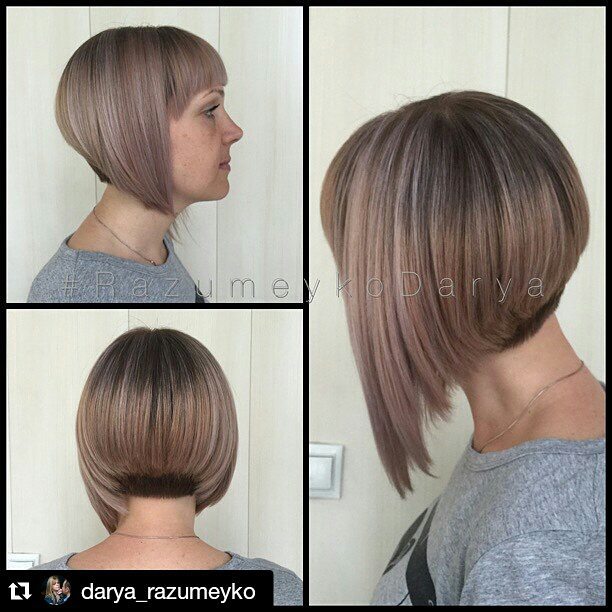 If you do like the color combination but you're younger and so you want the style to complement your age (better), here's an alternative. Go with more brown than grey, add some bangs and ask your stylist to taper your neck so that your hair in the back is really is really close. This short bob cut is great for women over 40.
Blunt brown short bob with blunt bangs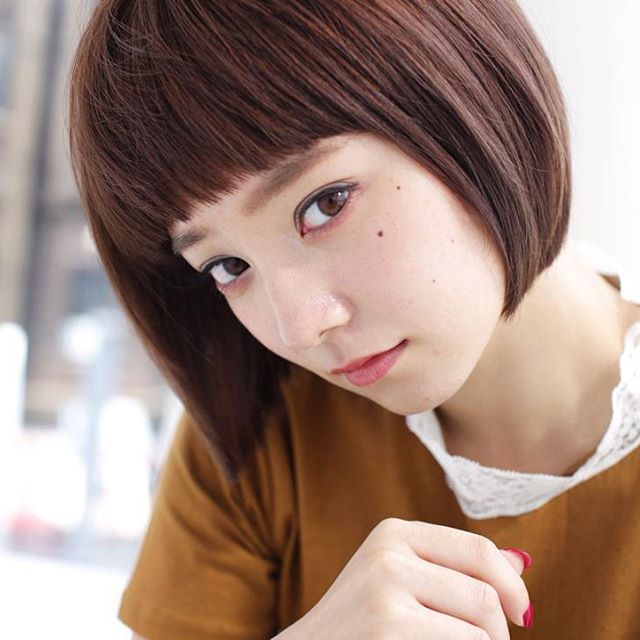 Cute short bob haircut for Asian girls. Does it seem a bit like deja vu? That's because you've seen this cut before in this feature. Only last time, it was jet black and there weren't as many long layers added to it. It's just a reminder of how one style can be worn all sorts of ways.
"Messy" buttery blonde shorter choppy bob for wavy hair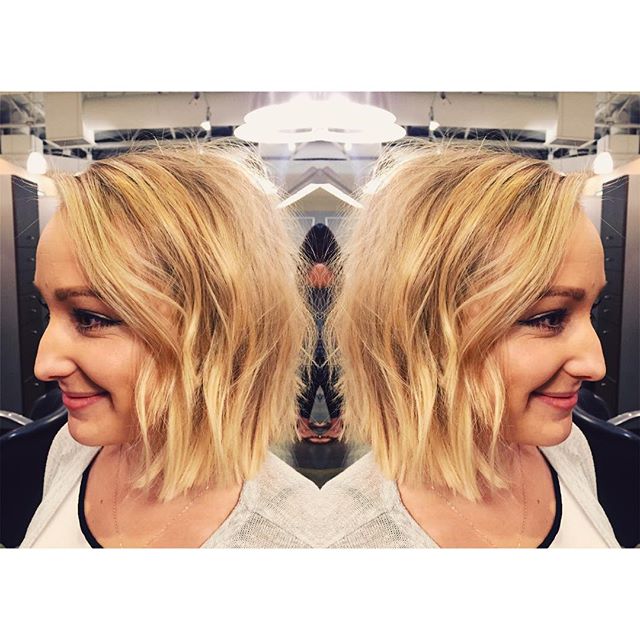 Messy hair is currently makes waves (pun intended and not intended) in all sorts of hair magazines and blogs. If you want to see how you'll look with one, ask your stylist to give you a choppy cut like this one and try and keep as much heat as possible out of your hair. Oh, and if you want to go blonde, ask for a buttery blonde tone. It's also a pretty big trend these days.
Wavy low-angled semi-short bob with blonde highlights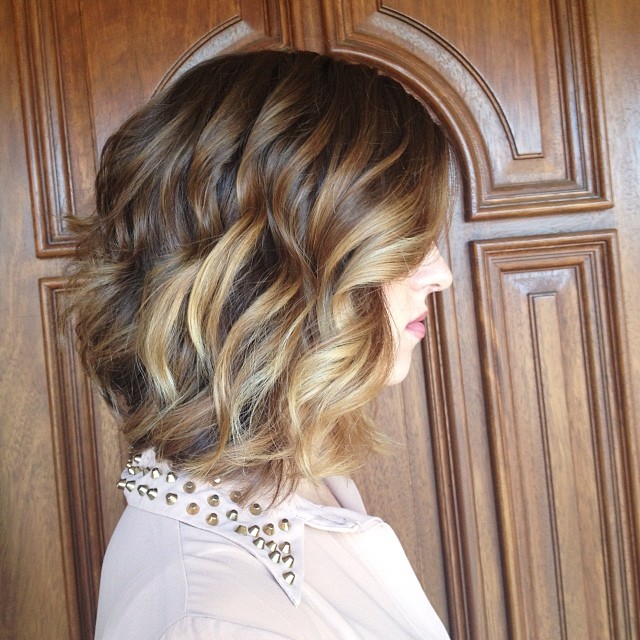 Side view of chic soft wavy bob cut for shoulder length hair. Here's a very beautiful and feminine way to style naturally wavy hair. Although this bob is closer to being a mob (a medium bob), the slight angle in the back qualifies it in the shorter category. And the blonde highlights that are all through her waves? It's the icing in the cake. No doubt about it.
Brunette wavy choppy short bob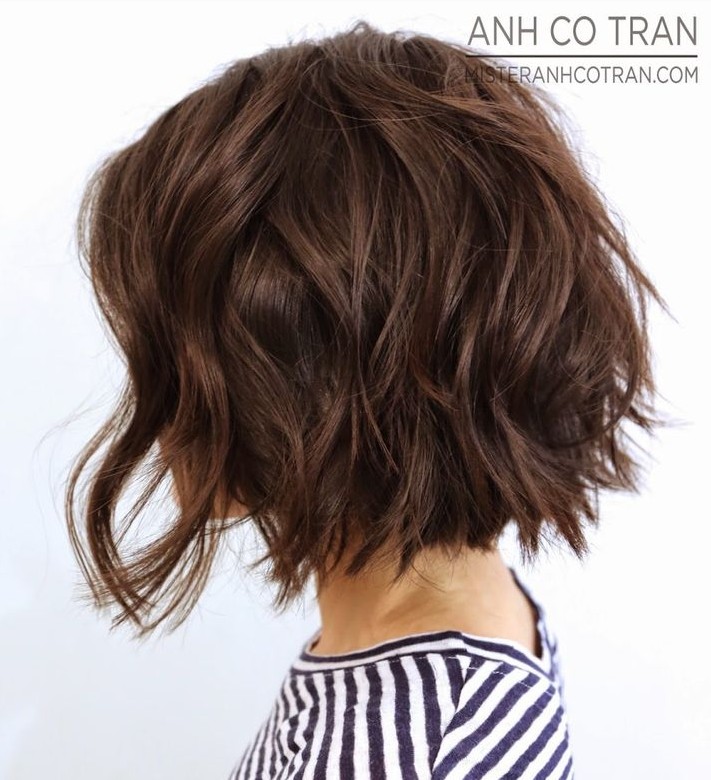 Yeah. Brunettes are making a comeback this season, that's for sure! So, if you want to go darker than usual, now would certainly be the time. As you can see, her hair is wavy too; a texture that is ideal for a choppy kind of short bob.
Platinum wavy layered short bob (for thick hair)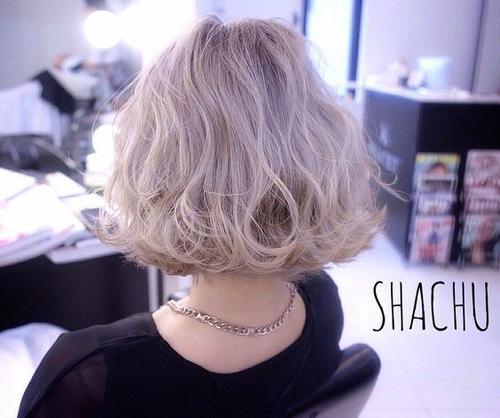 A woman with either wavy or curly hair can certainly make this bob work for her. The key is to have thick hair to begin with. That is what's going to make the layers seem so full and fluffy don at the bottom. The platinum coloring is optional. Although it definitely will catch people's attention. A causal bob hairstyle for office.
Light brown A-line short bob with lighter brown low lights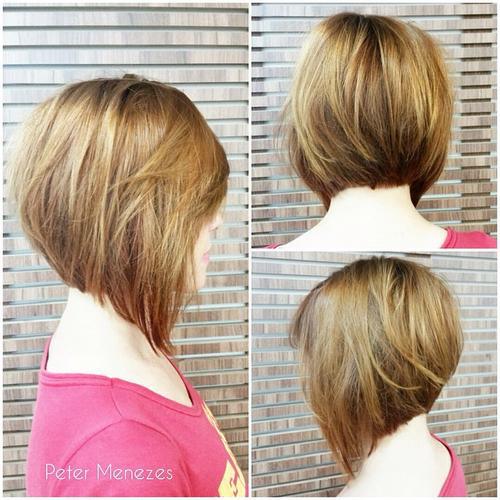 Here's another way to wear an A-line bob. The main difference here is that the A-line is more graduated which makes it a "gentle slope" rather than the dramatic angles that some other A-lines tend to have. An then there's the color. It's a wonderful display of how to make low lights, as opposed to highlights, work for you. You can find more inverted bob haircuts here.
Caramel-colored A-line short bob with long bangs and sides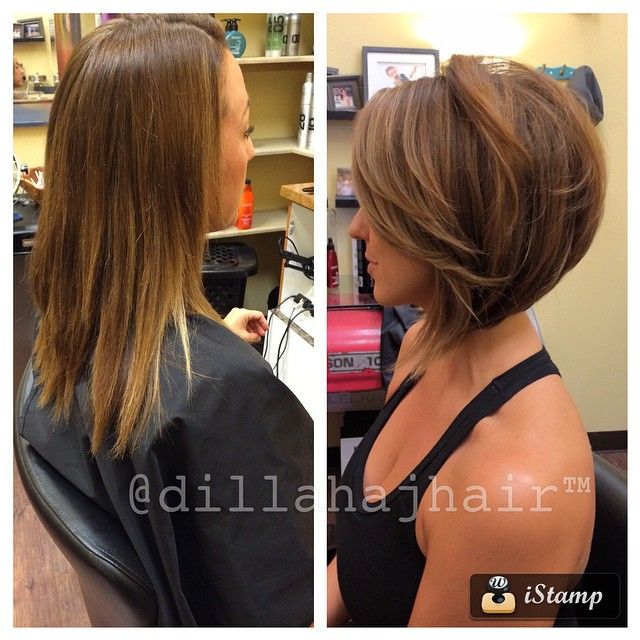 Caramel coloring is so hot right now, especially for short hair! And from the looks of this picture, we're pretty sure that you can see why. It's so warm and rich and brings out the very best in pretty much every woman's skin tone (especially if there are some low lights that are added to it). The A-line in this bob brings out some additional volume and the longer bangs and sides provides some extra "personality".
Chin-length A-line short bob (for thick hair) with two-tone chunks of color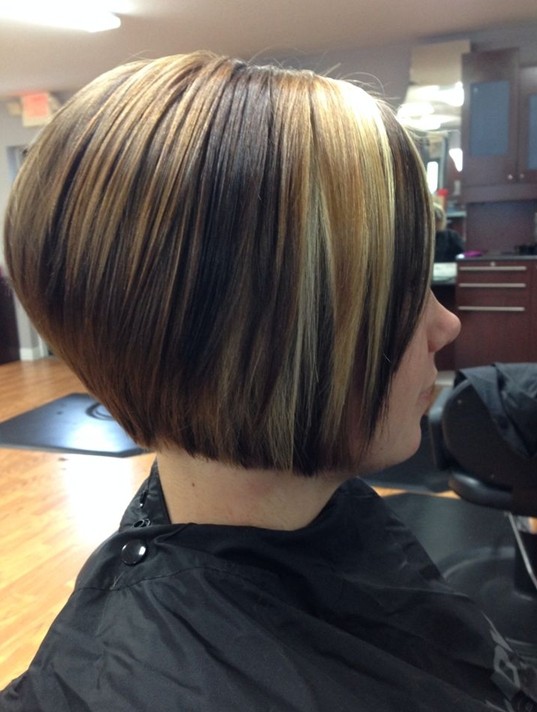 Simple easy bob hairstyle for short hair. If your hair is really thick, a cut like this one would be absolutely perfect for you, especially if your hair is straight. Thick hair has a lot of volume to it which helps layers to lay in a really eye-catching kind of way. The color job is nice here as well. Being that the blonde and light brown are such wide streaks, they are more than simply highlights. They are literally chunks of color.
Wavy angled short bob with blonde highlights and deep side part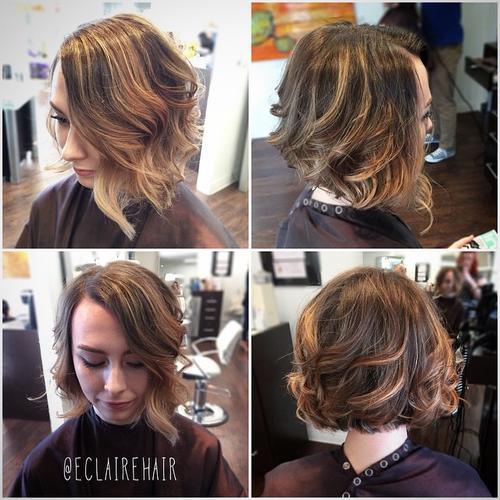 The contrast of how her blonde highlights work so well with her dark brown locks are exquisite. As you can see, there are all sorts of ways to strategically place highlights into your hair. And the cut? From the front, it looks like a lob while from the back, it's definitely a shorter bob. One that comes complete with a deep side part. A great layered bob hairstyle for 2016.
Wavy short bob with copper highlights and blunt bangs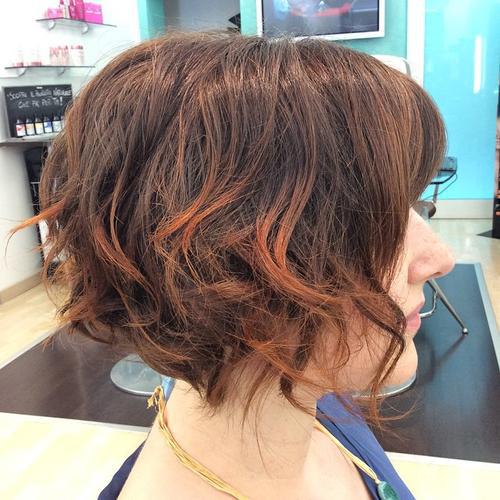 This is another fun color to try on a wavy bob: rather than blonde highlights, go with some that are copper-colored instead. This bob looks like the waves have been tousled a bit to provide a messy look. And then it's topped off with some blunt bangs in the front.
Black blunt chin-length bob with face-framing bangs and sides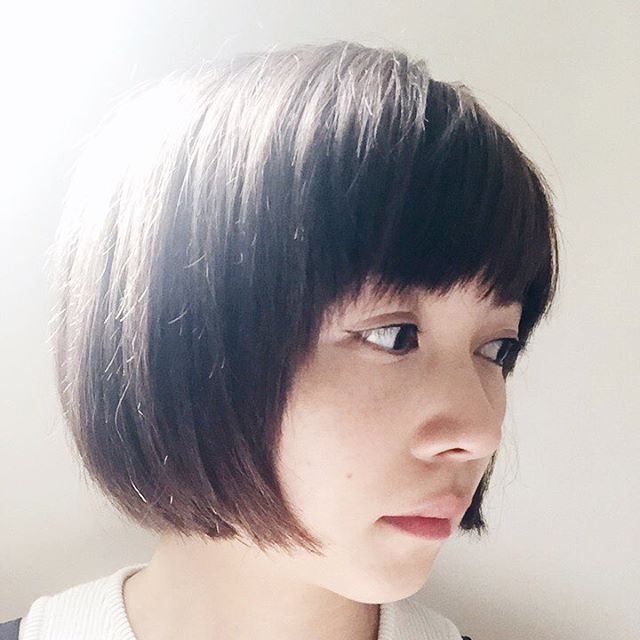 Cute short haircut for girls: This is the kind of bob that a woman at any age can wear. That's because it uniquely has a way of being both youthful and mature at the same time. The bob itself is the mature part. The face-framing front is what takes a few years off. Easily and beautifully.
Smooth A-line short bob for thin or thick hair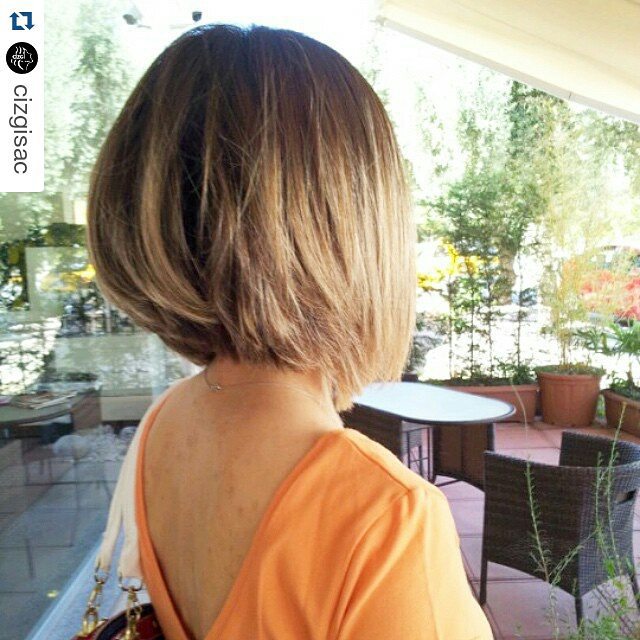 Since this bob doesn't have a lot of layers (except for the long ones in the back), it's one that can work for thin or thick hair textures. That's why we wanted to show it to you. Some bobs work really well, no matter how much natural volume your hair may have.
Brown short bob with long side-swept bangs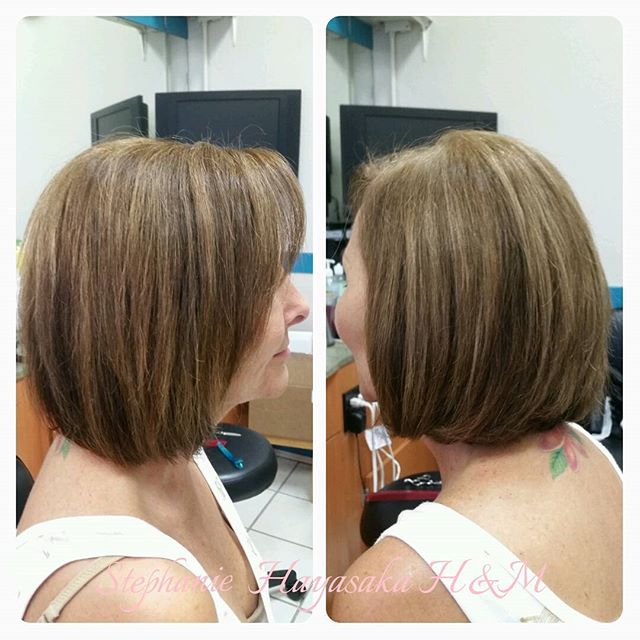 This is one more bob that's amazing on a more mature woman. Bangs are in, but if you're over 50 and you feel like they are too "young" for you, ask your stylist to give you some side-swept ones like these. They are always appropriate and still attractive and appealing.
Ombre A-line short bob with longer front and side part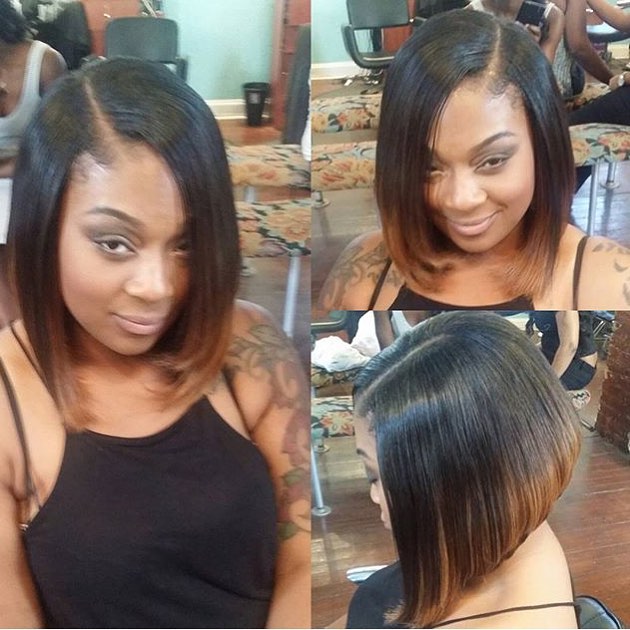 Do you love the ombre look? We can certainly understand why with an A-line bob that's like this one! It's another look that, from the front, is more like a lob but as you can clearly see from the side, it's an A-line bob. One that is smooth, sleek and very sexy!