Flats are becoming more and more popular in the fasion world. That's because they are not only comfortable to wear but also look quite chic with any outfit. If you are tired of wearing high heels or just want a more comfortable outfit, you just need to put on your flats. Here are some suggestions about how to wear them.
The flat sandals are effortless chic to pair your dresses while the pointed toe flats are more feminine and fashionable. Besides, the lace-up shoes are quite trendy this year. So you can buy yourself a pair of lace-up flats. They can upgrade any casual outfit. In the gallery below, you will see 16 trendy outfit ideas with flats. Just check them out and get yourself inspired.
Off-the-Shoulder Dress with Flats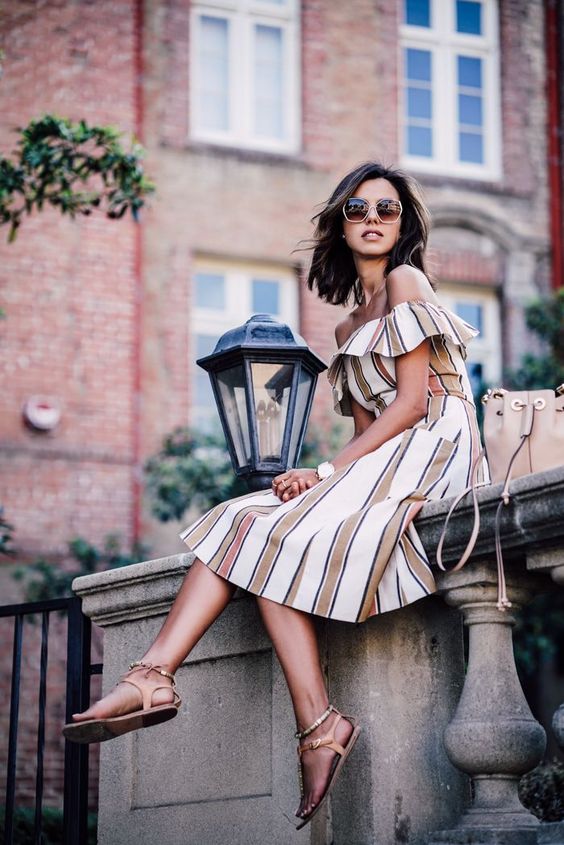 First, off-the-shoulder trend is quite hot this year. Then, the flats are another popular element. When you wear your off-the-shoulder dress with flat sandals, you have already made a fashionble summer outfit combination.
Denmin Outfit with Ankle-Strap Flats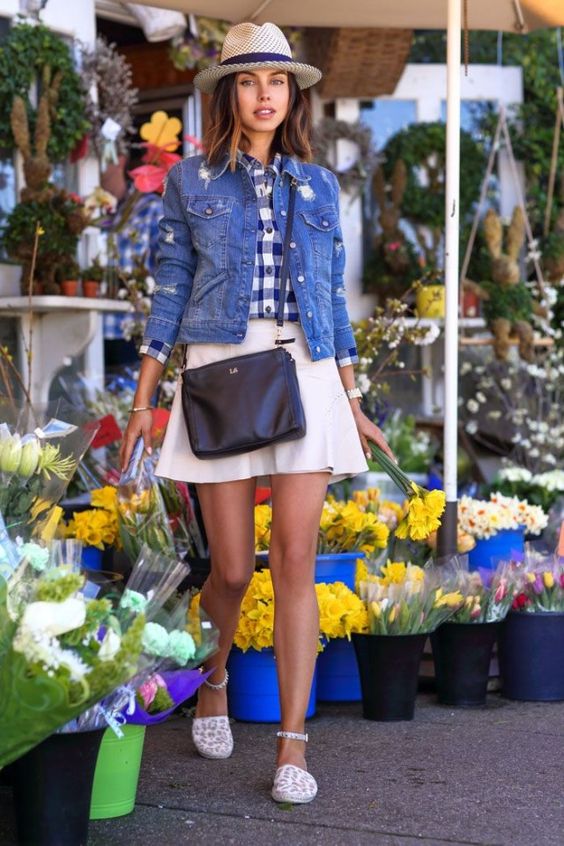 Ankle-strap flats are adorable. It is an ideal choice to pair your little skirt and denim jacket. By the way, the plaid shirt looks wonderful with the white skirt.
White Shirt with Pointed Toe Flats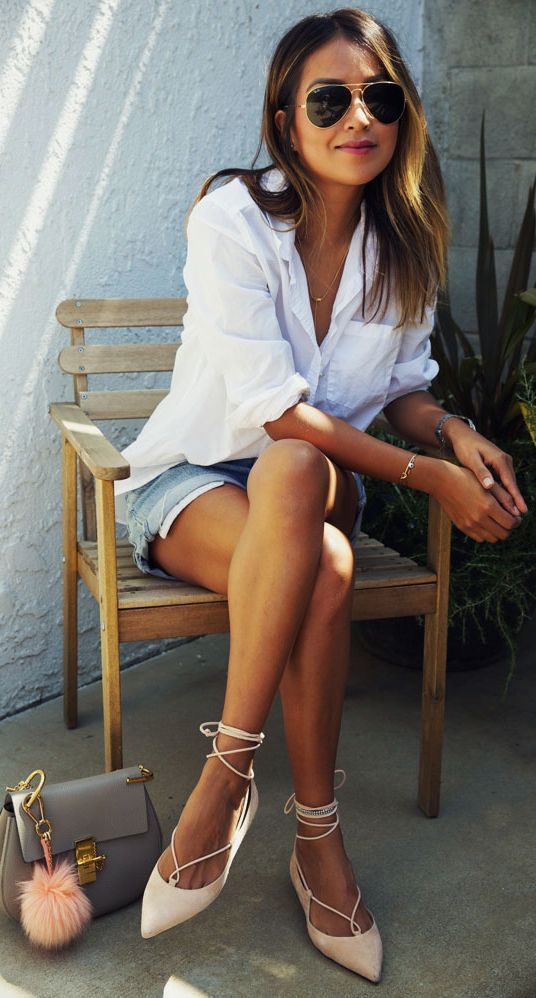 The white shirt and denim short outfit is fashionable for all women. When you put on a pair of pointed toe flats, your overall look will become far more graceful.
Lace-Up Flats with Dress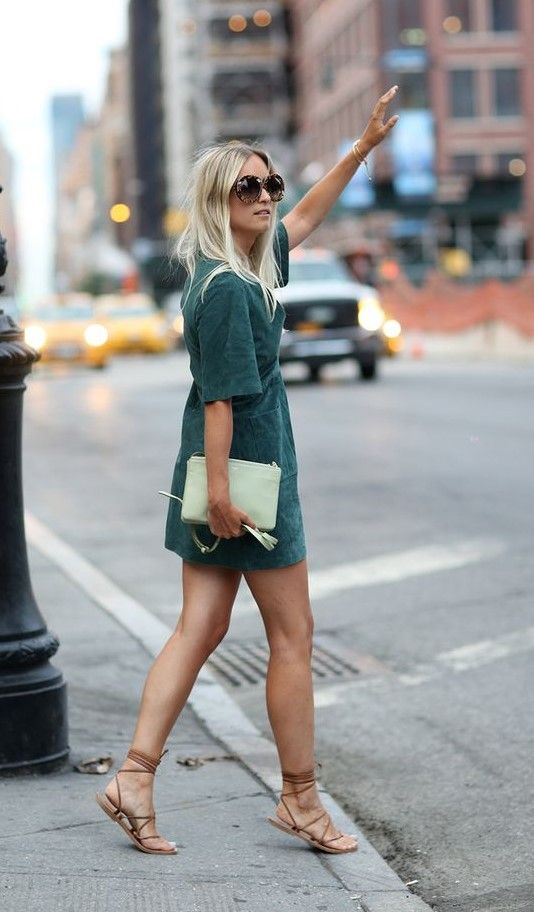 The lace-up flat sandals are so stylish that they can turn any basic outfit into a more fashionable one.
Casual Outfit with Flats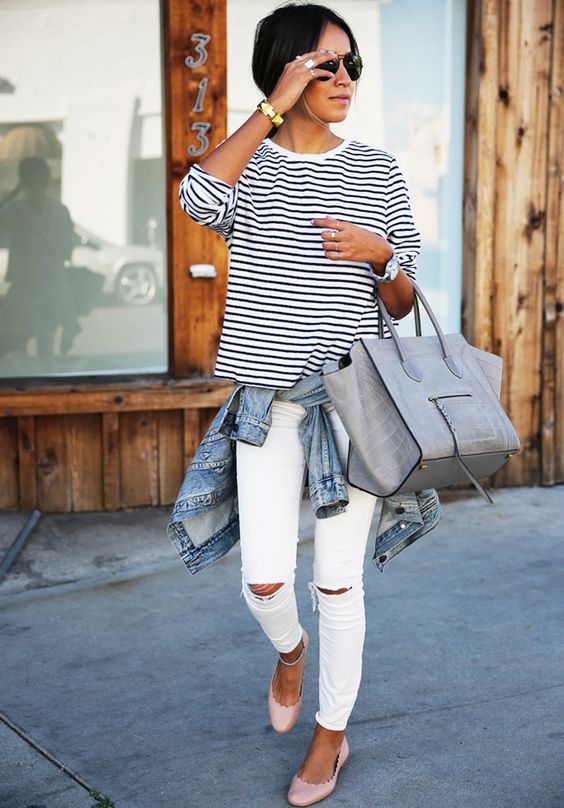 The flats are quite suitable for women who want a comfortable and casual-chic outfit.
Effortless Summer Outfit with Flats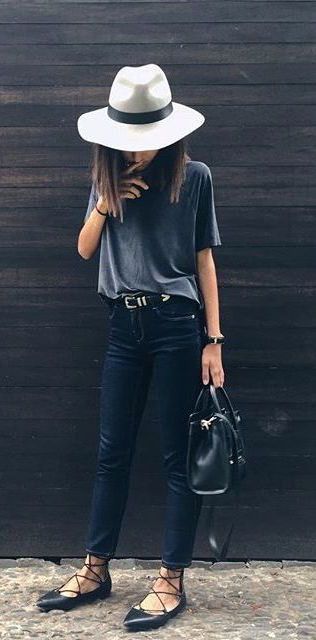 Although this outfit is very dark with grey T-shirt and black jeans, it still looks fashionable thanks to the lace-up black flats. In addition, this is a versatile outfit for most occasions.
Ripped Jeans with Lace Up Flats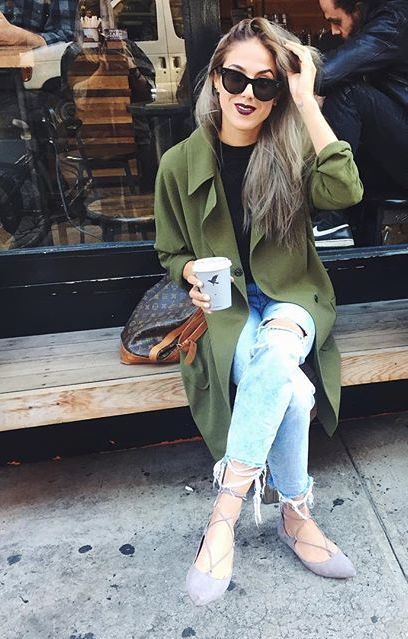 In the early spring, the lace-up flats will add more feminity to your cool outfit. Moreover, a pair of ripped jeans is a smart way to make your long coat outfit less formal and more fashionable.
Chic Office Outfit with Flats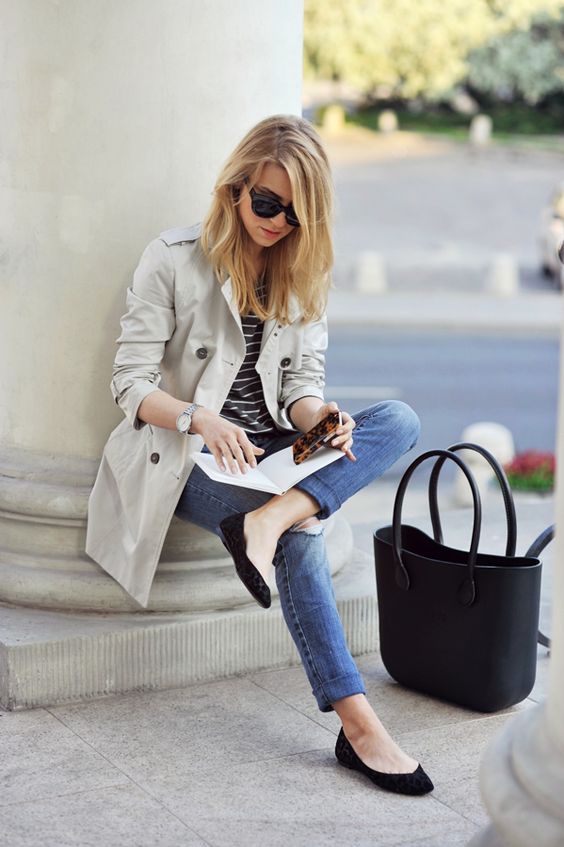 A pair of black flats is fashionable enough to complete your office outfit.
Black and White Outfit with Flats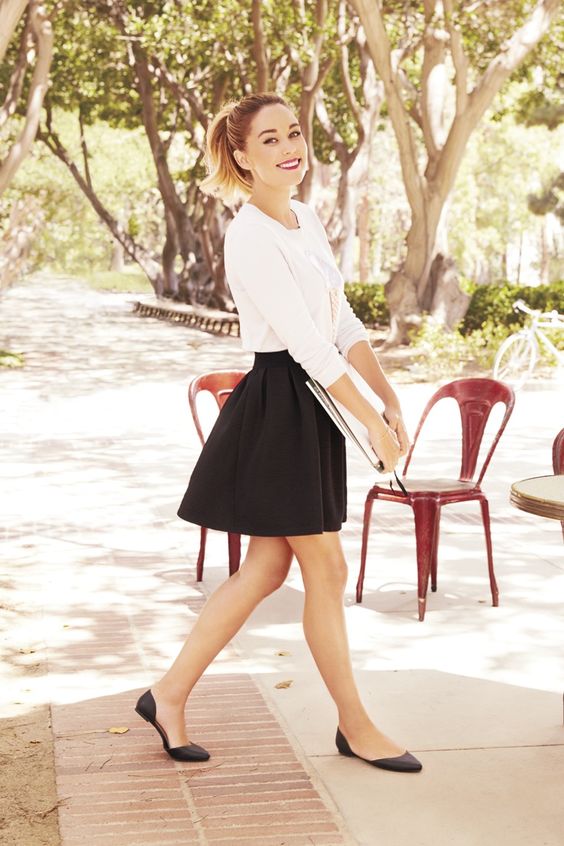 In summer, the white shirt and black skirt outfit is pouplar with office ladies. If you wear the black flats, then you will get a more lovely office attire.
Pretty Outfit with Flats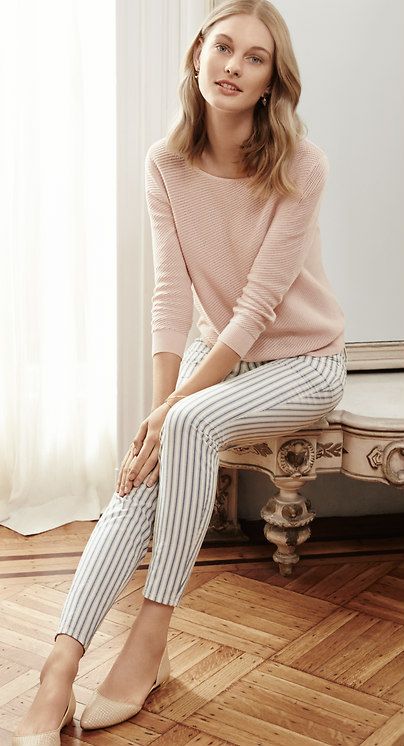 The beige flats looks effortless fashionable with all outfits and they will save you a lot of time to choose the right shoes for a certain outfit. So, it's wise of you to own a pair of beige flats.
Fashionable Outfit with Flats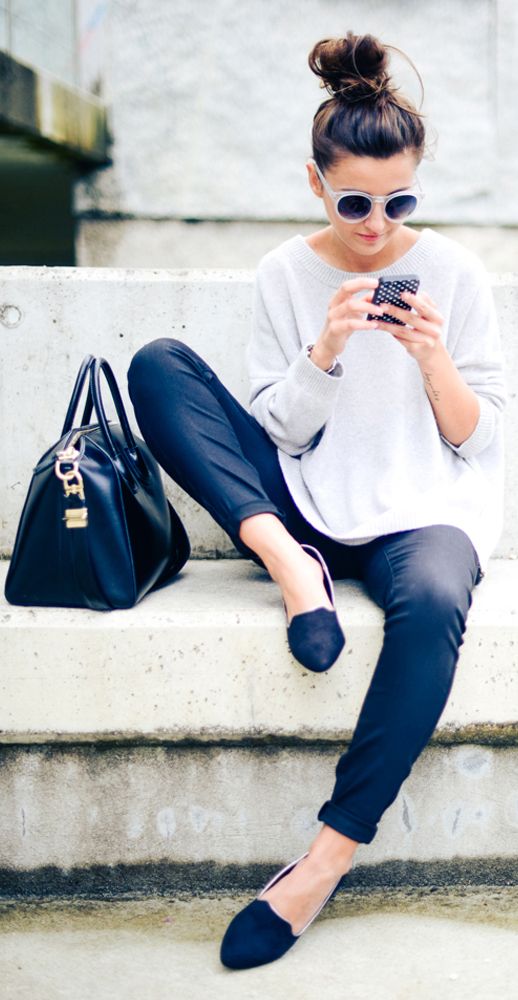 Unlike sneakers which are also casual chic, the ponited toe flats will make your casual outfit more sophisticated for both casual and  formal occasions.
Stylish Outfit with Metallic Flats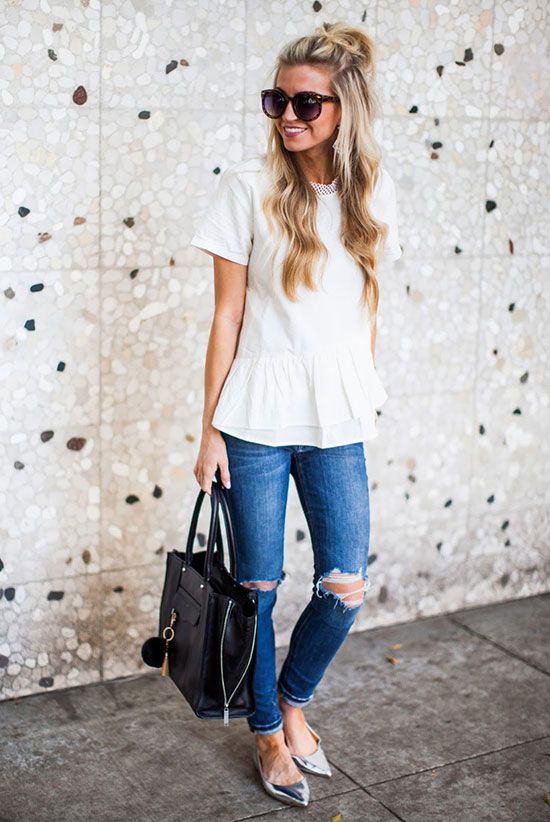 Apart from the beige flats, fashionable women still need a pair of metallic flats. While the beige flats will guarentee that your outfit will never look wrong, the metallic ones will make your outfit more differnet and stylish.
Green Flats with Ripped Jeans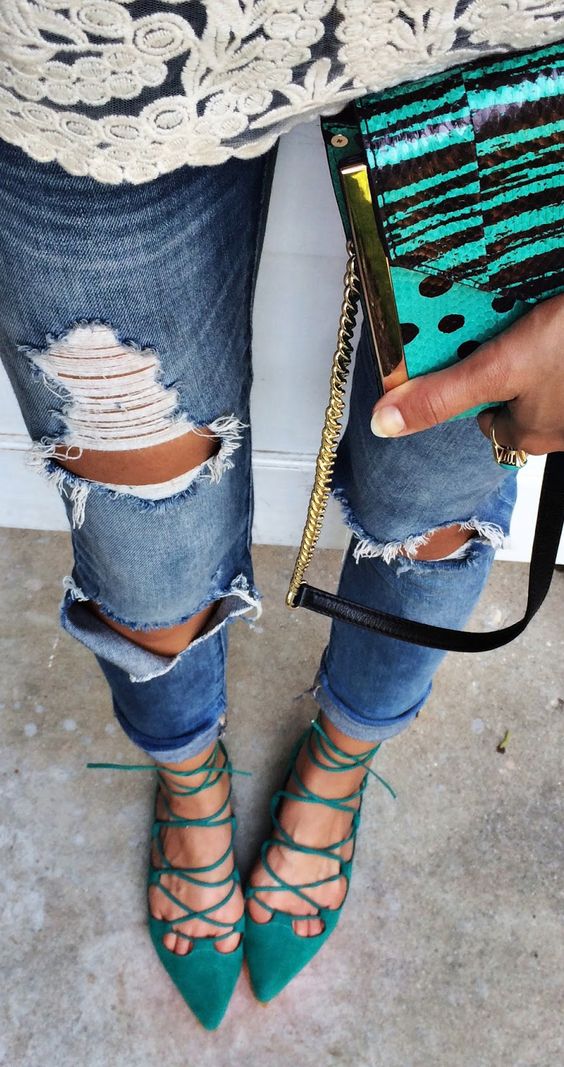 The lace-up flats satisfy all women's fantasies about becoming a beautiful ballerina. Now, designers have made lace-up flats with pointed toes, which make it possible for women to look effortless fantastic with flats.
Chic Black Flats Outfit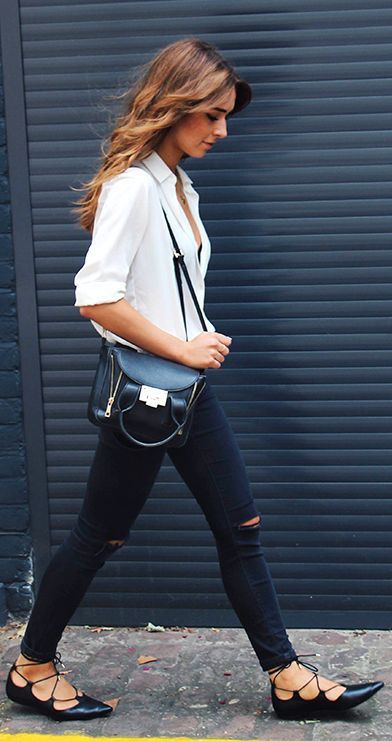 The black lace-up flats make this simple black and white outfit more chic than formal.
Leopard Printed Flats Outfit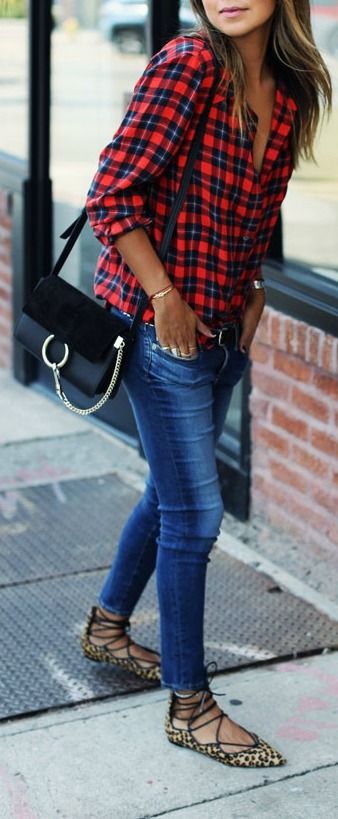 Pointed-toe shoes are quite feminine and the lace-up style is very sexy, if you still want a more voguish look, you may just buy yourself the leopard-printed flats. They will look great with casual outfits as well as exquiste dresses.
Chic Everyday Outfit with Flats

The loafers are a comfortable and chic option for women to wear when they go shopping or when they need to walk for some time.