We don't know about you, but one of our personal favorite colors for the Christmas season is not red, yellow or green. It's actually baby blue. It makes us think of ice and snow, plus it's so pretty to look at—in any and every form.
Yes, this post is technically about fall, but being that it's the season that's right before winter (and also being that winter doesn't technically begin until late December), why wait until Santa comes to incorporate the baby blue hue into your wardrobe?
Here are some of our suggestions on how you can do just that…
1. Baby blue sweater with white tank and distressed jeans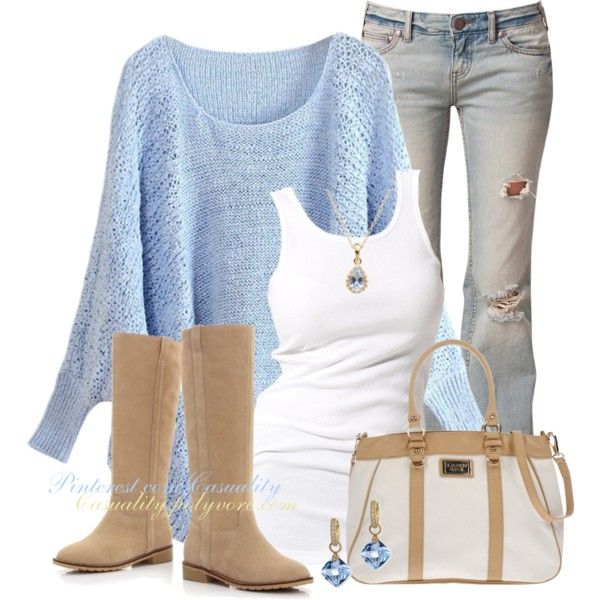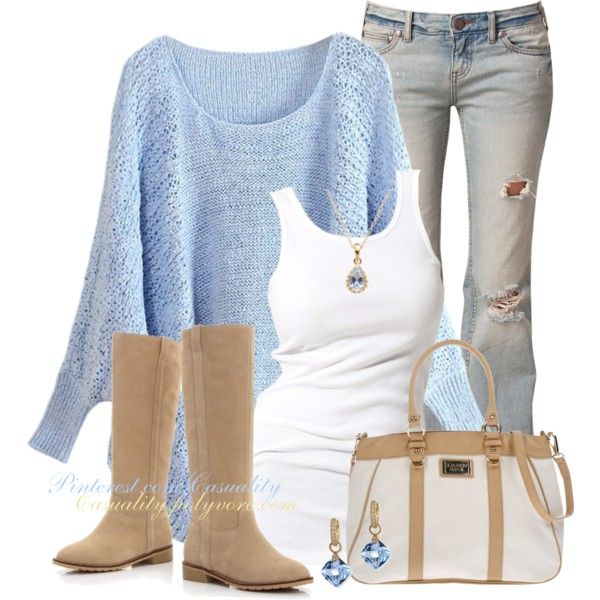 Does this look like you should be sitting on a back porch and drinking some warm apple cider for the first time? It's a simple look—a baby blue sweater, white tank and distressed jeans along with some tan suede boots—but it's a really pretty one. In a very easygoing kind of way.
2. Taupe sweater, light baby blue jeans and baby blue scarf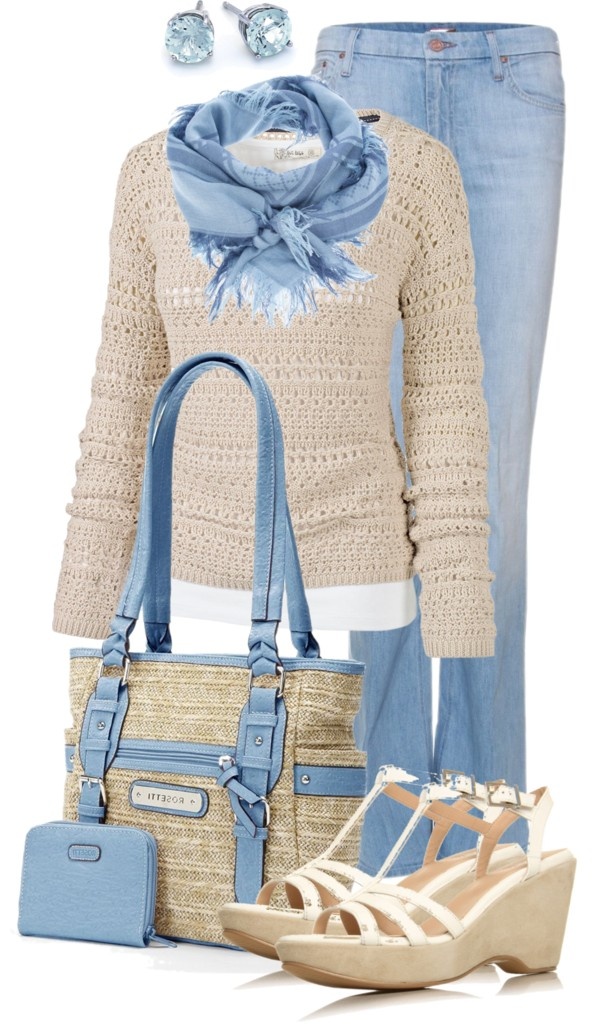 Baby blue doesn't have to be worn as your main articles of clothing (although technically it is here being that the jeans and baby blue in color). You can also accessorize with it thanks to a baby blue scarf and baby blue trimmed purse.
3. Baby blue cardigan, plaid top and brown skirt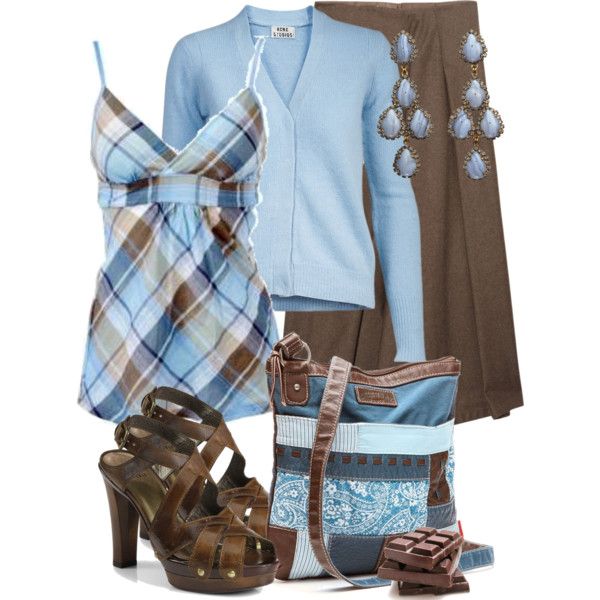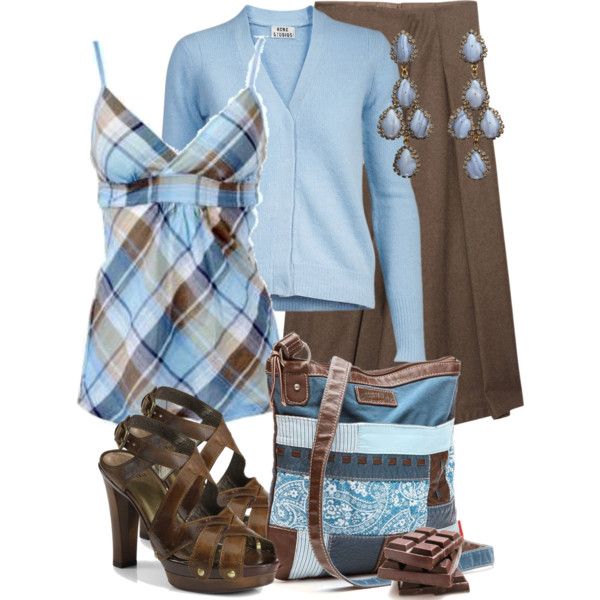 On mild days when you can still get away with wearing some sandals, put n a tank, a skirt and also a baby blue cardigan. If the other colors are neutral (like above), you'll look like a poster child for the most beautiful parts of autumn.
4. Grey cardigan with matching slacks and a baby blue tank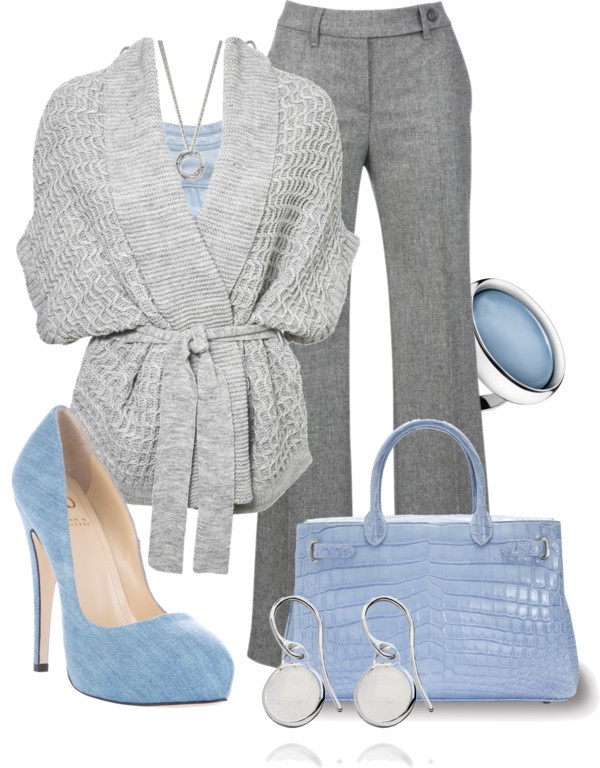 This is certainly one of our all-time favorite looks, not just for fall but period. Grey and baby blue are such a perfect color combination. So if it's time to do some fall shopping, look for a grey cardigan to go with some grey wide-leg pants that you already might have. Put a baby blue tank on underneath and maybe add some baby blue accessories to it.
5. Baby blue turtleneck, grey jeans and a grey coat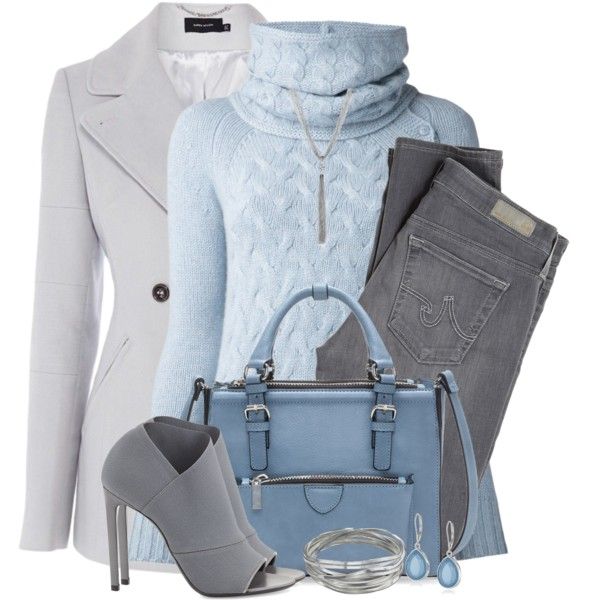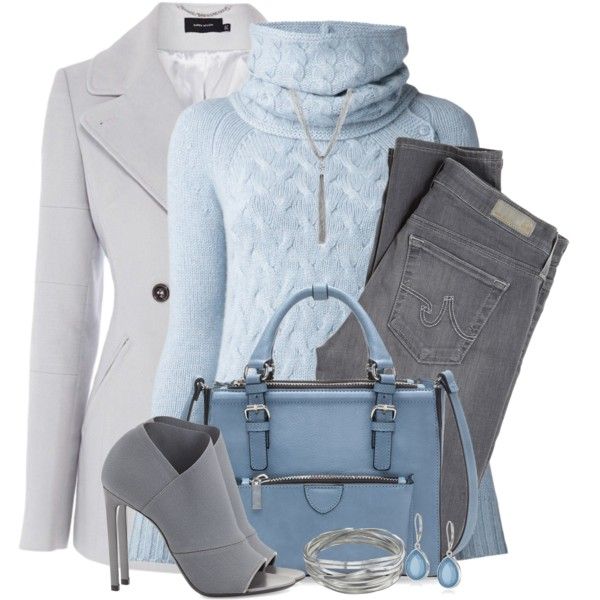 In our opinion, every woman needs a baby blue turtleneck. It's just a…sweet look for fall (and winter too). Being that some turtlenecks are bulky, if you don't want to go "baby blue overboard", accent it with variations of other colors of blue (or grey).
6. Baby blue coat, white leggings and baby blue rain boots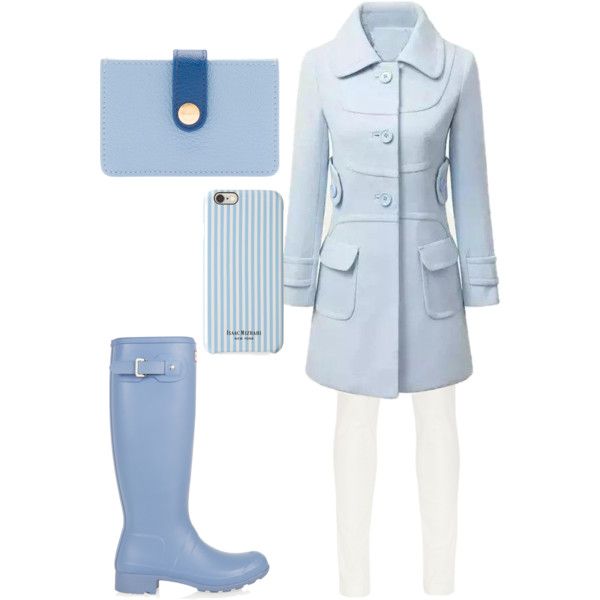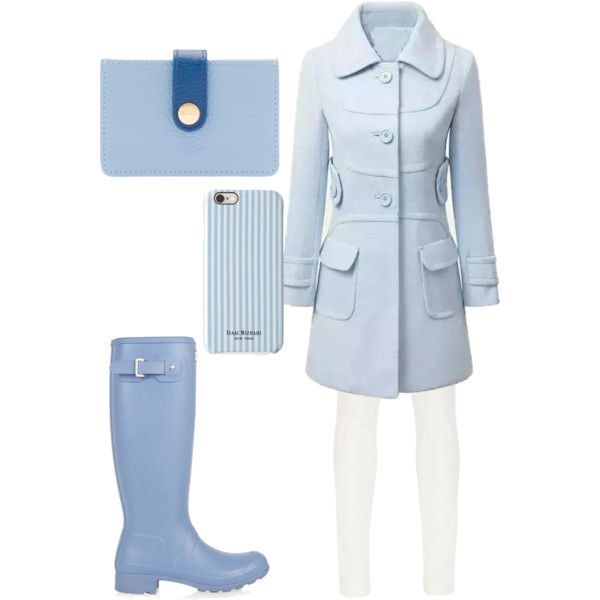 Sometimes fall days can get to be pretty messy. That's because of all of the rain and gloomy days. And so, if the forecast does call for inclement weather and you want to protect your feet from the slush 'n stuff, you can do so with the help of some rain boots. They don't have to be awkward looking either. Simply find some that are an atypical color like baby blue. Just imagine how great you'll look if you wear them with a matching coat and some white or grey leggings.
7. Baby blue sleeveless shirt, white cardigan and black leggings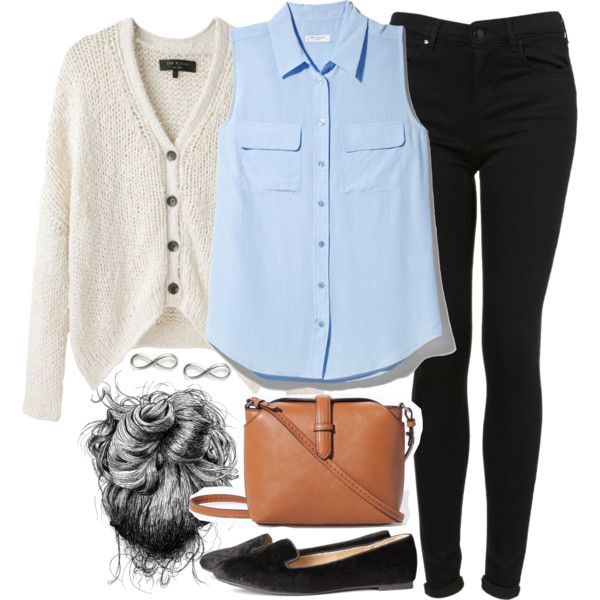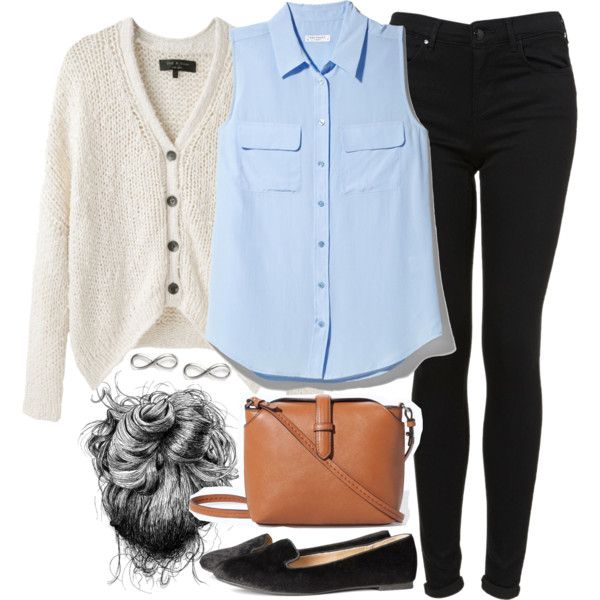 If someone told you that baby blue looks great with black leggings, a white cardigan and a tan (tan?!?) purse, it might sound a bit…off. But sometimes outfit concepts don't work unless you literally see them for yourself. And we think that all four colors actually go really well together. How about you?
8. Cream shirt, cognac skirt and baby blue blazer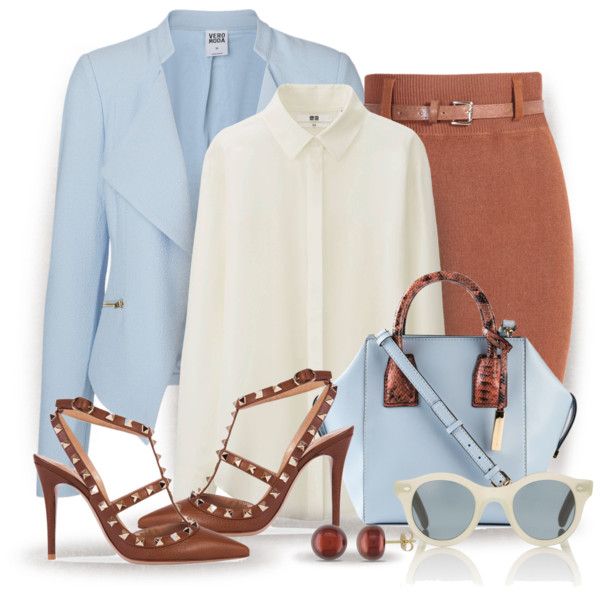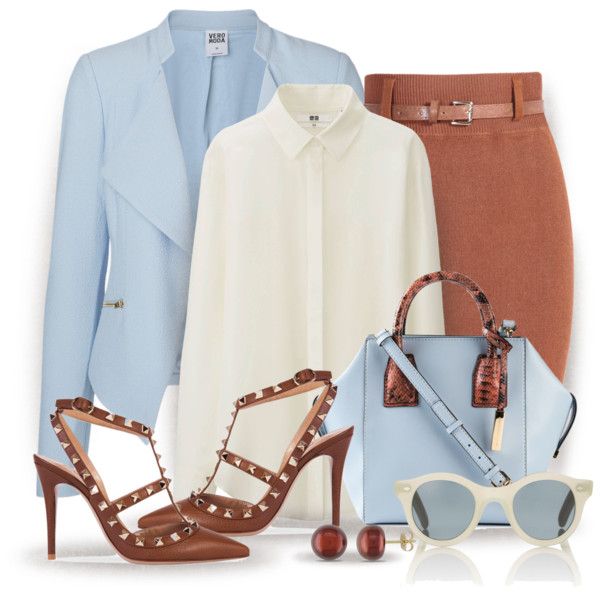 A plain white blouse is just that. Plain. Cognac coloring and baby blue added to it will certainly spice it up. Here's a tip: If the shirt doesn't have a lot of shape to it, make sure that your pencil skirt and blazer does. That will help to give your body some sort of definition.
9. Polyvore Outfit Ideas: Baby blue coat, black-and-white plaid shirt and blue jeans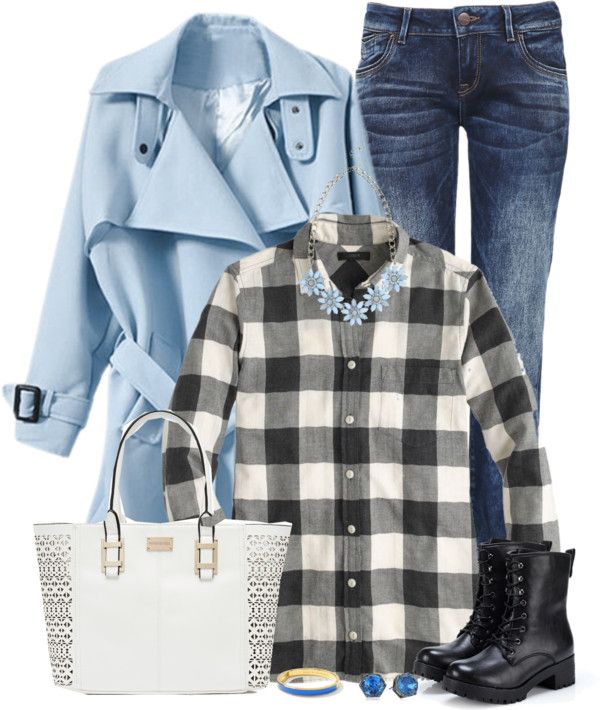 Have you ever thought about blending black-and-white with baby blue? We don't blame you if you never have before. We look at it as a way for you to bring out some of your strong side (the plaid) with your softer side (the coat). It's a welcome surprise when it comes to color blends.
10. Outfits for Fall: Baby blue striped shirt, grey sweater and white pants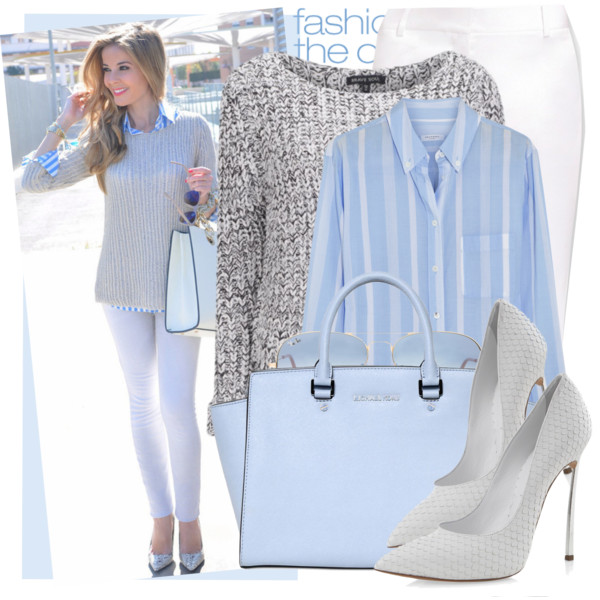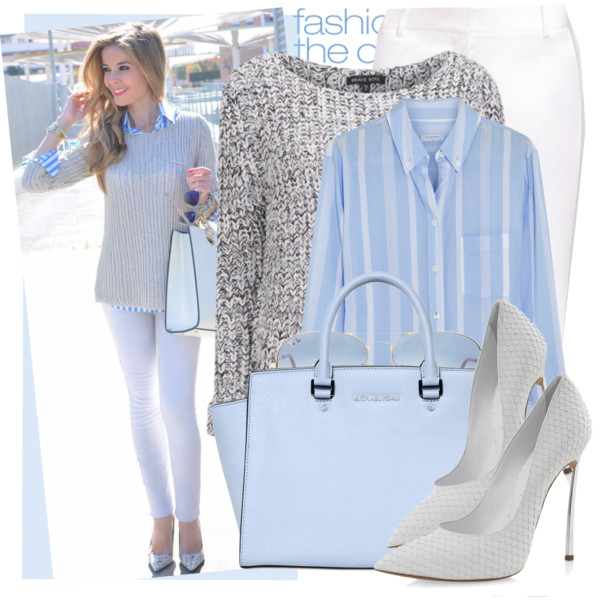 Technically, this is another way to wear black-and-white with baby blue. This time, though, there's a plethora of patterns to keep you entertained. From the sweater to the shirt to the (ooo la la) the Stiletto pumps. It's a wonderful dressy casual look.
11. Fall Outfit Ideas: Baby blue denim shirt, black leggings and brown UGGs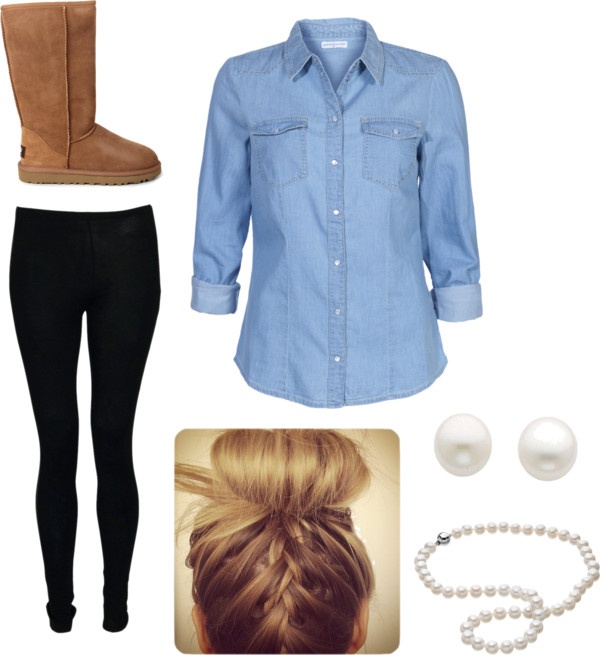 On a day when you're hanging out a home and catching up on a few television shows, your black leggings, a baby blue denim shirt and your most comfortable pair of brown UGGs will be all you need. Even if some unexpected company drops by.
12. Baby blue sweater, jeans and taupe boots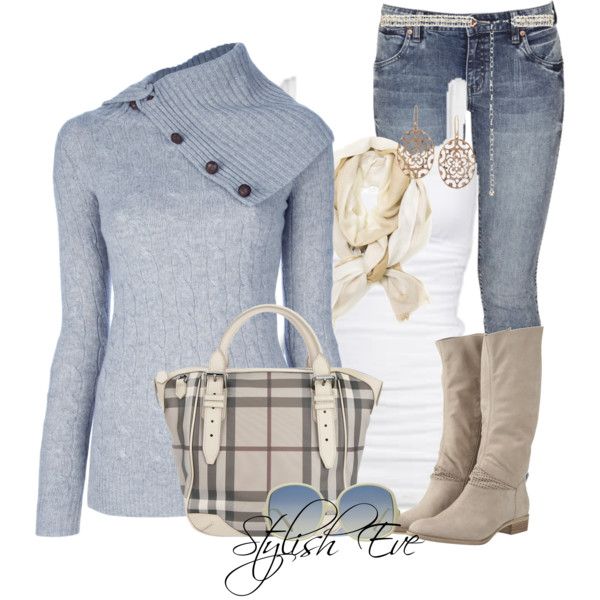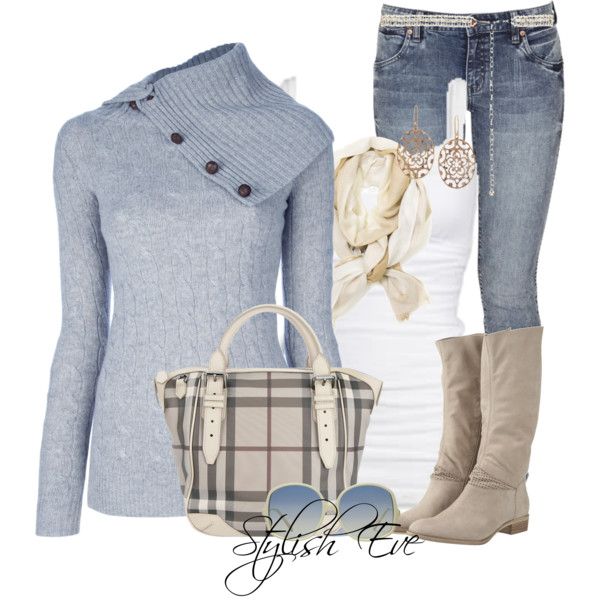 Here's a variation of the blue turtleneck that you saw earlier. In this case, rather than grey being the other feature focal point, white and taupe is. The white tank can either provide you with some additional warmth or if it's a long tank, it can offer a layer of color. (Try and get a plaid bag like that one. You can wear it with so many different things.)
13. Fall Fashion: Tan cardigan, chocolate pencil skirt and baby blue shirt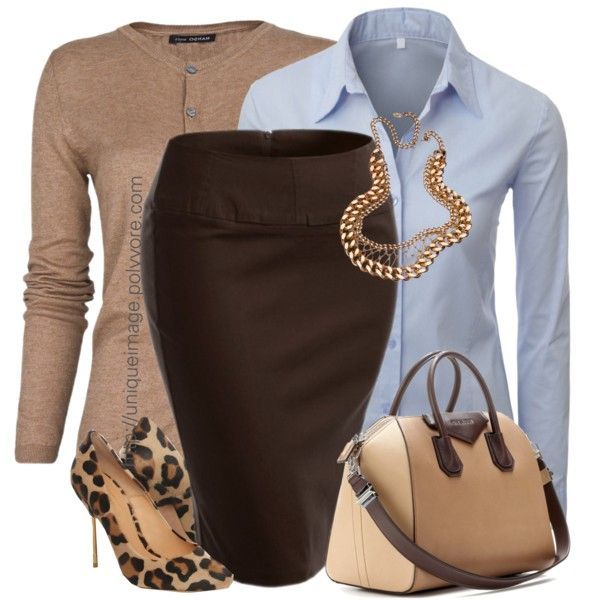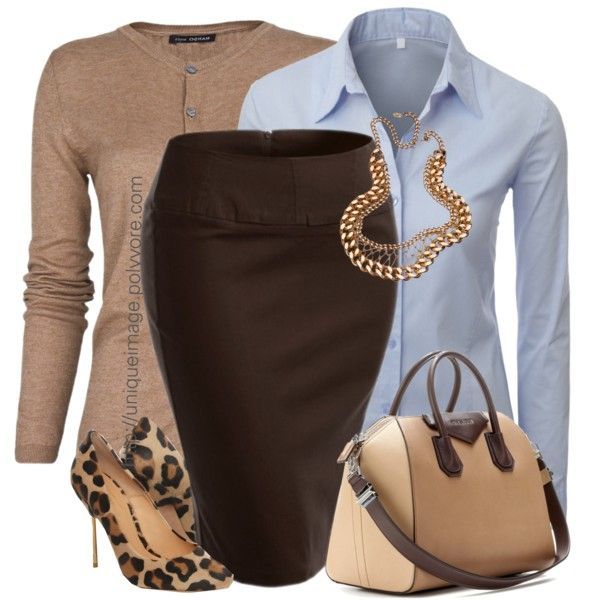 Looking sexy at work is probably not a daily ambition (unless you're trying to catch someone's attention there), but there's no way you're going to be able to avoid it if you have on an ensemble like this one. A chocolate skirt, a baby blue shirt and a tan cardigan? We'll put it to you this way: Don't knock it until you've tried it. And don't forget to put on some animal print pumps. (Definitely don't forget those!)
14. cute fall outfit ideas polyvore: Striped shirt, baby blue cardigan and khaki pants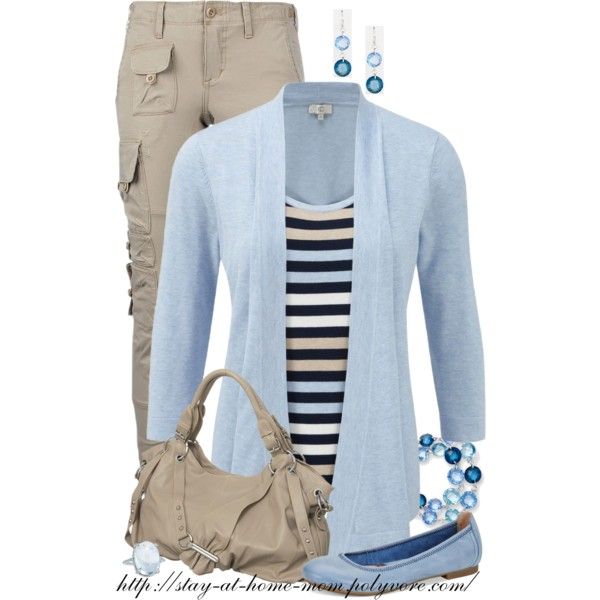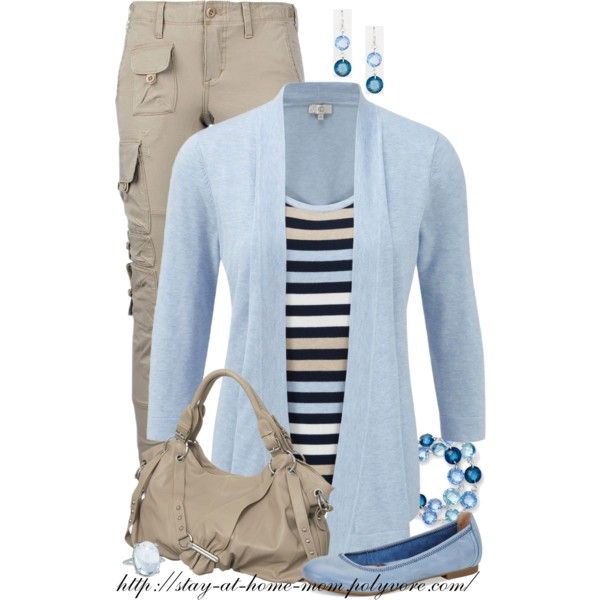 If you have a shirt or tank that's striped and it's made up of neutral colors, it's going to look nice with a baby blue cardigan. A great variation from the blue jeans that you may consider wearing are a pair of khaki painter's pants. Maybe like these?
15. Fall outfit ideas for school: Baby blue shirt and white skinny jeans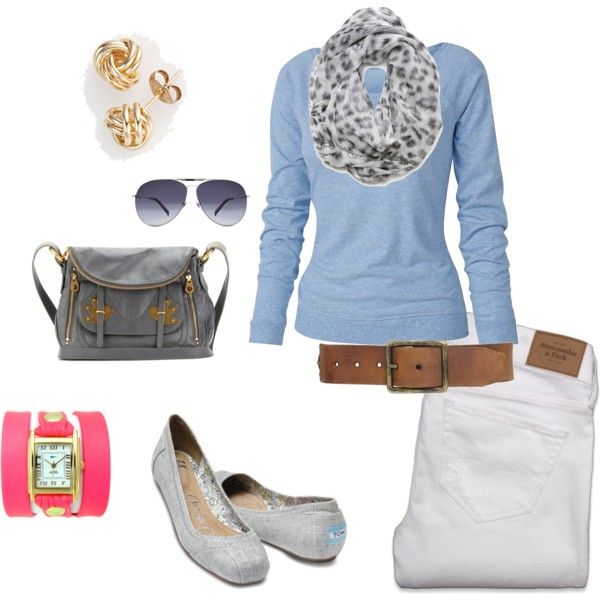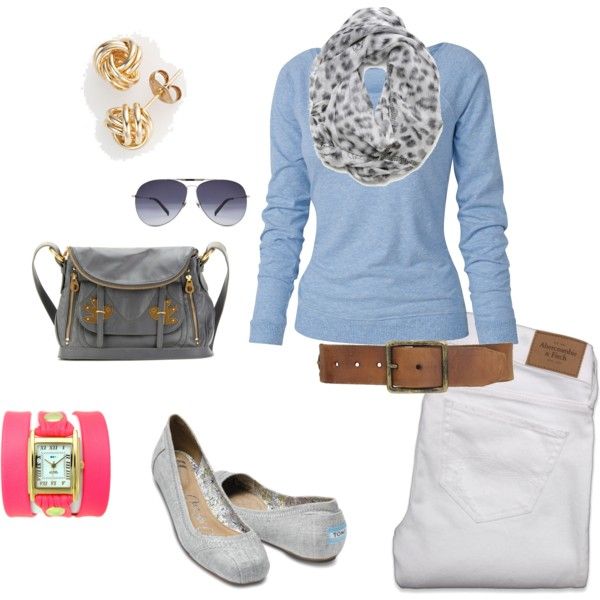 Someone who is truly stylish had to put this look together. We say that because there are so many color combinations put together; they weren't afraid to "color outside of the lines" so to speak. There's the baby blue top and white jeans, of course. But there's also brown leather, grey and even pink (peep the watch). Yep. Baby blue goes with a lot of different things (as you can see).
16. Fall Outfit Ideas: White cable knit sweater, chocolate skinny jeans and baby blue coat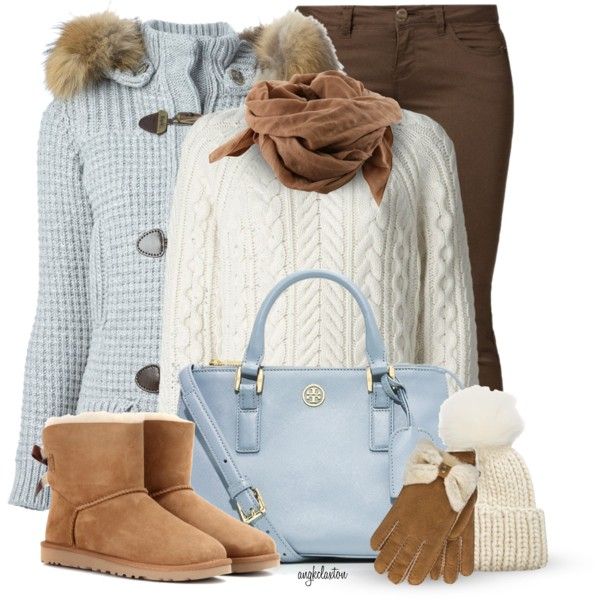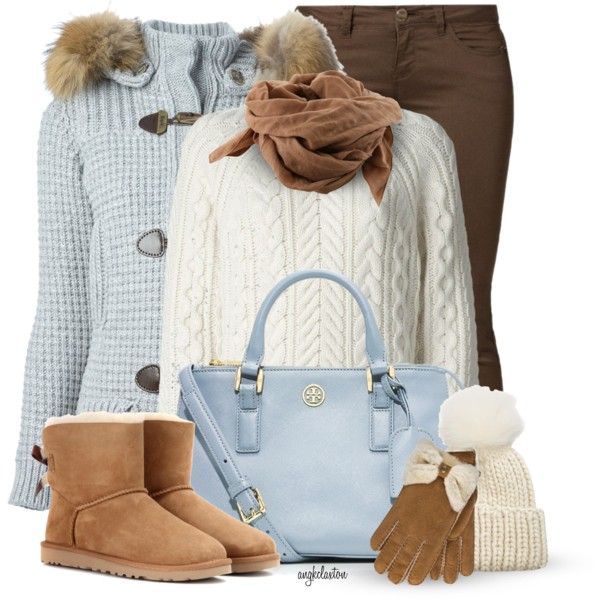 Sometimes we forget that fall technically goes on well through November and most of December. That's why we decided to showcase a "wintery fall outfit". If you have a ski trip coming up around the Thanksgiving holiday, this is how you can bring some baby blue to the slopes.
17. Floral cardigan, baby blue tank and grey pants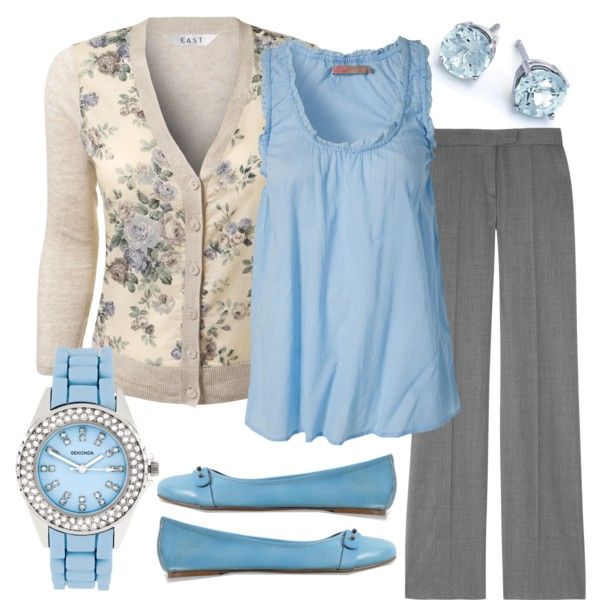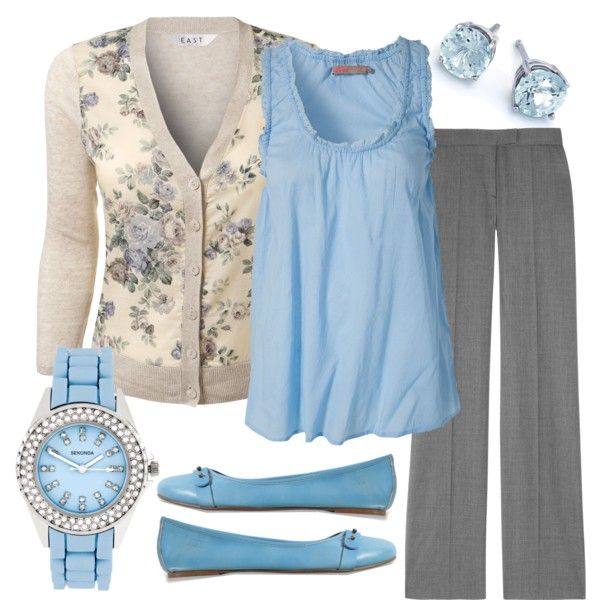 Something that's fun about fall is you can layer so many pieces of your clothing. Even some that you wore during the spring and summer. For instance, if you had a favorite tank, pair it up with a floral cardigan and some grey slacks. If the tank is baby blue? Even better.
18. Brown leather jacket, blue long sleeve shirt and white stretch jeans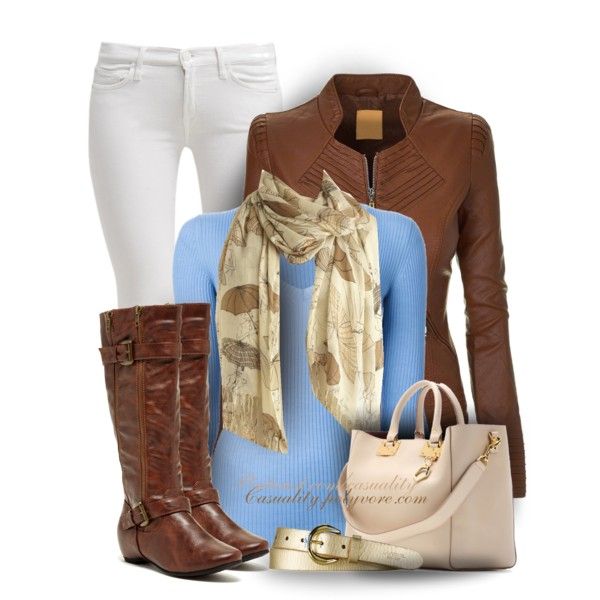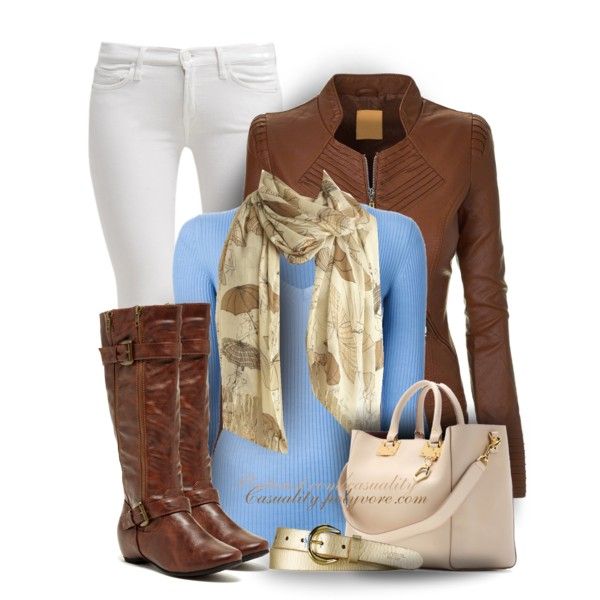 Definitely a knock-out threesome! Baby blue, white and brown leather. Yeah, our advice is to totally ignore whoever told you that you had to retire your white jeans after Labor Day. As you can see, they'll work just fine with an outfit like this!
19. Printed sleeveless dress and baby blue heels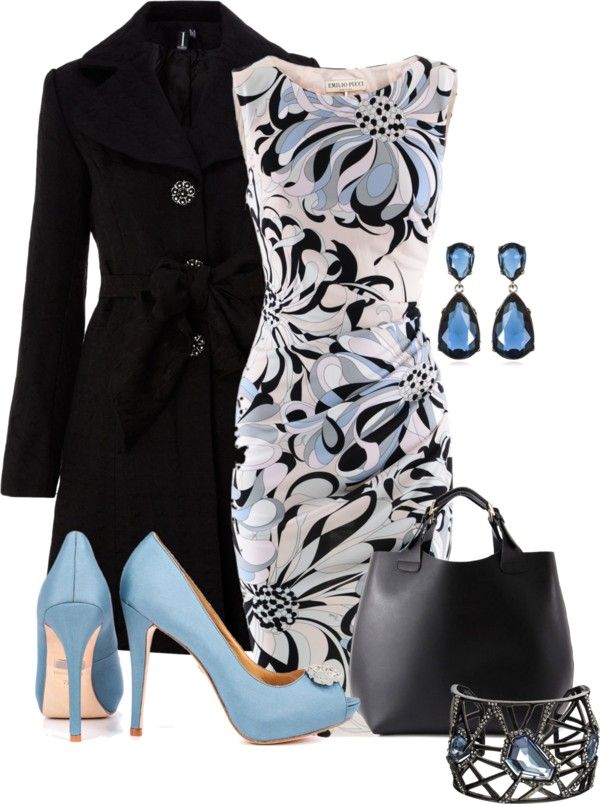 Do you have a sleeveless dress that you really love, but you're trying to figure out just how you can still wear it even though the temperature is dropping? One way is to put on a nice coat over it. That will help to keep you warm while you're outside. And if the dress has baby blue somewhere throughout it, that's even better. Don't forget to put on some matching peep-toe shoes.
20. Fall Outfit Idea for Work: Baby blue printed pencil skirt, white shirt and baby blue heels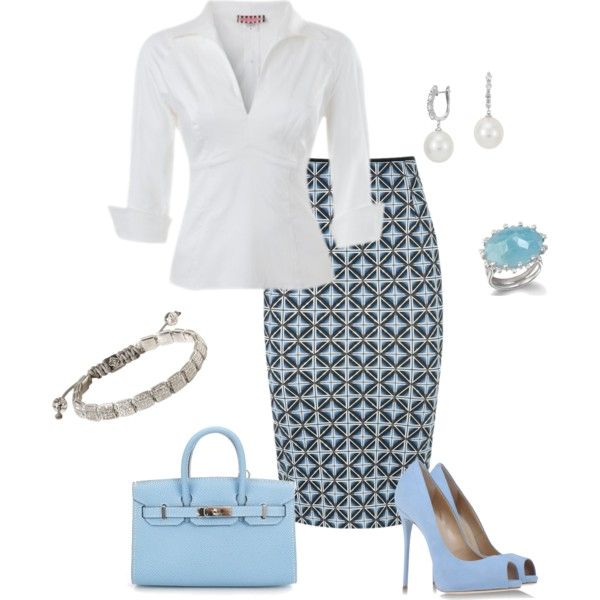 Here's how to do baby blue without overkill while you're at work. Look for a pencil skirt that actually has baby blue in the print and then use baby blue again for your accessories. Something else that's in season are white shirts so you can finish off your corporate style with one of them.
21. Baby blue plaid shirt and distressed jeans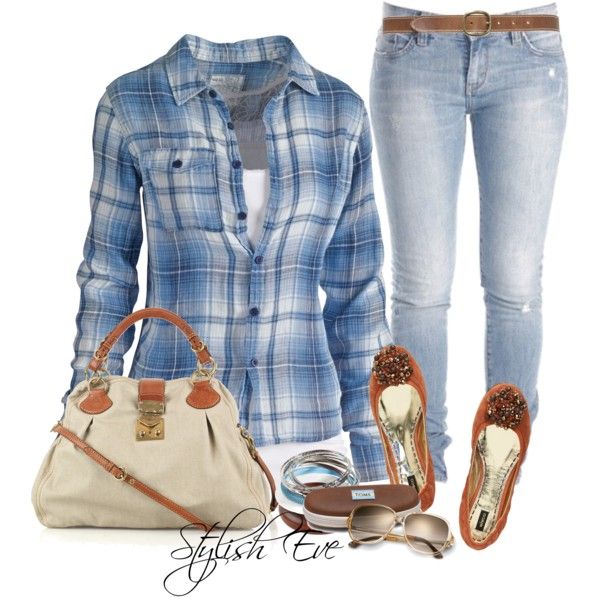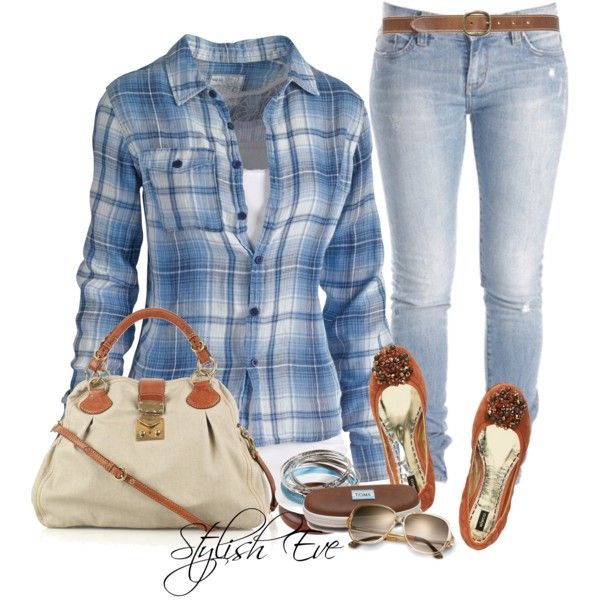 A day of walking around in the park and watching the leaves turn calls for an outfit that's very similar to this one. A baby blue plaid shirt says "ready for autumn" all over it, especially when it has the help of some distressed blue jeans. Break up some of the blue, though with accessories that are at least trimmed in a color like brown.
22. White strapless dress and a baby blue cardigan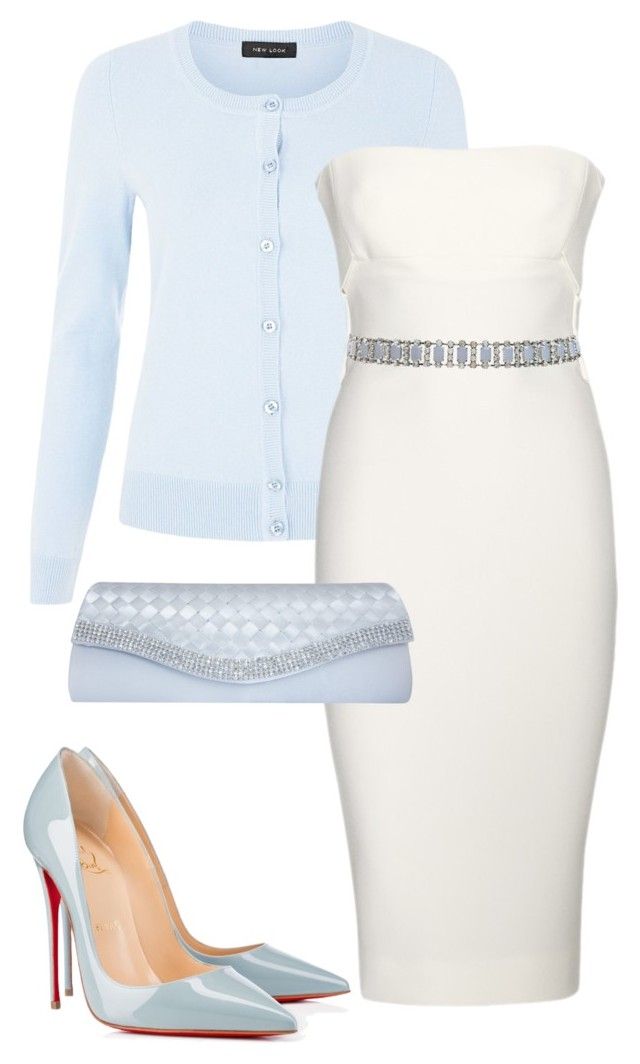 For a night on the town that requires you look semi-formal, pull out a white strapless dress. Only, rather than wearing a blazer or (faux) fur stole, how about putting on a baby blue cardigan and matching pair of patent leather pumps instead? "Angelic" is one of the best words that could be used to define how you would look in it.