Are you a woman who has a round face? If that's the case, you probably grew up with people telling you how cute your "pie face" was as they pinched your cheeks. But now that you're a grown woman, although you like the youthfulness of your face's shape, you definitely are looking for a hairstyle that's a bit more sophisticated.
In walks the pixie cut…
We get that, at first, you might wonder if it truly is the best look for you. Our answer is a resounding "yes!" Hopefully you'll see why in just a few minutes.
Slightly inverted pixie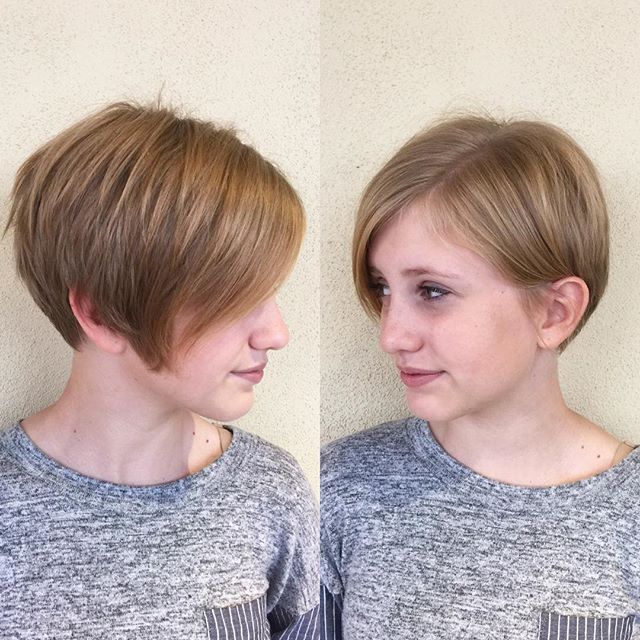 Short haircut for 2016: the chic brunette pixie cut! Being that this model has one side of her hair tucked behind her ears, at first glance, you might not even notice that she has an inverted haircut. But do you notice how on the left picture, her hair appears to be coming into a "V"? This is a really attractive cut if you don't want to do anything too dramatic but you do want to avoid having a bland looking pixie cut.
"Bowl cut" pixie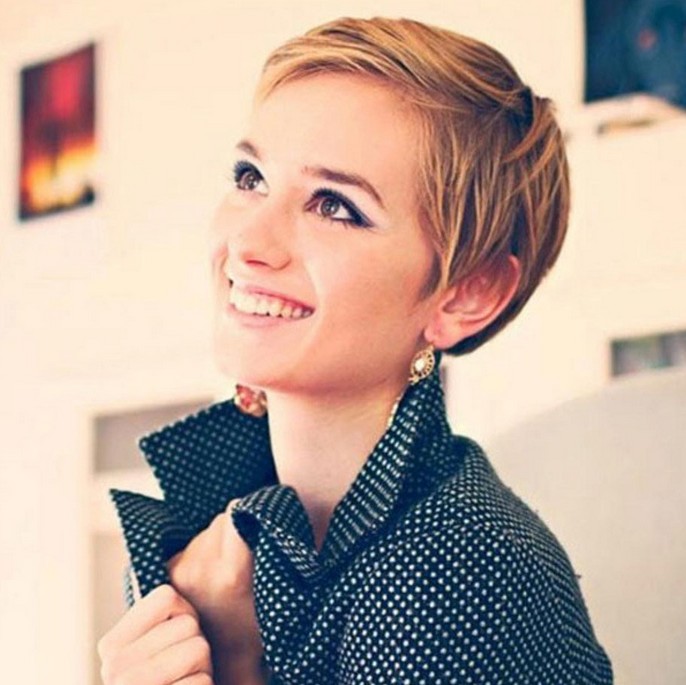 If you ever wondered what an updated version of a bowl cut looked like, this would be it. Don't you love it? It's truly clean, classic and feminine in every way.
"Shag" pixie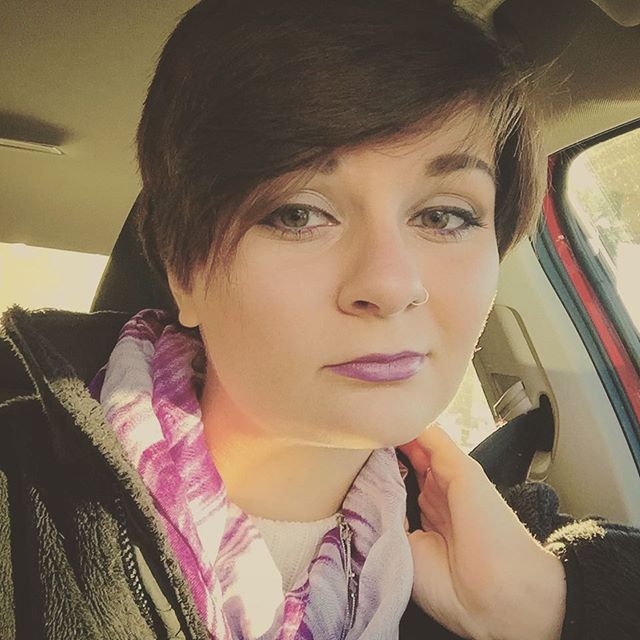 The reason why we call this one a "shag" pixie is because it looks like hair that is transitioning from a classic pixie to maybe a shorter bob. What we like about it is it still looks good enough to avoid the awkward growing out phase.
Short pixie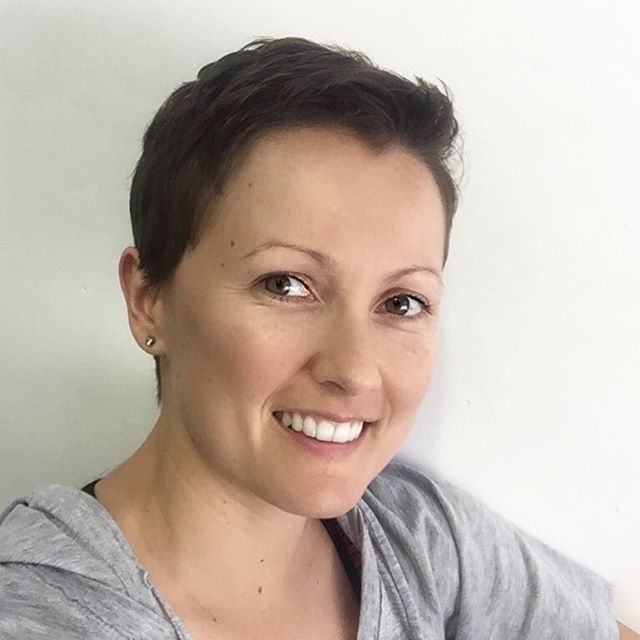 Do you basically want a get-up-and-go kind of hairstyle? How about a pixie that is a bit on the shorter side? You can literally wash your hair in the shower and it will be close to dry by the time you finish breakfast. And the awesome thing is that you'll still look amazing!
Silver pixie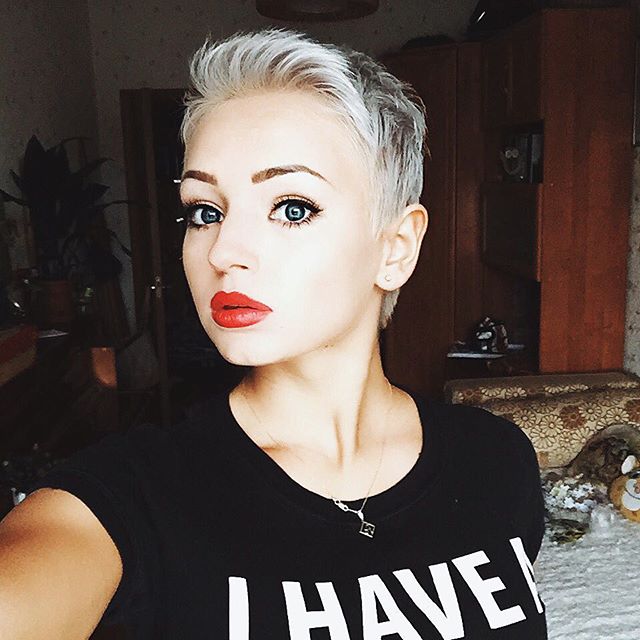 This a version of the cut that you just saw. We like it because it's silver which makes it look super edgy. Plus, her make-up complements it oh so well. (Yep, if you're going to have lighter hair, it's always a good idea to go with a darker lip.)
Long layered shag pixie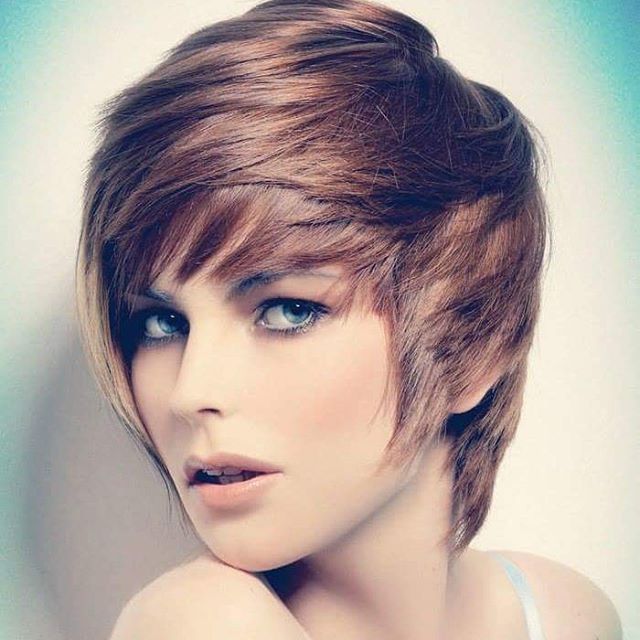 This particular pixie has length and layers that are so long that it's almost not a pixie at all. To us, this looks a lot like the other shag pixie that you've seen—only with a couple of months of growth to it. (The color is really nice too.)
Chunks of blonde color pixie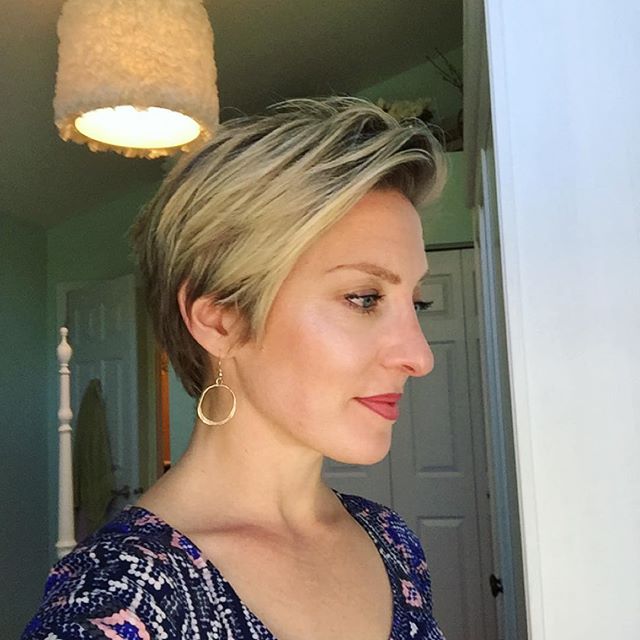 If you happen to have a pixie with plenty of length throughout the top and front of your hair, add some color to it in order to give it a bit of "pop"! Our recommendation is to try some variation of blonde or light brown.
Platinum "choppy" pixie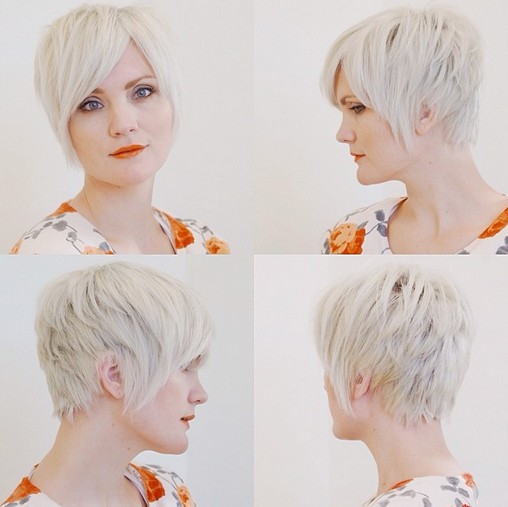 Chances are, this was cut with a razor. That's how she was able to achieve such a choppy effect. And the platinum color? That simply completes the bold look. Our suggestion would be to get this cut if you happen to have naturally thick hair. The layers will be easier to notice, plus you won't need a ton of product in order to maintain it if you do.
Pixie with longer bangs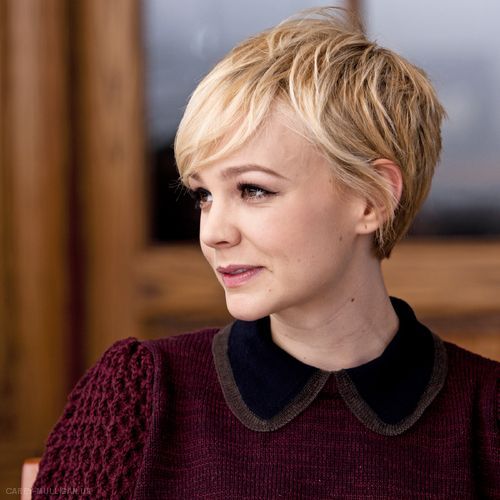 Here's a layered pixie cut that has quite a bit of versatility to it. That's because the sides and bangs are on the longer side. That way you can wear it curly or straight, pull it back with a headband or with barrettes…the possibilities are endless!
Copper pixie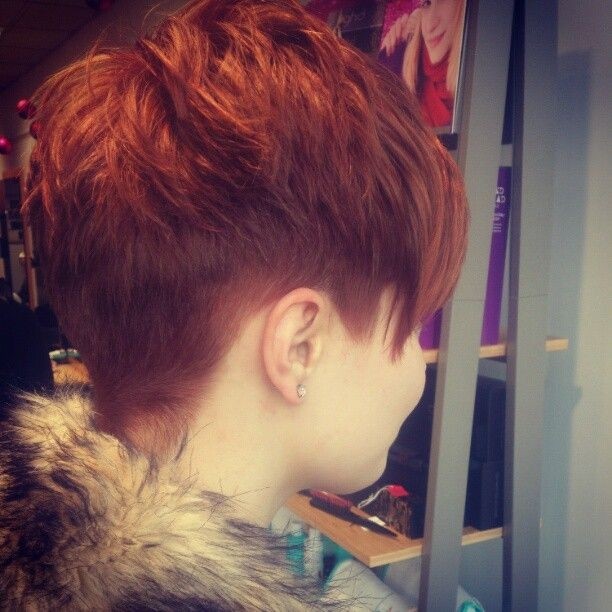 Being that copper hair color is so big right now, that's why we had to show this style off. The color is awesome. Plus the super short back puts a modern twist to a classic pixie cut.
"Long Mohawk" pixie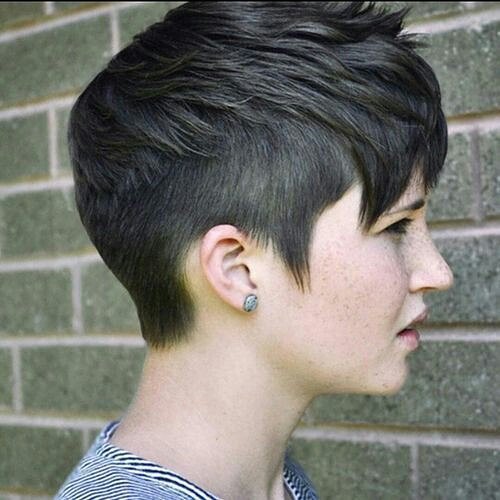 If you're someone who would describe yourself as being "grunge chic", then this is the cut that's perfect for you. Although it looks like a "regular pixie" at first glance, if you look a bit harder, you'll notice that the sides are low enough that it could easily pass off as a Mohawk—if you wanted to brush your hair back.
Rose gold (and blonde) pixie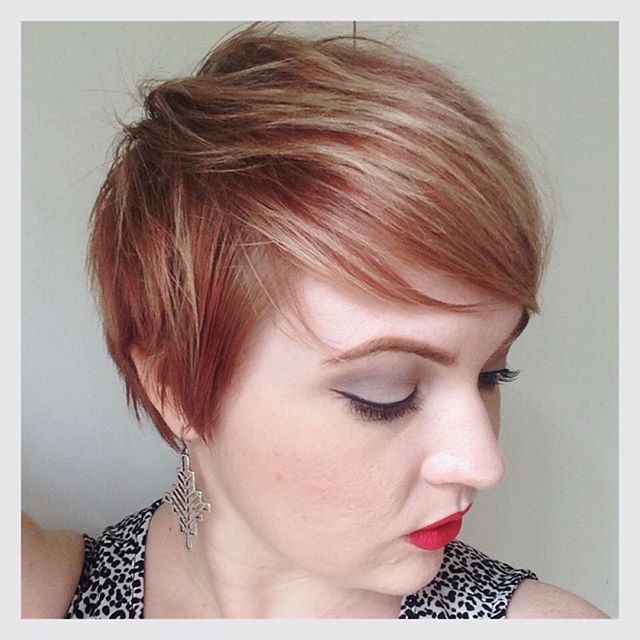 Sometimes color can bring out the most to a haircut. This rose gold with blonde hair lights pixie is a great example of that!
Long layers pixie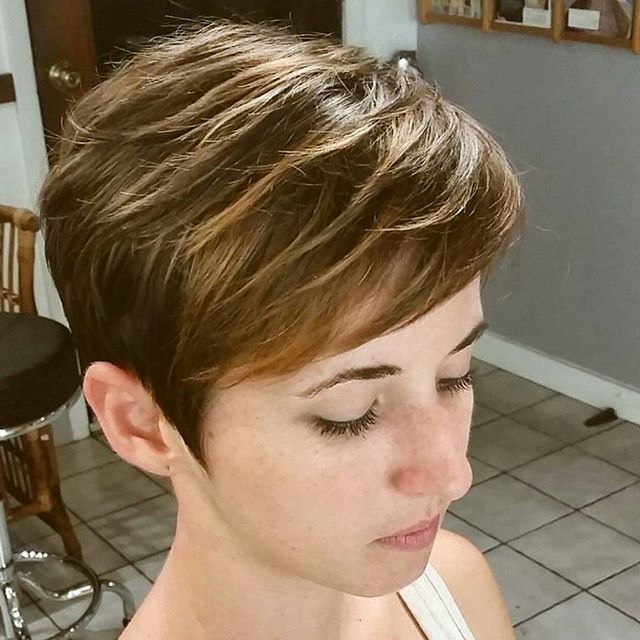 If your hair is a bit on the thinner side, something that you can do to add a bit of thickness and movement is to get your pixie cut into long layers. If you then highlight (or low light) it, you'll have some added dimension.
Limited layers pixie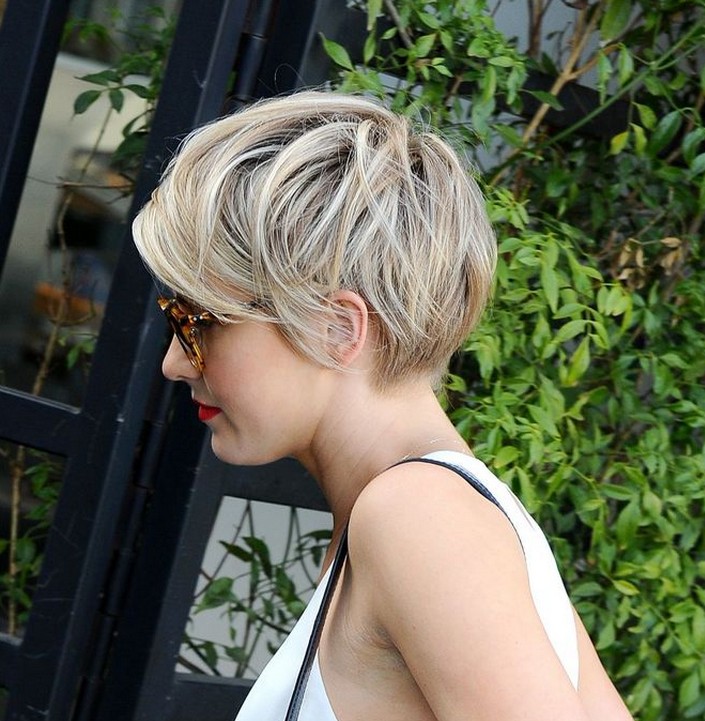 Fashionable layered pixie cut for summer: Although we happen to be big fans of layers, if you're not, here's how you can wear a pixie without many layers at all.
Dark brown pixie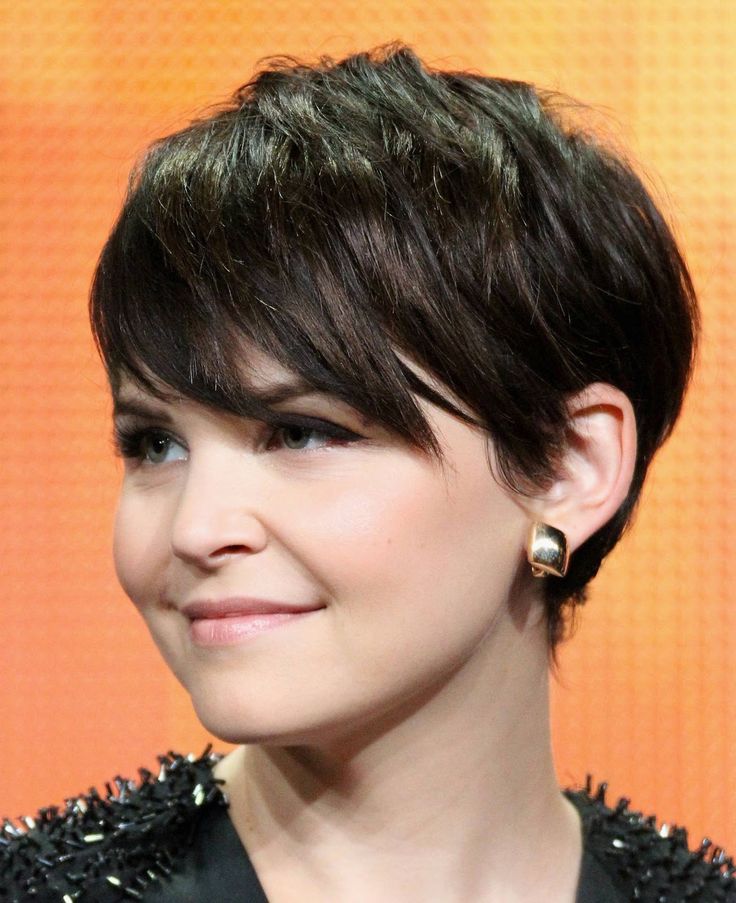 Do you already have light-colored hair and you're actually thinking about taking things to a darker level? Basically, this is what your hair will look like if you do.
Pageboy pixie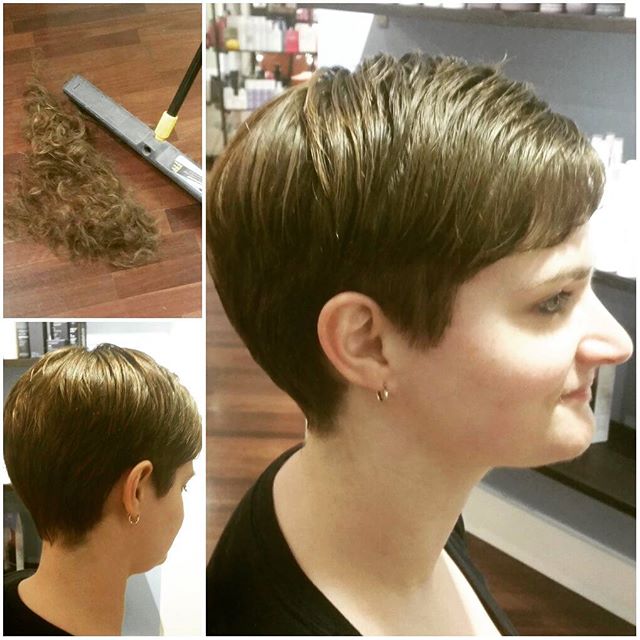 Out of all of the cuts that we've shown you, this is probably the most unisex one. If you have a boyish side to your personality, this hairstyle is a happy medium between being feminine and still a bit masculine.
"Messy" pixie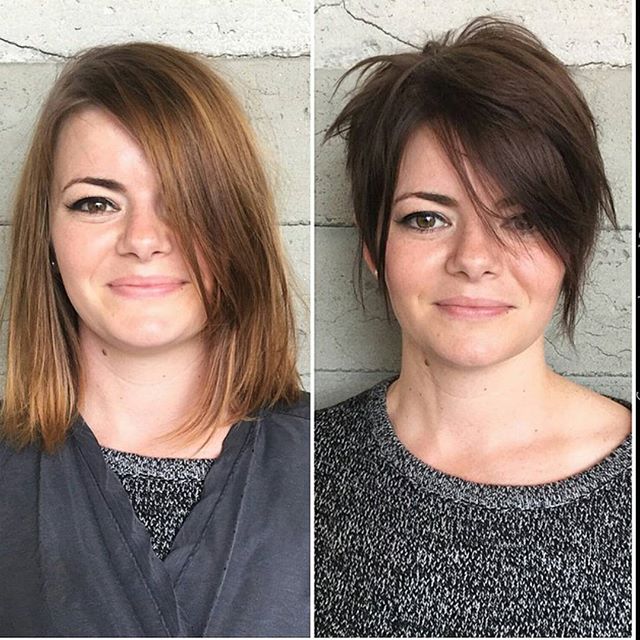 Bed heads. There used to be a time when a woman wouldn't be caught dead with her hair looking super messy. Now? The messier the better! So don't always think that your hair has to be all one length. Clearly, based on this picture, you can have "uneven layers" and end up with show-stopping results.
"Sun kissed" pixie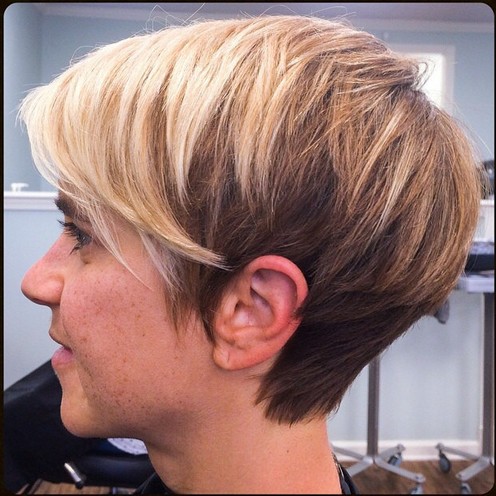 One thing that's nice about this pixie is the tapering in the back. The other thing is killer color technique. Looks like it's been kissed by the sun, right?
"Bob" pixie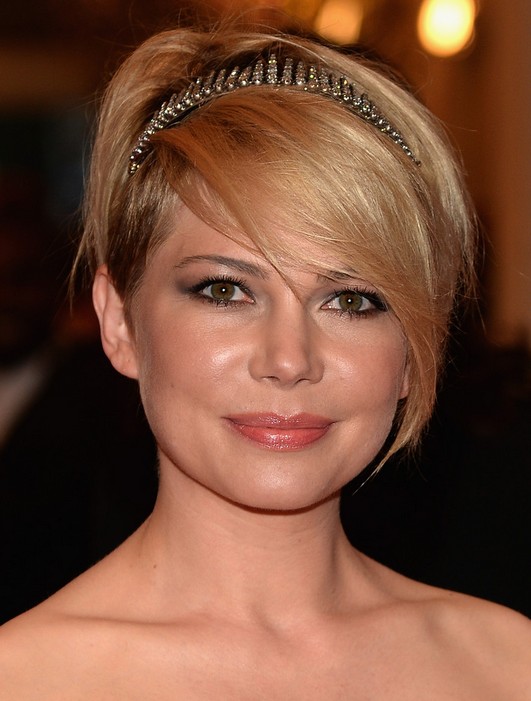 From the front, this looks like a bob while from the back, it's definitely a pixie. Yep, two cuts in one. That's why we call it "the bob pixie".
Super straight pixie
The best way to pull this particular pixie off is to start off with bone straight hair. Otherwise, you won't be able to appreciate all of the "random" layers throughout it.
Pixie with shaved sides and a hint of color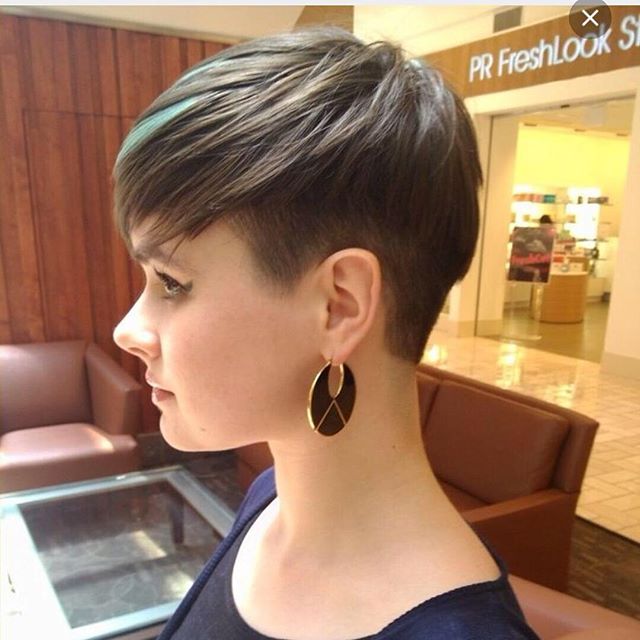 The shaved sides make this pixie pretty easy to style each day. And did you peep the sea foam green highlights? (How cute is that?!?)
Do you love these pixie cuts? If you don't love these cuts, how about these popular bob hairstyles?