There are so many reasons why it's a good idea to go with a short hairstyle. It's easy to take care of. It can help to take years off of you. You don't need as much product to maintain it. You'll have less tangles to deal with. Oh, and how can we overlook the fact that it will make you look the ultimate kind of sexy!
Here, you'll see some of our favorite pixie cuts: the ones that are a bit longer than the signature Halle Berry look that you might be used to seeing. These are modern yet sophisticated, pretty yet edgy, striking yet feminine—everything a woman can ever want in one hairdo!
Longer pixie with a side part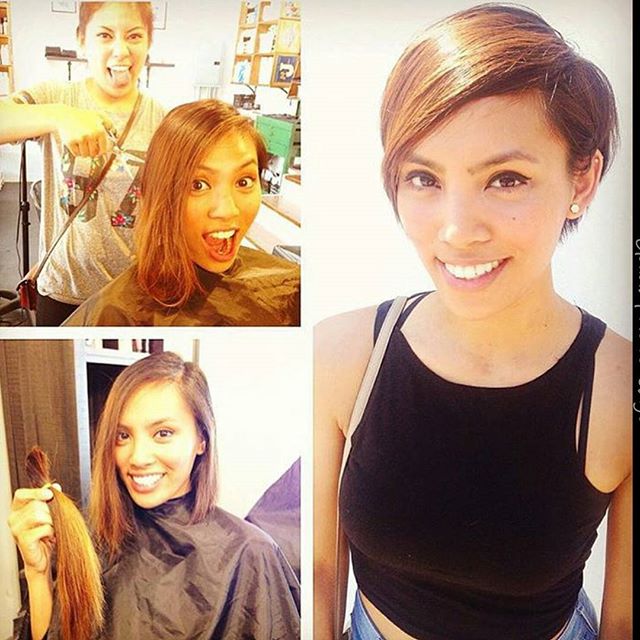 Something that's great about pictures like these is if you happen to have longer hair like this model does, it can give you some idea of what you'll look like once you undergo…the big chop!
Longer A-line pixie for thick hair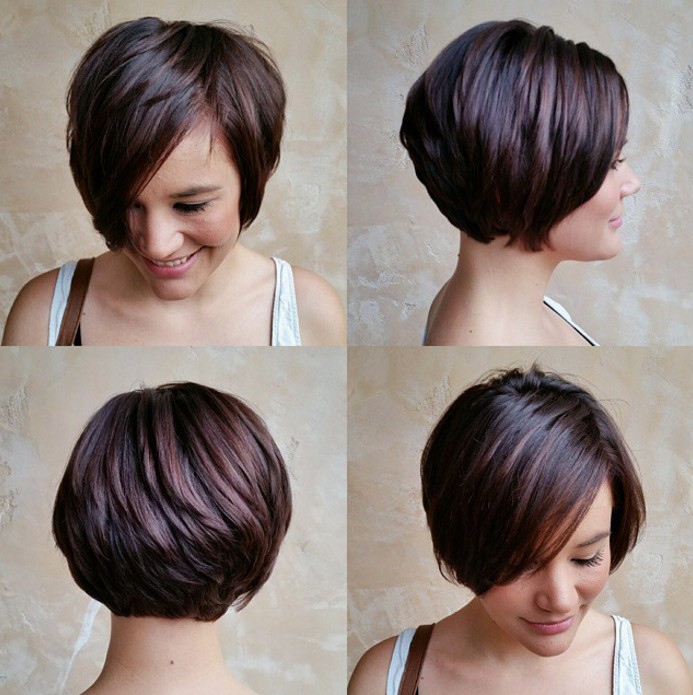 If you look carefully and then do a bit of compare and contrast, you'll notice that this hairstyle is not much different than the one we just showed you. Only this is much thicker than the others.
Pixie with longer side-swept bangs and shaved side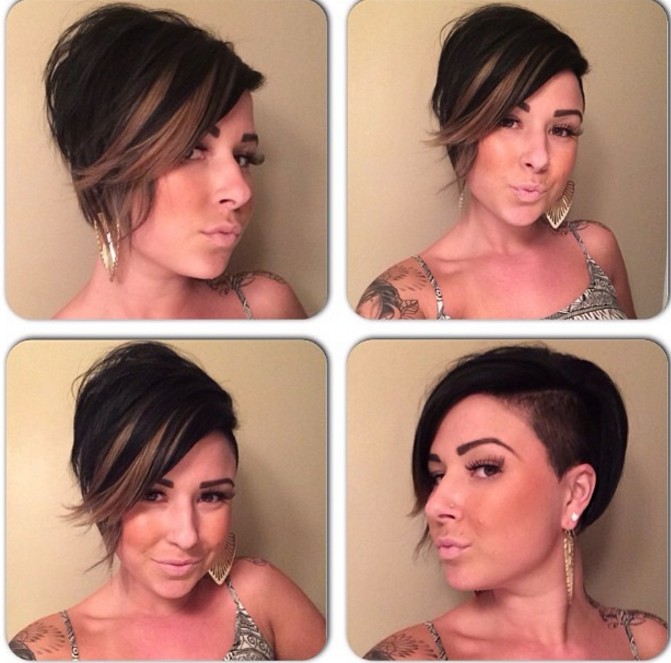 Ah. A pixie with a ton of personality and confidence! We love how it's asymmetrical because it's shaved on one side with a really long side-swept bang on the other. (Peep the light brown streaks as well!)
Platinum longer pixie with choppy layers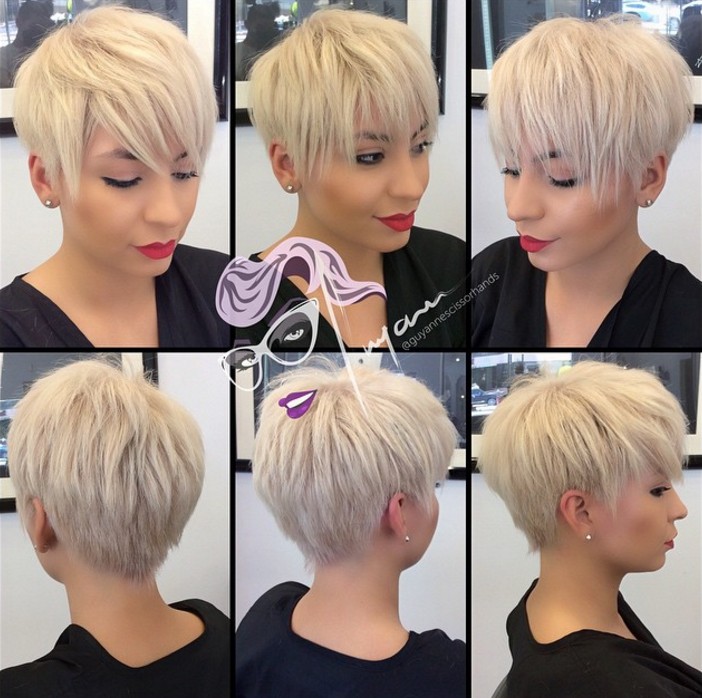 Here's another way to make "choppy" work for you. Although we really like this in platinum, we honestly would cosign on the look, no matter what color it is!
"Pixie Mohawk"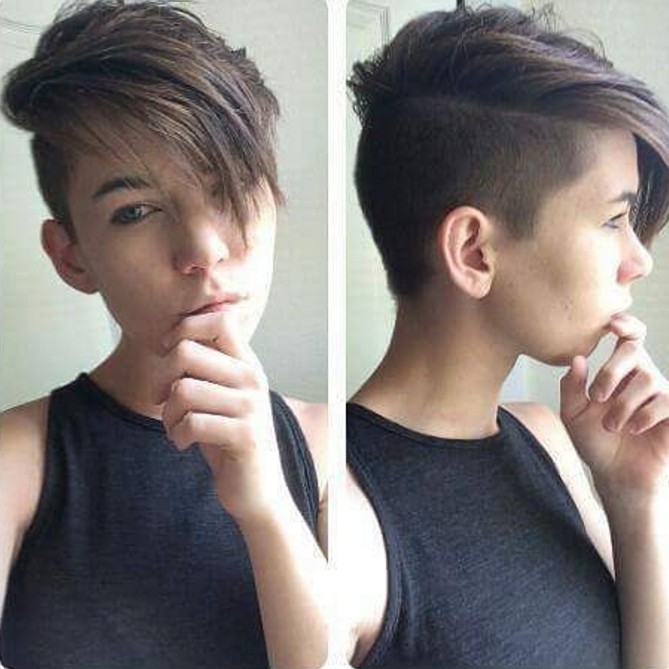 Would you prefer a pixie that is more like a Mohawk? In walks this look. It's totally unisex, which is one of the best things about it.
Much longer A-line pixie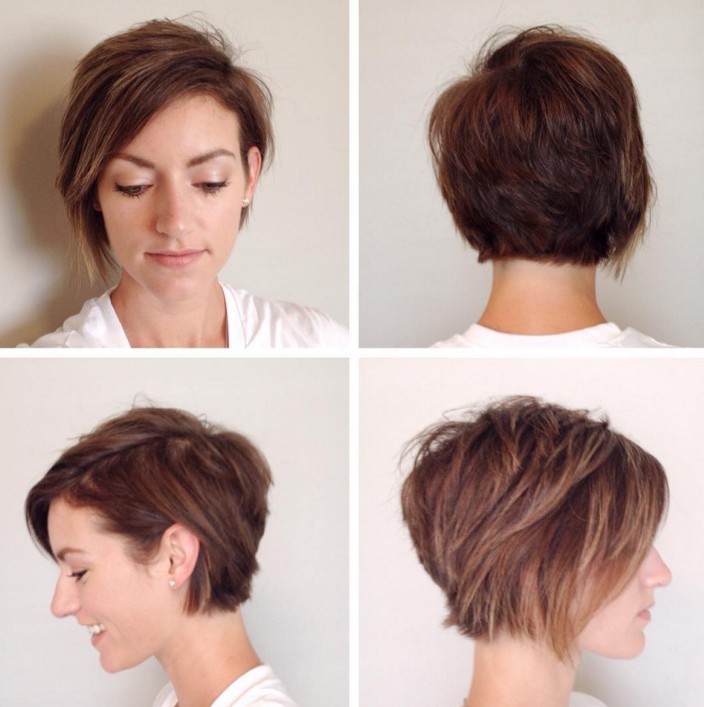 Technically a bob, here's a transitional kind of pixie for if you're currently in the process of growing a longer one out.
Longer pixie with lots of length up top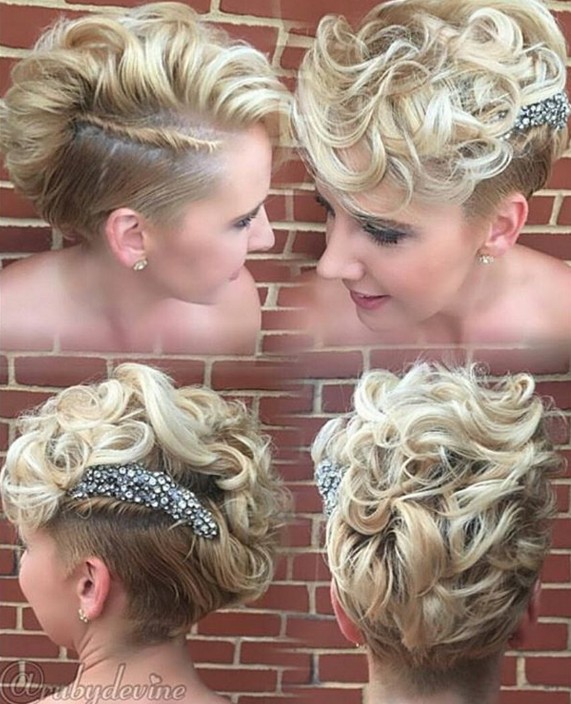 Curly pixie cut: Something that we like about this picture is the fact that all of the length that she has up top shows that this cut can be styled a myriad of ways. Literally.
Platinum and (light) lavender longer pixie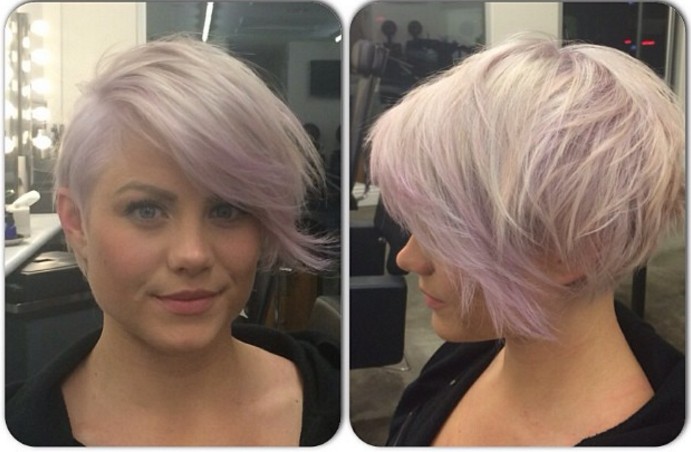 One of the best color combinations that we've seen in a really long time! It almost looks like your eyes are playing tricks on you, right? We like the longer bangs too.
Longer pixie with tri-tone bang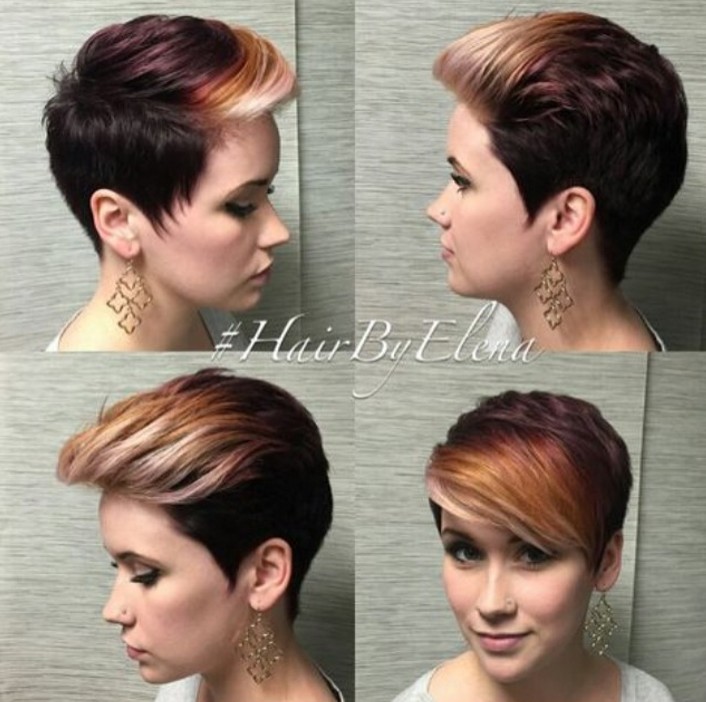 Making bold moves with your hair color doesn't always mean that you have to dye your entire head. As you can see here, you can also choose the front of your hair. This is another style that we're a huge fan of…mostly because white, gold and burgundy tri-color combination.
"Fire" longer pixie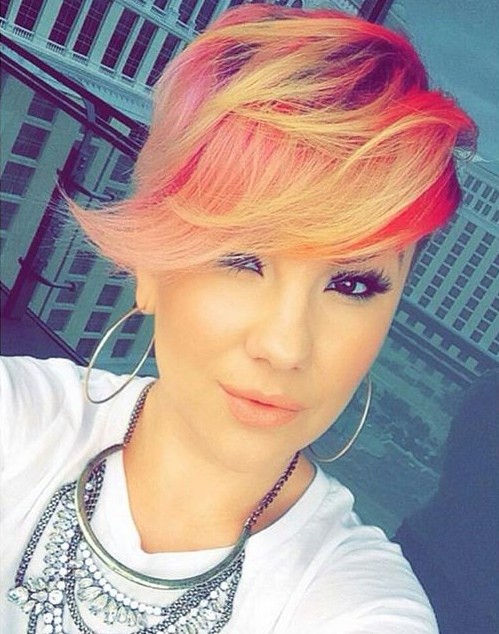 Yeah. We assume that you get why we call this longer pixie a "fire" one. The combination of the bright yellow and red makes it literally look like her hair is set on fire! In the HOTTEST way possible!
Platinum pixie with shaved sides and longer bangs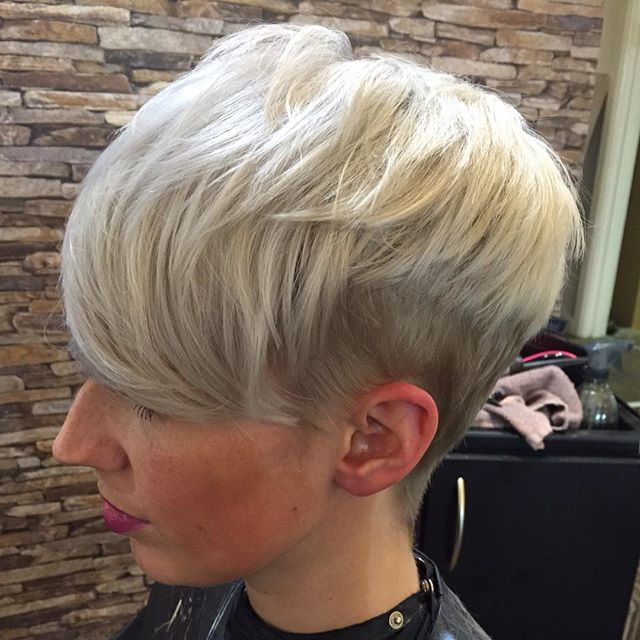 If you'd prefer to shaved the sides to make your pixie a bit more modern, you can still soften it by having longer bangs in the front.
Pixie with longer choppy bangs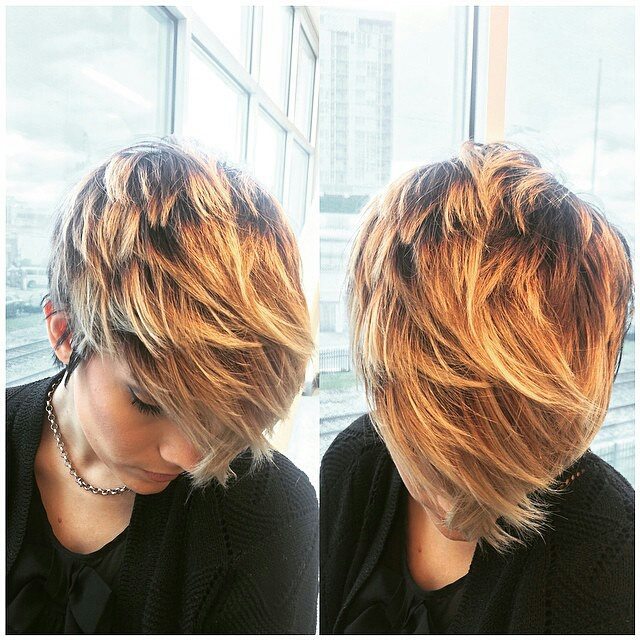 This pixie is going to look best on women who have thicker (and straight) hair. If that's you, first get it cut into a choppy style while leaving plenty of length in the front. Then get the tips colored a lighter shade. That way, the choppiness stands out.
White longer pixie
Whether you're already platinum and you want to take things to the extreme or you've always wondered what your hair would look like if it were white, here you go. Pretty cute when it's on a longer pixie, wouldn't you say?
Asymmetrical longer pixie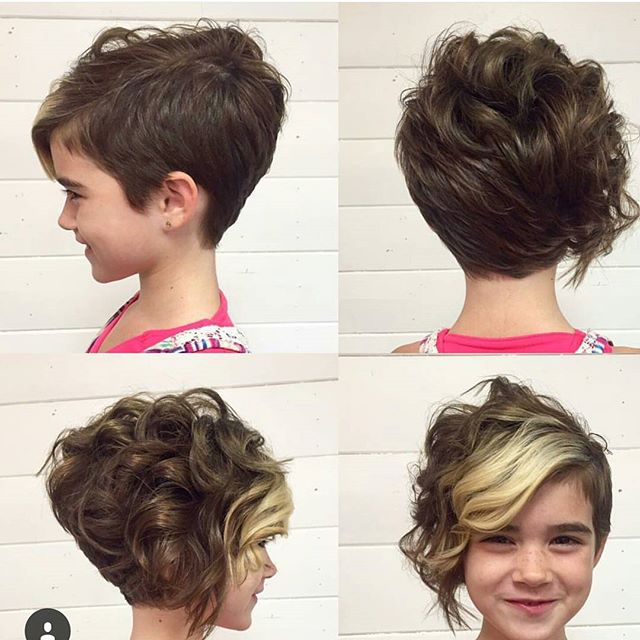 Wavy curly pixie cut for girls: Here's the kind of cut that proves pixies works on girls and women quite well. The asymmetrical cut, the A-line in the back and the blonde bangs—altogether makes this the kind of pixie that is truly one of a kind! (Dig the curls, too!)
Long A-line pixie for thin hair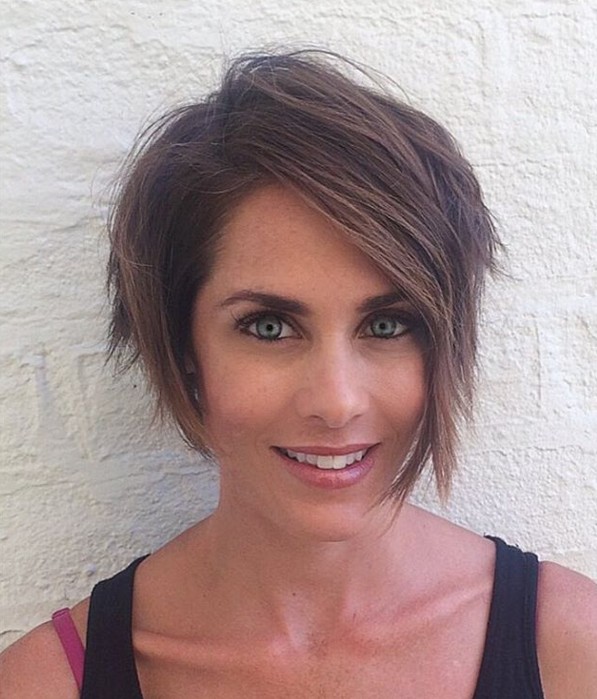 From the front, this probably looks more like an inverted bob. But being that the short is considerably shorter than many A-line bobs, that's what earns it the "pixie" title. We personally think it's best for thinner hair textures.
Longer pixie with a flip bang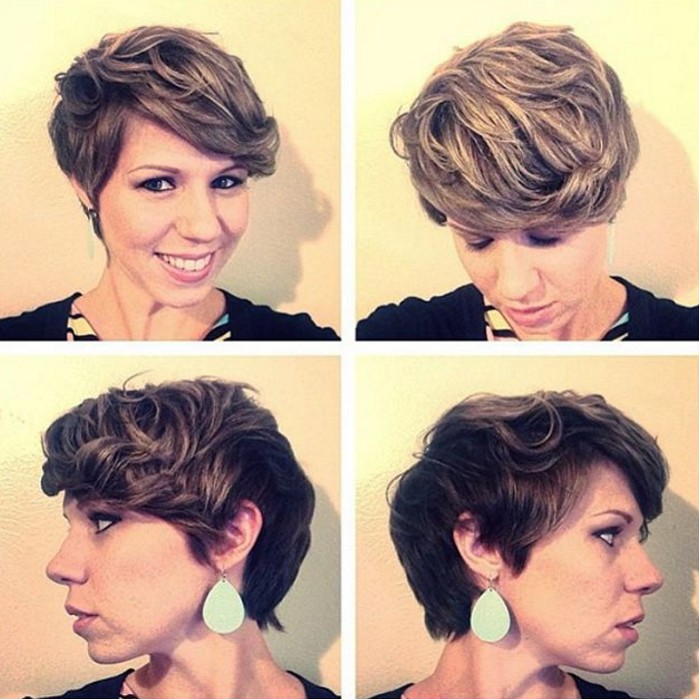 Tired of always having hair in your face? There's a simple solution to that. Simply flip your bangs back—to the side or front. You're going to look pretty amazing either way.
Longer pixie with graduated back and long front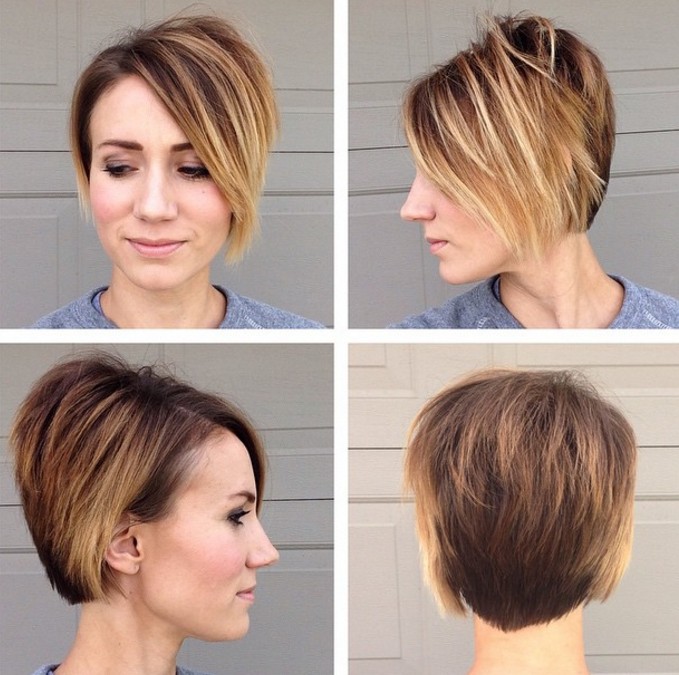 Bob by front. Super short pixie by back. An easy-to-maintain look. (Don't forget to get the light blonde pieces!)
Longer pixie with long side-swept asymmetrical side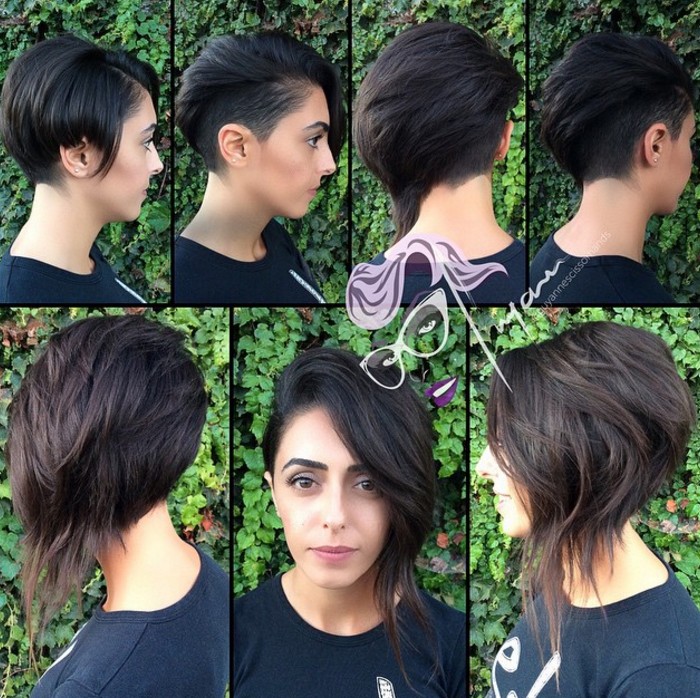 This cut has so much going on, it would take an entire article to break it all down. And honestly, that's a part of its charm. It's basically a bob on one side with some longer pieces hanging from it. Unique. Daring. Rare. Truly.
Burgundy longer pixie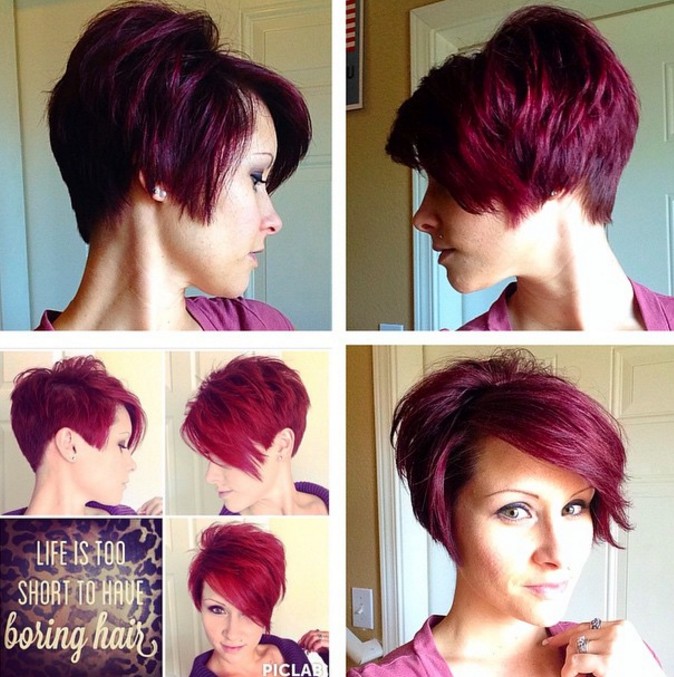 Burgundy is a really nice hair color to try in the fall and winter season. Have you thought about switching things up a bit? When it comes to your hue?
Longer pixie with darker roots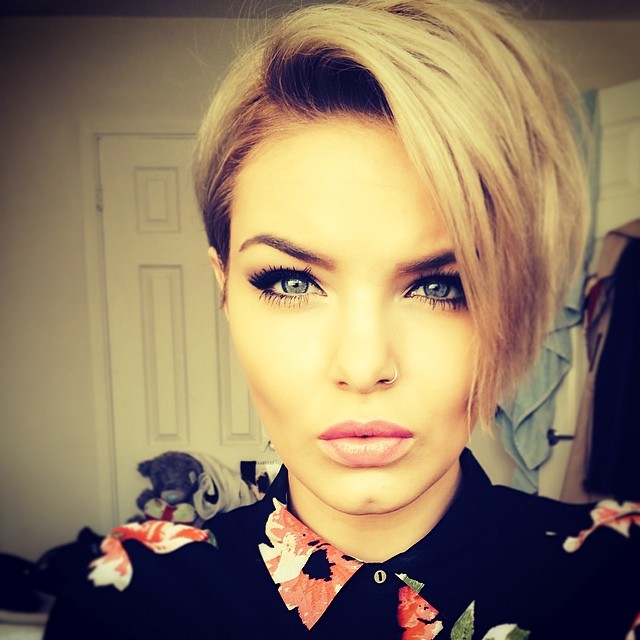 One way to make your hair look thicker is to let your darker roots show. This is a perfect display of how to rock it.
Longer pixie with subtle side flip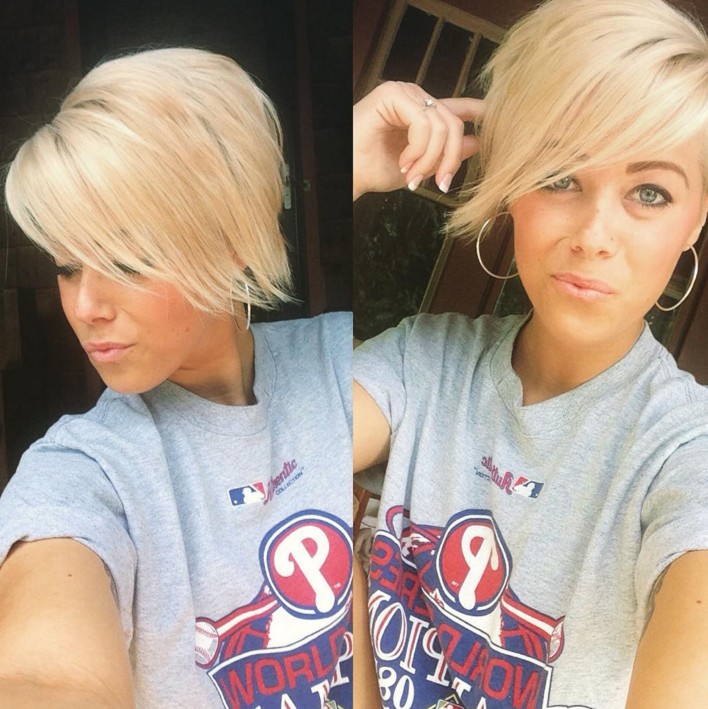 So, how did she get the tiniest sign of a side flip? We're guessing that she used a curling iron. It's one of the most high-maintenance-looking-but-is-really-low-maintenance kind of longer pixie cuts that we've seen in a minute.