As a teenager, choosing your outfits for school or college is the most important part of every day. Making sure you're comfortable, fashionable and representing yourself and your identity can be both exciting and daunting. You need a wardrobe which reflects your personality and your personal tastes, but also one which is appropriate, comfortable and versatile too. Styles Weekly have gathered a stunning selection of outfits for school for inspiration, carefully curating a gallery of images to help you build your personal style!
Bomber Jacket and Ripped Jeans – Fall Outfits For School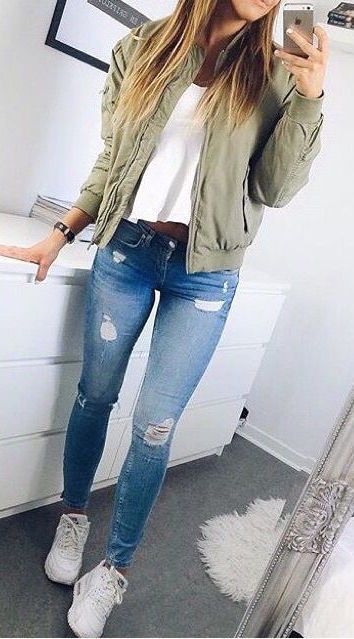 Utilising 3 different trends at once, this outfit consists of a range of stunning items of clothing worked together to create the most perfect outfit option for school. From the fashionable white trainers she wears on her feet to the stylish ripped jeans and the khaki bomber, ever individual item at work here is outrageously on trend and we just love it!
Navy Sweatshirt, White Jeans and Converse – Cute Spring Outfits For School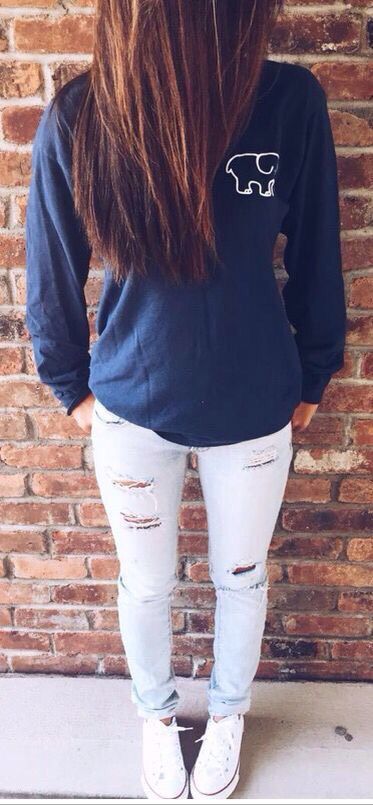 Combining comfort and style to perfection, this gorgeous outfit is both practical and fashionable, which makes it simply ideal for school! Starting with a navy sweatshirt, which works perfectly with white ripped jeans and is finished with white Converse trainers which are incredibly comfortable indeed.
Nike and Jeans – Cute Girls Outfits For School in Spring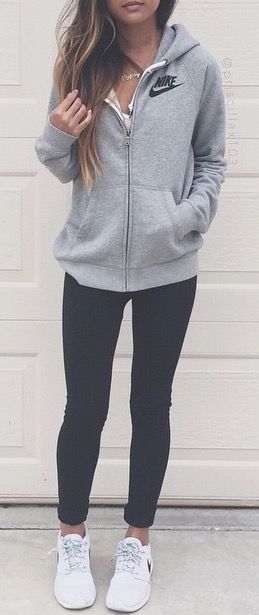 Another impeccable outfit which simply oozes style, this young lady has opted for a gorgeous combination of grey and black shades to finish this amazing outfit. Starting from white Nike trainers, then black fitted jeans and finishing with a super stylish white t-shirt and a grey Nike zip-up sweatshirt.
Cosy Knit Cardigan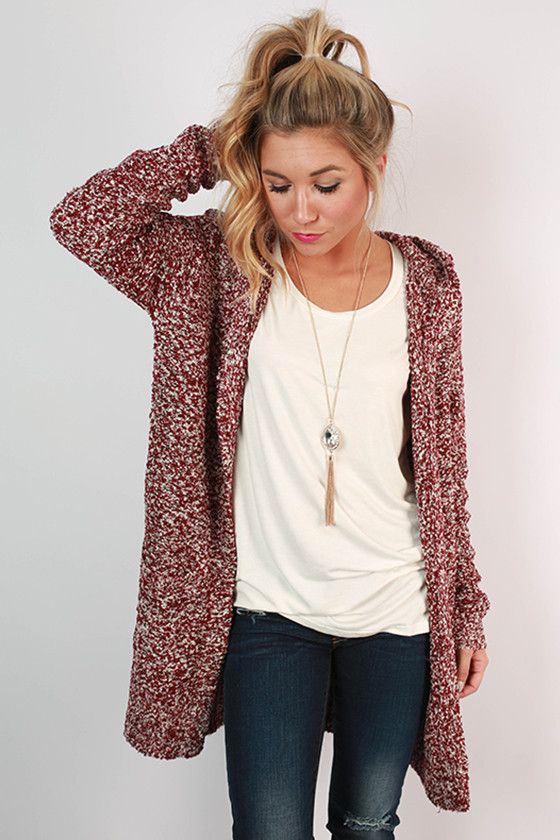 Burgundy is such an on-trend colour lately, and one look at this lovely lady's outfit will prove exactly why! Her burgundy and white chunky knit cardigan is the perfect finishing touch to this outfit offering warmth and style at the same time, and accessorising perfectly with her white tee and ripped navy jeans!
Baggy Shirt and High Waisted Jeans – Cute Outfits For School for Fall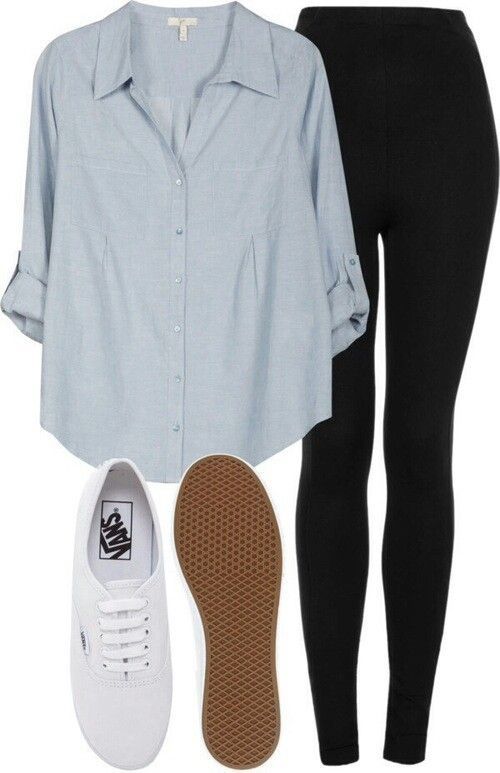 Vans are the perfect shoes to wear with jeans – and these sweet white pumps are the top of the bunch. Providing bags of style and plenty of comfort too, when they work with these black high waisted jeans and the gorgeous cornflower blue baggy shirt, they form the perfect outfit which is perfect for school! We just love this stunning look.
Roll Neck and Leather Jacket – Cute simple Outfits For School for winter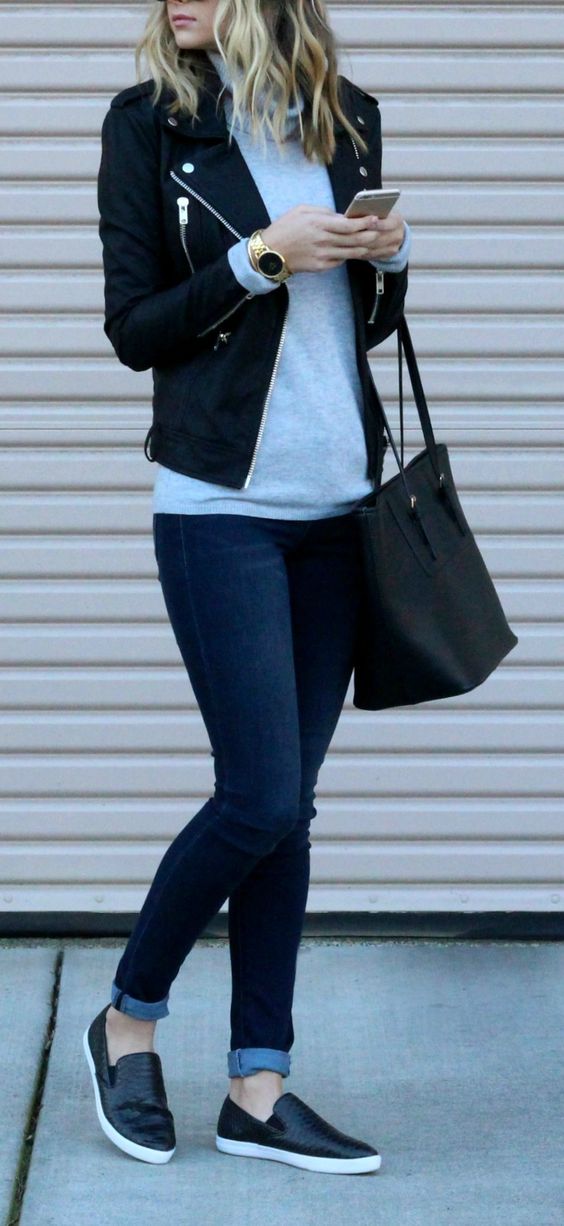 This school outfit is so fashionable it's just perfect for those days where you have plans afterwards, because this look will take you from day to night with ease. The navy jeans are rolled up at the end and paired with leather slip on pumps, and this lady has opted for a gorgeous grey roll neck sweater and finished the look with a black leather jacket.
Stripes and High Top Trainers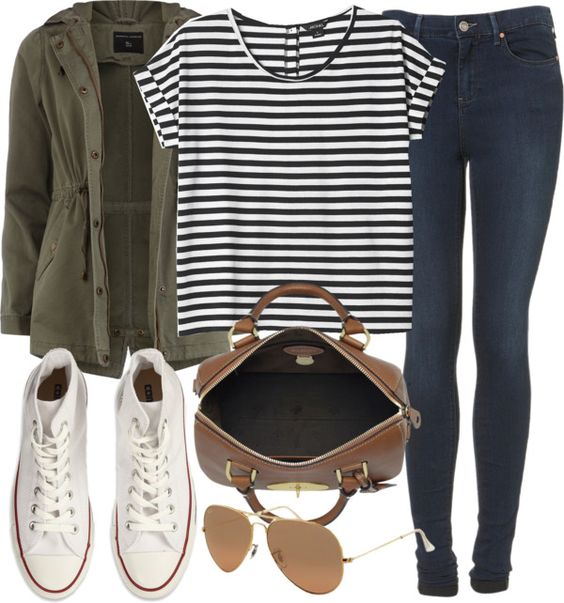 For the ultimate school look, combining practicality with fashion is essential. You need to be both comfortable and feel great too – and we think this outfit is the perfect combination of both! Ripped jeans and high top Converse are the perfect pair for the bottom half, and this cool stripy t-shirt and khaki jacket and a force to be reckoned with on top!
Off the Shoulder Knit with Beanie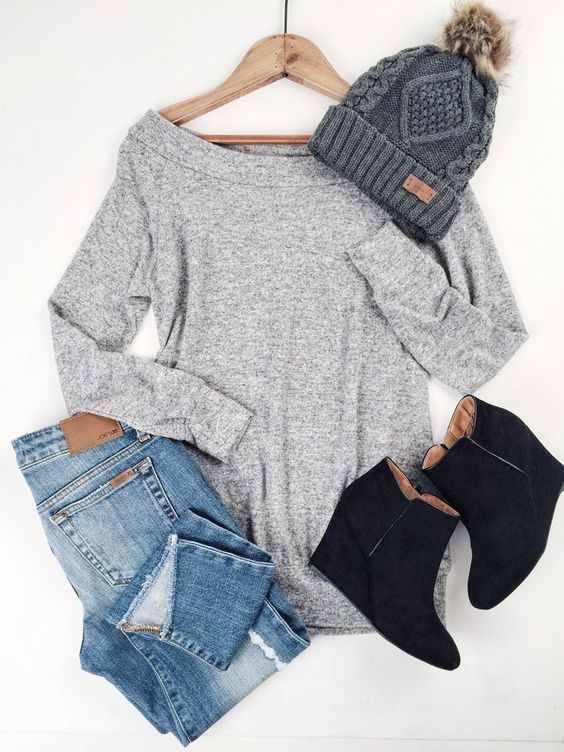 Wedged boots are perfect for when the weather gets a little more chilly – which is why we adore these dark black suede booties. The rest of the outfit is some denim jeans, a grey off the shoulder sweater and the most adorable chunky knit grey beanie hat finished with a pretty pom pom. We love this look!
Beige Sweater with Heeled Boots – winter Outfits For School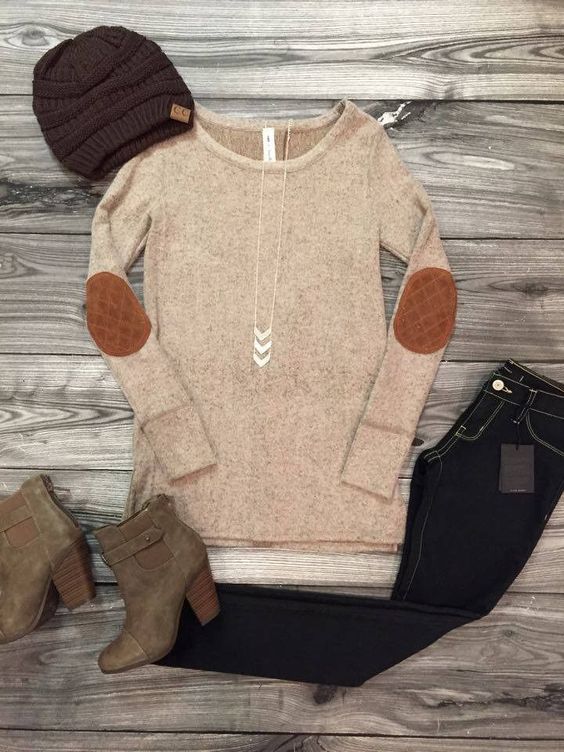 These incredible dark navy jeans work perfectly with a neutral long-line sweater in beige like the one pictured above. This cute sweater has contrast elbow patches and the prettiest necklace as an accessory. Brown suede heeled boots create the ultimate finishing touch for this look, and a pretty brown beanie will keep your hair in check.
Check Shirts and Leather Boots – Back-to-School Outfit Ideas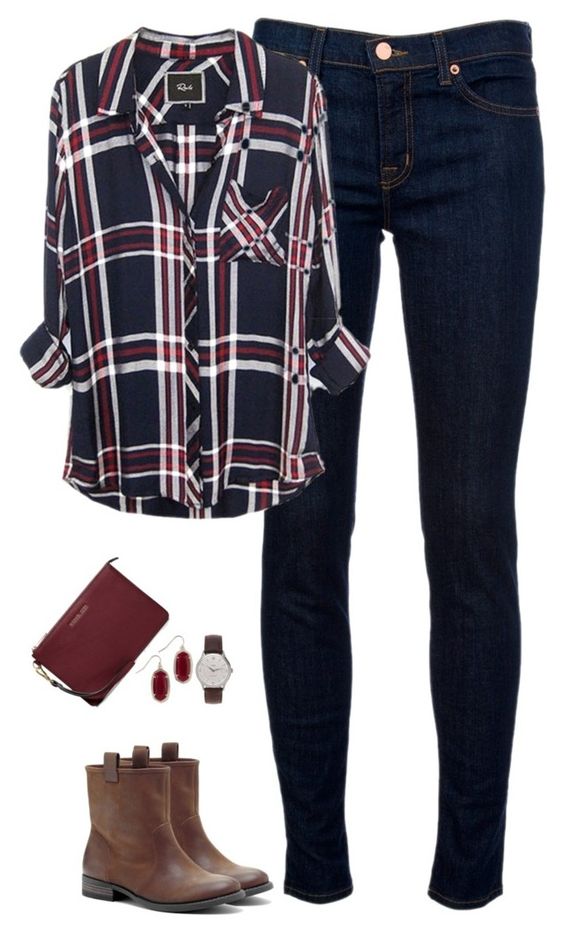 Check shirts are our favourite look here at the Styles Weekly office, so it's no surprise to learn that this outfit is our favourite of the entire bunch. These navy jeans are perfectly accessorised with a dark red, navy and white check shirt, and the brown leather boots are the cherry on top of an very special outfit indeed.
Grey Cardigan and Ripped Jeans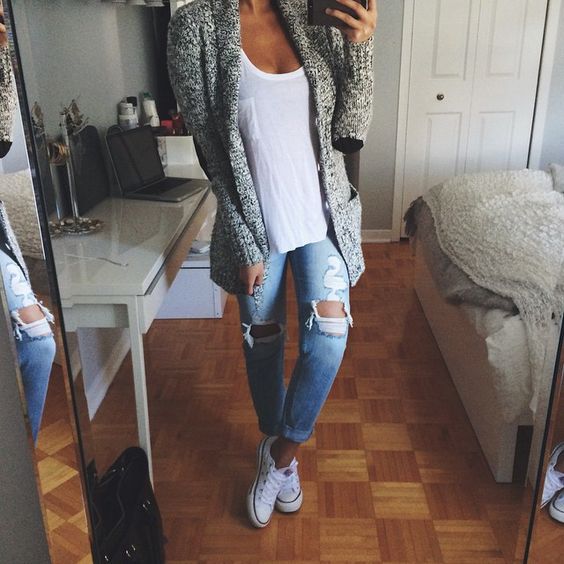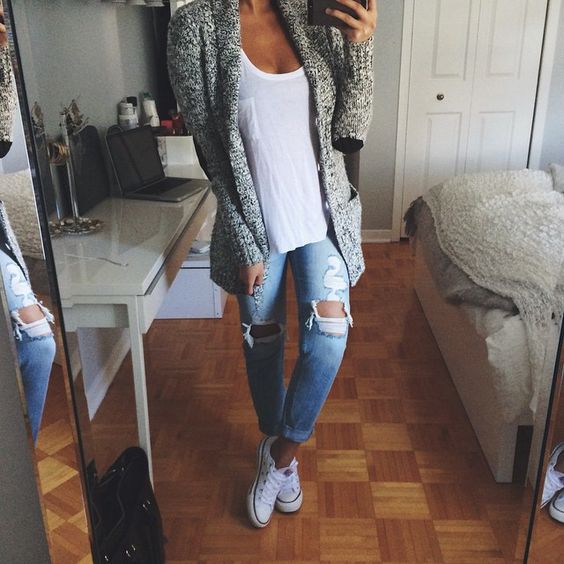 Finishing our beautiful gallery with another impeccable outfit – we adore this comfort-based school style. Starting with converse on the feet, then a gorgeous pair of ripped denim jeans. The outfit is finished off with a white t-shirt and a chunky grey knitted cardigan.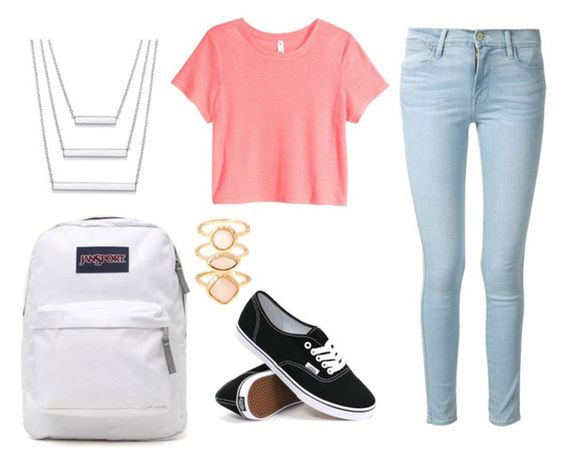 Cute outfits for school for girls high school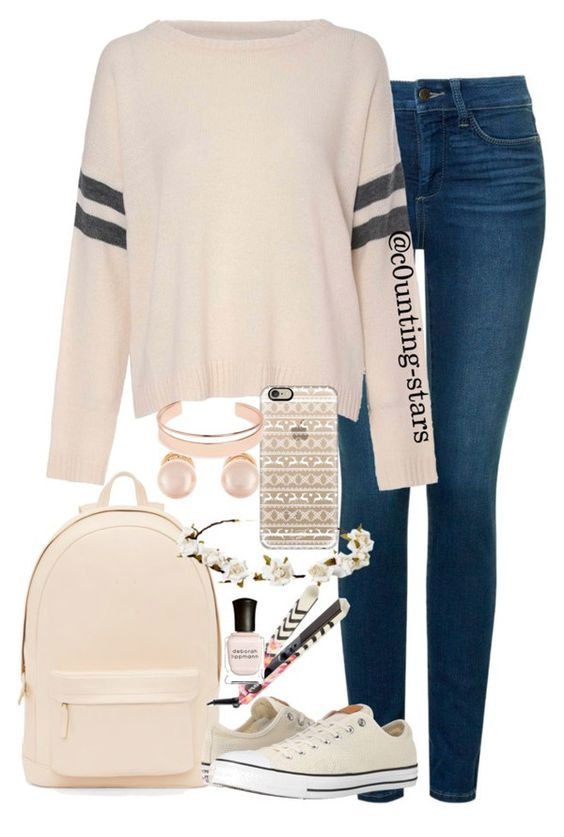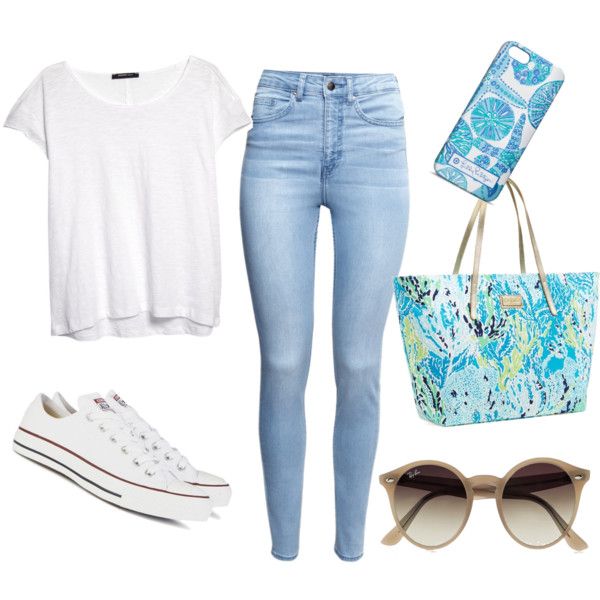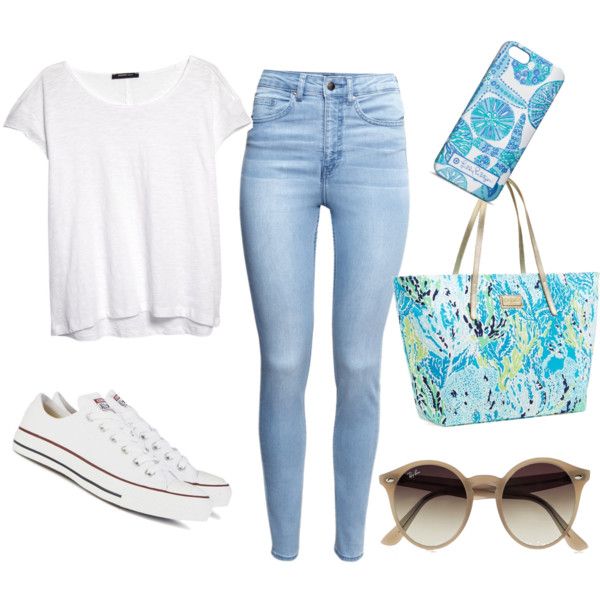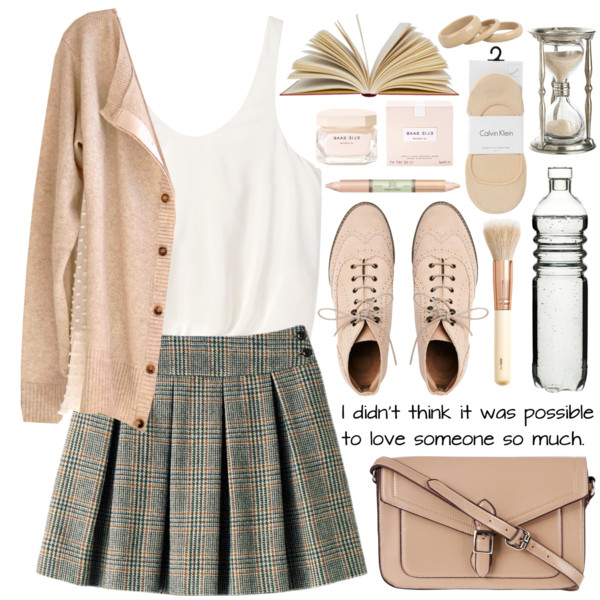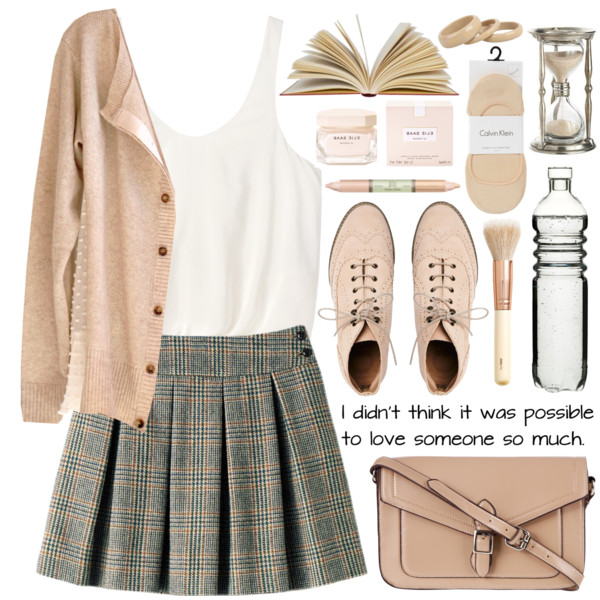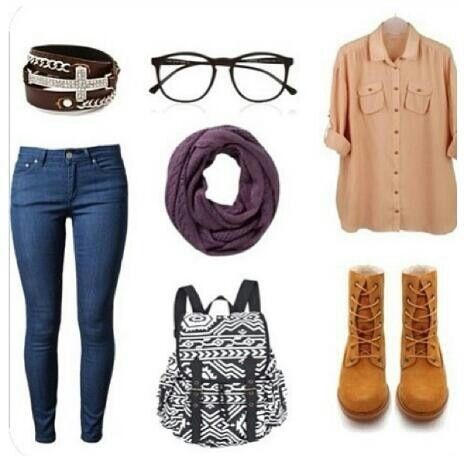 Outfits for school for summer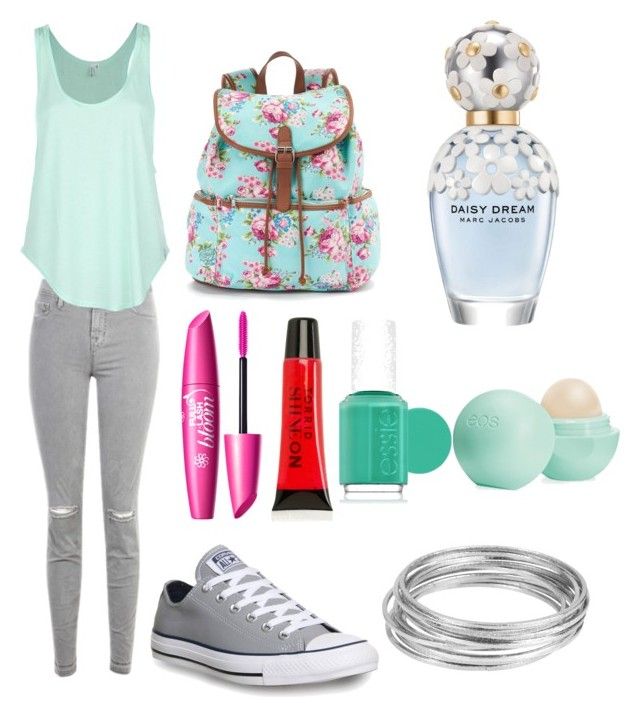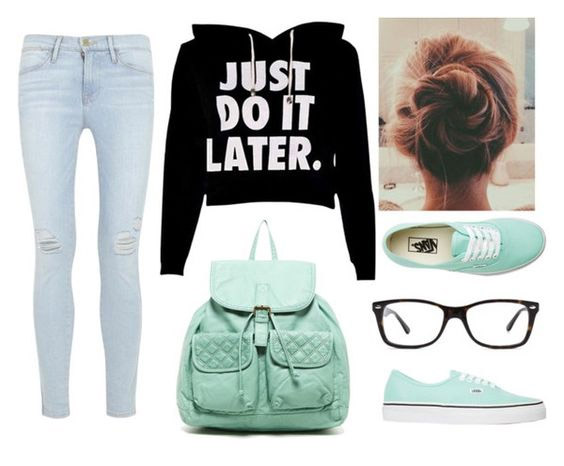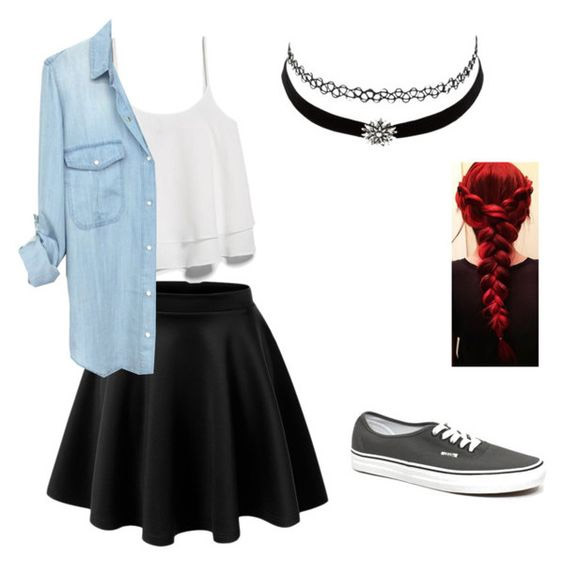 Which of these impeccable school looks are you inspired by? We'd absolutely  love to hear from you! Let us know in the comments what style you'd like to see us explore next.