Summer is here! Have you got any idea of what is trendy for this season? Why not take a look at what the celebrities are wearing? They may give you some wonderful inspirations. As we all know, skirts are the most popular pieces for every woman. Among all the skirts, the pleated skirts may be the most stylish options for summer 2015.
In this post, we would like to show you 12 chic pleated skirts outfit looks by celebrities. Their fashionable ways to match the pleated skirts are worth copying! Some are simple yet stylish, some are graceful and some are effortless chic… Just stay here and check out these 12 faddish pleated skirts outfit ideas.
Jennifer Aniston's Black Pleated Skirt Outfit
Jennifer Aniston looks so chic with this simple pleated skirt. The black pumps complete this stylish look. The all black outfit is a smart way for every woman to get the fashionable look and it will never be wrong.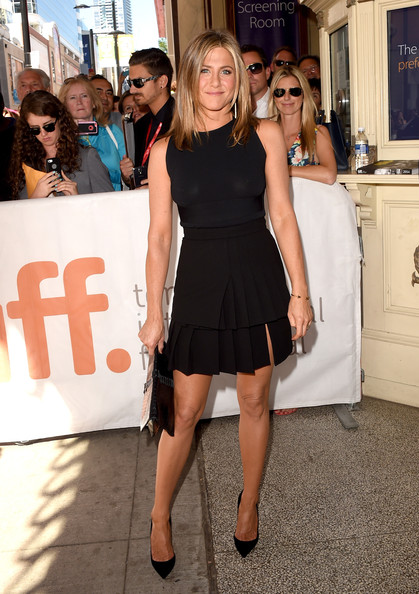 Du Juan's Pleated Denim Skirt Outfit
For younger women, the pleated denim skirt must be the best choice. You just need a simple white crop top to pair with it. This simple outfit will bring you an incomparably youthful look. When you go out late at night, a stylish black leather jacket will be another fashion piece you should own.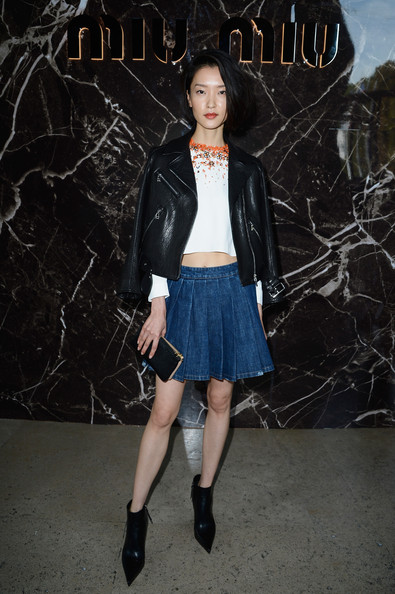 Aubrey Plaza's Pleated Midi Skirt Outfit
Mini skirts are quite fashionable by themselves while the pleated mini skirt will add more texture to your look. To match her black pleated skirt, Aubrey Plaze wears a printed T-shirt and a pair of pastel pumps, which is a fantastic outfit idea for all occasions.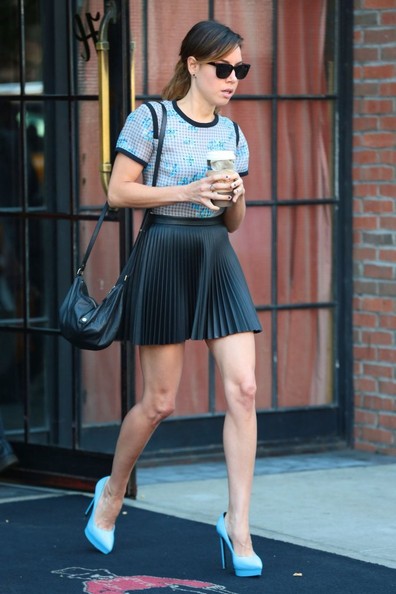 Zoe Saldana's Grey Pleated Skirt Outfit
Zoe Saldana looks graceful with the pleated skirt. The grey crop top adds more fashion elements to the integral look and shows her slender waist so well. You can buy the similar outfit if you want to look so charming.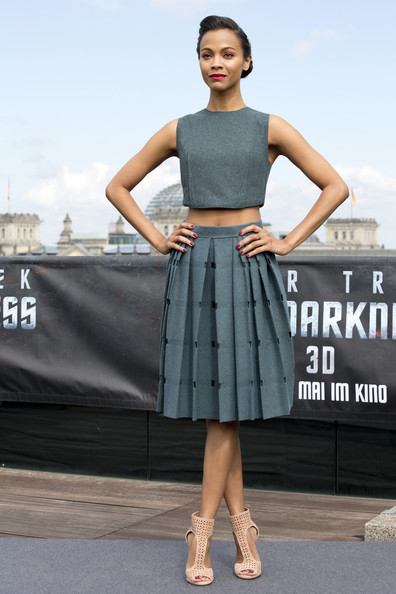 Jennifer Lopez Red Pleated Skirt Outfit
Although the full pleated skirt is quite beautiful, it's a bit conventional to some extend. To avoid look dull, you can learn from Jennifer. Choose the full pleated skirt in a brighter color and pair it with a simple yet sexy top. Some accessories will make your look even more fashionable. Got it?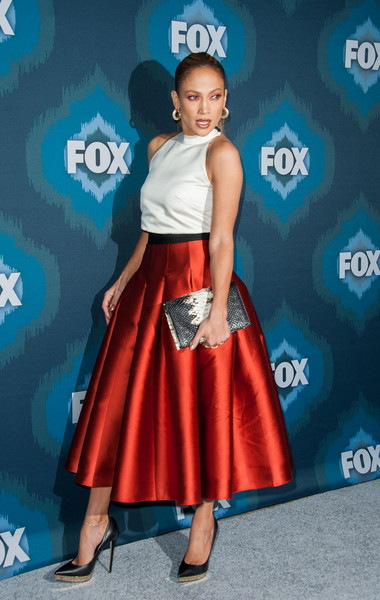 Victoria Beckham's Pleated Leather Skirt Outfit
All fashionistas like pleated skirts, including Victoria Beckham. The classic black and white combination is suitable for every occasion. Besides, the tixi pleated leather skirt are fantastic for every tall women to try. You will soon get a super model look when you put on such a stylish skirt.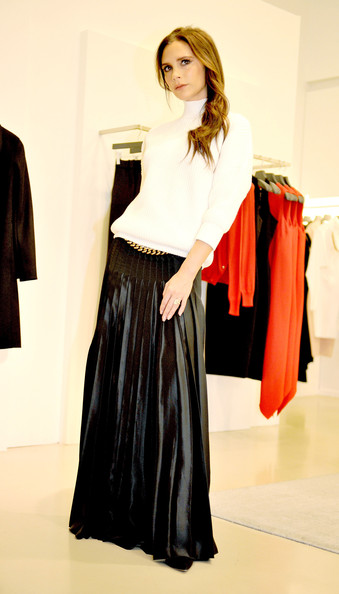 Shailene Woodley's Green Leather Pleated Skirt Outfit
For a cheerful look, you may try leather pleated skirts in some colorful shades, just like Shailene Woodley. The sexy black high-heel sandals is fabulous enough to complete such a chic look.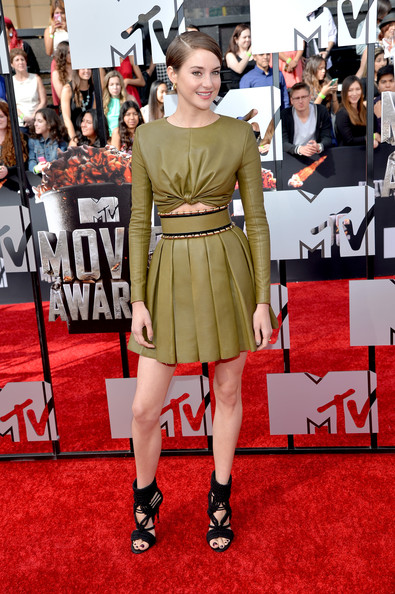 Rosamund Pike's Striped Pleated Skirt Outfit

Rosamund Pike is elegant with this pretty outfit. The simple yet fashionable look is great for work days.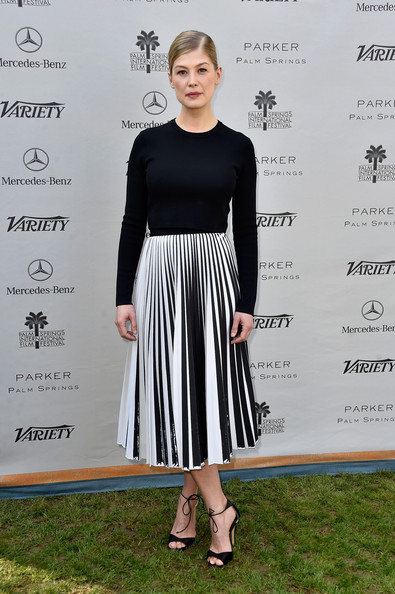 Miley Cyrus's Midi Pleated Skirt
When it comes to the leisure time, you can copy Miley's way to match a red and white striped skirt. The comic crop top makes this outfit lovely and interesting!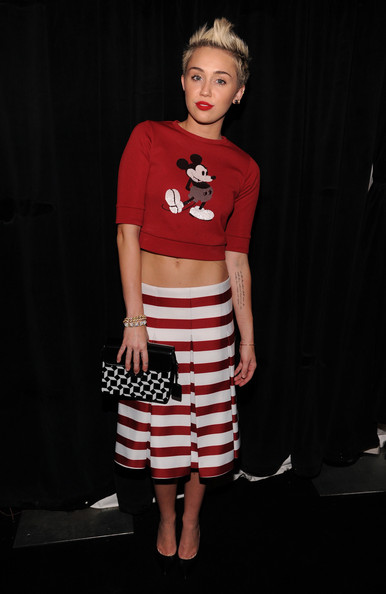 Leslie Mann's Sweet Pleated Skirt
Leislie Mann looks radiant with this pretty suspender skirt. The brown pumps with an ankle strand so work well to match this fairy look. This outfit look is full of femininty and elegance. Women will be popular everywhere they go with this stunning outfit.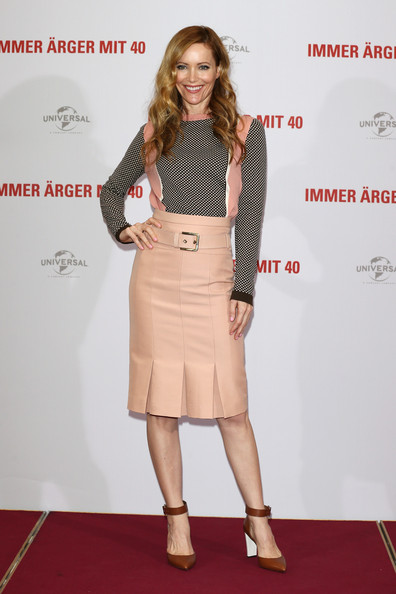 Emma Stone's Pretty Purple Midi Skirt Outfit
In my personal opinion, the purple pleated skirt outfit will look much more comfortable and fashionable it Emma just puts on a pair of black sandals instead of these showy stockings and thick knee-length boots. Do you agree?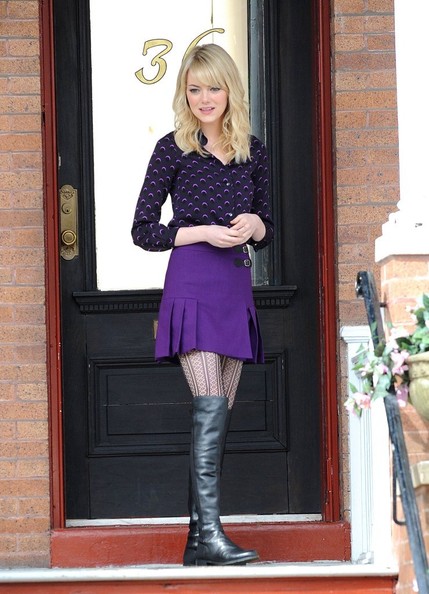 Kate Middleton's Elegant Pleated Skirt Outfit

Kate Middleton tells you how to wear the all black outfit in a more graceful and feminine way. Just a pleated black skirt will be the best answer! All office can copy this outfit, including her hairstyle and makeup look.