Braids are so incredibly fashionable as of late, and with each season more and more different ways you can work them are becoming go to hairstyles. We love side braids in particular, because of how practical they are in keeping your hair off your face, but also how glamorous and stylish they are too! Styles Weekly have gathered some of our favourite side braid ideas for you to incorporate into your day to day look.
Front to Back Blonde Side Braid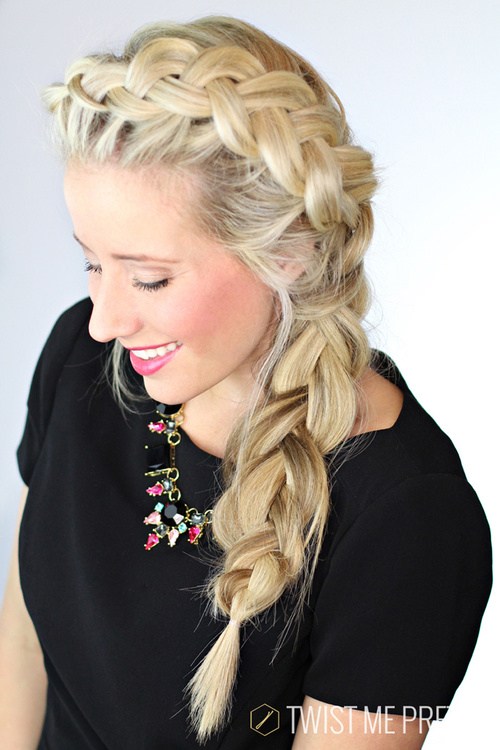 This gorgeous hairstyles is one of our favourite from the entire collection of side braids. This utterly stunning blonde hair is full of gorgeous highlights, which are showed off by this amazing french braid which gathers all of the hair and works from one side of the head right round to the other, keeping the fringe tied back too. This look is glam and gorgeous.
Twisted Loose Side Braid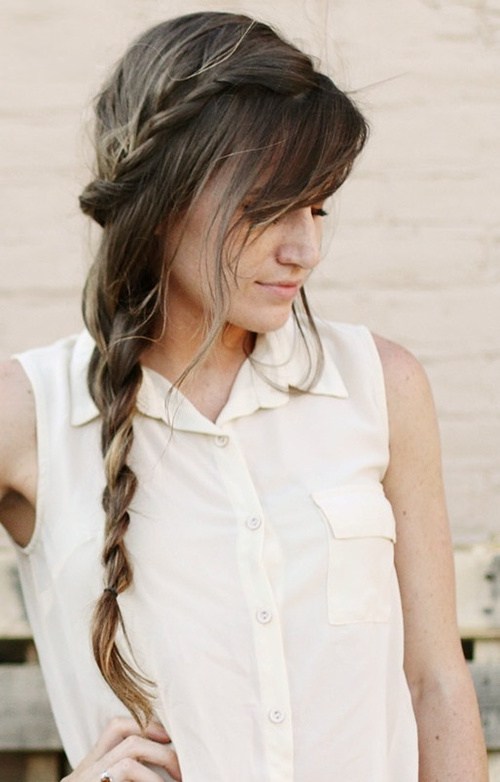 This lovely and romantic hairstyle has truly stolen our hearts. This gorgeous girl's hair is a lovely brown which is run through with lovely blonde highlights, and an amazing and loose fringe which falls to the side. She's twisted a section of the top of her hair and brought it into this lovely twirled side braid which falls lovely and long down one shoulder.
Red Twisted Side Braid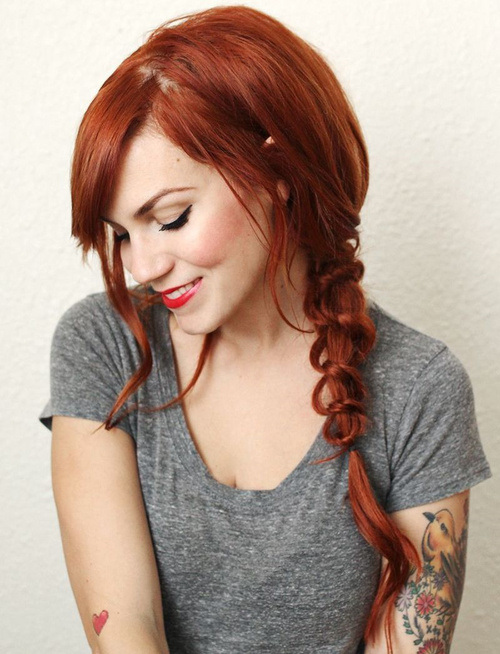 This utterly stunning lady has the most gorgeous shade of red hair that we ever did see. This glorious copper shade graces her beautifully soft curly hair and we have serious hair envy – especially thanks to this amazing side braid! The curls fall softly around her face, and the bulk of the hair is worked into this unique and elaborate braided style.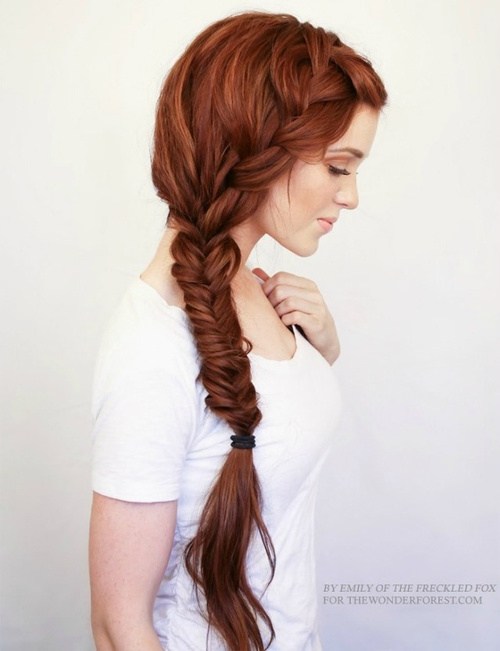 Another utterly gorgeous copper style which we adore, this lady is also blessed with fiery red locks which are simply to die for. It's highlighted with a lighter shade of copper, which looks utterly stunning when worked into this amazing side braid from the fringe section. It then blends into a fishtail section which falls down one shoulder in a gorgeous fashion.
Chunky Balayage Side Braid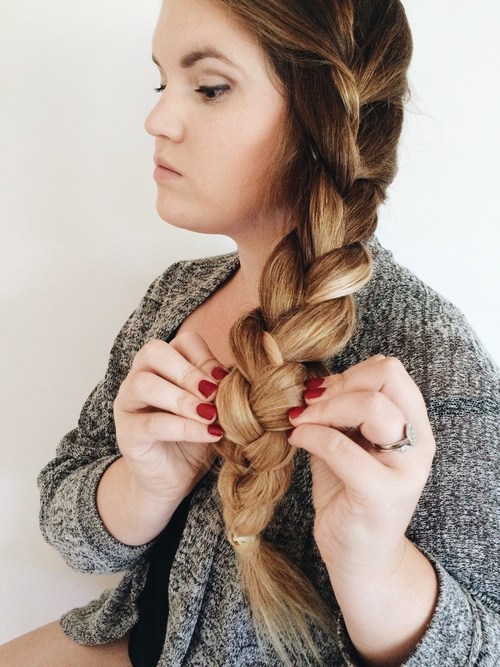 This lucky lady is blessed with the most beautiful thick hair, and when she's worked it in to this incredible chunky side braid it shows off her gorgeous locks even more! A balayage blend from a dark brown to a gorgeous and light blonde perfectly accentuated by this incredible braid. It works right from one side of the head and down one shoulder.
Knotted and Twisted Side Braid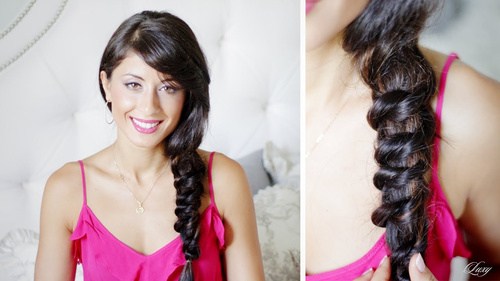 This utterly beautiful and fashionable lady has created one of the most incredible and innovative side braid we ever did see.She's worked her rich brown locks into a unique knotted side braid with lots of different strands creating this fantastic finished style. She's left her sweeping fringe to fall across the forehead and frame the face perfectly.
Elaborate Blonde Side Braid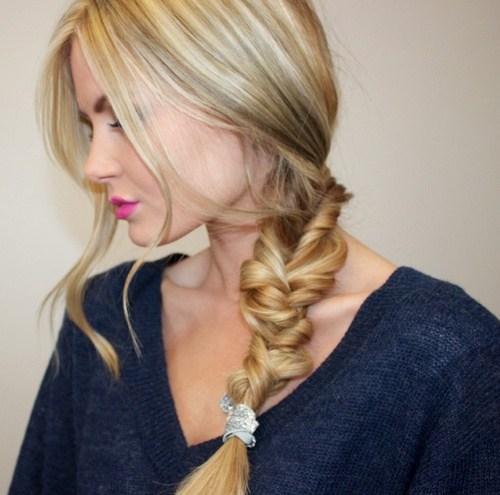 This stunning lady has an incredible collection of blonde highlights throughout her hair, creating a blonde hue full of bright, bleach and caramel shades blending together. She's loosely curled the hair throughout and left a few strands falling around the face, working the rest into this twisted and elaborate french braided style which falls down one side.
Balayage Fishtail Braid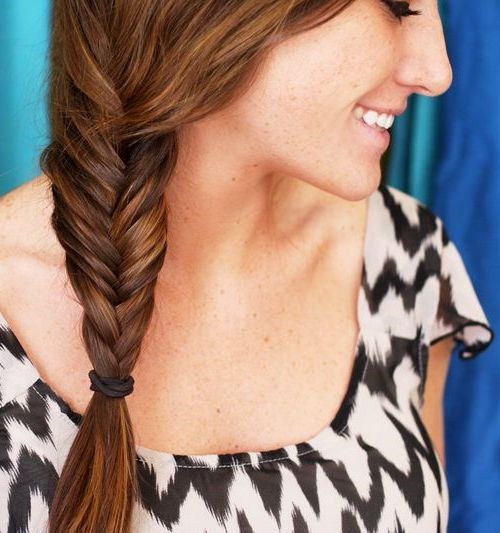 This absolutely stunning balayage look blends two shades of brown together in this glorious finished style; working a dark and rich brown with a copper toned brown together perfectly. To show off these colours, this lady has created a gorgeous fishtail braid to the side which results in this super practical and stylish end result.
Cute Side Braid with Hair Down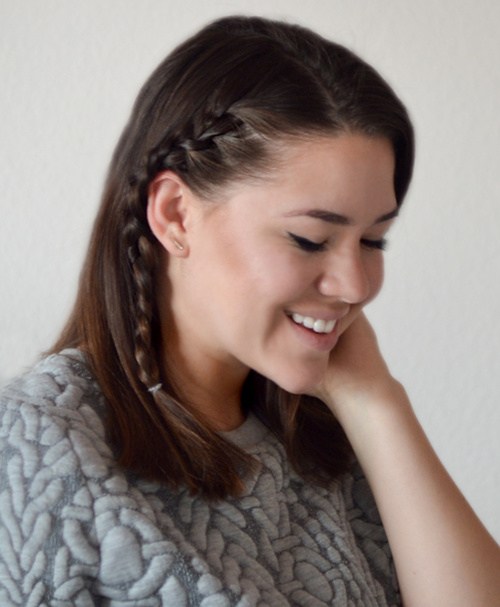 It's easy to work a stylish side braid into your style without using all of your hair – like this incredible lady has proved! She's worked the front section of her hair into an adorable side braid, which is fastened around the jaw level and left to hang with the rest of the hair, which is straight, sleek and glossy – looking gorgeous in that rich brown colour.
Glossy Graduated Side Braid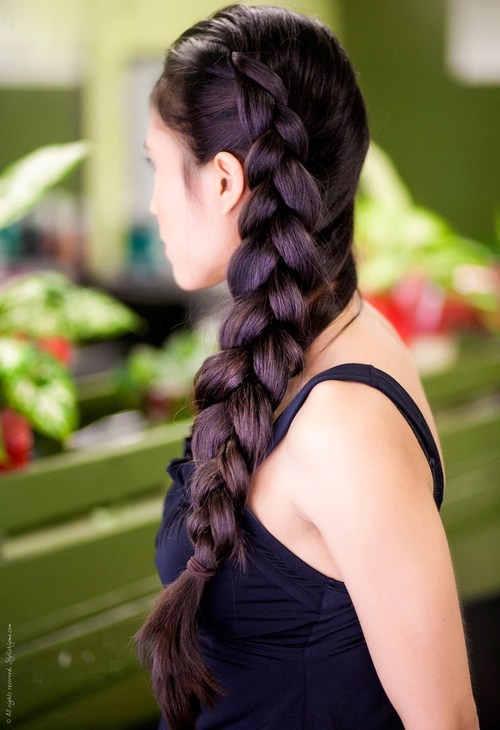 This lady's hair is simply incredible. Not only is it long and thick, but it's oh so glossy too! The condition is to die for. A rich and deep mahogany brown, she's worked an incredible french braid from the top to the bottom of the hair on one side, showing off the gorgeous natural sun kissed highlights throughout. We think this look is perfect!
Side Swept French Braid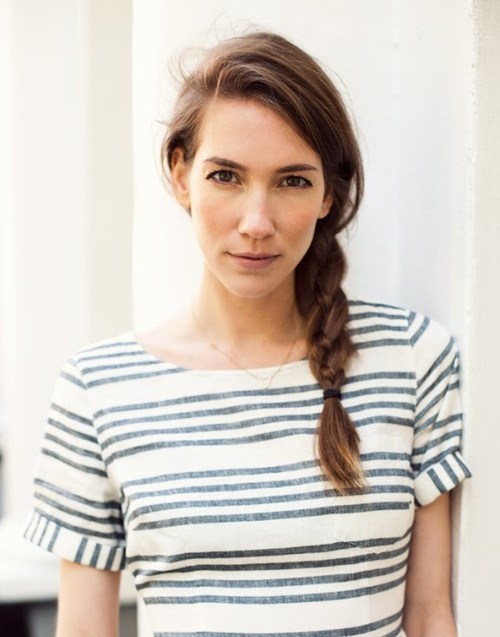 This stunning lady has the most fashionable French inspired style and we simply adore the finished look! She's opted for a deep side parting, which allows her hair to sweep over to one side. She's then fashioned a gorgeous side braid with a pretty twist running throughout, falling down one side of her shoulder. We love this easy and relaxed look.
French Braided Fringe Section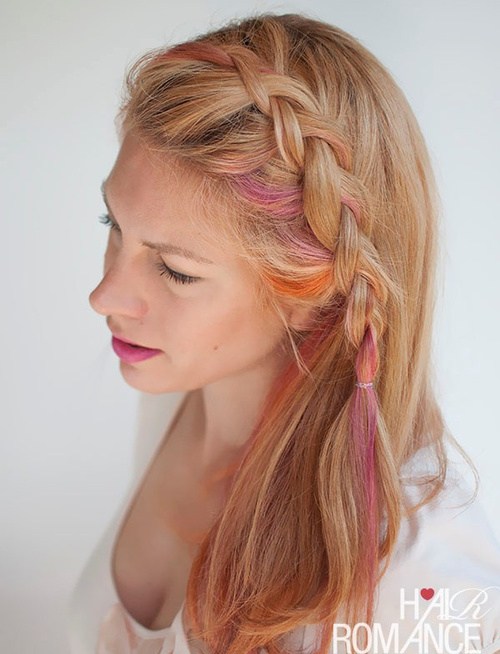 This utterly gorgeous hairstyle is a lovely and natural shade of strawberry blonde, but this gorgeous girl has included hot pink and orange highlights throughout to bring some personality to her style. She's showing off these gorgeous colours at work by working a striking french braided section throughout the front of the hair, fastened just below the ear.
Beautiful Blonde Side French Braid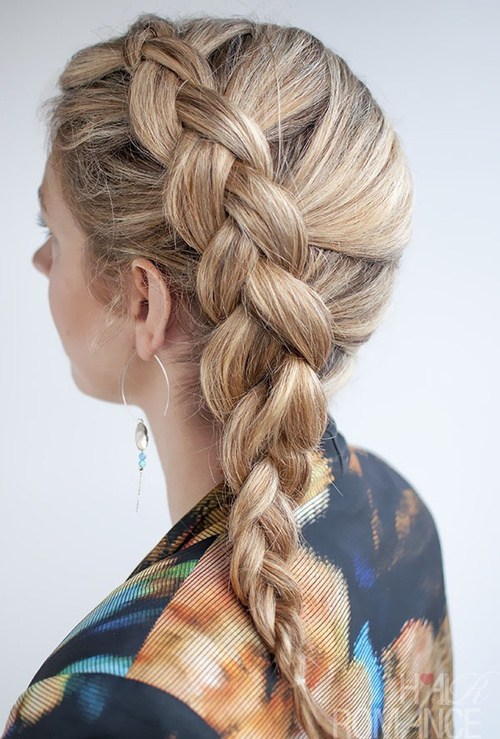 In a completely edgy and contemporary finish, this gorgeous side braid is one of our favourite looks from this entire gallery. She has beautiful blonde hair which is absolutely full to the brim of natural highlights. A french braid typically runs straight down the middle of the head, but this lady has worked it to the side and we just love it.
Knotted Ombre Side Braid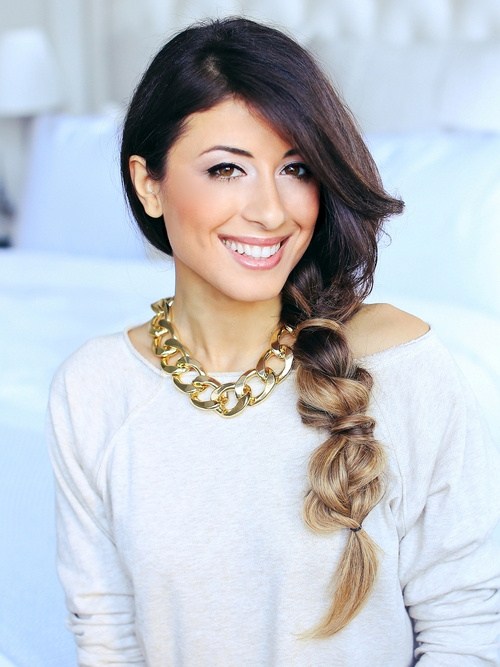 Another glorious style to add to our gallery. This stunning lady has worked a beautiful honey shade of blonde through an ombre transition into her rich and dark brown hair, and has chosen this elaborate and romantic side braid style to show it off! Sweeping the hair to one side, she's created this unique and stylish look that we simply adore.
Twisted Fringe Side Braid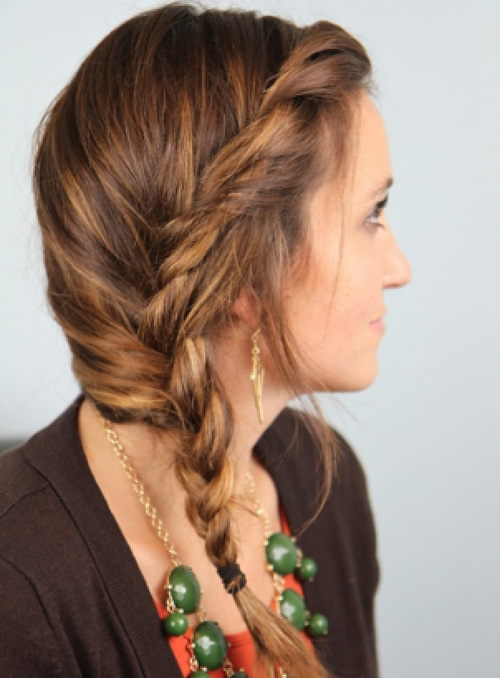 This absolutely incredible hairstyle works the full length of the hair into the side braid that we know and love – including the fringe too! She's twisted the fringe back in a gorgeous fashion, blending it in to the french braid which shows off her beautifully highlighted brown hair to perfection. The braid falls down one side of her shoulder with ease.
Pulled Blonde Side Braid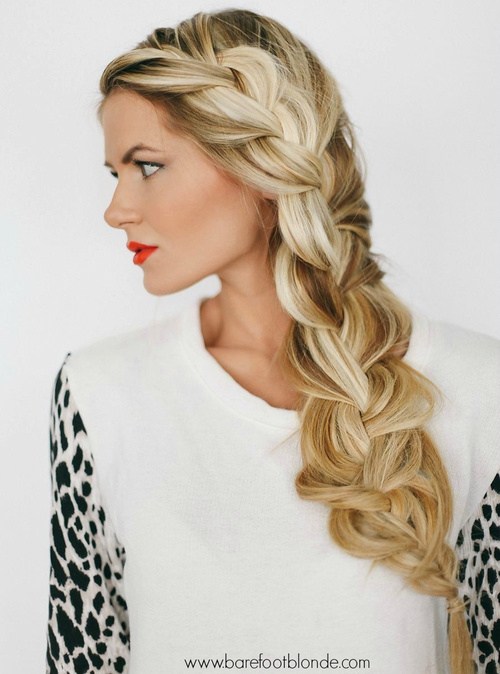 In the most dramatic and romantic style from the whole bunch, this lady has totally stolen the hearts of the Styles Weekly office. This incredibly long and thick blonde hair is full of natural looking highlights, and this fashionable lady has created this stylish side french braid, which she's pulled sections loosely from to create this amazing look.
Adorable Thin French Braid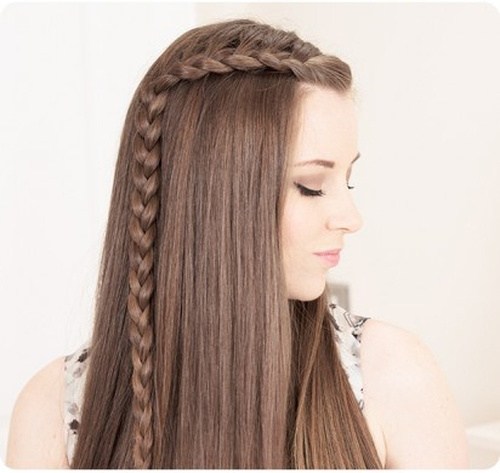 This beautiful and rich brown hair is long, glossy and straight, and we simply adore it! To contrast the sleek and straight style, this adorable lady has worked a gorgeous french braid from the fringe section of the hair, back to one side and let it fall down. We think this looks absolutely fantastic, and it's great to see a thin french braid as opposed to thick ones!
Unique French Braid Twist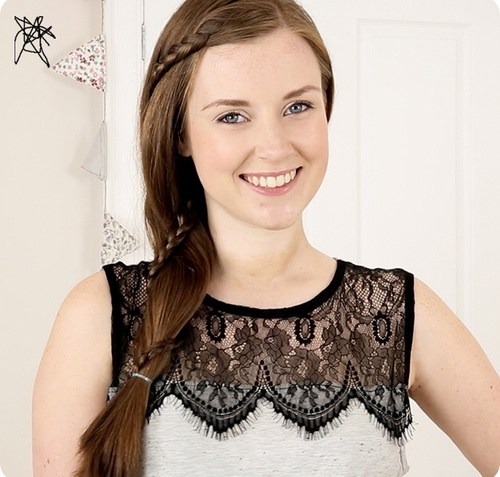 This utterly gorgeous girl has created a cool and contemporary side braid style that is so simple yet so unique at the very same time. Her deep copper hair has been swept to the side, where she's worked one thin french braid from the root to the tip of the hair. She's wrapped this braid around her hair to create this cool twisted style and fastened it for a fabulous finish.
Thick Blonde Side French Braid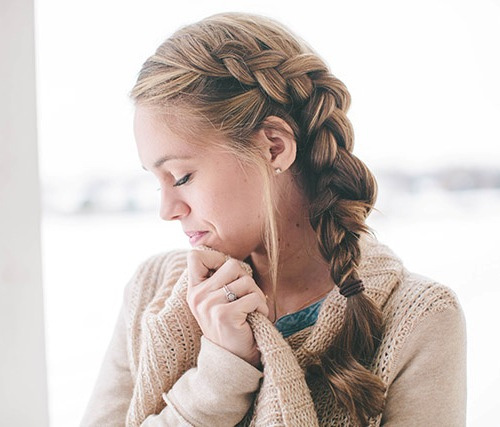 This lovely lady looks incredibly cute and comfortable in her cosy jumper, and this chunky french braid style she's chosen to finish off the look is perfect for a casual and relaxed sense of fashion. She's worked her gorgeous and thick blonde highlighted hair into this wonderful french braid which runs on one side of the head, and we couldn't be more in love with the result.
Entwined Low Side Braid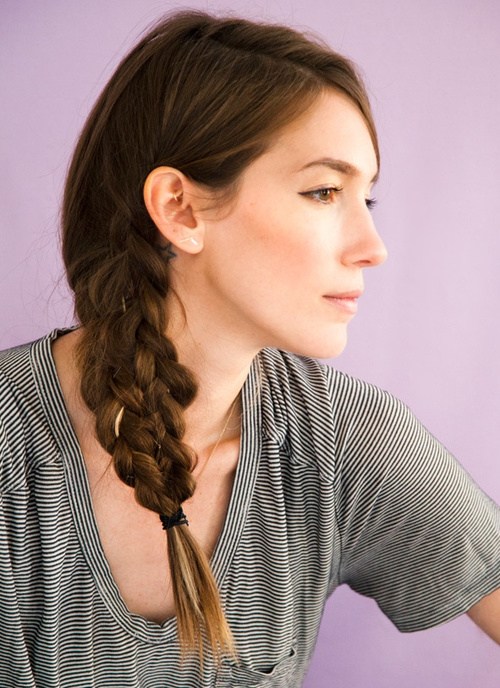 In a style which is completely and utterly unique, this gorgeous lady has created a look which we simply cannot get enough of – it's just perfect for a special occasion or formal event! Her beautiful brown locks are glossy and shiny, and she's created this elaborate entwined side braid which is incredibly complicated to master, but worth it for this result – don't you think?
Which of our side braided looks are your favourite? We'd love to hear which of our looks you'll be trying out in your own time! Let the Styles Weekly office know which styles you'd like us to explore next.