Ask pretty much any fashion stylist what a staple in a woman's wardrobe should be and there's a pretty good chance that one of the things that are going to mention is a maxi skirt. It's long. It's feminine. And any body size can pull it off. Plus, you can dress it up or do in just a matter of moments.
But if you've been thinking about tossing the one or two that you have simply because you haven't found any new or creative ways to wear them, don't give up just yet. Try out a couple of these looks. You'll never see your maxi skirt quite the same way again.
1. Maxi skirt and cardigan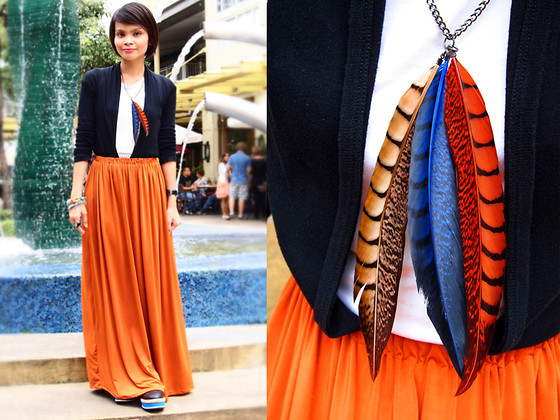 Way way to wear a maxi skirt once the weather gets cool is with a cardigan. You can put a blouse underneath it or even a tank top with a scarf around your neck.
2. Maxi skirt and a big hat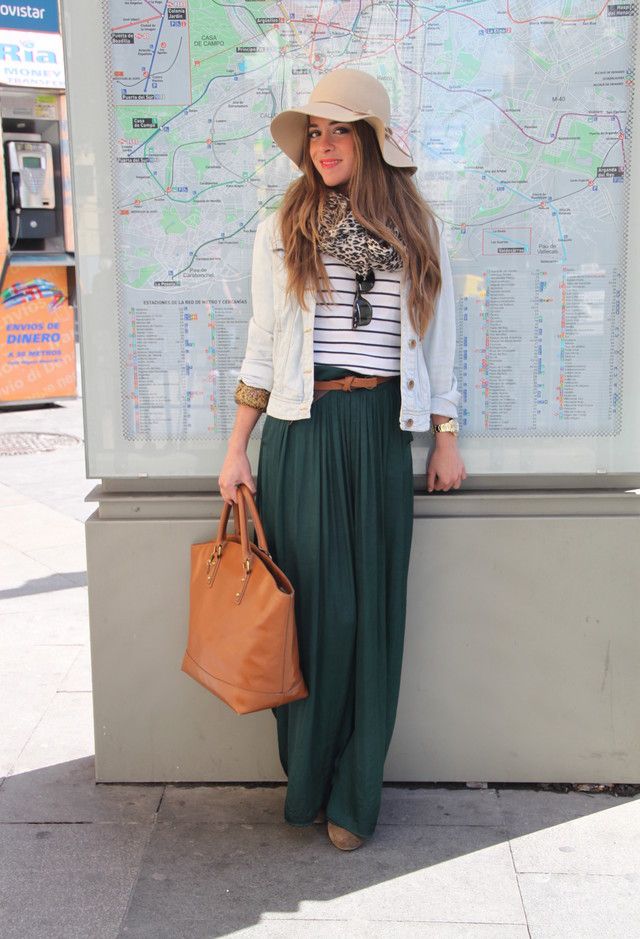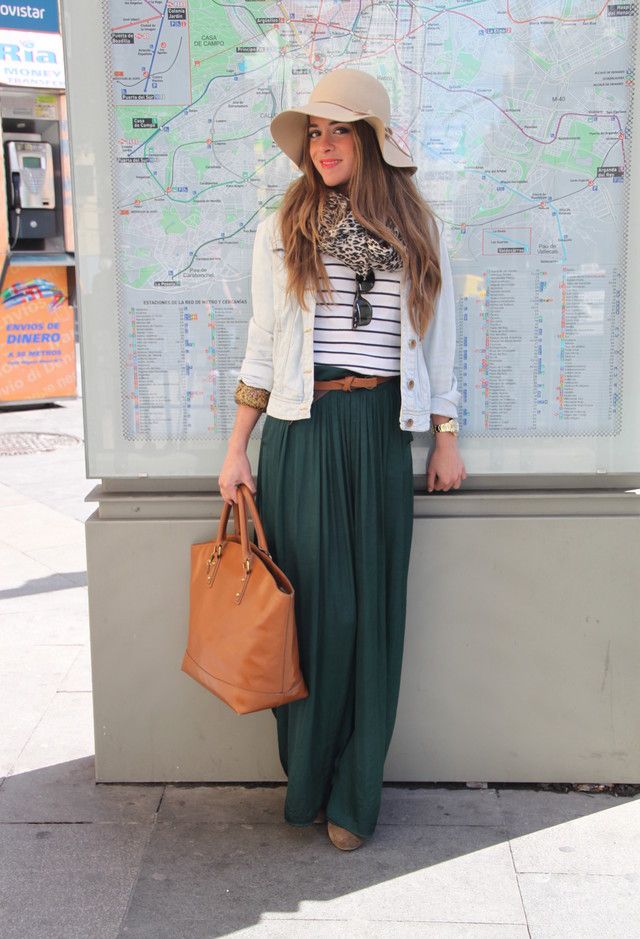 This is another way to make a maxi skirt work in the fall or winter. Layer it. And don't forget your leather top and big floppy hat.
3. Maxi skirt and off shoulder top


For a day at the beach, you can make a maxi skirt work. Just make sure that it's made out of a super light material like organic cotton and that it either has a slit up the side(s) or front of it.
4. Maxi skirt and long cashmere coat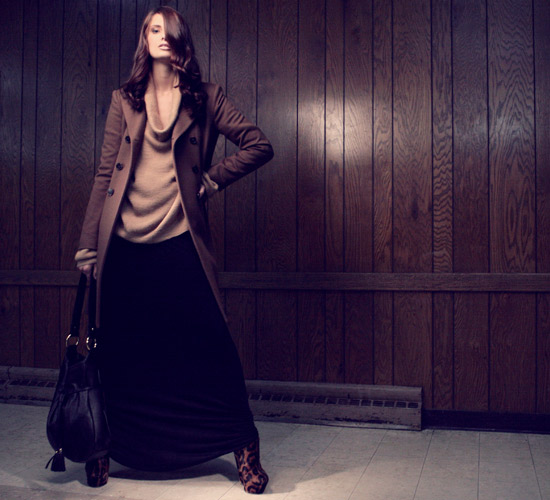 This is a super stylish way to wear a maxi skirt to work in the wintertime. All you need is a turtleneck and a long cashmere coat.
5. Maxi skirt, blazer and belt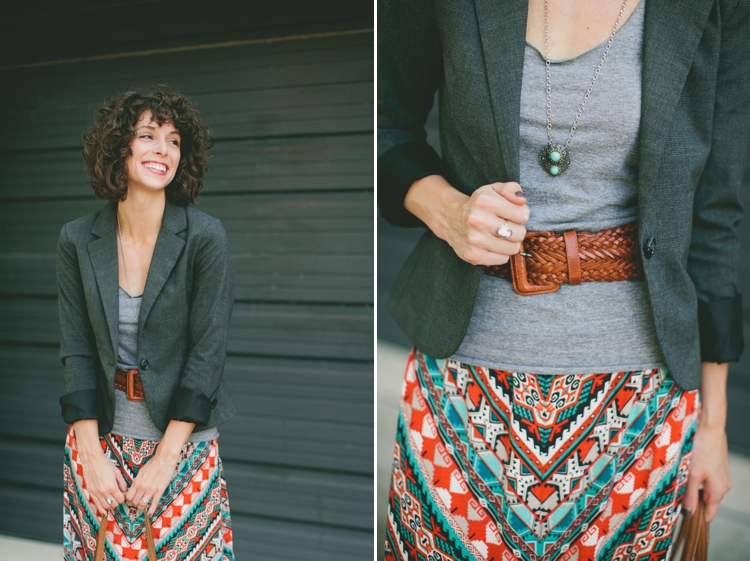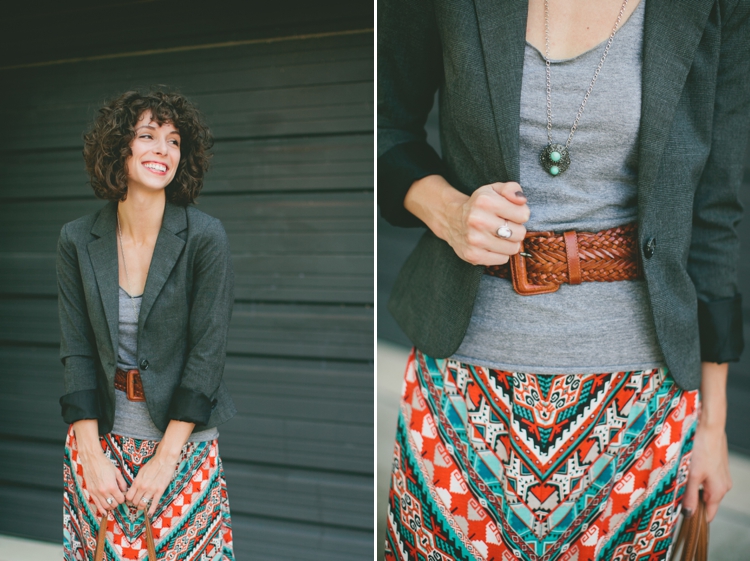 If you're concerned that all of the fabric of a maxi skirt could take away from some of your body definition, no worries. Just put on a belt and a tailored blazer. Problem solved.
6. Maxi skirt and tank top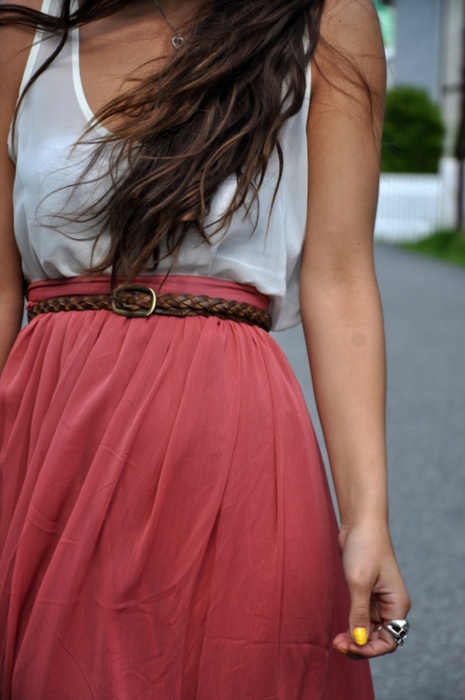 This is a classic way to wear a maxi skirt on a hot day. All you need is a tank and some sandals.
7. Maxi skirt and combat boots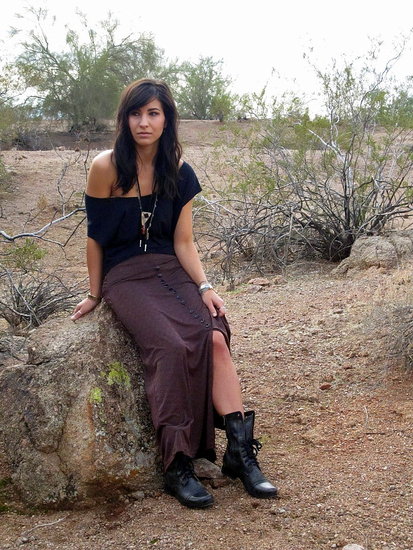 This is another great look for a maxi skirt, especially if you're someone who wouldn't consider yourself to be "super girlie". Rock it out with some cowboy or even combat boots. (Tip: make sure to do this with the kind of maxi skirt that has a slit. Otherwise, your boots could keep getting caught up in the skirt!)
8. Maxi skirt and poncho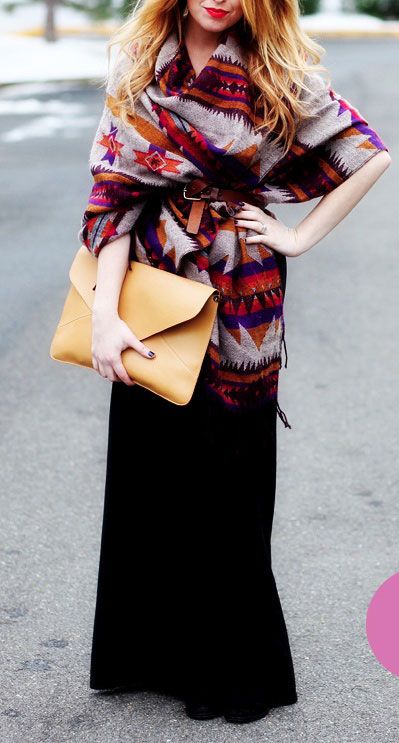 If initially you're thinking "A maxi skirt and a poncho? That sounds like overkill", we feel you. The key is to not wear a poncho that's too big and then to tie a belt around your waist. That's what pulls everything in together and makes the combo work so well.
9. Maxi skirt and crop top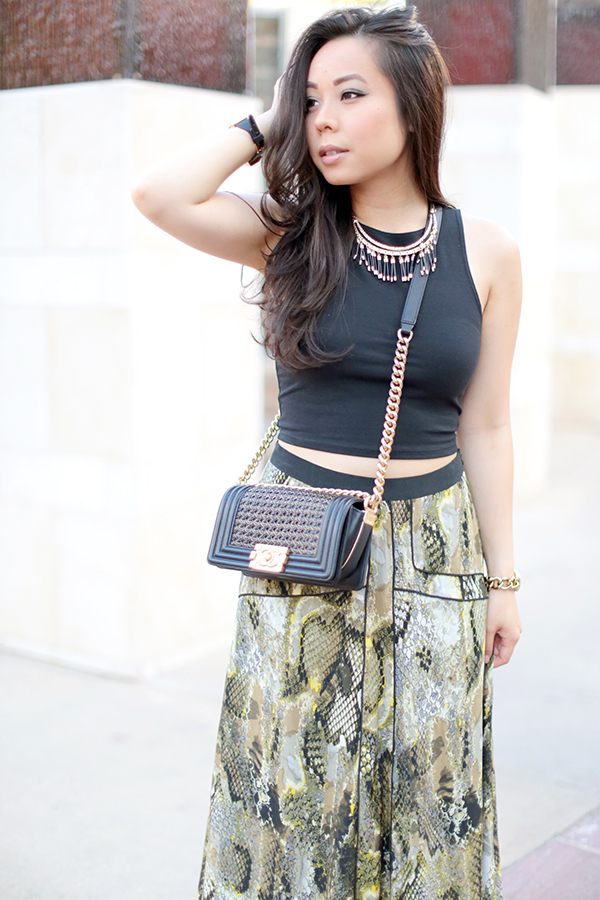 If you've got a bit of a tummy bulge, one way you can still wear a crop top is to put on a maxi skirt with it. The skirt will cover the part of your belly that you'd prefer for no one to see. At the same time, you'll still be able to show off some skin in the tummy region.
10. Maxi skirt and sweater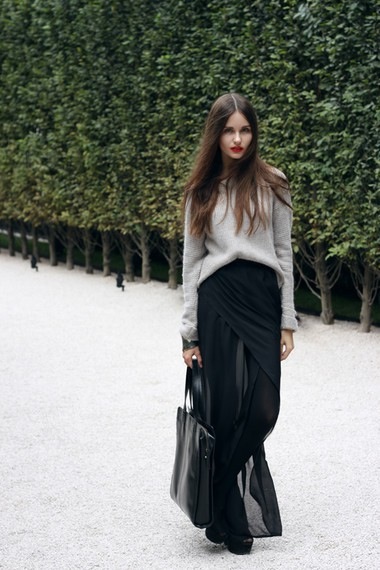 If you happen to have a sheer maxi skirt, you can still wear it in the snow. All you'll need to do is put on some leggings or opaque tights along with a pair of boots underneath. Oh, and don't forget to wear a sweater like this one too.
11. Maxi skirt and headband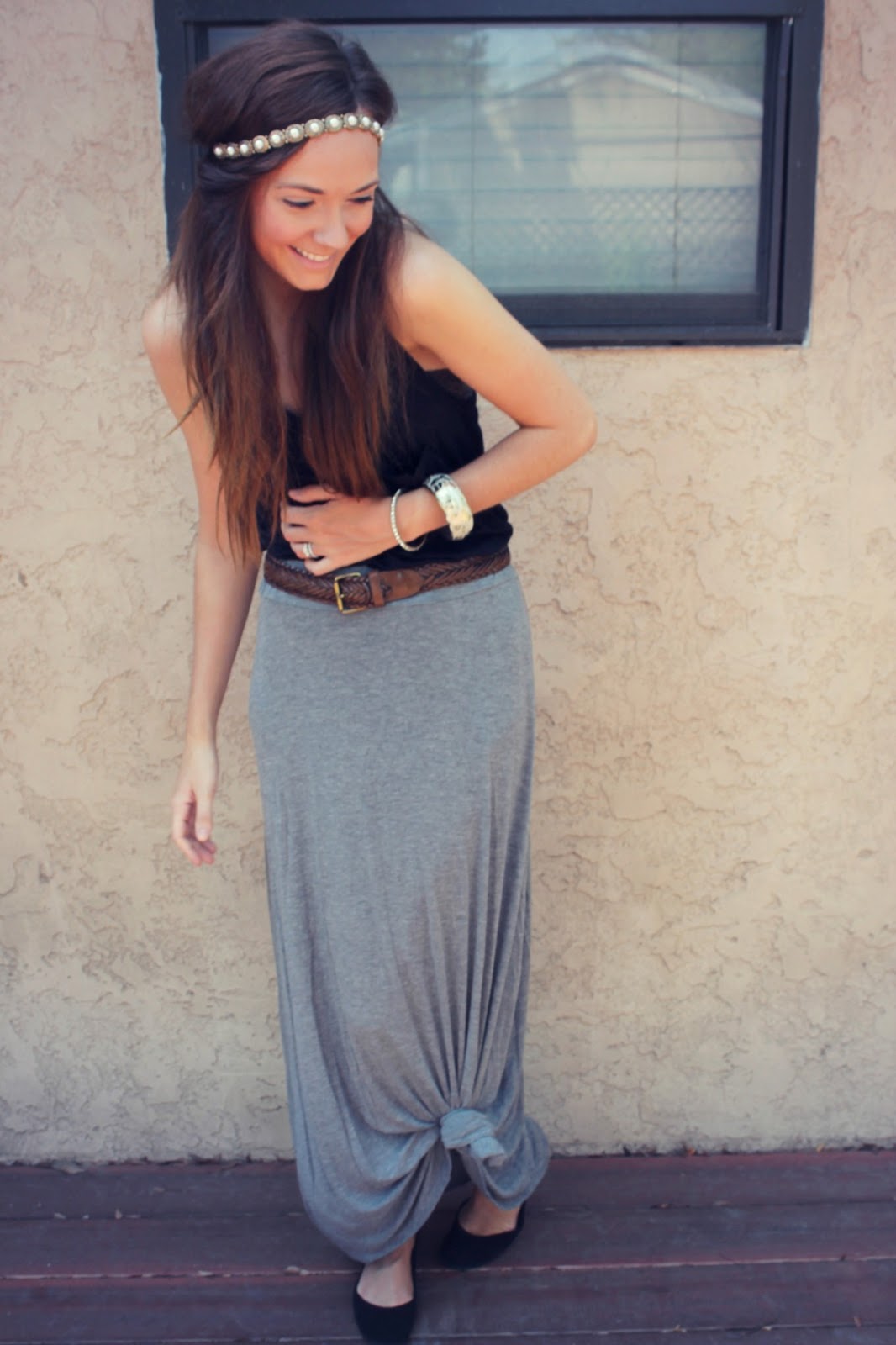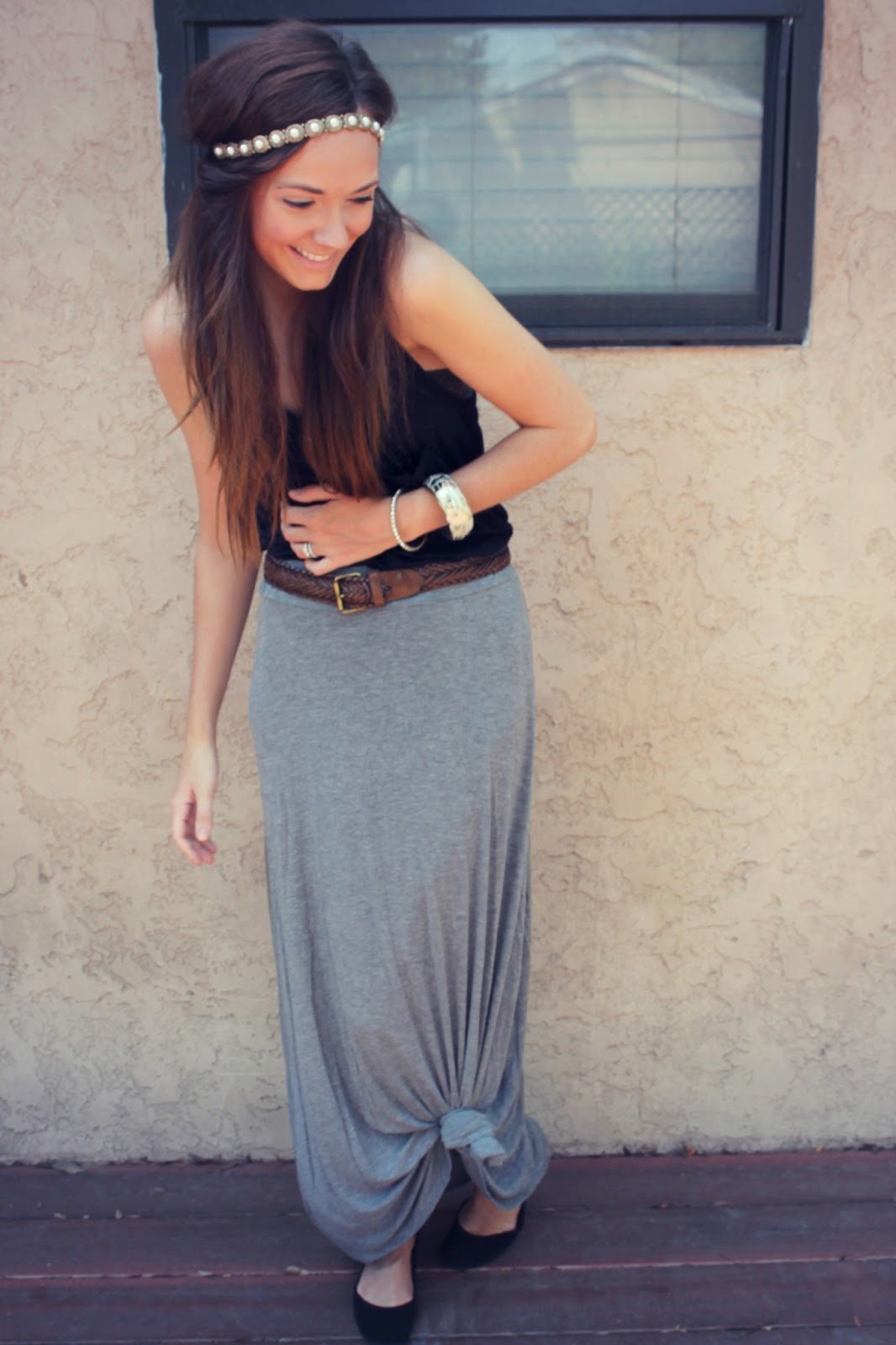 Sometimes making an article of clothing work for you is all about the accessories. This headband is one way to go. It's a quick and easy way to look totally Bohemian.
12. Maxi skirt and sequin jacket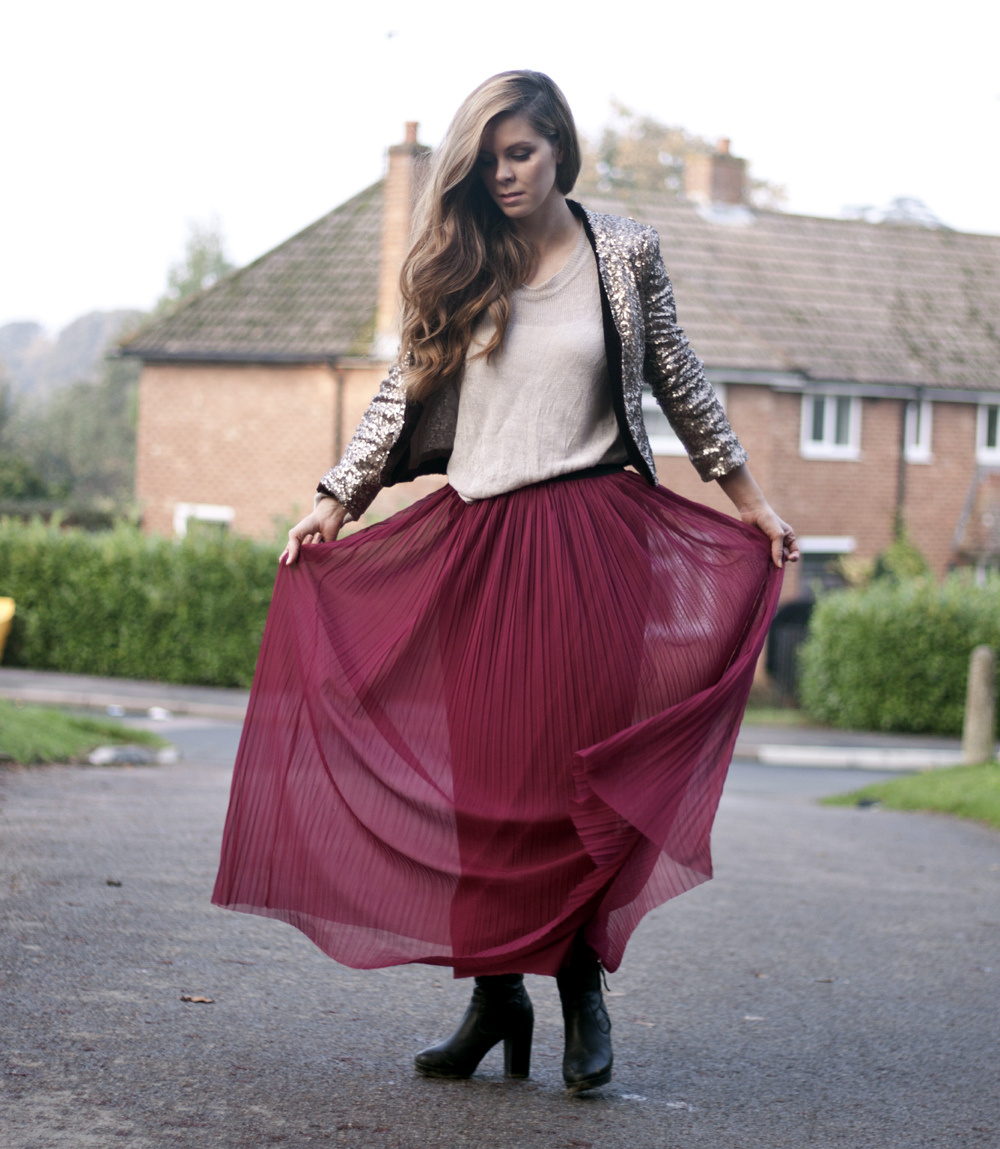 Do you want to dress up your maxi skirt a bit. A sequin top or even a sequin jacket will easily do it for you.
13. Maxi skirt and graphic tank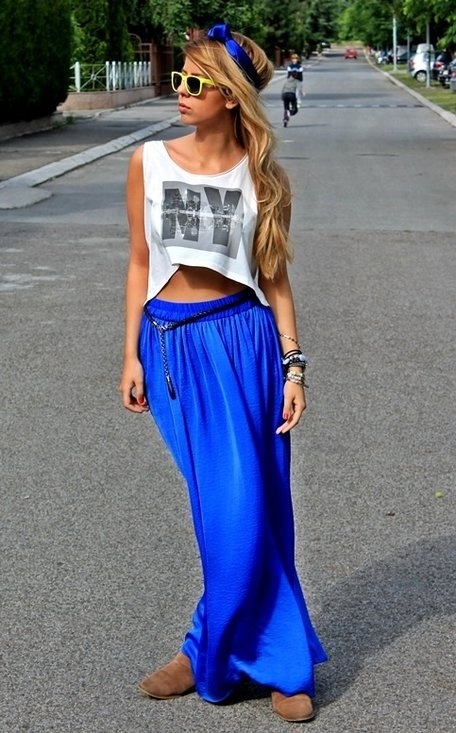 This is a great urban look. Whether it's a T-shirt or tank top, ones that have messages on them always add a bit of slick edginess to a maxi skirt.
14. Maxi skirt and canvas sneakers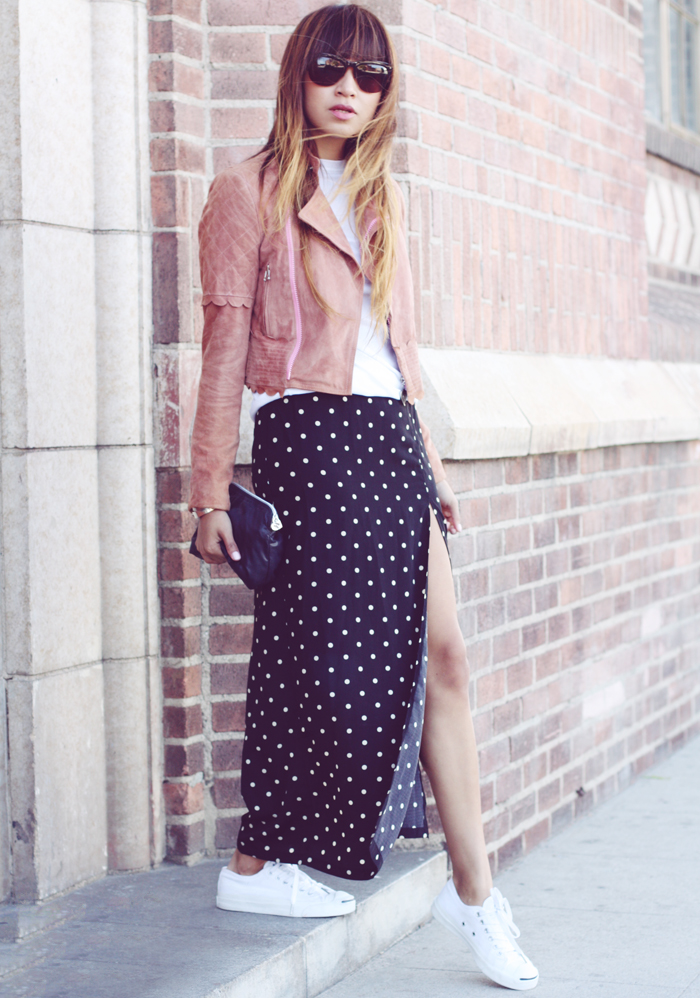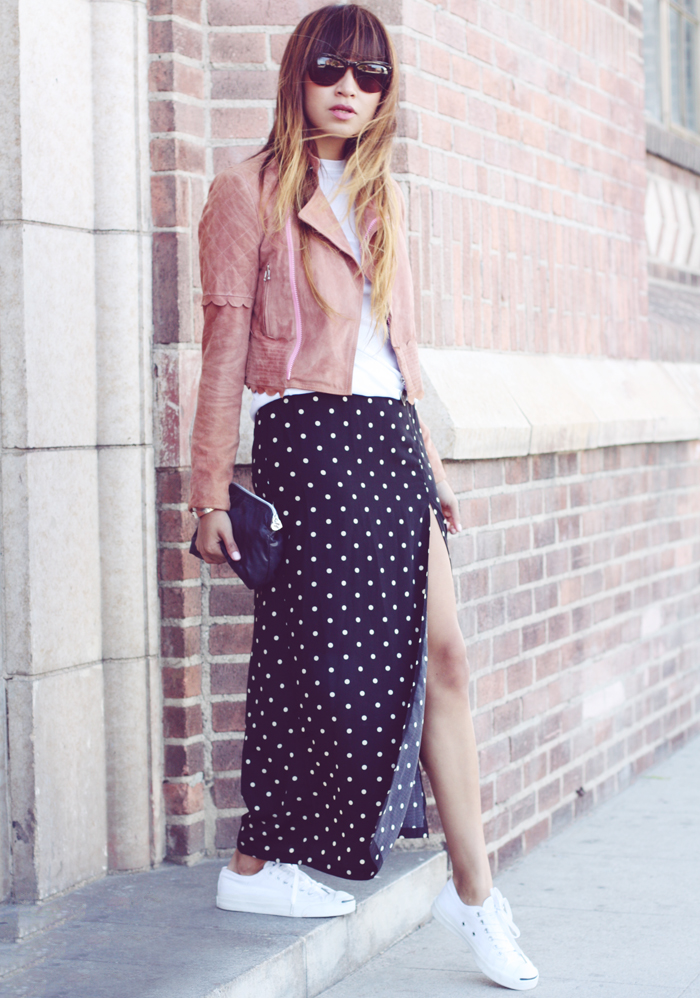 Here's a comfortable way to wear your skirt. Just throw on a pair of canvas sneakers.
15. Maxi skirt and turtleneck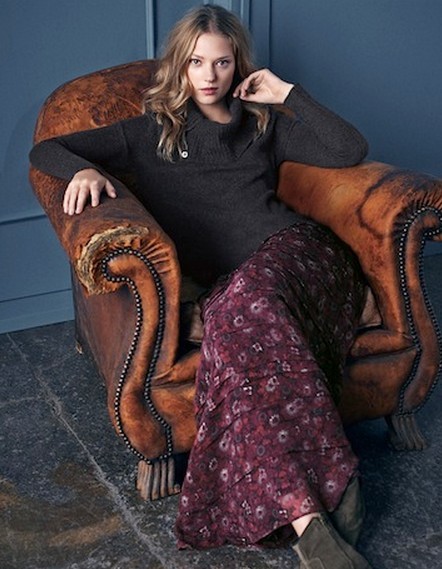 And still another warm way to wear your maxi skirt. Our recommendation is to either wear a fitted turtleneck or a sheer one. And rather than flats, put on a pair of high heel boots. Then you're just right.
16. Maxi skirt and jean shirt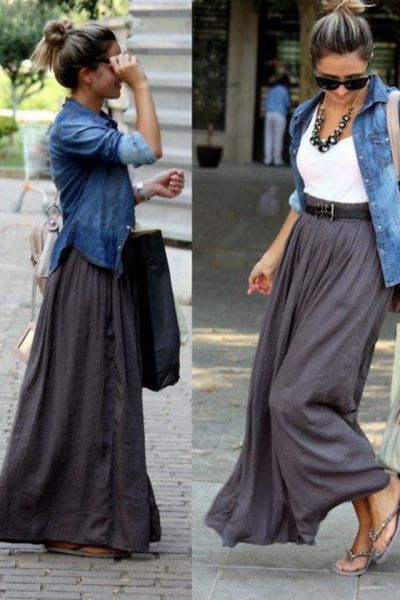 This is one way that you can wear your maxi skirt all year-round. Jean shirts are a great article of clothing when it comes to layering.
17. Maxi skirt and lace top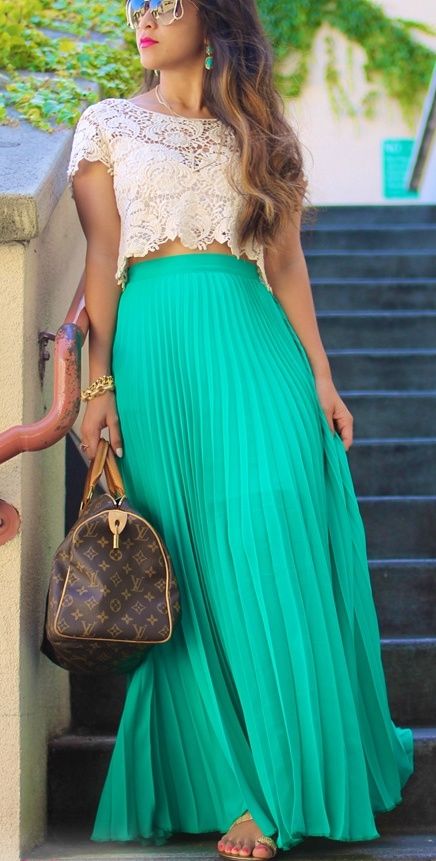 Got a wedding coming up? You can wear your maxi skirt to it. All you need to do is put a lace top like this one on.
18. Maxi skirt and leather jacket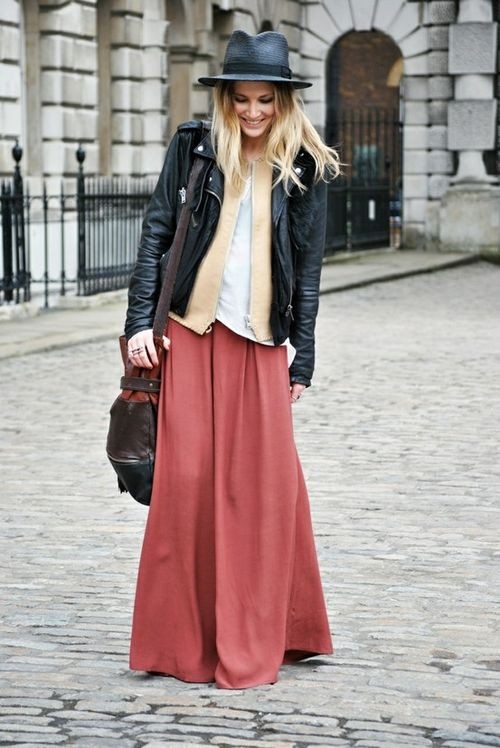 One way to modernize your maxi skirt is to pair it up with a leather jacket.
19. Maxi skirt and cardigan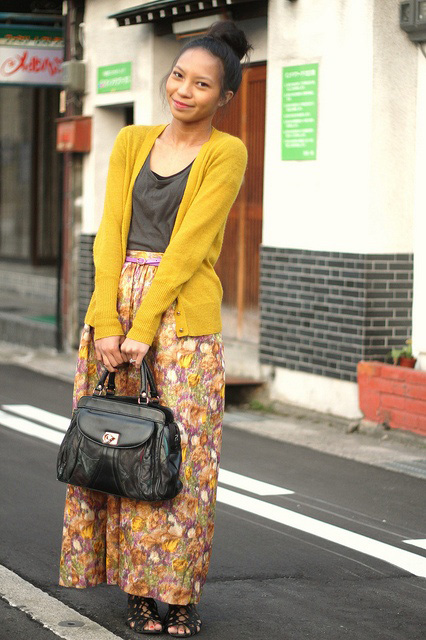 Cardigan are always delightful with maxi skirts. Just try and make sure that the cardigan is not the same color (or pattern) as the skirt. Otherwise, it could make you look a little too "blocky".
20. Maxi skirt and bustier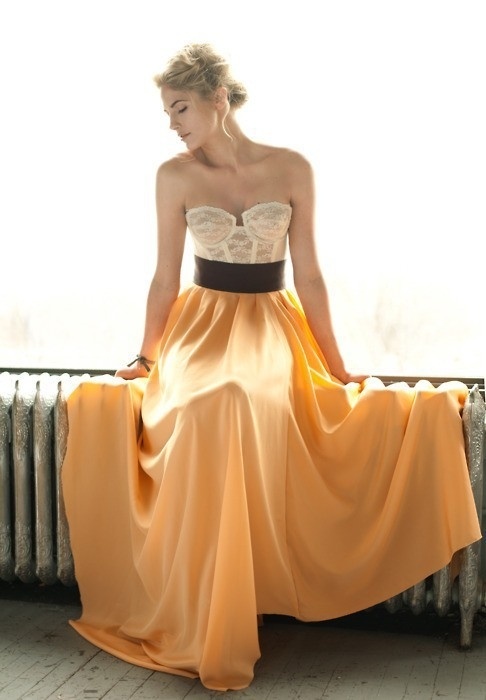 And then there's the really (REALLY) sexy way to wear a maxi skirt. If you've got a nice date coming up, he'll absolutely love (LOVE) you in this!