It is time for you to get yourself a new 'do? If you know that you don't feel like going as short as a pixie cut and, at the same time, you're not interested in having super long locks either, there is a (pardon the pun) happy medium. You can always go with a bob.
Before you shrug it off as a viable option, remember that bobs are high hair fashion while at the same time, they're a look that's pretty low-maintenance too. Plus, depending on the exact length that you choose, you can still put it back in low ponytails, if you'd like.
NOW are you interested in looking at some new styles? If so, here's a collection of short and medium-length ones that have definitely caught our attention!
Dark brown bob with caramel highlights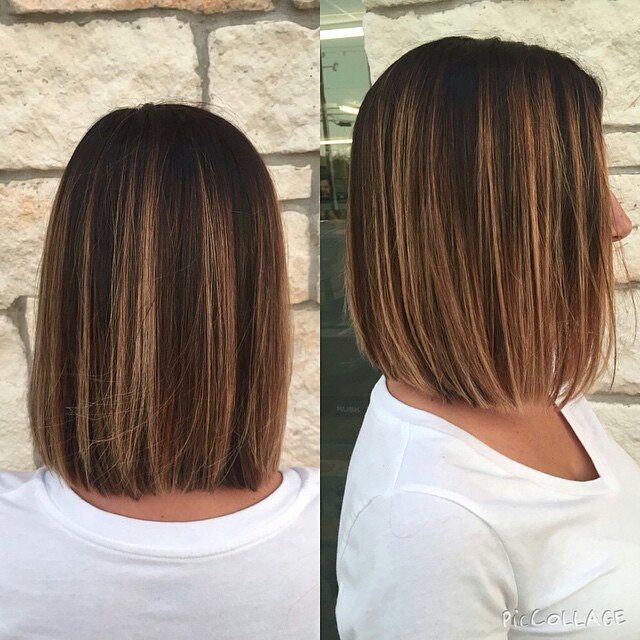 Simple easy daily blunt bob haircut for medium length hair. Whether you decide to get highlights or low lights, one color that will never (EVER) steer your wrong is caramel. It's very natural-looking and it looks good on pretty much any woman of any age. Here's just one example. Pretty delightful on a blunt lob, wouldn't you say?
"Messy" platinum lob with natural roots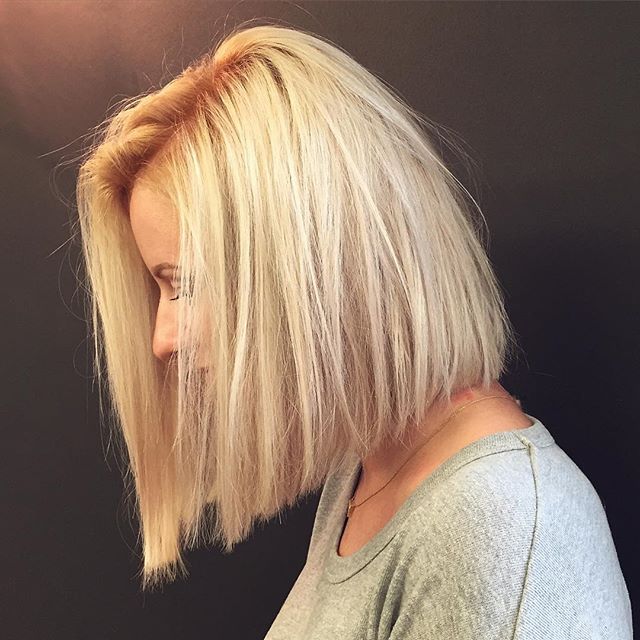 Blunt bob hairstyle for short hair. All in all, it's a blunt bob. But because it has a few "random layers" all throughout it, it also gives somewhat of a messy look and feel too. That's cool being that "messy hair" is currently trending. So are the natural roots that are showing up top.
Lavender, blue and brown short angled blunt bob with bangs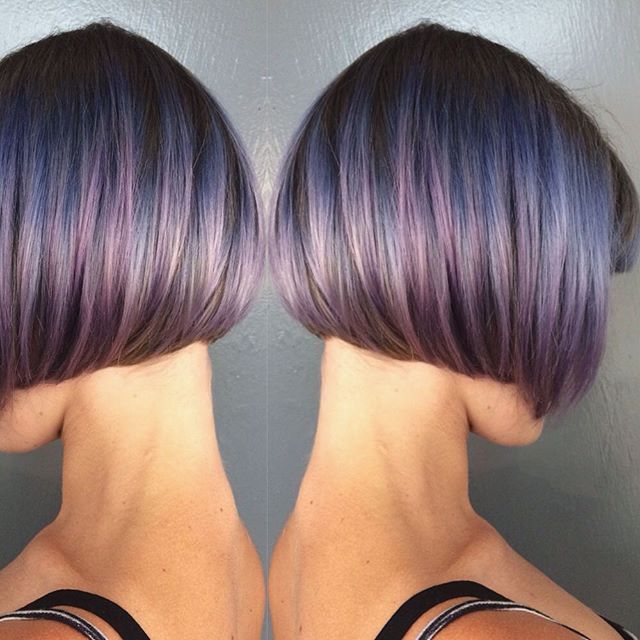 Hair color ideas for short bob hairstyles. Definitely one of the best hair color jobs on the planet! And it's pretty rare that we ever say that. The way the lavender and light blue blends in so well with the brown is mesmerizing in every way. And with a short blunt bob like this one? It's perfection. Truly perfection!
Long and straight blunt lob for thick hair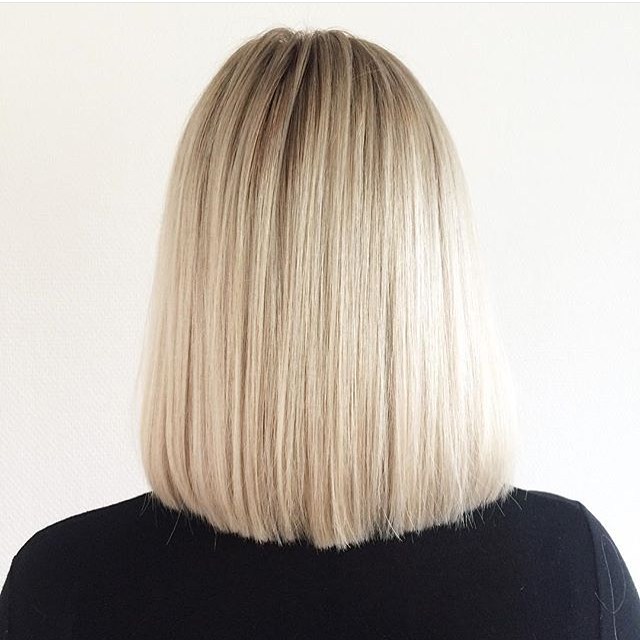 Easy blunt bob hairstyle for shoulder length hair. Is your hair thick and you've been thinking about going with a blunt blob? If it's also straight, try this cut out. Every time you run your fingers through your hair, it will appears is if you have tresses for days. And that's pretty romantic.
Light brown ombre lob with middle part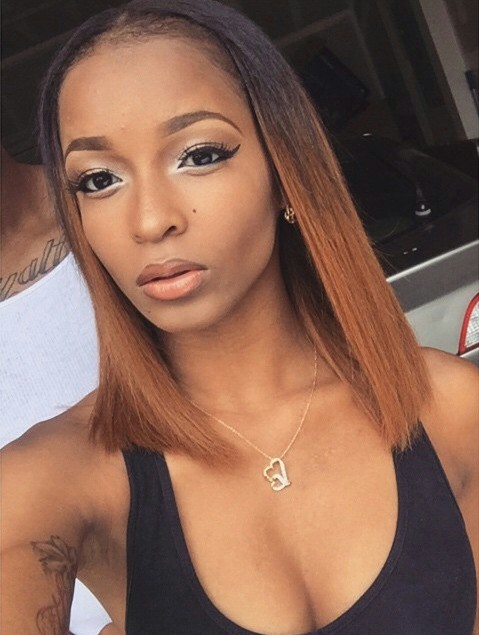 Straight blunt bob hairstyle for African American Women. If you've never tried an ombre before, what are you waiting for? As you can see from this dark brown/light brown combo, there are all sorts of color combinations that you can try. And although this is a lob, we're pretty sure you can imagine how cute this style would be in the form of a bob too. A great ombre hairstyle for black women.
Chin-length short blunt bob with short blunt bangs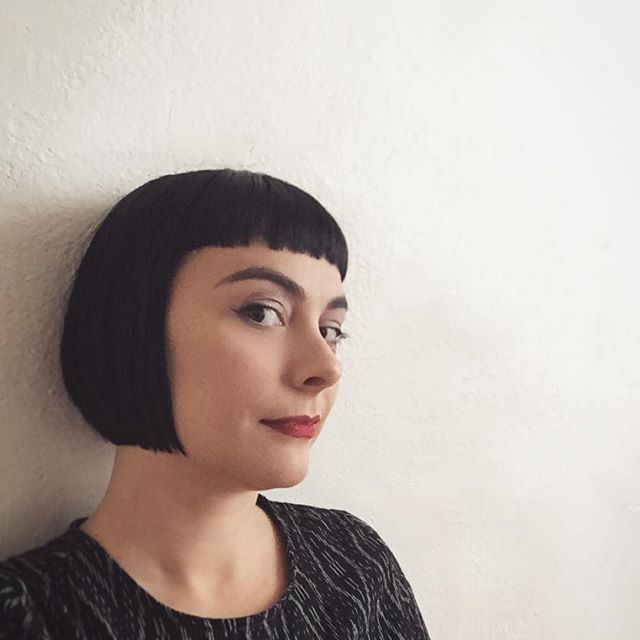 Honestly, this bob could work in any color but it's really standing out thanks to the black. Being that it's relatively short and the bangs make it look so youthful, the dark color helps to also add a hint of seduction. An ultimate blunt bob look.
Platinum straight blunt bob with straight choppy bangs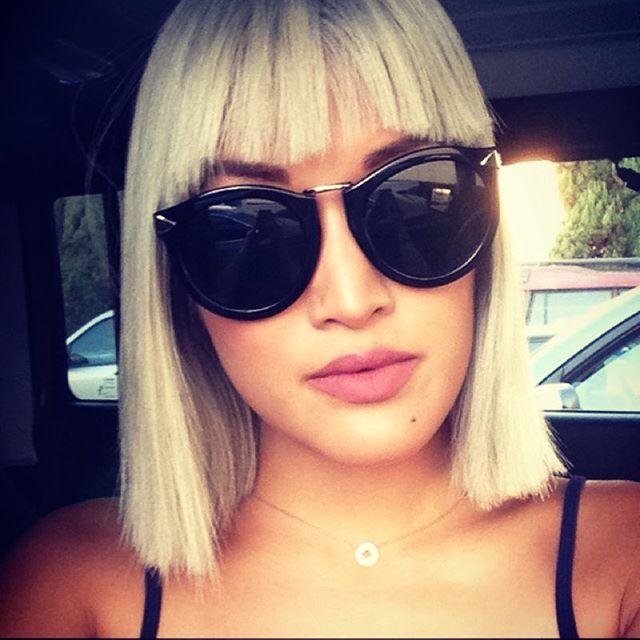 Mob hairstyle with sunglasses for summer. Blondes probably do have more fun when they wear their hair in the form of a blunt bob like this one. Being that it is so straight, it almost looks like a wig (in the best way possible, that is). And the straight and choppy bangs? It's a welcome change from some of the bangs that have the traditional "bend" on the ends.
Beneath the chin copper-color blunt bob with blunt bangs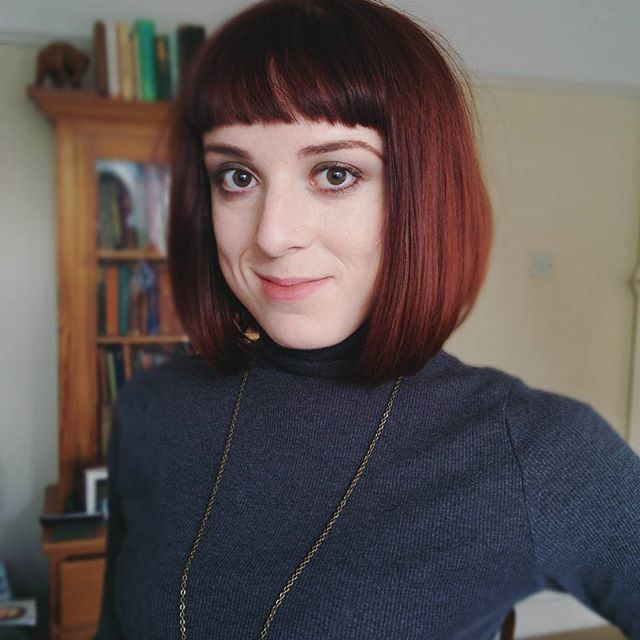 Short red blunt bob haircut with blunt bangs for women over 40. The short and black blunt bob that we showed you? If you were wondering what it would look like in another color (and perhaps a bit longer), here you go. We like that it's copper too being that it's one of the absolute hottest hues going in high hair trends right now.
Straight jet black blunt bob with middle part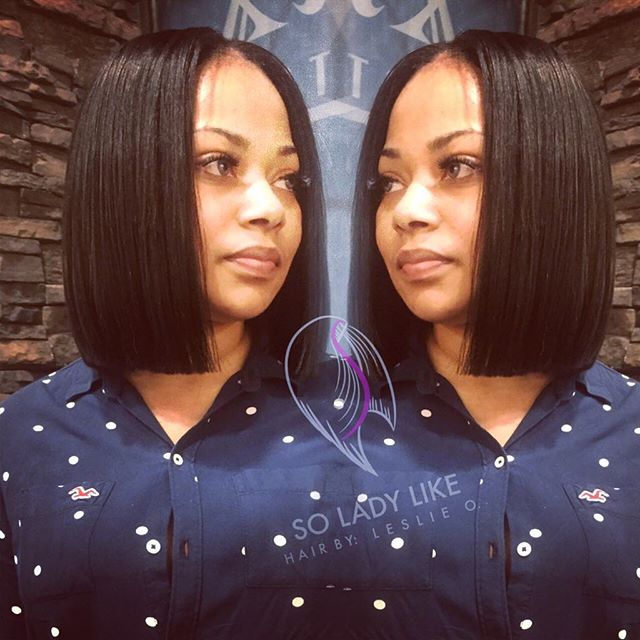 Let's start with a really simple smooth and sleek bob. It's straight, it's black and it is magnificent! Mostly because it takes a really trained stylist to be able to cut hair in such a way that it literally appears razor-edge sharp. And the middle part just gives it more of a sophisticated look. It's a great haircut…any way that you cut it.
Buttery blonde and brown straight blunt bob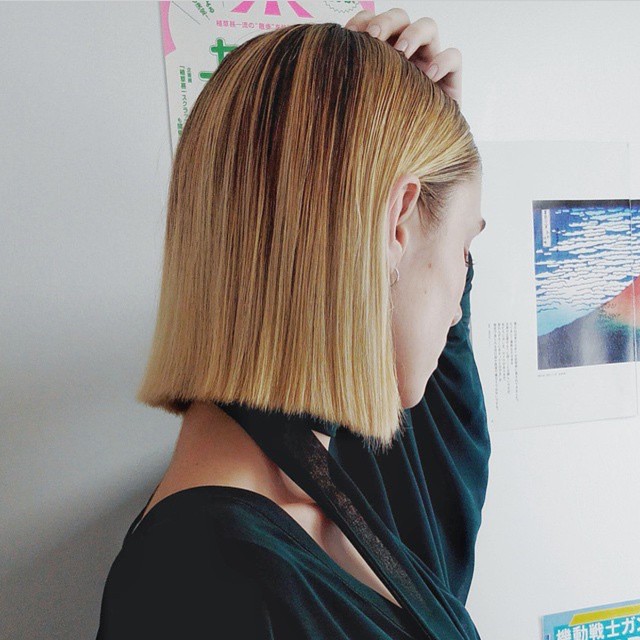 Buttery blonde is a popular color right now and so it had to be featured. In this case, the bob ends right beneath the nape of her neck, making it a super seductive kind of length; especially if you want to have a slick back or wet look—two things that are also currently hair trends right now.
White blunt bob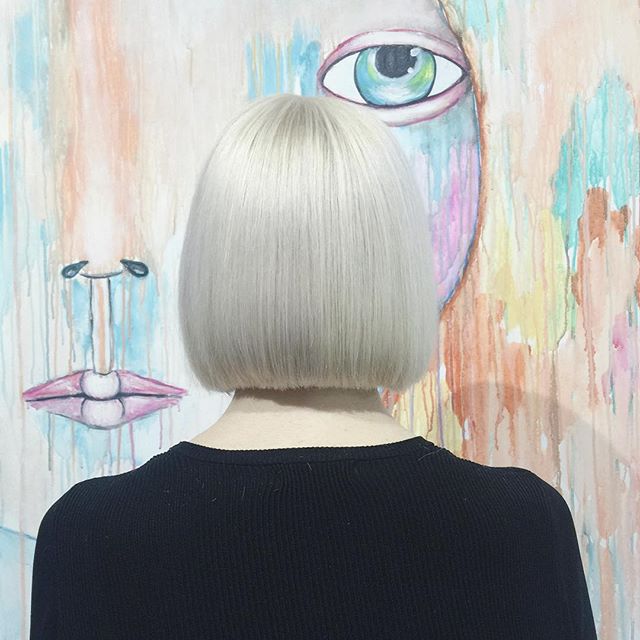 Back view of blunt bob hairstyle. Once upon a time, many women were doing all that they could to make sure that not one grey hair showed. Now? Grey, silver and even white are some of the most celebrated hair colors in hair trends. So, if you want to take the risk after getting a blunt bob cut like this one, we support you 100 percent!
Copper and pink ombre blunt bob with long side-swept bangs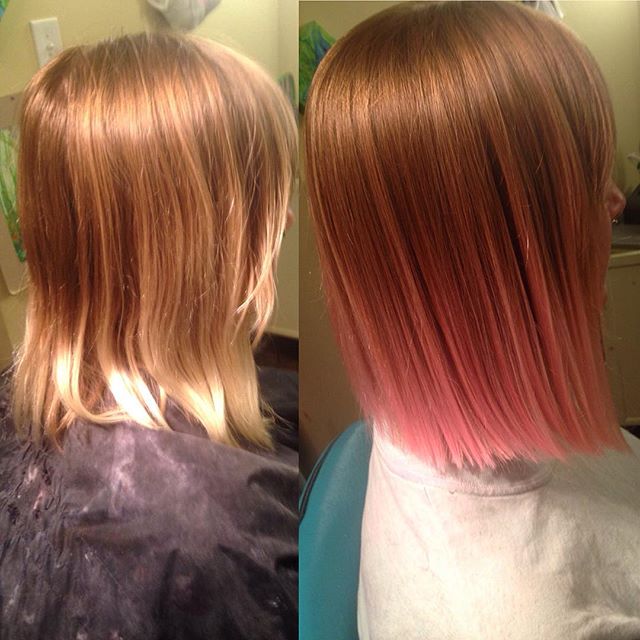 Blunt bob hairstyles for 2016: So, what do you think about this ombre color combination? Personally, we like it a lot because since the "base color" is copper, the pink blends in without being to drastic or over-the-top. This ombre is very warm and inviting…in a totally non-traditional kind of way. Here are more ombre hair color ideas for you to choose from.
Buttery blonde blunt lob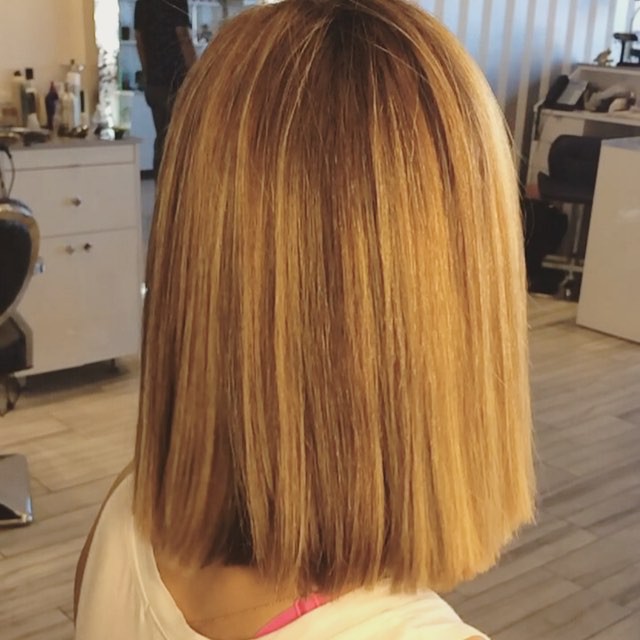 Easy cute bob hairstyles for girls. Sometimes it's the simple looks that can make the best impression. The color and cut makes this model's hair look full and luminous. As a bonus, it's one that can easily translate into something longer or shorter…later.
Light brown super straight blunt bob with bangs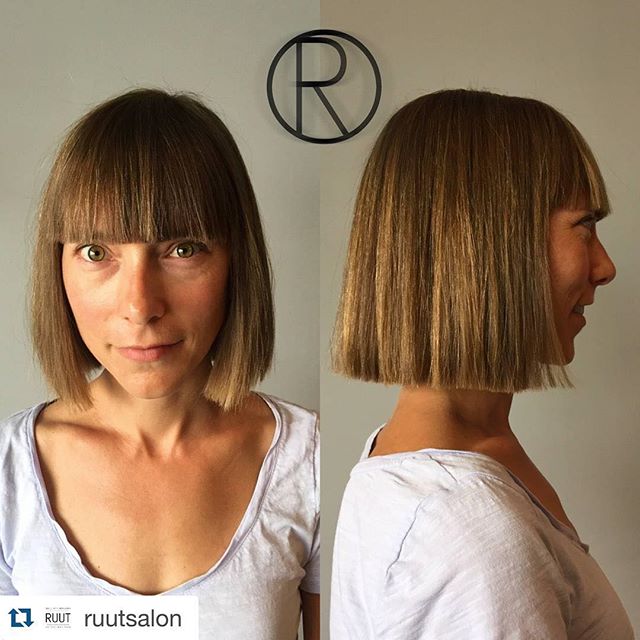 If we had to describe this blunt bob in two words (or less), we'd probably say "the broom". The color and the super straightness of it can't help but to sweep us away. As a note, this is the kind of cut that really only works well on bone straight hair. If yours is wavy, shy away from it. The flyaway strands could end up looking a bit…awkward.
Platinum bob with buttery blonde highlights for thin hair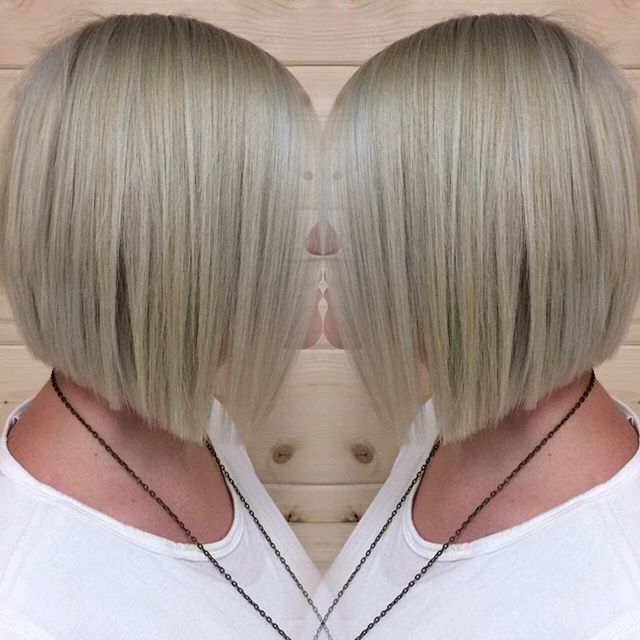 OK so here's the thing about highlights. If her hair had been all platinum or totally buttery blonde, it probably wouldn't look anywhere near as thick as it does with the color combination. That's one of the benefits of having highlights (or low lights). If your hair is thin, it can help to make it appear so much thicker. Do you love this blunt bob cut? You can find more inverted bob hairstyles here.
Ombre blunt bob with face-framing bangs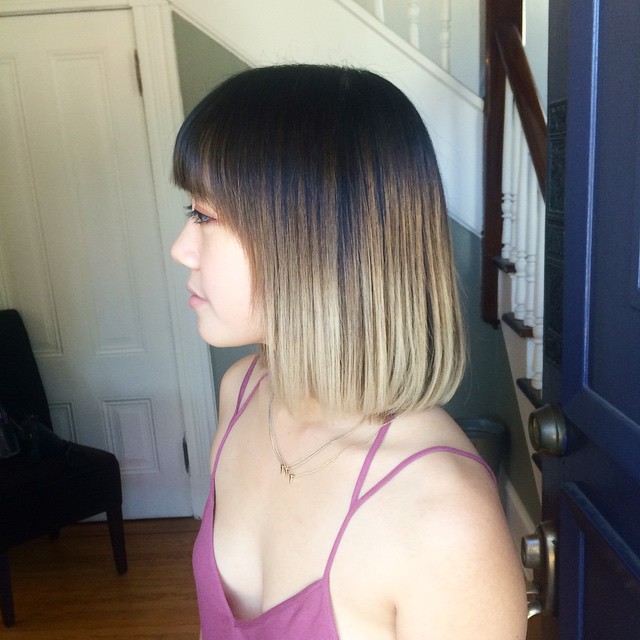 Awh. Here's a super sweet look. Mostly because this blunt bob comes with bangs and fringes that perfectly frame her entire face. So, if you wanted to wear a low ponytail, you could still have some loose ends that would make you look soft and romantic.
Dirty blond smooth blunt bob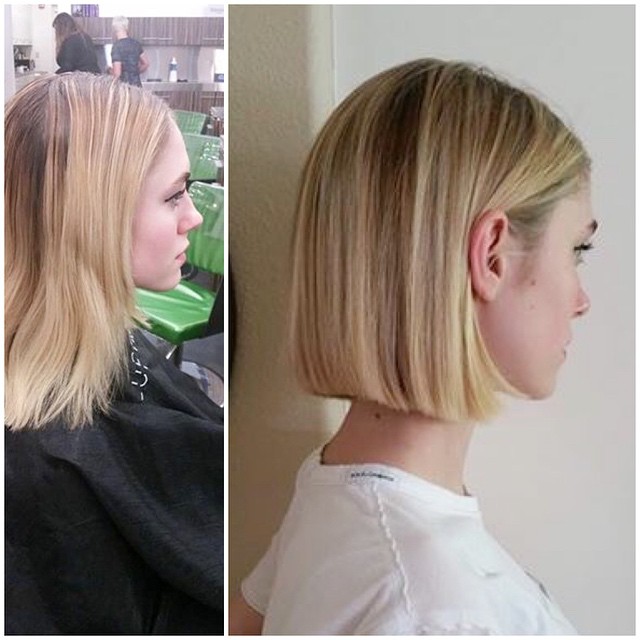 In this model's before picture, her hair looks like it had some straggly ends to it. That's another thing that's so great about getting a blunt bob haircut. It can make your hair look really healthy. And who doesn't want that?
Platinum short bob with no layers or bangs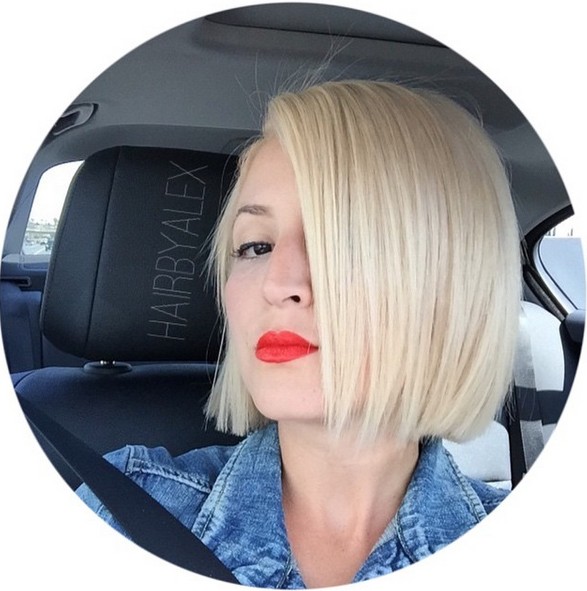 The fascinating thing about platinum is when you decide to color your hair that color, it doesn't really matter what the cut looks like. It's going to stand-out regardless. Yep, if you decide to get a blunt bob, think a while about how color you want it to be. It can be the very thing that makes it super extraordinary.
Dark brownish-red blunt bob with bangs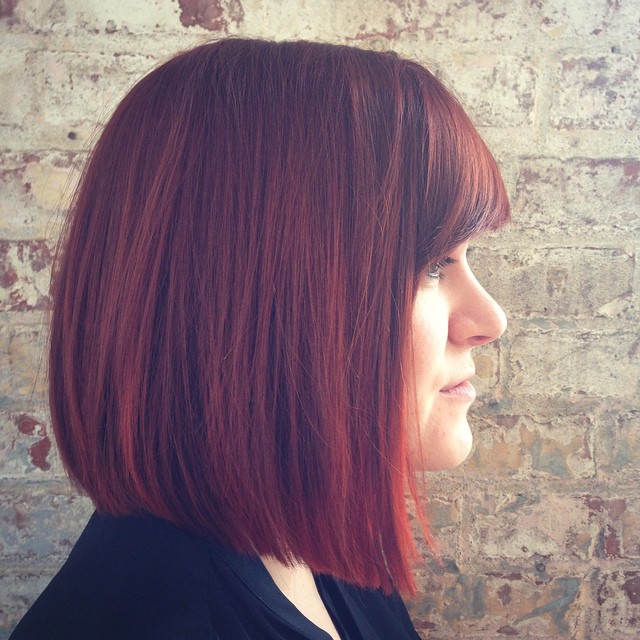 Brownish-red is a favorite color for hair because whether you have fair, medium or a darker skin tone, the hue is going to look perfect on you. Trust us when we say that! And yes, this bob is complete thanks to the bangs. Why? Because in this season, bangs couldn't be more in!
Traditional ombre blunt bob with middle part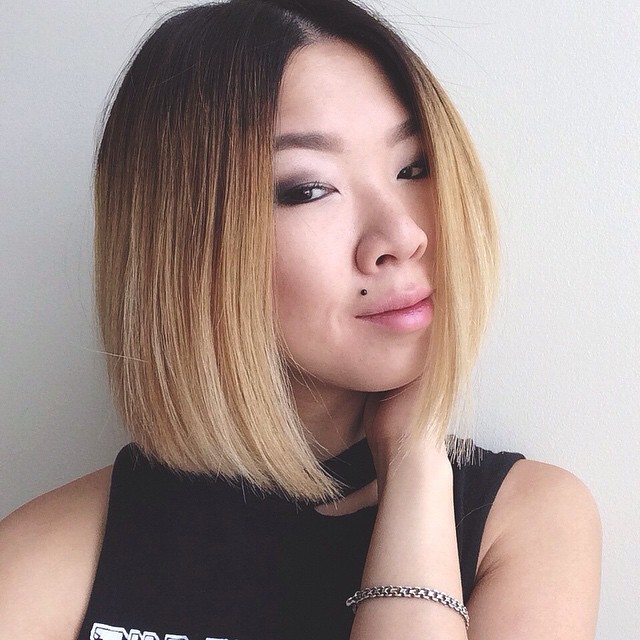 We had to close this out showing you a traditional ombre look and how well it goes with a straight blunt bob like this one. It's ever-so-slightly at an A-line and the middle part makes it a truly trendy look. It's easy and still super appealing. Everything a woman wants in a hairdo, right?