Are you a natural brunette? Or perhaps you weren't born with a shade of brown hair, but you've always wanted to give "the darker side of hair beauty" a try. Whatever the case may be, there is something that is so beautiful and yet mysterious about brown hair. Especially when it's styled really well.
If you're about to book your next salon appointment, here are some hairstyles that will look simply awesome with a brown hue. Take a risk. Give one of them a try.
1. Modified bowl cut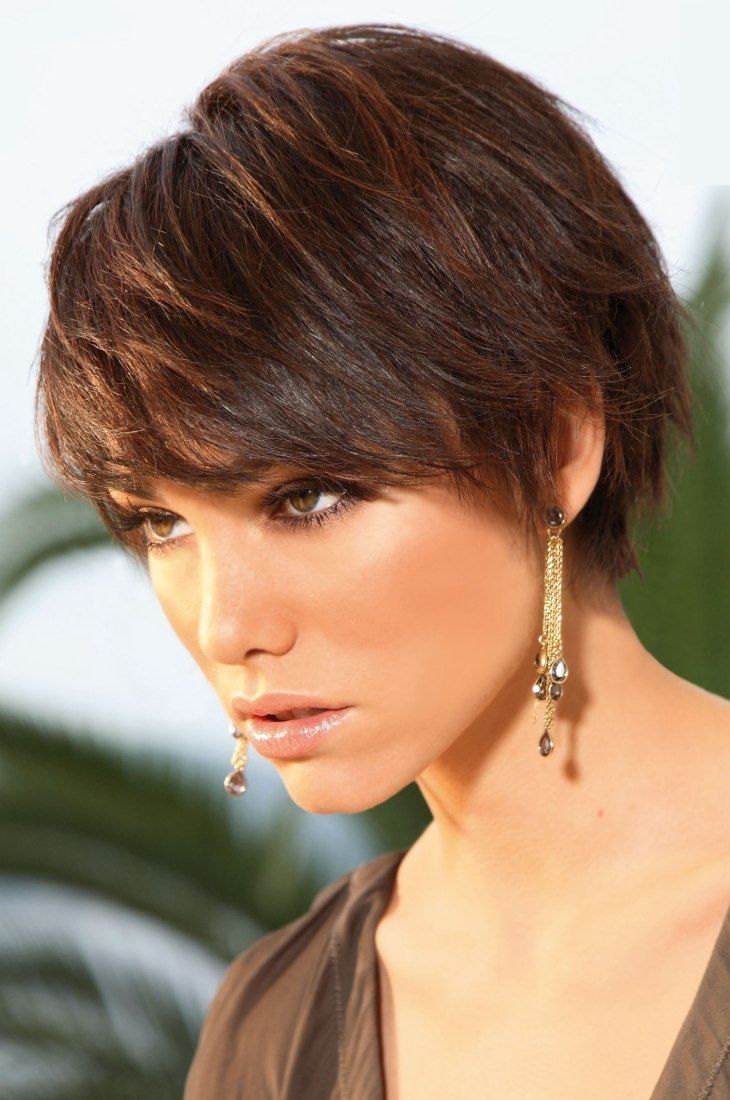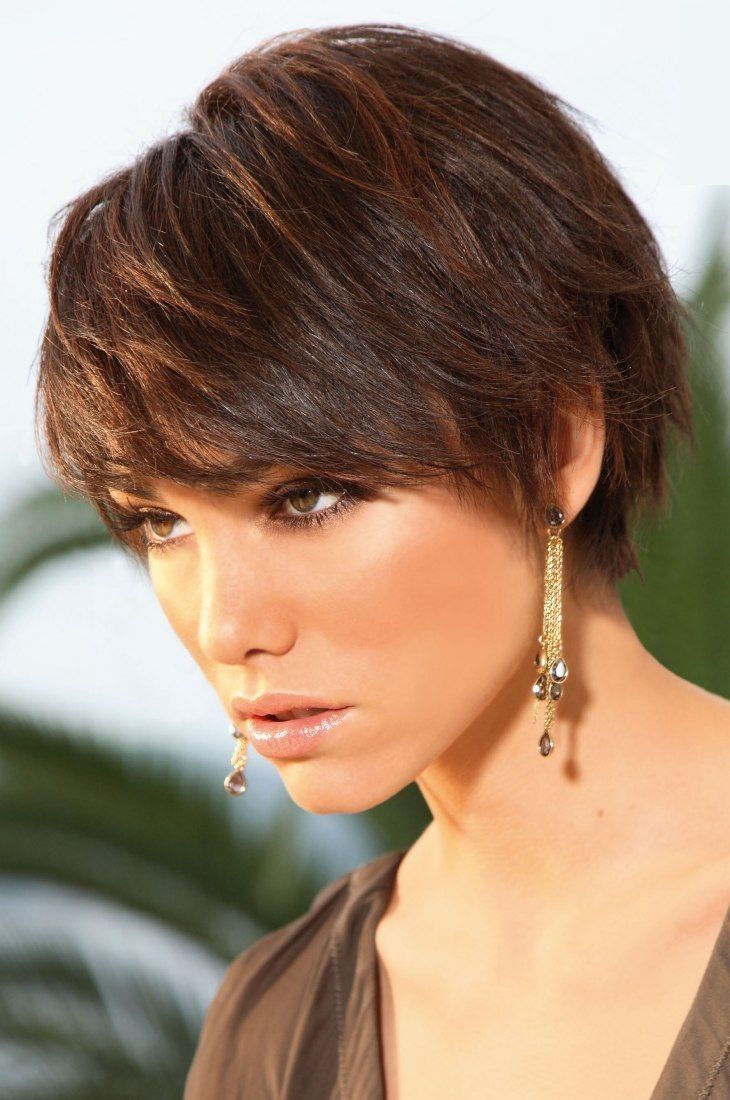 When you were a kid, bowl cuts probably seemed a bit nerdy and dated. But if it's cut into layers with a razor, it can be one of the most modern and attractive cuts that you could have on your pretty brunette head.
2. A-line bob with red highlights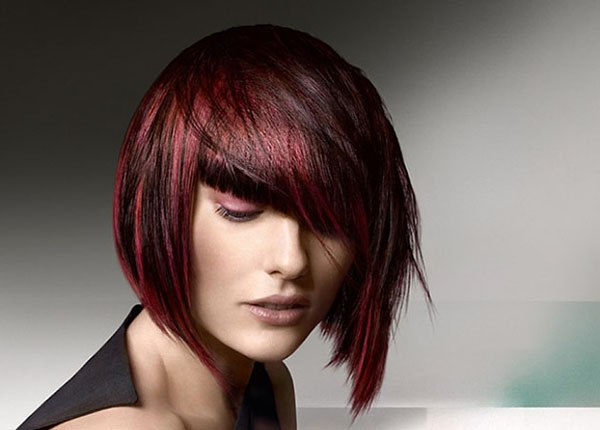 If your hair is a really dark brown, get it cut into an A-line bob. Don't stop there, though. Then ad some red highlights to it. You'll be so absolutely resplendent.
3. Long and wavy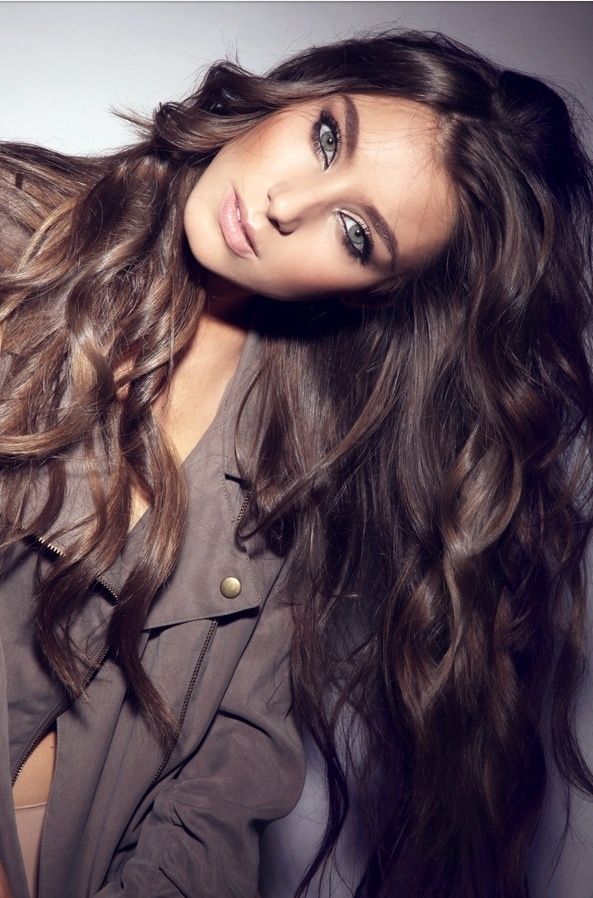 If your hair is long, wavy and brown—you've already got the perfect hair combination. Just make sure to deep condition it weekly and to get your ends trimmed every six weeks or so. And if your hair isn't curly, put a bit of product in it while it's wet, put it into big plaits, let it air dry and then take the braids apart. You'll basically get the same results.
4. 'Messy' bob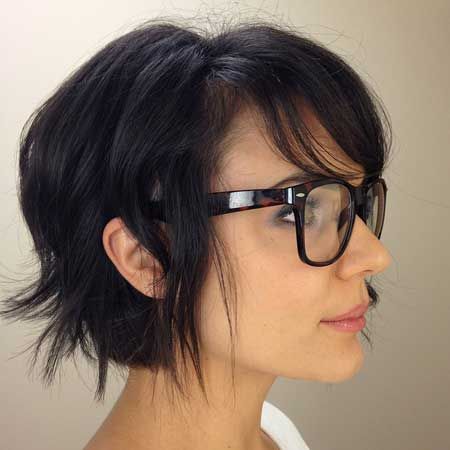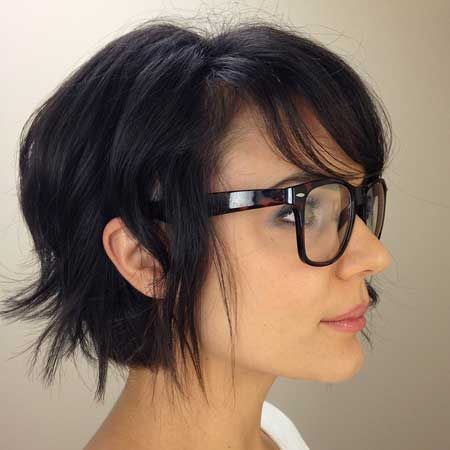 Bobs are an adorable hairstyle. If you want your bob to look funky, don't have it cut evenly. Have a few uneven tresses here and there to give it a messy look.
5. Lob with blonde highlights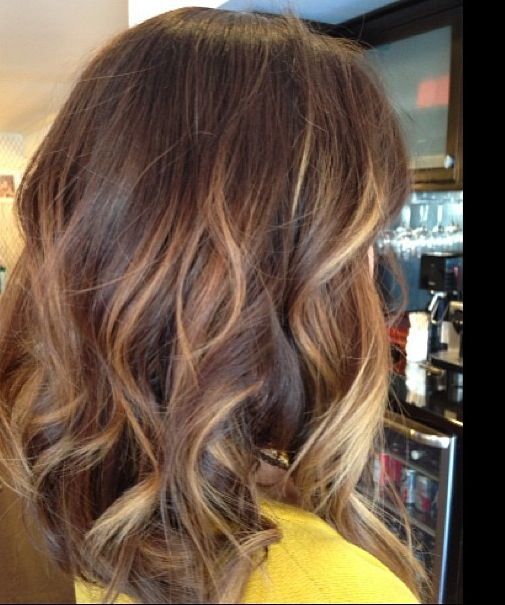 Lobs are also pretty with wavy hair. And they'll look kissed by the sunlight if you add some blonde highlights.
6. Sleek with heavy bangs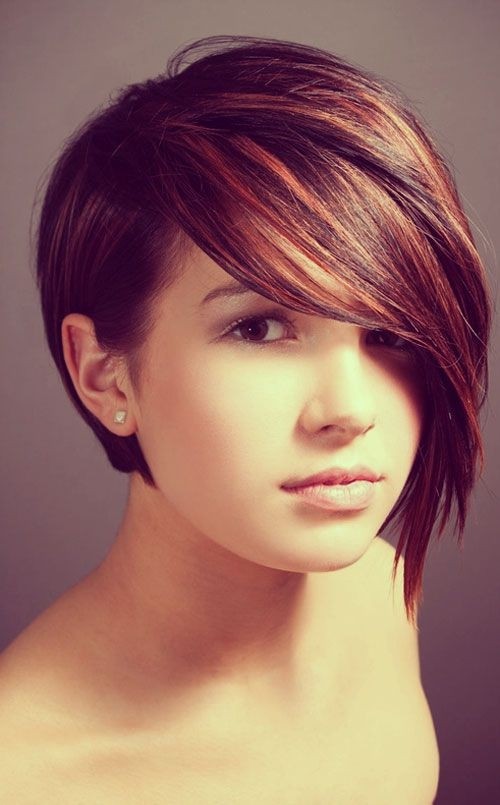 Short asymmetrical bobs are chic. A heavy bang will make it look really young and modern.
7. Short, wet and wavy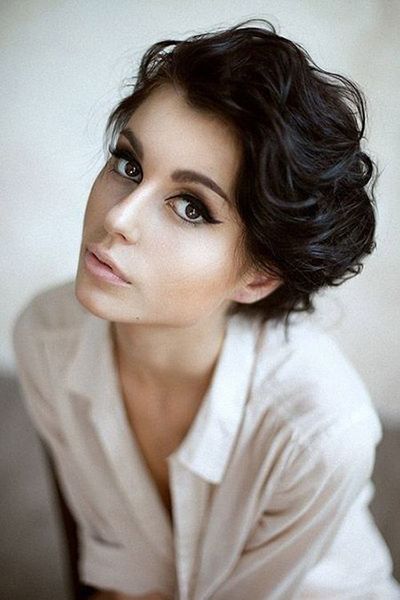 Got curly hair that you're thinking about cutting it into a short bob? All good. The wet look is in, so apply some mousse and let your curly locks fall…wherever they want to.
8. Funky layered cut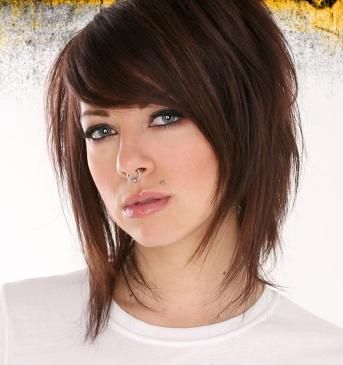 Awesome…hot…striking hair. All of those layers complete with the long side-swept bang makes it a definite favorite. That's for sure.
9. Pixie with long bangs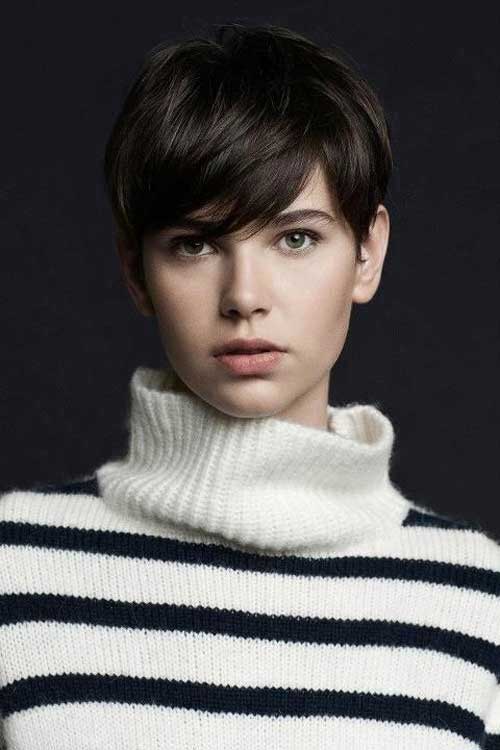 A brunette pixie cut. It really doesn't get much more classic than that.
10. Long and curly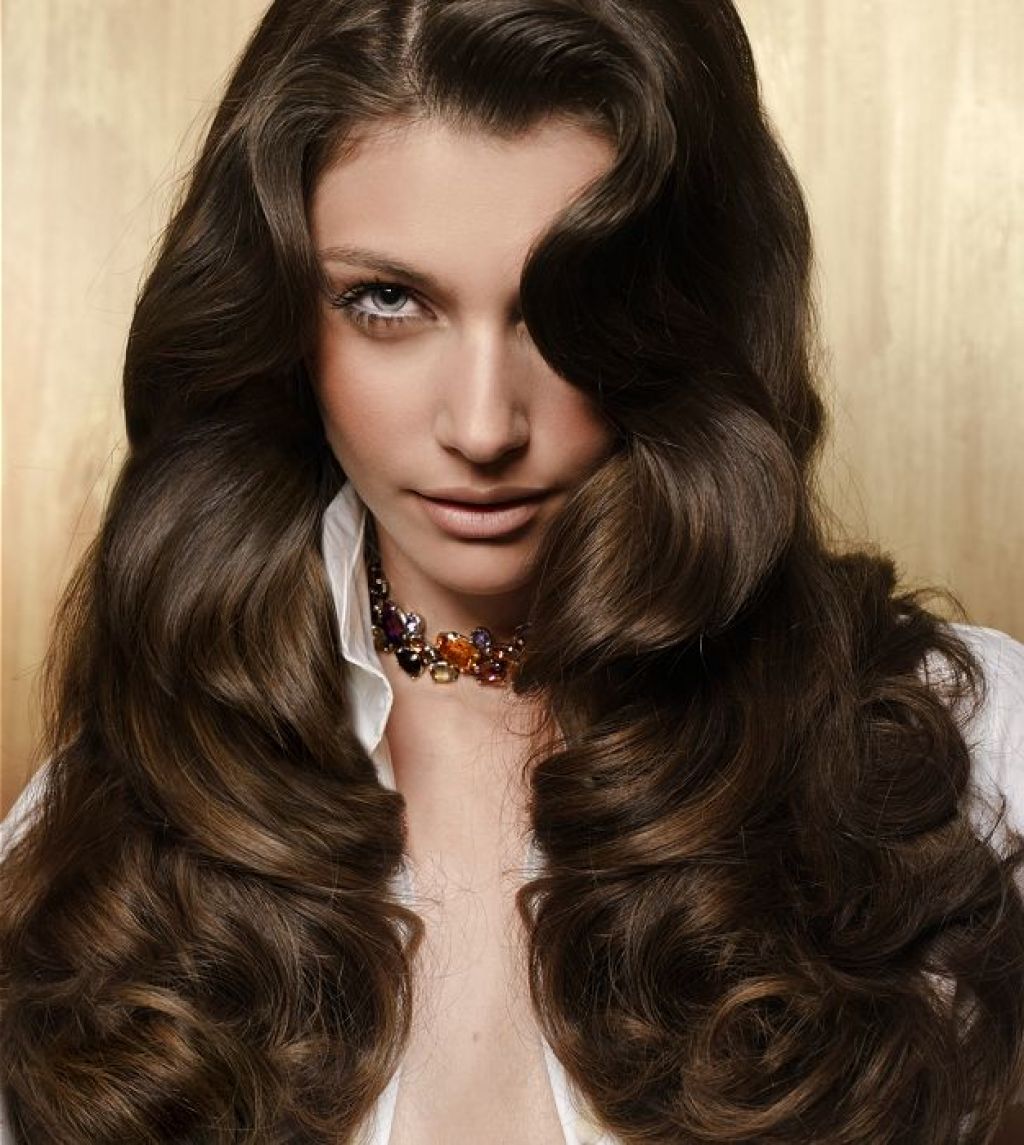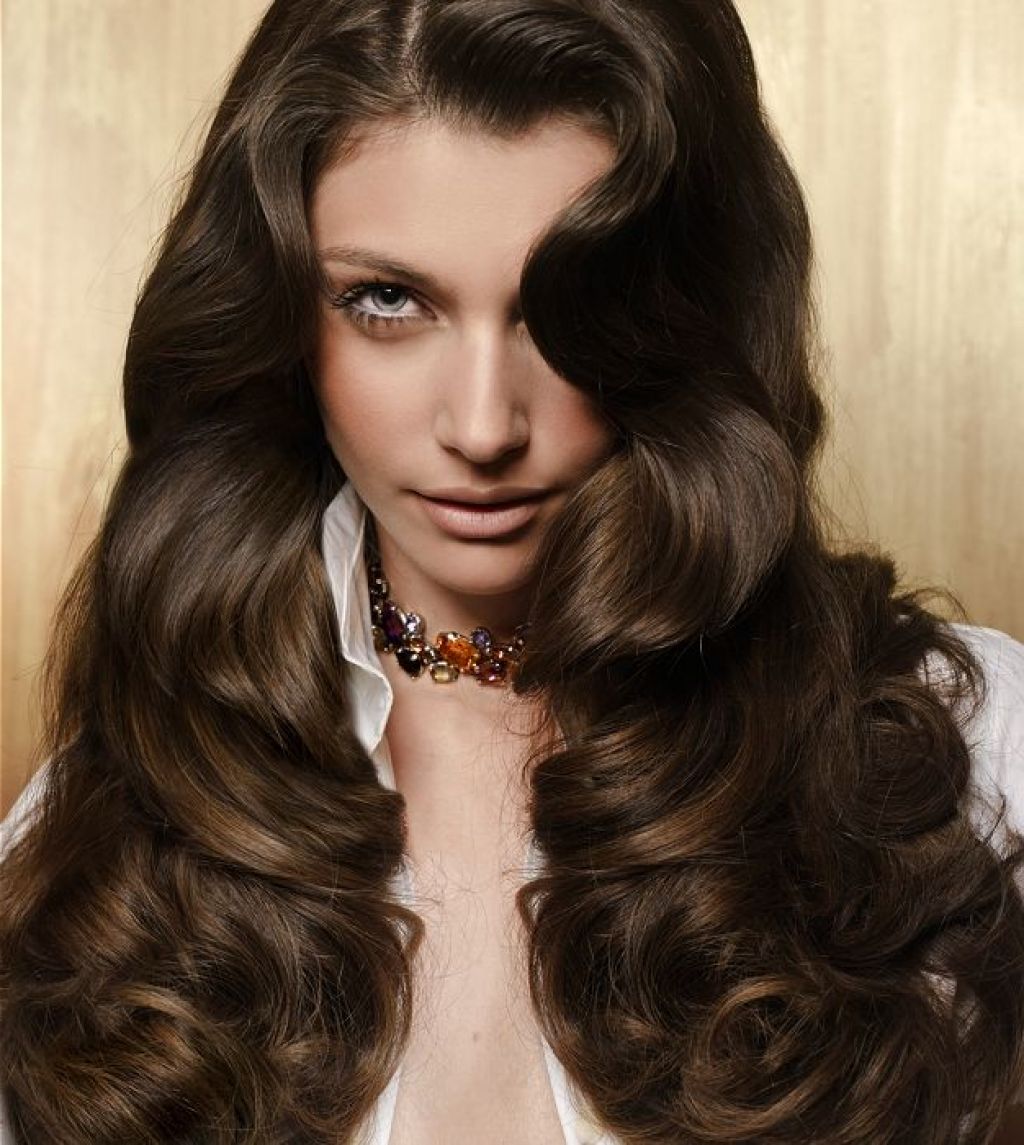 If your hair is extra thick, get out some big rollers and curl the ends of your hair. Sleep in them overnight, pull them out the next morning and then lightly tease with your fingers in order to get as-big-as-the-room volume.
11. Shaggy look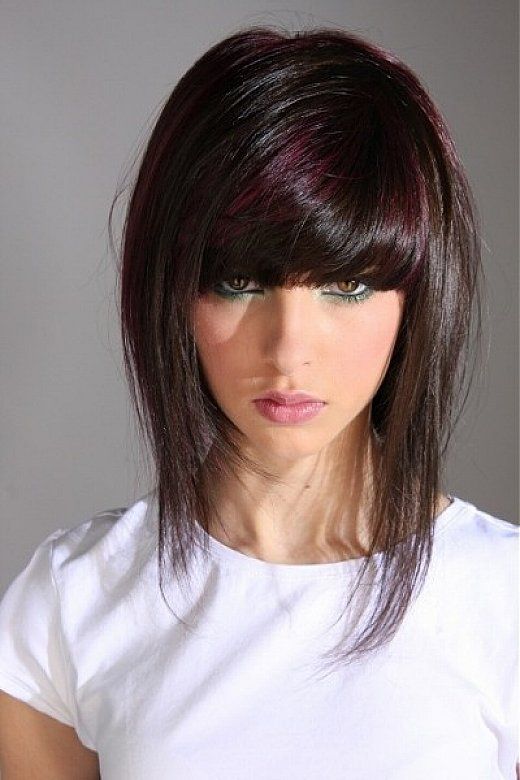 Shags are in. If you apply a bit of silicone to your brown hair while you're styling it, it will shine—radiantly.
12. Lob with bangs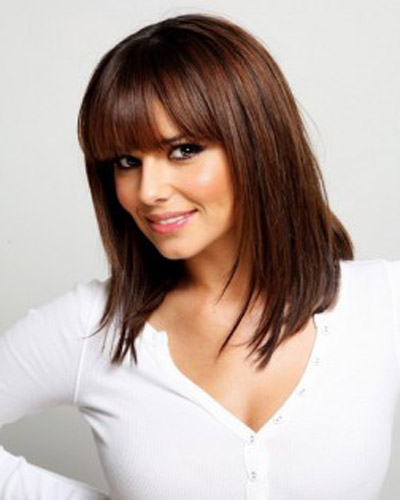 Here's another way to try a lob. Add some bangs so that they can softly frame your face.
13. Short, choppy and layered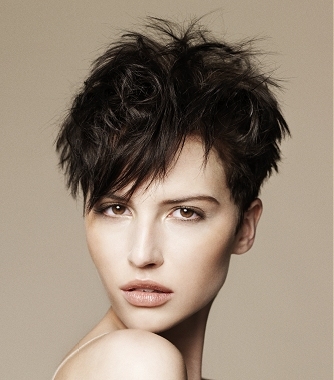 And here's a "messy version" of the pixie cut. It's all choppy and bed head like. There's something pretty sexy about that.
14. Half updo with braid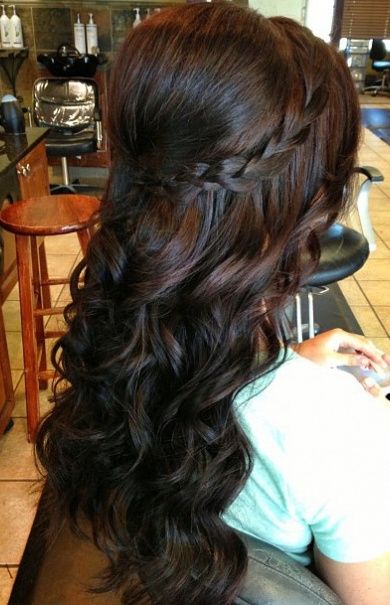 If you have long hair and it's a hot day but you want to show some of your tresses off, pull some of it back and braid it. Whether it's French, Dutch or our personal favorite, a fishtail braid, you'll be very pretty and much cooler too.
15. 'Long short' cut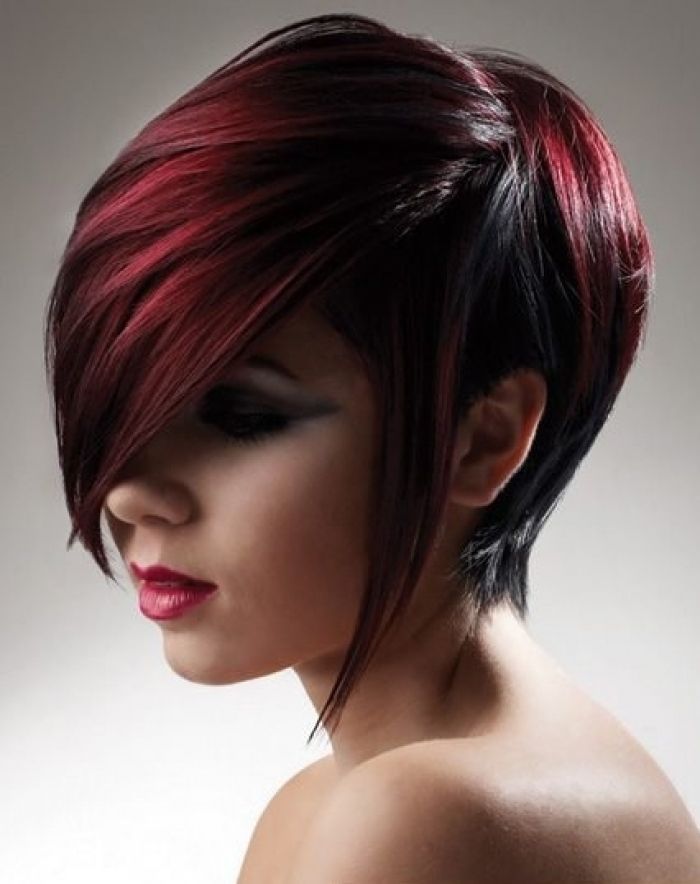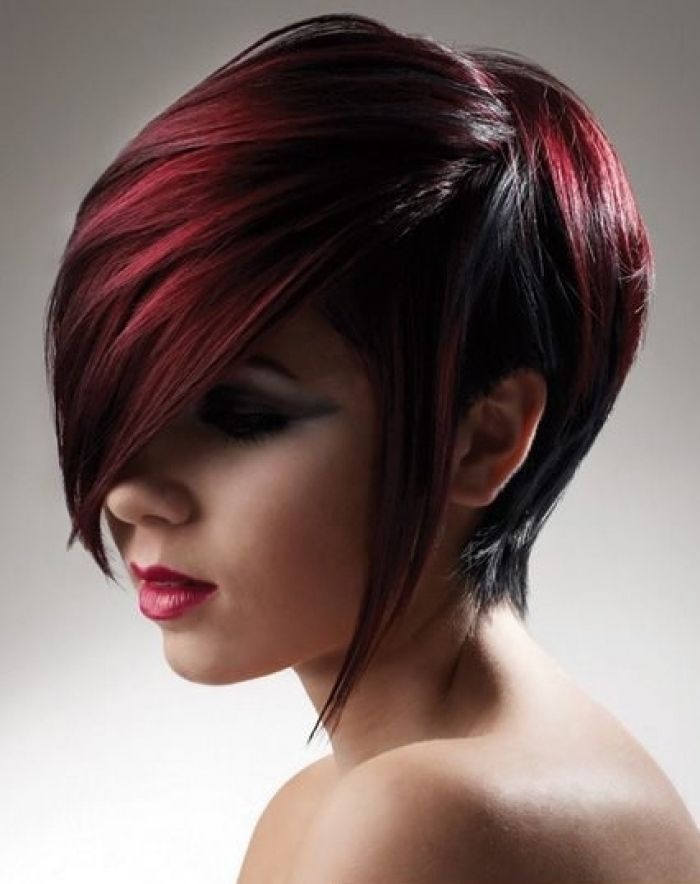 This cut is fascinating. Basically because it looks like a long and short hairstyle all in one. Long and full in the front. Nice and tapered in the back. It's dazzling.
16. Asymmetrical short bob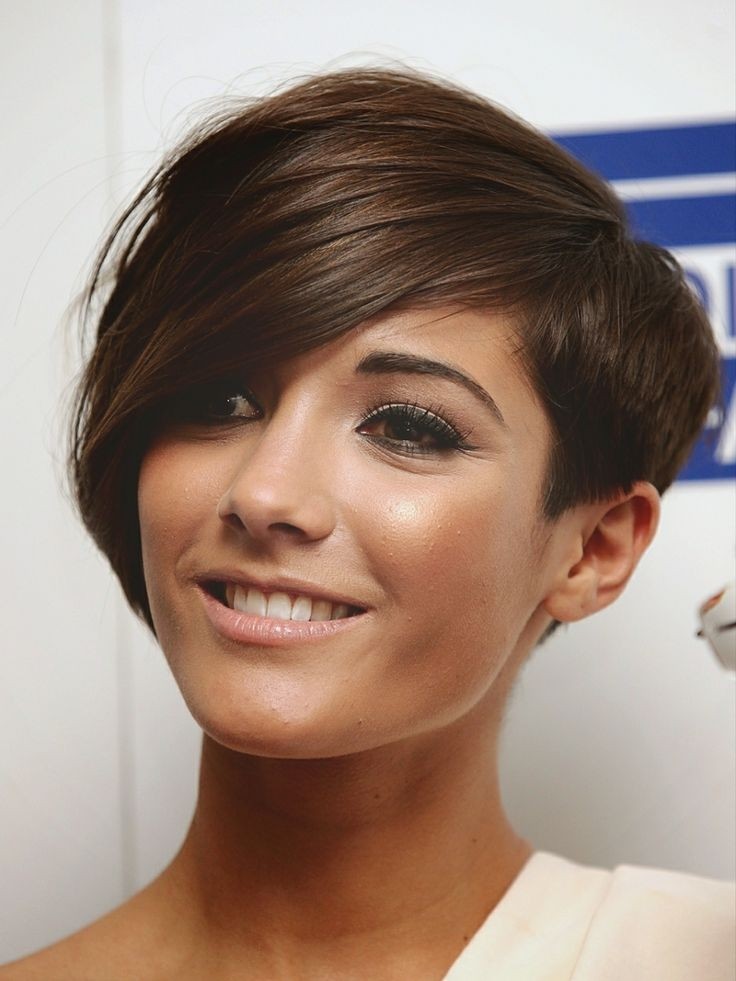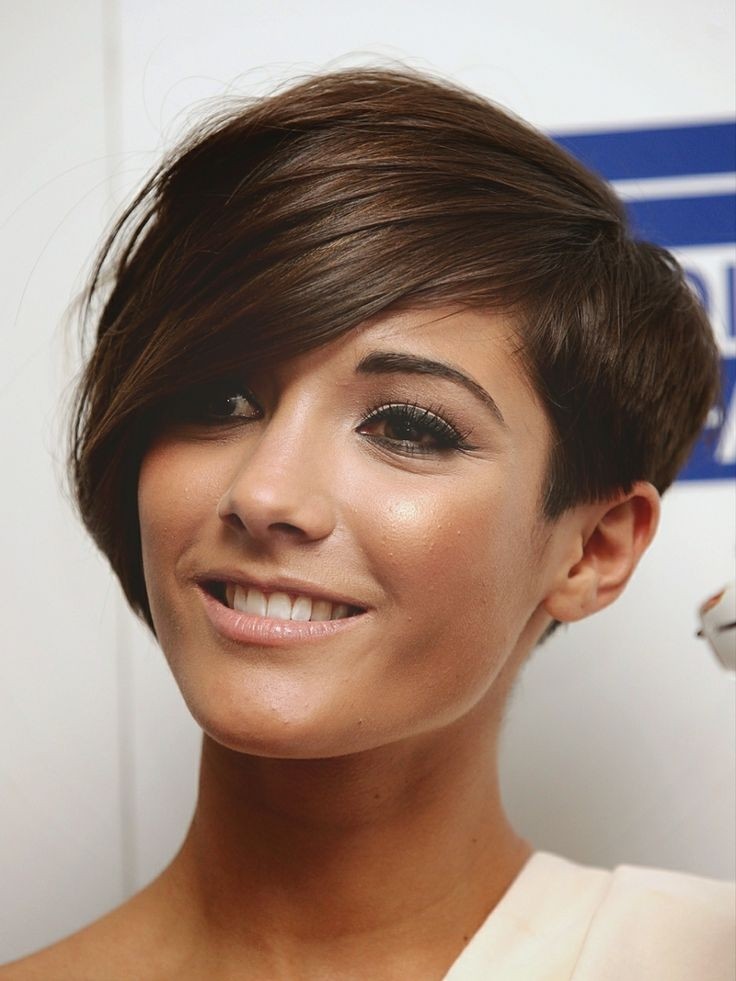 This is light, fun and at the same time, elegant. An asymmetrical short bob works really well with thick hair because it will offer so much volume.
17. Fishtail updo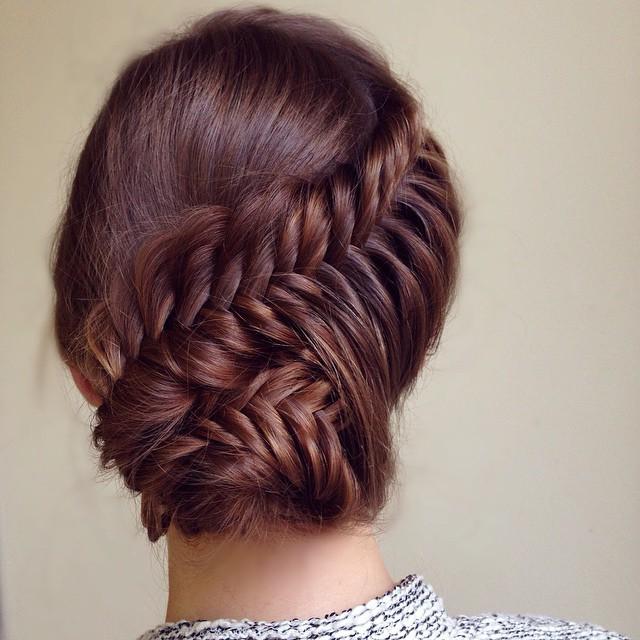 Fishtails are so fabulous that if you want to wear all of your hair up, you can be certain that you'll get plenty of compliments if it's one big fishtail. Wrapped up into a low bun.
18. Dark brown with light brown highlights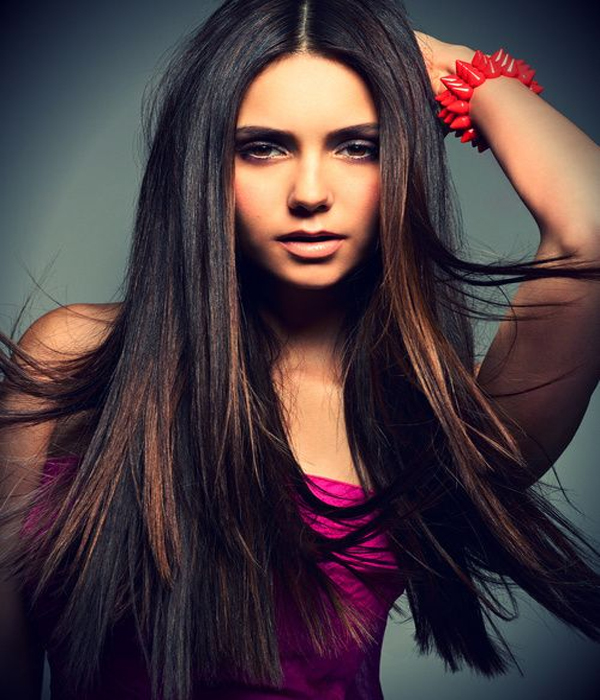 If you like your dark brown hair just the way that it is but you want to add a bit of "something" to it, a some light brown highlights. It's natural-looking and also quite gorgeous.
19. 'Bed head' cut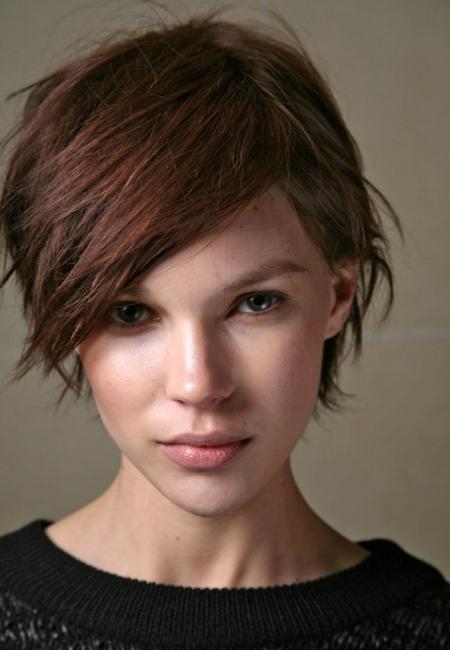 Here's another bed head look. Yeah, there's something about looking like you just rolled out of your bed all fresh and natural that's appealing. Naturally.
20. Stacked bob with blonde highlights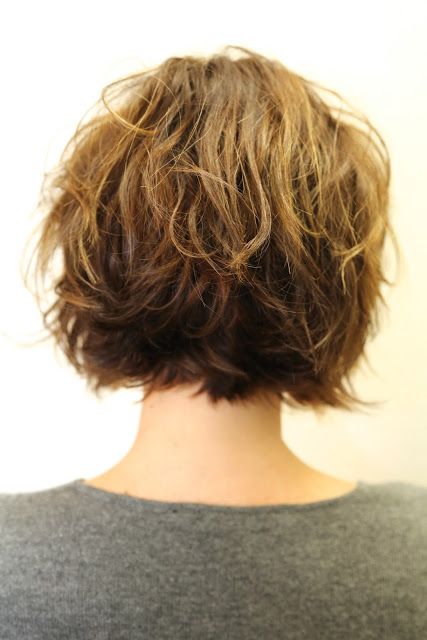 Have you secretly always wanted to be a blonde? You can "ease into it" with some blonde highlights up top. It's a nice two-tone effect.
21. Classic bob with bangs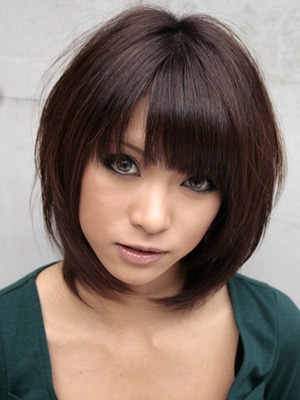 Classic bobs are a fan favorite. Use a brush while you're blow drying your hair for a rounded effect.
22. Tapered back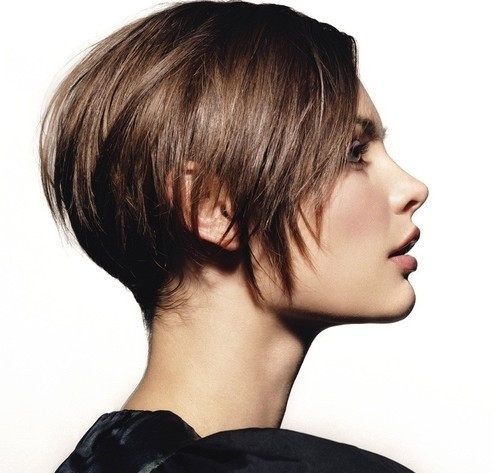 This is a great short hair cut because it has so many dimensions and surprises to it. That tapered back is the best part. No matter what shade of brown your hair is, it will be magnificent with a style like this one.
23. Short emo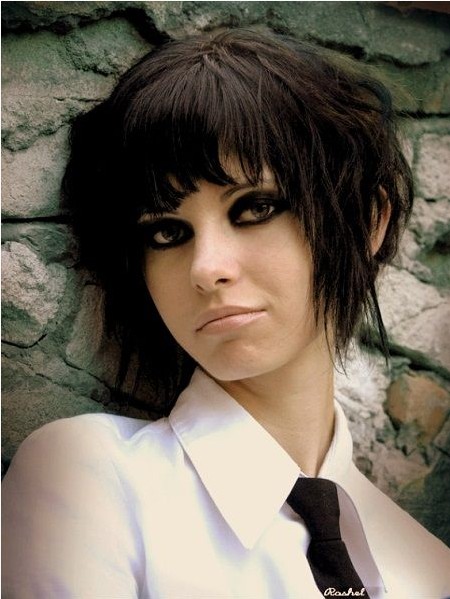 Have you ever wondered what an emo haircut is? Here you go. It's basically another variation of a choppy bob. A super edgy look.
24. Ombre bob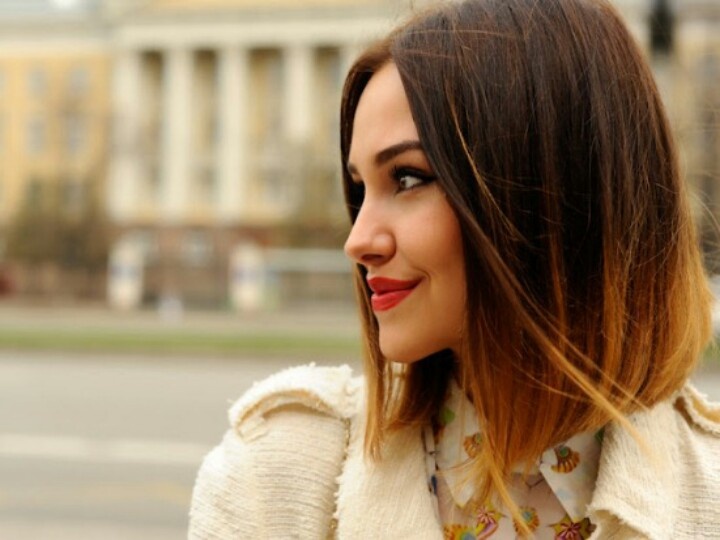 If you're a bit on the side of the conservative but you'd like to add some extra flair to your hair, you can try the ombre look in a caramel blonde.
25. Long with purple ends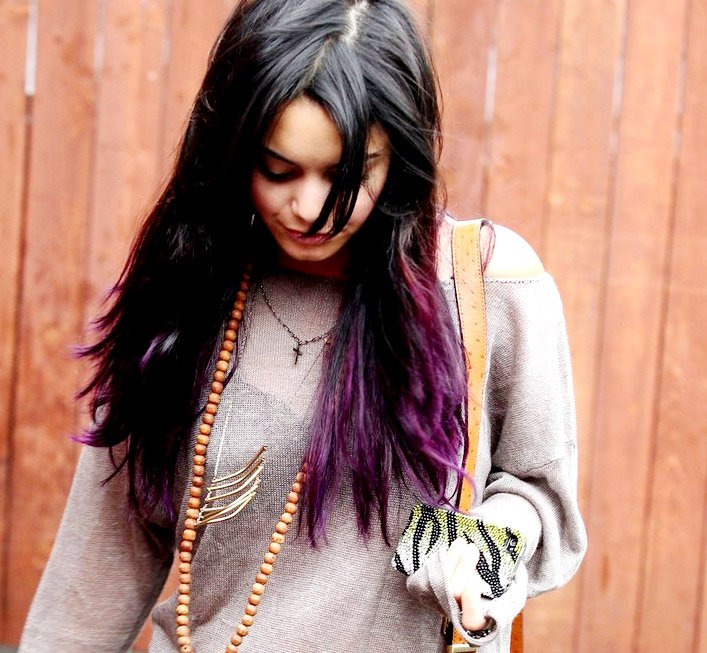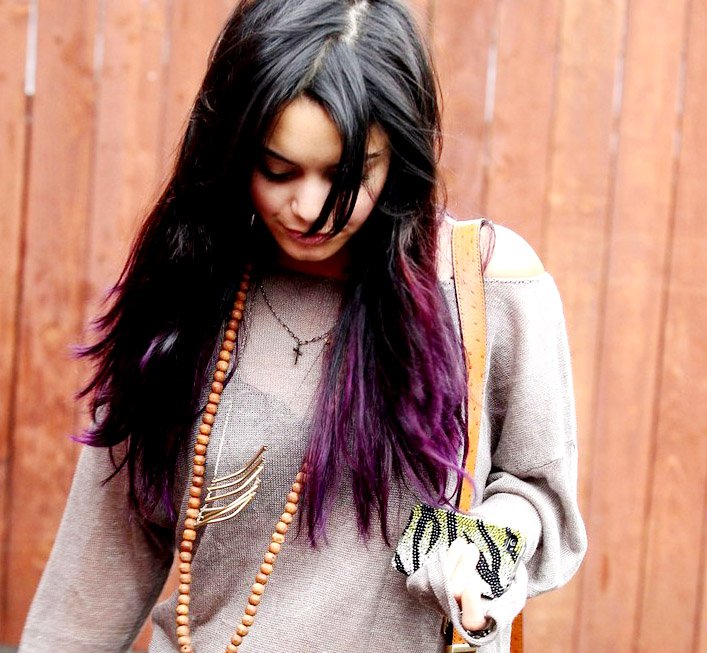 Or, if you're all about rockin' out and trying new things, here's another ombre option: violet. Brown and purple are stunning. No matter where or how you decide to where it.